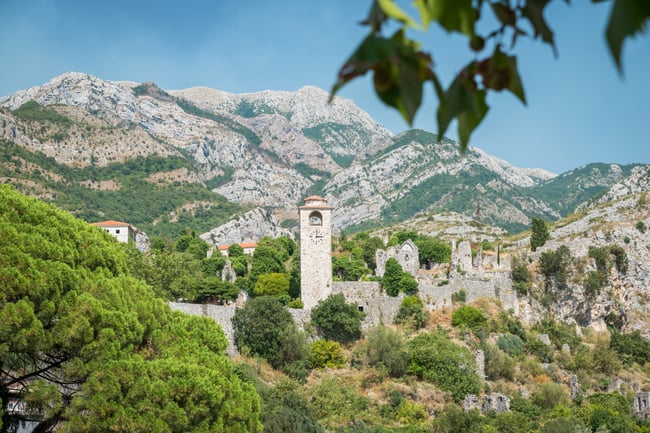 Ruins dating back centuries sitting quietly hidden in the hills above the Montenegrin coastline surrounded by groves of olive trees — yep, it's all here waiting for you.
Just head down the coastline a bit towards southern Montenegro and you'll find this lesser known spot that's worth a visit. Above the port town of Bar lies an Old Town that's been abandoned by locals, but currently visited daily by travelers looking to get a glimpse of the history. If you're in Montenegro, it's a rad little day trip from some of the favorite coastal cities (just an hour or so from Budva!).


---
Speaking of favorite coastal cities in Montenegro ...
ILP volunteers get to live in one for their semester abroad — Come learn more!
---
Know Before You Go
Stari Bar is actually an abandoned city! It's one of the oldest towns in Montenegro and its ruins date back to the Early Middle Ages, sitting quietly undisturbed within the hillside. It's almost like time stands still. So what happened here?
History shows a long line of takeovers in Stari Bar — ownership has changed hands from big names like the Venetians, the Serbians, the Hungarians and the Ottoman Empire. Finally in 1877 Montenegro was able to reclaim the land, but during the takeover the town's aqueduct was bombed. This was so destructive because it means cutting off the town's water supply.
The aqueduct was repaired, but unfortunately it was destroyed once again in 1979 by a major earthquake. This time though, the town was abandoned.
Many moved further down the hill, where the port town of Bar was built right on the coastline. What was once a vibrant and historical center for southern Montenegro had now become the Old Town up the hill.
Seeing Stari Bar Today
Though abandoned by locals, you'll still tourists coming to see the ruins that are well worth the visit! In recent years there's been more of a push to make the area more appealing for visitors, so you may see shops and restaurants that have popped up on the way up to Stari Bar. The ruins and the town itself though will remain preserved to keep the history in tact.
Give yourself an hour or two to come explore!
The Fortress
One of the biggest attractions is a massive fortress — follow the cobblestone pathway under arches that lead to crumbling remains of the original buildings.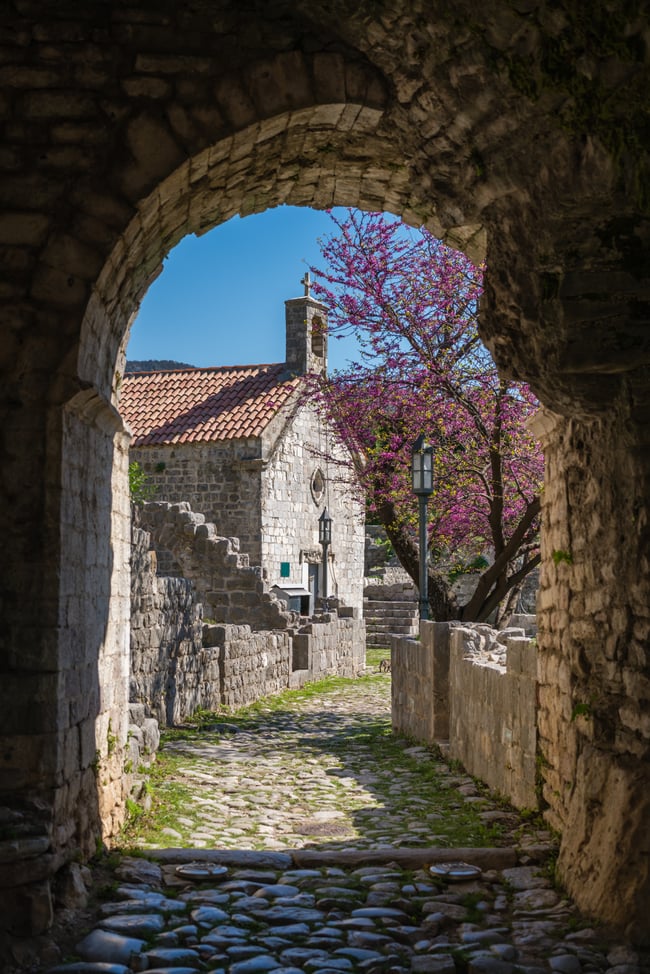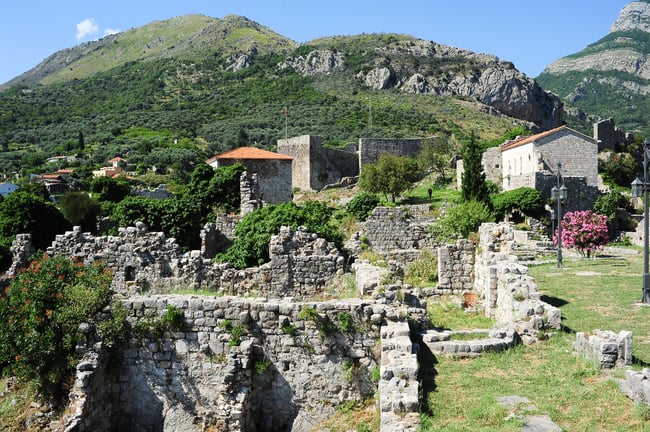 Other Sites To Spot
This is the perfect spot to just wander and enjoy without expectation, but keep on the look out for a monastery from the 13th century, Saint George's cathedral which was converted into a mosque by the Turks, a Turkish bathhouse, and a clock tower which can be seen from far off and has become like an icon. Olives trees are sprinkled throughout the area as well, but one in particular is quite ancient — "Stara maslina" is said to be one of the oldest in the world!
There's also a small museum at the entrance — stop by real quick to get a deeper dive into the history. Knowing the past will definitely enhance your experience here.
Oh and of course, you won't miss the views! Because you're up on the hillside, you'll get quite the views looking down over Bar and the coastline.
Costs + Hours
Entrance fee: 2 euros for adults
Hours: Summer 8AM - 8PM, Winter 9 AM - 5 PM
Good To Know
Bring cash! You might see local vendors that you'll want to purchase from, and you'll need to cover the 2 euro entrance fee.
If it's a day when a cruise ship is stopped at Bar you'll likely see more crowds, but getting there early helps with that. However, coming later in the day could also get you sunset views and some have said they've heard the call to prayer in the distance.
Bring good shoes! You're going to be walking, climbing, and exploring quite a bit. It's nothing major, but just good to know.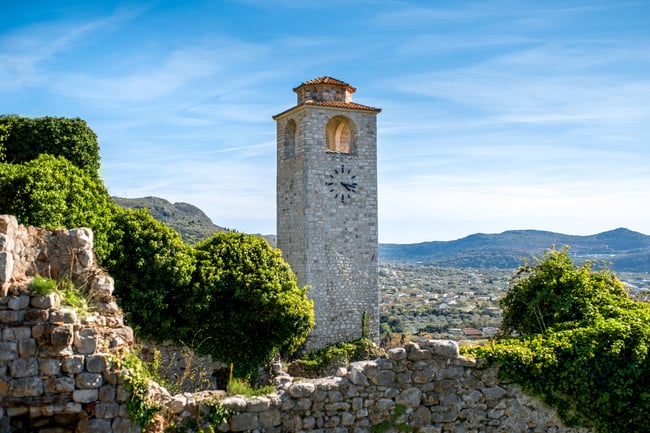 Getting Here
Take The Bus To Bar
First you'll need to get to Bar, the port town that sits at the base of the hill. Bar isn't necessarily a tourist attraction in itself, but if you're taking the ferry over to Italy this is where you'll be starting that journey. There's also some unique coastlines further south towards the border of Albania (check out Ulcinj!). But other than that, Stari Bar is one of the more interesting sites to come see in the area.
If you're coming from northern Montenegro, bus routes are the best option.
From Budva:
A bus ride from Budva to Bar is about an hour and will set you back 4 or 5 euros. Book your tickets here.
From Bar To Stari Bar
Old Town of Stari Bar is going to be just up the hill from Bar, a little over 3 miles away.
If you've got time to spare, you can actually walk there — there's a fairly steep, narrow, cobblestone road that heads up the hill. It's typically lined with shops and local vendors selling things like yummy treats of honey and olive oil. to The journey takes most people about an hour.
Another option is to grab a taxi in Bar to drive you up (the trip typically costs around 5 euro). If you're feeling adventurous you can also head to the train station and you might be able to catch a bus that's coming up (costing 1 euro), but if you ask me taxi is the most hassle-free option. And of course, you could always take a taxi up and walk back down!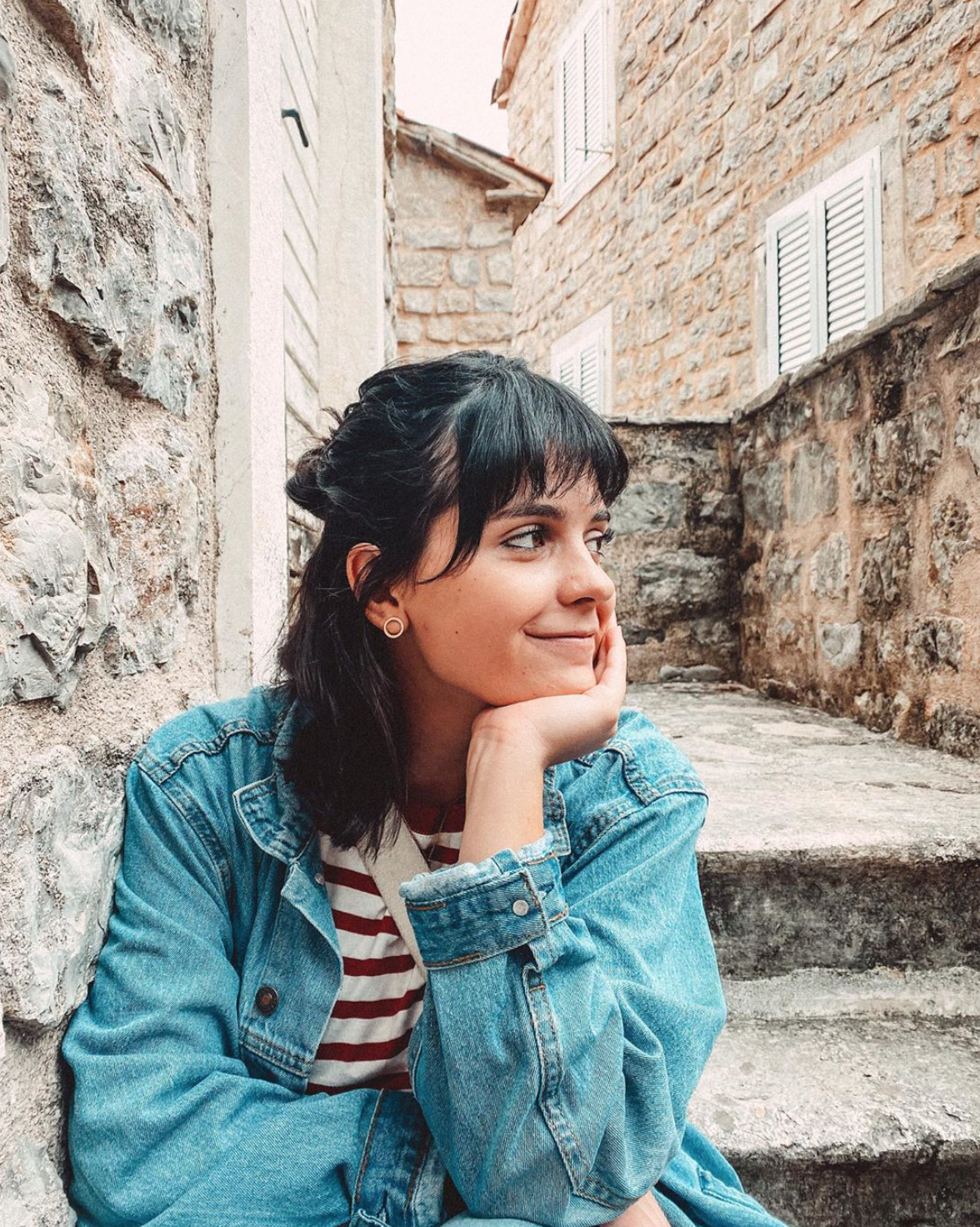 A trip to Stari Bar is a perfect weekend trip for ILP volunteers
who are spending their semester abroad in Montenegro!
International Language Programs (that's us) sets up opportunities for college age adults to volunteer abroad together for about 4 months, getting the experience of seeing the world, immersing in and experiencing other cultures, and doing it all with a group of new friends. It's part time teaching English to cute little kids, and part time seeing and enjoying Montenegro + lots of vacation time to travel around Europe. Learn more about how our volunteer program works by clicking the button below.