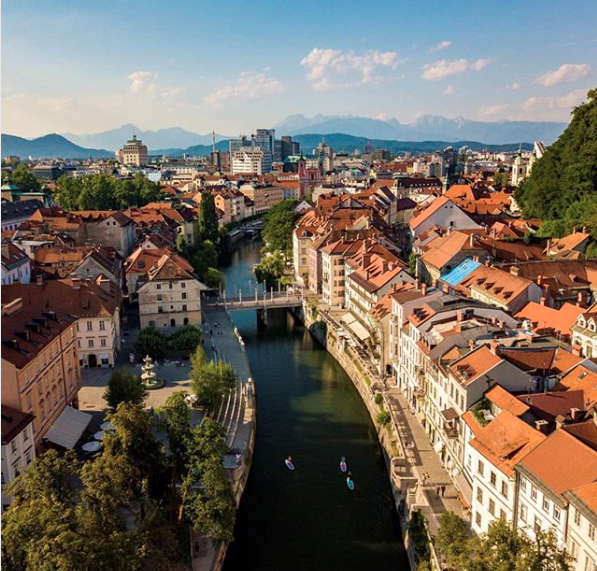 This bridge-strewn city is lined with charmingly pretty European buildings and topped with towering castles … and you can see the whole thing from a paddleboard.
So much of exploring Europe is packing up your camera so you can get the perfect shot of the pretty buildings, walls dripping with ivy, tiny cafes with flowers in the window boxes, and the narrow cobblestone streets as you wander around the Old Town. Basically traveling Europe is walking around and seeing pretty buildings which we love — but when we found out about paddleboarding in Ljubljana, Slovenia, we think you should be able to tour every European city via stand up paddleboard (SUP).
---
Better add Slovenia to your travel list
See what other countries you're missing: European Destination Guide
---
The curving Ljubljana River cuts through the city center, giving you a glimpse of the city's Gothic architecture as you lazily paddle along by on the blue-green water. It's easily the most popular thing to do in the city, and we're big fans of trekking out to Ljubljana to do just that. Here's how to make it all happen:
Your Must-Do Adventures
Some Places To Eat

Places To Stay

Nearby Cities To Explore

Getting To Ljubljana
Your Must-Do Adventures
SUP The Ljubljana River
This city is famous for stand up paddleboarding to see some of the city's most iconic sites, like the Triple Bridge and Gothic cathedrals. This city is sometimes nicknamed "new Prague" partly because of all the bridges around, and the fact that it may be more charming (and definitely less crowded) than Prague. You're welcome to explore the sites along the river on foot (Cankarjevo Nabrezj is the pedestrian street that parallels Ljubljana River) but we highly recommend seeing it via SUP!

You'll find a few different tour companies around, but Bananway is our #1 pick for a few reasons. They have tours all over Slovenia, but in Ljubljana, there's a 2-hour tour that starts with a 10 minute "how to paddleboard" lesson then takes you down the river, right under the Triple Bridge and near Dragon Bridge (two of the city's most popular sites) while your guide gives you a historical recap of the city and some pointers, like favorite restaurants or sites in the city.
Cost: Their 2-hour "urban tour" takes you down the city center, for €39. They also have a "wild tour" that takes you into the dripping willows and forests right outside of the city for the same price.
Helpful tips: No need to bring a camera — this company takes pictures via GoPro and sends them to you after. They also can lend out a wetsuit in the chillier months. Get more info about what's included (and book your tour) here. Oh, and give them a follow on Instagram for pictures like this!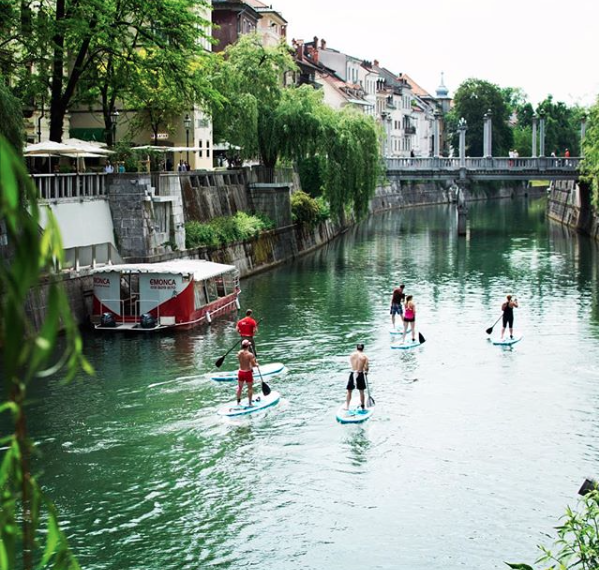 The Views + Escape Room At Ljubljana Castle
When your perched on top of Castle Hills peering out one of the windows of Ljubljana Castle, you're set up to soak in quite the view. From the top of the castle, you can see the Sava River and the Kamnik Alps, along with the red-tile rooftops of Slovenia's capital city. The castle used to be a fortress which protected the city from the imposing Ottoman Empire (and also was where the royal family lived for a time), but now it's one of the biggest things to see in Ljubljana thanks to its impressive and fundamental history (and that killer view).
The way to get up to the castle is also an adventure: behind the main market square, there's a funicular that'll take you all the way up, which is a faster and easier way than the 10 minute hike up the very steep hill to get to the castle. It's 4 euros for a one-way ticket for the funicular, but if you decide to get a "castle ticket" you can get a discount on your return-funicular ticket. Something to think about.
Castle Hours: Double check the castle hours online before for your visit, but here's a breakdown of when most of the castle's attractions are open during different times of the year:
January - March, and November: 10:00 AM to 6:00 PM (With some attractions closing at 8:00 PM)

April- May, and October: 9:00 AM to 8:00 PM (With some attractions closing at 9:00 PM)

June - September: 9:00 AM to 9:00 PM (With some attractions closing at 11:00 PM)

December: 10:00 AM to 8:00 PM (With some attractions closing at 8:00 PM)
Cost: Free (Mostly)
The Castle Courtyard, Chapel and Wall (and Gift Shop) are all free for visitors, but there is a castle ticket you can pay for for more access.
Castle Tickets: You'll get access to the Outlook Tower (for higher views on a viewing platform, after you climb 100 stairs up the tower), the Virtual Castle, the Puppetry Museum, and the Slovenian History Exhibit. You'll also get access to an audio guide which can tell you more about the history of the castle. Tickets are €13 or this (€15 if you want a return journey on the funicular), but you can check out ticket prices here.
Can You Escape The Castle?
Ljubljana Castle is also home to an Escape game, kind of like an Escape Room, but with a twist. Your team has just one hour to figure out a series of challenges in order to save the dragon. Ljubjana's city symbol is the mighty dragon and the one you have to save is a protector of the city. See if your group can solve the right riddles and revive the dragon!

Where: Games start every 10 minutes at the Info Center, up to two hours before closing time. For teams of 2 or 4.
Cost: €13 (includes a "Castle Ticket"). Get more information here.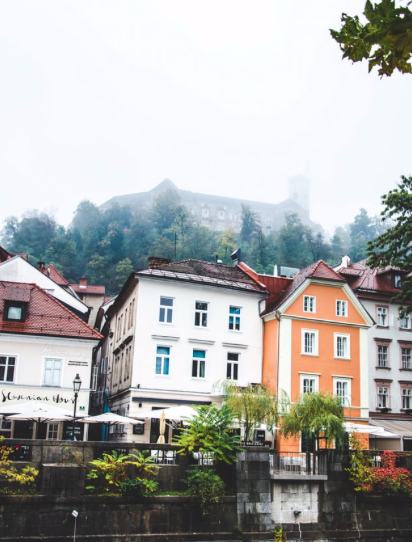 See the castle way up in the misty hills? Gorgeous!
Shopping For Treasures At These Markets
Sunday Flea Market
Pursue a few dozen staples stacked high with postcards, rusted military tins and awards, random knick-knacks, piles of painted dishes and bins of artworks or racks of secondhand clothes. This antique market is the spot to find a few treasures if you're willing to sort through the tables and lines. Find everything from the odd antique piece of furniture, vinyl albums of black and white photos, old currency to children's clothes and Disney sticker books. Prices are negotiable.
Hours: 8:00 AM to about 3:00 PM
Address: Bolsji Sejem, 1000 Ljubljana, Slovenia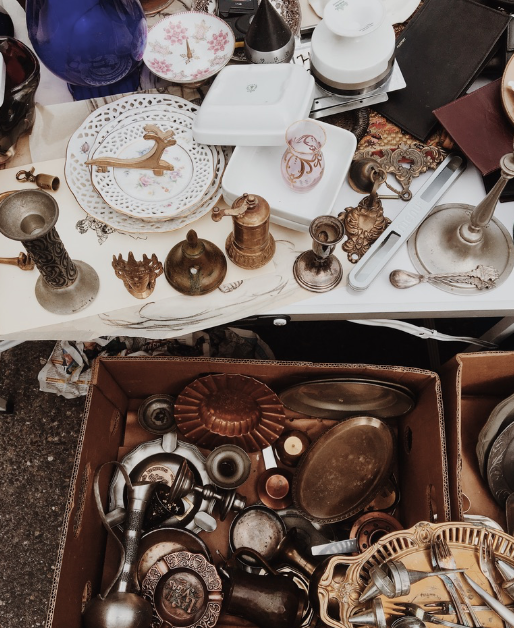 The Central Market
One of the top things to do when visiting Ljubljana, this open-air market is your dream if you're a fan of farmer's markets. Especially in the spring, summer, and fall, you'll find rows and rows of stalls selling local produce (think piles of cucumbers, stacks of radishes, piles of peaches, and baskets of bread depending on the season) and locally made cheeses and loaves of bread. In a building next door, you'll find the butcher block selling meats and cured salamis. While it's busy no matter when you visit, you'll find the most vendors and customers on a Saturday morning: there are lots more vendors who serve more food items like local Slovenian food, noodles, curries, coffee shops and bakeries, burgers, etc. Yum!

Hours: 7:00 AM to 4:00 PM (Saturday until 2:00 PM) Closed Sundays
Address: Adamič-Lundrovo nabrežje 6, 1000 Ljubljana, Slovenia
The View Atop This Skyscraper
The quaint city center is charming to explore ground level, but another spot to get a bird's eye view is at the top of the Art Nouvean Neboticnik (or skyscraper) building. You'll find a 360 degree view, 230+ feet above the city. It's free to visit (feel free to take the elevator up, or the stairs if you have the legs), but you will find a cafe and restaurant up top if you'd like to sit down, order something and soak in the view (indoor and outdoor seating).
Hours: 9:00 AM to 1:00 AM (Sunday to Wednesday) 9:00 AM to 3:00 AM (Thursday - Saturday)
Address: Štefanova ulica 1, 1000 Ljubljana, Slovenia
Bike To The City's Most Famous Sites
There's quite a bit to see in Ljubljana when it comes to churches and museums, but the best way to get to them all are by bike. You can easily rent a bike for a couple of hours (€2) or just around €8 for the entire day. You'll find rentals all over (many hostels rent them out) but you can also head to the tourist info booth (Krekov trg 10, open from 8:00 AM to 7:00 PM). This info booth is right by the Triple Bridge.
Some things to check out:
Prešeren Square is the center of the city, filled with pretty buildings like the Baroque Church of the Annnunciation: it's salmon pink color is pretty hard to miss. Find the square here: Prešernov trg 1, 1000 Ljubljana, Slovenia

Tivoli Park is the green space of the city, a sprawling expanse of grass, benches, and carefully manicured gardens that can give you a break from the city's stunning architecture. Inside the park, you'll find a few mansions-turned-museums, an open-air gallery, a greenhouse or two, and a botanical garden, ponds filled with swans, along with an avenue that walks you directly to the doorstep of Tivoli Castle. It's a must-see spot in the city (and our pick for a picnic spot). Find it here: 1000 Ljubljana, Slovenia (Open 24 hours a day).
The National Gallery Of Slovenia is found just right next door to Tivoli Park and is home to the city's most important work, a sculpture of a fountain that's now protected under glass. The sculpture serves as a symbol of Ljubljana, with three figures pouring jugs of water that represent the three major rivers of the region: The Ljubljanica, the Sava and the Krka.

You can see the real one at the museum (Address: Prešernova cesta 24, 1000 Ljubljana, Slovenia, Hours: 10:00 AM to 6:00 PM, closed Mondays)

Or head to see the Robba Fountain replica here: Mestni trg, 1000 Ljubljana, Slovenia.
Ljubljana Cathedral: Built by a handful of Italian architects, this church sports a green copper dome, gorgeous frescoes and an impressive door where the history of Slovenia is carved. Peek inside and see even more, with marble sculptures and ceiling frescoes, towering marble archways, and a golden cathedral or two. The church dates back to the 13th century or so, was destroyed in a fire a couple different times, and rebuilt to what it is today. It's an active church (with services from 6:00 AM to 6:30 PM or so, so please be quiet and respectful when visiting.

Here's the address: Dolničarjeva ulica 1, 1000 Ljubljana, Slovenia
Some Places To Eat
Druga Violina
Make sure to get a reservation before visiting because this place is popular. This restaurant serves up local dishes for a stellar price (try some orehovi štrukji: thin layers of pastry rolled with a filling — anything from walnuts and spices, to meats and cheese). Not only is the food excellent but the service is too: this restaurant employs those with special needs and sources the majority of their ingredients locally. You can check out their Facebook page for more information and pictures.
Address: Stari trg 21, 1000 Ljubljana, Slovenia
Hours: 8:00 AM to Midnight, Daily
Le Petite Cafe
This is the spot for breakfast and brunch. They do serve food all day, but Le Petite Cafe is one of the most popular places to have your morning meal. With dishes that'll transport you all the way to France, sitting outside with a plate of crepes dusted with chocolate, or a toasty croque monsieur you can see why this is a number one pick.

Address: Trg francoske revolucije 4, 1000 Ljubljana, Slovenia
Hours: 7:30 AM to Midnight, daily.
If You Want Ice Cream
...
Ljubljana is called by some as the "ice cream capital of the world", so it only makes sense that you test out all of their best spots to see if this European city deserves that title.
Cacao Ljubljana
A crowded and popular cafe that serves coffee, breakfast, and other items on their menu (like sandwiches and smoothies) but we're here for the cream and rich ice cream. Find flavors like peanut ice cream, walnut and fig, Madagascar vanilla, white chocolate and pistachio, and more. Easily one of the most popular places to get dessert in the city.
Address: Petkovškovo nabrežje 3, 1000 Ljubljana, Slovenia
Hours: 8:00 AM to 10:00 PM (Open until 11:00 PM on Friday and Saturday)
Vigo
Thick and creamy ice cream flavors like salted caramel + cacao nibs or cheesecake with blueberries is what could be waiting for you at Vigo. Or maybe you're more in the mood for an orange and chocolate sorbet, or a mango sorbet, or get whatever you order drizzled with warm chocolate, right from their chocolate fountain. Local tip: If you can't decide which flavors to get (they always have quite a few to choose from) just ask the servers their personal favorites.
Address: Mačkova ulica 2, 1000 Ljubljana, Slovenia
Hours: 9:00 AM to 10:00 Daily
Geleteria Romantika
Come for the gelato and probably end up ordering a Belgium waffle at Geleteria Romantika. You'll find a few goodies on their menu, but the gelato is the real show-stopper, with more experimental flavors like pistachio, earl gray, papaya with orange and ginger, plus ones like cucumber and lychee. There's a bit of a debate to see whether people like Vigo or this place better, so test out both and cast your vote.
Address: Dvorni trg 1, 1000 Ljubljana, Slovenia
Hours: 9:30 AM to 9:00 PM, Daily


Places To Stay
Vila Veselova
Come stay in a 100+ year old villa, designed by the famous Slovenian architect, Ciril Metod Koch (we know it's on your bucket list!) This hostel has a free breakfast, killer location, and a helpful staff who can set you up with a city map and a few tips for exploring the city. Mixed dorm beds go for about $27 a night — book your stay at Vila Veselova on Hostelworld here.

Tresor Hostel
Right in the heart of the city is a former bank-turned-hostel with great rooms that's right by a grocery store, Tresor Hostel is another popular option where you can book a mixed dorm bed for about $24-28 a night. It's slightly closer than Vila Veselova, but you'll need to grab you own breakfast or purchase something to eat at the hostel's cafe. Book on Hostelworld here.
Hostel Vrba
Found in the quieter, greener section of the city, you're still within walking distance to all the main sites, but the reviews speak for themselves. It's a lovely spot, with power outlets by the beds (we love that!) and a staff willing to share restaurant recommendations. If you'll be visiting in the summer, just a head's up that this place doesn't have A/C and it can get pretty toasty, but it's well heated in the winter months. Find mixed dorm rooms for $21 - 26 a night on Hostelworld.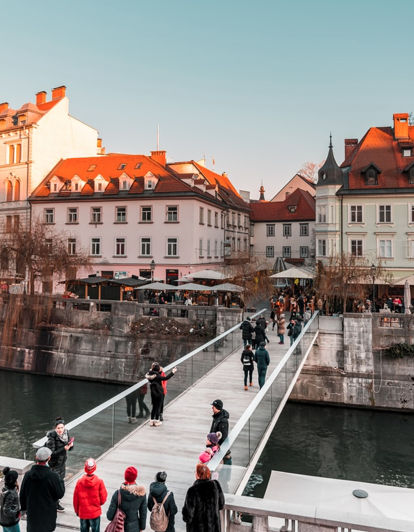 Fun Day Trips + Nearby Cities
One of the biggest pulls to exploring Ljubljana is how close it is to other spots on your itinerary. There are probably a dozen or so we could add to this list, but we've put together a list of some of the city's most popular day trips and some nearby cities and countries that you'll probably want to explore while in Europe.
Lake Bled - Day Trip
Come spend an afternoon swimming in the jewel-like waters of Lake Bled. Take a boat ride out to the tiny island supporting a church in the middle, or hike up to the castle in the hills for a truly stunning view, this is an easily done day trip from the capital city of Ljubljana (plan on taking about 90 minutes to get here by bus). Get our Bled Lake Guide here.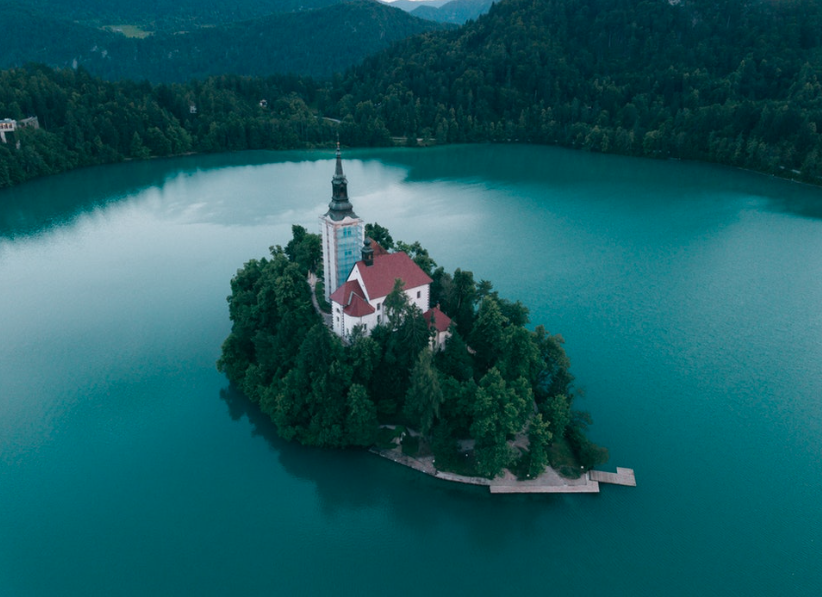 The Postojna Cave - Day Trip
Escape the heat that hits Slovenia in the summer time by descending deep underground to explore one of the most impressive cave complexes in the world. Seriously cool (temperature wise too), the Postojna Cave is recognized by UNESCO. You can walk or ride a train through the towering chambers admiring stalagmites and stalagmites in these massive caverns. The cave park complex is easily reached by train from Ljubljana if you'd like to do it yourself (you can also book a tour— most hostels in the area can help you out with this once you arrive). There are direct trains and buses from Ljubljana Postojna (it should take about an hour each way).
The Postojna Park website has instructions and bus/train timetables to help you book your visit.
Cost: Depends on when you are visiting (low or high season) and what type of package you're looking to book. Tickets range from 27 - 40 euros , but you can check exact prices and bookings here.
Kranj - Day Trip
Anyone into fairytale cities with towering mountain ranges in the back? Kranj is picture perfect, with tall steeple churches dotting a city topped with red-tile roof tops: the ideal slow-paced day trip spot. A quick visit here means soaking up the view in Old Town (make sure to pop into St. Kancijan Church — Cerkev Sv. Kancijana) and touring the underground tunnels that are hiding under the cobblestone streets of Kranj.
Built before the second World War, some of these tunnels were used to shelter German soldiers during air raids. Tours are on Tuesday and Friday at 5:00 PM, and Saturday and Sunday at 10:00. It takes about an hour, and costs 3 euros. Or you can book a guided tour in English. Get more information online.

Getting here is easy, with direct buses and trains from Ljubljana to Kranj. Check out Omio for times and prices.
Skofja Loka - Day Trip
Nestled less than an hour away from the capital is one of the hidden gems of the country, a charmingly quiet town boasted an impressive castle, a historic bridge, and this narrow streets you love about Europe. Rolling hills surround the small town which, when climbed, give you an impressive view of the steepled churches and red roofs that spill out over the countryside. It's incredibly picturesque, so don't miss it.

Our Skofja Loka guide has all the info on how to get here from Ljubljana.
Venice, Italy - 3 hours away
Think about heading to Italy after you visit Slovenia! The dreamy canal filled city of Venice is just a few hours away by train or bus, making it an easy spot to add to your itinerary. Half circle bridges, stacks of gelato, views you've seen on Instagram and some of the world's most impressive architecture are all waiting for you in Venice! Get our Venice Go To Guide here for all the tips on when to visit, the best places to eat, the prettiest bridges to see, and a few other things you'll need.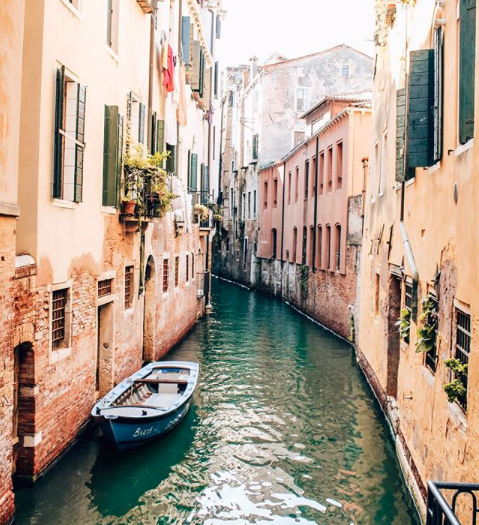 Salzburg, Austria - 4 hours away
Hop on a train or bus and be in Austria in just a couple of hours. A city you can easily spend a few days in, Salzburg is charmingly quaint, with luxurious palaces and castles dotting the city. But ride just outside the city on a bus and you can take a cable car right up to the Swiss Alps. Check out our Salzburg city guide and see how this Austrian gem is a city that will totally surprise you, in the best ways.
Croatia - 2 hours away
A quick (and $14 cheap!) bus ride gets you to Croatia, another favorite spot if you're talking to me. Zagreb is the country's capital, a melting pot of cultures that's also the transportation hub of the country. Flying into Zagreb means quick access to the medieval towns lining the glittering coastline, buses to the national parks, and more. Our favorite spots in Croatia are all easily reached from Zagreb.
Or you can hang out in Istria, which is a total under-the-radar gem. Found right across from Venice, Italy is the Istria peninsula, a best-kept secret for travelers in the know. This space juts into the glittering Adriatic ocean (boasting pretty beaches) and rimmed with colorful coastal fishing villages with a strong Italian influence. We're huge fans of exploring the more popular parts of Croatia (who can say "no" to all the islands you can visit from Dubrovnik?) but there's something about lounging on beaches that the rest of the world isn't visiting. Come see everything about Istria here.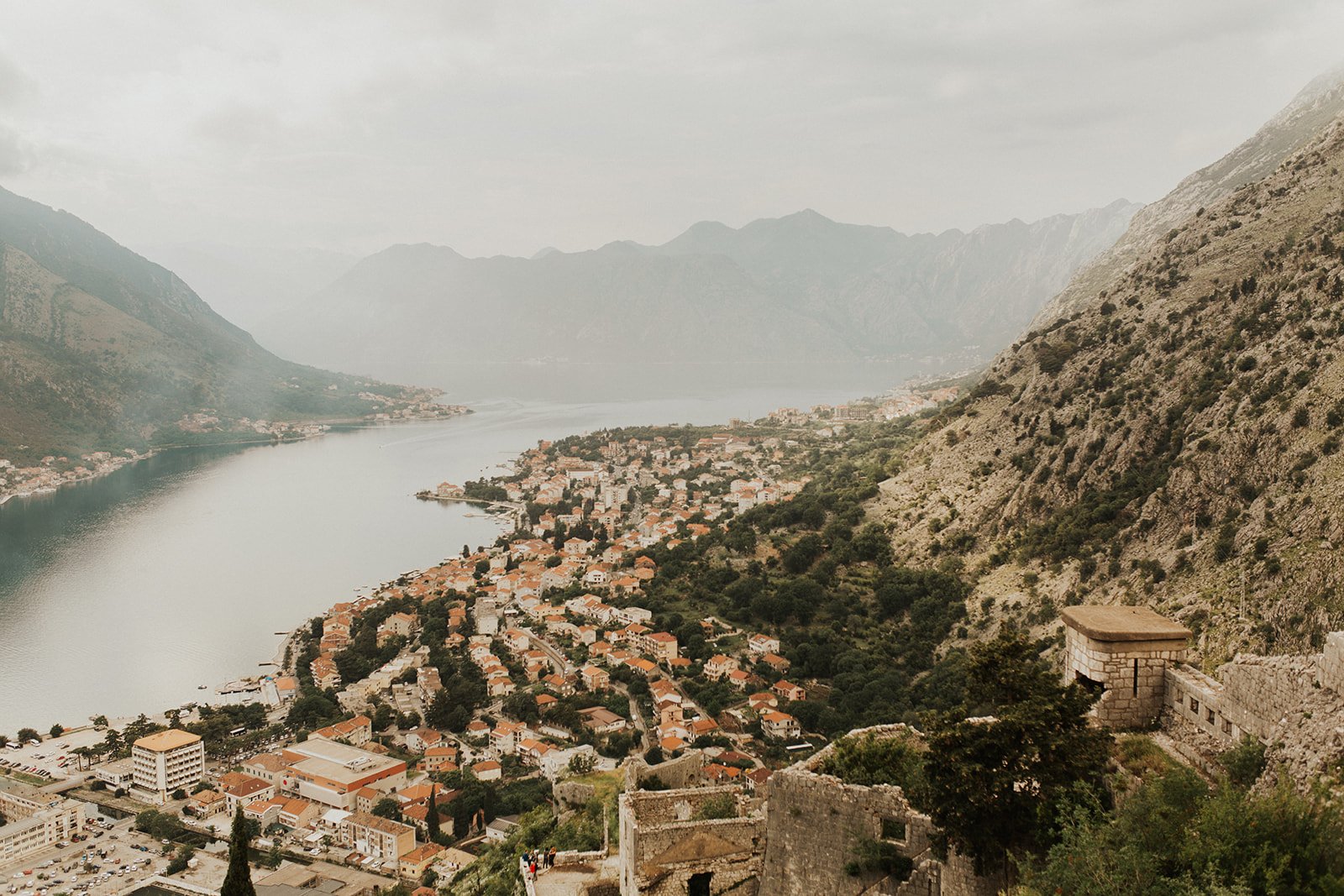 Getting To Ljubljana
By Plane
There's one major airport in the area, LJU. Loads of flights from nearby European cities fly here (check routes on LOT airlines, Wizz air, Aeroflot, Easyjet and AirFrance) so getting a flight in isn't a struggle.
The airport is found about 15 miles outside of the city center, you'll need to get a bus to take you into the city. Buses run every hour (on the hour) Monday - Friday from 5:00 AM and 8:00 PM. They run every two hours on weekends, from 10:00 AM to 8:00 PM. Tickets are 4.10 Euros and you can buy them directly from the driver. The drive takes about 50 minutes.
By Bus Or Train
There are four major train stations in Ljubljana: the most central train station is Ljubljana Train Station (though Ljubljana Trivoli is just outside of the city). The major bus station in the city is right next to Ljubljana Train Station which makes it easy. We suggest booking train or bus tickets that have you arriving in that station, since it has such a central location (we love booking all bus or train tickets on Omio). Once you get off your bus or train from that station, it's just about a 15 minute walk to get to the city center.
Getting Around The City
Overall, the city center of Ljubljana is rather walkable, but bike is also a very popular way to get around. We've talked about how to rent bikes above if you need a refresher on that. The city does have a public bus system too: you do have to purchase an Urbana card and load money onto your card.
You can purchase your Urbana card at larger bus stations at little kiosks, at tourist information centers (find one at Adamič-Lundrovo nabrežje 2, next to the Triple Bridge, or one at Trg Osvobodilne fronte 6 which is inside the railway station). You can also buy them at most newspaper stands. The card itself costs €2, then you'll need to land on anywhere from €1 to €50. A single bus ride costs €1.20, so that can help you figure out how how much money to put on your card.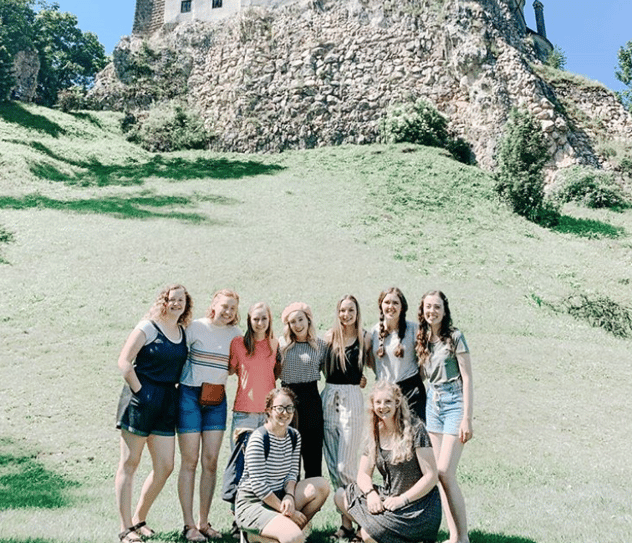 See your favorite European spots is easy when you're living in Europe!
Come live in Europe with ILP! ILP's a service-based travel organization who sends college-aged volunteers abroad to volunteer in an orphanage or spend time teaching English — your time is split between traveling and making a difference, with every weekend off and vacation time to see places like Slovenia.