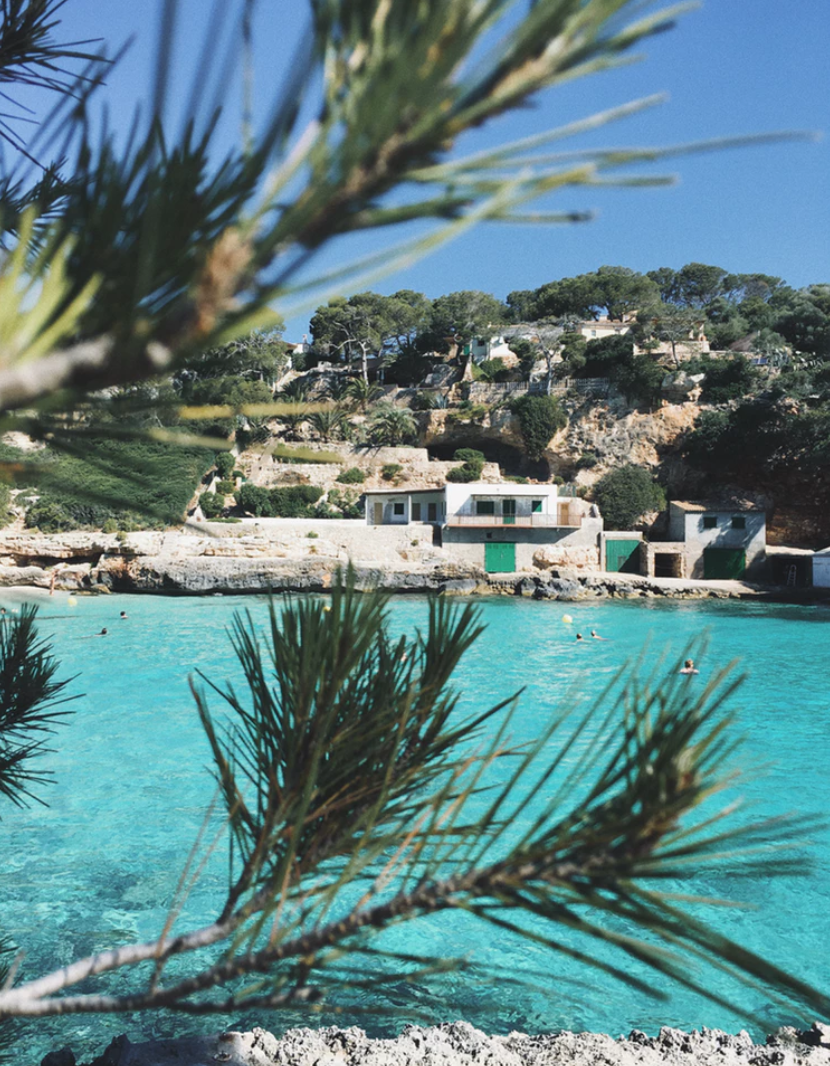 I mean ... a ticket from Barcelona to this insanely gorgeous island costs about as much as going out for dinner last night did. Why isn't everyone going to Mallorca?
Mallorca is a perfect little island off the coast of Spain and will make you feel like you've been transported to a literal postcard! You can't miss this beautiful place, especially if you find yourself close by in Barcelona.
If you're looking for a beautiful beachy getaway in Europe, we've found you the perfect spot. Mallorca not only has beautiful beaches and turquoise blue waters, but the cutest Spanish cities that you just can't miss. It's also conveniently close to Barcelona and like we mentioned, incredibly affordable to get to!


---
Looking for other amazing European destinations?
Here is a guide to all our very favorites!
---

Add Mallorca to your "must-visit" list and we know you won't be disappointed. Here's what you need to know about this cute city and how to make a visit happen!
A Bit About This Dreamy Island
The Spanish island is a decent size and has a lot to do, so it's important to plan out what you'll be doing before you go. You can take a quick day trip there and spend all day on the beach, or if you can, we'd recommend spending at least a full weekend to see and do a little more.
We'd say staying in Palma (the capital of the island) and visiting some of the beaches are a must, but if you have more time there are other cities you can visit as well. Here are a few things we'd recommend doing and seeing during your time there!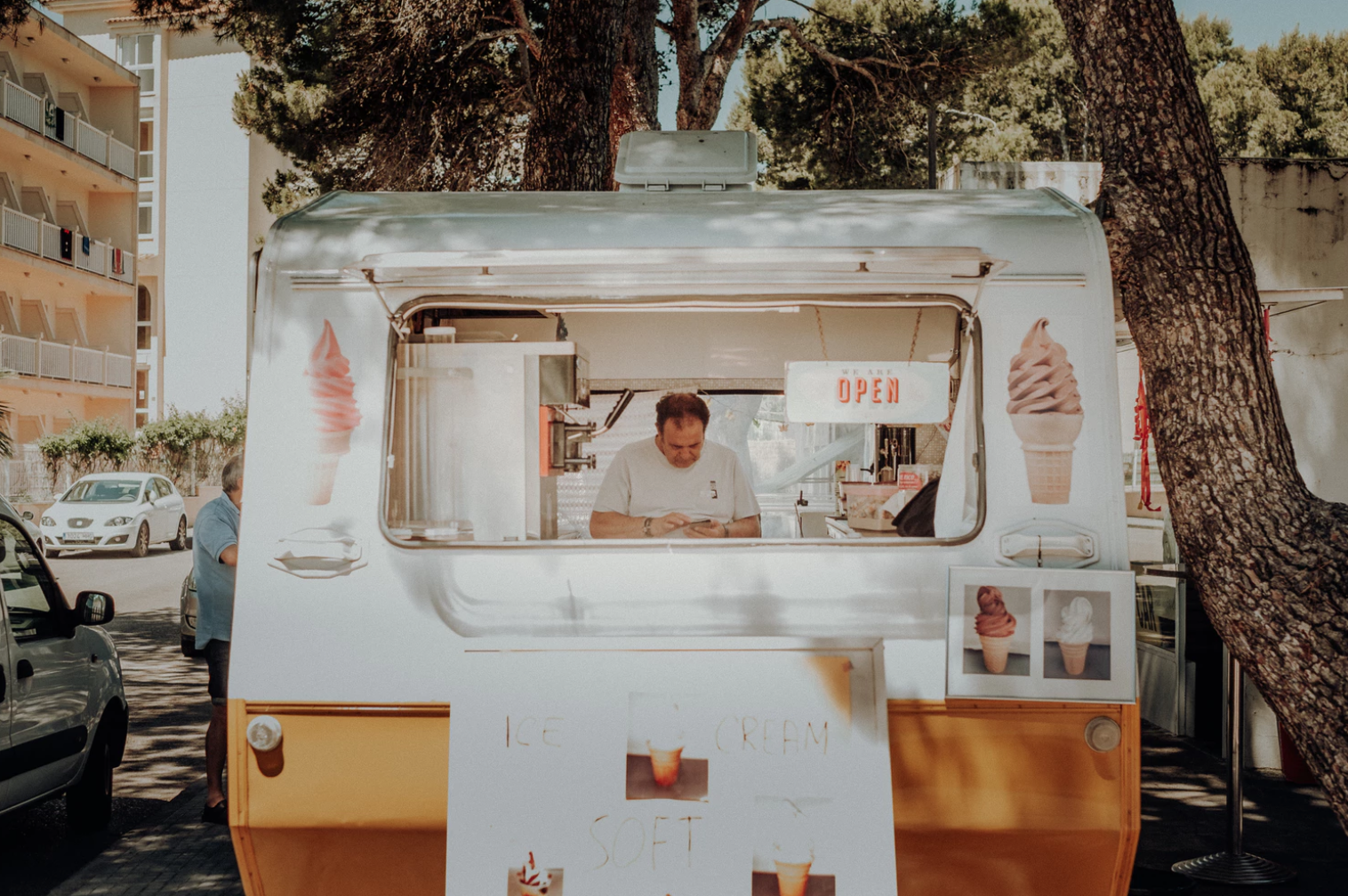 Visit The Beaches
Visiting some of the beaches on Mallorca should definitely be a priority! A lot of people visit the beaches in Barcelona just because it's a coastal city, but we think the real charm of Barcelona is the arts and the city streets. If you want to see Spanish coastlines, we'd 100% recommend heading to Mallorca and checking these ones out instead.
Portals Nous Beach
This beach has golden, soft sand and calm, turquoise water. This makes it the perfect beach for relaxing or taking a dip in the water. You are a quick walk into the city if you need to grab any food and drinks and there are also places to rent snorkeling gear and paddle boards.
Cala Formento Beach
This is one of the most well known beaches on the island and for good reason. The bright blue-green water is the perfect place to swim and you are surrounded by lush greenery and trees. It really is beautiful!
Playa d'Alcuidia
Known for its white sand and calm swimming areas this will become a favorite of yours. You can spend time hanging out and relaxing, rent jet skis, or go parasailing on this beach.
Other Beaches—
There are A LOT of beaches on Mallorca and you really could spend forever lounging on all of them and swimming in the beautiful water. Here's a list of even more beaches you can check out.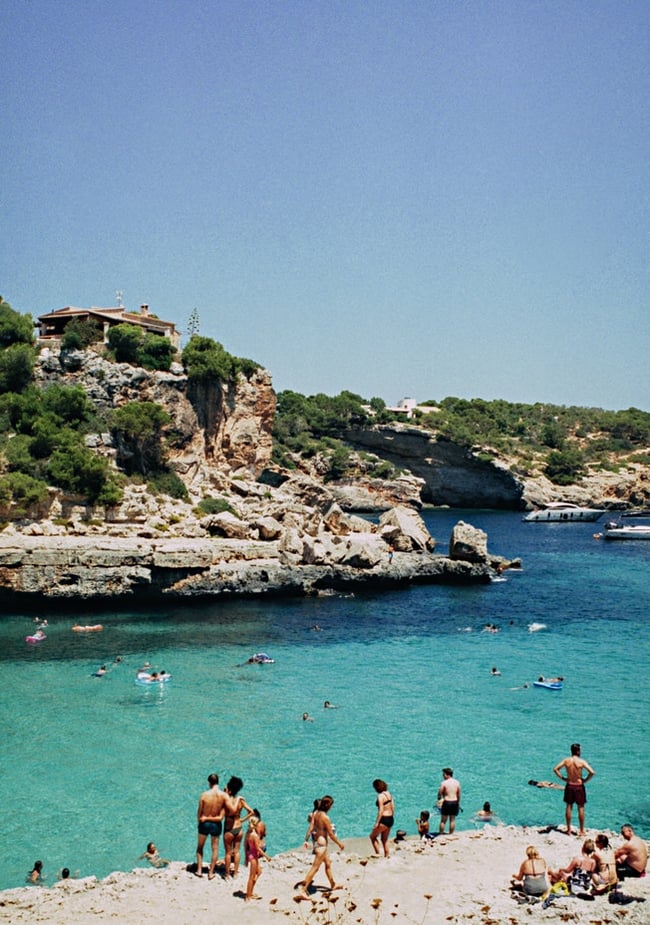 What To Do In Palma
Like we said, Palma is the capital and has the perfect Spanish island town vibes that you would be expecting. Make sure you spend time walking around and exploring the city in between all the fun plans you have. It is beautiful and we love the atmosphere there.
Take A Boat Tour
We know you'll want to spend time on the water while in Mallorca and taking a boat tour is an easy way to do that. There are a lot of options for tours and what they offer: some will take you around the coast of Palma and some will take you to other cities on the island.
Here are different tours to check out. The prices and details are all listed and will vary depending on what you are looking for.
Cathedral de Mallorca
This cathedral is one you won't miss as you are walking around Palma. It is huge and beautiful. Take a walk around the grounds and make sure you go inside to marvel at the gorgeous stained glass windows (all 60+ of them!).
Address: Plaça de la Seu, s/n, 07001 Palma, Illes Balears, Spain
Palace of Almudaina
The Palace of Almudaina is right next to the cathedral and again is a site you can't miss. The courtyard is full of beautiful palm trees and architecture and is said to be one of the most beautiful sights in Palma. Spend some time wandering and taking the pictures of this pretty place.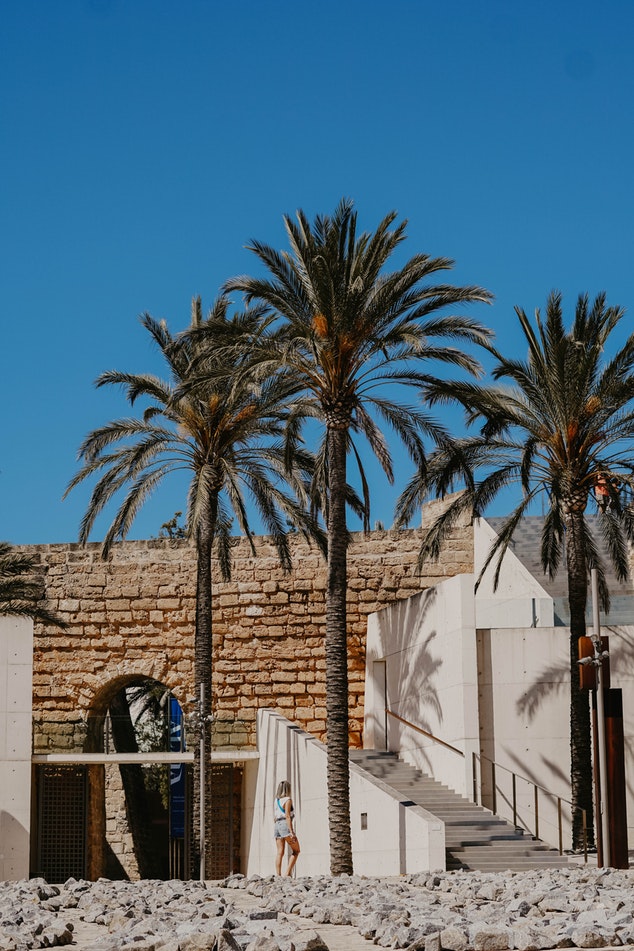 Visit The Spanish Contemporary Art Museum
Any fellow art lovers out there? Take a visit to the Museum of Spanish Contemporary Art. The museum isn't huge but does have amazing pieces (look for the Picasso). It's free to enter and is a nice little stop.
Address: Carrer de Sant Miquel, 11, 07002 Palma, Illes Balears, Spain
Cort Square
This part of the city is the former Arab Quarter and is really unique. It is known for the ancient olive tree that is growing in the middle of the square and is a beautiful area to explore full of winding alleyways, local bakeries, and cute shops.
Address: Carrer Cala Blanca, 3, 07181 Torrenova, Illes Balears, Spain
Palma Aquarium
The aquarium is a neat place to visit if you want to learn more about the local sea-life and they also offer a lot of other activities like shark diving, 360° movie screen that shows documentaries, and snorkeling with stingrays.
Here's their website for more info (google translate will help!)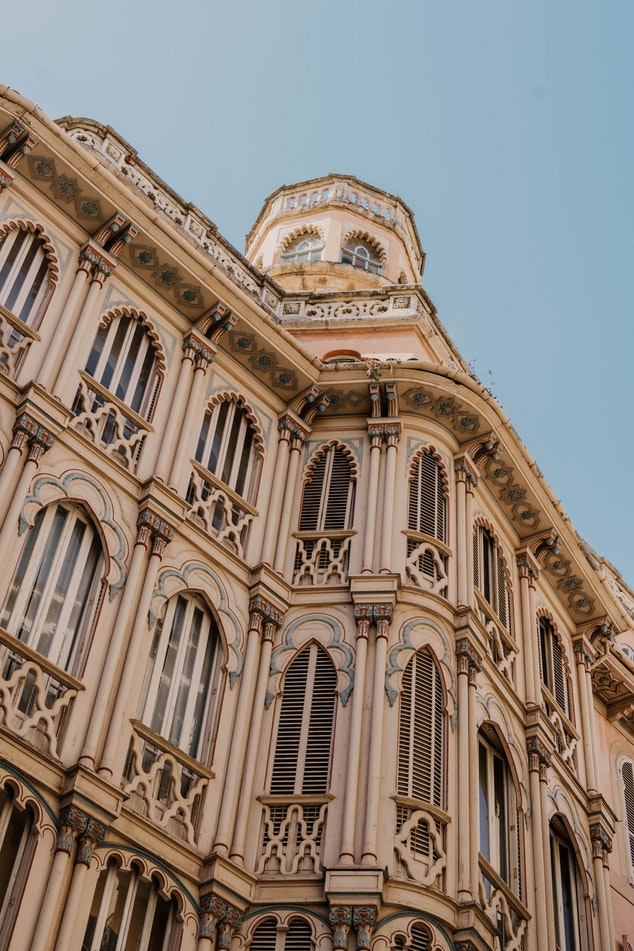 How To Get To Mallorca
Getting to Mallorca is really easy and affordable. The quickest and cheapest way to get there is catching a flight from Barcelona to Palma, and will take just under an hour.
With a quick search on Google flights I was able to find lots of round trip tickets on various dates throughout the year for only $30! You really can't go wrong with tickets that cheap.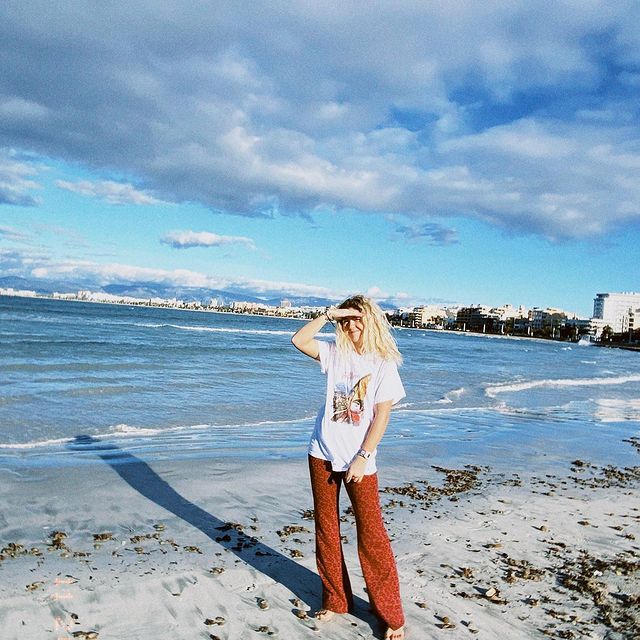 Ready for a semester abroad traveling and exploring?
Come volunteer with us, ILP! You can spend a semester in countries all over the world and experience new cultures as you serve, travel, and explore.
Click the button below to learn more about what a semester is like with us!