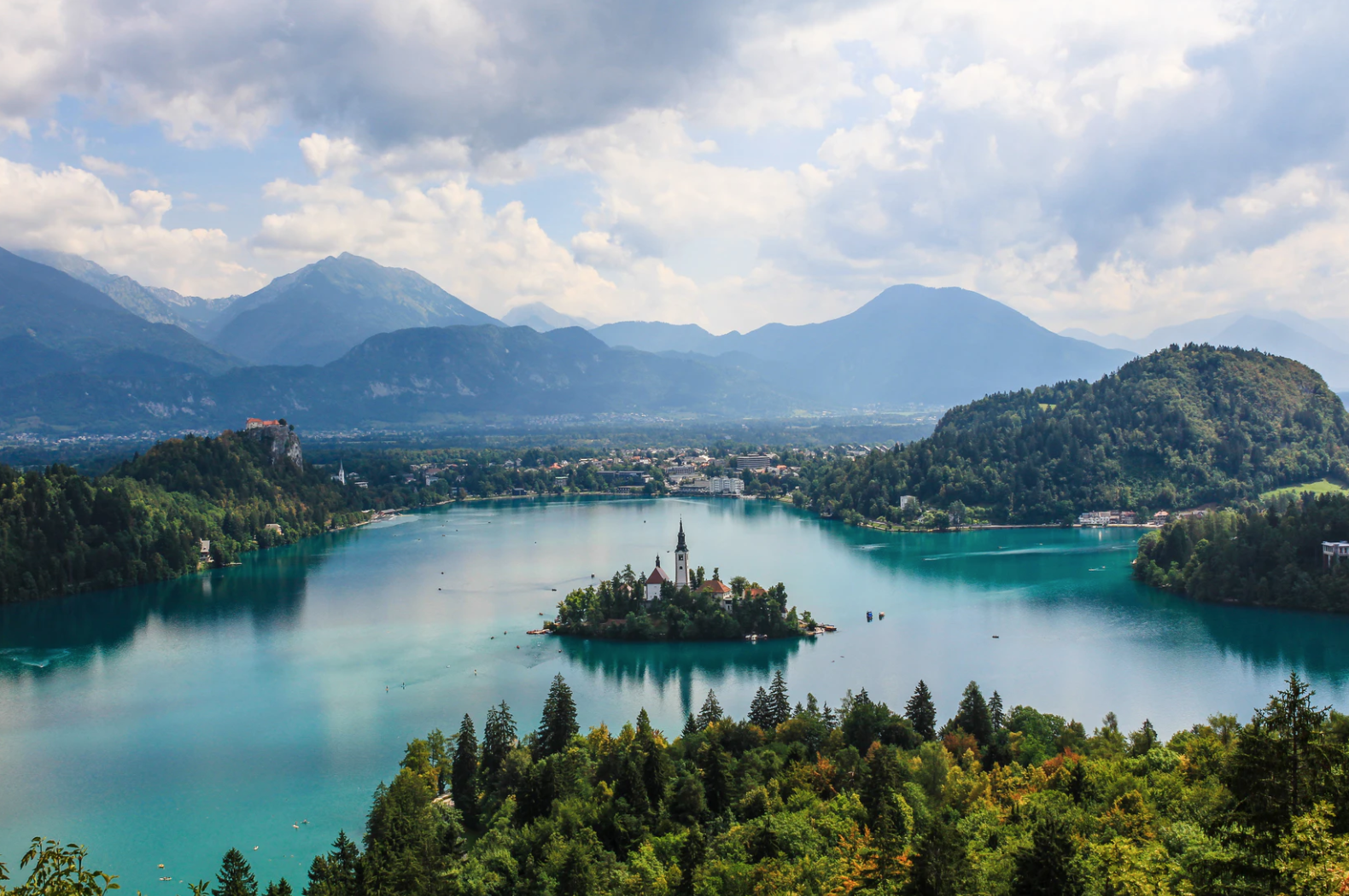 Countries like France and Italy are probably on your bucket list, but once you get a peek at what is hiding in Slovenia, we think you might be convinced to visit here, too.
ILP volunteers in Europe have some tough choices ahead of them. With weekends off and vacation days when they aren't teaching English or volunteering in an orphanage, you'll be able to see quite a few of the major cities and countries on your European bucket list. So which ones will make the cut for your semester abroad?


---
Don't miss Europe's hidden gems.
Our favorite countries and cities are all in this European Destination Guide
---


One place we think you should visit ASAP? Slovenia's Bled Lake. I mean, unless you're not into crazy turquoise-blue waters and fortress-topped islands, that is.
Why Should You Visit?
Favorite Things To Do

Things To Eat
Getting Here
+ A Few Tips
Why Should You Visit?
If you want to explore places your friends at home probably haven't heard of before and want to see some of the prettiest views in this corner of the world, Slovenia is for you.
Surrounded by the towering Julin Alps, Lake Bled is just stunning. I mean, a few pictures gives you an idea of how pretty this place is. In the summer months, the lake's water takes on an almost Caribbean appearance, with pockets of baby blue that melt into a bright turquoise that will transport you to more tropical getaways ... until you glimpse the island.
In the middle of the lake there's a leafy island that is home to a steepled church decorated with Gothic artwork that's some 600 years old. Oh, and all of this is surrounded by rolling hills and towering mountains. No wonder this place is Slovenia's most famous place to visit.
Favorite Things To Do
Hang Out At The Lake
It's the main attraction, after all. It'll take you about two hours to walk around the whole thing which isn't too bad, especially if you're hunting for the perfect place to take a swim. In the summer months, it gets quite warm and the water is the perfect way to cool off. Around the shore, you can also find spots where you can rent a kayak or a paddle board if you'd rather. Find the kayaks below the entrance point of Bled Castle (about seven euros for an hour rental).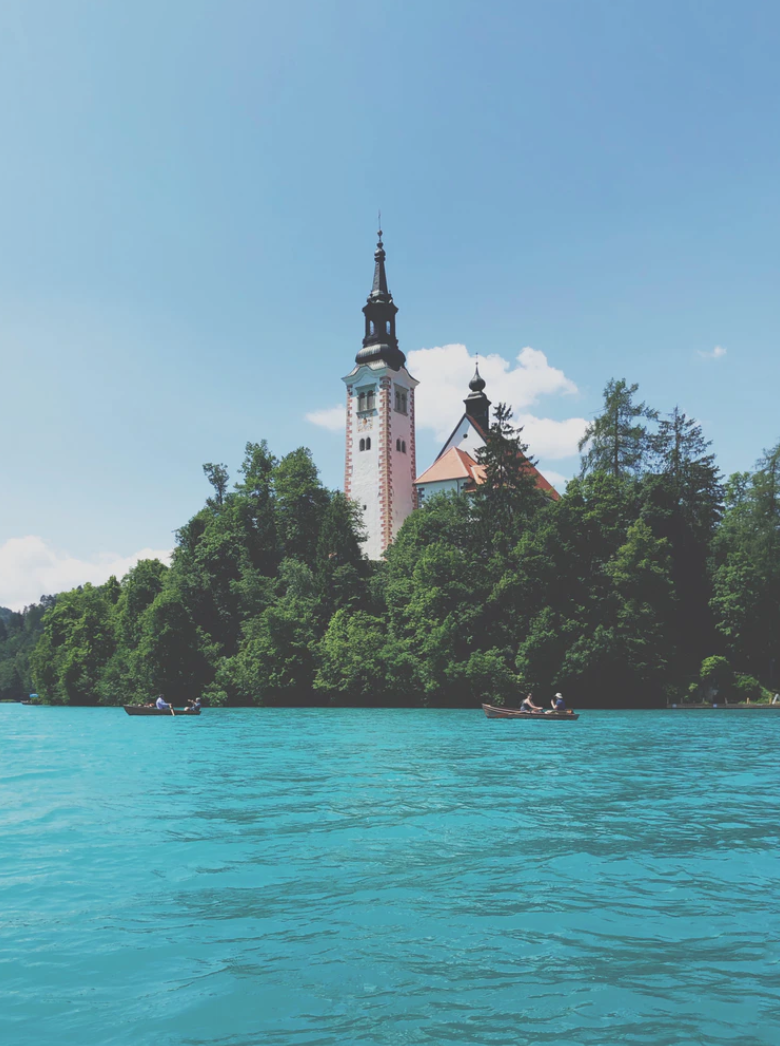 See The Lake's Island
In the middle of Lake Bled, you'll find Bled Island and it's pretty much exactly what you would want out of an island floating in a unbelievable blue mountain lake. Tiny and quaint, the island is home to a tall-steepled church with a wishing bell and a few other attractions.
It will cost about 12 euros to hire a boat to take you to the island and it is six euro to go inside of the church. If you're on a tight budget, it's probably worth skipping, but don't miss out on the chance to admire the island from the shore.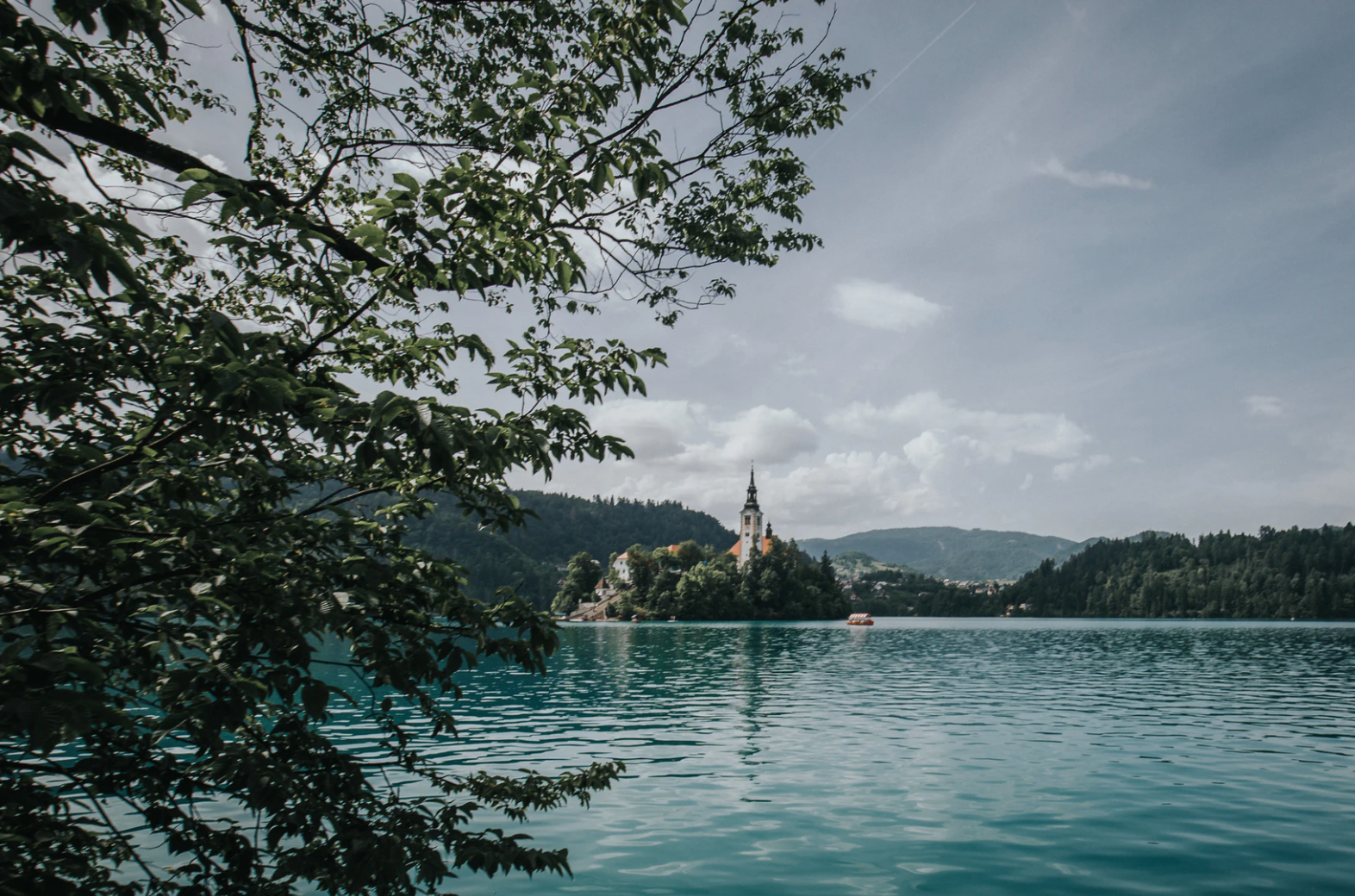 Hike To This Viewpoint
It's a must do to get the best view of the lake and surrounding mountains. Mala Osojnica is the name of the hill found on the southern corner of the lake and supports one of the best views you can get. The hike is steep and rather challenging, so wear proper shoes and take your time. It should take about 45 minutes at a moderate place.
Bike Around The Lake
If you'd rather not walk, biking around the lake is the way to go. Pack up snacks and water in your backpack and head to the tourist information office (found at Cesta svobode 4a, 4260 Bled, Slovenia) where you can rent bikes for the day. It should be around four euros for three hours, or 11ish euros for the day.
Visit Bled Castle
If you believe in the legends, this is the oldest castle in all of Slovenia and you'll find all of the things a castle should be if you visit. Complete with a moat, courtyards, towering walls, a blacksmith shop plus a pretty unbeatable view, Bled Castle is on of the most popular ways to spend an afternoon in the area.
To get here, make your way to the Vila Preseren Restaurant. Behind the restaurant there is an uphill road between the park and the back of the restaurant. You will then see a white monolith behind the restaurant and a sign that says Grad 1 (Grad means castle) and SV Marting. Walk up the steps behind the monument then head up the steps to the church entrance. You'll walk across the church parking lot until you see a mountain train that is made up of a lot of stairs. It should take you about 10 - 15 minutes to walk up from there.

Hours: November to March: 8:00 AM to 6:00 PM
April to June 14: 8:00 AM to 8:00 PM
June 15 to September 15: 8:00 AM to 9:00 PM
September 16 to October: 8:00 AM to 8:00 PM.
Cost: 9 Euros to enter the castle.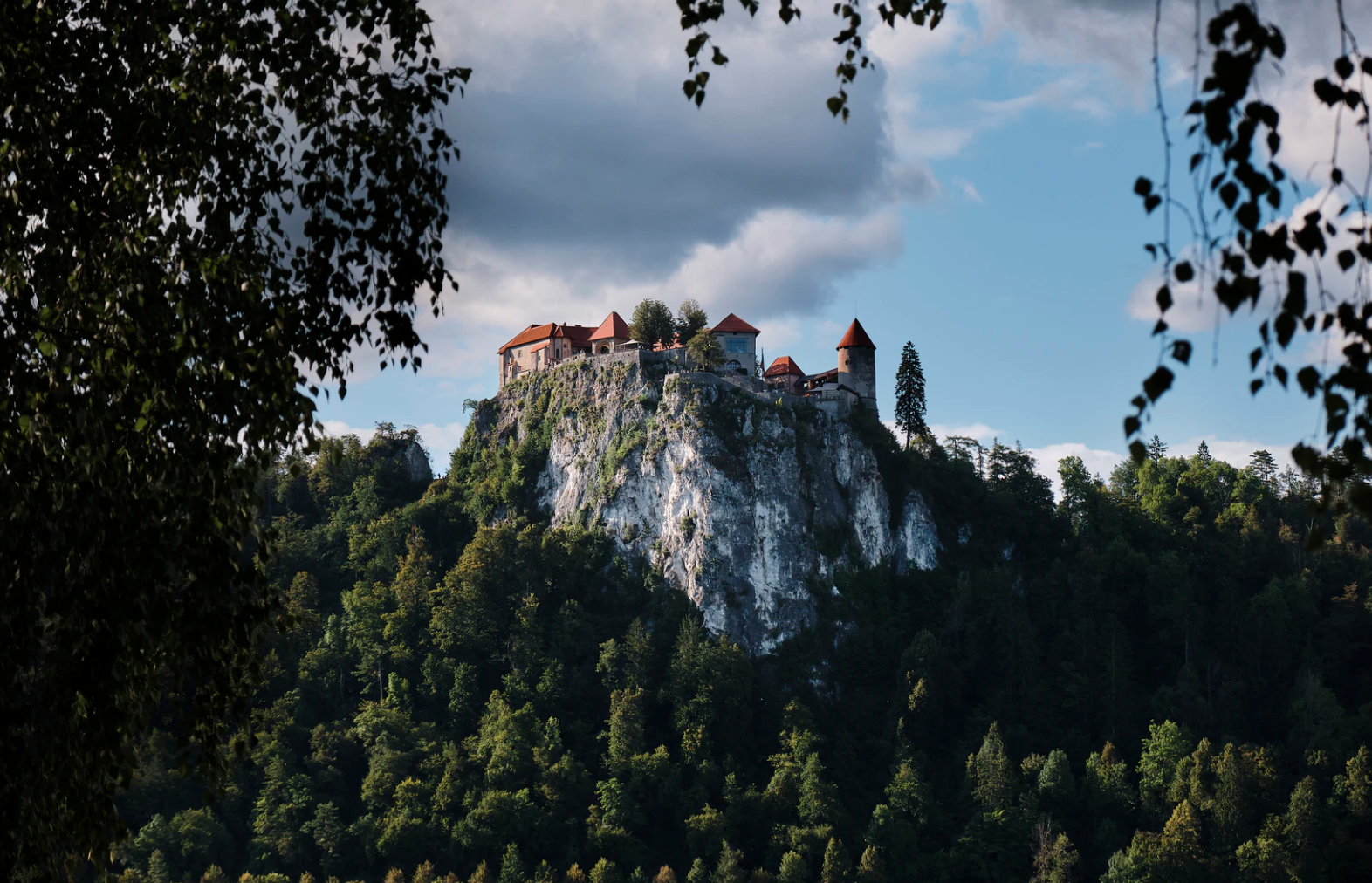 Things To Eat
If you're not too familiar with Slovenian cuisine, get ready. Our #1 pick is a local dessert known as kremna rezina. Originally brought from Bosnia, the Bled version a tall square of rich custard, then a square of cream, all sandwiched between flaky pastry. To make it even more delicious, the entire thing is then heavily dusted in a layer of powdered sugar.

Getting Here
You will want to eventually get to the city of Bled. It's in the northwest corner of Slovenia, which is sandwiched between countries like Italy, Austria, Croatia, and a tiny corner of Hungary. Luckily, you can easily reach Bled by taking a bus from the Ljublijana airport, or by taking a bus/train from other cities in Slovenia and nearby countries.
A Money Saving Tip
While Ljubljana is the country's capital, it's typically more expensive to fly into this airport than it would be to arrive by bus or train. To save some euros, think about starting off in cities like Zabreb (Croatia), Salzburg (Austria), or Trieste (Italy), and taking a bus/train to the city of Bled, instead of flying into the closest airport. We have more help for an itinerary like that below.
Take A Train Or A Bus
Train
It's also popular to reach the city of Bled by train: there are two railway stations to be aware of. Lesce-Bled has frequent connections to cities like Münich – Salzburg – Villach – Ljubljana – Belgrade – Istanbul – Athens, and is about two miles away from the city of Bled. You can reach the city of Bled from the railway by calling a taxi or catching a bus. Just head to the Bled bus station which is on the opposite side of the railway station. Find Leste-Bled railway station info here.
The other station is known as the Bled Jezero railway station. You'll find connections from places like Villach – Jesenice – Nova Gorica – Koper or Gorizia (Italy). This train station is just under a mile away from the center of Bled.
Bus
It's also popular to arrive to Bled via bus. We love looking up routes on FlixBus to give use an idea of which cities have the best connections. For example, it's just a 3 hour train ride from Salzburg, Austria to reach Bled and costs around 14 euro. You can find dozens of routes from cities all over Europe that would be easy to fit into your itinerary.
If You Fly Into Ljubljana
If you fly directly to Slovenia to visit Lake Bled, you'll want to get a flight to the Ljubljana Airport (LJU) where you can easily catch a bus or train to Bled. The airport is about 36 km from Bled Lake, but don't miss exploring Ljubljana when you're in town.
From the airport, you can get a bus to the nearby city of Kranj (for 1.80 euro), then get another bus to Bled (for 6.80 euro). Check the bus schedule here before you plan your trip — you'll need to time your flight for the buses leaving for Kranj, and note that there isn't a Ljublijana to Kranj bus on Sundays. It should take you about 70 minutes, total.
From Bled city, it's just a five minute taxi ride to get yourself to the lake, or you could walk which would only take about 10 minutes. Your choice.
+ A Few Tips
When It Comes To Food
This is a popular tourist town for locals and other nationalities, so prices tend to be higher than other places in Slovenia. Especially along the main streets filled with hostels and hotels, you will find higher prices for meals. You might want to hit up a grocery store and buy some staples and snacks to help you out if you're on a budget.
Places To Stay
You will find a whole range, from budget rooms that just cover the necessities ($11 USD + a night) to expensive lodges and hotels that cater to the wealthy ($300 USD + night). Just know that there might be a 1-2 Euro tourist tax for staying at most places in Bled.
Our volunteers tend to find places to stay via Hostelworld. Read reviews and spot a place with a helpful staff, a good rate per room, and a great location. There are lots to choose from.
How Long To Stay
It's an ideal 2-3 day visit, unless you plan on doing a lot of hiking. After all, there are more than a dozen trails to explore. You might also want to tack on an extra day or so before leaving if you'd like to visit the city of Ljubljana or the pretty city of Radovljica. You can find buses out of Bled to either of these options if you're interested.
This website has a few suggestions on what to do around Bled Lake if you want more to do.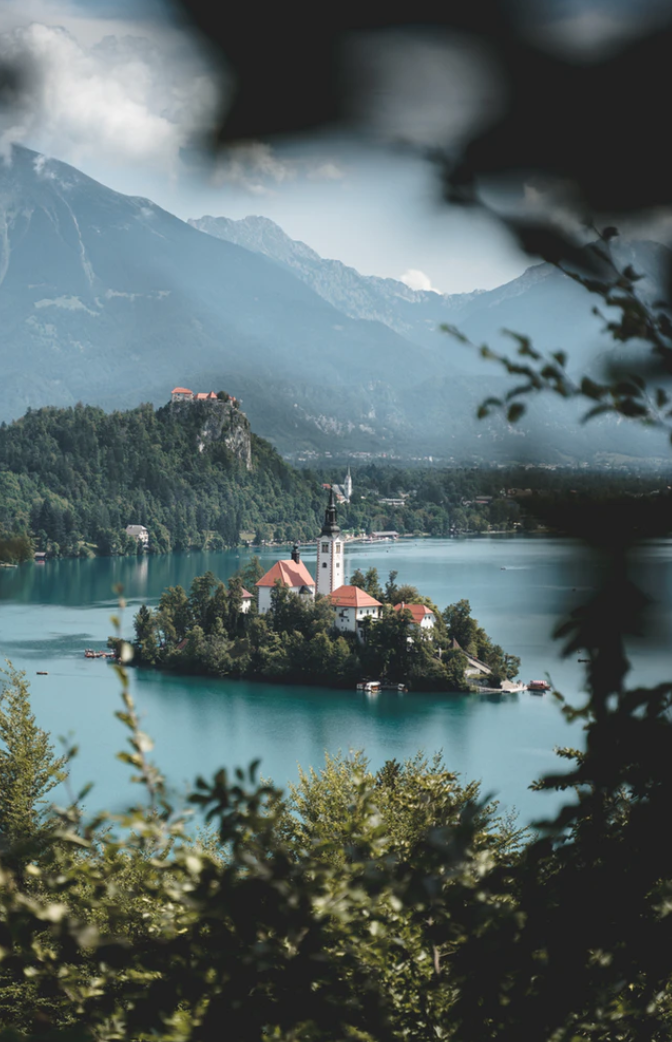 Think you're ready for a semester living in Europe?

ILP volunteers are college-aged and ready to make a difference and do some traveling. You'll either be teaching English or helping in an orphanage part time, but always with weekends and vacation days to see spots like Slovenia with other volunteers in your group.
Sounds like your kind of adventure? Get your questions answered here: