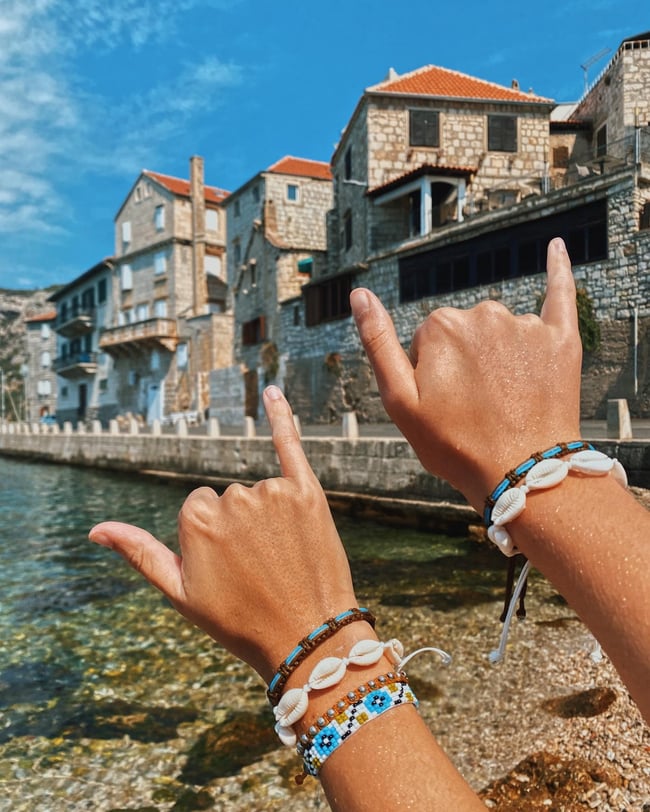 Move over Italy and France, Croatia is the European vacation you really want.
Croatia wasn't a country I really had on my radar, but the minute I saw a couple of pictures of this place, I knew I would be completely captivated by Croatia. Head inland and you'll find hiking trails that wind between dozens of waterfalls, plus a handful of historic cities. But vacation on the coastline and feel like you're living in a postcard. Lining this tall and skinny country are places like Split, full of glittering beaches, dotted with coastal towns, and peppered with sweeping red-tile rooftops.

Are you totally in love yet? Maybe now you can see why you'd want to spend a whole semester volunteering in this part of the world.


---
Come to Europe with ILP!
Fill out an application to volunteer and vacation in Europe, all semester long.
---
While there are more than a few favorite places to see in Croatia, Split is one of the best for a handful of reasons. Split juts out from the mainland in a little peninsula, surrounded by the turquoise water of the Adriatic, with popular ferry routes that can take you to neighboring islands. It's also a convenient jumping off point to a couple of can't miss adventures, like the country's most famous beach and a waterfall-filled hike you won't want to miss.
All Of Split's Highlights
Diocletian's Palace
Found in Old Town (more on that later), this sprawling palace is historically famous and Game of Thrones famous, so you can see why it pulls in quite a few tourists. The palace has roots as early as the 4th century (built for the Roman ruler Diocletian) and is a massive architectural marvel containing everything from temples to towers, and Egyptian sphinxes. This UNESCO site is a collage of Gothic and Baroque influences grounded in Italian architecture. When it comes down to it, it's really where the city of Split got started.
This structure may have began as a palace, but now it's been transformed to fit the needs of the city. Huge courtyards were split to house medieval residents, small churches, tiny marketplaces, and more. Now, you can find a mix of tourists and locals hanging out under the columns, with a view of the local kids playing soccer in the open courtyard. Banks, cafes, restaurants, and other buildings are built right into the remnants of the city. Get more info about what you can see inside Diocletian's Palace here.
Cost: Free to enter
Small fees to enter separate sections (Jupiter's temple, 25 kuna) (palace towers, 20 kuna) (basement cellars, 40 kuna)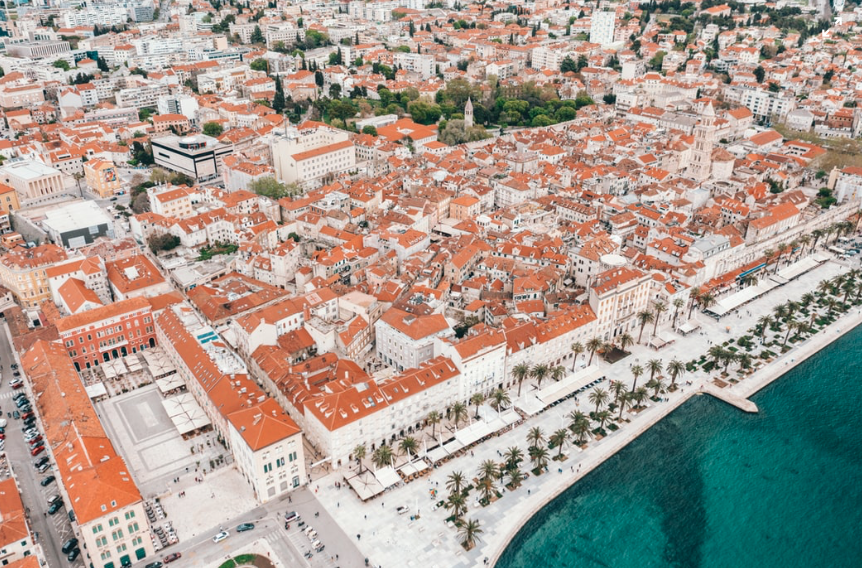 The Renaissance Old Town
The streets in Split have stone walls that have been standing for hundreds or even thousands of years. Spending some time walking around the Old Town and the winding alleyways that shoot out like spiderwebs from the main center of town means strolling through tight alleyways, windows covered with green Venetian shutters, and laundry hung out to dry between buildings above your head. It's one of the best preserved Old Towns in all of Europe and a way to glimpse the Greek, Italian, and other influences that have colored this city's architecture and history. Sometimes this section of Split is called a living museum which I 100% agree with. I suggest starting in Pjaca, which is the main public square, then wandering to sections that pique your interest.
This section of Split is pretty enough to spend a couple of hours in, but if you'd like more history and background on the architecture, I'd recommend going with a walking tour. You'll find a whole range out there (some even cater to fans of the Game of Thrones franchise … you'll recognize a few sections of the city from scenes of the series).
I'd recommend talking with your hostel for a recommendation or going with a free tour like this one or you can DIY your own tour with a map + background info.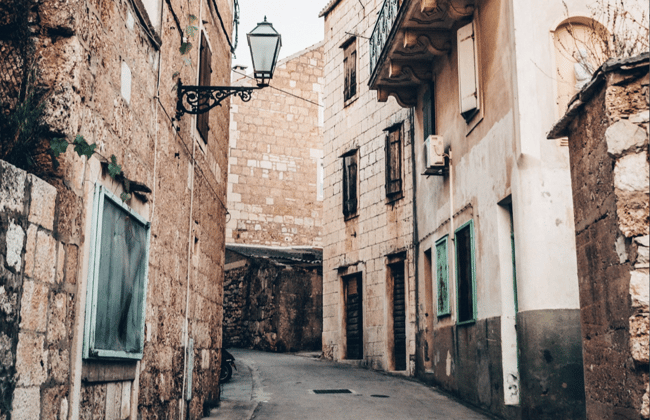 The World's Oldest Cathedral
Known as the world's oldest Catholic cathedral, the Cathedral of Saint Domnius is small but boasts a detailed Romanesque bell tower and an impressive slice of history. The cathedral inside the church is still in operation (from way back in the 7th century!) in the original structure of the church, hence the title of the world's oldest Catholic cathedral.
Apart from the historic cathedral, you can also admire an altar carved by one of the top Croatian sculptors, Juraj Dalmatinac, and what was going to be Diocletian's mausoleum. You can climb up nearly 200 feet up in the St. Domnius Bell Tower for a very lovely view of the city.
Cost: 25 Kuna or 40 Kuna, depending on what you'd like to see.
Hours: 7:00 AM to 9:00 PM
Address: Ul. Kraj Svetog Duje 5, 21000, Split, Croatia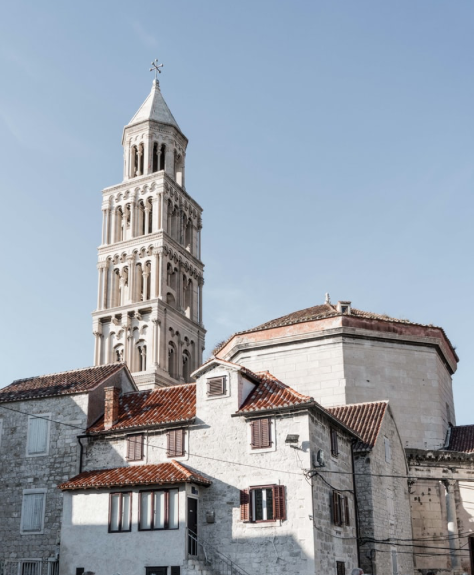 Marjan Hill's Viewpoint
Looking for another viewpoint of Split? Marjan Hill has you covered. Just wind your way through the Varos neighborhood into the thick trees which blanket the hills behind the coast, and you'll see the red tile roofs and pebble beaches of Split from above. Marjan Hill is a network of trails where you'll find locals going for a quick run or a bike ride, but you want to make your way up to the Vidilica, a stunning viewpoint and observation deck that's right next to a cafe. From the cafe/viewpoint, you're welcome to take a few other paved trails that meander up and down Marjan Hill, leading you to places like Bene Beach.
You can use this Google Link to help you find out where to go, just know it's easily walkable from Old Town, about 15-20 minutes depending on where you are. There are multiple ways to get to the hill, but the Varos neighborhood is rather picturesque.
Split's Best Beaches + Sea Kayaking + Snorkeling
This gem of Croatia is found on a peninsula which means it's surrounded on three sides with the Adriatic. In short, you have a few beaches and ocean activities to explore. You'll also need to keep an eye out for people playing Picigin, where you try to keep a small ball from touching the water for as long as possible which leads to some pretty creative saves, dives, and kicks. The game originated in Split (actually on the sandy shores of Bačvice beach if you'd like to get specific) so you'll most likely see it if you spend some time along the coast.
Here are a few to check out if you're looking for a day of sunbathing and swimming:
Trstenik Beach (the prettiest beach in Split).
Žnjan Beach (the 2nd most famous, known for pretty water + kitesurfing)
Bačvice Beach (a popular, sandy beach)
Kašjuni Beach (a more secluded stretch found on the eastern side)
Beach Bene (on the other side of Marjan Hill)
If you'd rather not hang out on the pebbly shores, you can try your hand at sea kayaking. It's a popular tour option so you'll find more than a few vendors, but one company to look into is Split Sea Kayaking (if only to get an idea on prices, which are in the 35€ range). They have tours in the morning, sunset, and night options, some of which include the chance to snorkel.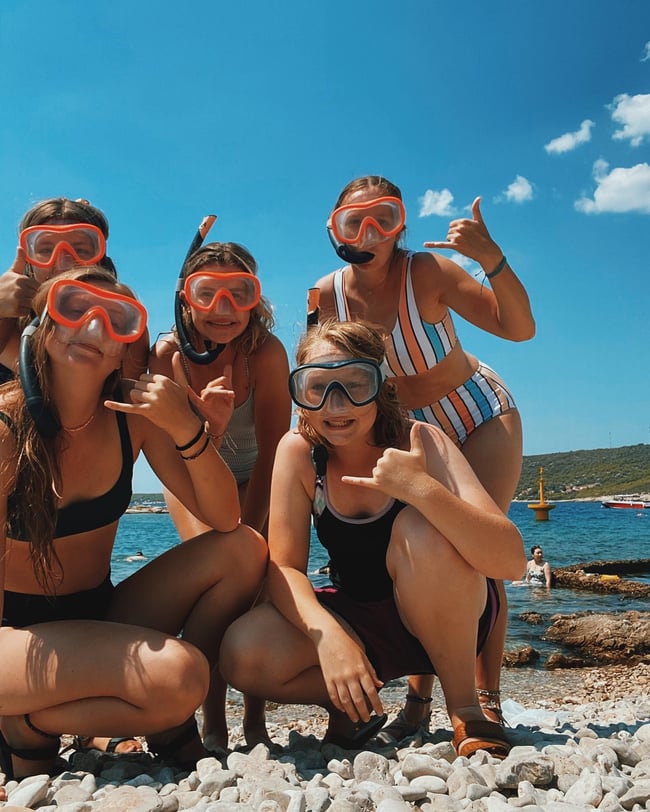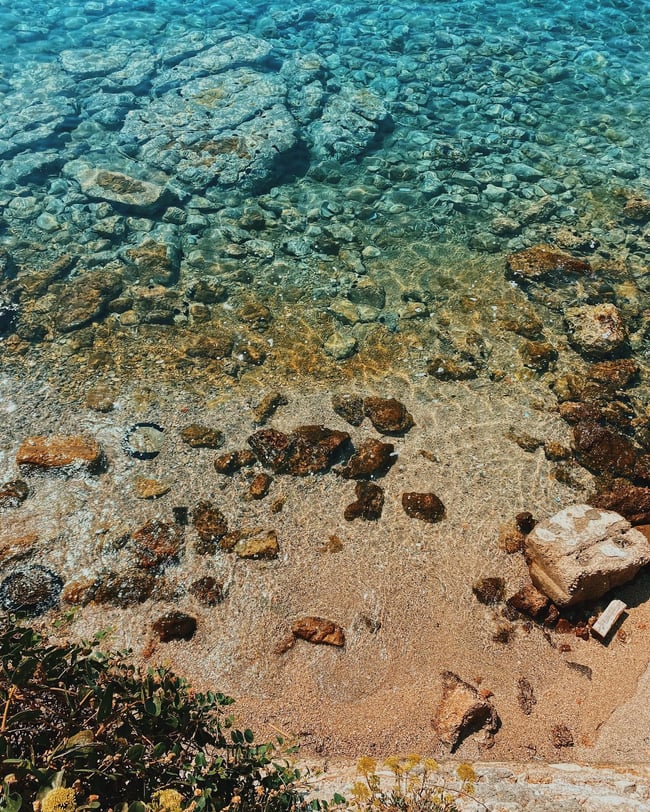 Places To Eat
Dvor
If you're looking for a more upscale option that also has a spectacular view, Dvor is the spot for you. It's one of the most popular restaurants in Split, complete with a sophisticated menu for breakfast, lunch, dinner, and dessert. Find dishes like seared seafood, rich soups, fluffy frittatas, bowls of twirled pasta, fresh salads, slices of lime cheesecake, jars of tiramisu, and a few other things that'll make it difficult to make a decision.
This place is very very popular so you'll want to book a table in advance. You can call them at +385 21 571 513 or see if you can make a reservation over Facebook.
Address: Put Firula 14, 21000, Split, Croatia
Hours: 8:00 AM to Midnight
Corto Maltese Freestyle Food
Another really popular place, but with a more rustic and cozy charm. Corto Maltese Freestyle Food is serving up lots of local favorites — you'll find a menu full of creamy risotto (this place is known for it), fresh seafood, filled pasta, burrata topped salads and starters, and some dessert options.

There's typically a line a peak meal times, so go earlier/later than planned to avoid the crowds.
Address: Obrov ul. 7, 21000, Split, Croatia
Hours: 8:00 AM to Midnight (8:30 AM opening time on Sundays)
Kantun Paulin
While there are nicer, sit down places on this list, we know ILP volunteers are big fans of the local dishes you can grab really quickly and get to exploring. Come to this place for bomb cevapi, which is kinda a big deal around here. It's kinda of like sausage rolled up and grilled, then served with a fluffy roll and onions, cucumbers, and tomatoes (typically). This place is cash only, just FYI.
Address: Matošića ul. 1, 21000, Split, Croatia
Hours: 8:00 AM to 11:30 PM (10:30 AM opening time on Saturdays)
Pizzeria Gust
We're not mad that pizza has made it's way over to this part of the world. Here, you can get some distinctively Dalmatian-Coast inspired pies, like pizza topped with prawns (known as the Pizza Gust around here). This place is cozy, quieter than some of the places closer to town, and yummy. Their website has some more info if you're interested.
Address: Slavićeva ulica 1, Split, 21000
Hours: 9:00 AM to 11:00 PM (Sundays are 6:00 PM to 11:00 PM)
Pazar Market
It's not a restaurant, but you can find some pretty tasty things at this green market. It's a big, open-air market where you can in season produce, some baked goods, a handful of souvenirs, and piles of clothes to sift through. It's just around the corner from the City Center, so pretty easy to visit if you'll be site seeing.
Address: Ul. Stari pazar 8, 21000, Split, Croatia
Hours: 7:00 AM to 2:00 PM, roughly. Best to go after 12:00 PM or so.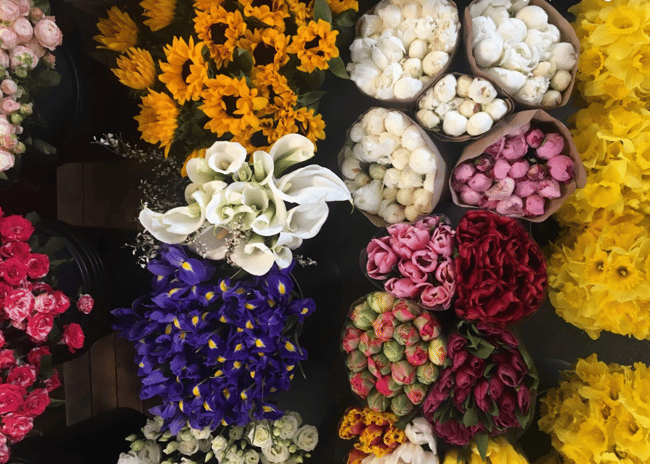 Where To Stay
Split's a spot where you'll want around three days to see the things in the city, plus time for a day trip (or two). We'll get to some nearby adventures later on, but plan on booking a couple of nights (minimum) at one of the hostels available in the city. What's a hostel? It's kind of like a hotel, but without the bells and whistles. You'll typically find private rooms and dorm rooms, with lower prices because hostels are giving you the barebones: a place to sleep, maybe a hangout space or kitchen, and not much else. We love booking on Hostelworld. Here are a few suggestions for Split.
Don't Miss These Day Trips
Brac Island + Zlatni Rat
Just a short ferry ride away is the country's most famous beach, Zlatni Rat .. but that's not the only reason to visit Brac island. You'll find a few other aspects that'll pull you in, like teeny postcard villages hugging the coast and stretches of beaches that aren't nearly as famous, but are just as pretty as Zlatni Rat.
From Split, you'll need to take a ferry over operated by the Jadrolinija company. They have different routes, frequencies, and prices depending on when you are visiting so be sure to double and triple check their schedule here. Prices are in the 20-40 kuna range depending on when you're traveling (whether that's in high season or low season). It's about an hour ride from Split to Supetar, which is the main entry point.
Get your guide to Brac Island here.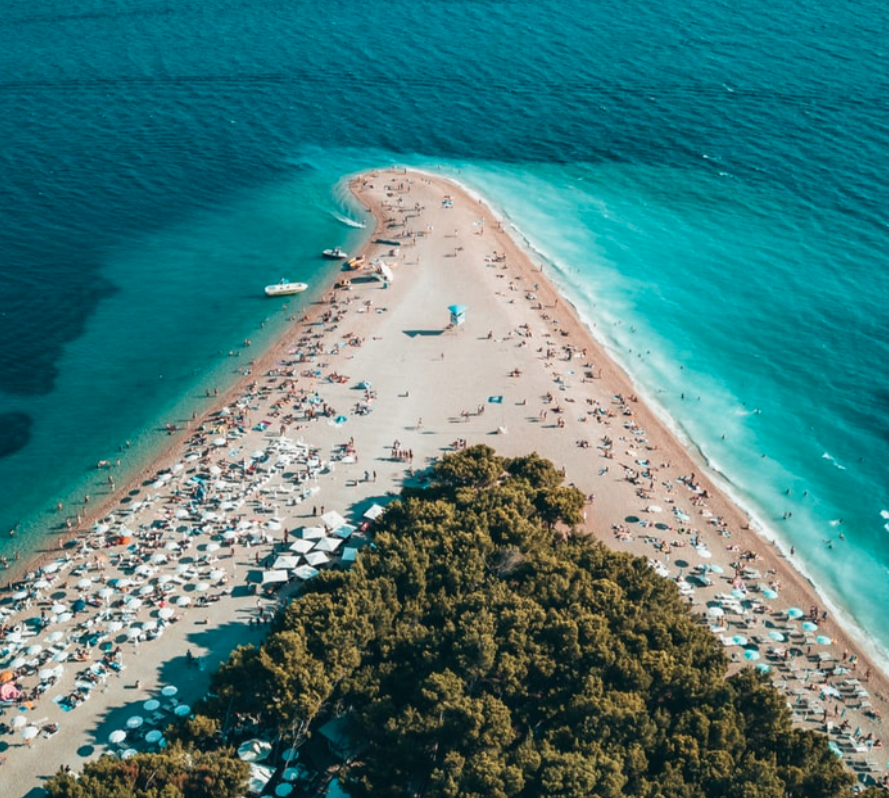 Krka National Park
This gem of a park is just a couple hours of Split, making it an easy day trip. One reason this place is so popular is because you can swim in these turquoise pools. We love Plitvice National Park (more on that spot below) but on a hot summer day, you'll want to do more than just admire the cascades. Get more on Krka here.
From Split, you can take a bus to Sibenik, then catch another bus to Skradin which is just outside of the park. GoByBus has some more info for you, but routes are around 1-2 hours, in the 7-10 euro range.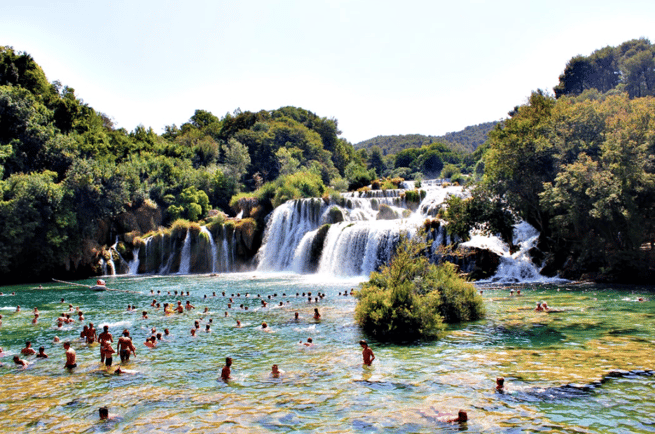 Plitvice National Park
Plitvice Lakes is one of the gems of the country. It's a hiking network (with a few levels of difficulty) that take you over wooden boardwalks to a series of gemstone colored lakes. These lakes are all connected by waterfalls, hiding in the thick wilderness of Southern Europe. The colors of the lakes are unreal, ranging from a Caribbean-esque blue to a deep dark sapphire depending on the minerals in the water. Here's your guide to Plitvice Lakes, because it's a can't miss spot if you have the time.
From Split, Croatia plan on about a 3-5 hour bus ride, for around 20 euros. Check routes here.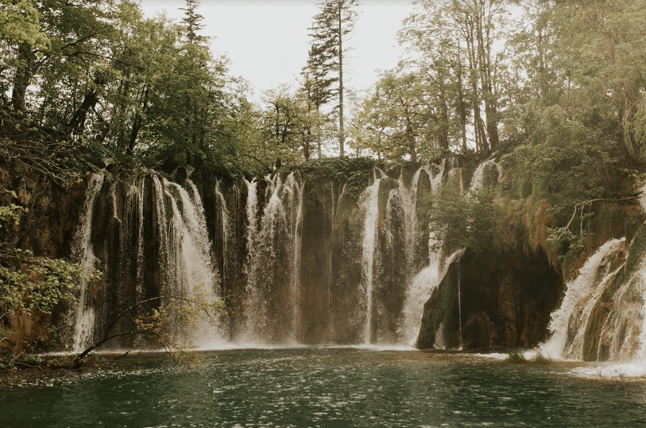 Getting To Split
By Bus
This hotspot in Croatia is pretty well connected in-country, with a few routes from other countries. I've pulled a few of the most popular routes (and some other details) to help you get an idea on timing, but know that this isn't a comprehensive list.
By Plane
This coastal city is also home to a little airport where you might be able to get a pretty good airfare, depending on where you are coming from. A quick search on Skyscanner showed some roundtrip routes like these ones:
From Vienna, Austria: $42
From Lyon, France: $44
From London, England: $61
From Cologne, Germany: $66
From Athens, Greece: $73
From Venice, Italy: $74
From Zagreb, Croatia: $90
Getting Around Split
The center of town is the touristy part, and is pedestrian only which makes it really easy to get around if you're on foot. Most of the sites we highlighted above are all accessible with some walking. However there are some public bus lines that may come in handy if you'd like to go exploring.

For the most part, they run from 5:00 AM to midnight. You'll find that lines 1, 3, 4, 56, 8, 9, 17, and 21 are the main lines. They come more frequently than the others which sometimes only run once an hour or so (or don't run on Sundays). Here's a map of the Split bus system. Purchase your tickets on board — the fee is typically 11 kuna, or keep an eye out for Promet Split kiosks where it's 9 kuna.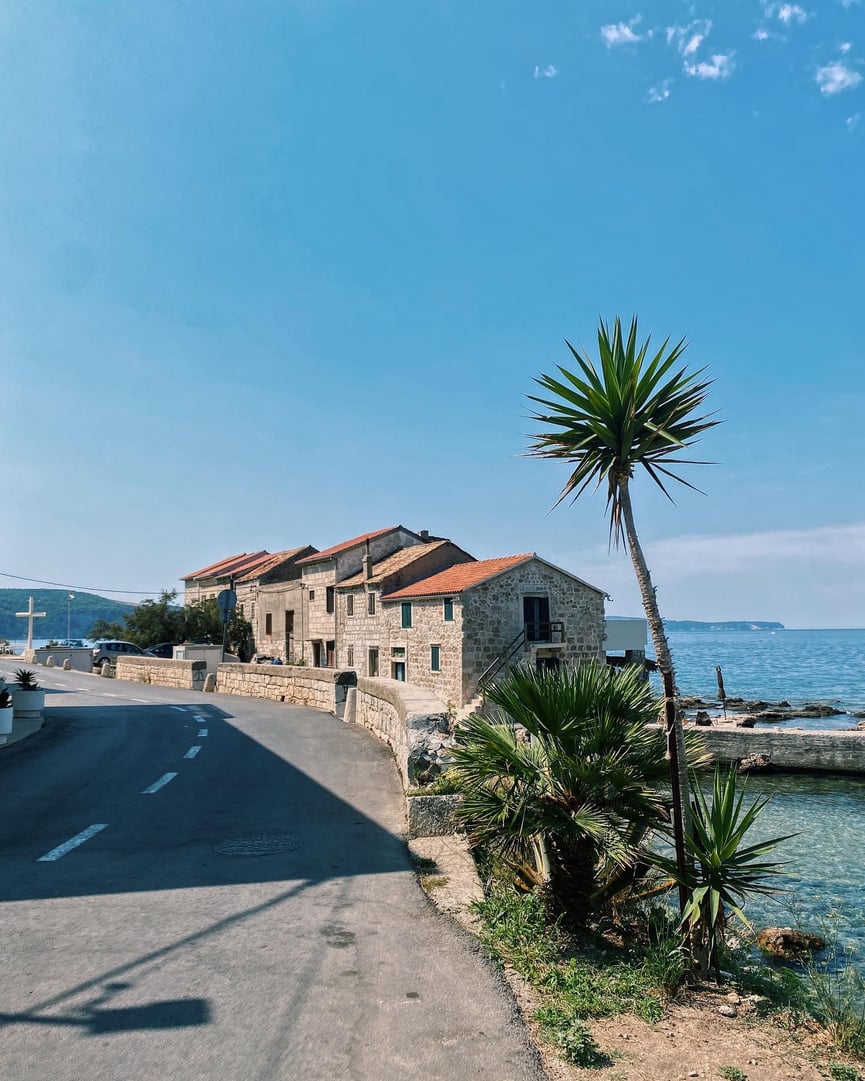 Think a semester in Europe is too good to be true?
I said the same thing until I found out about ILP. They're a non-profit organization who sends college-aged volunteers abroad for a semester of volunteering with the orphanage program or teaching English. They have programs all over Europe, come see which one is best for you.