I don't really know anyone who has never dreamed a little about exploring Italy. Or if you're like me ... dreamed A LOT about exploring Italy — and Milan was on the top of my list.
If you're anything like me, you're heading to Italy for delicious food, rich history, and pretty views. You can get that and more in the city of Milan, a spot in Italy known for high fashion and gorgeous architecture. It has a quieter feel than some of the other cities in Italy on your bucket list, but is a fantastic jumping off point to some of my other favorite spots in this country, like Lake Como. Plus, you can often find really good flight deals to Milan .... which is why I put together this guide so you can choose what to do, what to see, and where to eat depending on how long you have in this city!


---
Looking for other great European destinations?
Check out of guide to our favorite places in Europe!
---
Because some of you may be hanging out in Milan just for a day or two, you'll want a streamlined version of the top things to experience before jumping off to another city. Here's what you need to know about visiting Milan:
What To See And Do
The Last Supper Painting
Da Vinci's Last Supper is found in Milan and even if you're not super into art you're going to want to make this stop! Make sure you plan ahead and buy tickets online, then soak in the intricacy and beauty of this oh so famous painting.
Cost: 12 euros
Duomo Di Milano
This is the cathedral you'll see when you look up anything about Milan, and wow, is it beautiful! You need to walk through it while you are there. The Duomo Di Milano is actually the largest church in Italy and the 5th largest in the world! Inside you will find gorgeous stained glass windows, beautiful stonework and stunning art, all constructed in that classic, Gothic theme. It's unreal.
Take the stairs or an elevator to the top to see amazing views. On a clear day you can actually see the Alps, so look out for those!
Tip: Make sure you are covered up when you go; no shorts and sleeveless tees, please.
Hours: The cathedral is open from 8:00 to 7:00 every day, but the last ticket is given out at 6:10 PM, so plan accordingly.

Cost: Admission isn't very expensive; your basic ticket costs 3 euros and includes the crypt inside. You can also get a more expensive ticket to see the city from the top of the cathedral (taking the stairs will cost 9 euros, and taking the elevator will cost 13 euros). There are only 250 stairs, so if you're willing to do bit more walking, you can save four euros. Get more ticket info here.
Address: Piazza del Duomo, 20123 Milano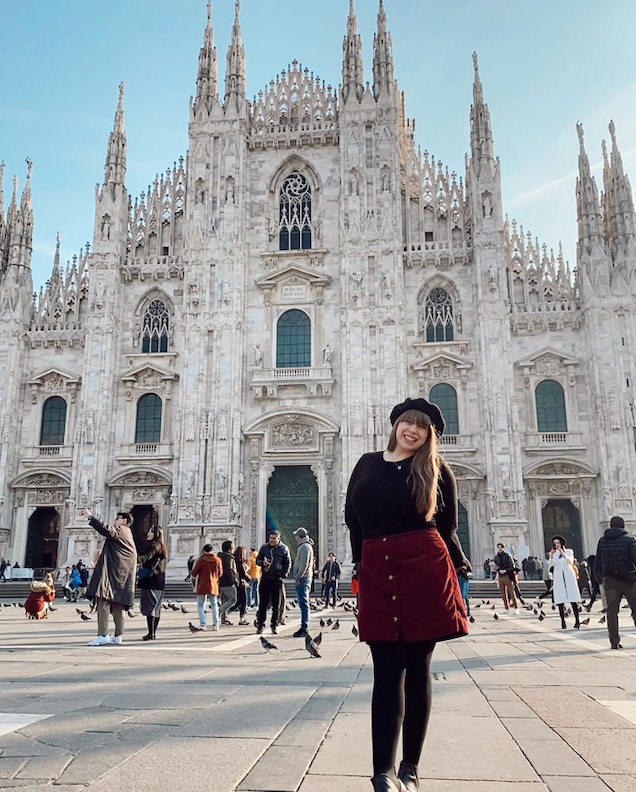 The Navigli District
This Navigli is one of the coolest parts of the city and you'll want a good amount of time to spend exploring. The Navigli is home to Milan's canals (just like in Venice!). The canals are lined with artists, thrift shops, art galleries, and many other unique booths. This is a great place to grab a souvenir to remember Milan by, all while soaking in the pretty views.
Address: There's not an exact address for the area but check out this post on how to find it.
Galleria
The Galleria is essentially a mall full of Italian designers — hello Prada and Gucci! Even though you may not be in the market for an expensive purse or shoes make sure you check The Galleria out. It is a beautiful building and can even bring you good luck. Find the Bull on the ground of The Galleria, turn your heal on it and the good luck should supposedly follow.
This is right by the Dumo, so make sure you check them both out at the same time.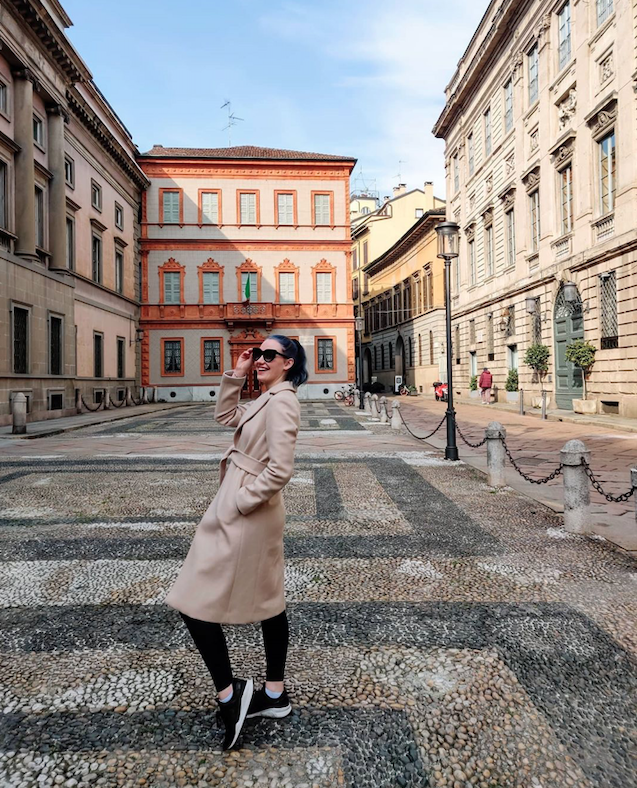 What To Eat
Just be okay with the fact that you'll gain a few extra pounds from the food in Italy, especially in Milan. I mean ... if you're coming here specifically for the food we don't blame you because really, the food is magnificent! Pizza was one of my favorite things I had in Milan because everything was so fresh — you'll fall in love with that thin, wood-fired crust and the mounds of gooey mozzarella. Yum. Oh, and then there is the gelato. It's 100% better than ice cream and you'll want to eat it every day you're in Italy.

Feel free to find your favorite places, but here are a few recommendations when it comes to pizza and gelato:
Pizza AM - Pizza
Do NOT miss out of going to Pizza AM. The menu only has seven options, but you cannot go wrong with any of them. Their pizza is fresh and, so, so delicious. You'll be dreaming of it long after you've left.
Address:

83 Corso di Porta Romana, Milan
Gino Sorbillo - Pizza
Known for their Neapolitan Pizza, Gino Sorbillo can't be beat. They only make 400 pizzas a day, so be quick and get there as soon as they open — they go fast! We love the simplicity of their pizza.
Address:

11 Largo Corsia dei Servi, Milano
Da Willy has delicious pizza that will leave you wanting more. The pizzas are BIG so plan on getting a couple and sharing them with your group. Make sure you try their fresh mozzarella and prosciutto pizza; It is divine!
Address:

Via Bergamo 1

,

Milan
La Gelateria della Musica - Gelato
Every flavor is named after a musician or a song, music is playing in the background, and the flavors are unique at this little shop. Try flavors like their famous salty pistachio, strawberry grape, cheesecake, and more. You will love this place.
Address: Via Pestalozzi 4, Milan
Tasta - Gelato
Tasta uses local ingredients and has lots of options for dietary needs so everyone can enjoy this delicious gelato. They're known for their chocolate flavor so make sure to give it a try. Tasta also has other yummy treats besides gelato, so you can't go wrong!

How To Get There (Info On Flights + Nearby Lakes)
We're all about cheap flights in Europe. One of the greatest things about going to Milan is how cheap you can find flights to get there, making it a great option for our volunteers in Europe who are planning their vacations.
Prices will vary quite a bit depending on what days you are going and what city you're coming from, but check back frequently because prices will change. Heads up — Milan has two main airports: Linate airport and Malpensa airport.
You may also see flights into Bergamo's Orio al Serio airport (45km East) and Parma airport (100km South) but you will need to factor in travel time because Orio al Serio is 27 miles away from Milan and Parma is 62 miles away from the city.
Start by looking at Ryanair and Wizzair
Some Typical Flight Prices
Krakow, Poland: Prices range between $50 and $100 roundtrip.
Kiev, Ukraine: Find prices around $169 roundtrip.
Bucharest, Romania: Flights can be around $22 roundtrip.
London, England: Prices sometimes drop as low as $20 roundtrip.
Athens, Greece: Flights can be as low as $18 roundtrip.
From Vilnius, Lithuania: Flights usually range between $70 and $130. Flights are similarly priced from Kanaus.
Remember, Milan is very well connected to other cities, so if you can find better prices to Rome or Florence, consider taking a flight, bus, or train over to Milan. I love booking trains and buses on Omio when I'm traveling in Europe.


Some Nearby Adventures
La Garda
La Garda is one of the most popular destinations for a holiday in Italy, home to some of the best things this country has to offer: think Roman ruins, spas filled with thermal springs, sunny beaches, colorful cities stuffed with gelato shops and patisseries, and more. The lake is surrounded by dozens of little lakeside towns, making it easy to hop from town to town every few days, for a week or two if you have the time.
And the best news? It's just a couple of hours away from Milan! You can easily make a day trip here, or stay longer if you'd like to soak up the sights over the weekend.
Get way more about La Garda here, with tips on how to visit the most picturesque cities from Venice, and other pointers to help you plan the most perfect trip to this gem.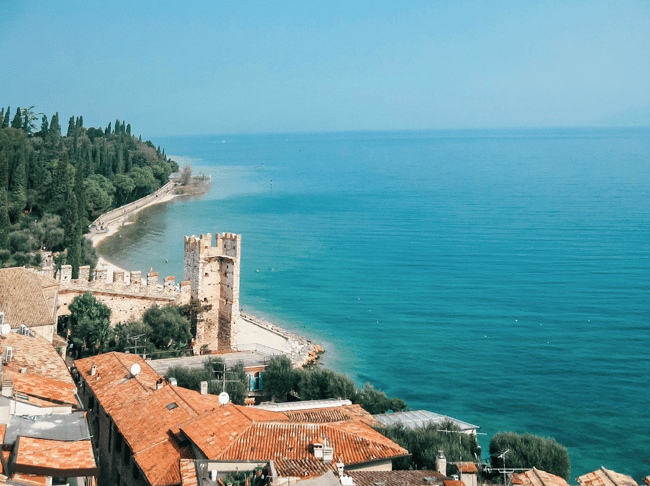 Lake Como
If you want a taste of luxury, hop over to Lake Como, tucked away in Italy's picturesque lake district. It's long been famed as the most beautiful lake in Italy and is home to beautiful villas that frame the turquoise water all at the foot of the alps. Sounds pretty captivating, doesn't it? Lake Como is just a short ride from Milan, making it an easy addition to your dreamy Italian itinerary while you're touring Europe.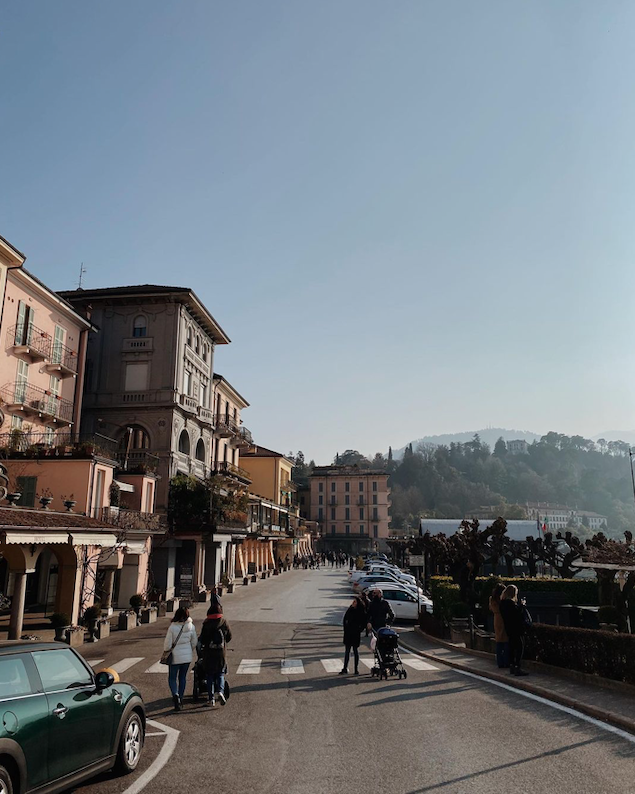 How Long and Where To Stay
How Long To Stay
Milan is a great city and you can find a lot to do. That being said, a weekend trip is the perfect amount of time to spend or even a full day if you can fly in in the morning then head out at night to somewhere else. If you're staying just for the day, we'd recommend hitting the highlights above.
If you are staying longer, maybe plan on a few more museums. We've heard that the Leonardo Da Vinci museum is interesting enough (with replicas of his sketched inventions) but not something that you should try and squeeze in if you're here just for the day, you know?
If you're trying to decide how much time to spend in other Italian cities, this blog post has what you're looking for.
Where To Stay
Your best option of places to stay in Milan will be hostels. They range from about $20-$60 a night depending on which one you book. Check out HostelWorld when you are booking — they make it so easy to find budget options. Here are a few hostels with great reviews we'd recommend checking out as you are looking:
Madama Hostel: This hostel is in an old police station and also has a cute little bistro attached. The decor is super rad and everything is nice and clean. Rooms are generally about $40- $45 a night.
Queen Hostel is simple but has everything you need. It's only about a 15 minute walk to the heart of the city and the staff is super helpful. And, they advertise there is free wifi "even in the bathrooms". See, everything you could need! Rooms are about $25- $30 a night.
Babila Hostel: You'll quickly fall in love with this hostel's charm. It's modern, simple, and clean. Very close to the main attractions you'll be visiting and about $40 a night.
How To Get Around
You can get around Milan several different ways. There are trams, metros, buses, and more. Here are the best ways we've found :
By Foot: Walk around on foot as much as possible in Milan; you will find hidden gems you otherwise would have missed if you were on a bus. You can get most anywhere on foot. Just make sure you have comfy shoes!
Metro: For longer stretches of travel we'd take the metro. The metro can get you anywhere you need around the city and is affordable — €1.50 one way, €4.50 for a day pass. Here's more info about the metro system
Quick Tip: Avoid taxis! They are pretty expensive and you really can get around with out them if you're just staying in the city center .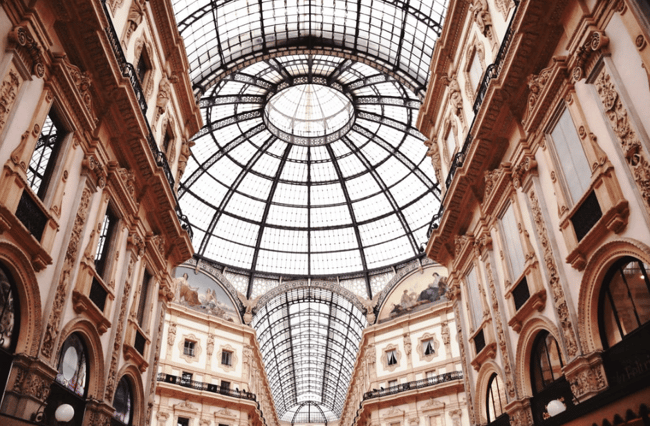 Have questions about a semester abroad in Europe with ILP?
Talk to someone who has been! They can give you all the details of what a semester is like and all the opportunities available for you. Click the button below to get connected with a representative in the ILP office.