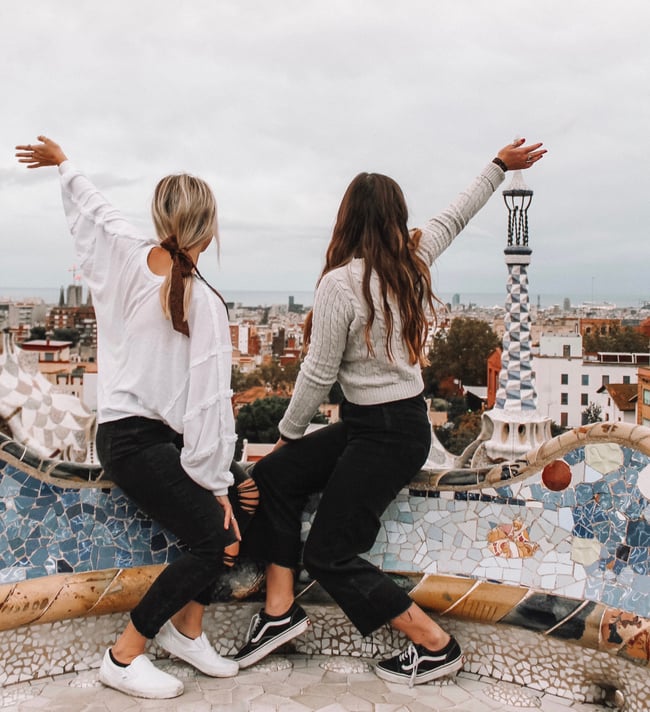 The idea of hanging out in the coastal city of Barcelona is pretty dreamy, and a total reality if you spend a semester volunteering in Europe.Having your home in Europe means it's all too easy to visit a few of your favorite destination on a short vacation or even on a weekend trip depending on where you want to go. For our ILP Volunteers living in Europe, they have a whole list of places they can visit on their weekends and vacation days. One of their favorites (and mine, too)? Barcelona, of course!


---
Want to know where else you can vacation in Europe?
Check out our European destination guide
---

Now, when it comes to Barcelona, you'll want to make sure you're hitting the highlights, which is where this guide will come in handy. Here's how to spend a couple of days in this Spanish city.
Top Things To Do
Barcelona is certainly a city that can keep you busy for a few days, or a few hours … plan on filling whatever time you have in Barcelona with loads to do. Here are a few things I would recommend:
La Sagrada Familia
If you only have one thing to see in Barcelona, make it this cathedral. Markedly different than others you'll tour in Europe, this cathedral has been under construction for decades … and won't be finished for a few more.
It's one of the famous architect Antoni Gaudí's most impressive pieces (look at all that detail!!!) which is easily seen once you see it for yourself. I highly, highly recommend you listen to this podcast to give you a bit of background before you visit yourself!

The outside is stunning, but if you can spare the Euros, the interior is absolutely captivating. A ticket can also include the chance to climb one of the spires and see the city from a whole new view.
Hours: 9:00 AM - 8:00 PM (It's best to visit on a sunny morning, when the light streams through the stained glass)
Cost: Free to admire from the outside, but tickets range from 15 Euros to 29 Euros. Book online and in advance … they do sell out!
Head's Up: This place is crowded, so expect to wait in some lines. If you visit in the winter months (I was there in November) there were some vendors outside selling little Christmas trinkets and selling roasted chestnuts. Yum!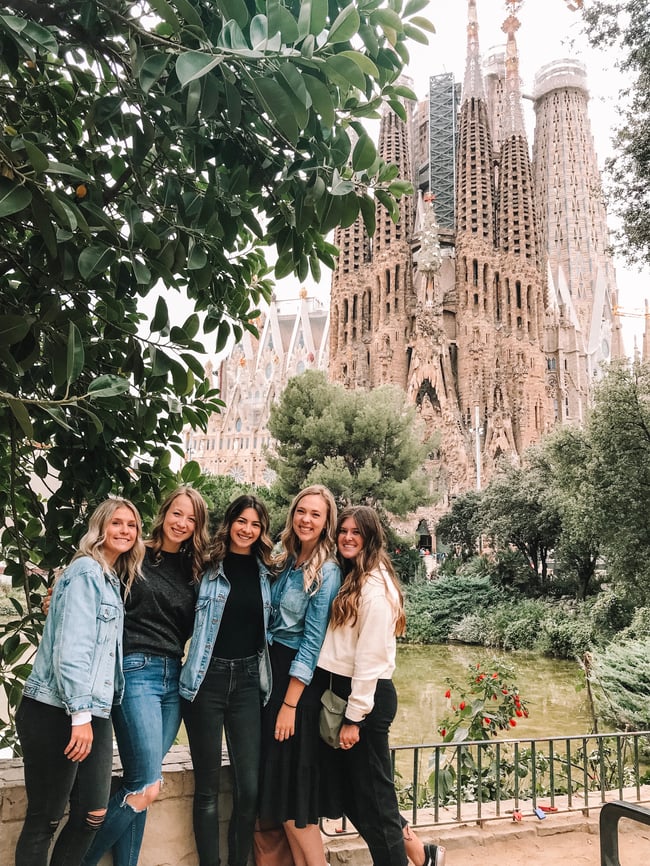 Park Güell
Another huge pull to the city is Park Güell, also built by Gaudí …. he's a huge deal in Barcelona. It's a big space full of gardens and buildings designed in that unique style that can only be Gaudí's. You'll want to bring your camera and take in alllll the gorgeous and eccentric mosaics and shapes in this place.

Hours: Depends on the season (check here) but generally, 8:00 AM ish to 8:30 PM — but check before you go!
Cost: 8.50 Euros there, 7.50 if you book online
Insider Tip: If you visit Park Güell way before opening or way after closing, it's free to enter. It's a public park; they just barricade off to paying visitors during those times, but you are more than welcome to get up early or stay late to tour parts of the park.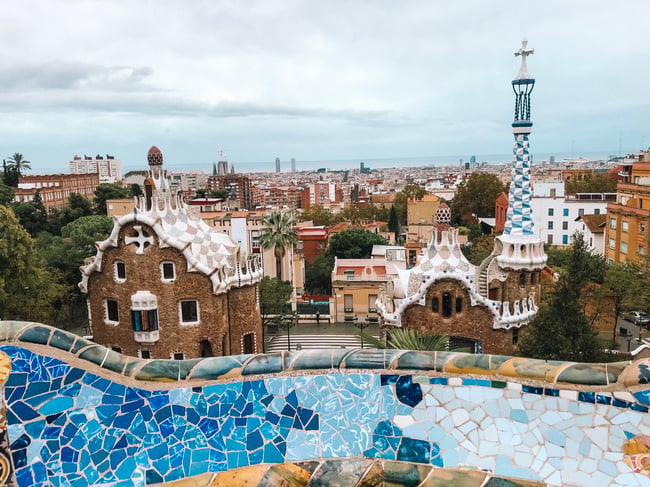 The Arc Del Triomf
Another icon of the city this gorgeous red-rock arch is a peaceful break from the bustle of Barcelona's busy (and sometimes crowded) streets. It was built as a celebration in 1888 for the Barcelona World Fair and has been standing tall every since. One reason we love it? It's fringed with palm trees and benches and provides quite the photo opportunity as you walk around the city.
Hours: All day and all night
Cost: Totally free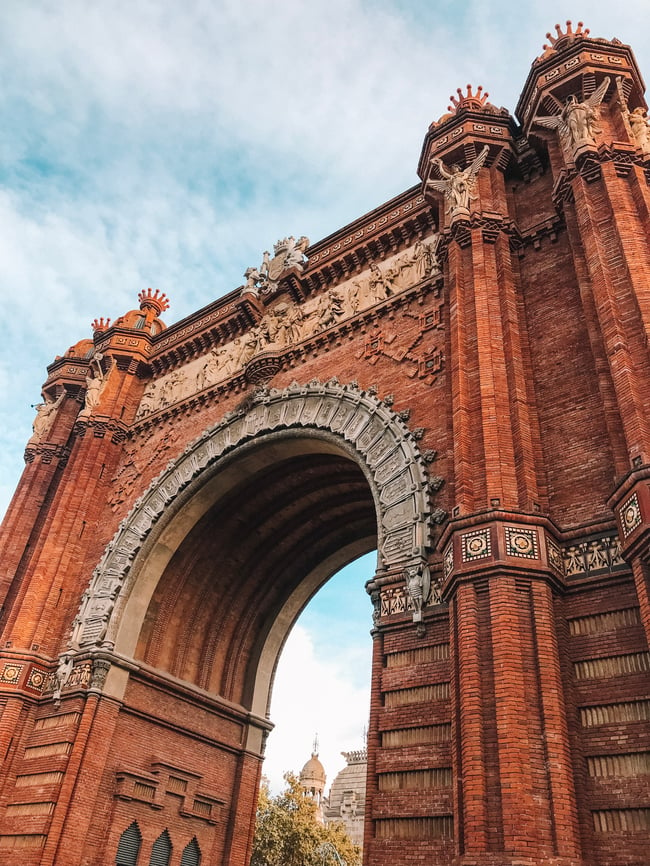 The Picasso Museum
A must-do for anyone who loves Picasso. Found in a cutie (and rather quiet) neighborhood, you'll walk down picturesque alleyways to find this museum which houses over 4,000 pieces by the famous, Spanish born artist. Plan on spending 1-2 hours here, minimum.

Hours (as of 2018):
From October to April:
9:00 AM to 7:00 PM (Tuesdays, open 9:00 to 9:30 PM)

9:00 AM to 2:00 PM hours on December 24 and 31

9:00 AM to 5:00 PM hours on January 5.

Closed Mondays! Even though Google will tell you it's open.
From May to September:
10:00 AM to 5:00 PM on Mondays
9:00 AM to 8:30 PM for Tuesday - Sunday, except for Thursday

Thursday from 9:00 AM to 9:30 PM
Closed 1 January, 1 May, 24 June and Christmas (25 December)

Cost: 12 Euros (book online here)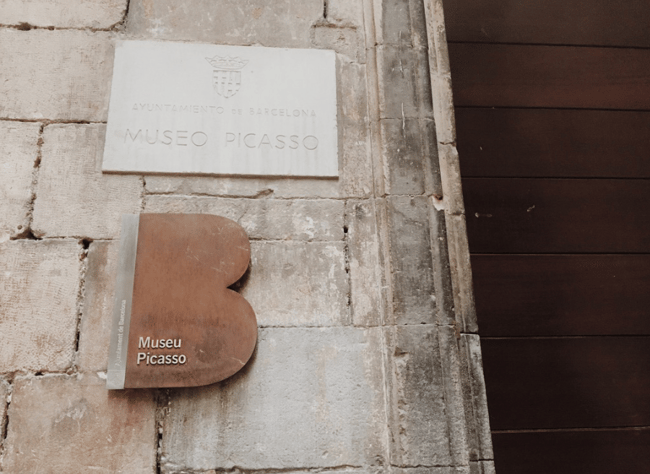 Walk On Las Rambla
The main walking street of Barcelona, you'll find little avenues filled with restaurants and art galleries, along with other shops and pop-up stalls. It's a huge thoroughfare, and quintessential Barcelona if you ask any tourist.
Just a word to the wise, the juices you'll find in an offshoot in the Las Ramblas are really your best food options here: towards the south end you'll find a bunch of eateries boasting tapas and paella plates, but the best food is found outside of this tourist trap. We have our favorite food suggestions below if you keep reading.
Hours: All day long
Cost: Free
Location: On any map, just look for the main street, "La Rambla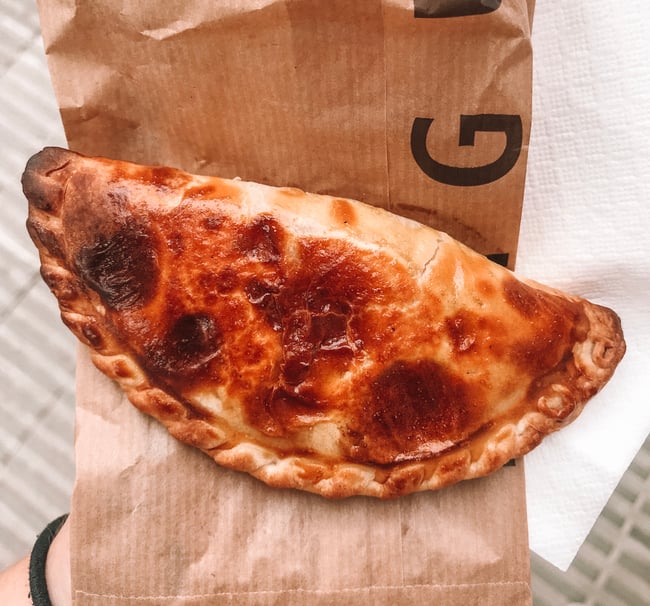 Explore The Gothic Quarter
One of my favorite parts of the city. This is a little pocket of Barcelona with gothic style streets, and picture-perfect apartment buildings ... a photographer's dream.
If you have time in your itinerary, you can block out a couple of hours to just wander the streets and the vendors there (keep an eye out for vendors selling gorgeous leather bags). It's also the neighborhood where you'll find the Picasso Museum which we talked about earlier, and the Barcelona Cathedral, which we talk about below.

Hours: All day long
Cost: Free
Location: take a peek at our map below
Barcelona Cathedral
Also known as the Cathedral of the Holy Cross and Saint Eulalia. Built in classic Gothic style, this towering cathedral has been around for ages. It was finished way back in 1420, but parts of the cathedral are much older. It's a still-operating cathedral which commemorates a young martyr who was killed by the Romans when she was just 13. The body of Saint Eulalia is entombed in the crypt below the cathedral.

Hours: 8:00 AM to 12:45 PM
1:00 AM - 5:30 PM
5:45 PM - 7:30 PM
(if you want to go inside, you can admire outside from all hours of the day).
Cost: 3 Euros to visit the choir or the rooftop views
Address: Pla de la Seu, s/n, 08002 Barcelona, Spain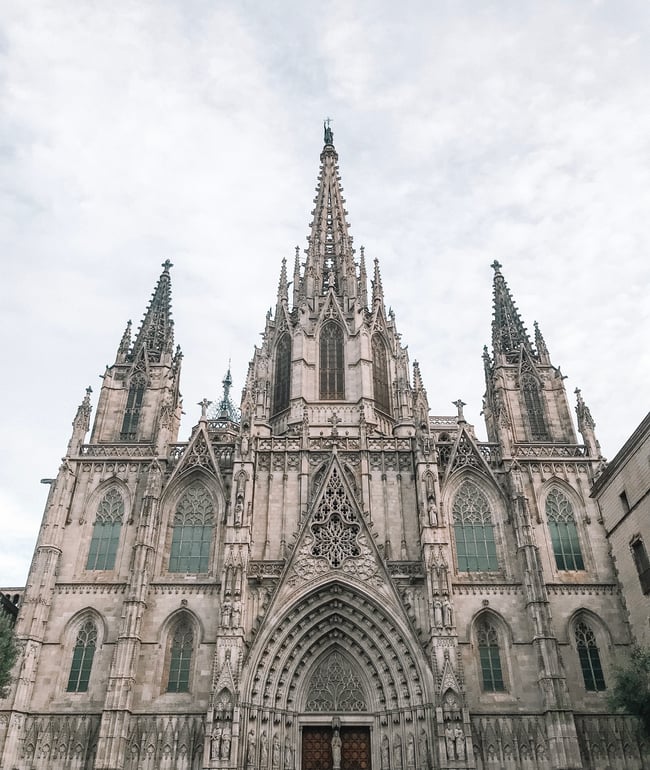 Casa Batll
Ready for another one of Gaudí's masterpieces? As a remodeled home, you can pay to go inside and see the stunning interior — huge sweeping windows that look over the city, intricate and vaguely oceanic and naturalistic columns and other decor, all in Gaudí's iconic style. Nicknamed the "House of Bones", you can see a sort of skeletal theme throughout the entire home.
Hours: 9:00 AM to 9:00 PM Cost: 25.50 Euros (book online here)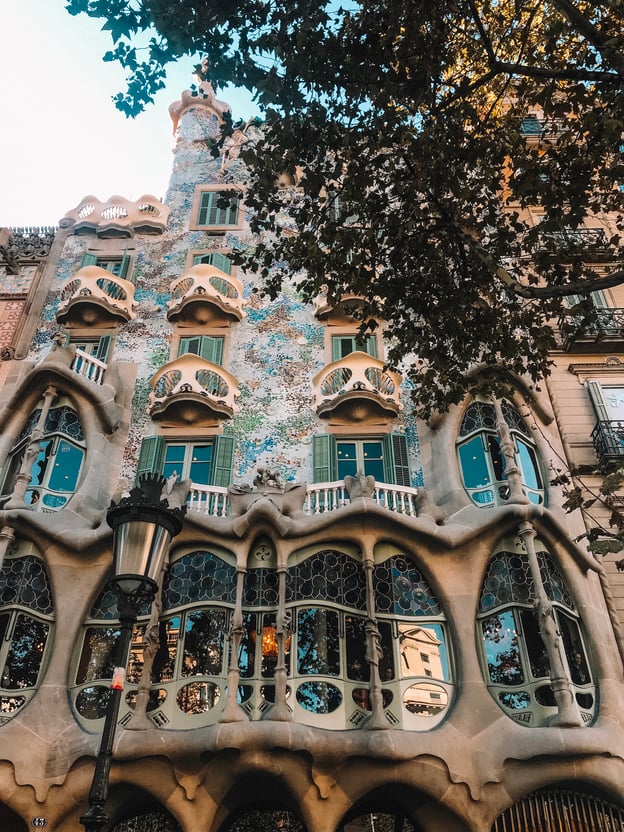 Places To Eat
Perhaps my favorite part of visiting Barcelona (apart from Gaudí's work … I geeked out over that) was the food in this city! A foodie's paradise, with iconic national dishes hiding in little cafes and eateries along every street. Though you could easily eat like a king for months if you looked at all the fabulous restaurants in Barcelona, here are my highlights:
For Juices
Not exactly a restaurant, but if you're walking down La Rambla, you'll see a little market offshoot on the right side of the street. Inside, you'll find vendors selling piles of fruit, rows of olives, legs of iberico ham, and other goodies.

My pick? Grab a juice for 1 Euro each …. though you might want to taste a couple just to experience all the flavors. Passion fruit + coconut, mango + strawberry, avocado + coconut … Yum.

Address: La Boqueria of Las Rambla
Hours: 8:00 AM to 8:00 PM (Closed Sundays)
For Tapas
You have to go to Spain and have some tapas. They're small, savory dishes served all together as a sort of snacks-dinner or lunch, shared with friends. You'll find tapas menus with a dozen plus opens to order from, but one famous Spanish dish is chickpeas and prawns, and Bar Morryssom does it best.
Address: Calle Girona, 162, 08037 Barcelona, Spain
Hours: 7:00 AM to 1:00 AM (8:00 AM on Saturdays).
Closed Sundays

For Gazpacho
A chilled tomato soup, gazpacho is another hugely Spanish dish. You'll find this dish at several restaurants (especially in the summer months) but Nou Celler is my pick for gazpacho.

Address: Carrer de la Princesa 16 08003 Barcelona, Spain
Hours: 8:00 AM to 11:30 PM (Saturday's open at 10:00 AM)
Closed Sundays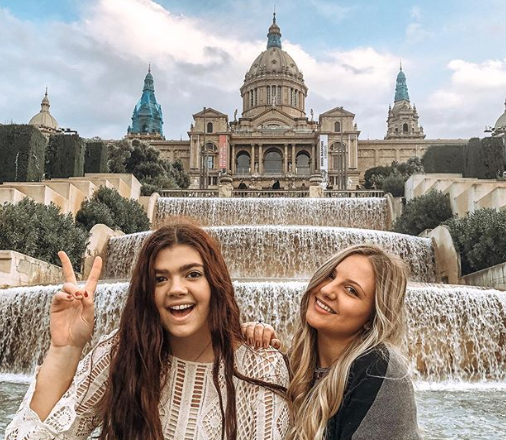 For Paella

Probably Spain's most iconic dish, a huge mix of rice and proteins, seasoned with coral-colored saffron and cooked in a traditional "paella" pan. You'll find squid ink paella, ones with snails, seafood paella, chicken paella, and a loads of other variations. I go pretty classic with prawns, mussels, and squid at Xiringuito Escriba's … it's the best paella in the city if you ask me.
Address: Av. del Litoral, 62, 08005 Barcelona, Spain
Hours: 1:00 PM to 10:30 PM, daily
See the menu here.
For Popsicles
If you're visiting in the Spanish summertime, you'll need something to cool down. These popsicles are the best way to do just that. You'll find fun flavors (like mango, coconut, strawberry cheesecake), and have the option to get the top half dipped in chocolate and other toppings.
Address: Carrer dels Sombrerers, 1, 08003
Hours: 2:00 PM to 10:00 PM
For Churros And Chocolate
Do not leave Barcelona without eating at least one plate of churros! You will find them all over the city, but you would be doing yourself a favor if you just went to Xurreria Laietana — it's a cutie cafe with barely enough seats for 10 where you can watch the churros being freshly fried and piled high with sugar before being served up with a cup of warm, melted chocolate. I thought I knew what happiness was, but that was only after I tasted these churros.
Address: Via Laietana, 46, 08003
Hours: Closed Saturdays
8:00 AM to 1:30 PM Sunday
7:00 AM - 1:00 Pm, 4:30 PM - 8:30 PM Monday to Friday

Places To Stay
Like any major city with a huge tourism industry, you will find tons of places to choose from. Here are a few recommendations to get you started: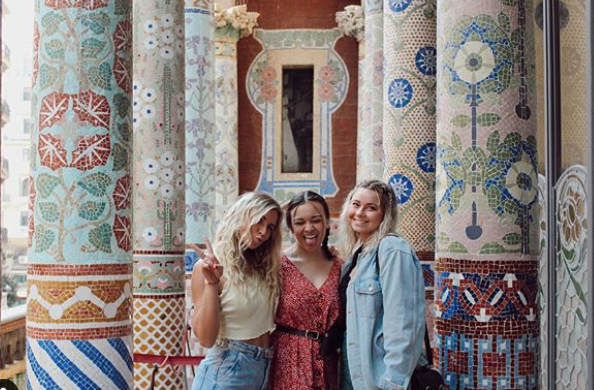 Some Helpful Tips To Know
It's Easy to Navigate
The entire city is very walkable, but there's also a good bus system and metro in place to help you out. Like mentioned before, getting one of those tourist maps before you ride the Aerobus will help you out (or just having Google maps on your phone).
Just so you know, I was able to visit that churro place, the Picasso Museum, the Arc Del Triomf, the Sagrada Familia, Casa Battlo and La Rambla in a (busy) day all on foot. You can see quite a lot in a day or two.
Renting Bikes
Other volunteers also mention renting bikes to help you get around (Park Guell is probably the furthest you'll be exploring, which would be about an hour walk from the main epi-center of the city. Right when you get off the Aerobus at the Place Catalunya stop, there is a tourist info booth who can help you out with that if you didn't do a quick online search before arriving.
Get Free Wifi All Over Barcelona
There are little WiFi hotspots that you can log into using your email that will give you internet access — super helpful for when you need to load the menu of that tapas place so you know what to order when you walk over there. That Aerobus map has all the locations highlighted.
A Note About The Beach
Barcelona really isn't the place to do a trip to the beach if you ask some volunteers. I visited in November, so definitely not beach weather. Walking the boardwalk and hanging out near there for sunset has been a highlight for some volunteers visiting in warmer months, however others have said that you should just have a beachy vacation in Nice, France, or somewhere in Greece. Just something to keep in mind
Here's That Map To Help You Out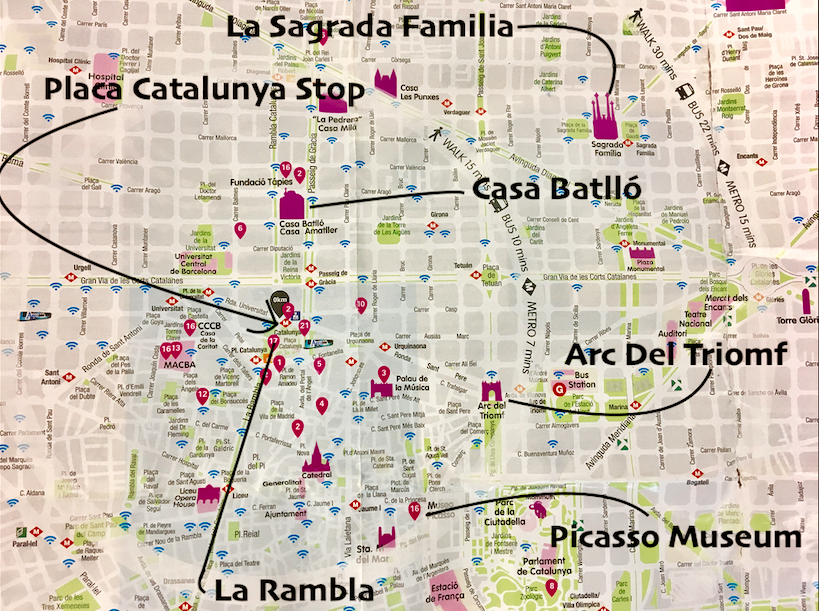 Like any map, it's better in person, but this gives you an idea at how central a lot of the destinations are. It'll take you about 20 minutes to walk from where the Aerobus drops you off at Place Catalunya to get to the Sagrada Familia.

Google Maps is also very helpful: My very savvy travel friend had downloaded the map beforehand and had pegged these destinations to make getting around simple once we got there. However, there is Wifi all around (see all the WiFi signals around the city?) where you can get online to help you get around.
Getting To Barcelona
Though you can reach Barcelona by train or bus from other cities, the majority of travelers will be flying into the BCN airport, which is a few miles outside of the main city. Luckily, it's very easy to navigate.
There are two terminals (T1 and T2). You can travel between the terminals via a free shuttle. It takes about 7 minutes to get from T1 and T2, just as a head's up when you're coming back and need to check into your flight … you'll want to factor in time if you get dropped off at T1, but actually need T2!

Look for budget airlines like Vueling, KLM, EasyJet, and a few others for good prices to BCN.
Getting Into The City
Barcelona makes this SO easy. There are a few options (like the metro, which hooks up to the airport itself, and the ever-expensive taxi) but I found it so simple to ride the Aerobus.
It picks you up in front of T2 or T1, and there's an obvious "Aerobus" pick up spot with a blue sign with their little logo. Just look at the airport maps inside the airport that'll show you where you can catch a cab or a bus, and find the Aerobus logo to know where you're going to be picked up outside of the terminal.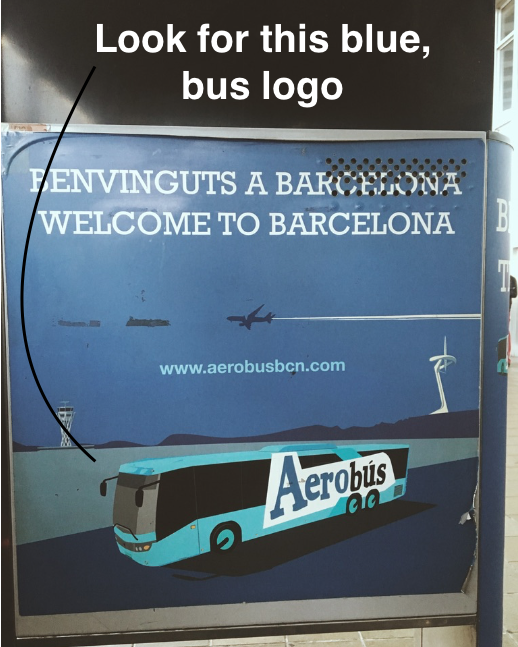 You'll be able go buy tickets right there at the stop from an attendant or two (who both spoke English by the way).
The buses run every 5-10 minutes so you don't have to wait long and the ride into the city is about 35 minutes from the airport. You'll most likely want to get off at Plaça de Catalunya, which is the last stop and right by La Rambla which is the hub of the city, and a good starting point to pretty much everywhere you want to visit in Barcelona.
Helpful tips:
There is free WiFi in the Barcelona airport and on the Aerobus which is so handy. There are also USB charging ports on the bus so you can plug in and give your phone a bit of a charge before you get off. Also, make sure you pick up their free tourist map to help you get around the city (it shows you where all the free WiFi spots are in the city, along with all the metro stops and Aerobus stops).
Hours: First bus leaves the airport at 5:30 AM, and the last bus runs until 1:05 AM, Monday - Friday.

Cost: It's 5.90 Euros for a one way, but you can book a return ticket for 10.20 Euros that is valid for 15 days. Just make sure you keep your little receipt — that is your ticket! If you get a return ticket, you'll need to show that same receipt/ticket to the bus driver on your way back.
Nearby Adventures
Spain is packed full of really incredible, travel-worthy spots (no surprise there). Don't skip Barcelona altogether, but if you have more than 1 day in the area consider checking out one of these day trips to explore more of what the country has to offer.
Valenica
Get more of Spain in this slightly less touristy city! Valencia is well known, but not as heavily traveled if you're comparing nearby Barcelona, which we love. There's daily trains between the two cities and the ride is only 3 hours so it's a breeze to transfer over. We've got a guide to Valencia to help you plan your trip there.
Mallorca
If you're in Barcelona, you're just a quick (under an hour) plane ride from a gooooorgeous island. Mallorca sits in the Balearic sea just between Barcelona and Valenica. Just take a look at the photos on this post and you'll see why it's a vacation spot. And the best part is that you can often get really affordable flights out there — I've seen them for $30 USD!
Monasterio de Montserrat
Take a break from the cities and the crowds and head into Spain's mountain side. Ride the train for an hour to get outside of Barcelona, jump in a cable car, and find yourself on top of a mountain, wandering a monastery and admiring the views. The whole experience is quite magical. Get the details on Montserrat here.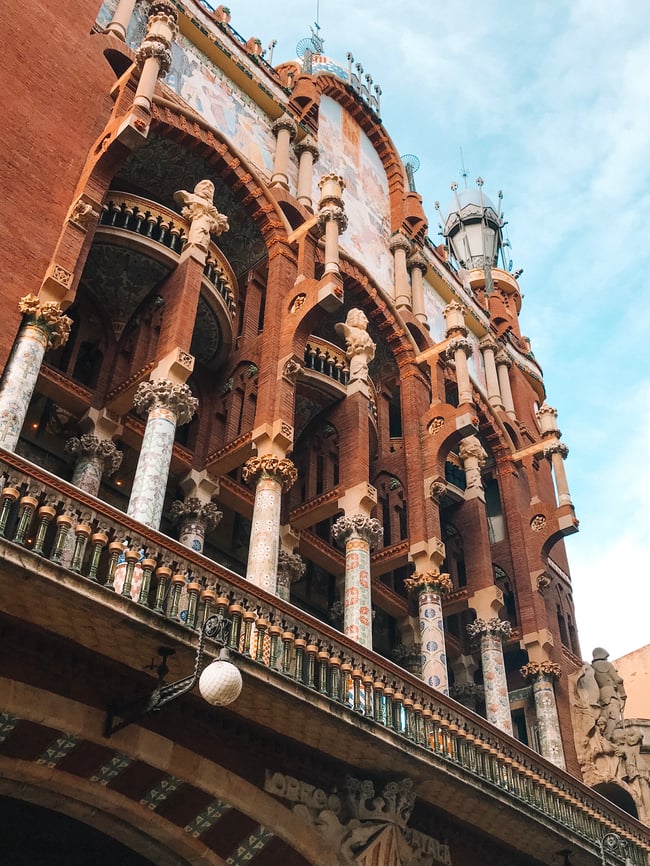 Ready to live in Europe for a bit?
Who isn't? Come see what volunteering in like with ILP — you'll be teaching English or volunteering in an orphanage part time, which leaves you with weekends and vacation days to explore places like Spain.

Get your questions answered by chatting with someone who just got back from their semester: