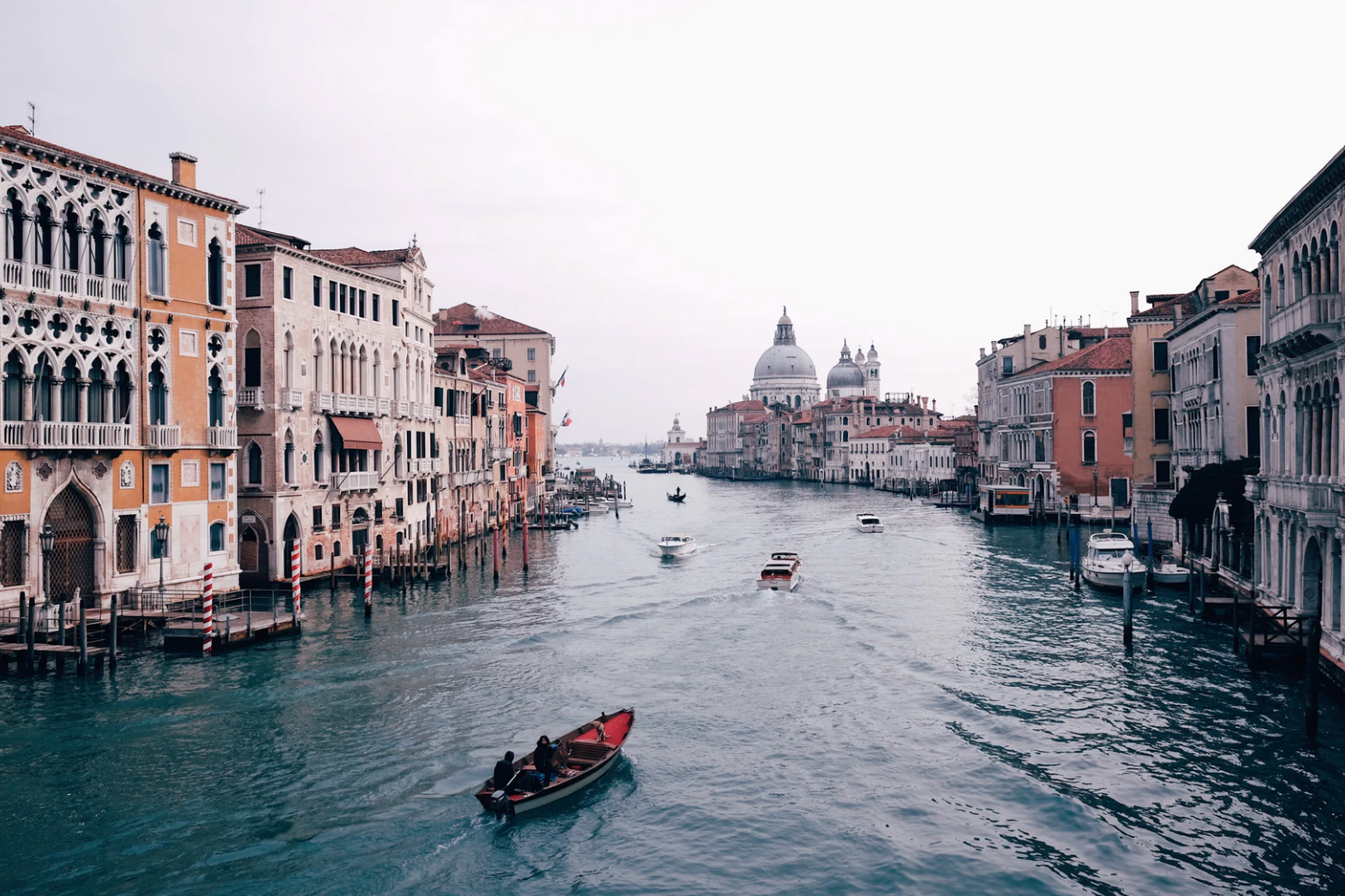 Ready to get lost in this historical city that has no roads and over 400 bridges? As one of the most unique and charming places in Europe, Venice is a top travel destination for many reasons. Here is our complete guide for making the most of your trip!
Traveling around to different cities and countries during vacations is easily one of the best parts of being a volunteer with International Language Programs. Venice is a favorite destination for our volunteers and after reading more about it, we think you'll see why. There really is no other place like it in the whole world! Plus, since Venice is built across 118 tiny islands and held up by wooden piles, the city is sinking and may not be around for much longer. So, go!


---
Have you always wanted to spend a semester in Europe? Now's your chance!
Start Your Application Here

---

Before you go to Venice, we should probably warn you about a couple of things. If you go in the winter, you'll freeze. If you go in the summer, you'll burn and melt. It's smelly, dirty, and crowded all year round. And no joke, you will get lost at least 30 times. So why do tourists love it? Well, it's one of those things that we can't explain. You'll just have to experience it for yourself!
If you only have a few days to spend in Italy, Venice is one of the cities we recommend. We can guarantee it will be one of the most magical places you will ever go! You only need one full day to be able to enjoy it, but it will be a packed day. Since you'll be needing to make a bucketlist just for Venice, here is everything you need to know for planning the perfect itinerary!
Your Complete Guide to Venice, Italy:
History of Venice
The first people to settle in this peaceful lagoon were actually refugees trying to escape from the Barbarians sweeping through the Italian mainland around 400 AD. Starting with only uninhabitable swamps, these refugees built one of the most beautiful and revered cities in all of Europe. As tradition says, the formal existence of Venice began at noon on March 25th of 421 AD. For the next 1400 years it was the couple of miles of water separating them from the mainland that kept these Venetians safe. It quickly became a mercantile empire and Venice is still referred to as "The Queen of the Sea".
There are actually very few permanent residents who live in the heart of Venice now and most who do make their livelihood through tourism.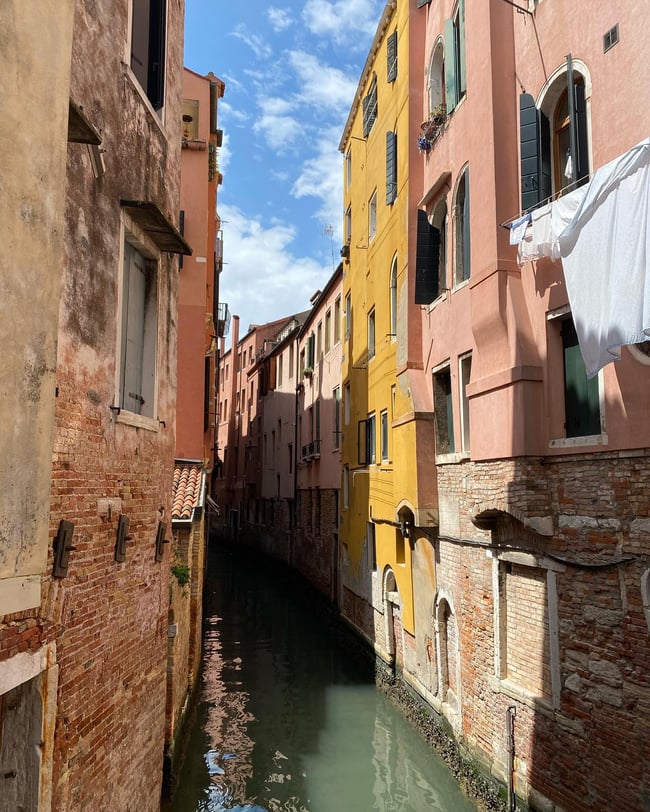 How To Get There
The closest and most convenient airport to fly into is the Marco Polo airport. Getting to and from the actual city of Venice is pretty straightforward and you have a couple of different options.
Public Boat: The Alilaguna boat line is a fun way to get to the city from the water and costs about $17 one way or about $20 for round-trip. The transit time can take about 1 1/2 hours because of the stops that have to be made along the way. It runs on a schedule, so you might have to wait for a bit to catch one.
Bus: The ATVO bus, like a chartered bus, is a 20-minute non-stop trip from the airport to Piazzale Roma. It runs three times every hour and only costs about $7 one way. You can get tickets from the machines located near the bus stop, which is on the street directly in front of you as you leave the airport. This bus goes from Piazzale Roma to the airport three times every hour starting at 5 am. It's a better option than the crowded city buses for sure.
Within the actual city, the only forms of public transportation are the water taxis and gondolas. We recommend walking as much as you can, since there is literally a new and beautiful view around every single corner. You have to see the city from both the canals and the bridges in order to get the full experience.
P.S. Because the city is sinking, there are parts of it that do get covered when the tide comes in. Or you might be one of the lucky volunteers that gets to visit during a flood. Either way, we guarantee you'll love it! Just be ready for any adventure!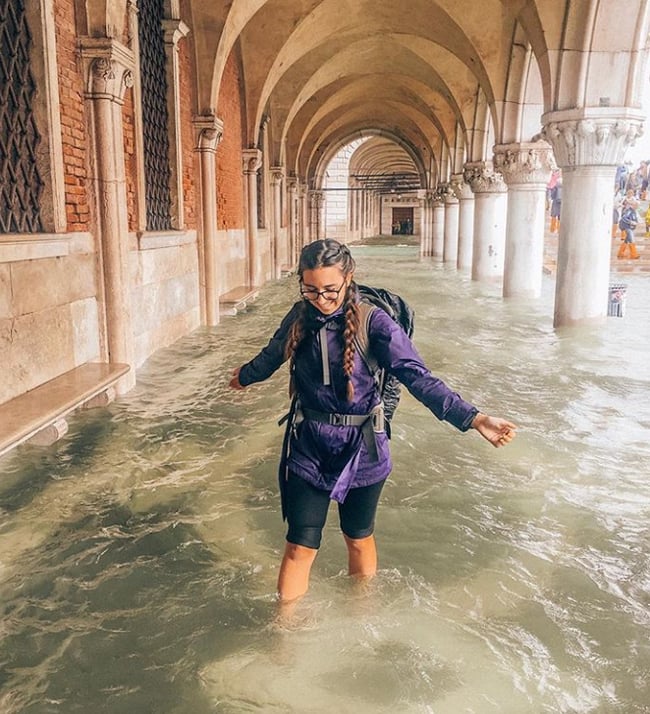 Where To Stay
We_Crociferi Hostel
This air-conditioned hostel is the perfect place to stay inside of Venice. Recently renovated from a 12th-century convent, it's a 15-minute walk from St. Mark's Basilica. With WiFi available in the communal areas, luggage storage for when you're walking about, and bathrooms attached to the bedrooms, it's a pretty great deal. You'll end up paying about $30 per person for each night, but for its superb ratings, we bet it'll be worth it! Book your stay here!
Address: Campo dei Gesuiti, Cannaregio 4878
SmartHoliday Hostel
Located not far from the Rialto Bridge and St. Mark's Square, this is another great option. They provide WiFi and also advertise ceiling fans and hot showers. Sounds like a great place to relax after a long day of walking. Book your stay here!
Address: Calle Dell'Anconeta, Cannaregio 1981
Airbnbs
Protip: If you're going with a group of 3 or more (which you have to do as a volunteer with International Language Programs) then make sure you also check for any good Airbnbs in the area. You can often find them for pretty cheap (once you split it up between everyone in your group). They also offer more privacy and are sometimes nicer than hostels. Just pay attention to location and look for notes about how to get to the center of Venice from the Airbnb. If it helps to know, pasts ILP groups have stayed here to give you an idea of what to expect on price and location.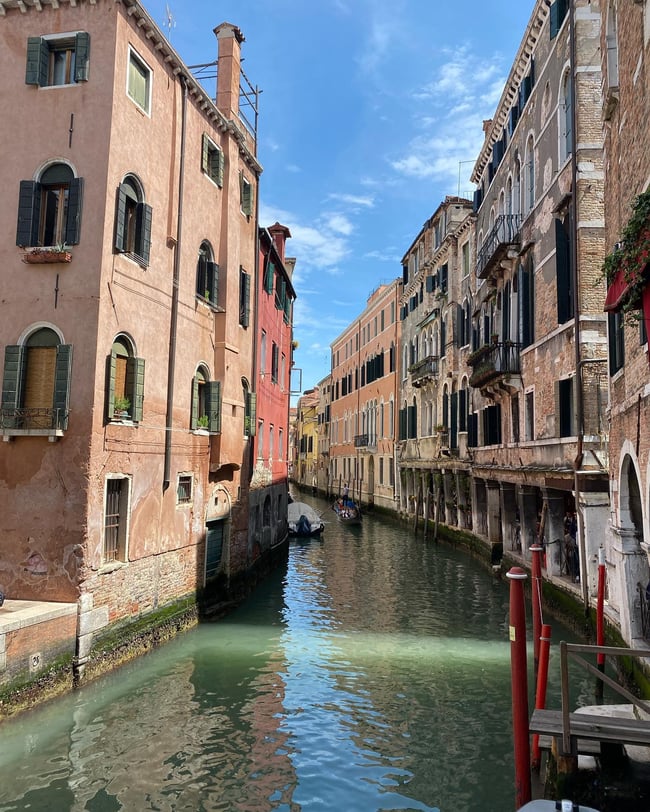 What To Do
Bridges
With so many bridges to choose from, it can be pretty hard to pick which ones you have to see. The nice thing is you can plan a route through this little city that crosses almost all of the most important ones. Here are a few of our favorites! Grab a map and make sure you snap a picture at each!
Rialto Bridge: One of the most famous and most crowded! There are shops up and down both sides of this bridge, and you kind of have to squeeze your way across it. But the views of Venice are worth it!
Ponte delle Guglie: Also known as the Bridge of Spires. This beautiful white and brick bridge was originally built in 1285 but then totally reconstructed in 1823. There are large spires on each end of the bridge and the bottom of the arch is decorated by various faces of gargoyles.
Ponte de Chiodo: This small one is unique because there's only one other bridge left in Venice without a parapet (railing). It is also less crowded than many of the more popular ones and the bright buildings surrounding it (plus a little, red motor boat if you're lucky) create the perfect backdrop, making it charming in every picture.
Accademia Bridge: Also known as the Ponte dell Accademia. Originally built as a temporary replacement for an iron bridge, this wooden one still stands and was once a place for lovers to place locks that symbolized their undying love. Since this is one of only four bridges that crosses the Grand Canal, it's a great place to snap pictures of some of the most iconic views of the city.
Bridge of Sighs: This one has the fascinating history for sure. When prisoners were being led from the Doge's palace to their prison cell or even execution, the tiny windows on this bridge offered them one last chance to look out over their beautiful and beloved city.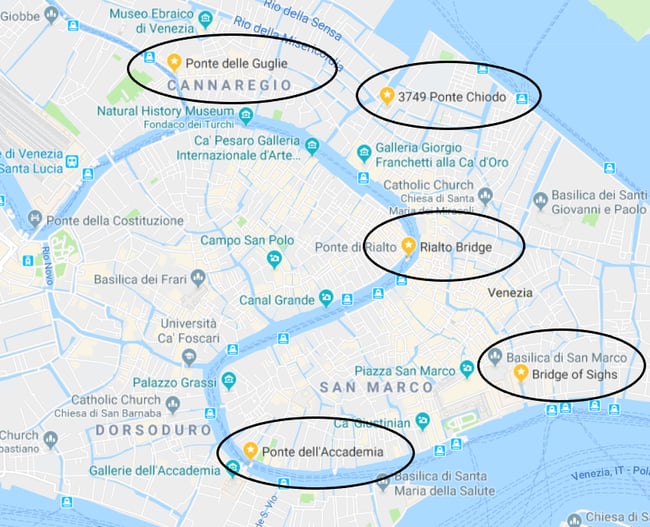 Gondola Ride
We know, a trip to Venice is just not complete without the iconic gondola ride. And it really does offer unique views of the city! Plus, you might even get a lovely Italian who will actually sing to you as he guides your gondola through the canals. Dreamy! You are paying for the experience though, so be prepared for it to be pretty pricey. You can easily book these rides beforehand, or wait until you get there.
Here is a top-rated deal for a shared gondola ride! If you're willing to pay for it, we do recommend the private gondola ride, and here is the best-rated deal for up to 6 people! This article also has a lot of helpful information about the ins and outs of taking a gondola ride.
Want to see the city by water but not willing to pay the price? Consider doing a boat tour instead. These are a fraction of the price and still give you a similar experience. Here's a great one-hour boat tour of the Grand Canal that you can book in advance.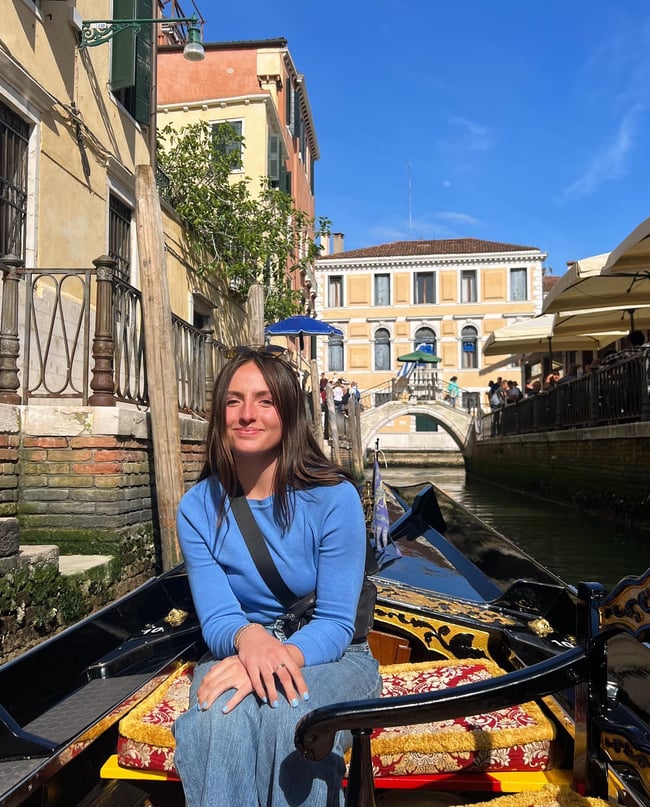 St. Mark's Square
This is the center of Venice, where you'll find the Basilica, Doge's Palace, Bridge of Sighs, clock tower, and the bell tower that was once used by sailors as a guide to home. Although always full of tourists, it is the perfect place to sit and people watch and just soak in the surreal majesty around you.
We don't recommend buying dinner in any of the surrounding restaurants (hefty prices), but grab a calzone or cannoli from a neighboring shop and sit on the steps around this piazza. Beware the fat pigeons that are waiting for any piece of food they can get. They are not shy!
Entering the Basilica is free, but there are often long lines. It is usually open from 9:30 am to 5 pm, except for on Sundays when it does not open until 2 pm.
Libreria Acqua Alta
Love books? Even if you aren't much of a reader, this bookstore is so unique that you will not want to miss it. The Venetians call it "the most beautiful bookshop in the world" and its name translates to "library of high water". It still functions as a place to purchase books, but many of them are stowed in gondolas within the shop, and some of the oldest volumes have been used to create walls and even a set of steps leading to a view of the canals.
Hours: 9 am to 8 pm
Address: Calle Longa S. Maria Formosa, 5176/b, 30122 Castello, Venezia
Day Trip To Burano
Want to walk down rainbow streets hugging those magical canals? The city of Burano is exactly where you want to head. Just a quick boat trip from Venice is a collection of the most colorful buildings you've seen — each home is painted a vivid shade, different from their neighbor. The effect makes it one of the most photogenic spots in all of Europe: a parade of pastel yellows, blue, green, orange, reds, and pinks.
We have a whole post about Burano to give you the info on what to see there and how to get there.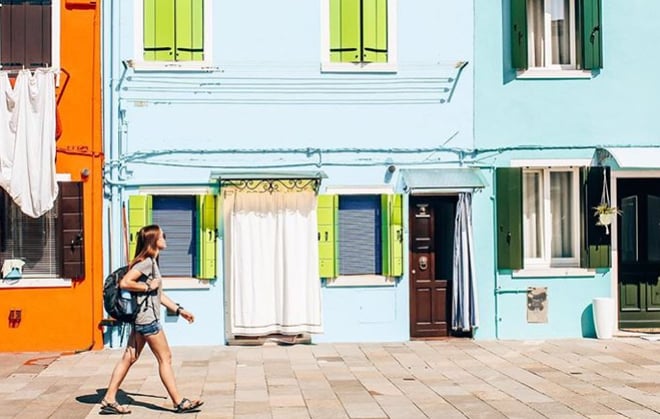 What To Eat
Pizza
This is a no-brainer, right?! And you'll probably be able to scarf down an entire pizza on your own. In Italy, the crust is made very thin and they don't heap it with toppings like we do in the US, so eating an entire pizza on your own is much more doable. This is the perfect lunch, dinner, and maybe even breakfast (we won't judge).
Pastries
So rumor has it that Venice was actually the first place to use sugar in baking (thank you Venetians!) which is why there are so many bakeries and patisseries sprinkled throughout the city. Your options are unlimited, but one of the best traditional treats is fritelle, deep-fried dumplings filled with cream. Another favorite is galani, deep-fried thin strips of pastry. But you really can't go wrong with any of the desserts!
Gelato
No joke, we recommend trying a new flavor every couple of hours. It seems like they are able to take any delicious treat you can imagine and turn it into the creamiest, silkiest gelato. Strawberry cheesecake? They've got it. Ferrero Rocher? They've got it. Lemon? Oreo? The hardest part is just deciding which places sells the best kind of each.
Suso is one of the most famous gelato shops, but also the most expensive. Our volunteers say it's worth a try, but definitely scoot over to some of the small, family-owned stands too.
Address: Calle della Bissa, 5453, 30124 San Marco, Venezia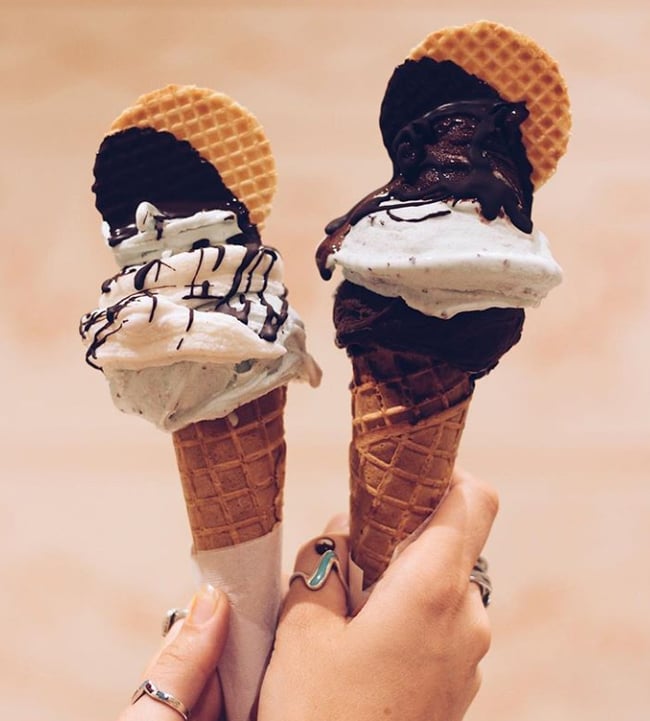 Extra Tips
Souvenirs
Masks: Because of the famous carnival in Venice, this is THE place to buy a mask. Lace? Ceramic? Paper machete? Gold? Sparkly? You get the point. As soon as you step foot over the first bridge, you'll see them in every window and on every souvenir cart.
Murano Glass: Blown glass is probably the most delicate and beautiful souvenir you can bring home from Europe. Lucky for you, Venice is famous for it! If it's not a mask shop, it's a glass one.
Paintings: Pictures are great and all, but a painting of a gondola peacefully floating down a canal between pastel-colored buildings? With shutters and flower boxes? Imagine that hanging on your bedroom wall....talk about perfect.
Money
Italy uses the Euro, and before you get to Venice, make sure you pull out money! There are very few ATM's located within the city itself, and the ones that are there charge such a high fee that after losing that money, you won't be able to go anywhere for your last four-day vacation (speaking from experience). Almost nowhere takes cards, so you'll need to pay cash for every slice of pizza and bowl (or cone) of gelato.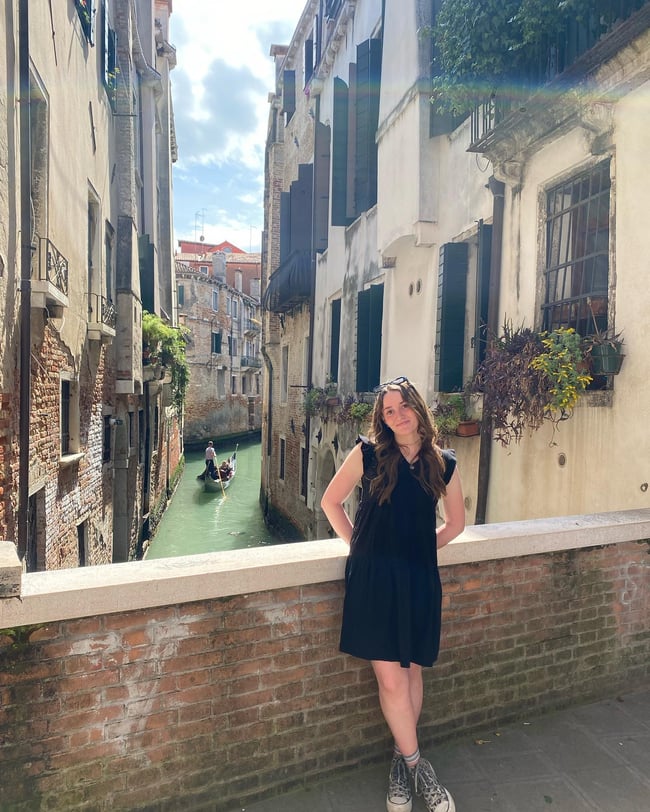 + Tack On This Trip
La Garda is one of the most popular destinations for a holiday in Italy, home to some of the best things this country has to offer: think Roman ruins, spas filled with thermal springs, sunny beaches, colorful cities stuffed with gelato shops and patisseries, and more. The lake is surrounded by dozens of little lakeside towns, making it easy to hop from town to town every few days, for a week or two if you have the time. And the best news? It's just a couple of hours away from Venice!
Get way more about La Garda here, with tips on how to visit the most picturesque cities from Venice, and other pointers to help you plan the most perfect trip to this gem.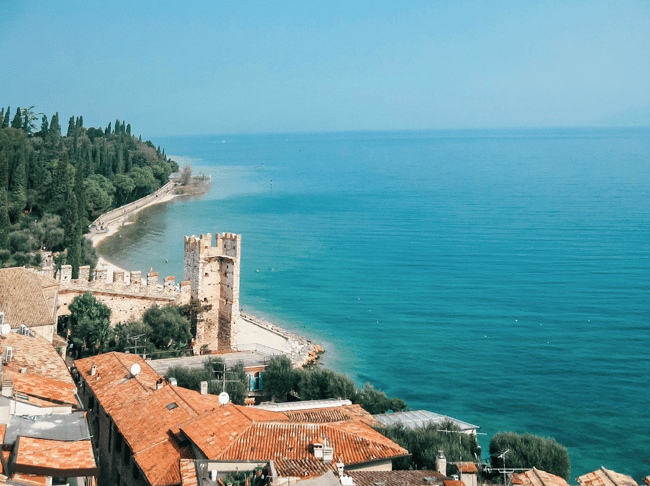 Want to talk to someone who has volunteered in Europe?
Everyone who works in our office has been a volunteer for at least one semester in the past, although many of them have done it multiple times. Curious to know what to expect during your own semester? Click the button below: