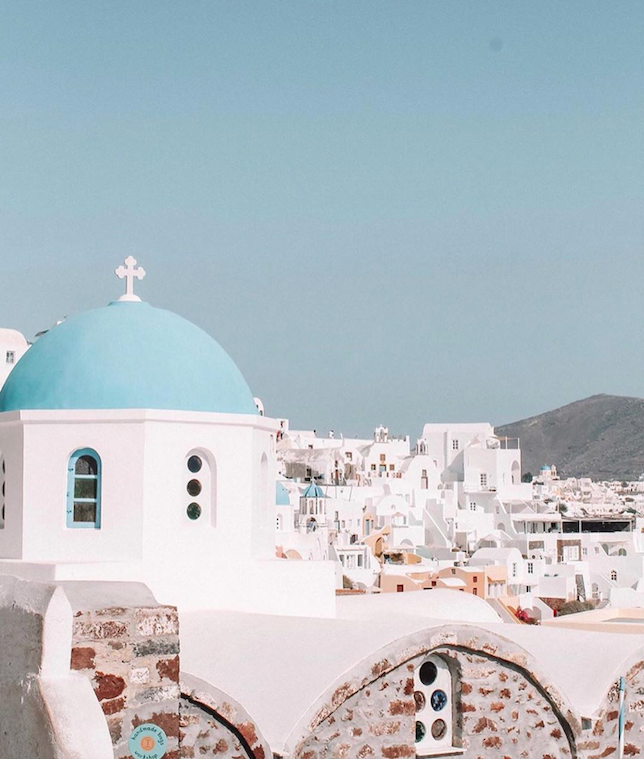 Have you dreamed of traveling to Greece? Now is your chance! Here's everything you need to know that will make your trip to Santorini better than any dream.
One of the best parts about volunteering with International Language Programs has to be the vacations, right? And one of the favorite travel destinations of our volunteers in Europe is Greece—for obvious reasons. So pack your bags and get ready for an adventure in the land where you'll be singing tunes from Mama Mia nonstop!


---
Come spend a semester in Europe
Fill out your application here.
---
Santorini, a collection of islands located in the Aegean Sea (Thira being the island most people refer to), has all the ingredients for the ideal vacation: delicious food, stunning photo spots, unique architecture, fascinating history, perfect ocean water, and so much more! There are few things in this world more charming than these white-washed buildings topped with blue domes.
Although it won't be one of the cheaper vacations you'll have in Europe, it is likely to be one of the most memorable. So no matter where you're living for your semester in Europe, you'll easily be able to catch a flight to Santorini and experience all of the magical things it has to offer. Keep reading for our list of things we think you can't miss!
Everything You Need To Know About Vacationing In Santorini
What To Do
What To Eat
Where To Stay
Other Tips
How To Get There
How To Get Around Santorini
What To Do
The first thing you need to know is that on Santorini there are different settlements. Fira is the main town, but Oia is the one with the most iconic blue domes. Pyrgos Village is at the highest point of Santorini, and is protected by law, so all of the traditional architecture is still in tact. If you're up for visiting an ancient settlement, that was destroyed by a volcanic eruption, then Akrotiri is your spot. We recommend visiting all of them since there are unique things to see in each place!
Hike From Fira To Oia
Your journey will begin in Fira, in the square next to Hotel Atlantis, and the marked path takes you through the towns of Firostefani and Imerovigli before ending in Oia. The full hike is not difficult, except for one short patch that is pretty steep, but it takes 3 hours and is about 6 miles. Everyone says it's totally worth it because of the views, and some say this is the best hike they've ever done in their lives!
The hike is peaceful compared to the busier towns, but still do it first thing in the morning to avoid handfuls of tourists and the heat. Also make sure you bring plenty of water because the places you can buy a bottle are far between. Check out this site for more details!
Amoudi Bay
This fisherman's village is located below Oia, and the stairs you take to get down to the waterline are marked "Amoudi Bay." There are many taverns along the edge of the water that offer fresh seafood if jumping into the cool water gives you an appetite.
Beaches
Santorini is not home to white-sand beaches, but these unique beaches are still cool to visit nonetheless. They are all found on the outer side of Santorini's horseshoe shape. Kamari beach has black pebbles instead of sand and very deep water. When you visit Red Beach, you'll understand right away how it got its name, and with stunning blue water, it really is a captivating sight. Monolithos beach is probably the most beachy beach, since it has sand that allows you to walk out quite a ways before the water depth drops, and is a great place to spend an afternoon.
Watch the Sunset
Most tourists will go to the kasteli (castle) of Agios Nikolaos in Oia, but that gets very crowded. One of our favorite sunset-viewing spots has to be the Akrotiri lighthouse, because although there is no public access to the inside of the tower, you can still sit on the stone wall overlooking the sea. Breathtaking!
Another great spot is the Profitis Ilias hilltop, which is the highest point on the island. No matter where you end up waiting for the sun to set, make sure you get there about an hour early to claim your spot.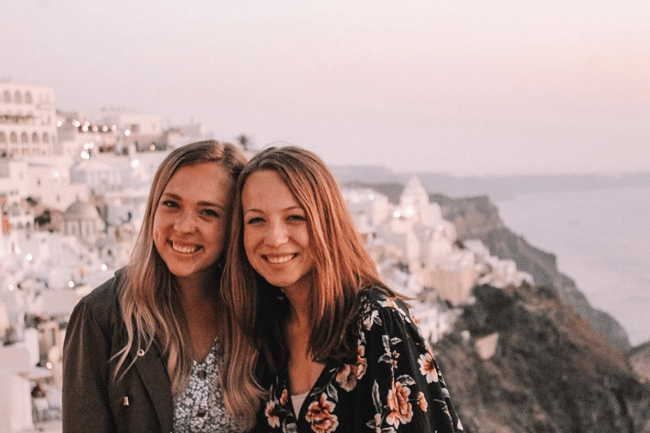 Cable Car
Make the journey up the steep slope from the port to Fira via cable car. It is about $6 a ticket, and the entire ride takes only 3 minutes. Visit this site for extra info on timetables, since the scheduled cable car trips change every few months!
Just FYI, it is still possible to ride a donkey up this route in Santorini, although activists have recently pushed the government to ban anyone over 100 kg or about 220lbs (1/5 of the donkey's body weight) from riding on a donkey's back. It is definitely a very controversial way to get up the 586 steps from the port to Fira, but also a traditional one. If you opt to do this, it will be about $6 for the 30 minute trip, or you can just enjoy saying hi to the donkeys as well.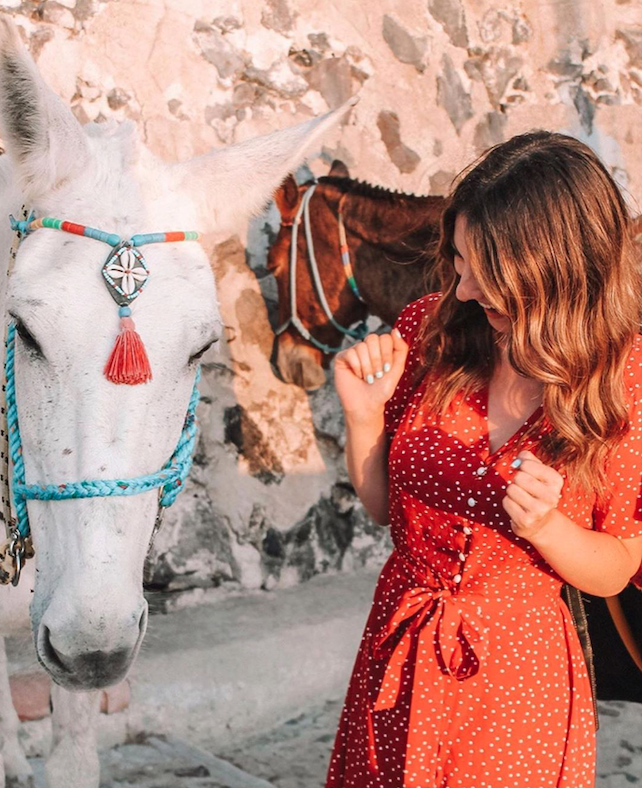 What To Eat
Since so many things in Santorini are a bit pricey, we recommend eating some of the delicious street food that can be found in pretty much every town. But dining out in local restaurants can be affordable if you know where to go. We recommend going to Kamari or Perissa for the authentic Greek cuisine, since the places in Oia or Firastefani really cater towards tourists and are often more expensive.
No matter where you end up eating, the #1 most important thing for you to try are the Santorini cherry tomatoes. Because it hardly rains here, these little bombs are just packed with flavor. That and feta cheese. YUM!
JuiceMe
Not only will these guys make delicious fresh juices for you, but they also have a range of cereal bars, muffins, and yummy sandwiches, making this place a perfect stop no matter what time of day. The juices and hot sandwiches start at about $4.50.
Hours: Daily from 7:30 am to 9 pm.
Address: Επαρχ. Οδός Μεσαριάς - Αρχ. Θήρας, Καμάρι, Σαντορίνη 847 00, Greece
Pitogyros
This is such a great place for all of our savory Greek favorites. We're talking pita gyros, homemade sausages, kebabs, and even fresh Greek salads. And with the variety they serve, it's perfect for lunch and/or dinner every day! Prices start at $5, while a full meal will cost you about $7.
Hours: Daily from 11 am to 11 pm
Address: Oia 847 02, Greece
Lolita's
If you're looking for somewhere to get your daily gelato, this is THE place to go in Santorini. They have so many yummy flavors—chocolate and fruity—and even offer milkshakes too! Prices start at $3.
Hours: Monday-Saturday from 10:30 am to 8 pm. Closed on Sundays.
Address: Oia 847 02, Greece
Falafaland
This place is actually a great option if you're wanting vegan or vegetarian food. All of their wraps and falafel are very recommended! Prices start at about $5.
Hours: Daily from 11:30 am to 10:45 pm
Address: Δανεζη Μιχαηλ, Φηρα Σαντορινη 847 00, Greece
Where To Stay
Where you choose to stay in Santorini is so important that we've created an entire guide for where to stay if you're on a budget! Head to that post to get all of our recommendations.
Other Tips
When To Go
If you can, avoid going when the crowds are in full force from May-August. April, September and October will still give you beautiful days that will be perfect for sightseeing and hiking, even if you don't get the best sun-tanning and ocean-swimming weather. But hey, Santorini doesn't even have the most ideal beaches for those things anyways.
What To Bring
This might surprise you, but bring a warm jacket because Santorini is known for getting strong winds, especially in the evenings during prime sunset-watching time. But also make sure you bring sunscreen, because even if it gets chilly, that sun will still get ya! And by this point, good walking shoes should be a no-brainer, right?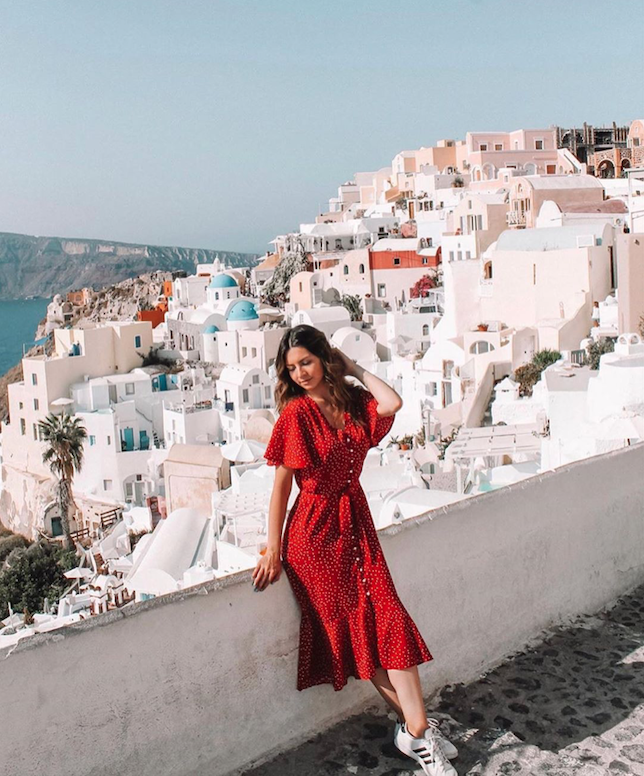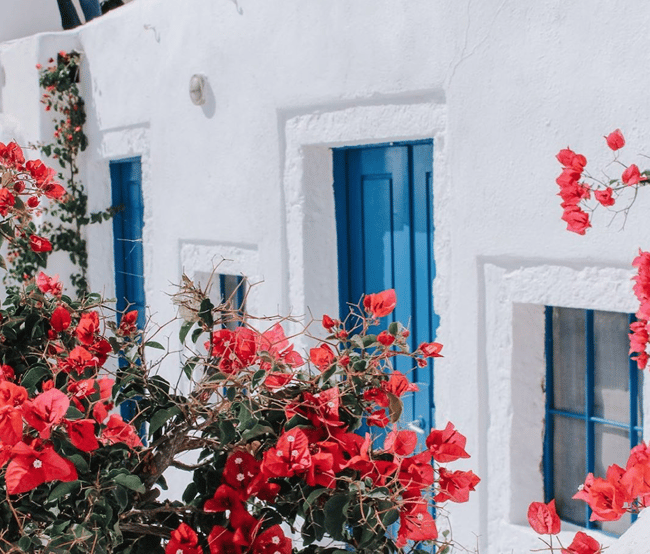 How To Get There
There is actually an airport in Santorini, but because it is so small and can only have six civilian planes occupying it at the same time, flights can be pretty pricey. Like $400+ from other European airports. So we'll let you in on a little scoop.
Our advice? Fly into Athens! Have you guys heard about how amazing Athens is? Definitely read this blog post to find out what you're missing and why you need to go asap. The best part? You can find flights to Athens for less than $100 from many European cities, depending on the time of year. Check out Ryanair to find killer deals. You can then catch a cheapish flight from Athens to Santorini through Ryanair.
Another option...after you've finished up a day or two in Athens, take the ferry over to Santorini! There are several departure ports near Athens to choose from, but Rafina is closest to the airport. Depending on which ferry you choose, the trip could take anywhere from 5-8 hours and you'll be paying anywhere between $30-80 per ticket. But hey, that's a lot cheaper than a Santorini flight! Plus you get to enjoy the views of Santorini from the water. Visit this site for more info! And then book your tickets here.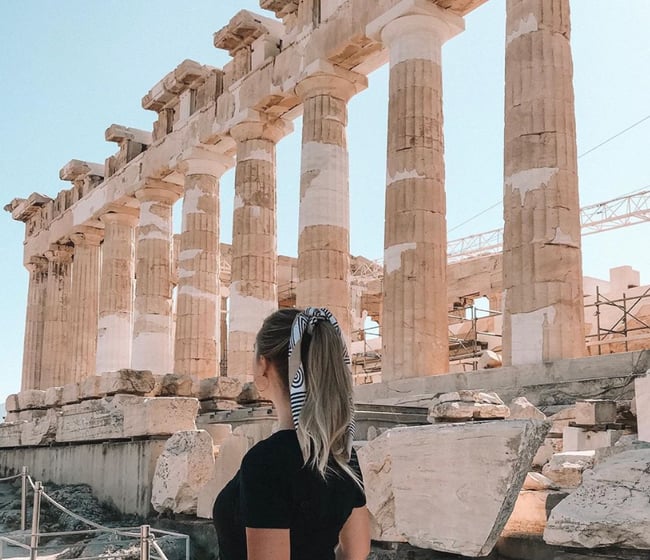 How To Get Around Santorini
The easiest way to get around the island is by walking. And with those views, of course you'll want to be walking! But just in case it's been a long day and you want to town hop, there is a bus service, KTEL, that covers the whole main island.
You will most likely have to change buses at Fira since that is the central hub. So for example, if you want to get to Oia from Kamari, you'd have to take the bus back to Fira then hop another bus from Fira to Oia. Tickets are between $2.50-$3.00 depending on where you want to go, and tickets can be purchased on the bus.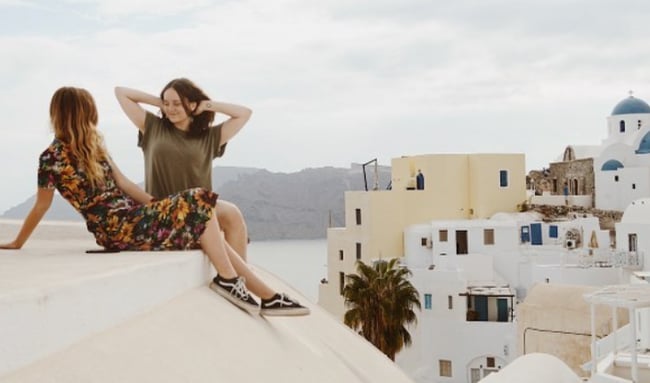 Interested in volunteering but have a lot of questions about what it's like?
We did too! Click the button below to find out a bit more about what to expect when spending a semester abroad as a volunteer with ILP!