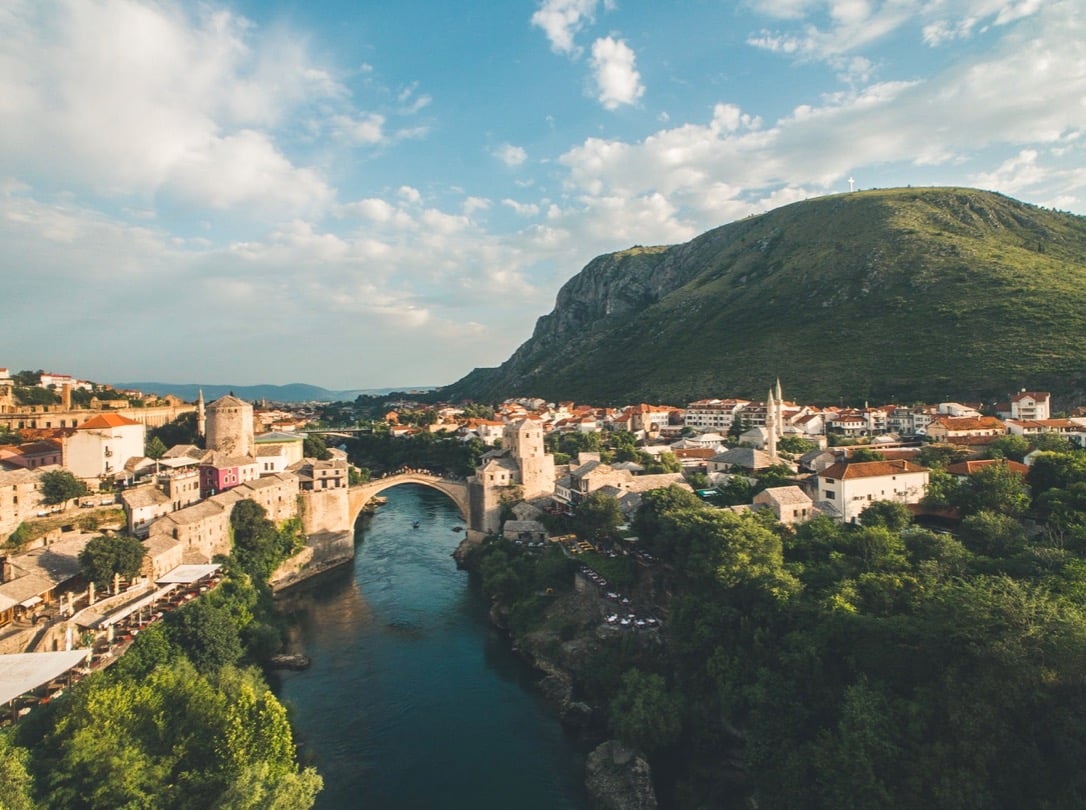 Complete with a fairytale-esque bridge, this place is magical.
Do a quick image search for countries in southern Europe and you'll want to book a ticket, ASAP. Some of the world's prettiest beaches, most stunning hiking paths, turquoise lakes and villages that are cuter than any postcard are hiding in countries you may haven't even heard about. But really, the minute you hear what these countries have to offer, you'll be smitten. Our newest favorite spot? Meet Mostar, Bosnia.


---
See our favorite spots in Europe you may be missing
European Destination Guide
---
A quick peek at all there is to see (and photograph) in Mostar and you'll be all set to spend a day or two in this pretty city.
The Can't Miss Spots

in Mostar
See The Jumpers Off Stari Most (The Old Bridge)
This is first on the list for a few reasons: Stari Most (also known as the Old Bridge) is arguably the prettiest and most iconic bridge around, and is easily the city's most famous attraction. The high half-moon curve sits high above the blue Neretva River, and connects the two sides of the charming stone city of Mostar. It also has a pretty fascinating history (more on that below). But besides being a beyond-picturesque attraction, some of the brave locals will stand on the edge and jump the almost 80 feet into the river before. Tradition has it that young men would jump to win the love of the prettiest woman, but now they'll jump for money. Feel free to pitch in because it's quite the show! Usually a few jumpers will hang around and ask for donations and jump when they reach 50 KM (25 euros) or so.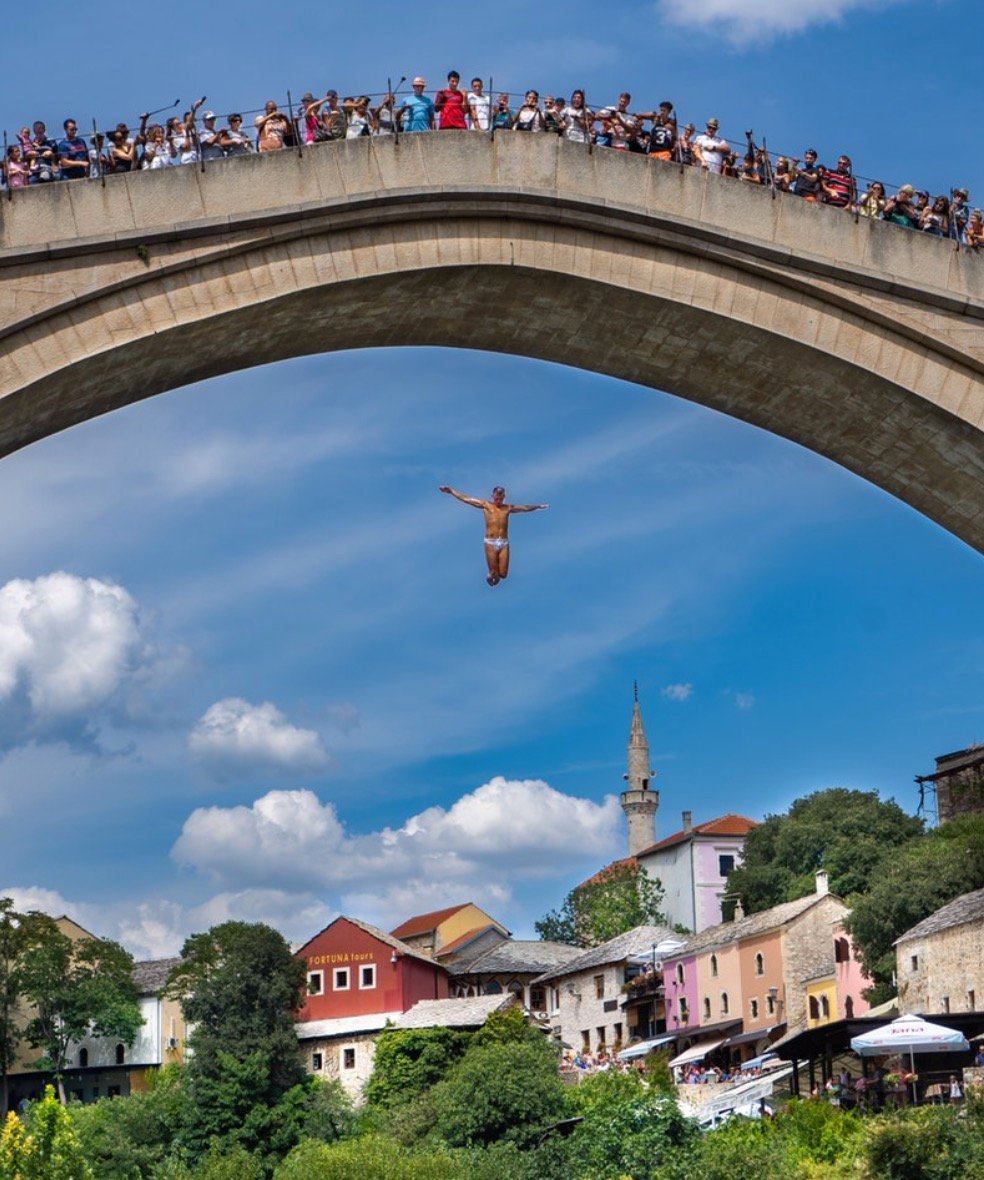 Getting The Best View
Of The Bridge
"Where is that magically pretty place?" is what everyone will ask you when you share a few pictures of Stari Most. You can can hike over and across the bridge no problem and that gets you a very pretty picture of the city on either side of you, and the blue waters of the river. Just a head's up: the bridge is built from smooth stones from the surrounding hills and since it's a pretty short bridge with quite a high curve, those steps can be very slippery (especially when wet). Just watch your footing when crossing.
To get the best picture of the bridge itself, head down the cobblestone path to Ascinica NAR (which is a cafe that sits near the edge of the blue river). Just pass the restaurant and you'll get set up on this rocky outcrop that'll get you a view of the bridge from below.

You can also get an amazing shot by crossing Lucki Most, another bridge that crosses the river just downstream from Stari Most. You'll be able to capture more of the city in the frame from this perspective (which looks more like your classic postcard picture). This bridge is about a 5-10 minute walk outside of the Old Town.

This blog has a few more spots for photographing Stari Most if you'd like more ideas.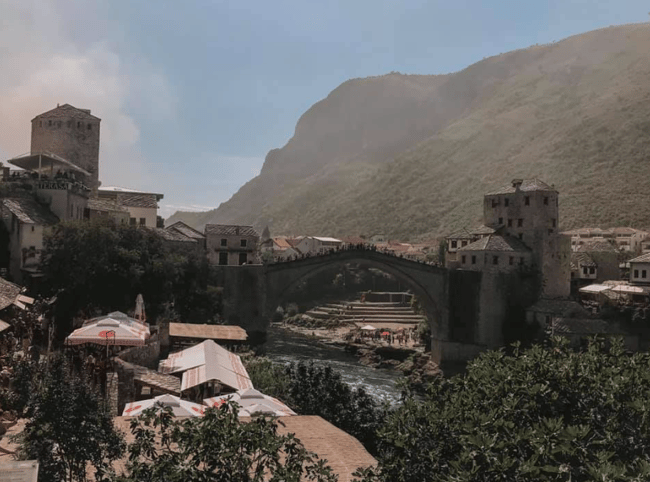 Experience A Little History
This museum is a must-see. The country of Bosnia and Herzegovina and the city of Mostar especially was hit hard during a war in the 1990's between two separate ethnic groups (the Bosnians Serbs and the Bosnians Croats). You'll see visible scars from this war, with buildings in Mostar supporting crumbling walls and bullet-ridden walls in some spots. The famous Stari Most bridge was also hit, caught in a crossfire. Fortunately for tourists (and the city), it was rebuilt with $13 million dollars of donations and support from UNESCO. It was even rebuilt the way it was made almost 400 years ago, with wooden scaffolding, iron support hooks and the same stones from the quarry that sourced stones from the bridge. Just a few things to know when you're gazing up at the pretty view.

You can learn more about the war that hit this country hard at the Museum Of War and Genocide Victims 1992 -1995 that goes into details about this country's war-torn past …. something that is all too recent for most of the people who live in Mostar. Just so you know, the material is tear jerking and difficult given the subject matter, outlining a few of the atrocities that occurred during the war, but it provides important context to how it has shaped the country you see today.

Cost: 10 KM (8KM if you have a student ID)
Hours: 9:00 AM to 9:00 PM, daily.
Address: Mostar 88000, Bosnia and Herzegovina
Shop The Turkish Bazaars
Right by Stari Most is Kujundžiluk, the main shopping street which is perfect for shoppers and window shoppers (also known as Coppersmiths' Street). The area has a huge Ottoman influence, so you'll find shops and stalls piled high with richly colored Turkish rugs and pillow cases, beautifully intricate silver lanterns, stacks of hand painted bowls and other pottery, copper bracelets, and other more traditional tourist souvenirs like fridge magnets and postcards. It's more than fun to peek into the countless shops even if you're not planning on buying.
Kujundžiluk is basically just an extension from the cobblestone pathway of Stari Most on the Neretva River's east side so come see the bridge, and do some shopping. Cash is king here: most vendors don't accept credit cards, so plan on having the local currency (some will take euros if you have them).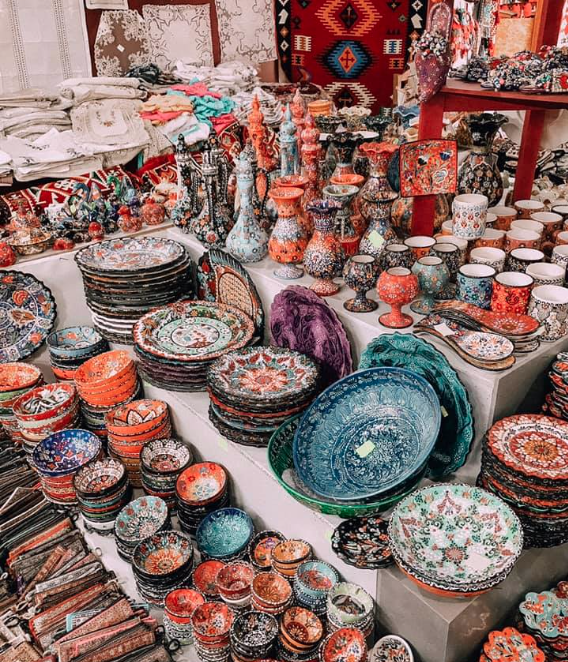 The Koski Mehmed-Pasha Mosque
This small but detailed mosque's main claim to fame is the chance to climb the minaret to get a view of Stari Most. You can pay to tour the inside (peek prayer rugs and colorful windows dating back to the 17th century) before heading up to the top of one of the minarets for the viewpoint. You'll climb some very narrow and slippery steps that tightly wind up stone tower to get to the view up top, which absolutely comes recommended. Head's up: the climb up the minaret is claustrophobic so best to skip that if you're not up for that.
Also, you'll want to make sure you're dressed properly before visiting the inside of the mosque. Ladies, that means covering your shoulders and arms, and wearing long flowy pants or skirts. The mosque does have scarves for you if you don't have one to cover your head while you're inside.

Address: Mala Tepa 16, Mostar 80807, Bosnia and Herzegovina
Cost: 6 euros for a ticket inside the mosque and to the minaret, or 12 km.
Hours: Typically open from 9:00 AM to 8:30 PM (April to September) and 11:00 AM to 5:00 PM (October to March).

Places To Stay + Eat
Places To Stay
We love booking hostels on Hostelworld if you are planning on staying overnight.

Mostar is a popular day trip especially from places like Dubrovnik, Croatia but it's also a lovely spot to spend a relaxing weekend if you want to pay for a hostel. Rooms Deny is a popular option with dorms about $11 USD a night, and is quite popular thanks to the tour option they offer to take you to the Kravica Waterfalls, plus the hostel itself is just a short walk to Stari Most.
Hostel Miran is also popular, with similar prices per night, and a great location (but this one includes free breakfast which we are always a fan of). There are quite a few hostel options as well as AirBnb's that make booking a place here a cinch.
A Few Food Recommendations
Bjeli Bar Terasa is one of the restaurants where you can sit outside and enjoy a snack and and watch the sunset if you time it right — pretty magical, since you can see Stari Most from some of the seats outside.
Hindin Han is another top rated restaurant where you can test out a few local dishes: Ćevapčići is one to try — it's kind of like a kabob, with grilled meats (usually sausages) tucked in a flat bread and served with a classic eastern European salad complete with a little lettuce and cucumbers + tomatoes.
Śadrvan is next to the old bridge and boasts a fun menu where the employees are all dressed up in colorful traditional clothing. There's a tasting platter that lets you try a bit of everything which is a good way to test out a lot of the local food.
A Few Quick Tips
When To Visit
It's lovely year round, but this part of the world does experience distinctive seasons. July and August are very hot, so you'll want to plan on doing things early in the morning and later in the evenings to help avoid all of that sun (it's uncomfortably warm). However, all the hot weather makes for a perfect time to swim in the Kravice Waterfalls … more on that below.

April and May and September/October are more enjoyable, with sunny days that aren't quite as hot, so that's a nice time if you can swing it. But even in February and March, it's in the 40's and 50's and 60's, so not all that bad if you are dressed for colder weather.
When It Comes To Money
Some restaurants will take cards but you'll want cash for little entrance fees (for the mosque) and any shopping you do. Cash is the way to go in this part of the world. Bosnia uses the Convertible Mark (known as KM), but most also take the Euro (lately, the KM has been worth almost exactly double the Euro — 12 KM is 6 Euros). At the time this article was written, 1 KM was worth 0.51 euros, but double check the current exchange rate before your visit.
A Nearby Adventure
The Kravice Waterfalls (sometimes called the Kravice Falls Mostar) are just over 20 miles from Mostar and are absolutely worth visiting — imagine diving into turquoise waterfalls when it's hot and sunny out. They are amazingly pretty, and swimming in the the cool mountain water after the short 5 minute hike from the entrance of the park can't be beat. It's usually warm enough to swim from April to October (but the lake stays pretty chilly even in the hot summer months).
We have a full guide to the Kravice Waterfalls (because we know you have to visit).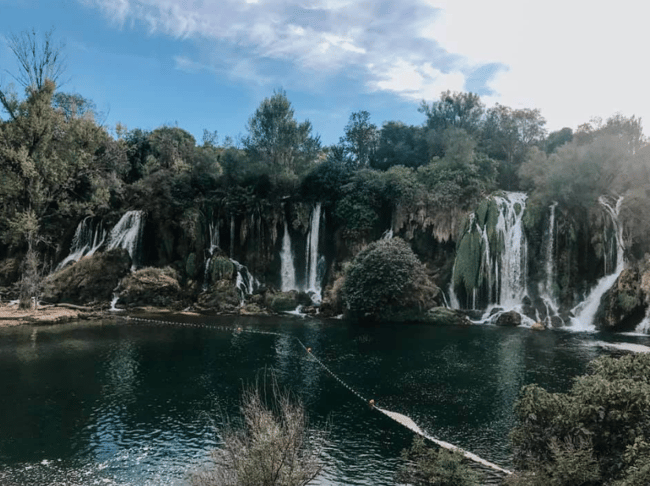 Getting To Mostar
From Dubrovnik
Another popular vacation spot for people who know just how pretty Dubrovnik is, Mostar is a very popular day trip from this beach-side city in Croatia. It's a short bus ride, around 3-4 hours with tickets around 14 euro for a one way ticket. Many people visit Mostar on a day trip to Dubrovnik, but if you're wanting to visit the Kravice Waterfalls, you'll need at a full two days to see the city of Mostar and make it to the waterfalls.

Scope out bus prices and options on Get By Bus.
Sarajevo, Bosnia
We've had a handful of ILP volunteers venture out to Sarajevo … and the result? "Bosnia is such an underrated country … such an Old Town Gem" or how about "Never expected to fall in love with Sarajevo Bosnia, but things just happen sometimes I guess". This capital city is a mix of eastern influences that'll feel like you're visiting Turkey, then turning the corner to the red-tile-roofs you know and love in places like Prague. It's just 2.5 hours from Sarajevo to Mostar, with tickets in the 5-11 euro range.
Take a peek at bus prices and routes on Get By Bus.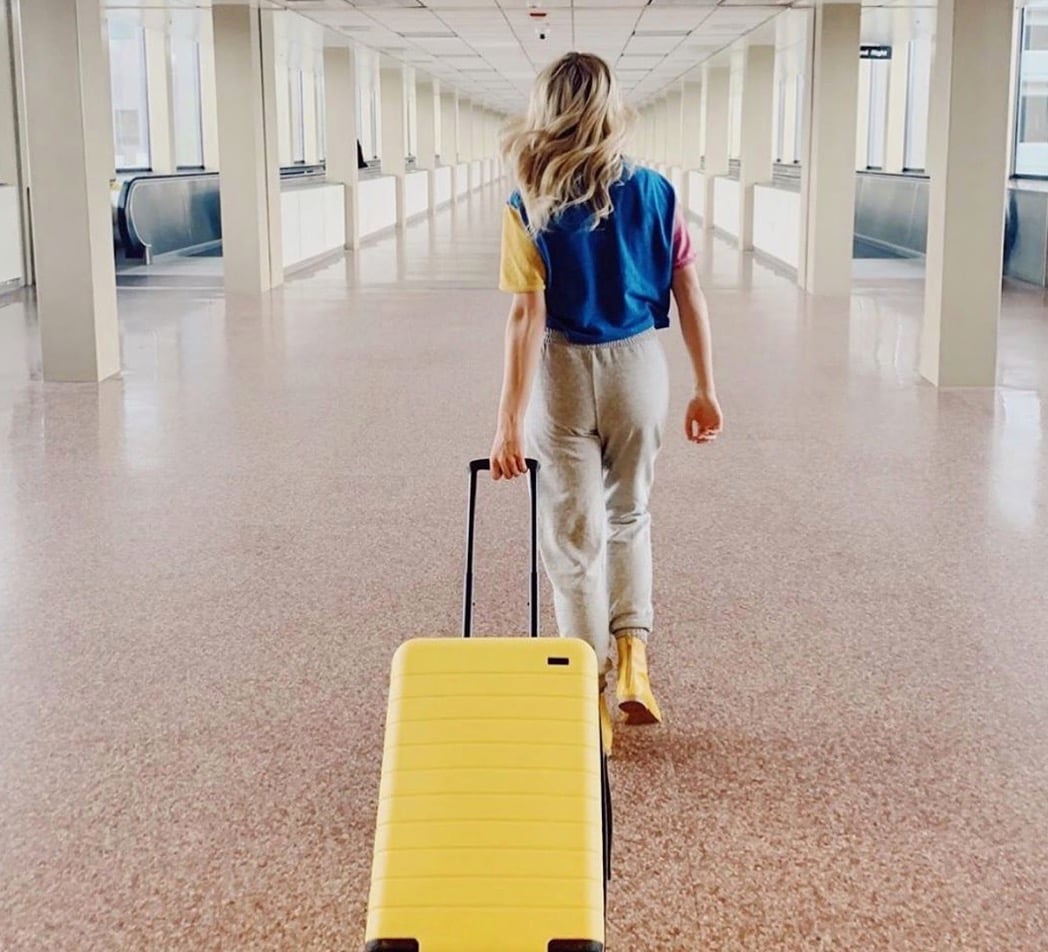 Don't just take a vacation, come live in Europe for a semester
ILP is a service-based, adventure abroad program that sends volunteers to countries all over the world to make a difference, experience what life is like in a different country, and vacation to places like Mostar. You'll spend part of your time teaching English and part of your time adventuring and exploring!