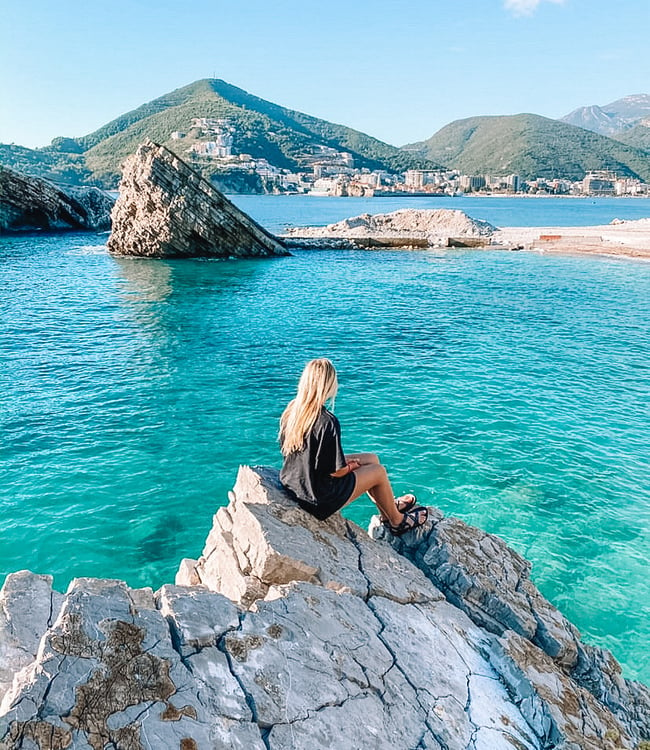 Montenegro sits right on the Adriatic Sea and has a long stretch of more than 100 dreamy beaches, giving you so many to choose from. Think pink, pebbly beaches lining some of the most turquoise and clear water that you'll find anywhere in Europe. You can't miss them.
Volunteers with International Language Programs who are living in one of our European locations love visiting Montenegro. With miles and miles of beaches this pretty, you can imagine why it's a hot destination point, especially since ILP volunteers get every weekend off and scheduled vacation days during their semester. So when you're not teaching English part-time is helping in the orphanage program, it's easy to make plans and visit Montenegro's coastline.


---
Thinking living in Europe for a semester is perfect for you?
See what volunteering with ILP is all about.
---
All of the beaches feature the same crystal, cerulean water that Montenegro is famously known for, so you really can't go wrong. Here are a few of our picks though — listed from north to south.
Top Coastal Areas in Montenegro:
The Bay of Kotor
This northern corner of the coastline is a favorite and a can't miss for tourists who come from all over the world. It hugs the southern tips of both Croatia and Bosnia and the best part for ILP volunteers living in Budva is that it'll take you less than an hour to come hang out at these famous spots. Here's our entire guide for visiting this memorable area!
Herceg Novi
Beach days in Herceg Novi mean hanging out on the Adriatic sea under pomegranate and kiwi trees. Nicknamed "the city of the sun", Herceg Novi is a popular resort city with hotels lining the beach, but there's much more to see than just the pretty coastline.
Kayak across the Bay of Kotor to explore a rusted shipwreck before sitting on the pebble beach of Rose, a quiet fishing village that couldn't be more picturesque. After an afternoon of kayaking, stroll through the narrow alleys of Herceg Novi's Old Town. You'll run into balconies draped with bougainvillea and stoney courtyards leading you to a viewpoint of the orange domed Savina Monastery. This blogger has the prettiest pictures that has us dreaming about our next trip.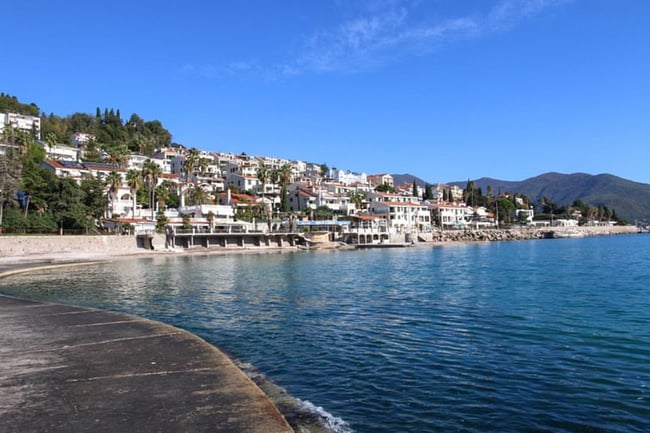 The Blue Cave
Okay. . .this isn't technically a beach, but you can't miss out so we had to mention it. This little stretch along the coast is full of caves, coves, and hidden fresh water beaches that you can find if you stay and explore a bit. The Blue Cave is the most well known because of the way the light hits and illuminates the entire cave in a blue hue (hence the name). The cave is large enough for boats to enter, so it's common for tours to bring snorkelers in (especially during the summer). Most jump-on tour boats depart from Herceg Novi, but it's also possible to kayak here.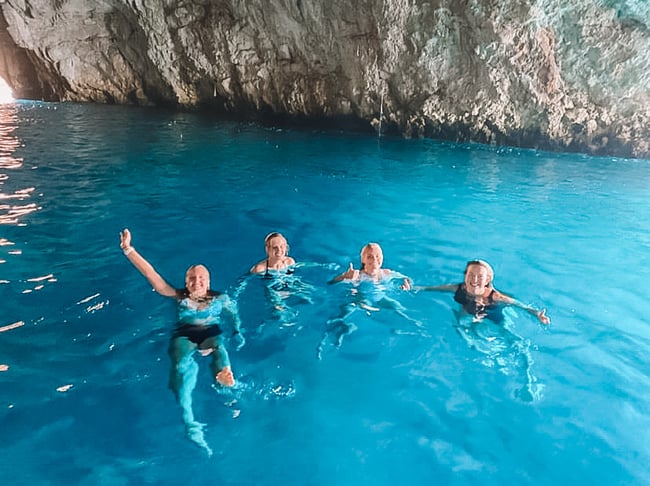 Plavi Horizonti/Blue Horizons
Many argue that this is the best beach in Montenegro, so it's a good one to keep on your radar. It's a semi-circular beach nestled in a small bay south of the Blue Cave near Tivat, surrounded by olive and pine trees. It's most loved for how sandy the beach is compared to other pebbly beaches in the area, as well as the crystal blue waters, perfect for swimming. Rumor has it that resorts may start moving in and limit public access to the beach, so it's best to enjoy it as much as you can until then.

The Budva Coast
If you Google "the best beaches in Montenegro", Budva usually pops up first … which is pretty convenient for the ILP volunteers who get to spend their semester abroad actually living here! Seriously, Budva is the hot spot for beach goers. During the summer you'll find the beaches lined with umbrellas, making for some dreamy photos. Plan on paying about $10-15 to rent out 2 beach chairs and an umbrella for the day. And heads up, most of the beaches in this area are pebble beaches, not sandy ones, but that just makes for pristine, clear water. You don't have to travel far from Budva to find all that you're looking for.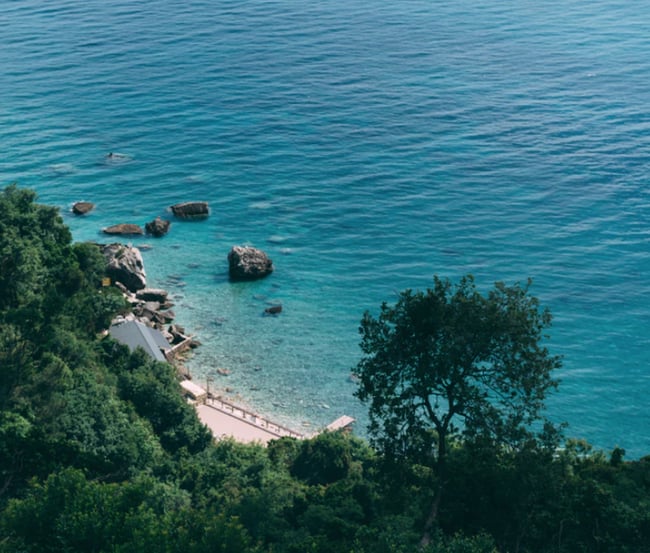 Jaz
This spot is one of the largest beaches in the country and if you're anything like us, you'll love being able to spread out and avoid the crowds here. Even during the summer when the tourists flock to Budva and Becici, you'll find it a bit less crowded here simply because of its size. Jaz is well known for water sports, so if you're hoping to rent a paddle board or a kayak and do more than just sunbathe, we recommend heading here.

It's a short distance from Budva Old Town, so you can catch a bus for about 1 euro. But, it's much more convenient to grab a taxi and split the cost with your group for the 10-minute ride. Entry is free, but you might want to bring some euros if you plan to rent things like a bed and umbrella.
Mogren
This beach is not only one of the favorites in the Budva area, but in all of the country. The water is incredibly clear and the beach is set right up against lush green cliffsides. Plus, it's a great place to find little pieces of green sea glass! It's pretty small (less than ¼ of a mile) and is technically two twin beaches that are connected by a small cave-like tunnel.
The best part is that this beach is easily walkable from Old Town Budva. Just follow the pedestrian pathway past the ballerina statue and you will be led right to it. Although it's so close to busy Budva, these beaches fortunately remain relatively calm and quiet… especially if you walk the extra bit through the tunnel to the second beach.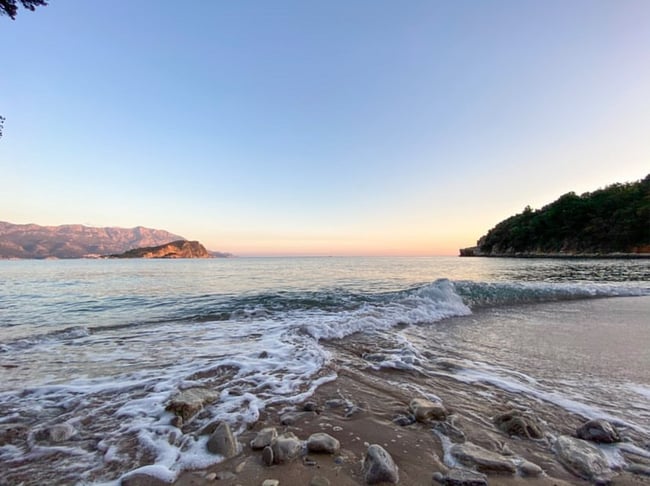 Budva
This main beach sits right off the town and feels the most "resort-y". It is well-frequented by vacationers, especially during the summer since a large hotel complex and the main shopping streets sit nearby. It's a beautiful area that caters to tourists so you'll find lots of restaurants, shops, umbrellas to rent, etc. You'll want to check it out, but if you're here during the summer make sure you venture out to some of the other nearby beaches we've mentioned where you'll be able to relax and enjoy the coast a bit more.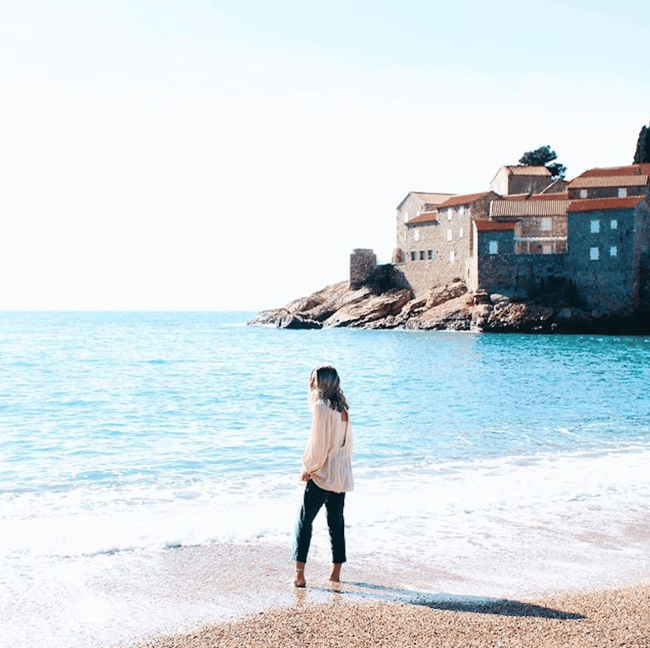 Sveti Nikola Island
Standing along the coast you'll catch a view of this little island in the horizon and yes…you can actually go explore it! Less than 1 mile from the shore of Old Town Budva is Montenegro's biggest island, Sveti Nikola. This island is uninhabited during the winter, but visit it during the summer to get away from the crowds at Budva, crawl over large boulders scattered across the beach, check out the cute white church, and snap pics of the coves.
We've heard rave reviews of how clean and beautifully clear the water is. Catch one of the daily boats from Budva for 3 euro and hang out in this spot well loved by locals. We recommend bringing some cash to rent a sunbed as the beaches are completely filled with stones and pebbles!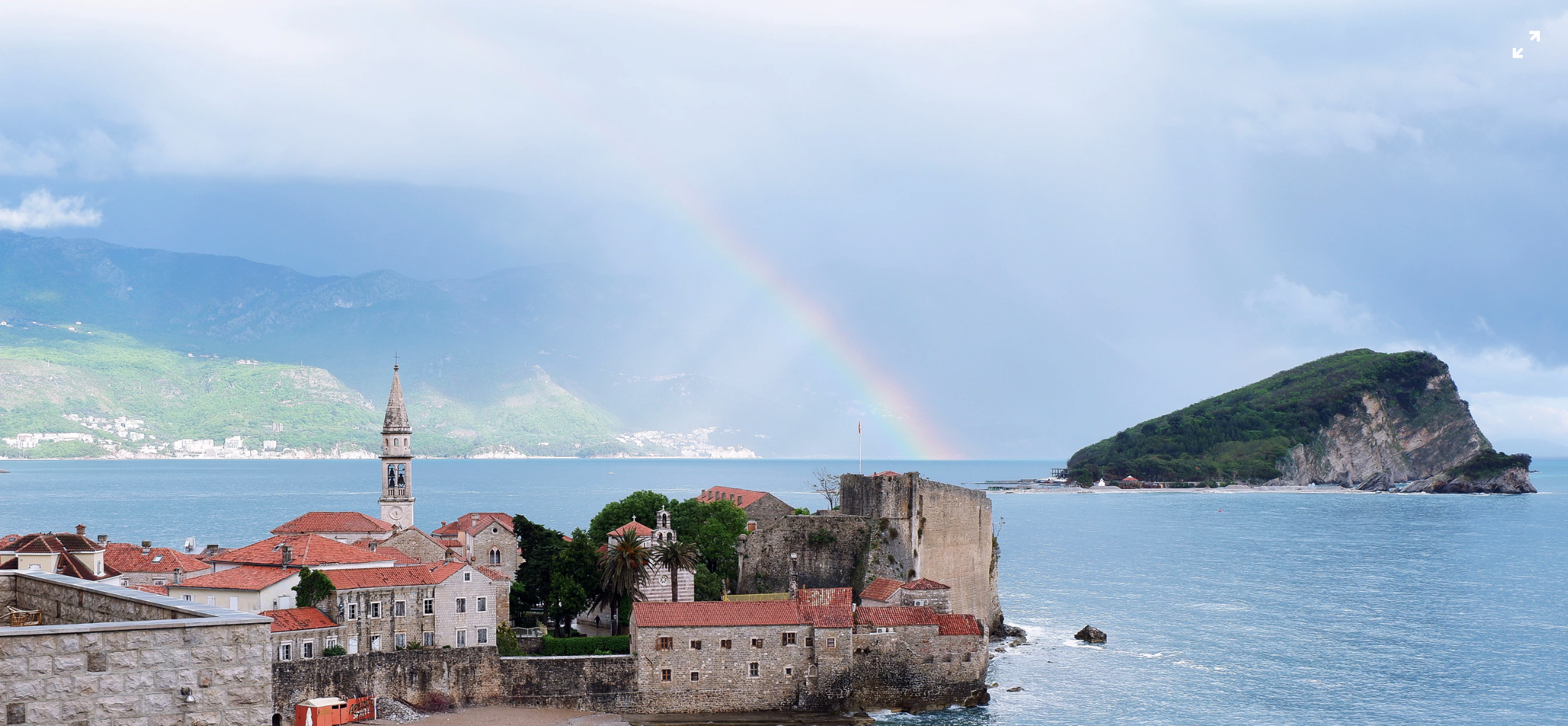 Becici
This mile stretch of sand is just down the coast from the town of Budva (about a 10 minute drive) and fun fact: back in 1935 it was dubbed "the most beautiful beach in Europe". Now it's known as a family resort area and although it is pretty spacious, you'll likely run into crowds here during the summer months. It's also known for pebbles that are perfectly rounded and smooth, coming in a range of colors, such as green, red, white, and even dark blue. You'll see people walking the beaches year round hunting for the perfect pastel pebble to take home as a souvenir.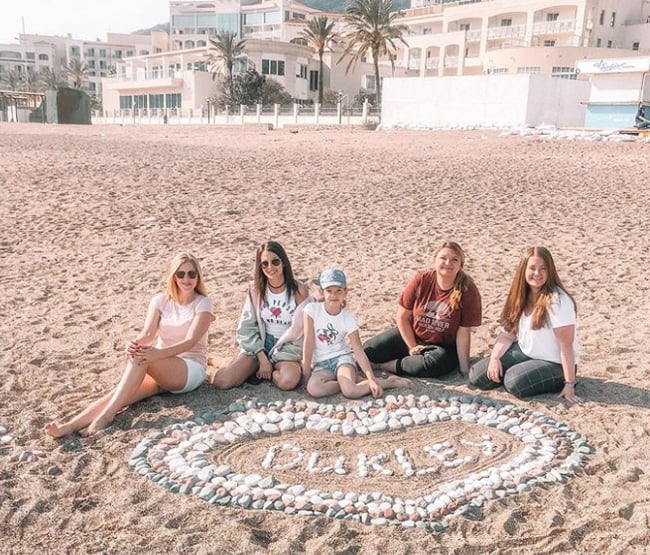 King's Beach and Queen's Beach
You'll want to come here even if it's just to fill your Instagram feed full of photos prompting all your friends to ask, "Where is that!?". Sveti Stefan is where you can get an in-person view of one of the most iconic landscapes in Montenegro, but it's a bit exclusive so let's fill you in on what you need to know.
Just about a 15-minute drive south of Budva, you'll find an islet on the coast full of orange roofed luxury resorts sitting on the azure sea. The islet is now owned by Aman Resorts and you do need a reservation to actually come onto the island (it's not open to the public). Some of the rooms cost 800 euro+ per night, so you know it's incredible!
Just in front of Sveti Stefan on the mainland, you'll find two pink sand beaches that gained their names after years of being the favorite destinations of royal families. Kraljičina Beach (Queen's Beach) is surrounded by white rocks on both sides, making visitors feel like they're on an isolated island. But to enjoy a day here on a beach lounger will cost you about 50 euros per person.
On the other side of a little forested hill you'll find Miločer Beach (King's Beach) which is surrounded by 18 acres of lush green park consisting of all different kinds of exotic plants. This beautiful resort beach includes umbrella loungers, but is also quite exclusive. To enjoy this slice of heaven costs about 75 euros per person for the day.
If you'd rather not pay these prices then just pick out a spot on the pink sand at the far end of the beach for free. You won't have any access to amenities or beach beds, but you can still enjoy walking around and playing in the water.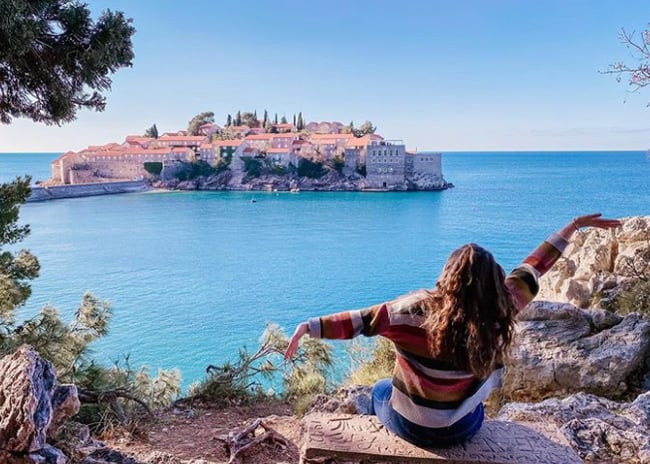 The Petrovac Coast
Another popular destination is the town of Petrovac, sitting along the coast between Budva and Bar. A bus runs from Budva to Petrovac for the small fee of 2 euro.
Lucice
Oh just another beautiful sandy beach! It's quite small and does get a bit crowded during the summer, but if you're here during the spring and fall you'll have more luck enjoying the view without the crowds. You can actually visit two islands by boat by jumping off from Lucice.
Buljarica
If you're looking for the elusive hidden gem of a beach that isn't completely full of tourists (even during the summer), come here! The appeal of this beach is how remote it is … oh and don't forget beautiful. Buljarica is a half-moon cover of gorgeously clear water and small pebbled shores.
Southern Coastline Along Ulcinj
As you head further south along Montenegro's coast towards Albania (which is full of more beautiful beaches by the way), the beaches start getting wider and more sandy which we love as opposed to the more pebble covered beaches to the north.
Ulcinj
The main beach is situated right up against this medieval town, so if you're in the area it's not hard to find your way to the water's edge. The beach is covered with pretty dark colored sand, umbrellas, and plenty of restaurant options around.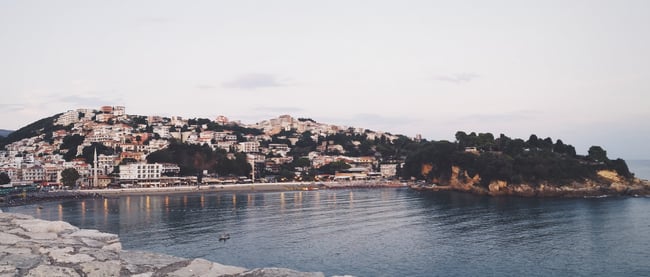 Long Beach//Velika Plaza
Conveniently Long Beach is quite literally the longest stretch of beach that you'll find in the country, just over 7 miles long. It's famous for kite surfing, so during the summer you'll likely spot some!
One small piece of the stretch is Copacabana. It's a favorite for both locals and tourists alike and is about a 0.5 mile stretch packed full of beach chairs for rent. During the summer it gets quite crowded, but the views are worth it. The most popular places are usually popular for a reason, right?
More Tips For Seeing Montenegro's Coast
Timing is everything
The peak season during July and August is quite popular, which means you'll be hard pressed to find a beach that isn't crowded. Montenegro is the once hidden gem that is quickly being discovered and the tourists are on their way! If you're visiting here during the summer semester as an ILP volunteer, we recommend hitting the beaches as much as you can during May and June. During July and August you might prefer heading inland to see other top spots the country has to offer which are just as beautiful, but less crowded.
Even September and October remain swimmable as far as weather goes, but the crowds are fortunately gone by then. From Nov-April, most of the tour companies shut down which means you'll get all the views without the crowds! It's a bit too cold to swim during the winter months, but bring your sweatshirt and enjoy the coast line with your ILP group, all to yourselves. Picnic on a beautiful, deserted beach? Yes, please.
Bring euros
Many public beaches offer beach chairs to rent They usually start around 10 euro (and can increase depending on which month you're there), so we recommend bringing some cash in case you want to grab one. They can be nice to keep you shaded from the sun and up off the pebbly beach if you're up north.
If you don't rent an umbrella, bring some sun protection. The coves are for the most part are completely exposed to the sun. You'll want some sunscreen, hats … you know the drill.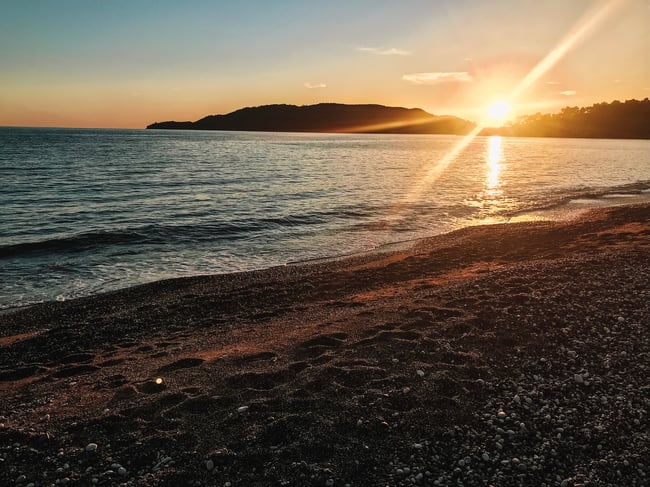 Ready for more world adventures?
We (International Language Programs) host volunteer programs in a handful of different parts of the world. Our volunteers are college-aged individuals who teach English part-time and have weekends plus vacation days off to travel. This means that you get to teach the cutest kids during the week, then hop on a train, plane, or bus to explore everything that country has to offer! Learn more on our Instagram: