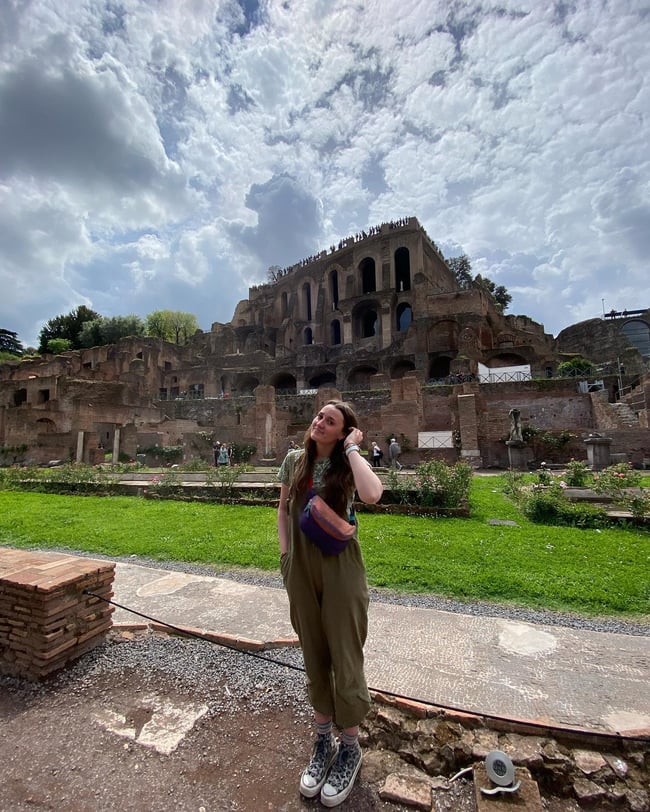 Ready to visit one of the most beloved and historic cities in the world? Here's everything you need to know about what to see, eat, and do while roaming through Rome.
This city is a pretty big deal. At least that's what authors, musicians, artists, and historians have been saying for thousands of years. And of course we totally agree! It's a breathing museum, frozen in time, and home to some of the most famous architecture and life-changing gelato.
As they say, "All roads lead to Rome". So if you haven't been there yet, it absolutely needs to be on your ultimate bucket list! (Along with our other favorite Italian cities.) After visiting Rome, you'll understand why this "Eternal City" is still called "the capital of the world". There is no where else quite like it.


---
Want to live in Europe as a volunteer for an entire semester?
Here's what it takes to be an ILP volunteer!
---

Maybe the only problem with Rome is that there is so much to do! But if you plan things well, you can pretty much see all of the best things in just a couple of days. To help you make the most of your visit, we've put together this guide to help you plan the perfect getaway to this famous city.
Everything To Know About Visiting Rome
The History
Obviously there are a lot of places you can listen, watch, and read about the history of Rome, so we won't get too much into it. Here's just one fun fact about how it all began. Although there's been evidence uncovered in the past 5 years showing there were people living in this area 14,000 years ago, tradition says this city was founded in April of 753 BC by twin brothers, Romulus and Remus. After a squabble, Romulus killed his brother and named the city after himself. This is the site for the rise and subsequent fall of one of the greatest empires the world has ever seen.

There is SO much more history to Rome that hopefully you'll learn more about through the museums and historic sites. Past ILP groups have loved going with guided tours, free city walks in Rome, or even just doing their own research to give some context about what you can see. This is a pretty good overview to get you started.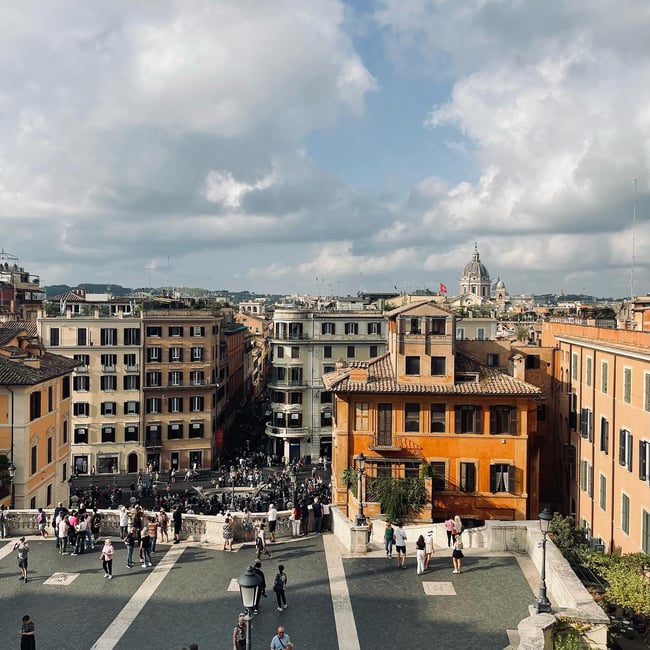 Catching The Highlights Of Rome
There is a TON to see in Rome. I visited for 2 days and it wasn't enough time. It was enough time to catch the highlights, but I did leave wanting more (way more). Most ILP groups typically stay in Rome for 2-3 days or longer if you're adding on a day trip or two ... but you can easily spend a week here at a slower pace.

Oh, and another tip — no matter what you end up doing in Rome, look into free tour options, like these ones. I'd highly recommend going with a tour at least once during your time (you learn so much!). Free tours are a great way to go, but if you want to know all about the Coliseum, go with a guide (it'll be worth the money). We have links to official websites and tours ILP groups have booked in the past if that's helpful.
We've put together this checklist for your 2-3 day itinerary. It's roughly based on location to help you block out activities that are close to each other.
The Trevi Fountain
This must-see is only a 10-minute walk from the Spanish Steps (more on that later). and at the heart of the city center. It's easily one of the most popular things to see in Rome, thanks to a few factors. For one, the architecture. It was first commissioned in 1629 by Pope Urban VIII who asked Bernini to begin sketches. The project was ultimately designed by Nicola Salvi and finished by Giuseppe Pannini in 1762 (though there some of Bernini's original flourishes can be seen). It's the largest Baroque fountain in Rome and may be one of the most famous in the world.
Maybe due to popular culture, it's become a hot spot for making wishes. When making a wish, use your right hand to throw a coin over your left shoulder and then all of your dreams are sure to come true. Have you seen "When In Rome"? Then you know it's best to leave the other coins in the fountain right where they are.

This place gets insanely crowded (and you're likely to see a proposal if you're visiting in the high season). If you want less crowded pictures, wake up very early in the morning to hopefully get a view without hundreds of other tourists in your shot. It's pretty deserted around 6:00 AM.
Want to know a little fun fact? Almost $2,500 are thrown into the fountain every week! The coins are then collected at night and used to subsidize a supermarket for the poor.


The Spanish Steps
Built in a lavish Rococo style, these beautiful 135 steps have been here since 1723, and are known for being the widest steps in Europe. They lead tourists and locals from the Piazza di Spagna square to the French monastery church Trinita dei Monti, but not without stops on the three terraces of the steps. Supposedly, those terraces reference the Holy Trinity.

The official name of this staircase is Scalinata della Trinità dei Monti, but you'll hear them referenced as the Spanish Steps all over. It's a bit confusing, considering that the steps were actually commissioned by a French diplomat. That nickname comes from the Spanish Embassy located on the square, at the base of the steps.
It's become a popular gathering place through the years, attracting many artists, painters, and poets. In fact, English poet John Keats' home is nearby — it's now a museum on the corner to the right of the steps and admission is about 6€. Like the Trevi Fountain, maybe make the Spanish Steps your first stop in the morning to beat the crowds (though it's a spectacular place to hang out around sunset!).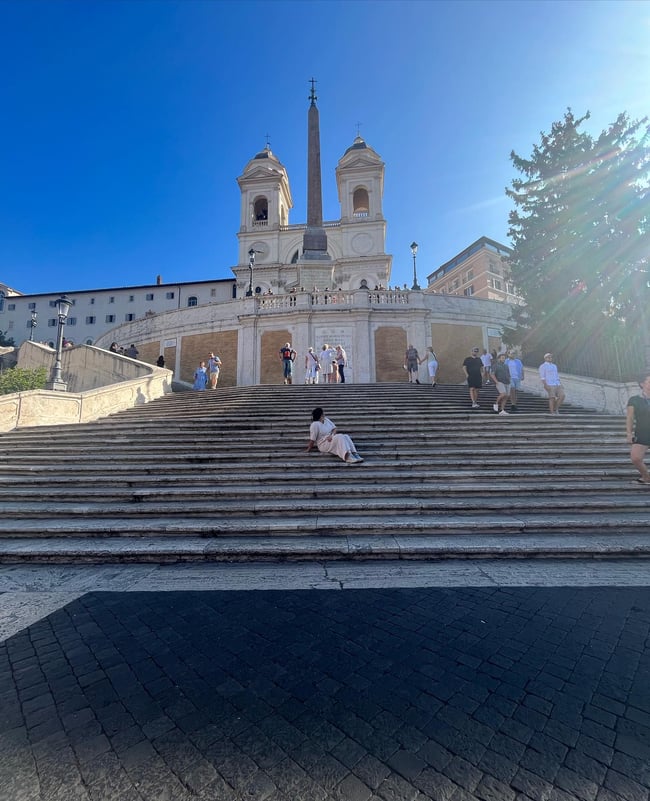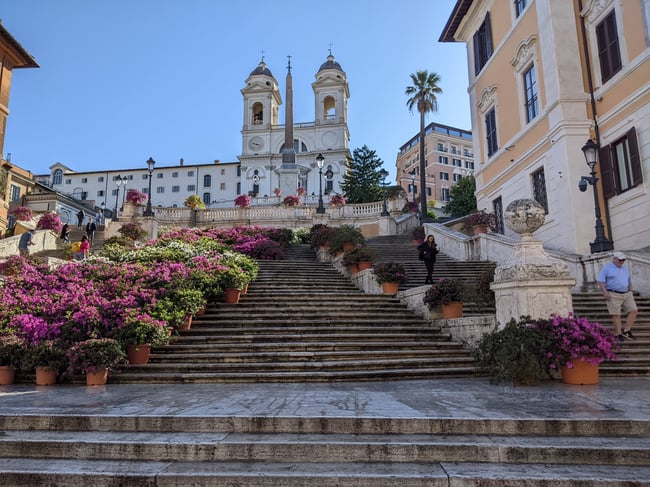 The Pantheon
This is one of my favorite sites in Rome. I didn't know too much about the Pantheon before visiting, but the history of this place (as well as the overall feeling and design) was deeply impactful. To start, this building as been in constant use for centuries. It was originally a Roman temple, and since 609 has been a Catholic Church (the Basilica of St. Mary and the Martyrs). The site was where an earlier temple stood commissioned by Marcus Agrippa, when Agustus ruled. It was rebuild by Hadrian and dedicated around 126 AD. It's one of the best preserved buildings from Roman history. It serves as the final resting place for several famous Italians, including the artist Raphael. Wow!

Okay, onto the building itself. The whole basilica is circular and topped with a dome, where a round opening in the top gives the building its only light source. The effect is stunning, seeing a column of light pour into the ceiling to dimly illuminate the interior. See why millions of people visit each year?
Monument of Victor Emmanuel II
After admiring the Pantheon, start to head towards the famous Colosseum. On the way, you'll run into a monument—a huge building made entirely of white marble. It's sometimes called the "wedding cake" or "typewriter" due to its unique stacked look. The focal point is a statue of a horseman, a representation of the first king of Italy, Victor Emanuel II, whose goal it was to create a unified Italy. He's buried in the Pantheon, so keep a lookout for his name when you visit.
The impressive building's design was determined by a contest, won by Giuseppe Sacconi. Construction started in 1895 but wasn't finished until 1911. Today, it's a stunning home to a museum (the Museum of Italian Reunification), as well as an unbeatable panoramic view of Rome from the top terrace. If you're looking around the building, pay attention to the symbolism — palm trees for victory, oak for strength, olives for harmony, and laurels for peace.
This monument also includes the "Altar of the Fatherland"—the tomb of an unknown soldier killed during World War I. It has become a respected symbol for all of the unknown Italian soldiers killed in battle.
Areas of the building are free for visitors, though some areas (like one of the museums) requires a ticket.
Roman Forum
This was the center for all religious and public life during the days of ancient Rome, including the main market and government buildings. You can still see the ruins of many temples built for the Roman gods, and the Arch of Titus that was built in celebration of the Roman's victory over Jerusalem. It's all been excavated so you can take a look at what life was like over 2,000 years ago.

At first, this area served as a market place (can you imagine just doing your regular shopping here?), then moved to be a space for public affairs. Soon, basilicas, status, arches, and courtyards were built for the lectures and public affairs that took over the area. Soon, the forum was the place in the city for public speeches, elections, religious ceremonies, educational events, as well as gladiator fights (before the Colosseum was built).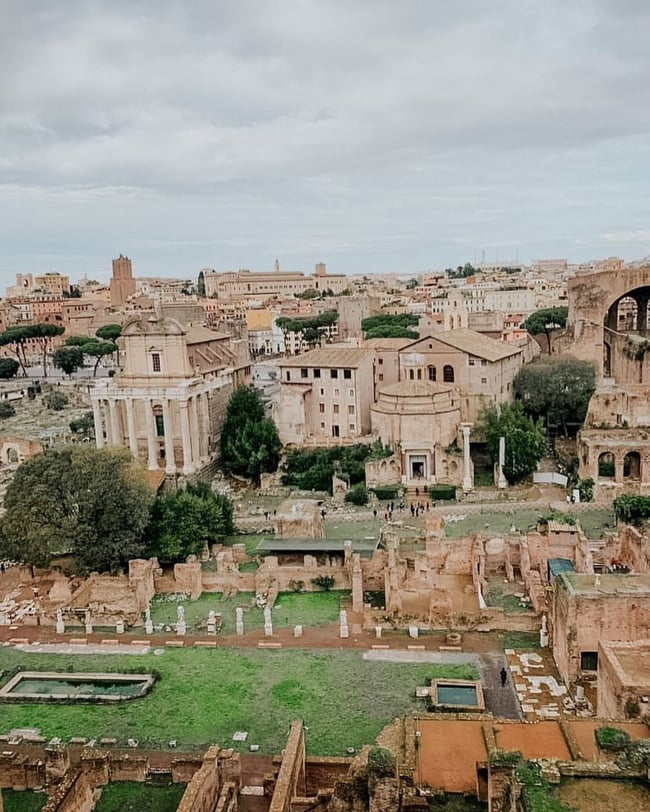 Palatine Hill
Remember the brothers, Romulus and Remus, that we mentioned earlier? We're adding a bit more to that story when introducing Palatine. The legend says that the boys were raised by a she-wolf, supposedly on this hill.

Some tourists skip right by this historic spot (I mean, the Colosseum is right next door, so it kinda steals the spotlight) but it's worth adding to your itinerary. The hilltop used to be the site of impressive temples and royal homes and is now a stunning garden. Even when the city is full of tourists in high season, Palatine Hill typically stays pretty quiet, and is always a good place to catch a panoramic view. From the top, you can see the maze of ruins found in the Roman Forum, as well as a view of the Colosseum. There's also a small museum, making it a must stop if you're interested in Rome's history.
Hours: Daily from 9:00 AM to 7:00 PM.
The Colosseum
As soon as you see it, you'll understand why this HUGE amphitheater is considered the symbol of Rome and one of the World Wonders. This 3-tired wonder was once used for gladiatorial contests, animal hunts, public spectacles, executions, re-enactments of famous battles, and dramas based on classical mythology for over 500 years.
Seriously, the more you learn about the Colosseum the more amazing it gets — this place was the spot to be for centuries. There were 80 entrances for the patrons of Rome to use (though two were exclusively for the emperor only), which hopefully didn't cause to much of a traffic jam for the 50,000+ visitors the amphitheater could hold. The structure used to have a roof and was flooded to host naval battles. A few ILP groups recommend getting a tour here so you can learn way more than you could just by walking through the space.
Address: Piazza del Colosseo, 1, 00184 Roma RM, Italy. Map it here.
Hours: 9:00 AM to 7:15 PM or so
Cost: As a reminder you have to book your tickets to the Colosseum in advance — don't expect to just show up the day of and waltz right in. Visit this site to get the best tickets for your group (you will probably want to get a combined ticket to get access to other sites talked about on this post).
Good To Know: There's some tight security to enter the Colosseum (leave your large bags, backpacks, or suitcases behind — they won't be allowed inside).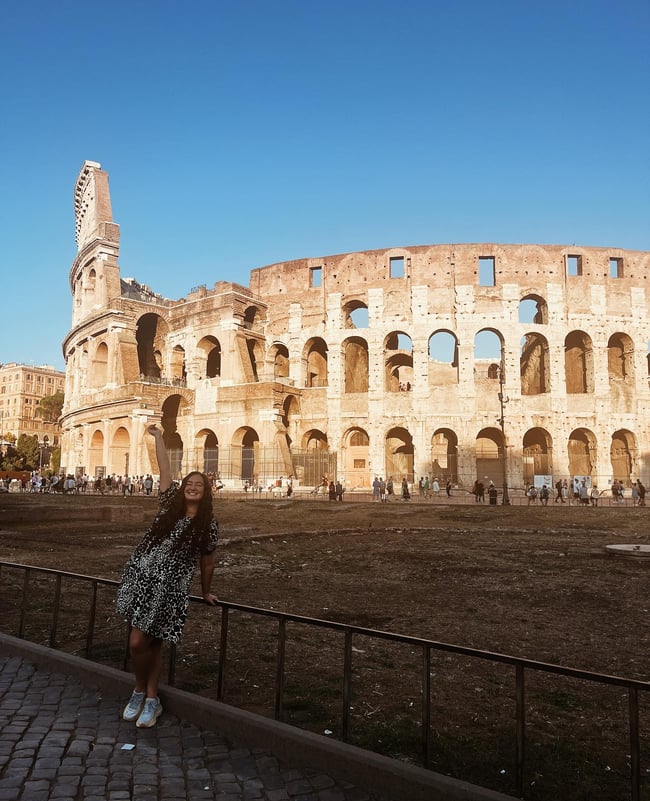 Rome Temple
This may be a point of interest for members of the Church of Jesus Christ of Latter-day Saints. The Rome temple was dedicated in March 2019 and is a favorite stop in the city. Read this brief history of the Rome temple to know a little bit about everything that went into making this construction possible (it's an incredible story). If you're temple hopping through Europe then this absolutely needs to be one of your stops!
The Vatican City
You have to visit while you're in Rome! Plan on it taking a full day if you'd like to really soak up the things to see and do. The Vatican is actually an independent city state completely surrounded by Rome. The Vatican is the smallest state in Europe and the smallest sovereign state in the world). The Vatican is governed by the Holy See (an ecclesiastical state ruled by the Pope of the Catholic church).
it has only about 1000 inhabitants and is the headquarters for the Roman Catholic Church. The earlier in the morning you can get to the Vatican, the better! While visiting there are a few things to see —
St. Peter's Basilica
This is one of the biggest churches in the world and is named after Christ's apostle, Peter. Home to works by some of Italy's most famous artists (like Bramante, Michelangelo, and Carlo Maderno and the dome style by Michelangelo), this basilica is stunning. It's huge, and can hold around 20,000 people (though hopefully there won't be that many inside while visiting!). While inside, make sure you pay attention to a few artistic highlights, like The Pietà sculpture by Michelangelo, St Peter's Baldachin, and the statue of St Peter (notice his right foot, slightly worn down by the devoted who come to touch his foot.)
Then, of course, there's the dome! This massive church is topped with an equally huge dome (the design was started by Michelangelo). You can climb up to the top if you'd like, just be careful navigating the narrow staircase and pacing yourself up the 500+ steps. At the top, you'll get an unbeatable view of the square and city below you.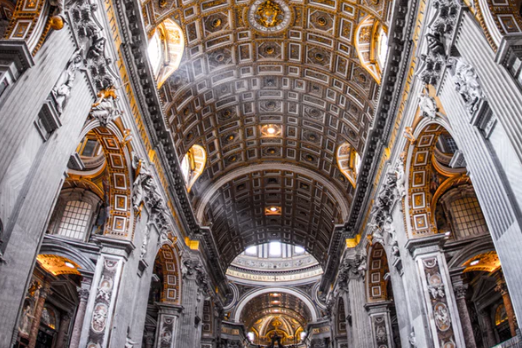 St. Peter's Square
At the feet of the basilica is one of the most breathtaking squares in the world (although this one is more of a circular shape, rather than a square). There is a lot to see here too, like the 284 pillars surrounding the square. Also, peek the 140 statues of the saints above those columns, as well as the two fountains in the square (one by Bernini, the other by Maderno). Oh, and of course, the towering obelisk carried from Egypt 1586.

Find it: Map it here.
Cost: Free admission
Sistine Chapel
The outside of this church might not look like much, but the interior (and the ceiling) is really what has made the Sistine Chapel famous. The entire inside is covered in frescoes painted by the Italian masters, with the most famous masterpiece done on the ceiling — Michelangelo's "The Creation of Adam".

Other frescoes depict scenes from the bible, such as the life of Moses, or portraits and scenes of various popes. You can also admire detailed tapestries telling the stories from the Gospels and the Acts of the Apostles. The Sistine Chapel is also the place where popes are chosen and crowned.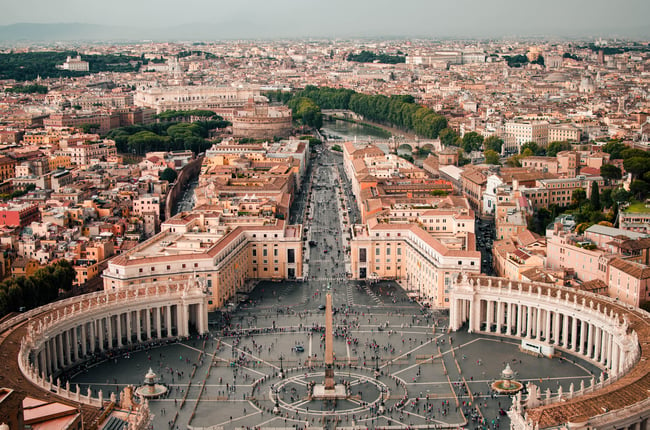 Nearby Day Trips
As much as we love spending time in Rome, it's also a fantastic jumping off point to oh-so-many other little adventures. There are many beautiful places not far from Rome that often get overlooked even though may end up being your favorite part about Italy.
We have a list of the best day trips from Rome here, plus directions on how to get there via train — plan on hopping over for an afternoon in Pompeii, having dinner in Florence, or snapping a picture in Pisa before breakfast.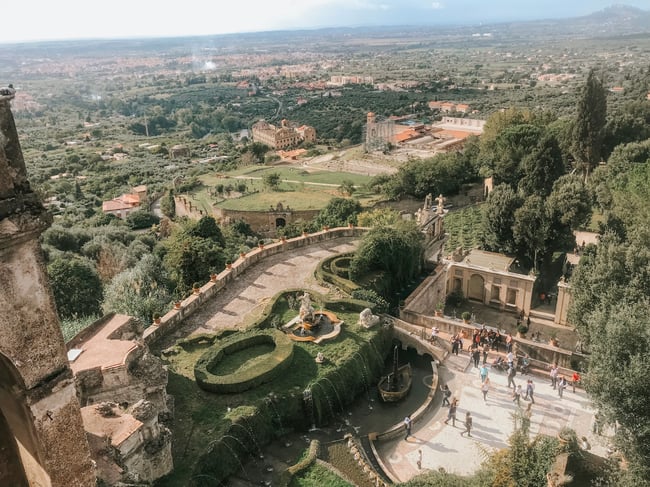 Don't Miss These Foods
Food is an enormous part of any trips I take, especially in Italy. This isn't a place where you want to pack up a bunch of oatmeal packets and granola bars instead of tasting the local cuisine — eating a bowl of pasta or your daily dose of gelato is as important as visiting some of these sites if you ask me! Because food is such a big deal in Italian culture, we've outlined a bit of a guide to help you make sure you cover your bases while visiting:
For Something Savory
When in Rome, you must eat like the Romans do. Here are several lunch/dinner things we love and absolutely recommend trying.
Insalata caprese: Mozzarella cheese with tomato, served with fresh basil. It makes for a fun appetizer to split with your ILP group.
Risotto: Creamy rice served with plenty of fresh parmesan cheese. It's my favorite side dish to a main course at a restaurant in Italy.
Gnocchi: Soft dumplings made from potatoes. Try pesto gnocchi if you see it on a menu.
Pizza: You're probably familiar with this dish, right? But the pizza in Italy just hits different — thin crust, light on the toppings, and made with simple but excellent ingredients. Here are a few places to try: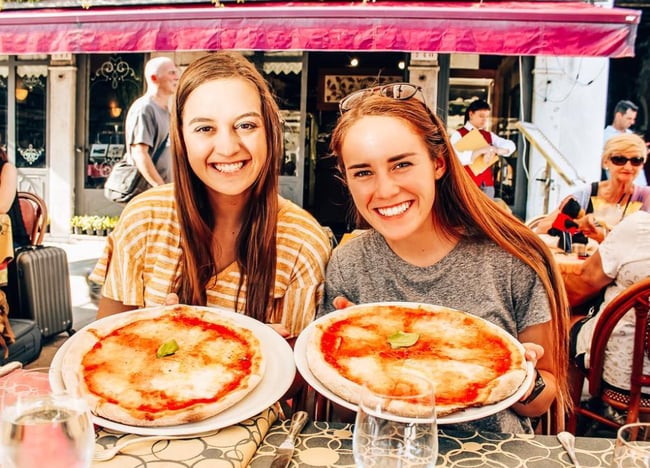 For Something Sweet
Italy is a big fan of desserts. Here are some to try (but always trust your heart when you're at a bakery ... get what looks good to you).
Tiramisu: This is the most classic of all Italian desserts. Made up of soft (almost cake-like) cookies soaked in coffee, this layer is then topped with sweetened mascarpone cheese, and cocoa powder. This treat that literally translates to "life me up". You'll find this all over but a popular place to try it is Fridgidarium.
Profiteroles: I love these cream puffs. Feather-light pastry and sweet cream filling, try them when drizzled with chocolate ganache.
Cannoli: I dare you to not eat more than one of these these crispy tube-shaped pastries filled with cream and topped with powdered sugar. They're crunchy, creamy, sweet, and come in a ton of flavors. Yum. You can find tons over the city (even in grocery stores) but Regoli Pasticceria has been making them for decades.
Gelato: If you really want the full experience, you've got to visit this place and try all 150 flavors of gelato! Okay, the might be a little overkill, but you've got to have gelato every day while you're in Rome, promise? Can't get to that location? No worries since there's a gelaterie on almost every corner.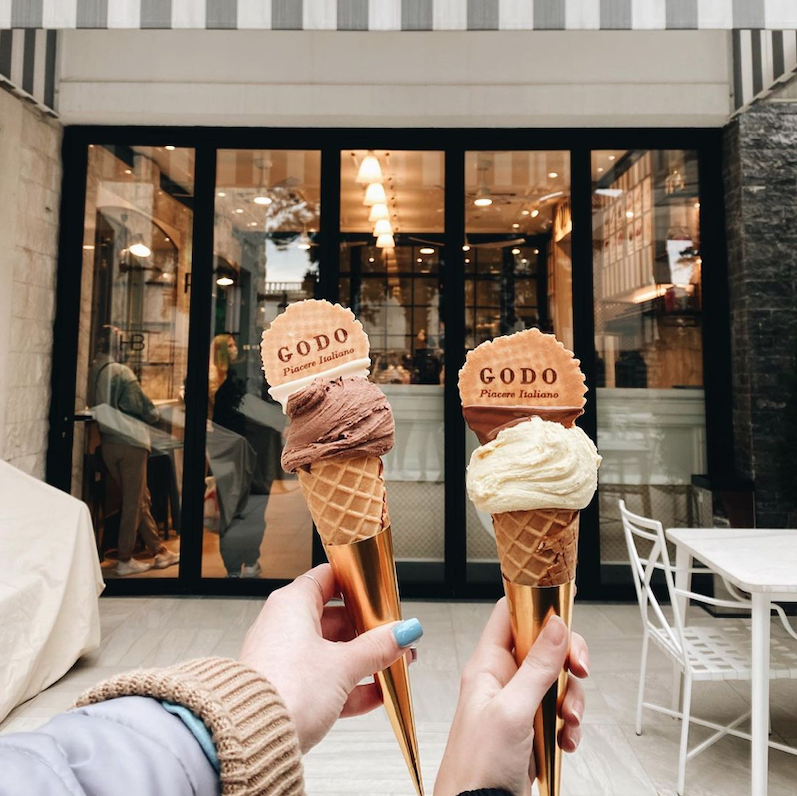 Where To Stay
So first things first, you have to choose which neighborhood you want to stay in, because each offers a unique experience. Here is a blog post that will tell you the pros and cons of each. If it's your first time in Rome, we recommend Centro Storico, the Historic Center, so you can be in the heart of it all.
Of course that means everything will be a little pricier, so just do some looking around if that area doesn't fit your budget.
Hostels
La Controra: This spot is a little more quiet, secluded, and peaceful. Really the perfect spot to get a great night's sleep after a packed day. It's about a 10-minute walk from the Trevi Fountain, and is close to many restaurants and cafes. Free wifi, towels, and breakfast makes it a win, win, win! Book your stay here.
Generator: This one is just a 5-minute walk from the Colosseum and one of the highest rated hostels in the whole city. It's across the street from the a food market, so easy/cheap meals consisting of fresh Italian produce. It also has free wifi. Book your stay here.
The Yellow Hostel. Past groups have also stayed here. It's expensive, but it was clean, comfortable and close to the metro, main train station, and food places. Book your stay here.
AirBnbs
If you haven't noticed from some of our other city guides, we are big fans of Airbnbs. If you're going with a group, it usually ends up being cheaper. Plus you get to stay in the home of a local and feel like you're getting an authentic experience! So many pros to finding a cutie house.

There are tons of options, but past ILP groups have stayed here, at this Airbnb, where you can see the Colosseum from your window. So dreamy! Another group stayed at this place, right in the heart of the city. Here's another pick with a little balcony (cute for breakfast before heading off for a day of exploring).
Getting To Rome
By Airplane
There are two international airports that service Rome, the Leonardo da Vinci Airport (also called the Fiumicino Airport) or Ciampino Airport. The best/cheapest airlines to fly with are Ryanair, Easyjet, Wizzair, and Vueling.
Getting Into The City From The Airport
Once you land, you'll need to get from the airport into the city. Here are a few options.

Go By Bus: You can also catch a bus that leaves from either airport. There are several to choose from, that get you to different parts or the city (Terravision, T.A.M., SIT Shuttles, CONTRAL, etc). They have different schedules, with companies that leave from Fiumicino and Ciampino. Schedules usually run all day and through the night, with prices around 5 -7€ (some give you a discount if you book online). Check out the info here.
By Metro (Just From Fiumicino Airport): You need to get from the airport to the Termini metro station, via bus or train first. Then you can get downtown via the metro. More info here.
By Taxi: You can also hire a taxi, since they have a fixed rate of about 48€ (plus a luggage fee) for getting you to the city center.. Just double check with the driver before you get in to settle price and how many people + their luggage can fit into the car.
By Train
If you're coming from any other city in Italy, this is the way to do it. A lot of times it's actually cheaper to fly straight to Milan or Florence and spend a day there before catching a train to Rome. In a high-speed train you can get to Rome from Florence in 1 1/2 hours and from Milan in 3 hours.
The Roma Termini Station is the one you will be arriving at (if you're coming from either airport as well), which is only a 30-minute walk from the Trevi Fountain. This is a great connecting point since both the A and B metro lines stop here, as do several buses.
Visit Omio to purchase your tickets in advance. Also check out this really good guide for traveling around Italy by train!
Getting Around Rome
As with most old, beautiful cities, our first piece of advice is to walk...walk a lot! But if you need to use public transportation, Rome has got some pretty good options. You've got the metro (which only has lines A and B), buses, trams, and taxis! And you can purchase tickets that will last for 24 hours, 3 days, or even 7 days.
Here's a very detailed post all about transportation in Rome.
Ready to spend a semester volunteering in Europe?
We're here to help you through the entire application process.
Click the button below to get started on this new adventure!