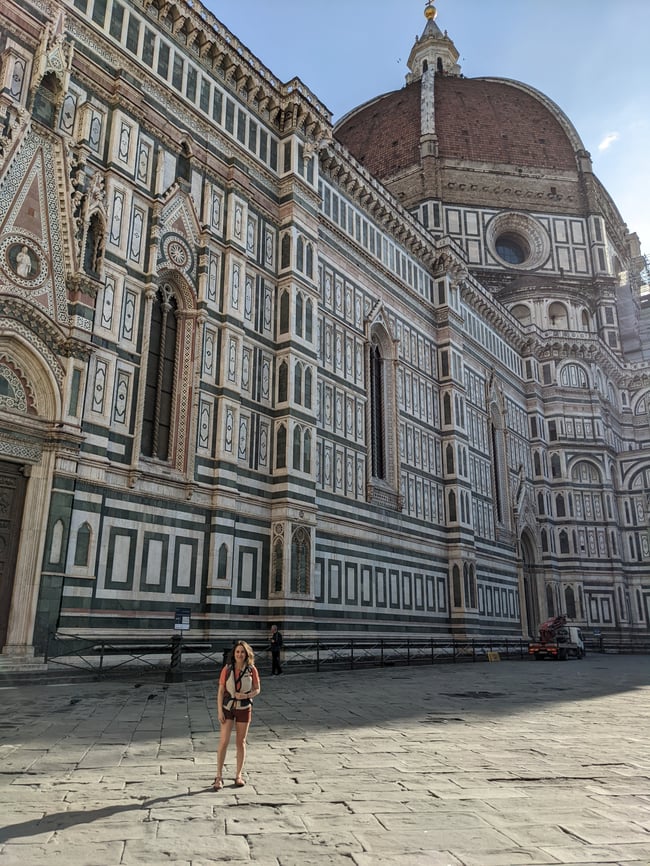 Planning a trip to Florence, Italy? It really is a must. Here's everything you need to see, eat, and do there.
Florence is one of our top favorite cities in Italy! It's the capital of the Tuscany region, so of course it's incredible, and also totally walkable. All of you architecture junkies, foodies, and art appreciators won't be able to get enough of it!
If you're traveling around Europe as a volunteer with International Language Programs, then it's included on our list of cities to see if you only have a few days to spend in Italy, so don't miss it!


---
Have questions and want to talk to someone who has volunteered with ILP?
Text One Of Our Representatives!

---
Florence originated as a Roman city, but is still famous today as the birthplace of the Italian Renaissance. It was one of the most important cities in the world for the 14th-16th centuries. There's enough to do in Florence to keep you going and going for a couple of days at least! Here are all of the details you'll need to plan the ideal itinerary.

Psst: If you have an extra day or two, check out San Marino!! It is literally a tiny country within Italy and just a 3-4 hour train ride from Florence. Here's everything you need to know to plan your trip to San Marino!
Everything To Know About Florence
What To Do




What And Where To Eat




Where To Stay




All About Transport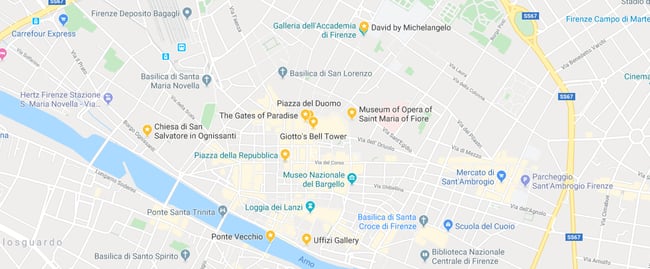 What To Do
The Duomo
Officially named the Cathedral of Santa Maria del Fiore, it's one of the most famous cathedrals in Europe! The entire exterior is covered in patterns of green, pink, and white marble. In comparison, the interior is quite plain, although it does have magnificent vaulted ceilings. The inside of the dome is overlain with an ornate fresco of the Last Judgement.
Address: Piazza del Duomo, 50122 Firenze FI, Italy
Hours: Open daily from 10 am to 3:30 pm, but stays open until 5 pm on Mondays, Wednesdays, Thursdays, and Fridays. Visitors can climb the dome every day from 8:30 am until 7 pm (On Saturdays until 5:40 pm), but it's necessary to schedule a time when purchasing the dome ticket at The Museo dell'Opera del Duomo.
Tickets: Entrance into the cathedral is free! But the line can get pretty long. You do have to buy the single "Grande Museo del Duomo" pass to climb up the Dome, Giotto's Bell Tower, and to visit the Baptistery, Crypt, and the museum. The ticket costs 18 euros and is definitely worth it if you have the time.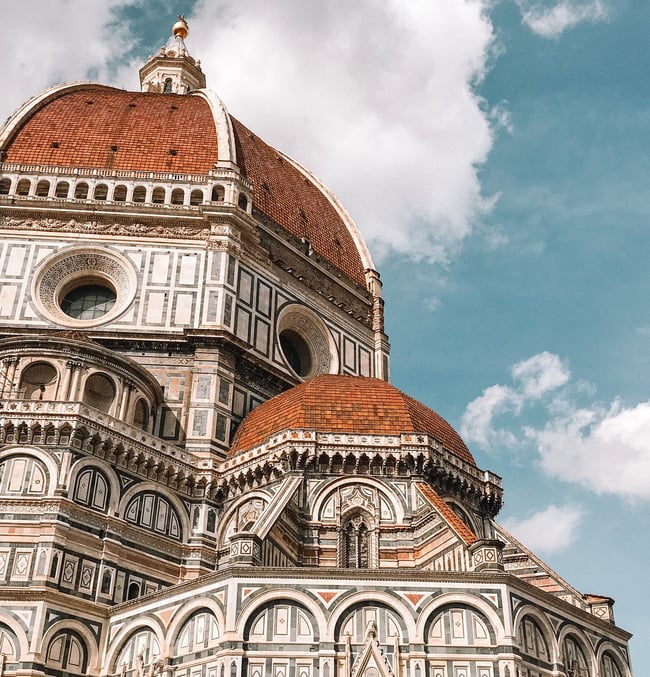 Gates of Paradise
When walking past the Baptistery of St. John, you'll notice its three towering brass doors. The most famous one, known as "The Gates of Paradise" has ten large panels, each depicting a well-known scene from the Old Testament.
The doors now posed at the Baptistery are copies of the originals, which actually stand in the The Museo dell'Opera del Duomo. Few tourists know this, so the museum is usually much less crowded than the outside of the Baptistery. The original doors took 27 years for one man, Lorenzo Ghiberti, to complete and are even more breathtaking than the copies. Totally worth seeing up close! To learn more about these doors and their unique story, read this!
Address: Piazza San Giovanni, 50122 Firenze FI, Italy
The Museo dell'Opera del Duomo
Some of the art pieces in here.....holy wow! Not only is it home to the original "Gates of Paradise", but also to the last sculpture created by Michelangelo. He originally intended to place "The Deposition" on his tomb.
The marble sculpture depicts the Virgin Mary, Nicodemus (or possibly Joseph of Arimathea), and Mary Magdalene, carrying the dead body of Jesus Christ shortly after he was taken down from the cross. You can still see the damage done to the sculpture by Michelangelo himself when he became frustrated with the imperfections in the marble after eight years of working on it.
Address: Piazza del Duomo, 9, 50122 Firenze FI, Italy
Hours: Monday - Saturday open 9 am to 7 pm. Sunday open 9 am to 1:30 pm.
Tickets: 18 euros and includes entrance to the Cathedral, the Dome, the Baptistery, Crypt, Giotto's Bell Tower and the museum. Buy it here! Insider tip, it also includes luggage storage so you can leave your backpacks at the museum all day! Plus, with this ticket, you get 72 hours to visit all of the sites that are included with it.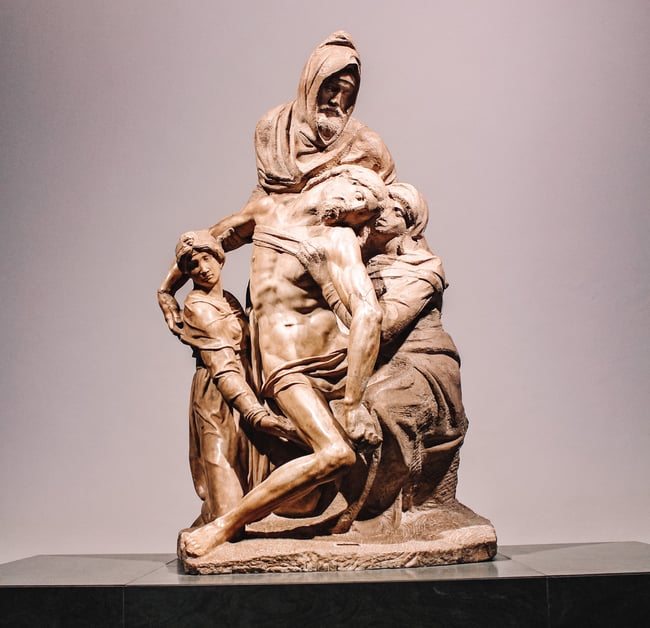 Giotto's Bell Tower
The best views of Florence are seen from this tower, which stands right next to the Duomo and has a matching exterior. Its 414 steps will lead you to the very top, where you can get incredible panoramic photos of the city. There are different view points all the way up, so you can see Florence from a variety of heights (and catch your breath if needed).
Address: Piazza del Duomo, 50122 Firenze FI, Italy
Hours: Daily from 8:30 am to 7:30 pm.
Tickets: Just get the cumulative ticket we've already mentioned, since this is one of 5 key sites included for 18 euros. Buy it here!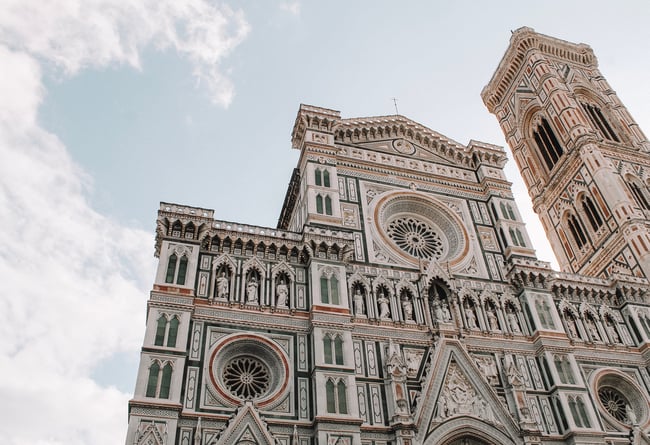 Uffizi Gallery
As one of the most famous museums in Europe, it's a place that needs to be at the top of your list! There are several floors, full of little rooms. It's easy to get lost! With rows of marble statues and wall after wall of incredible paintings, you could honestly spend hours here, but about 1-2 will be perfect (unless you want to see every single thing). Here are seven of the world's favorite paintings to keep an eye out for:
Primavera - Botticelli (shown below)
The Birth of Venus - Botticelli
Annunciation - Da Vinci
Medusa - Caravaggio
Madonna and Child - Lippi
Doni Tondo - Michelangelo
Madonna and Gold Finch - Raphael
Address: Piazzale degli Uffizi, 6, 50122 Firenze FI, Italy
Hours: Open Tuesday - Sunday from 8:15 am to 6:50 pm. Closed Mondays.
Tickets: Buy your tickets from this site or the official site beforehand to skip the long lines! Plan on spending about 20 euros.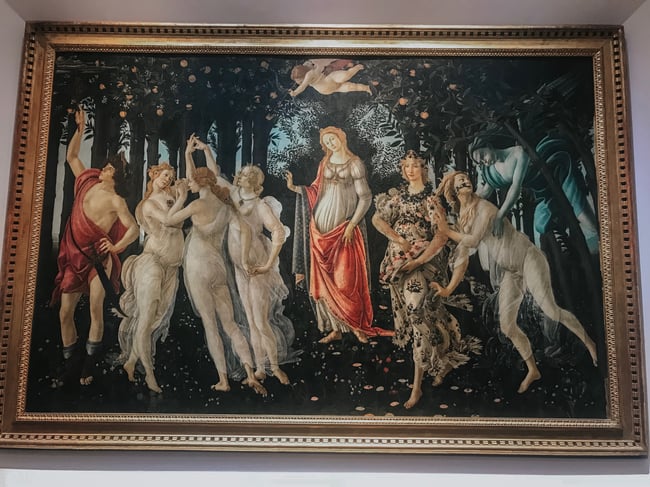 Piazza della Signoria
This is the main square of Florence and just outside the Uffizi Gallery. You'll see many local artists sitting with their easels, painting pictures of the buildings and flowers around them. And make sure you check out the statue of Perseus holding Medusa's head, the "Fountain of Neptune", and Michelangelo's copy of "The David" (not the original). This is also the perfect place to sit and do some people watching while listening to the street performers.
The David
This marble statue has been iconic since the day it was completed by Michelangelo in 1504. It's still known as the pinnacle of all Michelangelo's sculptured masterpieces. There are three copies of the "David" around Florence, but the original is found in the Galleria dell'Accademia. When you're standing in front of this statue, make sure you brave the crowds and get close enough to see the tendons in his hands, the veins on his feet, and the sling hanging over his shoulder.
Throughout the Renaissance, Florence was a small but independent city-state surrounded by much stronger, rival governments. To the citizens of Florence, "David" represented the defying courage needed to maintain their freedom that was also exhibited by David in his fight again Goliath.
Address: Via Ricasoli, 60, 50122 Firenze FI, Italy
Hours: Open Tuesday - Sunday from 8:15 am to 6:50 pm. Closed Mondays.
Tickets: Prebook your tickets! Otherwise the lines are horrendous. Get them here for $18-22.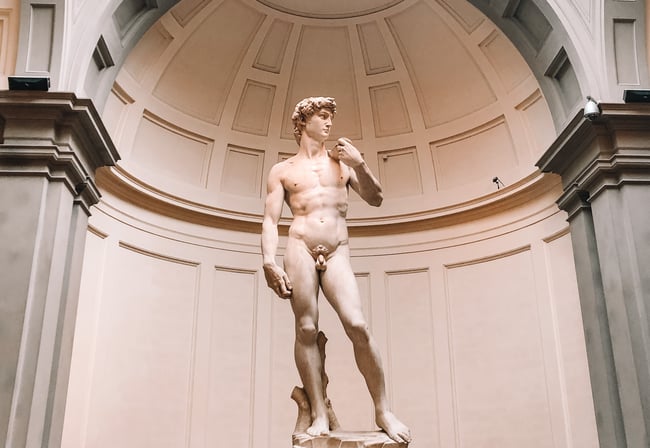 Ponte Vecchio
This is the only bridge in Florence that survived WW II, and the one that stands today was actually built in 1345. It is completely lined with shops, and although there were once stores that sold everything from fish to fabric, in 1593, Ferdinand I decreed that only goldsmiths and jewelers could own the shops on the bridge. Take a walk across during the day when all the crowds are shuffling along, and also at night when the shops are closed and the lights dance along the water.
Address: Ponte Vecchio, 50125 Firenze FI, Italy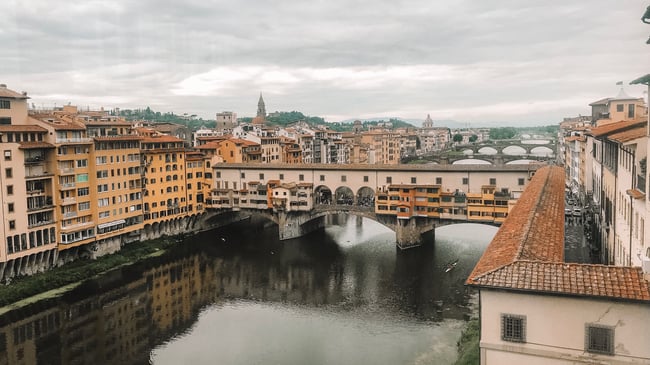 Chiesa di San Salvatore in Ognissanti
You won't hear much about this cathedral, but it is absolutely worth visiting for more than just the stunning ceiling and fresco of the Last Supper. It actually holds particular importance to Americans. Ever heard of Amerigo Vespucci? He was an Italian explorer who was the first to prove that the Americas were actually a whole separate continent, the "New World", and not part of Asia like Columbus originally thought. America was given its name in honor of him.
Another famous person buried here is the artist Sandro Botticelli, whose most famous and beautiful paintings you would have seen in the Uffizi Gallery. Both "The Birth of Venus" and "Primavera" were painted by him.
You'll notice another grave just across the tile from his, marked "Simone Vespucci". Tradition says she was the love of Botticelli's life, and also the model for Venus and several other females in Botticelli's paintings. Unfortunately for Botticelli, she was married to another man and died at age 22. He asked to be buried at her feet, where he rests today.
Address: Borgo Ognissanti, 42, 50123 Firenze FI, Italy
Hours: Open daily 9:30 am to 12:30 pm then 4 pm to 7:15 pm. Wednesdays open from 4 pm to 7:15 pm.
Tickets: Free Entrance
Psst: If you want to see where other famous dead are buried in Florence, check out the Basilica of Santa Croce, where you'll find the tombs of Michelangelo, Galileo, Rossini, and even a cenotaph for Dante.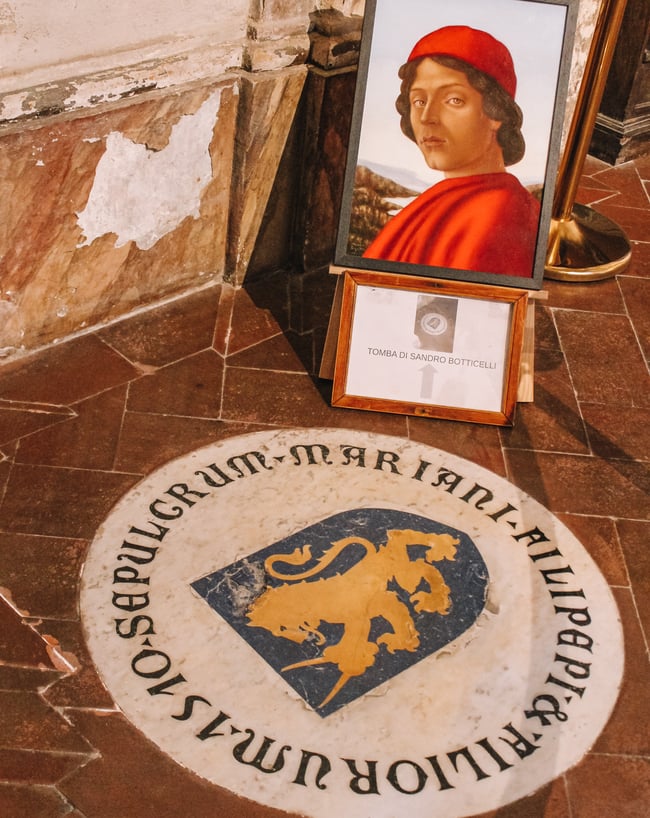 Piazza della Republica
The first thing you'll notice about this public square will probably be the antique carousel. It's been there, near the Arch of Triumph, since the early 1900s. Every day it spins around from 10 am to 8 pm and boasts twenty beautiful horses and two gilded carriages, all made from wood but brightly painted. Also notice the panels at the top that each depict a different Italian city.
As you stroll around the area, you'll see many local artists sketching and painting the famous landmarks of Florence. The square has also become quite the hub for street performers, especially after sunset.
What And Where To Eat
Gino's Bakery
Holy cannoli...our mouths are watering just thinking about this place. First off, it's tiny. But there is so much flavor packed into each little pastry. It's the perfect stop for breakfast or a late evening snack (we did both). With sweets and savories, you'll love absolutely anything you get here! Best bakery in Florence for sure.
Address: Via de' Guicciardini, 3/5, 50041 Firenze FI, Italy
Hours: Open daily from 8 am to 9:45 pm, except closes on Saturdays at 8:30 pm.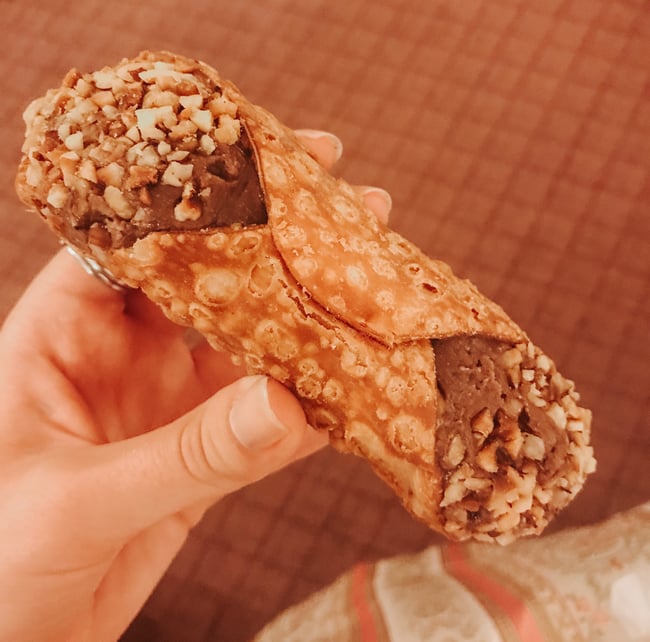 All'antico Vinaio
For a very authentic, delicious, and reasonably priced meal, we can't recommend this place enough! The combinations are unique, but don't be intimidated. Pictured below is the Dante: pork capocollo, stracchino cheese, truffle cream, rocket salad. The sandwiches are very large and flavorful, so consider sharing with a friend.
There will most likely be a line, but it moves quickly and is totally worth it. Also, you'll find this spot just down the road from the Uffizi Gallery, so it couldn't be more convenient. Really the perfect lunch!
Address: Via dei Neri, 76R, 50122 Firenze FI, Italy
Hours: Open daily from 10 am to 10 pm.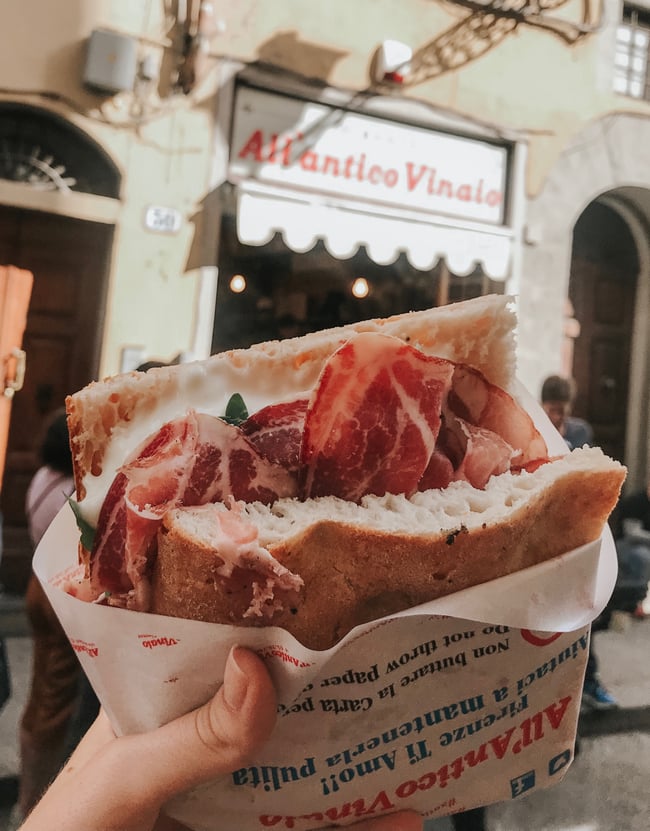 Amorino
Not only are the rich flavors of this gelato absolutely scrumptious, but you can have up to six of them on one cone! Plus it's fun to watch the gelato artists sculpt their roses. If you're feeling like a splurge, you can also get a macaroon on top. Hands down some of the most beautiful gelato in Europe.
Not going to Florence but still want to try this artisan gelato? Don't worry, they have other locations all over Europe. Check out the map here!
Address: Via del Corso, 44/46r, 50122 Firenze FI, Italy
Hours: Open daily from 11 am to 11 pm.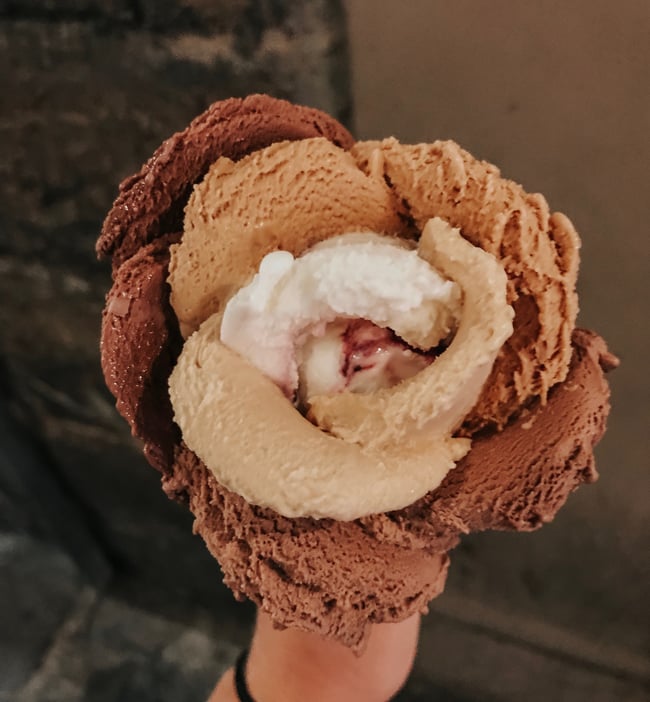 Where To Stay
Hostels: If these are your go to, then we have a couple you should check out. New Generation Hostel Ognissanti has real Italian charm, since you'll be spending the night in a former convent. The location is great—upriver from the Ponte Vecchio and right next to the church where Botticelli is buried. To stay in a 4 bed dorm will cost you about $32.
Another one to consider is the Archi Rossi Hostel. It is a bit farther away from some of the central sites, but still an easy walk. Plus it's very near the train station! And they have a free breakfast buffet every morning. You'll love the bright, clean rooms that also exhibit a lot of Italian charm...funky wall murals included. To stay in a 6 bed dorm here will cost you about $32.
Airbnb: Whether or not you've stayed in one before, you absolutely have to check out all of your beautiful, unique options in Florence. You can really narrow down your search by filtering price, number of guests, amenities, and even Superhost (which means they are experienced hosts with high ratings). Sometimes if you're traveling with a group, staying in an Airbnb ends up being cheaper, easier, and even nicer than a hostel! Start your search here!
All About Transport
Getting To Florence
Airplane: There is an airport just outside of Florence, but it only has one runway and the flights are usually a bit more expensive. Instead, look into flights that land in Bologna. From there the right train can be less than an hour and under $20, depending on which one you book.
Other places you can fly into if you want to plan a longer trip around Italy are Rome, Milan, and Venice. All great options! And you can easily take a train to Florence from any of them. Here are some suggestions for getting cheap flights around Europe!
Train: Like we've already mentioned, trains can be a great way to get to and from Florence. They are usually more reliable and faster than buses too. We have had great luck booking through Omio. They have so many different options to choose from! Just make sure you double/triple check your train stations. The most central one in Florence is the Santa Maria Novella station.
Local Transport
One thing that we LOVE about Florence is that everything is close, so you really won't need to worry about public transportation one bit. If you decide you absolutely need to use it, a bus ticket costs about 1.20 euros and is good for 90 minutes. Learn more of the basics by reading this.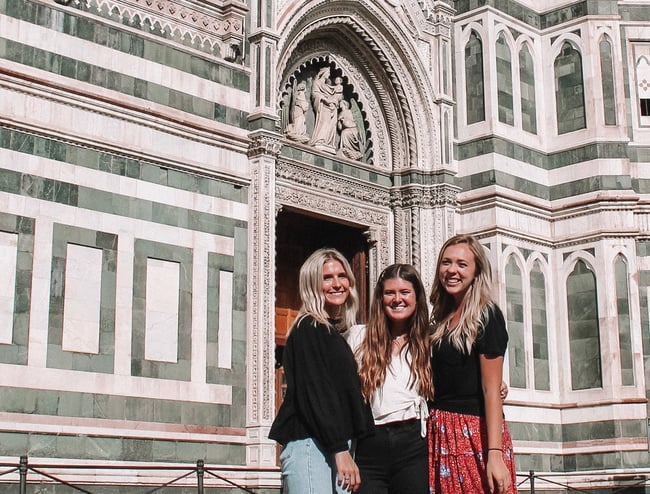 Ready to spend a semester abroad as an English-teaching volunteer?
ILP has opportunities in countries all over the world, and we're constantly looking for new life-changing adventures for our volunteers. Which country will you choose? Click the button below to see which one catches your eye.