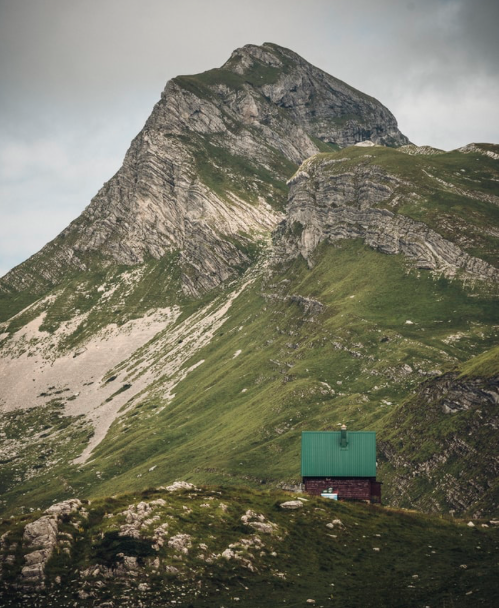 Oh the coastline of Montenegro is dreamy as you can imagine, but the hiking here? Head a bit inland, and you'll find a curving river to raft, towering peaks to hike, and thick forests. Unreal.
If you're looking for a country crammed with adventures, head over to Montenegro. Some people have to trek all the way to Switzerland and Norway for this kind of hiking, but you can get it right here (without all the tourists or the crazy prices you'll find in the Alps). Seriously.
This Balkan country is fringed with dozens of beaches where you can hang out, but the real adventures are hiding up in the national parks. Durmitor National Park is one of the top rated parks in Europe for all kinds of things — rafting, hiking, canyoneering, swimmable crystal lakes, and miles and miles of forest trails. Who knew, right? And because this country is so small, visiting this national park makes for an easy (and adrenaline filled) weekend trip.
---
Come snag a spot
Apply for a semester abroad in Europe with ILP
---
Alright since there's a lot to this part of the country, I've broken things down into sections. The first bit is an introduction so you know what you're getting yourself into. It has a couple of key points you'll want to remember and reference back to, then we get into the good stuff … all the top adventures you can have in Durmitor National Park. Then, once you're 100% convinced you have to visit while in Montenegro, I've planned out all the logistics: how to get there, how long to stay, when to visit, etc. Handy, right?
Get To Know A Few Things
The Durmitor National Park is a show stopper, home to 48 towering peaks, deep valleys cut by glaciers, the winding Tara River, and a dozen-plus plunging crystal pools nicknamed "mountain eyes". It's a UNESCO site, mad-popular in the summer months for all the hiking and adventure you could want, and transformed into a top notch ski spot once winter blankets the mountains with snow. The park is found in the north-east section of Montenegro, in the corner of the country bordered by Bosnia and Serbia.
While the park itself is a massive natural reserve, there's this beyond adorable mountain town called Žabljak just outside of the park's entrance. Picture a main street full of places to stay, a few restaurants, and some resources to help you plan out your time in the park. We'll get back to Žabljak in just a minute — just know that if you're booking a bus, look for tickets to Žabljak, or if you want to stay overnight for a couple of days of hiking, you'll want to stay in Žabljak.
Alright, now that you know the basics about this park, let's get into the good stuff — what there is to do here!
Rafting The Tara River
This is easily the most popular thing to do in Durmitor National Park … call it the main attraction. The Tara River winds through both Montenegro and Bosnia, forming the deepest canyon in Montenegro (and Europe for that matter) …. it's the second longest canyon in the entire world, only second to the Grand Canyon! And you can totally hop on a raft and see miles of this natural wonder on a rafting trip. Add in the fact that you'll be cutting through this deep canyon covered in emerald trees and you get a pretty good visual. Um, amazing, right?
Going With A Guide
This isn't something you can just DIY, but rafting excursions are really affordable. There are lots of tour companies who can put together a rafting trip for you and a group, complete with a professional river guide. Day prices seem to be in the 30-45€ range (which is typically a 3-5 hour adventure), but you can also book multi-day tours that set you up with camping gear so you can raft the river for several days. Depending on the length of your trip, you're looking at a 100-200€ range.
We have some tour companies to research right + a little more info here.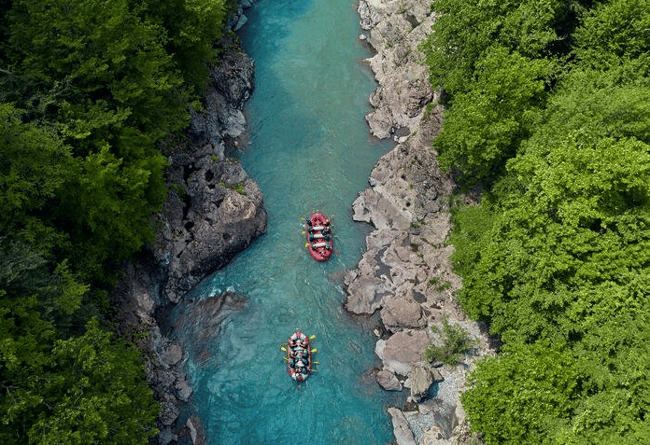 Popular Hiking Trails
While other countries may be more famous for alpine hikes, you'll find some beyond stunning views and vistas if you spend your time wandering the many trails found in Durmitor National Park. With over 150 square miles to explore, you can bet that this park boasts some pretty impressive hiking.
There are a huge range of intensity levels, from nature walks to 10+ hour challenges that are only for the most prepared hikers on a professional level (this blogger has a good outline of several hikes if you want more than what's below). Here are a few of the most popular ones to choose from, depending on what you're looking for (they're organized from easiest to more difficult):
Black Lake (Crno Jezero)
An easy hike, a walk from Žabljak
Crno Jezero is a place to know because it's not only a very pretty lake situated in front of a fringe of pine trees, but it's also where several other hikes begin. The lake gets its name from an iconic, almost inky black color. Plan on a 40 minute walk to get there from the center of Žabljak. You can also make the 2.2 mile loop around the lake if you'd like (though if you're only here a short time, please spend time on another more impressive trail!)
Another perk? The lake has a little cafe where you can grab drinks and snacks after your swim. It tends to be a very very crowded lake and hike because it's the start and end of many other trailheads, and it's easily reached from Žabljak.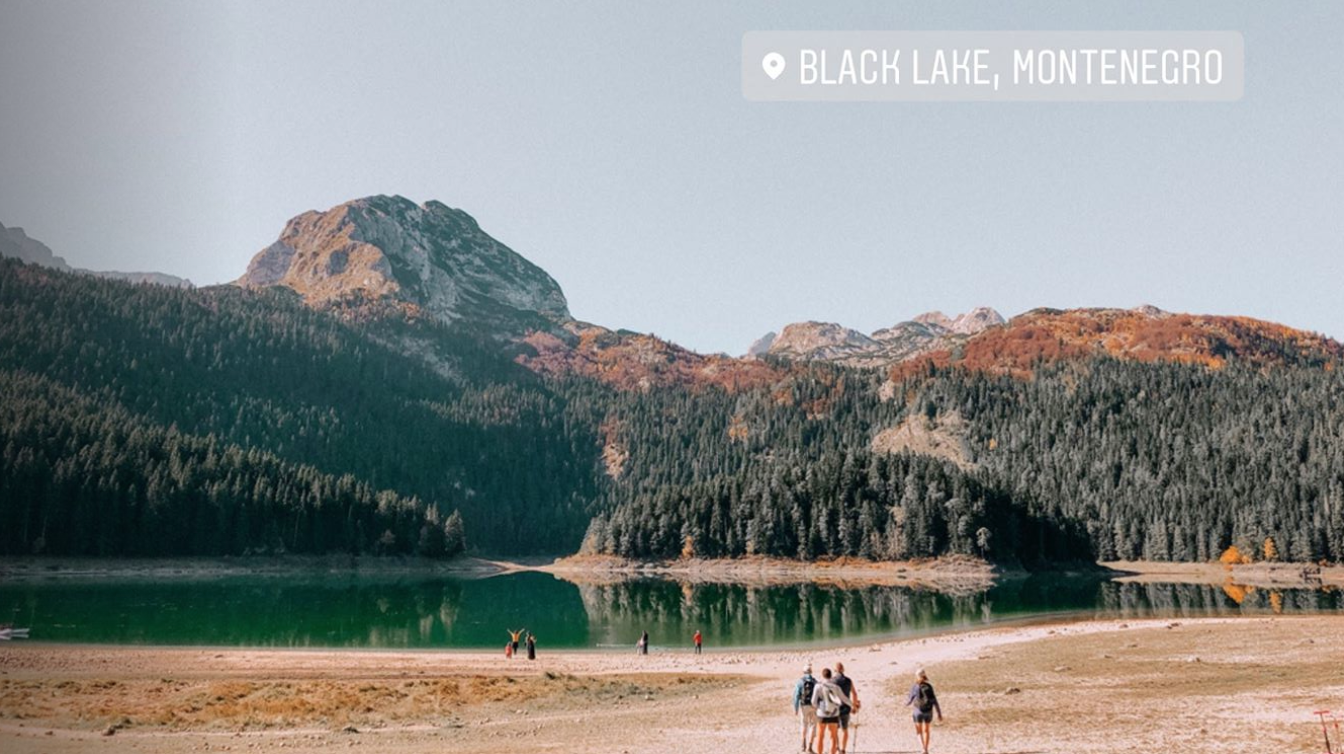 Snake Lake (Zmijinje Jezero)
An easy hike, that's 1.3 mile each way.
The hike to Snake Lake (Zmijinje Jezero) is more like an easier walk through the thick forests, so a perfect option if you're not looking for anything too intense, but still want a few pretty views. Supposedly, the name comes from the look of the lake (which looks like the snake's skin and the bright green color) and the legend that this part of the park was full of snakes until a harsh winter came through and wiped out all of the snakes.
Zelini Vir
An easy to slightly moderate hike, 2 hours each way
This trailhead is a more approachable section of the more intense Bobotov Kuv hike (which is the highest peak in Durmitor). The trail is mostly flat and you'll reach some magical mountain views and a small glacial lake. To get here, have a taxi take you from Žabljak to Sedlo. There's a small parking lot where you can get dropped off and picked up. Sedlo is about 9 miles outside of Žabljak. Best to hike this in the mid-afternoon.
Jablan Lake (+Crvena Greda)
Easy to moderate depending on your route (1.3 or more)
Sometimes known as Small Lake, this is the stunning blue glacial pool that you're looking for. It pools at the base of a ring of jagged mountains, which creates quite the view. The hike itself just to the lakes isn't difficult but you can also combine it with the Crevena Greda hike too if you're wanting a more moderate and longer hike.
Jablan Lake actually sits on the foot of the Crvena Greda mountain, so if you're wanting a longer hike, hike straight to Jablan Lake, then continue up to the Crvena Greda peak (where you get that stunning view from above) then make your way back towards Zmijinje (Snake) Lake.
Planinica
A more difficult hike, 7-8 hours round trip
Supposedly this is the alpine trail that is home to the best view in the entire national park. It's a long day hike that starts at Black Lake (Crno Jezero). You'll trek through trails cut in the deep forest, passing the Crepulj Poikhara field of wildflowers, then you'll pass through more mountain meadows (like Donja Alisnica and Gornja Alisnica).
You may not see many other hikes on the trail but you'll want to keep an eye out for rolling hills dotted with cows, horses, and sheep. The hike leads you up to a plateau where views of the whole valley and jagged mountains spill out in front of you. Since it's an all day hike, you'll want to make sure to start in enough time so you're not hiking down in the dark (but the best views from the top are from the later afternoon).
Do I Have To Go With A Guide?
You can go hiking with or without a guide, but just make sure you know where you're going if you're heading out without a guide. If you're interested in booking a guide, you can peek at this option (but there are several, so do your research).
Your hostel or hotel is going to be a good resource to cue you in on any weather conditions to be aware of, and you'll absolutely want to make sure you have a map (and plenty of snacks and water). Also, absolutely download the maps.me app for your hiking. While I love Google Maps for everything else, it won't have the trails you're looking for like maps.me does. You'll find all these hiking trails, viewpoints, nearby roads, info booths, etc on this app so it's a life saver. You can even download the map and use it when you don't have internet or cell service.
You can also pick up a trail map at the info booth for tourists in Žabljak, or at the entrance of the park (which we have info about below — that's where you'll pay your park entrance fee).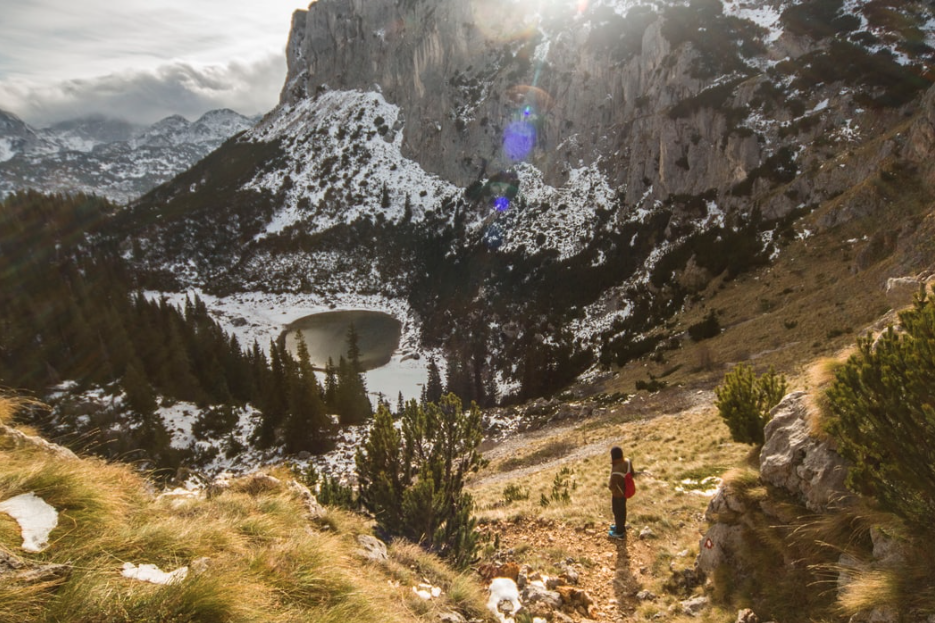 Swimmable Lakes
The park is home to several lakes which range in color from bright and blue turquoise, to pools of emerald green. There are several lakes that you can swim in, best done in the hot summer months. I've listed some info on how to get to some of the most popular (a couple are all a part of the hiking trails discussed above, so plan on packing up your swimming suit if you're trekking one of these trails and want to hop in for a swim). Just know swimming is best during the hot summer months: these are glacial lakes that are chilly, even in the middle of summer!
Crno Jezero
Jablan Lake
Vrazje Jereo (Devil's Lake)*
*This lake is about 6 miles outside of Žabljak so you can easily taxi here and just hang out on the sandy shore for a swim.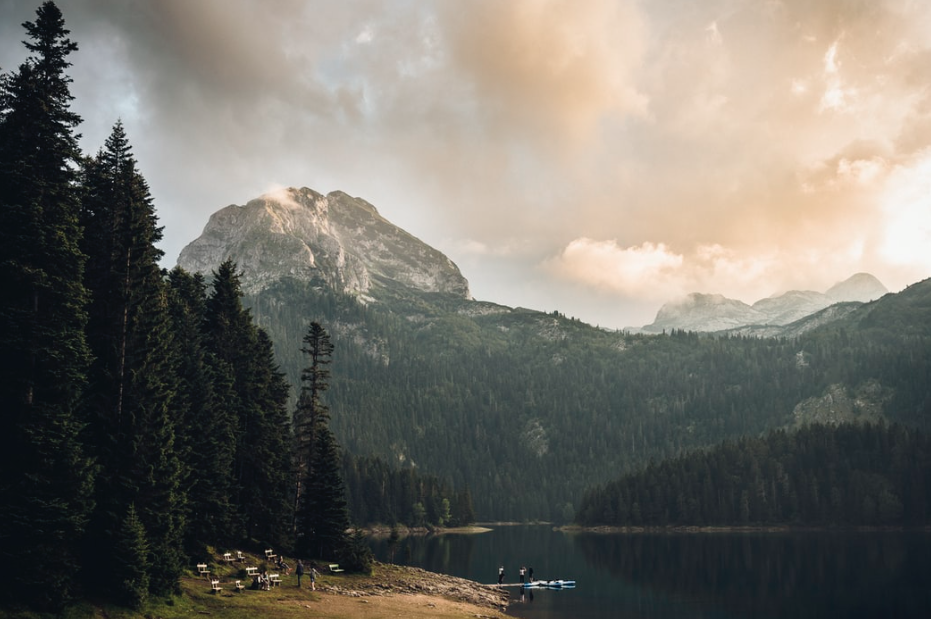 Zip Lining Adventures
Love the idea of soaring over the Tara River via zip line? Totally a thing in the Durmitor National Park. The "longest zip line in Europe" is not for the faint of heart, but the views really can't be beat. The zip line is situated right next to the Djurdjevica Tara bridge which in itself is quite a stunner. Tour buses come make a stop to admire the massive structure (which sits 560 feet above the Tara river) so it has become a total tourist attraction.
You'll find that many tour companies have zip lining as an excursion, so if you're already planning a tour package doing any of the other many adventures in the area (like rafting the Tara River), look at adding on a zip line trip. Companies like Tara Sport Rafting have a zip line package for 45 euro that includes extras like a jeep ride and GoPro footage, plus you can ride the zip line multiple times for no added cost! Just make you sure you book ahead of time. Many companies like Rafting Montenegro also offer a small discount if you're adding zip lining onto another tour, so don't forget to ask about that.
Jeep Safari + Other Tours
While the hiking, swimming, and soaking in the gorgeous view of this National Park is totally doable on your own, there are also tours galore that you can book. I'm talking jeep safaris to viewpoints through the thick forests, horseback ride treks to glacial lakes, kayaking trips on pristine waters, canyoning between deep rock walls, mountain bike trips over the rugged terrain and more. You'll want to peek around at a few tour operators and see what they offer and what prices are like, but just know there's loads to do.


Getting To Durmitor
From Podgorica
There is a bus that runs from the capital city Podgorica to Nikšić to Žabljak …. Remember, Žabljak is the name of that little mountain town that's right near the entrance of the park. This bus runs a few times during the day, and is a 2.5-3 hour ride. You may need to change buses in Nikšić, but just ask to make sure you're getting on the right bus headed to Žabljak. Tickets are typically 8-10€ range.
If you're going to be heading to the National Park during the high summer season, the buses do get crowded, so you'll want to get to the Podgorica bus station early and book your ticket. Schedules aren't posted, so you can send them an email to ask departure times for this particular route.
Here's the address of the Podgorica bus station: Trg Golootočkih žrtava 1 , 81000 Podgorica
From Kotor
You can also head to Žabljak from Kotor if that fits into your itinerary a bit better. It's around a 4 hour ride, and there are typically a couple of departures each day. Tickets are in the 15€ range. Tickets are typically 8-10€ range. If you're going to be heading to the National Park during the high summer season, the buses do get crowded, so you'll want to get to the bus station early or book your tickets in advance. Here's more about Kotor because you absolutely should spend some time here as well.
Get By Bus has info on schedules and prices here.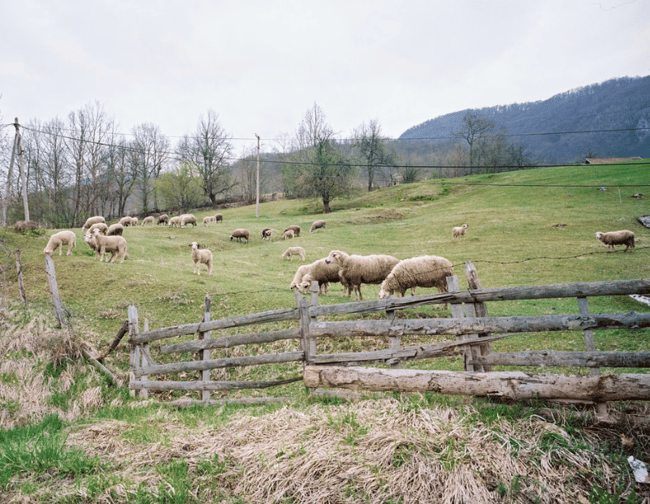 Tips For Your Trip
I'm Staying Overnight, Where Should I Stay?
If you're just booking a day trip activity (like river rafting that has transportation covered) you won't need to stay overnight in the park, but I highly highly recommend spending 2-3 full days here so you really get time to soak up all the viewpoints, hikes, and have some time on a tour or two. For overnight accommodations, you'll find the most options in Žabljak. It's closest to the park entrance, but you can also find other places to stay just south of Žabljak (there's a road that curves around the eastern side of the National Park). We've outlined a couple of those options, too.
You're set if you're staying in Žabljak, most tourists stay here which means access to a well-stocked grocery store and the entrance of the park. From the city center, you can just walk to Black Lake, which is one of the main attractions of Durmitor National Park. Hostels may be a good way to go because most offer maps and booking help if you're looking for adventures like rafting or canyoneering. Hostel Hikers Den has dorms for about $12ish a night, Guesthouse Andjelich has 4-person private rooms for $57, and the Underwoods Zabljak Guesthouse has 5-bed options for $55 a night (to paint a picture of what's available).
Or you can also stay south of Žabljak, near a smaller settlement called Virack in these beyond cute mountain bungalows. Etno Selo Sljeme is a set of bungalows and a guest house, plus a restaurants. Think cozy cabins with pitched roofs set against the jagged and snow-topped mountains of the peak. It's picture perfect, in other words. One benefit to staying here is that you're just a 20 minute drive south of the Nevidio Canyon, which is the hot spot for all canyoneering adventures. The Nevidio Canyon is found outside of Durmitor Park, but it would be a rad day excursion if you can fit it into your itinerary (it's an all day thing with tours typically in the 100 euro price range which includes lunch).
Get more info on Etno Selo Sljeme here.
When Should I Visit?
Between May and October are the most popular times — the weather is pretty good and all the hiking routes are open. Most tour operators are also open between these dates, though you'll want to double check.
March and April are also options. There are some closures due to snow during some years, but you'll probably have most of the park to yourself. Most of the lower mountain trails are cleared of snow and sunny days make for some really gorgeous hikes past snow-capped hills.
During the winter months, this place turns into quite the ski resort, known as the Savin Kuk Ski Resort. The resort offers a handful of runs, ranging from blue to black. Prices for a day pass are also very affordable, at 13 euros. Unreal.
Costs + Hours
There's a 3€ entrance fee (or pay 6€ for a 3-day pass). To pay your fee, the park entrance is on a wide path to Crno Jezero. Sometimes other trailheads have staffed collection booths (but sometimes these booths are empty).
Extra Things To Bring
Besides what you'd need for a typical day trip or weekend trip out in the mountains you'll want to make sure you have these essentials:
Passport (most companies ask for this)
Sunscreen
Swimsuit
Cash (for park fees, taxes plus anything else you need)
Good hiking shoes
Sweatshirt (if you head up in the mountains, it can get cold!)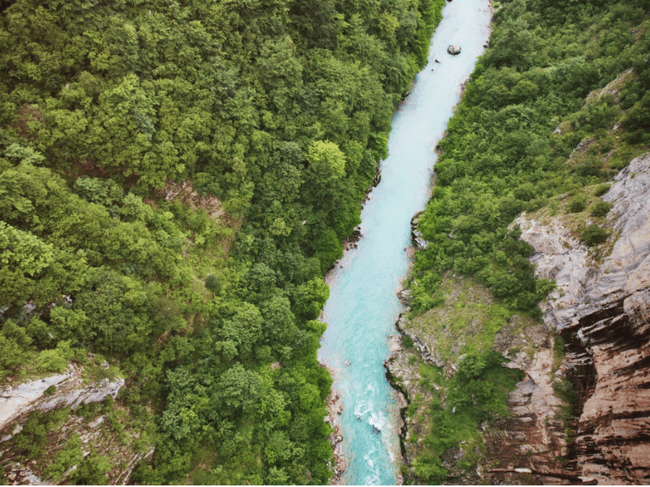 Come to Europe with us!
Hi, we're ILP! A USA based nonprofit organization who's accepting applications for volunteer looking to help out and do some traveling. Come spend time teaching English or volunteering in an orphanage part time, then have weekends off + vacation days for your bucket list vacations.