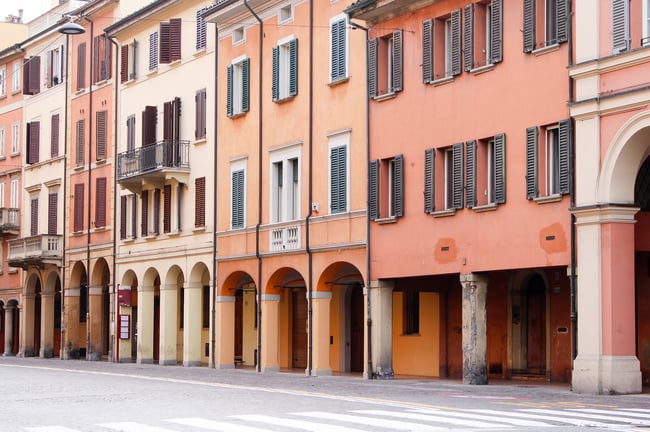 If you're looking for cheap flights to Italy then chances are you might be landing in Bologna. Have some extra time to explore this city? Here's how to make the most of it!
Italy is easily one of the most magical countries in the world! But it's also very popular among tourists, making it often expensive to visit, especially during the summer months. The best way to cut down on initial travel costs is by finding cheaper flights, which sometimes means flying into a less popular, central city and then taking a bus, train, or flight from there to your ultimate destination. If you're a volunteer with International Language Programs, spending a semester living in Europe, then this is the ideal way to spend one of your four-day or week-long vacations!


---
Have you wanted to live abroad but as more than just a tourist?
Learn More About International Language Programs
---

Bologna is one of the best transport hubs to visit in Italy because there is still so so much to see and do, whether you get to spend an entire weekend there, or just a handful of hours. Here's what you should include in your plans if you have the time.
What To See
Piazza Maggiore
This is the central square of Bologna. Here you'll find the fountain of Neptune, the Basilica of San Petronio, and so many other significant and stunning buildings that date back to medieval times.
Address: Piazza Maggiore, 40124 Bologna BO, Italy
Basilica Of San Petronio
This beautiful, yet unfinished, landmark is one of the most important things you'll see in Bologna! It is dedicated to the patron saint of the city, Petronius, and is actually one of the largest churches in the world. Its construction began in 1390, and was initially supposed to be bigger than St. Peter's Basilica in Rome, but the Catholic Church didn't let that happen. There are 22 chapels inside, and in one of them you'll find one of the earliest depictions of Heaven and Hell that was inspired by Dante's Divine Comedy.
Tickets: Entry is free, except for the chapel with the "Inferno" painting which costs 3 euros.
Hours: Every day from 8.30 am to 1.30 pm and then from 3 pm to 6 pm.
Address: Piazza Galvani, 5, 40124 Bologna BO, Italy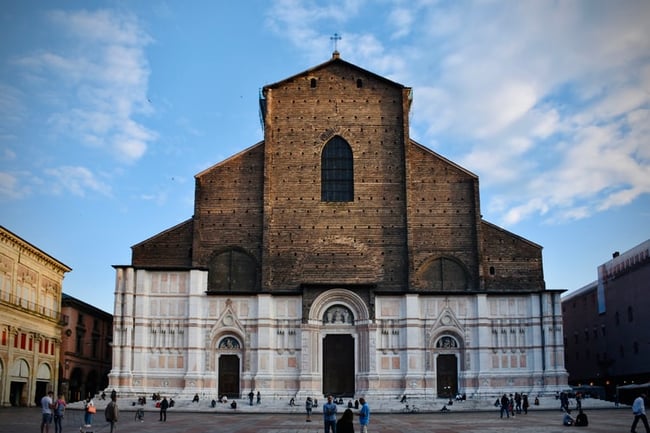 The Leaning Tower
And you thought that Pisa was the only Italian city with a leaning tower. Also known as "The Twin Towers of Bologna", this leaning tower and its much taller neighbor are a recognizable symbol of the city, set right at the heart of Bologna. Currently, the shorter one, Torre Garisenda, is not accessible as it is being restored. But, you can climb the 498 steps of Torre Degli Asinelli to catch some beautiful views of the city.
Tickets: 5 euros and can be purchased onsite.
Hours: Daily from 10 am to 6 pm, but tourists are only allowed up during four timeslots every hour.
Address: P.za di Porta Ravegnana, 40126 Bologna BO, Italy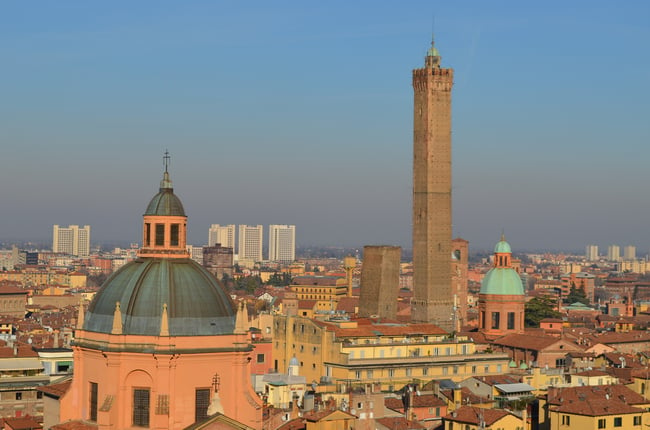 Sanctuary Of The Madonna Di San Luca
Walk the length of the the longest portico in the world (over 600 archways) and climb the slopes of the forested hill, Monte della Guardia, to find a stunning panorama of Bologna and this beautiful church. It was completed in 1793 and we can't get enough of the sunset orange exterior with turquoise green domes! Make sure you also step inside to see the religious frescos and even a figurine of the Virgin Mary which is said to have been painted by Luke the Evangelist.
Tickets: Entry is free.
Hours: Open daily from 7 am to 6 pm.
Address: Via di San Luca, 36, 40135 Bologna BO, Italy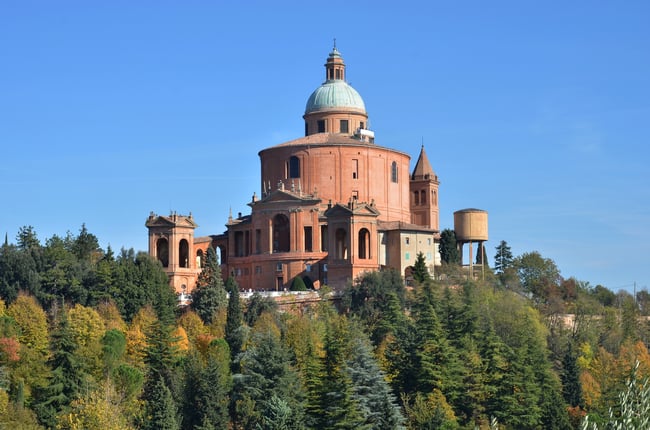 National Art Gallery Of Bologna
This museum has a large collection of beautiful paintings from the Renaissance and Baroque periods, the most famous of which is probably The Ecstasy of St. Cecilia by Raphael. It is also known for holding large temporary exhibitions and is considered to be one of the most important national galleries.
Tickets: 6 euros, except if you're 18-25 years old you might be able to get it a 2 euro ticket if you have proof that you're a student. These can only be purchased onsite at the ticket office.
Hours: Open on Wednesdays and Saturdays from 10 am to 7 pm. This will change as Covid-19 restrictions are lifted, so check out this website for updated info.
Address: Via delle Belle Arti, 56, 40126 Bologna BO, Italy
Where To Eat
Since the tourist scene is so much smaller here, no matter where you eat it's going to feel more like a true cultural experience. There are a lot of local specialties, so you really can't go wrong with what you order: tortellini, lasagna, and of course, gelato. Many people think of Bologna as the culinary capital of Italy, and it is even fondly nicknamed "the fat one" because there is such a crazy amount of amazing food in the city. Here are just a few places you might want to try!
MozzaBella
Arguably the best place to get authentic pizza for dinner in all of Bologna! They have several pretty standard flavor combos, but also many specialty ones that are mouthwatering if you're up to try something new. You can expect veggies, fruits, nuts, cheeses, sauces, and of course all the thinly-sliced Italian meats. YUM! Check out their Facebook page.
Hours: Open daily from 6:30 pm to 11 pm.
Address: Via del Pratello, 65, 40122 Bologna BO, Italy
Panini Di Miro
Although most of our favorite spots in Bologna specialize in pizzas and pastas, this is a wonderful alternative if you're feeling more of a sandwich. There are over 50 specialty paninis to choose from, so you can get something perfectly suited to your taste buds. Everything is fresh and delicious! Check out their website.
Hours: Open daily from 10 am to 11 pm. Closed on Sundays.
Address: P.za Aldrovandi, 5, 40125 Bologna BO, Italy
Bottega Portici
If you're craving traditional egg pasta, this is the ideal quick and casual option. Although everything is yummy here, you should absolutely order tortellini or gnocchi. Check out their website.
Hours: Open daily from 8 am to 3 pm.
Address: P.za di Porta Ravegnana, 2, 40126 Bologna BO, Italy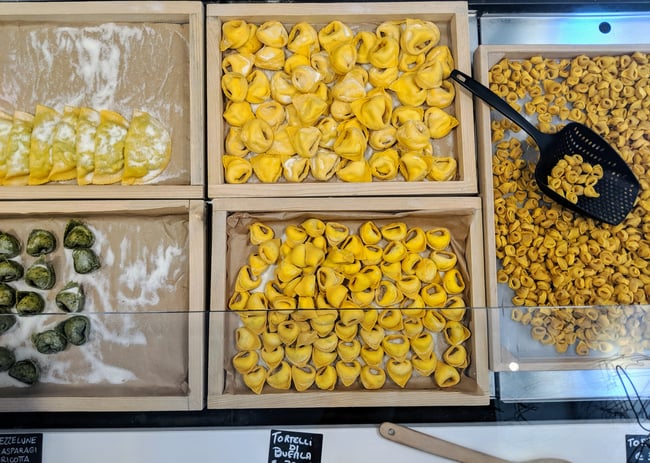 Where To Stay
There are a lot of good options for accommodations in Bologna, with the three main categories being Airbnbs, hostels, and hotels. Wondering what the difference is between these? Read this. Since you can do a very specific search of exactly what you're looking for in Airbnbs, we'll leave that to you. But here are just a couple of the top places to stay in Bologna.
Dopa Hostel
The location of this hostel is PRIME as it's set right in the famous university area of Bologna. Since it's just a ten-minute walk from our favorite landmarks at the heart of the city, you'll be able to see everything! It's also only a ten-minute walk to the main train and bus station. Our favorite thing about this hostel though is that so many amenities are included in the price: breakfast, lockers, luggage storage, hair dryers, towels, and wifi. Plus, it has a very homey feel since almost all of the furnishings are handmade. You'll pay about $40 per night for a bed in a dorm here.
Address: Via Irnerio, 41, 40126 Bologna BO, Italy
Albergo Panorama (Hotel Panorama)
Also centrally located, this charming hotel is just 2 streets away from the must-see Piazza Maggiore. You can find many fountains, museums, statues, and quality restaurants nearby too. All of the rooms are private at this hotel (although most have a shared bathroom), which is really nice! So the size of your group will determine which room you get. For a 4 Bed Shared Bathroom, it's about $110, making it only $27.50 per person.
Address: Via Giovanni Livraghi, 1, 40121 Bologna BO, Italy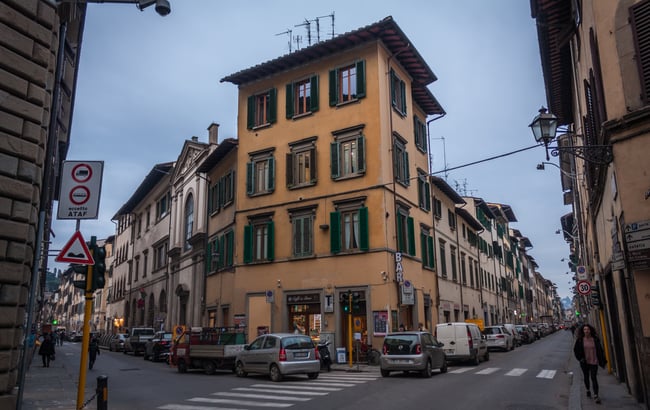 Getting To And From The Airport
The city of Bologna itself is a great place to walk around! You won't really need to use any public transportation, although the bus system is reliable if you end up using it. Getting to the city center from the airport can be a bit of a hassle though, so here's what you need to know.
Shuttle Airbus
One of the easiest ways to get to the city center is by bus, and the trip only takes 20 minutes (depending on traffic). The first departure from the airport is at 5.30 am and the last is at 12.15 am. The first departure from the city station is at 5 am and the last is at 11.35 am. Tickets are 6 euros.
In the airport, you can buy these tickets at the machines found on the first floor by the exit, near the check-in for flights, or in vending machines that you'll see outside near the bus stop.
Monorail Train
This is the fastest way to get to the city center! The Marconi Express Monorail Train (Marconi Express) connects the airport with the Bologna Central Station and can have passengers to the city center in just 7 minutes. It operates every day from about 5:40 am to 12 am, with 8 departures every hour except during rush hour when it departs every 7 minutes. One-way tickets are 8.70 euros, but if you know you will also take it back to the airport then get the round-trip ticket for 16 euros. Make sure you get off at Bologna Centrale and not Lazzaretto.
To find the monorail station at the airport after your flight lands, just follow the signs to the Marconi Express. They'll take you to the first floor of the terminal, and then to the track connecting the terminal to the railway station.
Nearby Destinations
Some of the most wonderful gems of Italy are just a short train ride away, so make sure you don't miss them! You can book any of these tickets (except for the ones to San Marino) on Italiarail.com.
Florence
In under an hour and for less than $30, you can be to the historic city of Firenze! Here you can see Michelangelo's "David" in the Galleria dell'Accademia, famous paintings by Da Vinci and Botticelli in the Uffizi Gallery, the beautiful Ponte Vecchio and of course the tiled exterior of the Duomo.
Check out our complete guide to Florence!
Milan
In under two hours and for less than $50 you can be in one of the fashion capitals of the world, Milan! Here you can see the white Duomo, Italy's largest church, and the glass-roofed Galleria, where you'll find the stores for all of fashion's top designers. Ever wanted to window shop some Prada, Versace, Armani, or Louis Vuitton? This is the place to do it!
Check out our complete guide to Milan!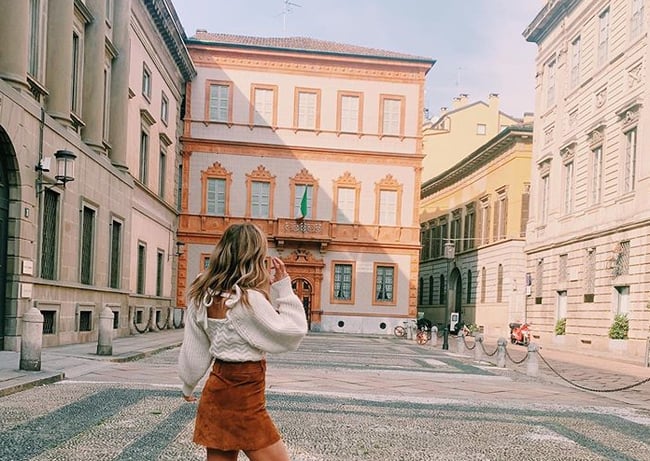 Venice
In under two hours and for about $20 you can get to this floating city of bridges and canals. If you think you'd like getting lost on tiny streets among colorful buildings while enjoying a cone of gelato and watching gondolas drift by, then you'll love Venice! It's unlike anywhere else and will leave you daydreaming of Italy for the rest of your life.
Check out our complete guide to Venice!
La Garda
La Garda is one of the most popular destinations for a holiday in Italy, home to some of the best things this country has to offer: think Roman ruins, spas filled with thermal springs, sunny beaches, colorful cities stuffed with gelato shops and patisseries, and more. The lake is surrounded by dozens of little lakeside towns, making it easy to hop from town to town every few days, for a week or two if you have the time.

And the best news? It's just a couple of hours away from Bologna! (Or even closer from Venice or Milan if you're already visiting).
Get way more about La Garda here, with tips on how to visit the most picturesque cities from Bologna, and other pointers to help you plan the most perfect trip to this gem.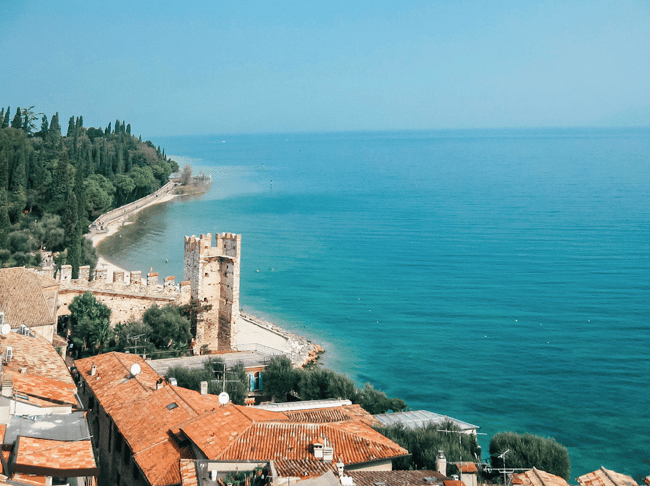 San Marino
Ever been to a country within a country? Well, that's what you'll experience by visiting cutie, little San Marino. Here you'll find a fortress, a church, a museum, and a fair bit more even though you'll definitely be surprised by how tiny this country actually is. There is no direct route to San Marino from Bologna, so you should expect to change trains at least once, but probably twice. You can still make it there in about 4 hours for around $25. Book your ticket on this website!
Check out our complete guide to San Marino!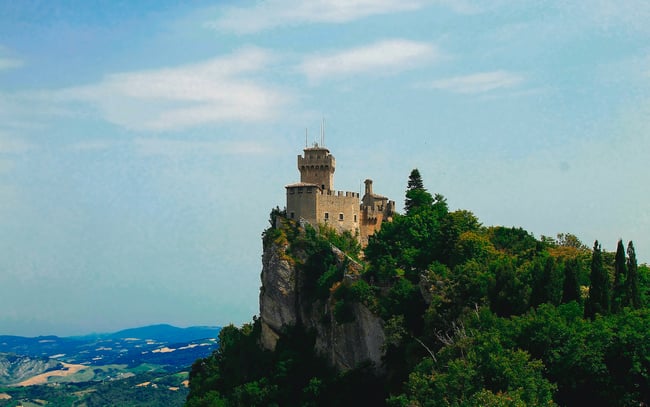 If exploring Italy is one of your dreams, then we have the perfect place for you to spend a semester abroad!
Come to Europe with ILP! We have programs all over this part of the world, meaning you can easily take vacation to Italy. We send groups of college-aged volunteers to a semester of teaching English or helping in an orphanage, with part-time schedules that make room for lots of traveling. Plus, we keep costs affordable — your program fee includes your flight, visa (if necessary), housing, 3-meals a day, and more.