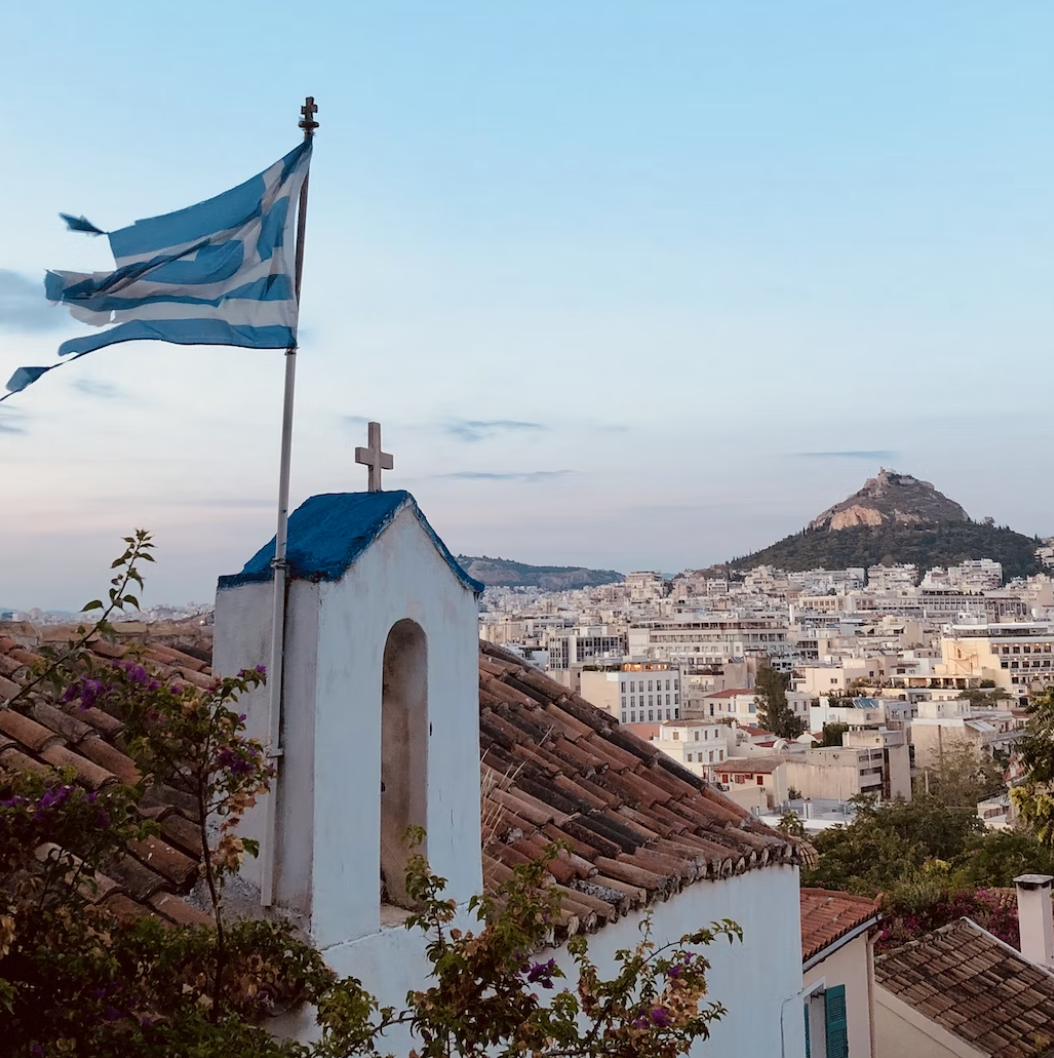 Are you dreaming of visiting Athens, Greece? Visiting while volunteering in Europe is a cinch (especially since we have allll the tips here to help you plan your trip).
If you're volunteering in Europe with ILP there are tons of countries to check out on your vacations. Seriously, like tons. I visited 10+ countries during my semester in Europe, and there are groups who have visited even more. It can be hard to decide which countries will make your list, but Greece is an obvious choice — the history, the beaches, the food ... and the Mama Mia moments make it almost obligatory! Plus, adding Athens to your list is easy because there are so many cities in Europe where you can catch a flight and be there in no time!
---
Feel like a semester in Europe is out of your budget?
You can pay way less than you think!

---
Keep reading to see why you should consider visiting Athens while volunteering abroad. You'll love it there! And, we'll fill you in on everything you need to know to make your trip happen!
What Do I Need To Know When Planning A Trip To Athens?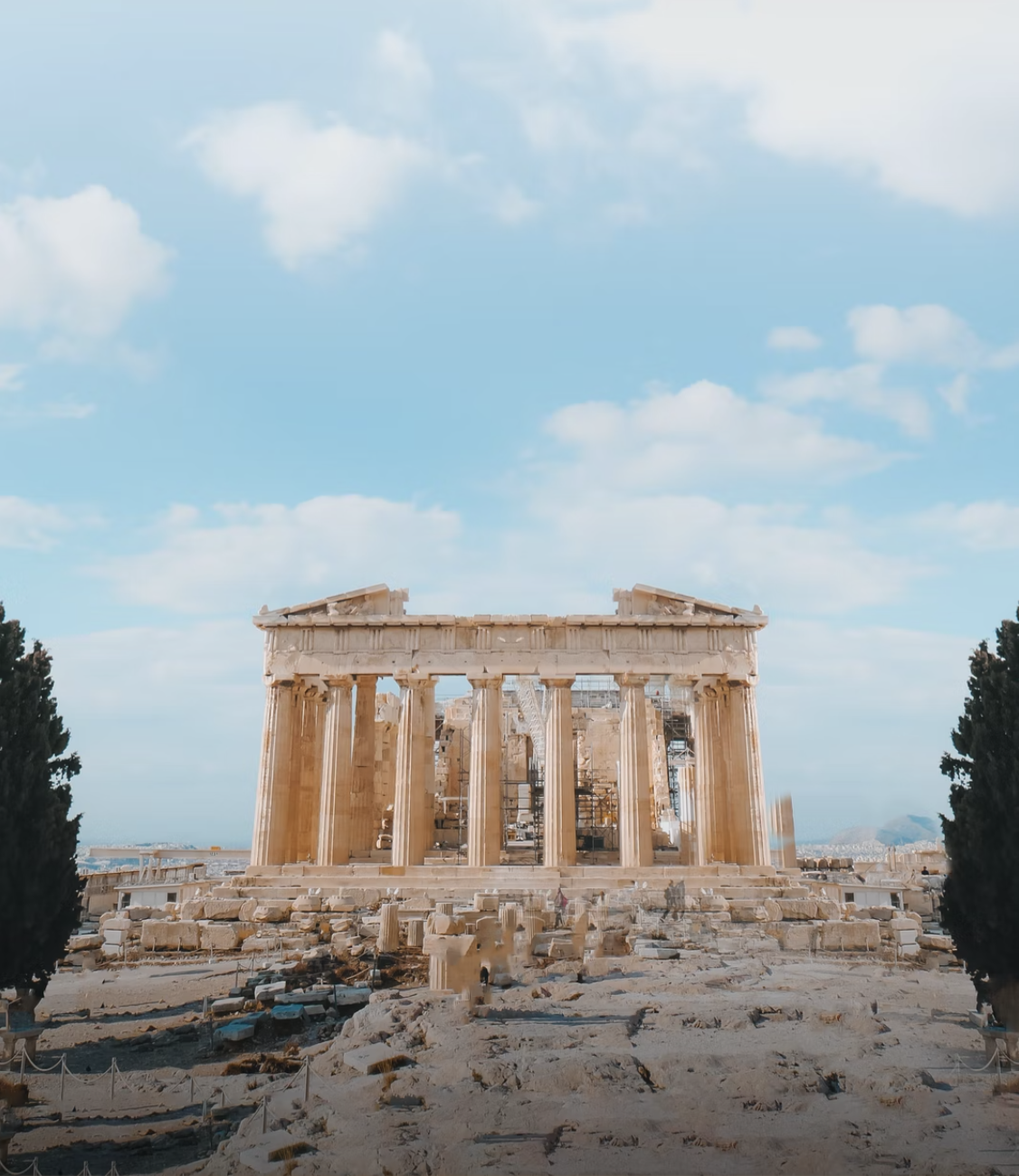 Top Things To See + Do
There's a lot to see and do in Athens, but here are some of our top picks that you can't miss!
First things first, grab a map when you get to the city so you can get your bearings. The addresses are sometimes hard to find, but a map can show you exactly where you need to be headed and is a great way to point to where are trying to go when asking for directions! If you're checking into a hostel before exploring, many have a map available (for free or for a small fee) and you can ask employees to help you orient where things are (and circle insider tips, like favorite restaurants).
And then of course, we're always fans of downloading maps to your phone ahead of time.
Okay, now onto the highlights of the city:
The Acropolis
Within the Acropolis complex there are several different things you can see! Make sure you don't miss these ones:
First up, you can't go to Athens and miss the Parthenon! The Parthenon was built in 432 BC and is an ancient temple for Athena. This is one of the oldest things you will ever see and is something not many people actually get to visit. Take time to visit and you'll feel like you been taken back through time.
Second, The Erechtheion is another temple found in the Acropolis. This one is dedicated to Athena (okay, popular lady!) and Poseidon. The Erechtheion has unique details that will make you truly appreciate the work put into these temples.

The Agora-Athens Central Market
Want to see how the locals shop? Here's your place! This market is full of meat, fish, and produce (grab something to snack on!). It's the spot to snag a container of olives, some bagged spices, piles of fresh fruit for a picnic later on, different kinds of teas, a whole range of nuts, and more. As a note, the meat and fish displays can be a bit abrupt if you've never seen a whole lamb for sale or smelled what rows and rows of fish and meat for sale can be like — best to avoid the meat section if you're wanting to avoid that scene.
Visit the market between 9:00 AM and 1:00 PM to see it in all its busy, beautiful glory — and to maybe grab lunch. There are a string of restaurants around the area as well.
The Plaka
The Plaka is the oldest neighborhood in Athens. It is a must-visit and a beautiful, quaint place to troll through. The area is full of shops, art galleries, sidewalk cafes, and restaurants. It is really charming and a fun place to spend time relaxing and people watching. There is also a collection of white-washed homes and businesses if you can't wait to visit the islands for some pictures like that.
Address: Because the Plaka is an area it's easiest to find it this way: There are two streets that intersect and are "the center" of The Plaka. Look for Kydathineon and Adrianou, their intersection is a good place to start exploring. (You can also find it here.)
The Acropolis Museum
This museum is considered to be one of Greece's most important museums. With over 3,000 artifacts found in the Acropolis you will find amazing, ancient artifacts that date back thousands of years BC. It also offers great views of the Acropolis itself.
Mount Lycabettus
This hill is the highest in the city and will give you the best view! You can hike to the top (be prepared it's a steep walk!) and panoramic, gorgeous views await you! Don't worry, if hiking isn't your thing you can take the cable car to (almost) the top and bypass the hike. Walking down is fun and offers pretty views, though as well.
There's a restaurant on the hill, but as an insider tip, the the food isn't that great. Bring a snack and grab good food in the city!
Price:

7 Euros for the cable car
Address: The easiest way to get there is taking a taxi (10 minute ride) to the base of the hill. Tell them you want to go to the hill and they will know where to take you right on up.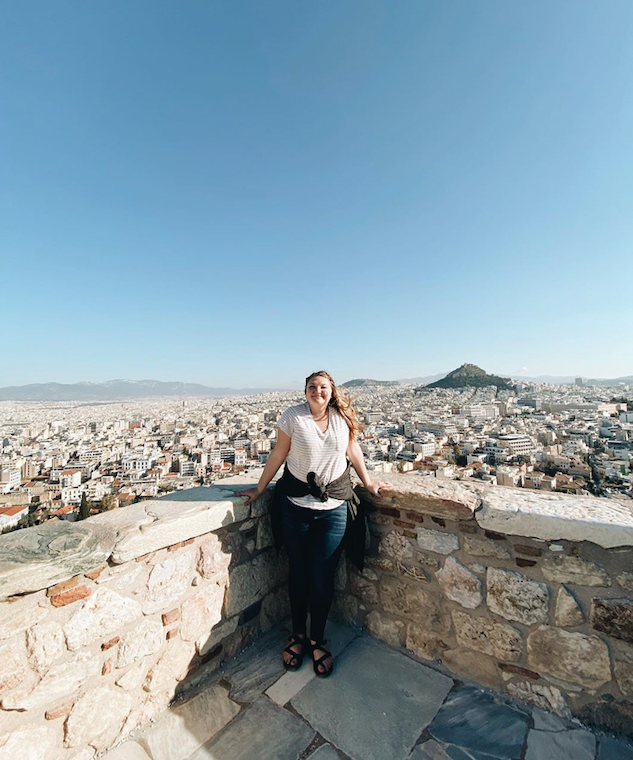 Monastiraki Market + Neighborhood
The Flea Market of your dreams! This market is the perfect place for souvenir shopping. You will find cheesy, classic tourist things (like statues of your favorite Greek goddess and keychains) but also will stumble upon real antiques and beautiful art. More popular souvenirs include olive wood bowls and spoons, anything painted with that iconic "blue eye", leather sandals, and more. Past groups recommend blocking out time to really explore the shops and cafes here if you want to do some shopping.
There's also a charming neighborhood around the area — if you have time to wander I'd definitely recommend setting out to take a peek.
Sundays are a great day to visit the market if you happen to be there! If you do go on a weekend get there early! The market is open 10:00 AM - 10:00 PM and once 11 AM comes the market is packed with people.
Address: Take the metro to the Monastiraki Stop. That will put you right where you want to be (find it here).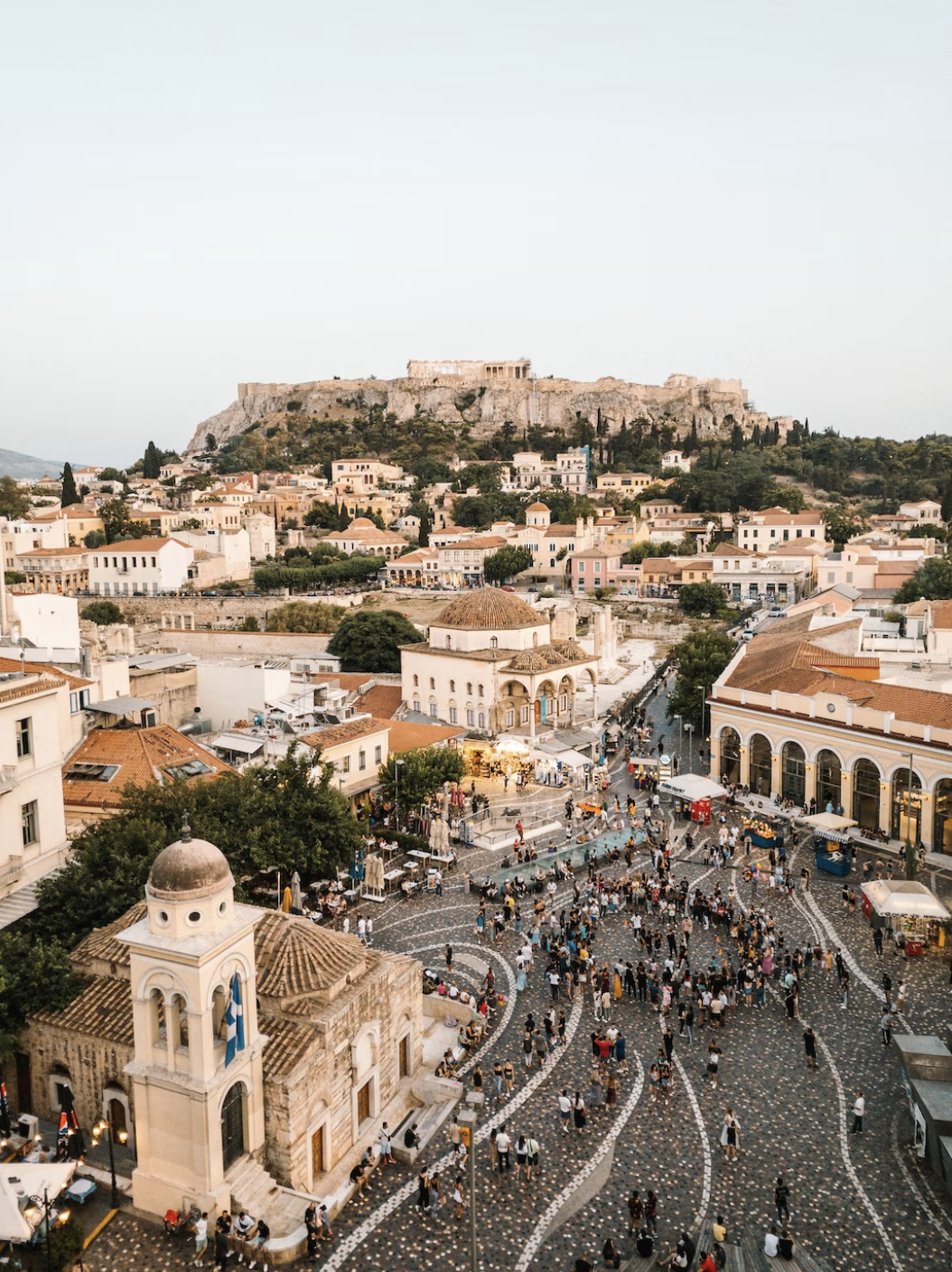 About The Food Here
Okay, let's be real here, food is one of the best parts about traveling especially when you are in Greece. Mmmm, I still dream about the wraps and baklava here. You have to try what every city is famous for, eat at the best restaurants, and try all the desserts. Here's what you need to eat in Athens, according to our volunteers:
First, Don't Skip The Street Food
Often, some of the best food around isn't in a fancy restaurant. That's the case in Athens! Try the street food for delicious, local food. There will be street carts throughout the city and especially by The Plaka and Monastiraki Market. Grab a couple of snacks and see what you like best. I recommend anything wrapped in a warm pita or anything served with tzatziki sauce. Best to have cash for these stands as well.
Greek Pies at Ariston
Greek Pies are a flaky pastry full of delicious vegetables and meat. Ariston offers over 100 different kinds with flavors originating from different regions of Greece. They are amazing and something you will desperately crave once you leave! Looking for something a bit different? Try the cheese pie called Kourou, you won't regret it.
Falafel at
Not Just Falafel
Never had Falafel? Well, now you'll be spoiled because this is the best Falafel around! This classic dish is a mix of herbs and spices, combined with chickpeas (also called garbanzo beans). Everything is rolled up in balls and fried to be crispy on the outside. Typically, this dish is eaten with veggies like cucumbers, tomatoes, and onions, all nestled into a warm pita. Falafel is extremely popular, but don't let the long lines scare you away, it's good. So good.
If you're in Athens when this restaurant is closed, others have said that Falafellas is phenomenal (but they've gone through on and off closings), so you could also try Falafel Al Sharq ... just don't leave without having really good falafel!
Greek Souvlaki at Kostas
In Greece you have to try Greek Souvlaki. If you've never had it, Souvlaki is meat and vegetables grilled on a skewer. You'll see this dish all over, but Kostas makes a delicious souvlaki using pork put on a fresh pita with tomato, yogurt, onion, and parsley. This restaurant was started by a man in 1950 and now his grandson runs it — cute!
Address: They have several around the city. Check for locations and times online.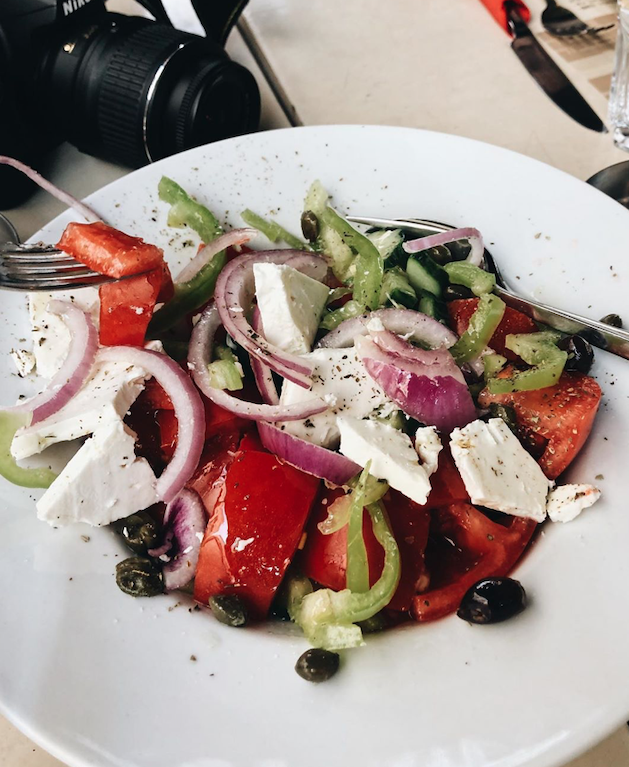 A Few Other Tips
When Should I Visit?
If you ask me, the best time to visit Athens is between March and May and September to November. You'll almost be guaranteed beautiful weather and the tourist season hasn't peaked yet making it a slower time to visit.
Like most countries in Europe, the high season is in the summer (June - August), which has gorgeously warm and sunny days in the 80°s and 90°s. It's a beautiful time of year but typically comes with the crowds (which I like to avoid, if possible).
But even if you can't visit in the high season or shoulder seasons, this area doesn't get tons of rain and winters are relatively mild — we've had groups visit in the wintertime and just wore layers to keep them cozy while out exploring.
How Long Should I Spend There?
It's hard knowing how long you should spend in a city! In all honesty, you could do Athens in a day trip and hit the main sites. It would be a long day and you'll feel rushed, so we'd recommend more time (especially since there is so much to see and Athens is worth spending way more time in). Some past groups have planned a long layover here to see the highlights before jetting off to one of the Greek islands.
Spending two and a half days will give you time to see everything on your list, as well as have time to explore and get a real feel of the city.
In any case, look up when sites close (many close early in the evening, which could change your plans if you thought you could just cram in a bunch of things before and after dinner ... depending on your flights, you may want to stay longer if you're arriving later in the afternoon).
Where Should I Stay In Athens?
Pella Inn — Past ILP Volunteers recommend Pella Inn and say "Pella Inn was great! Very accommodating and has a view of the Parthenon from its rooftop/select rooms!" Book here, via Hostelworld.
Other groups mention that the restaurants below the hostel have really good gyros and baklava for cheap (snag dinner and dessert and head up to the roof in the evenings ... sounds pretty perfect to me).
Hostel Dioskouros — Another recommendation by our ILP volunteers, you'll find free breakfast at this hostel which had a good location. Book here, via Hostelworld.
City Circus — This spot has been known to go above and beyond to make your stay comfortable, and the unique funky decor will pull you in! The rooms are sparkling clean, they have AC, the staff is knowledgeable and helpful, and it's only a 20 minute walk to Acropolis, making it an awesome location. Book here, via Hostelworld.
Zorbas Hotel — This hotel is in a beautiful building with an early 1900's flare. It's clean, right next to The National Archaeological Museum and many other shops, has friendly staff and will give you a great night's sleep so you can wake up early and explore Athens. Book here, via Hostelworld.
Save Some Money
Past groups mention that using a student ID can get you some discounts on entry fees and ticket prices around the city, so if you have one, make sure to bring it!
Other groups have also gotten a museum pass, which gets you into most of the major sites at a discount. It's worth looking at the price and the things included in the pass to see if it's worth it for your itinerary, but if you're a traveler who loves to pack it all in and see it all, it could be a good deal for you.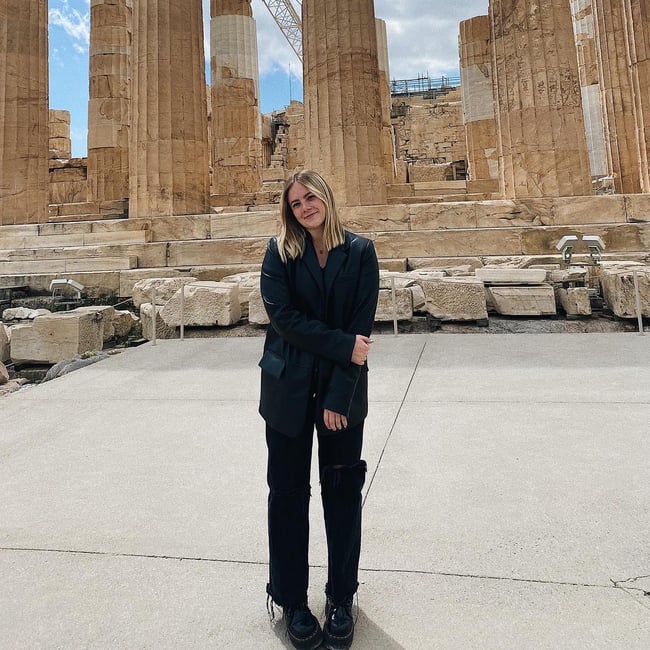 Easy Ways To Get To Athens
No matter where you are volunteering with ILP the easiest way to get to Athens will be flying directly to the Athens airport. Flights will usually range from $150- $300 depending on where you are flying from and what dates you are looking at. Flights can get pricey so do your research. Here are tips to score cheap flights in Europe!
Greece in general is one of the more expensive vacation options in Europe, but we know so many of you have it on your bucket list! The flight is a big part of the budget for this trip.
Transpo From The Airport
From the airport to the city center, you have lots of options. There's a metro, 24/7 buses, and of course, a taxi.
This website outlines these options in more detail so you can figure out which option works best for your itinerary and budget (they also have links to historical walkthroughs and more info + things to do in the city — don't miss out on that resource).
What's The Best Transportation In The City?
By Foot — Walk around on foot as much as possible! Walking will get you everywhere you need in Athens (it may just take longer!) and you will find things you would not have found by taking the metro.
The Metro — The metro system is wonderful and will connect you to everywhere you want to see in the city. Use this to get to places fast if you are in a hurry or want to take a second to sit down and get off your feet.
The best deal for metro tickets is to get the 24 hour tickets! They're only 4.5 Euros, whereas a 90 minute pass is 1.40 Euros.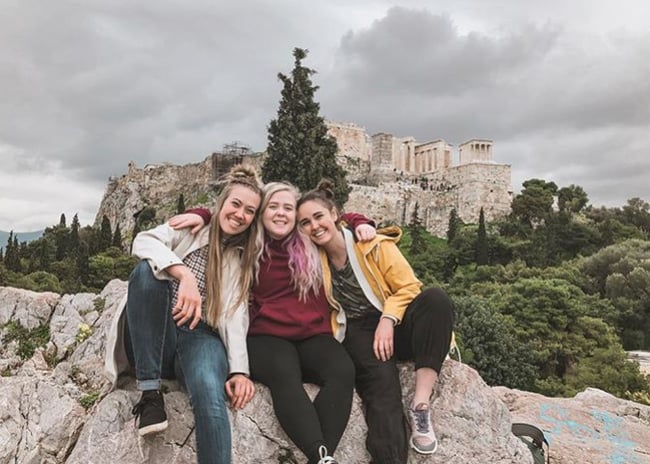 We have the best news
We're accepting volunteers to come spend a semester in Europe with us! ILP volunteers get to call a city in Europe home for an entire semester, then have weekends off, free time, and vacation days to travel all over Europe. Click the button below to learn more about ILP and how your trip can actually be possible!