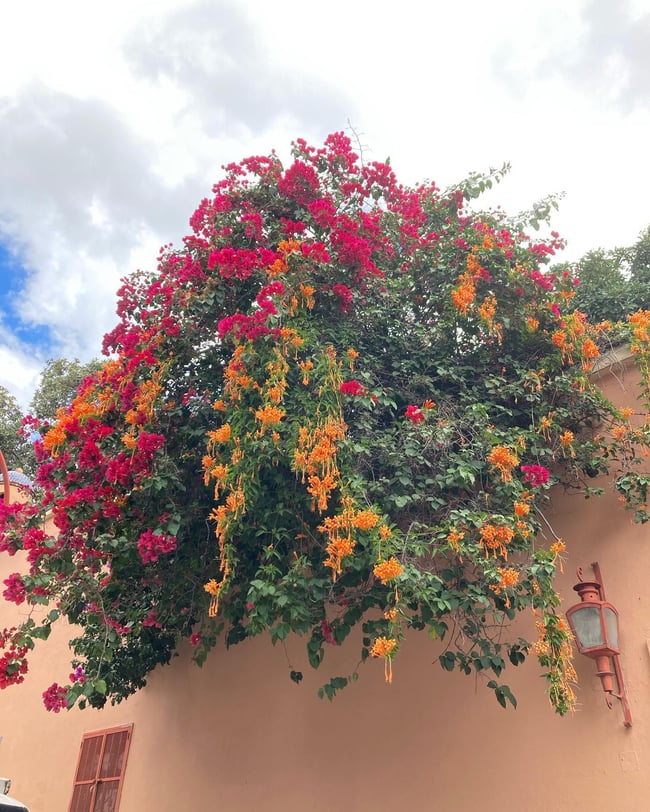 These top sites are just a quick bus ride or flight away from the bright and colorful city of San Luis Potosi!
If you're trying to narrow down the cities to see while you're in Mexico, you have quite the task ahead of you. I can't even get my list to a top ten — there are just way too many places I want to see in this country! Things get even more complicated when you pick one city to see and realize there are about a dozen weekend getaways close enough to reach by bus . . . meaning you can't just visit each city for a day or two if you want to get the full experience!
Really, the only way to do it right is to spend more than just a week or two in Mexico. ILP volunteers in Mexico are here for 3 to 4 months, with every weekend off and vacation days to check out as much of this country as possible . . . including this great list of things to see in and around the city (and state) of San Luis Potosi.
---
Seriously, come spend a whole semester living and
volunteering in Mexico with ILP!
---
This city of San Luis Potosi shares its name with a whole region of Mexico full of blue waterfalls to swim in, heated lagoons, a surrealist garden hidden in the jungle, and more.
While you can get a whole guide to the city of San Luis Potosi here, this post is all about the weekend trips nearby:
The "Unique To SLP" Weekend Trips
We know you're all about the weekend trips. Below, you'll find a few suggestions that are best suited to visit from SLP, due to its unique location. The region of San Luis Potosi is hiding several unique weekend trips that aren't as realistic to visit unless you're already nearby. If you'll be starting in the city of SLP, it means you can fit these places into any regular weekend instead of taking a travel day or two to make it here from other locations in Mexico.
Here are the weekend trips in your very own backyard!
Ciudad Valles
We know you'll want to find these blue, blue, blue waterfalls in a place called Huasteca Potosini in Ciudad Valles — a sprawling mountain range crammed full of waterfalls, caves, and jungles. These are the places in Mexico that convince anyone to come to this country immediately! This vacation looks almost too pretty to be real life, but here we are, with all the info you need to know so you can see this place for yourself.
These waterfalls are so captivating, there are ILP volunteers who make the very long trek to visit if they're living further away from SLP, and still say that the 11+ hour bus ride was totally worth it. For those near SLP already, the bus ride is way more doable for a weekend: the route is 3-4.5ish hours through Omnibus de Oriente or Omnibus de Mexico. Lucky you, to be living so close to such a hot spot to see!
This guide to Ciudad Valles highlights our favorite waterfalls, tips for your visit, and info that makes it easy to plan your trip here. We've even had volunteers visit two or three times (there's that much to see and do).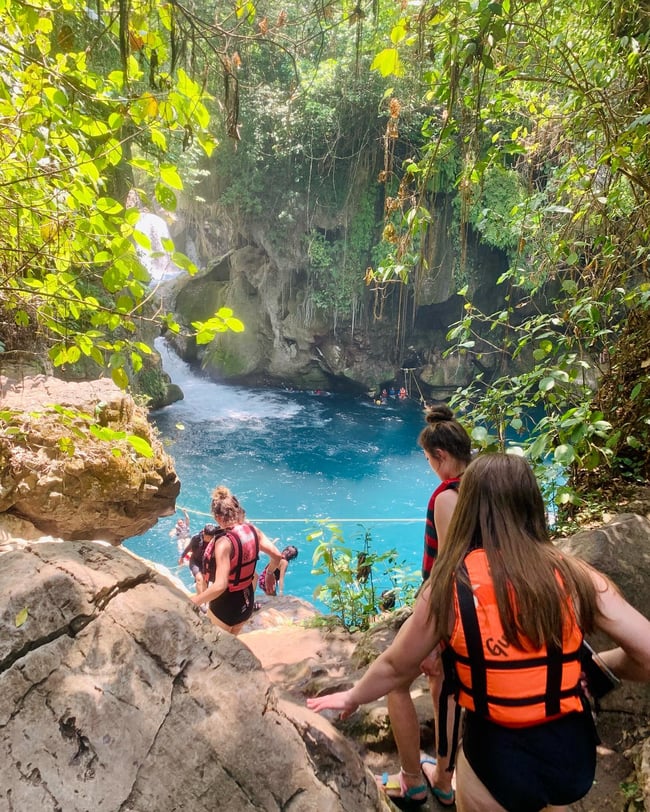 Xilitla
This stunning surrealist garden is near Ciudad Valles, so you can either tack on a visit while you're chasing waterfalls, or plan a separate weekend to really soak up the vibes here.
So, what is it? The creative artist Edward James envisioned this stunning garden, filled with captivating architecture and sculptures, slowly being taken over by the tropical plants that call this area home. Find statues of hands covered in creeping moss and towers of spiraling columns with vines making their way skyward. There are also blue pools to swim in and waterfalls to admire. James spent millions of dollars creating this unique space, and it's here for you to explore.
Getting here from SLP is rather straightforward. Buses can take you right to Xilitla, about a 7 hour bus ride (book here). Again, you're just 2 hours away from Xilitla while you're in Ciudad Valles, but it could be worth coming out here on a separate trip to have more time (you can actually stay in the house-turned-hotel that Edward James lived in).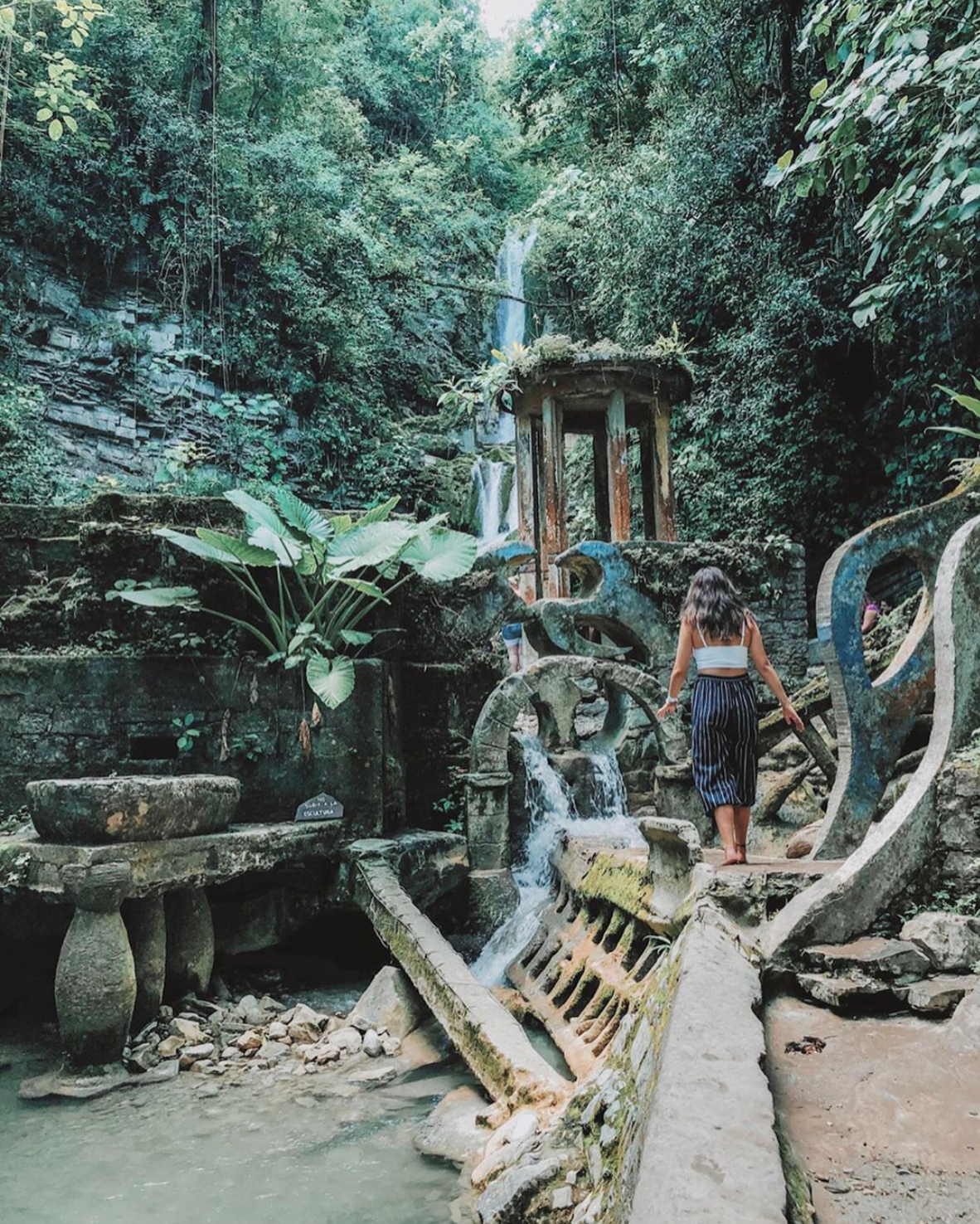 Laguna Media Luna
This sprawling area is home to many cenotes and one particular lagoon that boasts naturally heated water and a stunning blue color. This is a popular place for families to come for a weekend of camping or just hanging out by the lake — this area is full of beauty beyond just the swimming spots.
Dive into this pristine lake and see what you can spot snorkeling — the blue water is hiding petrified trees and turtles and is crystal clear. Or, spend a sunny day kayaking on the lagoon. There's a river to explore, and different pools to swim in (the deeper pools that are actually deep enough to scuba dive in). The water here is sourced from six heated rivers, ranging from 80° to 86° degrees (meaning the water here is surprisingly warm to swim in).
From SLP, you can take a bus to San Juan de los Lagos (buses here), then make a transfer to Encarnación de Díaz (buses here). The bus leg of your journey is about 3.5 hours, then you'll hop in a taxi to make it to the actual lagoon (around 25 minutes). All in all, it's about a 4.5–5 hour journey by public transportation, or you can hire a car to make the 2.5 hour drive.
Santa Maria del Rio
This is more of a day trip option, but you could absolutely stay the weekend if you're wanting even more time in this bright and colorfully little town. ILP groups in the past have made the 60-minute driver over Santa Maria del Rio for a day of wandering colorful streets and shopping the town's most famous souvenir — rebozos. Rebozos are colorfully woven shawls with characteristic balls and weave patterns. There's a museum about rebozos to visit if you'd like to learn more, as well has several handicraft workshops where you can learn how to make one yourself.
From SLP, it's about an hour's drive by taxi.

Real de Catorce
Ever wanted to explore a ghost town? Real de Catorce started as a prosperous mining town in 1779, but closed shortly into the 20th century when silver prices dropped — a booming town of 40,000 people plummeted to less than 1,000 until the area was abandoned. Later, investors took the area and breathed new life into the town, building hotels and cafes to create what is now one of Mexico's Magic Towns. Now, you'll find a small town center, with a series of ghost town ruins set above the hills overlooking the town.
A visit here should probably include touring the town center, where you can admire the Templo de la Purisma Concepcion and the silver mining museum in the Casa de Moneda. Then, get a little taste of Europe at the amphitheater in town which sometimes holds theater performances (formerly used for cockfighting). But to reach the ghost town ruins, you'll first drive through a huge mined tunnel (Tunel Ogarrio), then make the short hike to the crumbling ruins of Pueblo Fantasmo.
There are a series of hikes you can take to reach other ghost town settlements in the hills surrounding the town, or you can rent horses (you can typically find tour guides hanging around the Plaza Hidalgo and in front of the Mesón de la Abundancia). It's also popular to go on a jeep safari to find the different ruins (these US army jeeps are known as "Jeep Willys"). Prices are negotiable on both.
From SLP, there's a 2.5-hour bus ride to Matehuala (buses here) where you can snag a taxi that will take you to Real de Catorce (about an hour's drive). You might want to call ahead and arrange a pick-up in case there aren't taxis available to pick you up when you arrive.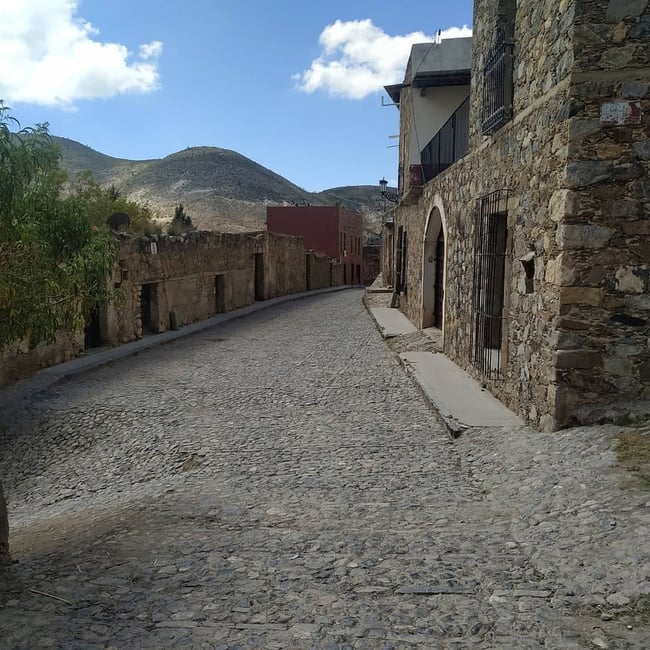 Plus, A Few Others
These weekend trips are also doable from SLP, and are favorites other ILP Mexico volunteers like to visit (you'll see most of these on our favorite weekend trips in Mexico post). Below, we've linked to the full guide, as well as some bus info so you can get an idea of the timing when you're traveling from SLP:
Queretaro
This city is pretty, there's no way around it. You are going to want to photograph these charming streets because most alleyways are lined with buildings in creamy yellows and vibrant oranges. Talk about picturesque. Take a walk and spot statues and walls spilling over with greens and flowers and trick all of your friends into thinking you've decided to spend a semester in Spain, or maybe Rome, if you take photos by the Roman-style aqueduct that runs through the city (built back in the 1700s).
There are also countless cathedrals and churches nearby which are just begging to be explored; we recommend planning a couple of hours in the morning to just walk the quiet streets and see what you stumble upon. Can you tell we love this city? Get your Queretaro guide here.
From SLP, it's about a 3-hour bus ride. Get bus info here.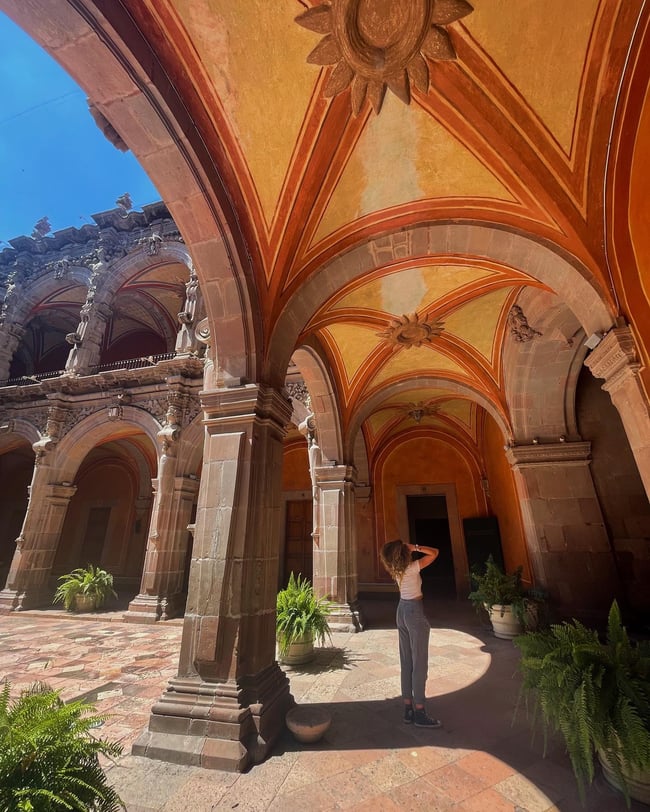 Bernal
Backpackers are starting to discover how incredible Bernal is and we think you should head here too! We've heard some say that this was their favorite Magic Town of all the Magic Towns if that helps convince you.
Hiking the Pena is one of the most iconic parts of this city. It's this monolith (aka a huge rock) that sits right at the base of the town — keep your eyes peeled for the Peña on your bus ride over because you'll start to see it as you approach. But if you don't feel like hiking, the city itself is perfectly explorable, with pop-up markets and colorful buildings that frame a pretty view of the towering mountain in the distance. Read all about a trip to Bernal, here.
From SLP, it's about a 4-hour journey. Bernal is just about an hour away from Queretaro, so if you want to plan a trip there, just tack on a day trip to nearby Bernal.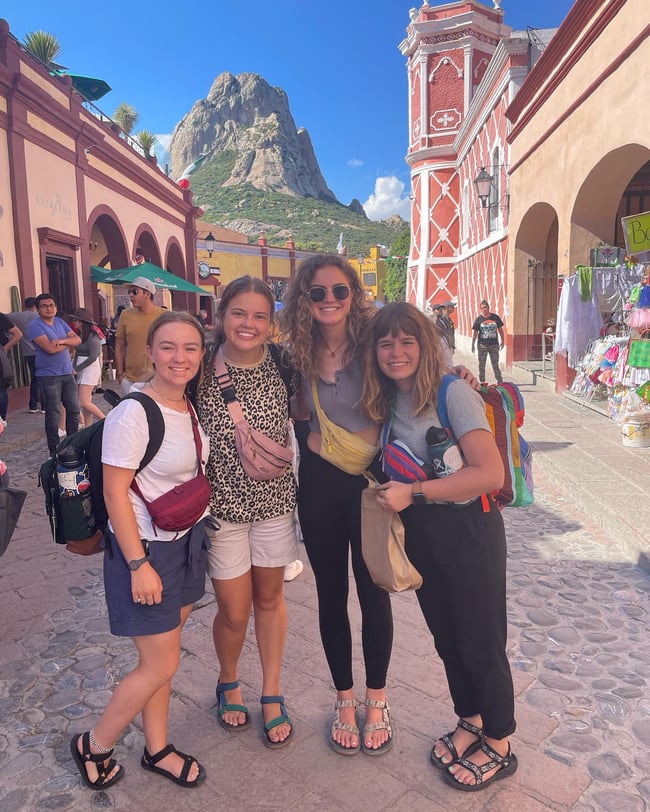 San Miguel de Allende
Not to pick favorites, but this photogenic city is a spot you can't miss. When you're here, plan on soaking in the sights of the Parroquia de San Miguel Arcangel cathedral, grabbing churros right by the cathedral for lunch, and taking a zillion photos in the very picturesque El Jardin. El Jardin is an area filled with colorful buildings and a big, pedestrian walkway. There are also botanical gardens, museums, and quite a long list of our favorite cafes. Find all the details about what to do in San Miguel de Allende here.
From SLP, plan on a 2.5-hour bus ride (get routes here).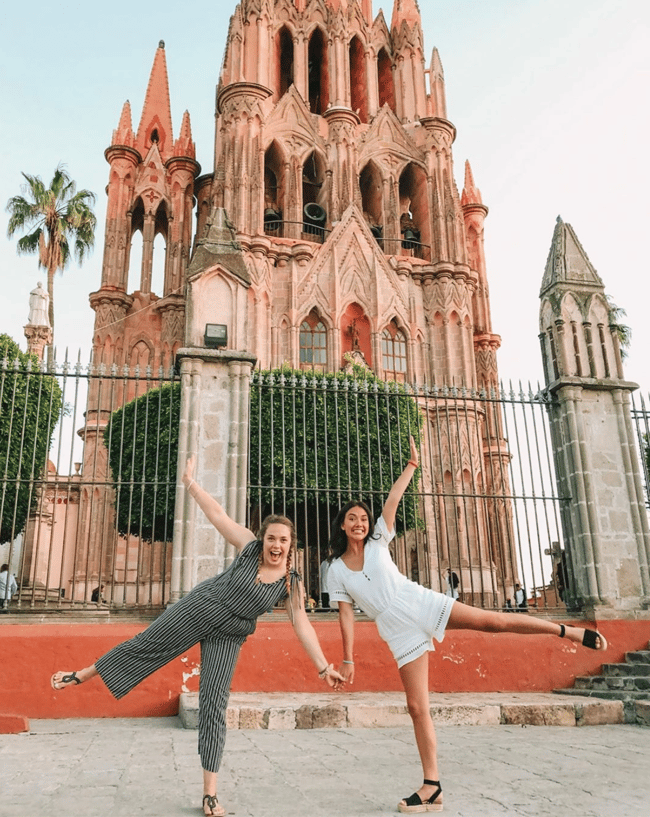 Leon
Leon is the capital of the Guadalajara province in Mexico and another one of our top spots to visit. To make sure you hit the highlights, you'll need to do some shopping . . . The city of Leon is sometimes called the shoe capital of the world, and after a visit to the utterly massive leather market, Zona Peil, you will see why.
This section of the city is crammed full of vendors selling racks and stacks of woven sandals and other leather goods like bags, purses, wallets, belts … you name it. This place is huge, with some 3,000+ vendors, so come ready to bargain for a good price and come home with a few shopping bags. Before leaving, admire the pink and pastel Templo Expiatorio del Sagrado Corazon (Expiatory Temple of the Sacred Heart of Jesus) church before hunting down tacos, churros, and agua frescas for lunch. Get your guide to Leon here.
From SLP, it's about a 3-hour bus ride. Get bus info here.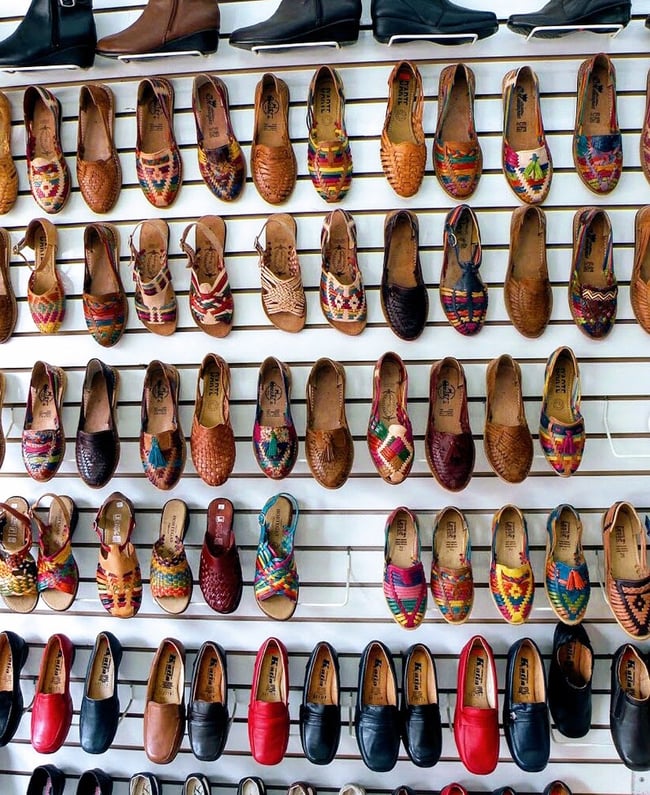 Snag Some Flights (+ Info About Getting Around)
Volunteers typically travel by bus while in Mexico — you can get pretty much anywhere and the costs are really low. But we also understand flying somewhere can help maximize your time, especially when you're cramming things into a weekend trip.
There are several non-stop flights to favorite destinations from the main airport in San Luis Potosi. That means you could potentially squeeze in a beachy weekend to Puerto Vallarta (just over an hour flight). If you'd like to go by bus, there is an overnight bus from SLP to PV that ILP groups have taken for a quick weekend on the coastline.
Or, hang out in Merida (flights are about 3-4 hours, with a stopover) where you can attend a fire festival. Huatulco is another favorite beach destination that you could visit (flights are about 3 hours, with a stopover). Same goes with Oaxaca, which supposedly has the best food in all of Mexico.
Just remember that flights are more expensive. You can sometimes find these routes in the $100 – $250 range, but those numbers can double or even triple depending on the dates you're looking at. It may be worth checking our go-to airlines in Mexico just in case you can snag a really great deal for a weekend during your semester!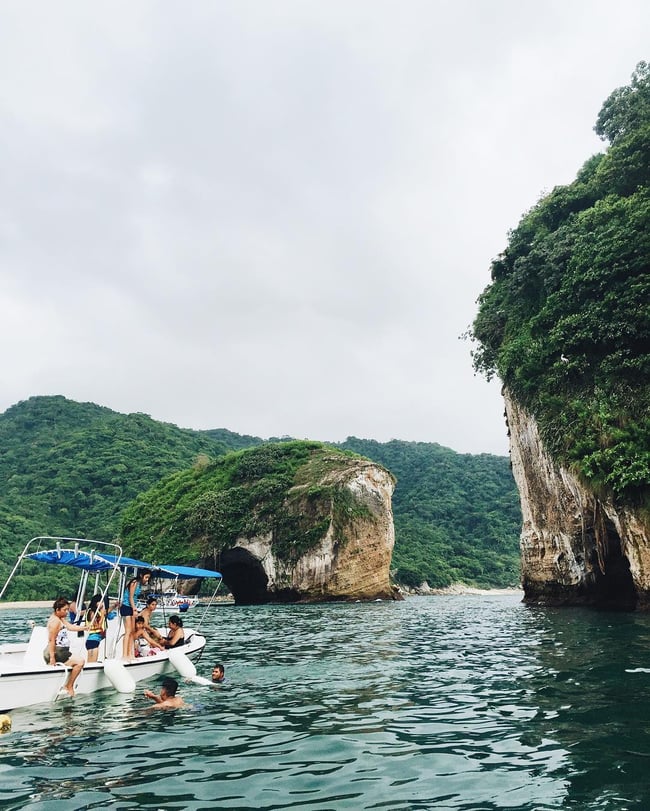 A little obsessed with Mexico?
Come join the club! We are in love with this program and think you will be too. Come see what living in Mexico is like as an ILP volunteer, here: