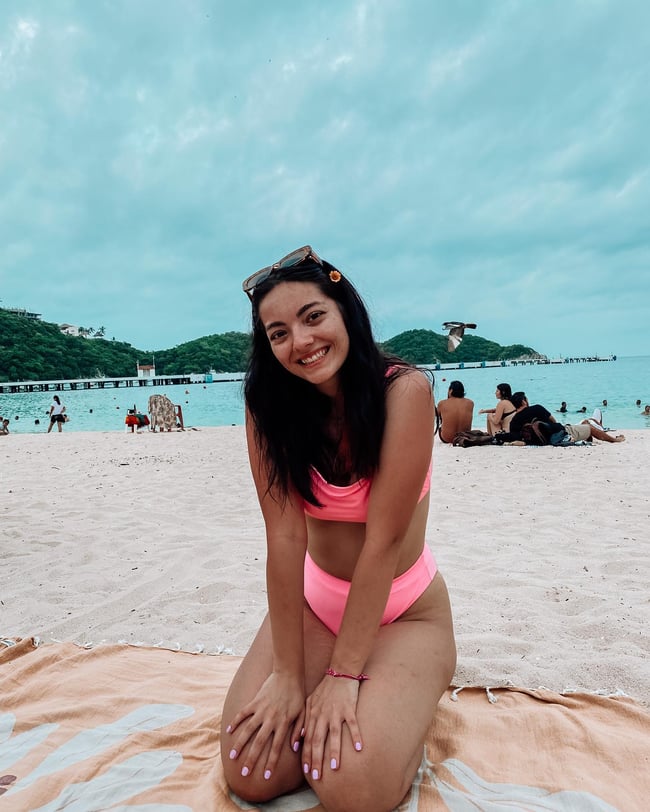 With miles and miles of golden sands, snorkeling, catamaran trips, and more we're all too happy that this part of Mexico still feels undiscovered.
We're big fans of the beachy trips you can take in Mexico ... especially when you avoid the places tourists tend to crowd to have a sun-filled vacation that still feels kinda like a secret. Huatulco is just that — a region of Mexico that is hiding all the adventures you're looking for, without the crowds. Some say it feels like what Cancun was like in the 90s ... stunning beaches, lots to do, warm and sunny weather, but without all the crowds that came once Cancun got too popular. That sounds like our kind of vacation, perfect for ILP volunteers looking for a relaxing and beyond beautiful beach trip!


---
You need way more time than you think in Mexico
Just check out all the best places volunteers see on the weekends!
---

If you know Mexico, you may realize that Huatulco is nearby an already favorite vacation spot, Puerto Escondido, which we absolutely love. It's found just north of the Huatulco coastline and shares so many of the perks of Huatulco.
Honestly, ILP groups will probably either choose Puerto Escondido or Huatulco to visit during their semester, unless you're living close enough that you can see both! (Some cities are a really affordable and short flight, so Huatulco could be in your weekend plans or vacation plans if you want more time here). But there's so much to Huatulco that we'd love for you to have all the info about a trip here to help you decide which is best for you ( ... but honestly, seeing both is the way to go if you can swing it).
Say "Hi" To Huatulco
First, a little introduction to help you get oriented. Huatulco is not a town but a region found on the south-ish western coast of Mexico, found in Oaxaca state if you're familiar. This sprawling coastal region is made up of a few communities to center your trip around — La Crucecita, Santa Cruz, and Santa Maria Huatulco. There are nine bays cut out from the coast here, boasting over 30 beaches that are just as beautiful as you'd ask for when planning a Mexican beach vacation. The weather here is perfect, boasting an average of 330 sunny days per year, with warm and humid days that are ideal for exploring all there is to do here.
If you still need a bit of a push to come here, here's what one ILP volunteer said about her time in Huatulco — "We did it for a 3-day vacation and it was honestly perfect!!!" Can't argue with that, can you?
Since the ocean is the main pull to this part of the country, we'll be highlighting some of the best beaches in the area, as well as a few other things to do (with pointers to help you know where you spend the bulk of your time if you're here on a short visit).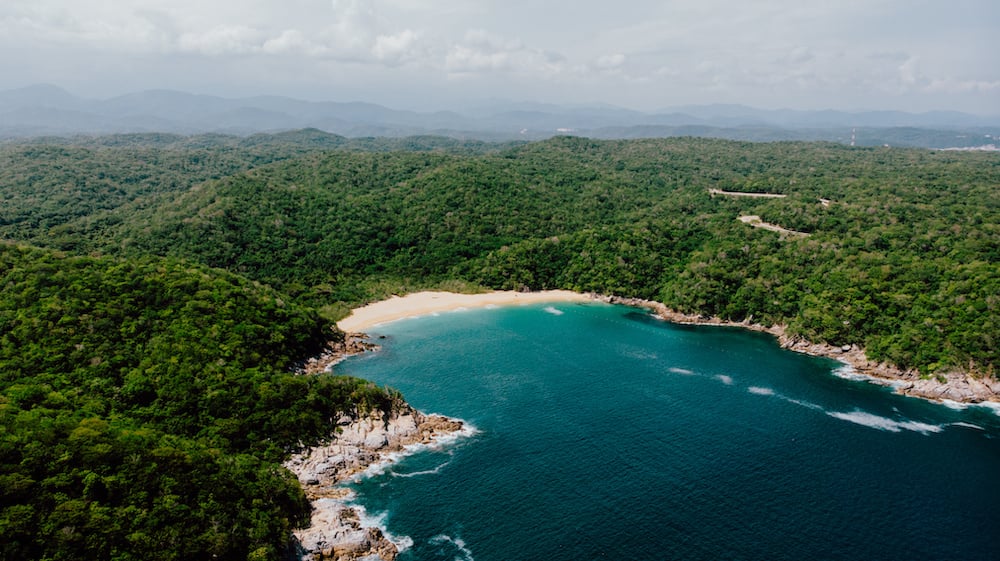 This photo just gives you a glimpse at what's in store for you at all of the bays in this area, but this one, in particular, is Bahía el Órgano.
Best Beaches
There are seriously over 30 to visit so plan on seeing a couple of the best on your visit to Huatulco! To help you choose, we're narrowing down the most popular beaches to visit and the ones with the easiest access (but know there are many more to choose from!):
Playa Maguey is rather close to La Crucecita, making it a popular option for those looking for a pretty swimming and snorkeling beach. Boat tours sometimes drop off tourists here, so it gets crowded in the afternoons but the mornings are typically quieter and more relaxed. The stunning bay photo below is Playa Maguey, so you can see why it's so popular!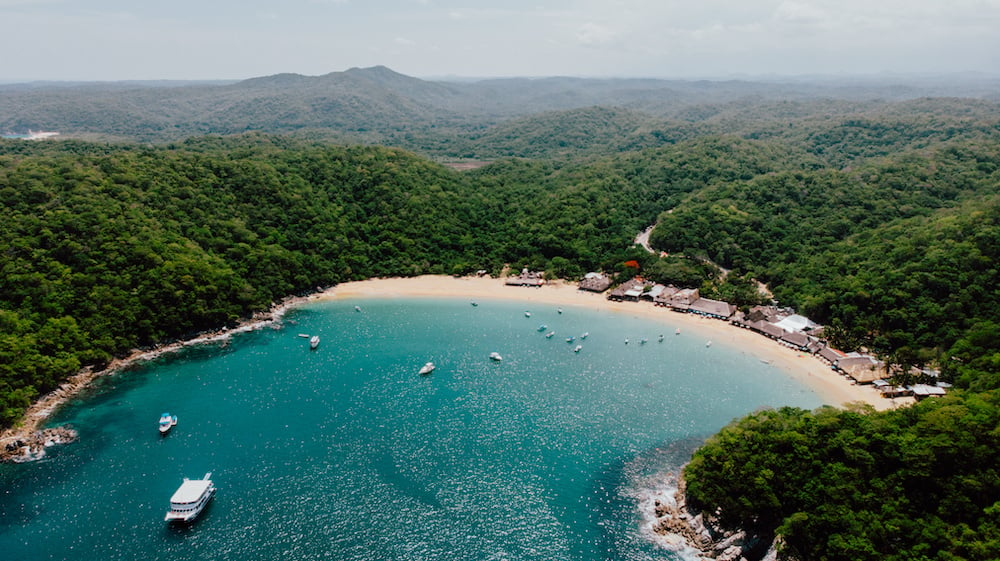 Playa Santa Cruz is filled with things to keep you busy for the day: plan on a string of restaurants, water activity rentals, crowds of visitors, and more. It's within walking distance from La Crcecita, making it a very accessible option for visitors in that area.
Playa La Bocana is another favorite, more hidden-away than the others on this list. You'll find calm waters perfect for swimming and a chiller vibe, without many crowds. And, for about 100 pesos a person, you get a mini mud mask and massage! There are typically a group of women carrying clay pots with mud who will cover your face and body with mud, let it dry, rub it off, and invite you to take a dip in the ocean — get ready for the smoothest skin after this treatment!
There are also a handful of beaches that are boat-only access (or via a private road), which may be fun to book for an afternoon. Beaches like Playa La India and Bahía Riscalillo are ones to may look into.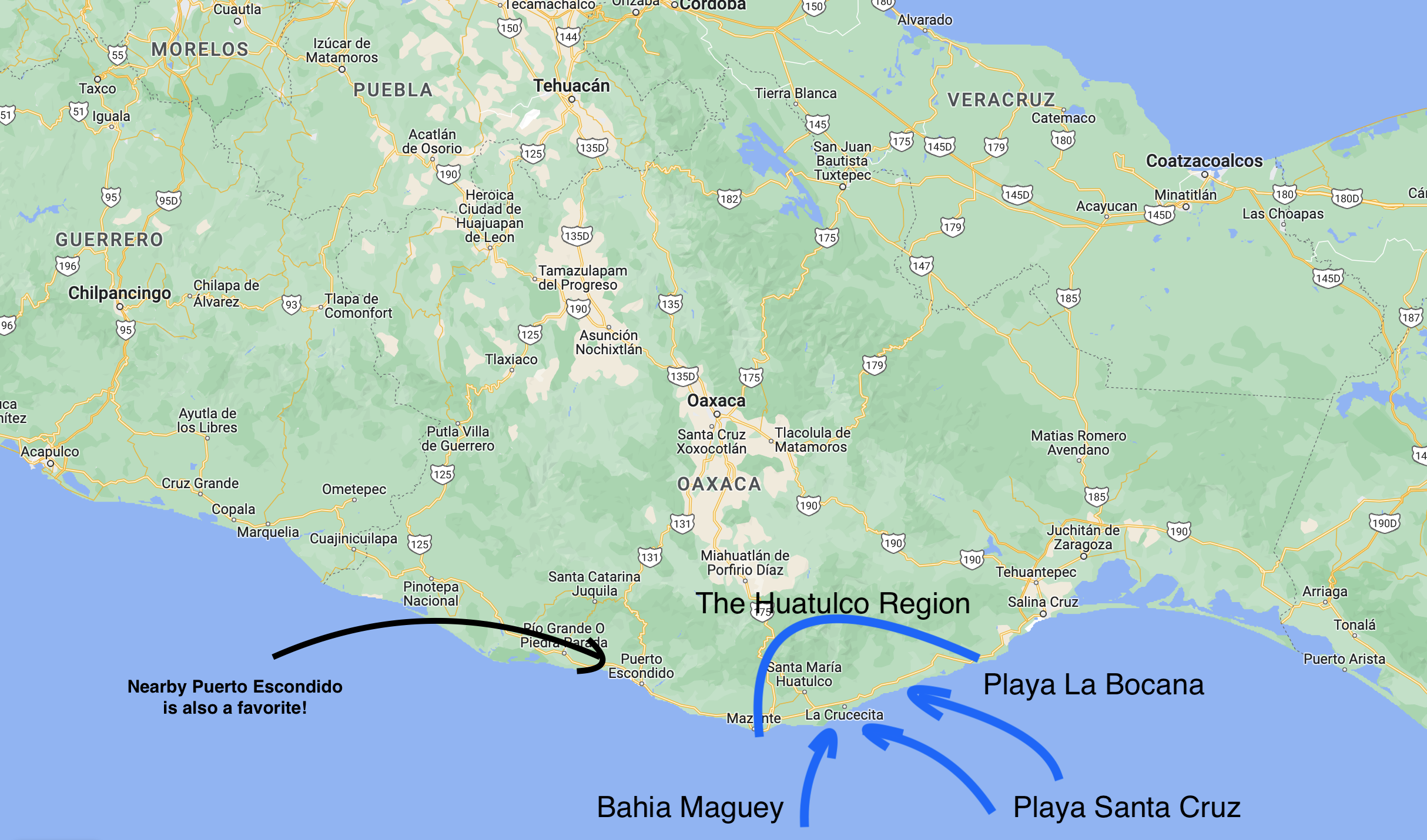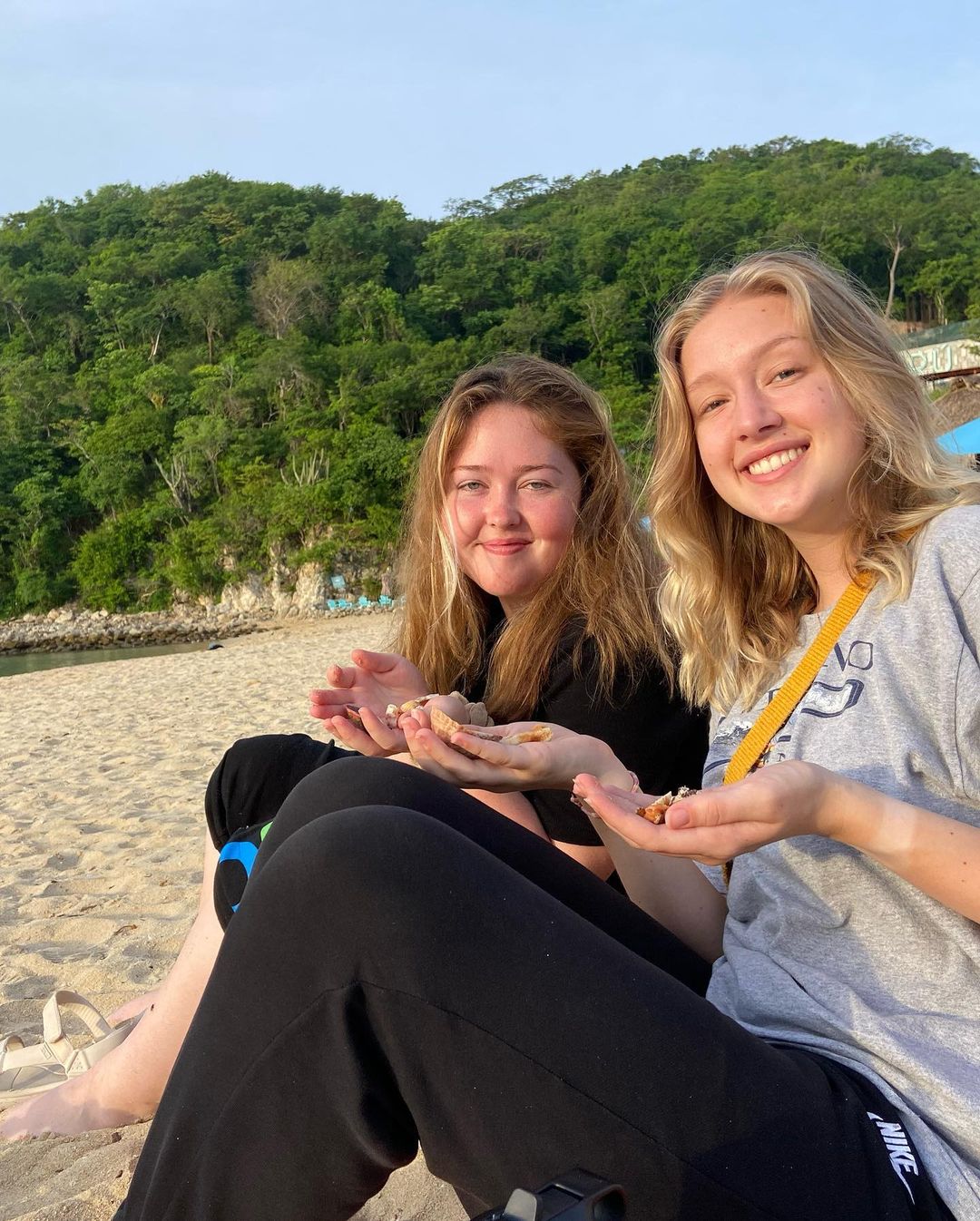 Other Things To Do
Cruise Around The Bays
If you're reading the introduction to Huatulco carefully, you'll note that there are nine bays in this pretty stretch of coastline ... and a very popular thing to do here is tour one of the bays by boat. There are several companies out there offering all sorts of cruises: private tours, snorkeling adventures, ones that visit all of the bays, or 2-4 of them. You'll want to hunt around for the tour that has what you want (visiting several of the bays, snorkeling, lunch included, etc.) but it may be handy to know that Santa Cruz is kinda "the main" bay. At Chachacual bay, there's a submarine park to snorkel around so most tours include at least two of those bays.
Some groups head out to Conejos bay to try and spot dolphins or whales (whale season is from December to March). Some include a swim at the "virgin beach" found at Cacaluta Bay. The "east bays" (Tangolunda, Chahue, and Conejos) are where the highrise hotels are located, so sometimes cruises will include a pass by this area so you can see the skyline of resorts against the beach.
Again, you'll find a whole range of tours (searching online or talking to your accommodation once you arrive in Huatulco or just walking around!) but prices can be around $30 for the lower end of things — or much more if you want a private cruise for you and your group.
Hike To The Magic Falls
You'll find a handful of waterfalls around Huatulco (like Emerald Fall and Llano Grande) but we're loving the Cascadas Magicas for a few reasons. First, it's a series of waterfalls which means plenty of pools to admire and play in — the waterfall officially begins 200+ feet, only to tumble down to a few different small pools, and even a cave (with a pool to swim in if you'd like). There is a trail that weaves its way around some of the pools giving you lots of different options to swim in. If you're looking for more adventure, there's a rope swing to test out.
These falls are found nearby in Copalita, so plan on about a 1.5-hour to 2-hour drive to get there from La Crucecita. There is a 70-peso fee to pay (per person) once you reach the checkpoint in Copalita — there, you'll reach Copalita la Hamacka which is a very small, very touristy shopping center where you have the chance to do some shopping and get a snack (try the Oaxacan hot chocolate) before making the last 3-5 minute drive to the actual falls. From where you need to leave your car, it's a 10-minute walk down to the falls. There are restrooms you can use and a restaurant if you get hungry!
Tons of different tour options are available and handle all the transportation (which makes visiting here a breeze), but be prepared for an all-day activity. Prices are typically in the 650-750 peso range for a tour.
Oh, and a quick FYI: These waters are protected, so be sure to apply any sunscreen or bug repellent after you swim, to avoid contaminating the water. Thanks for being respectful!
The Food Here
The Oaxaca region in Mexico is known for its food. I know that you hear this about all of Mexico (we looooove the cuisine here) but Oaxaca has been a culinary capital for centuries. The food here is a UNESCO experience that pulls in tourists from all over — and since Huatulco is found in the Oaxaca region, it's very easy to find a cooking class, food tour, and/or a wide range of restaurants that embrace the Oaxacan food tradition.
Look around for a cooking class or foodie tour if you're interested, or scout out these dishes on the menus for a taste of the local food here:
Dorado — seafood is king in Huatulco and this white fish is light, flaky, and found on beach-side grills as well as high end restaurants.
Camarones Al Ajillo — shrimp cooked with plenty of garlic.
Taco de Guisados — a whole range of ingredients (beef, pork, chicken, corn, squash, etc) are slowly cooked together with spices, then spooned over corn tortillas. Supposedly, a food truck by Sant Cruz beach has excellent tacos de guisados (ask for Emma and Arturo).
Tlayudas — picture a pizza, but swap out the crust for a large crunchy tortilla, and replace all of your typical toppings with creamy black beans, avocado, grilled meats, and a smattering of other toppings like chopping tomato and avocado.
Plus, A Few Other Things
If you're here for more time or want to add a bit more to your itinerary, know that Huatulco will keep you busy! We're blitzing through some other activities below so you can look a little further into the details, but hopefully, they all give you an idea of other things to add to your vacation if you have the time:
See the ruins at Copalita: Nearby, you can admire and explore ruins that may be from 500 BC. Learn more about the ruins, here. It'd be simple to hop in a taxi and spend 1-2 hours walking back in history.
Tour the Museum of Oaxacan Handcrafts: See a wide exhibition of locally made products by artists from the surrounding communities. It's an excellent place to purchase authentic souvenirs in La Crucectia. More info here.
Zipline at the Hagia Sofia Park: They also have a butterfly sphere and other activities. More info here.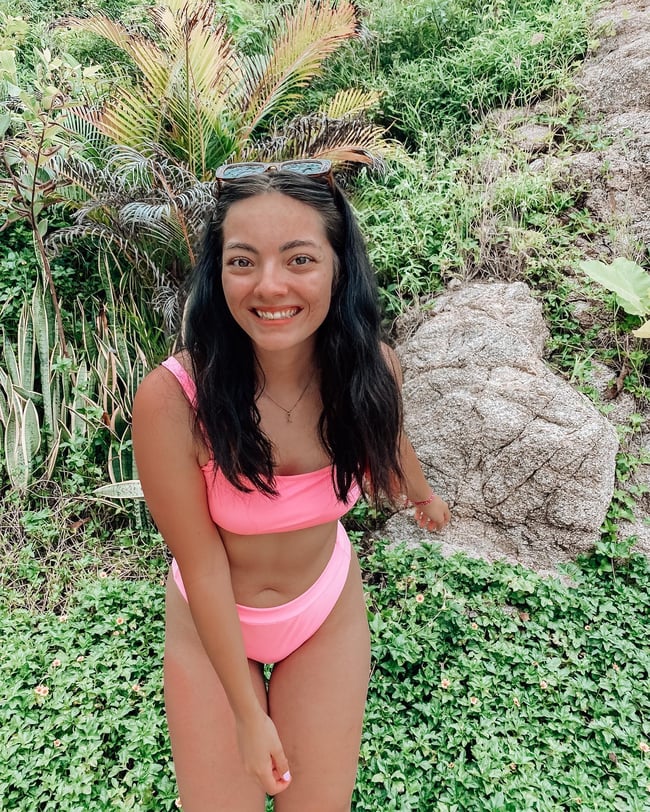 Where To Stay + Make Your Home Base
Because you're not just focusing on the main city when you visit Huatulco, you'll need to plan your trip around one of the communities in the region. Most tourists stay in and around La Crucecita, which is kind of the "downtown" of the whole area. The town has a stunner of a town square filled with a pastel-orange church (don't miss the Virgin of Guadalupe painted on the ceiling!). You'll note that several tours in the area have pick-up and drop-off arrangements in La Crucectia.
There are several who recommend staying anywhere between La Crucecita and La Bocana to give you access to the beaches/things to do in Huatulco.
As far as where to stay, there are a line of all-inclusive resorts if you'd like to splurge a bit, but past groups tend to rent out an AirBnB for their beachy vacation. There are several available in that zone between La Crucecita and La Bocana. One ILP group stayed at this AirBnB if that's helpful to know.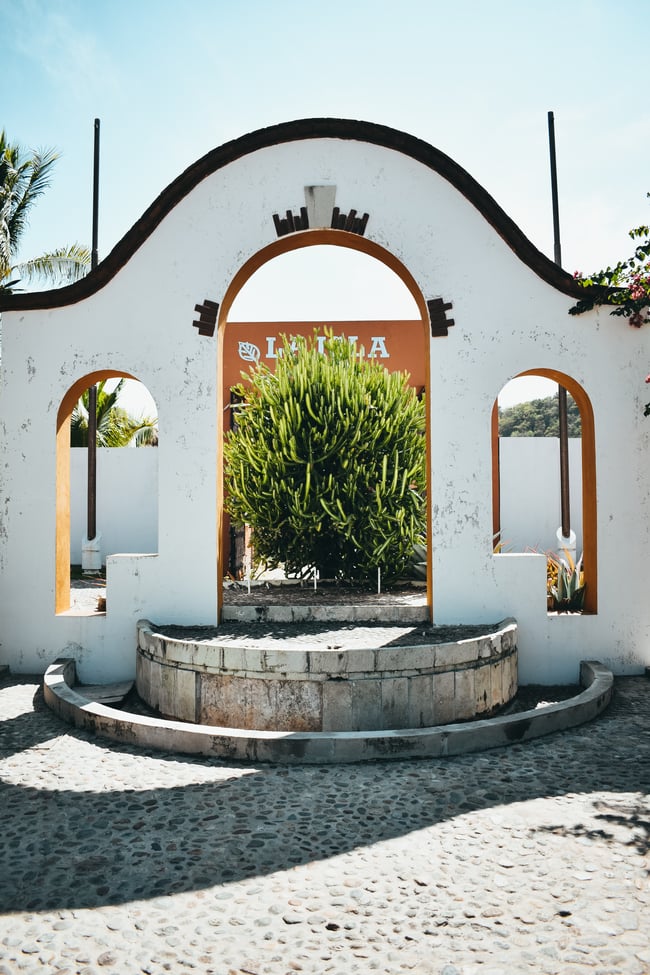 Getting Here + Getting Around
Take A Flight
We usually love the bus travel in Mexico but are recommending you take a flight to get here instead (for a few reasons). One, you're likely wanting to spend as much time on these pretty beaches as possible, and flights are often the quickest form of traveling to this side of the country for our ILP volunteers.
The other con to buses in this area is that the roads are oh so windy. There is a long bus route from Oaxaca to the coast that winds through the mountains, following S curve after S curve. And trust me, it's no fun! If you're anything like me, you'll be hot and car sick halfway through the trip on those buses moving slowly with no airflow, wishing you had just flown.
Another reason is to be proactive about safety — this section of the country has some remote areas that are best to avoid and a maze of public bus routes heads right through many of them. For foreigners who aren't familiar with the area, it's recommended to fly directly to the coast. For ILP volunteers, you have the option to work with your Local Coordinator who can help you arrange a private driver if you'd like, or of course, there's the option of taking the quick flight over. Here are some more details and prices so you can snag the best deal here:
If you fly, the airport you're looking for is the Bahías de Huatulco International Airport (HUX). It's just a few miles out from the center of Huatulco, so you're really well connected when you land.
From Puebla, there are some great deals, with flights often under $100, or just over that amount. The flight is about 1.5 hours.
From Mexico City, you can get a flight here for $70ish - $140ish on the higher end of things (but there are often flights in that lower range as well). The flight is about 1.5 hours.
From Oaxaca, things are more expensive (more in the high 100s and low 200's), but you may be able to arrange a private bus or shuttle and split the cost with your ILP group (which could make things a bit more affordable). Flights over often have a layover in Mexico City anyways, making it a 3-5 hour itinerary on the shorter end of things.
And if you do drive, I highly recommend packing things that can help with car sickness (like ginger tablets, Dramamine, etc).
Getting Around Huatulco
For longer distances, taxis are frequently available, with standardized rates which cuts out the haggling. Groups of taxis hang out in different regions in this area, but if you look on Google Maps (search for "Taxi Huatulco" you'll see a bunch of dots that pop up — those are all taxi stands where you can hail a cab to your next destination.
Bikes are also a fun way to get around, with rentals around 250 for the whole day at some rental shops or hotels.
The bus is another option — the local Huatulco Bus stands out with a blue and white paint job (and a sign on the front that says "Santa Maria Huatulco"). The bus can take you here:
Santa Maria Huatulco > Downtown La Crucecita > Santa Cruz

Santa Cruz> Downtown La Crucecita > Santa Maria Huatulco.
Each ride is typically between 8-20 pesos (have small bills). This post has way more info about colectivos (which are sort of like buses) if you want to go that route.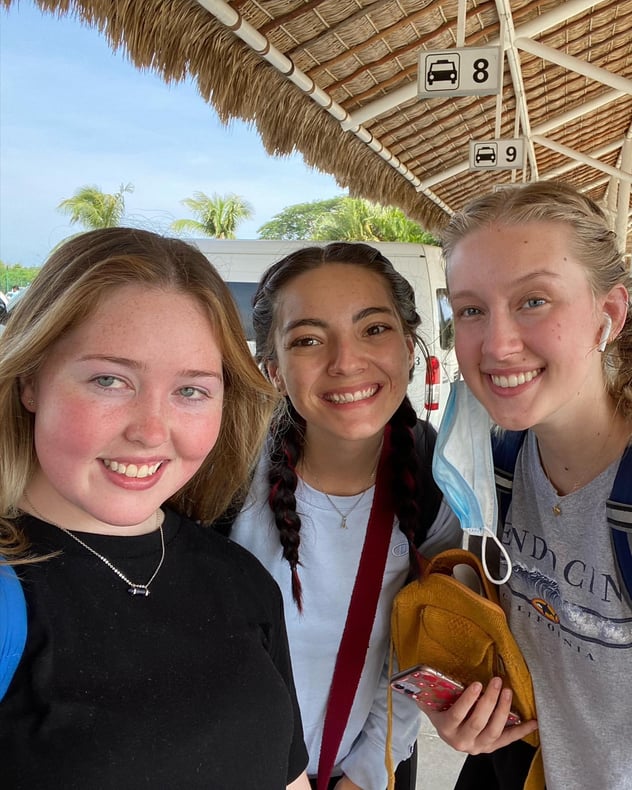 Come explore Mexico with a group of American volunteers
Whether you're headed to Mexico to swim in the prettiest cenotes, explore literal Magic Cities, or find your favorite beaches in Huatulco, Mexico is definitely the country for you!