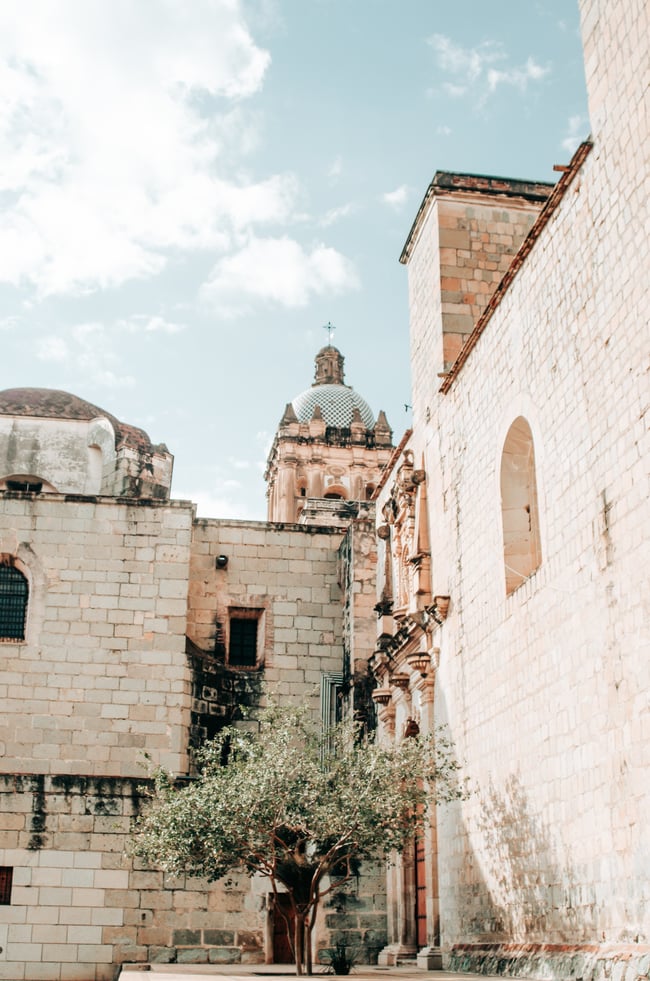 See the Nacho Libre church, eat your fill of "the best food in Mexico", and see why more than a few visitors say Oaxaca was their favorite city they visited! Ready for another dreamy Mexico destination to add to your list? Say "hello" to Oaxaca! Our ILP volunteers who spend a whole semester living and teaching English to kiddos in Mexico do quite a bit of traveling — each of our locations is just a day or weekend trip distance from a dozen must-see destinations, not to mention the further spots you can see on vacation time.

With so much to see, you can pack in quite a lot of vacation time and see the best of what Mexico has to offer ... which definitely includes the city of Oaxaca.


---
Read next: Why you really have it all in Mexico
---
This post gives you all the details about visiting one of the most popular and famous cities in Mexico, which means the insider scoop on what to do, what (and where) to eat, and how to spend your time here. It's your best starting point to plan your own stellar vacay to Oaxaca, courtesy of the info from our ILP volunteers who love visiting:
First, Know This About Oaxaca
To start, know that we're talking about the city of Oaxaca. Oaxaca is also the name of a very large Mexican state found in southern Mexico. And yes, while Oaxaca is a city found in the Mexican state, we're just talking about Oaxaca the city in this post (it's also sometimes called Oaxaca de Juárez to clarify the difference).
Another thing to know is a smidge of history. Oaxaca has kind of been the "it place" in Mexico for centuries. It was originally founded by the indigenous Zapotec community and has been an epicenter of social, religious, political, and economic activities since its beginning, in 1529. The city has still preserved much of its indigenous heritage meaning a visit to Oaxaca should include taking a tour of the city to admire the colors (stunning!) and history (impressive!) that you can still see today.
Thanks to the colorful indigenous community, impressive food scene, and history, it's one of the top cities to see in the whole country. In fact, some say that if you don't visit Oaxaca, it's like you didn't really see Mexico at all. Sounds like a trip to Oaxaca is definitely in order.
Those Can't-Miss Things To Do
Tour The City Itself
I'm a huge fan of seeing the city by foot, letting you linger longer at the towering cathedrals and take a zillion photos of the rainbow-painted streets, so taking a walking tour is kinda the ideal introduction to the city. You can grab a map and ask your hostel or hotel which streets would be best to start on, or join a free walking tour. Estación Mexico has a free walking tour that meets daily at 11:00 AM, at the main zocalo in front of the hotel El Márques del Valle. The tour is free, but tips are highly encouraged.
In any case, you'll want to take your time while walking around — Oaxaca has preserved much of its colonial-era architecture, meaning you can admire cobblestone streets, doorways painted a dozen different colors, and desert plants spilling over balconies, as well as a span of murals depicting the city's history. You'll quickly see why Oaxaca is a top-tier destination for photographers!
Some have also opted to see the city via tram. Catch a sightseeing tram (Tranvía el alebrije) on the corner of Macedonio Alcalá and Morelos Street to see the city's highlights. The tour is 70 pesos per person, runs about every 30 minutes, and is offered in Spanish.
Favorite Spots To Visit
While you take a walk around the city, past ILP volunteers recommend these spots in particular:
Templo de Santa Domingo — One of the most beautiful churches in the city, complete with a gorgeous garden to explore after you take a peek inside (the interior uses over 60,000 gold karat sheets!). Construction for this towering Baroque church started in 1572, and was completed over 200 years! The building was used as an active monastery from 1608 to 1857, was later used for the military (mostly for lodging), then was reinstated to religious use in 1938. It's now used as a museum and is one of the most visited landmarks of the city.
Address: C. Macedonio Alcalá s/n, RUTA INDEPENDENCIA, Centro, 68000 Oaxaca de Juárez, Oax., Mexico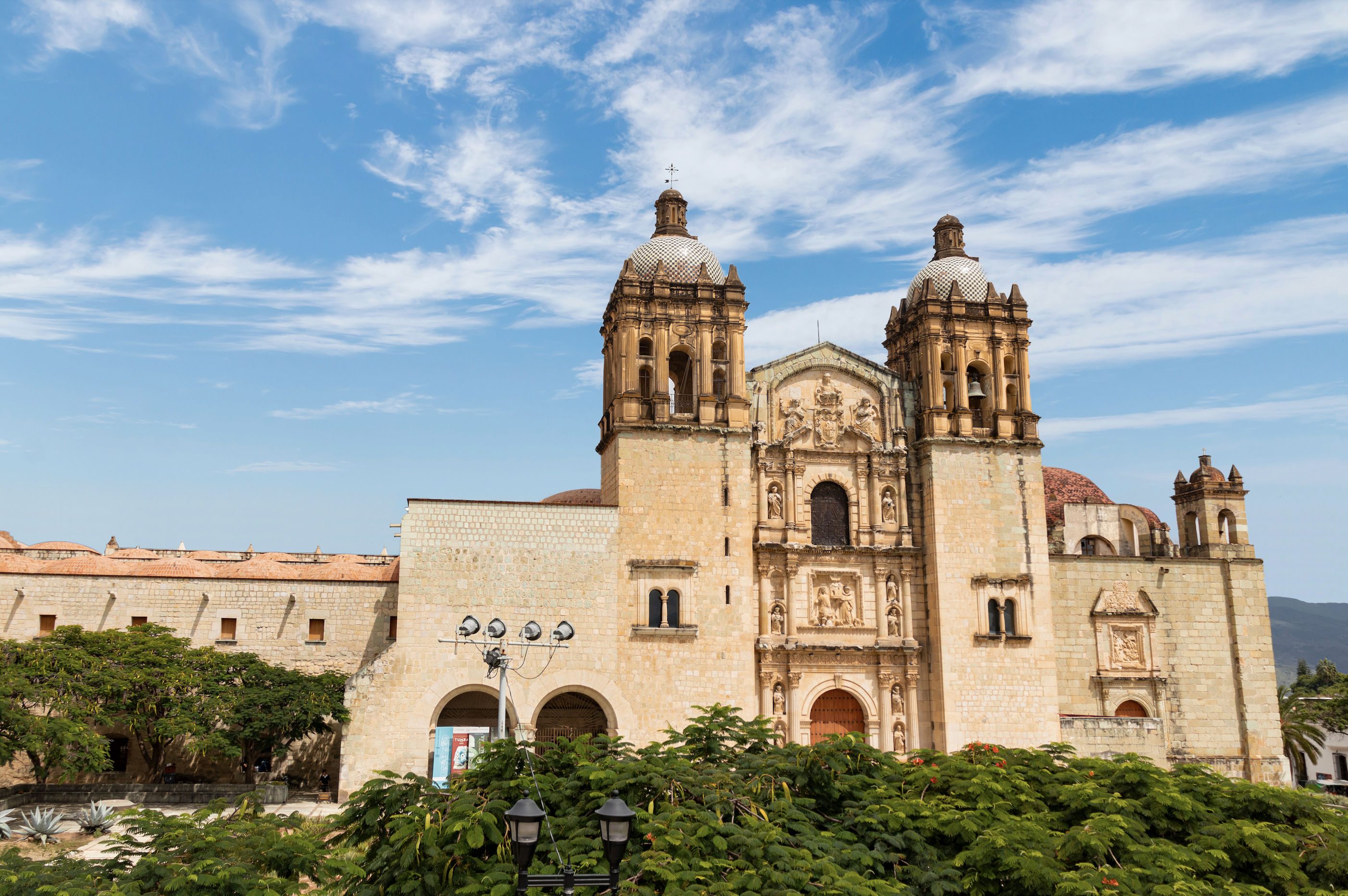 Cathedral Metropolitana de Oaxaca — Ready for another church? This stunning church also took almost 200 years to complete, thanks to a string of earthquakes that interrupted construction. The church honors the Virgin of the Assumption and is still home to the El Señor del Rayo (Our Lord of the Lightning Bolt) crucifix — the only piece of the church to survive a fire when the roof of the original church caught in a lightning storm. Don't miss the lavish interior, complete with ornate chandeliers, and stained-glass windows.
Address: Av. de la Independencia 700, Centro, 68000 Oaxaca de Juárez, Oax., Mexico

Hours: 10:00 AM to 2:00 PM, 4:00 PM to 6:00 PM. Closed Sundays.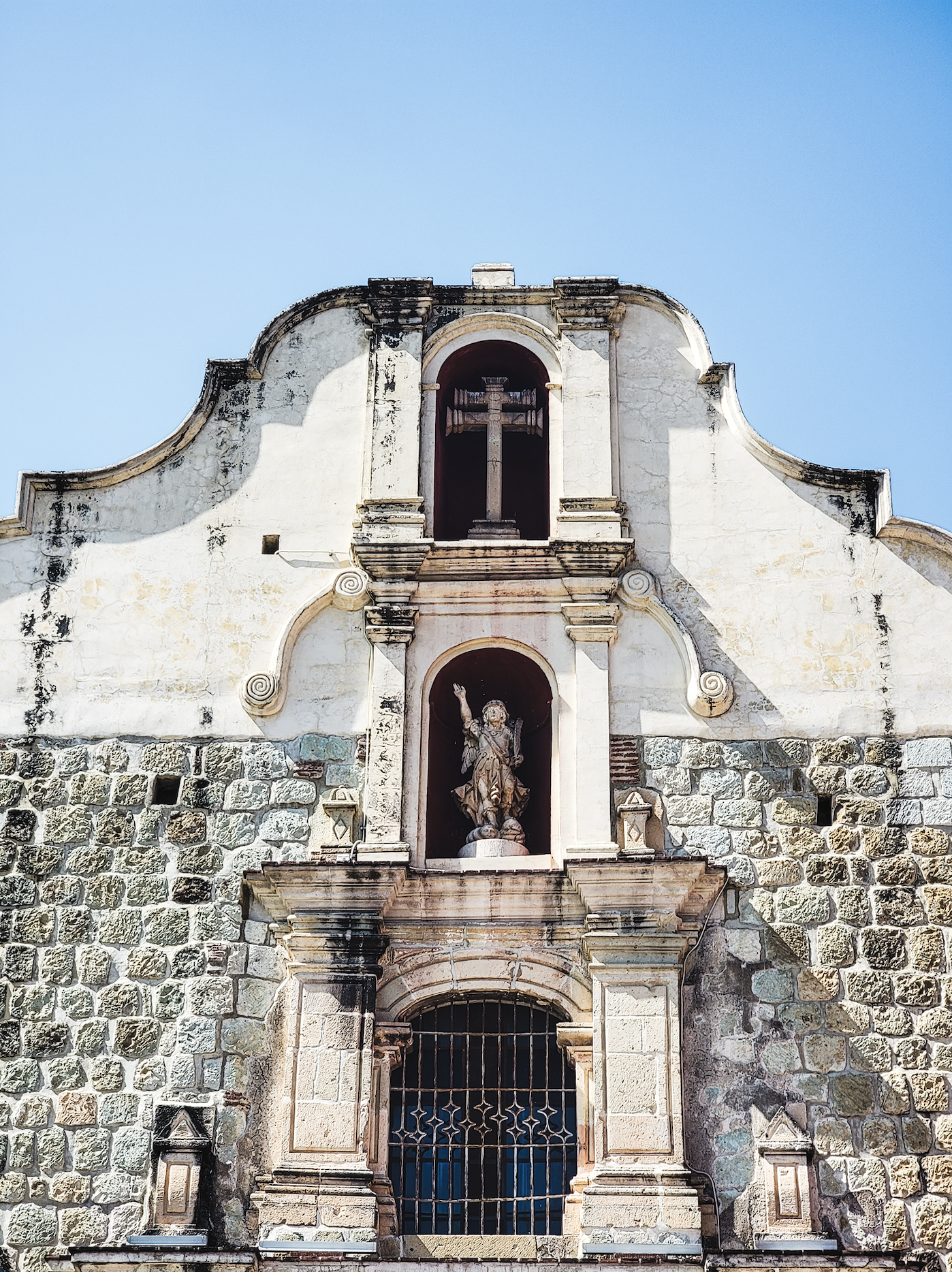 Andador Turistico — A very cute tourist street found in the middle of the Centre. It's one of the places in the city to do a little souvenir shopping and try a few snacks. The street itself is painted in a whole range of colors and dotted with several historical buildings, making it a picturesque place to take a stroll. Sometimes, you'll find colorful flags, artistic installations, and other decorations on Andador Turistico.
This spot is just a few blocks from the Zocalo, so easy to find while you're strolling. Find it here on Google maps.
Plaza Santo Domingo — Keep walking a couple blocks from Andador to find this plaza. Past groups recommend hanging out here just to people watch. It's been known to have food vendors, live music, and a hot spot if you're here during one of the city's main festivals. Find it here on Google maps.
Macedonio Alcalàfrom— Have a free day where you want to stop into cafes and admire the colorful streets? Walk this pedestrian street, top to bottom, and fill your time exploring the little side streets, too. It's a colorful area full of cafes, street vendors, museums, and more.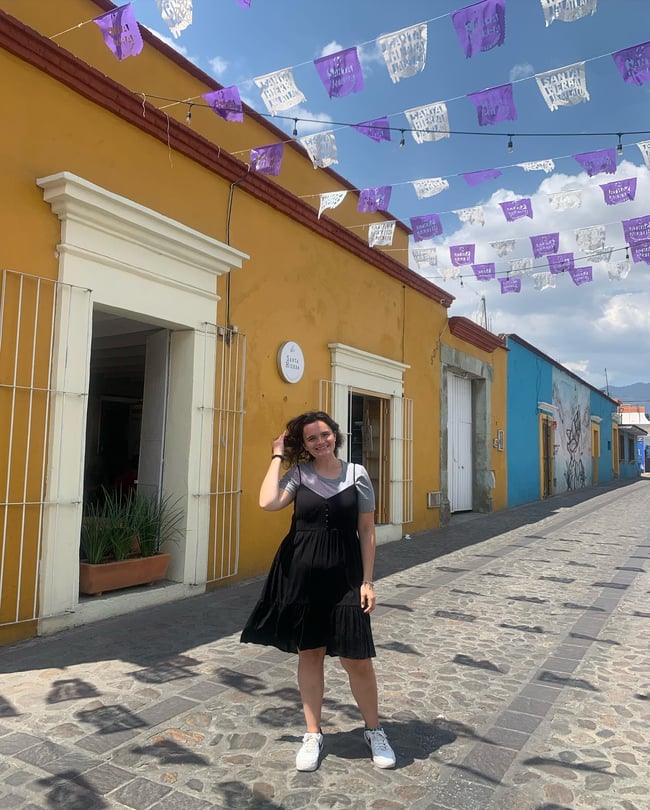 Museo de las Culturas de Oaxaca
We love a good museum, especially one like this! You'll see a huge spread of temporary and permanent exhibitions filled with artifacts from history. One of the stars of this museum is the exhibit featuring relics from Tomb 7, recovered from the ruins of Monte Alban. Monte Alban makes for a fantastic half-day adventure before or after you admire the riches pulled from the site, like gold masks and a jewel encrusted skull (we have details about making a day trip there happen, here).
The museum itself is also a stunner, filled with arched hallways, an ancient library, ornate ceilings, and a courtyard. If you peek at of the right windows, you can get a stunning view of the Jardin Ethnobotánico.
Markets Galore
You can see, touch, and experience the city's history at the spread of markets found around Oaxaca — come for colorfully woven blankets, painted pottery, all sorts of leather items, embroidered blouses and dresses, traditional crafts, and more. Depending on the market, you'll also see piles and piles of produce, meat and poultry hanging to be sold for the night's dinner, and other food stalls. Some of the best food can be found at these markets, so come hungry.
We have a brief breakdown of the biggest markets to visit in Oaxaca below, so you can pick the one best for your interests:
Mercado de Artesanias is the market for handmade souvenirs to bring home. It's a tourist spot (not somewhere you'll find locals shopping) but most likely has all of the items you are looking for. Come for rugs, t-shirts, dresses, pottery, bags, purses and other bags, textiles like tablecloths, painted figurines, and more.
Address: Gral. Ignacio Zaragoza, OAX_RE_BENITO JUAREZ, Centro, 68000 Oaxaca de Juárez, Oax., Mexico

Hours: 12:00 PM to 7:00 PM, closed Sundays
Mercado de Benito Juarez is somewhere you could spend a lot of time if you wandered around the whole thing. It's a massive market stuffed full of vendors selling almost everything you could think of — artwork, souvenirs, ingredients, food, crafts, pets, clothing, and more. There are hundreds and hundreds of stalls to admire, so don't plan on stopping in really quick if you'd like to see most of the market.
Address: Las Casas S/N, OAX_RE_BENITO JUAREZ, Centro, 68000 Oaxaca de Juárez, Oax., Mexico
Hours: 7:00 AM to 9:00 PM
Mercado 20 de Noviembre is a top pick if you're wanting to try more of Oaxaca's food culture (more info on the types of food to look for below, in the foodie section). You'll find food stalls selling ingredients as well as dishes like freshly baked bread, carne asada served with warm tortillas, mole-covered meals, and plenty of dishes served with salsas, and more. Groups in the past say this is their fav spot for souvenirs and dinner. Yum!
Address: 20 de Noviembre 512, OAX_RE_BENITO JUAREZ, Centro, 68000 Oaxaca de Juárez, Oax., Mexico
Hours: 7:00 AM to 9:00 PM
Recreate Nacho Libre
We've had an ILP group or two in the past visit Oaxaca and loved "recreating" some of the scenes from the popular 2006 movie with glowing recommendations. What you'd like to do is up to you, of course, but one group headed to the church where a portion of the movie was filmed, "Santuario Las Penitas" to take some pictures. They were able to get a taxi there for 250, but back for 100 pesos, and recommend you do some bargaining with the taxi there to get a better price. The group also found elote to "eat elote, just like Nacho Libre did".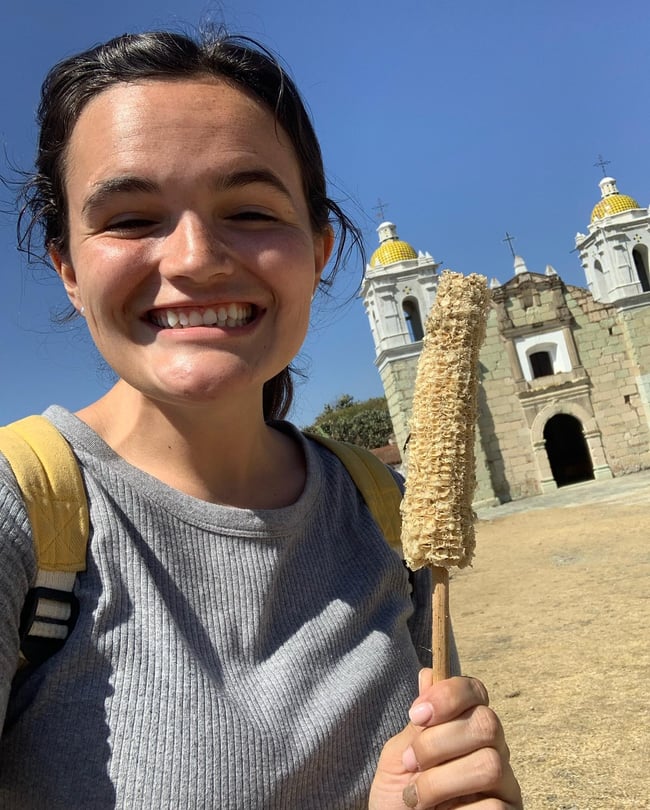 Eating Your Way Through The City
Oaxaca is known for its food. I know that you hear this about all of Mexico (we looooove the cuisine here) but Oaxaca has been a culinary capital for centuries. The food here is a UNESCO experience that pulls in tourists from all over. Many people head to this city for a solid week to just have enough time to eat all the regional dishes you can find here. One ILP group said "the point of visiting this city is the food" if that all helps you paint a picture of what your focus should be while in Oaxaca.
It's a pretty overwhelming task, but we have some recommendations of what to try (and where) below:
Some Street Foods To Look For
Tlayudas — picture a pizza, but swap out the crust for a large crunchy tortilla, and replace all of your typical toppings with creamy black beans, avocado, grilled meats, and a smattering of other toppings like chopping tomato and avocado. Some ILP volunteers said this was their favorite food in all of Mexico, so don't miss this one! Mercado 20 de Noviembre or Tlayudas Dona Flavia are a couple of recommended spots to try tlayudas, but they are popular all over the city.
We have a picture of this stunner-of-a-dish, below. Yum!
Tamales, Oaxaca style — Known as Tamales Oaxaquenos, that soft pillowy maza is stuffed with a black mole (mole negro) and shredded chicken before being steamed. So good.
Empanada, Oaxaca style — Empanadas get a twist in this part of the country. Empanadas Oaxaquenos are more similar to a quesadilla, where fresh tortillas are piled high with mole, chicken, and cheese before being folded in half to create a gooey, cheesy, half-moon of goodness.
Chocolate (and hot chocolate) — Chocolate and hot chocolate are another Oaxacan specialty, which makes for the ideal dessert and souvenir if you'd like to bring some home with you. If you visit the Chocolate Mayordomo, they can give you a demo of how the chocolate in this region is made.
Past groups also mention trying Tejate, which is a chocolate and maize drink from the Zapotec people. You may be able to find vendors on the street with large clay pots of frothy Tejate, pouring cups of the mixture between two bowls to catch your attention. You can find it all over, but some mention heading to Tlacolula Market. It's served cold, with a thick foamy layer on top of the sweet beverage.
Nieve — Ice cream is kind of a daily treat on vacation, right? Past ILP groups mention any ice cream lovers should visit "Ice Cream Plaza" (Plaza de la Danza), "a cute little square filled with ice cream shops ... they have a bunch of unique flavors and it's so so cute!". This part of town is around the Basilica de la Solidad, where you can find several stalls selling are stalls selling ice cream, as well as nieve, a kind of traditional Oaxacan ice cream made with either a water base or milk base.
You'll find all sorts of flavors for these sweet treats (mango, lime, strawberry, chocolate, etc), but "leche quemada con tuna" is the flavor to get in Oaxaca. Don't worry, it's not fish — just creamy, milk flavored ice cream served with a scoop of the bright purpley prickly pear fruit, called "tuna".
A Few Restaurants
If you want to spend a few more pesos, here are a few popular restaurants to try out:
Levadura de Olla

Itanoni (they're known for Tetelas!)

Los Pacos (they serve a dish with 7 types of moles)

Cafeto (a good spot to try "cafe pluma")

Boulenc (excellent pastries)

Voces de Copal
+ A Cooking Class
It's also popular to take a cooking class in Oaxaca, with a host of companies offering market tours and cooking classes to teach you how to make a handful of local dishes. Other tour companies take you on a walking food tour, where you can visit several vendors serving up local dishes.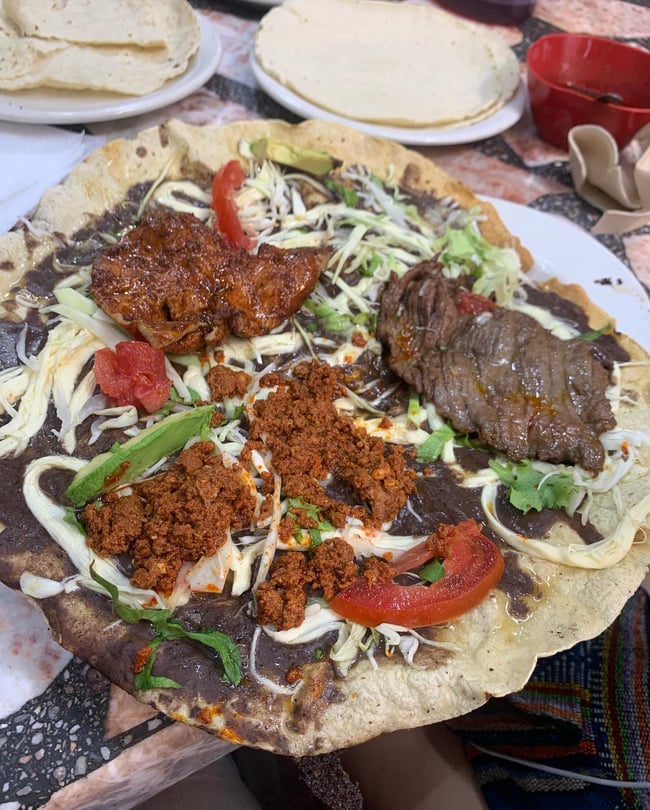 Are You Here For Festivals?
Oaxaca is known for being one of the best places to celebrate a few regional and world-famous holidays and festivals in all of Mexico. Maybe you can time your visit with one of the holidays!
The Day of the Dead
Have you heard of this popular holiday? It's a pretty famous one, and Oaxaca is one of the best places to celebrate. Complete with parades, marigolds, and a whole range of foods to celebrate those who have already passed on, this holiday is also full of colorful costumes, family displays, and more.
When? Halloween time, October of every year
The Night Of The Radishes
This holiday has roots (literally) in the farming community of the region. As the legend goes, farmers used to carve radishes to display at their food stalls and pull in customers. The carvings got more and more elaborate and is now an official holiday to celebrate the city's horticulture. Now, over 100 contestants carve everything from wild animals to nativity scenes in these white-and-red veggies for a chance to win. The holiday is mostly made up of participants carving and displaying their works of art for the public. You can take a peek at pictures from past holidays, here.
When? December 23rd of every year
The Guelaguetza
The Guelaguetza celebrates the different cultures and traditions found in Oaxaca as a whole. The entire Mexican state of Oaxaca is home to over 16 differing ethnolinguistic groups who come together in traditional dress to perform folk dances. There are also displays of local artwork and crafts, as well as concerts and conferences during the holiday. Learn more on the official Facebook page.
When? Typically the last two Mondays in July
If you can't make it to Oaxaca during the holiday in July, there are mini versions of the holiday performances at the Casa de la Cantera Restaurant (nightly) as well as the Quinta Real hotel (every Friday).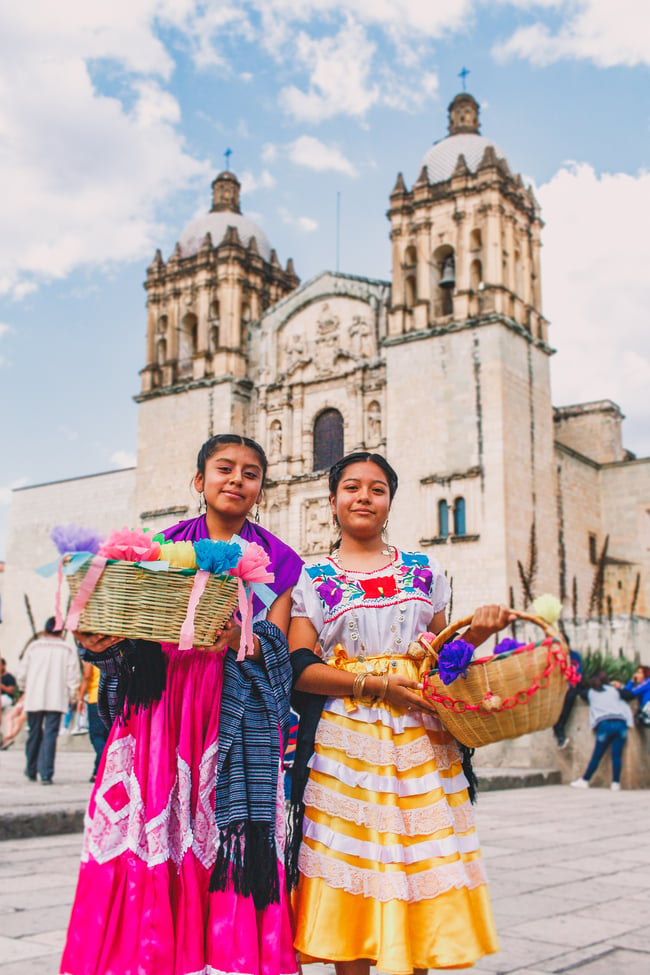 Nearby Day Trips
Just so you know, there is SO much to do in the city. It's not atypical for tourists to spend 5-7 days here in Oaxaca, so just know that if you're planning on spending 1-2 days in the area, best to stay in Oaxaca ... and extend your trip to be longer if you want to check out one or two of the many (many) day trips in the region.
Here are a couple of the more popular day trip options:
The Ruins At Monte Alban
Seeing ancient ruins is a highlight of any trip to Mexico, and Monte Alban is a must-see while in Oaxaca. Found on the hilltop just a few miles from the city, Monte Alban is the ruins of what was one of the largest cities in Mesoamerica at that time. It's believed that the city of Monte Alban had its peak between 200 AD and 600 AD, before losing power in 800 AD. While originally the capital of the Zapotec culture, the city of abandoned, then later found and used by the Mixtec people as a sacred burial site.
The ruins are made up of several plazas, an observatory, a ballcourt, as well as a place-like structure known as El Palacio which was used exclusively for rulers and the elite of the city.
Get all the details about visiting Monte Alban, here!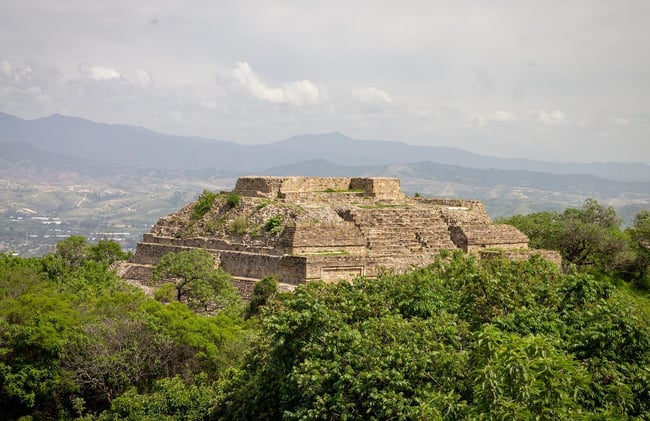 A Few Rainbow Neighborhoods
Though technically still part of Oaxaca City, there are a couple of neighborhoods that are worth a half-day or so to really experience the charm. We've had past groups claim they've found the best purple corn tortilla quesadillas and taken the most colorful pics when visiting these little neighborhoods!
First, Jalatlaco. It's a brightly painted neighborhood filled with cobblestone streets and colonial-era buildings all painted a rainbow of colors. Some say Jalatlaco is the best part of Oaxaca for those wanting darling cafes and coffee shops, quiet streets to wander, and a couple of places to get really good ice cream. Yum.
Next is the Xochimilco neighborhood. The high points of Xochimilco are the murals, cobblestone streets, and charming little cafes. It's a quiet, quaint, hillside community.
The Frozen Waterfall, Hierve el Agua
Hierve el Agua is one of the premier day trip options from Oaxaca — and we can see why! This towering waterfall only looks like water is cascading down, but is actually a rock formation, found just 70 or so miles from Oaxaca City. The formations are made from a set of freshwater springs above the falls which are rich in several minerals (like calcium carbonate). The water slowly drips down the rocks creating the huge, petrified waterfall effect. Visit typically means getting a view of the falls and taking a swim in a couple of the natural springs near the top of the cliffs.
If you'd like to DIY this trip, most visitors advise you to first take a bus to Mitla, where you can find trucks to take you up to the falls (it's about an hour drive). Buses leave every 15-20 minutes and are about $1. The ride takes about an hour. Catch the bus at the 2nd class bus station, found at Central de Abasto, 68090 Oaxaca, Mexico.
You can also hire a tour to take you there (a popular option any hotel or hostel can either book for you, or suggest some companies to look at).
Mosaics In Mitla
Found less than 30 miles from the city, the ruins found in Mitla make for an ideal, DIY day trip. The main attraction here are the intricate mosaics found in what used to be an honored burial ground for the Zapotec culture. These mosaics are detailed, ultra-elaborate, and cover tombs, panels, and friezes all with mortar which just adds to the pull to come and visit. There is also a stunning church to admire near the ruins. To add even more picturesque appeal, the majority of the structures are found at the base of a sweeping valley framed by cactus. It's a beautiful area of Mexico, that's for sure.
The ruins are open from 9:00 AM to 5:00 PM, closed Monday.
It's a cinch to DIY, since you can easily reach Mitla by bus. Buses leave Oaxaca City every 15-20 minutes and are about $1. The ride takes about an hour. Catch the bus at the 2nd class bus station, found at Central de Abasto, 68090 Oaxaca, Mexico. When you arrive to Mitla by bus, ask around for "las ruins" which are around 1.2 miles from the bus station where you'll be dropped off.
Getting To Oaxaca
By Plane
It's a cinch if you fly. You can get a flight that's just over an hour from Mexico City, making it an easy vacation opportunity no matter where you are in Mexico. Prices for roundtrip tickets usually hover around $100, or less — check times with Aeromexico, Volaris, VivaAerobus. We're big fans of flying to this particular vacation destination since flights are short, easily reached via Mexico City, and direct.
On The Road
Private transportation is also a popular option for ILP volunteers. Depending on where you're coming from, traveling by road can be a bit tricky — it's time-consuming and may not be passing through the most savory sections of Mexico, which is why we're big fans of flying (or getting help from your Local Coordinator to find a driver they know and trust to take you to Oaxaca and back).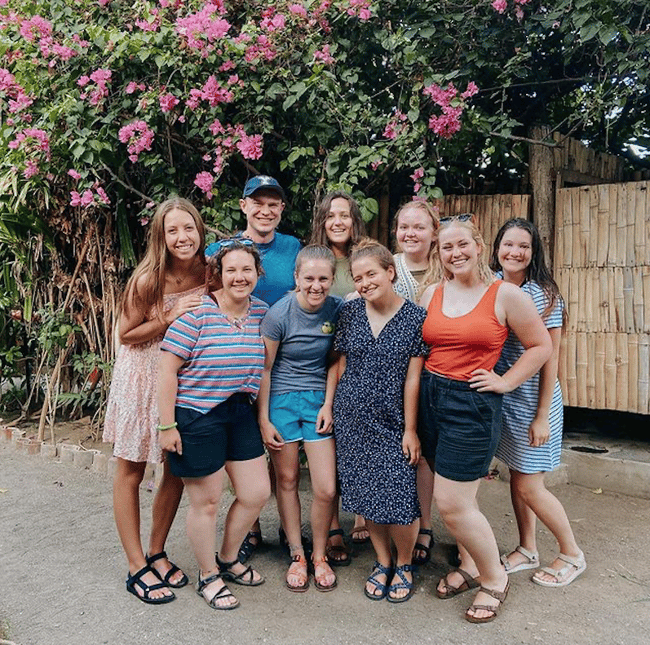 Ready for an international adventure, like Mexico?
Don't just visit for a week or so, come call this vibrant country home for a whole semester! Each year, International Language Programs (that's us, ILP!) sends groups of college-age volunteers to Mexico for a semester of volunteering and traveling.