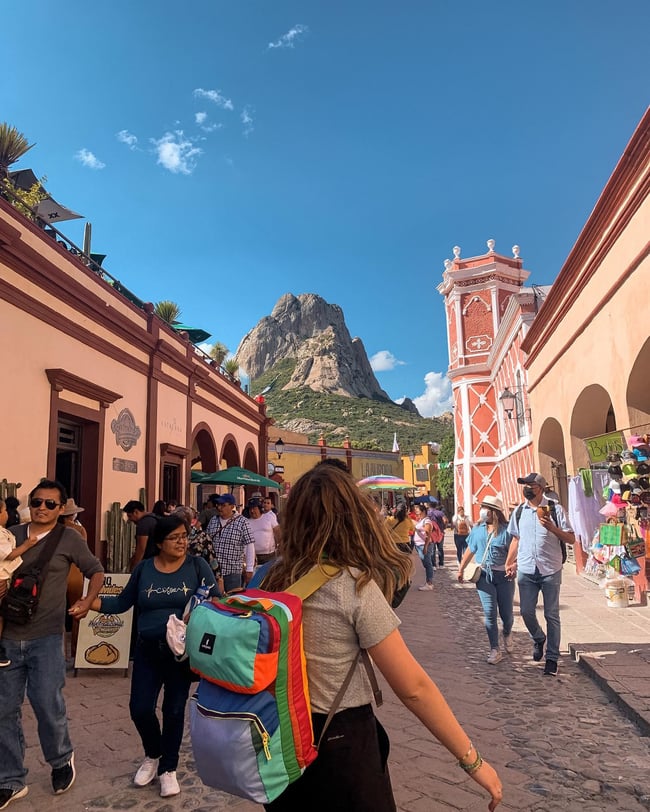 Bernal is one of Mexico's "magic towns" and one you'll want to put in your weekend plans while you're spending your semester abroad exploring the area.
We're in love with Mexico's hidden gems — and they seem to be endless! We love the fact that Mexico has so many charming cities that the majority of tourists don't ever go to. It also means you get to see a more authentic side to the country, usually without the huge crowds.
One of the best parts about choosing Mexico as your country location when you volunteer with International Language Programs is that there are so many cute towns that are nearby, like Bernal. You could spend every weekend heading off to a new spot to explore!


---
Considering spending your semester abroad in Mexico?
Here's all the information about ILP's volunteer program there

---
Backpackers are starting to discover how incredible Bernal is and we think you should head here too! We've actually heard some say that this was their favorite Magic Town of all the Magic Towns, so sounds like this is a good spot to start your adventuring.
All About Planning Your Trip To Bernal, Mexico
Things To Do
Hike The
Peña
This is what put Bernal on the map and one of the most iconic parts to this city. It's this monolith (aka a huge rock) that sits right at the base of the town — keep your eyes peeled for the Peña on your bus ride over because you'll start to see it as you approach.
If you're wanting to actually do some hiking, we definitely recommend going in the morning if at all possible. You'll avoid some of the sun beating on you (which happens year round), so it's probably best if you're able to spend the night in Bernal and then wake up early to hike.
Although you can walk to the mountain hikes, we are fans of taking a taxi. It's so inexpensive and saves you that extra time walking right before your hike.
Good to know: the hikes are a bit more advanced and most people don't fully hike to the top. The top of the hike is actually only about 80% up the monolith. You might just aim to hike as far as it feels good for you and where you can get some views. When you're feeling tired, your best bet is to head back down. Just pay attention to how you're feeling, especially on hot, sunny days.
Don't forget to bring water and snacks!
Cost: 30 pesos for the hike entrance fee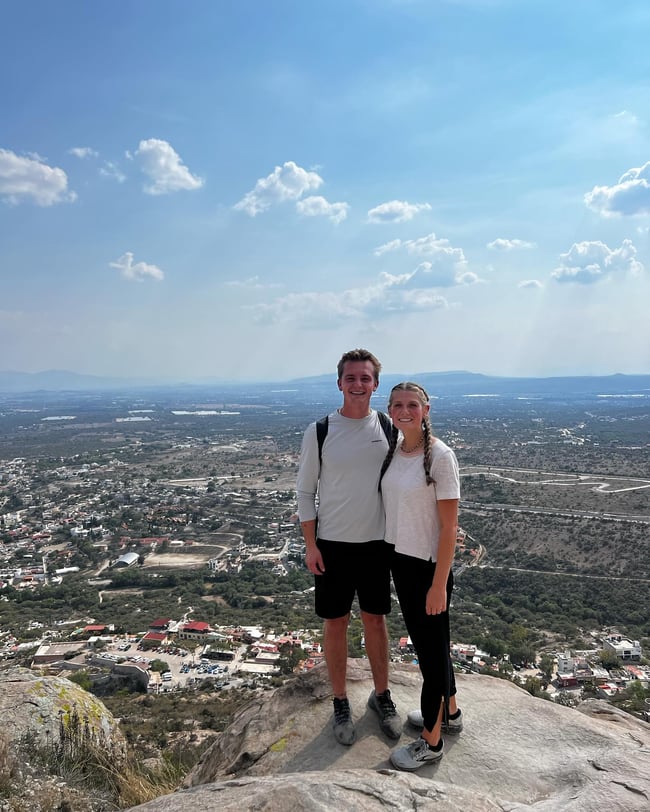 Climb + Repel The
Peña
This is also a quite famous climbing spot, but even if you're not a pro you can still do it by booking a tour with experienced climbers. Check out tours like this one that has good reviews online. Expect to pay around $75 USD for an English speaking guide and a half day excursion (around 5 hours). It's a pretty unique way to see this monolith!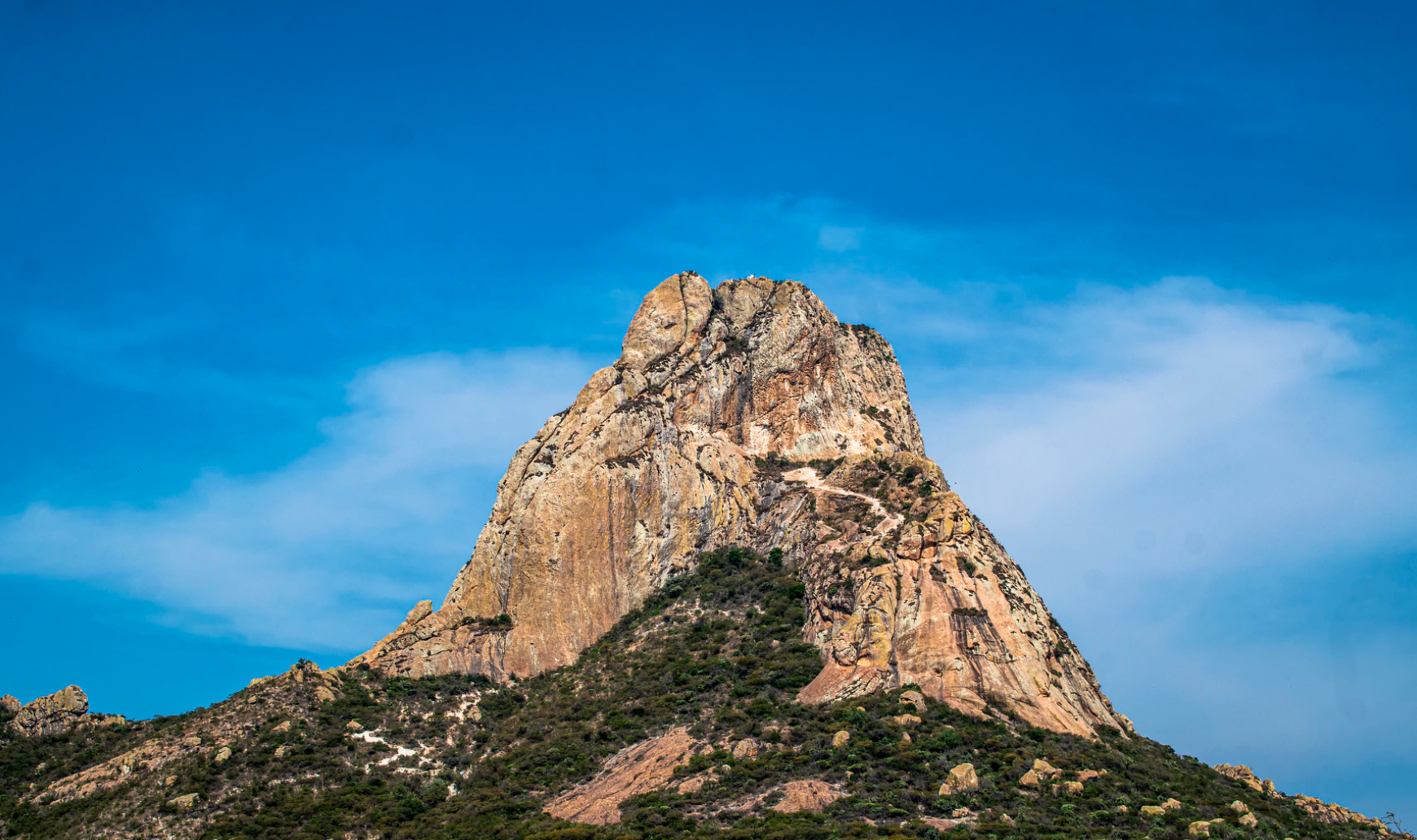 Wander The Town Center
After you're done with your early morning adventure on the Peña, the shops in town will be open so it's the perfect time to come stroll and enjoy it! I'm in love with the views of the Peña from the markets below, so you'll definitely want to get some shots of that if you love photography.
Speaking of photography, this little town is as magical as they say so you'll definitely want time to take photos. In true Mexican style, everywhere you turn you'll see colorful buildings in reds, yellows, blues, and pinks, massive cacti plants, and bright patterns. It's a dream!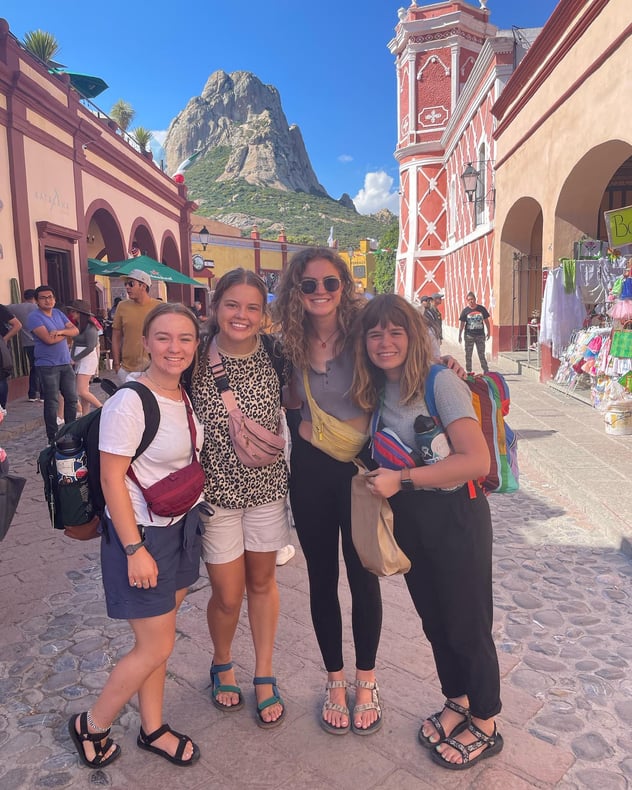 Eat At El Negrito Gorditas
El Negrito Gorditas tends to come highly recommended so you might want to check it out, especially if delicious authentic gorditas are calling your name.
Address: Miguel Hidalgo 1, Bernal 76680, Mexico
Find them on Facebook
You'll find lots of yummy restaurants in this town while you're wandering around though and here's a list of the best ones according to Trip Advisor.
Places To Stay In Bernal
As a budget traveler I'm always looking for ways to save on places to stay, which often means hostels. You actually won't really find hostels here (at least not yet) but there are lots of Airbnb options in Bernal — and when you're splitting your Airbnb with a few friends they really are just as affordable as hostels usually are.
Or Just Make It A Day Trip
Because this town is so close to Queretaro and the buses run so frequently, you could make this just a day trip and skip the need to find a place to stay the night. You could easily explore the town in just a day, especially if you're not big on hiking anyways. If that's the case, I recommend just staying the night in Queretaro and catching an early bus over to Bernal so you can get a full day in.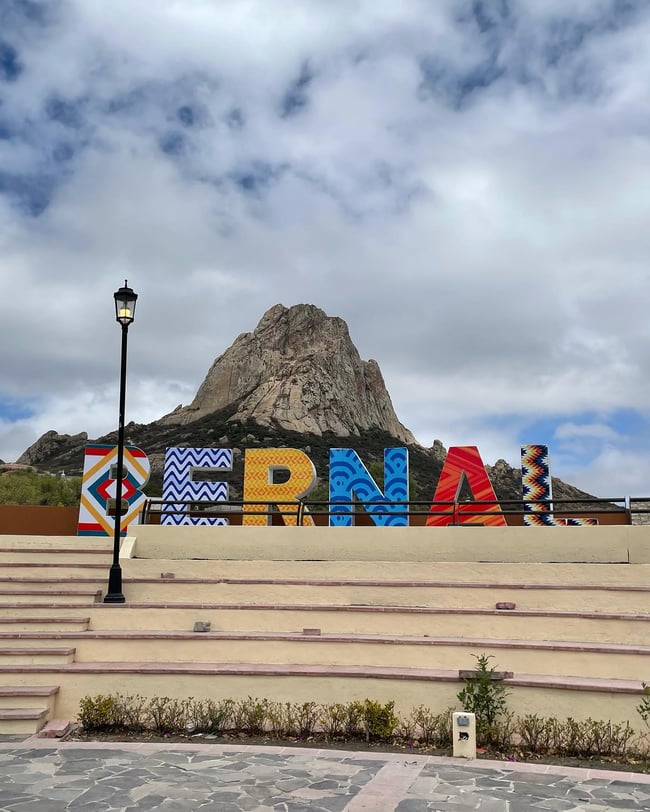 + More Tips To Know
Come During The Week
Although this isn't a major Mexican destination for the hoards of tourists like you'll find in places like Cancun, it's still quite popular and loved by backpack travelers. If you're able to come during the week you'll find the town to be even less crowded which is quite nice to enjoy. The weekends tend to be busier.
Cash Is King Here
It's a mostly cash town (like many spots in Mexico are), so just plan on pulling out enough cash to get you by. There are ATMs in town if you need to pull cash out, but I always like to carry some just in case.
Bring Good Walking Shoes
You'll be on foot essentially your entire trip here! The town is completely walkable, plus one of the main activities here is obviously hiking. That's part of what makes Bernal such an ideal spot for backpackers.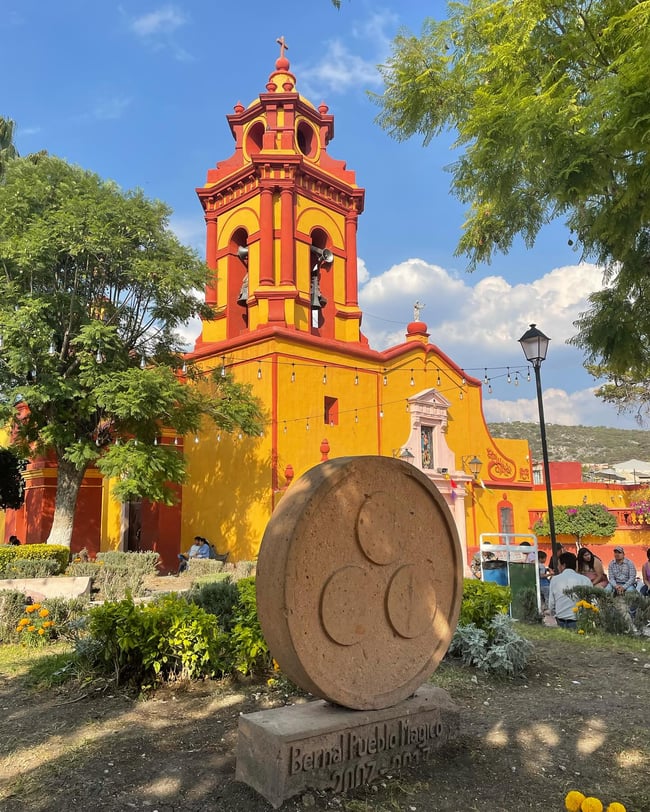 Getting To Bernal
This little town sits in the state of Queretaro, northwest of Mexico City. It's less than an hour from the city Queretaro, making that a perfect jumping off point.
We also love Queretaro, so we think you should spend a day there before you head off to the smaller town of Bernal. We've got a guide to help you plan your Queretaro trip as well.
From Santiago de Queretaro:
Buses leave regularly (about every 45-60 mins) from the Central bus terminal to Bernal, so that's the most popular way to get there for budget travelers.
Bus Terminal Address: Terminal de Autobuses, 76063 Parque del Cimatario, Querétaro, Mexico
This blogger recommends purchasing a ticket directly from staff standing in front of the bus (just look for the buses to Bernal in Terminal B). Alternately you can purchase a ticket from the Flecha Azul counter.
A one-way trip will be a little under an hour and cost you about 50 Mexican pesos (about $2USD) ... got to love the bus prices in Mexico right? You can also purchase a round-trip ticket if you'd like.
Arriving In + Leaving Bernal:
Because Bernal is so small, there's not a bus station here. Buses passing through Bernal will make a quick stop in town and just make an announcement that you're at the Bernal drop-off. From the bus stop you can just walk into town.
When you get dropped off, it's a good idea to make a note of this location because this is where you'll come to catch a ride on a bus back to Queretaro. You'll just wait on the opposite side of the road — and unless you bought a return ticket that has a return time on it, just know you might need to wait up to an hour for the bus to come through Bernal. And honestly, Mexico bus times in general can vary so even if you have a return time, you may need to wait anyways. Not a big deal if you're just aware of it. If you didn't buy a return ticket, just be prepared to purchase one when the bus arrives (again it'll be 50 pesos to Queretaro).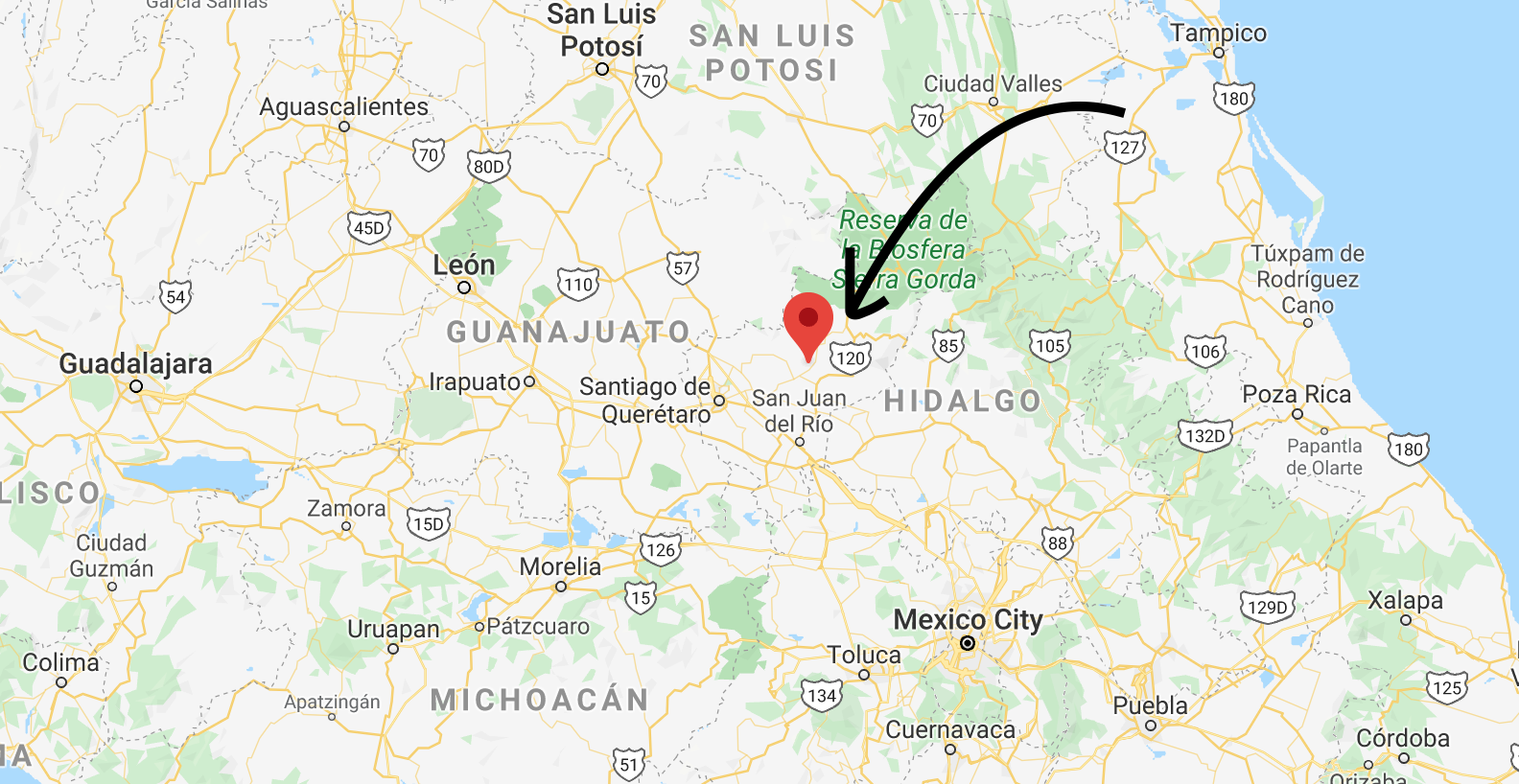 Nearby Adventures
Queretaro
This one's a given, especially since you're likely coming here from Queretaro. But in case you're not, I definitely recommend heading to come see this charming city as well. It's less than an hour away by bus, which makes for a no-brainer next stop on your trip.
We've got a guide to help you plan your trip to Queretaro.
Tequisquiapan
While you're exploring Magic Towns, might as well come see another one eh? This cutie (and obviously magical) town is less than an hour away by bus, heading south. Again expect to pay around $2 USD for the ride and buses typically leave every hour between the two cities.
Don't worry, we've got a Tequisquiapan guide for you!
Spend your summer volunteering in Mexico
When you come live abroad with International Language Programs, you'll get to see and experience a more authentic side to Mexico! You'll get to live in a local neighborhood with other American volunteers who are your age, spend your week teaching kids English, and have plenty of free time to come explore areas like Bernal.
Learn more about how the program works (semester dates, prices, what a typical day looks like, etc) by clicking that button!