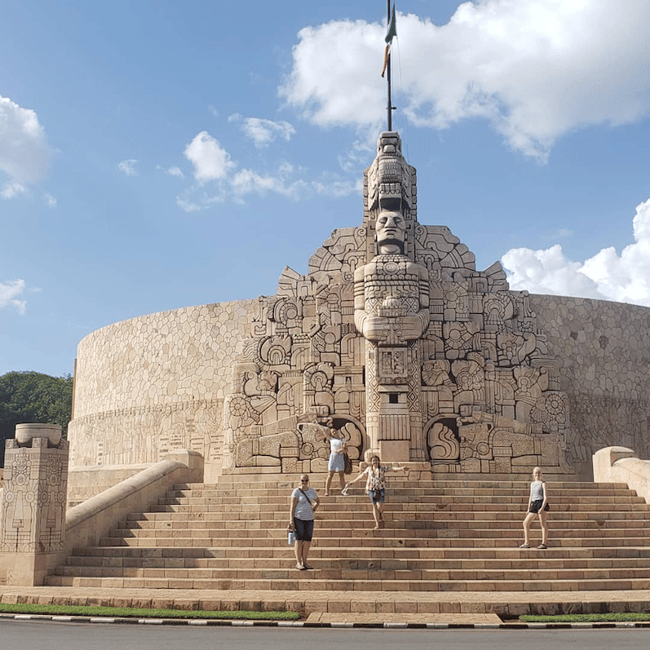 Fire festivals, the most unique chairs around (really), towering cathedrals, and just around the corner from so many ruins ... time to add Merida to your itinerary!
Our volunteers living in Mexico for a semester are constantly adding more and more vacation options in this country — from weekend hot spring soaks to jungle-filled waterfalls, we are loving every single adventure to be found in Mexico.
Our newest addition? The bright city of Merida, which is home to the most fascinating fire festival, parks scattered with little chapters of the city's quirky and unique history, and more.

---
Thinking you need to spend a whole semester here?
We do, too — All about volunteering in Mexico with ILP
---

Because Merida is such the perfect addition to your trip while backpacking the Yucatan, we have pulled some trip pointers from ILP volunteers who have stopped by on their long vacation. That way, you'll get a pretty good guide for all the things to see, eat, and do in Merida, Mexico.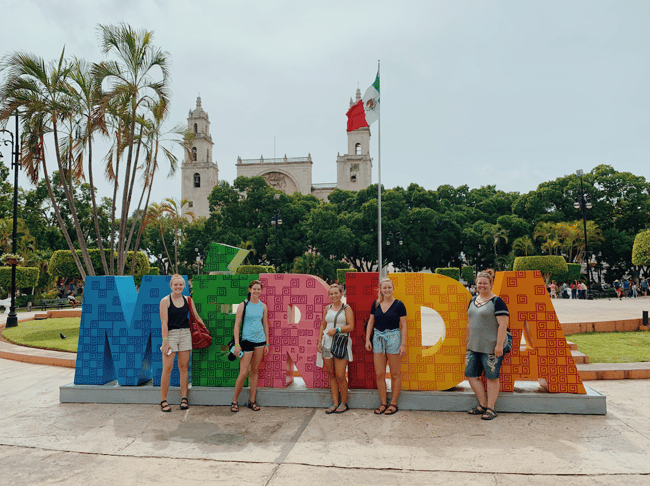 Top Things To See & Do
The Fire Pok-Ta-Pok Games
This is the reason you come to Merida — the Pok-Ta-Pok games. It's an ancient Mayan game where the goal was to hit a five-pound rubber ball into stone hoops situated on steep walls in the court. The winner was sacrificed, which was a high honor. Now, the games are re-enacted, but thankfully without the sacrificing ... and some added flair. In the final moments, the ball is lit on fire, encouraging very fast passes!
Pok-Ta-Pok matches are only available on Saturday nights* at 8:30 PM, in front of the Cathedral de San Ildefonso. Plan on getting there a little early (15-20 minutes) to snag seats or a standing spot close to the railing (you will want to be close to the action).
*We have had volunteer groups say that the games are hosted on Friday nights, not Saturday nights (best to ask your hostel or a local if you are picking which days to be in town to see the games so you don't miss them).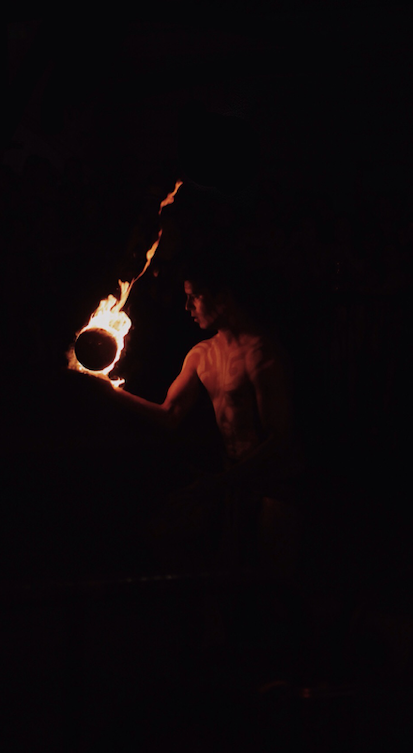 All About The City Center
Going on a walking tour of the historic city center means walking down colorful streets strung up with lanterns or flags, snapping a pic in front of the rainbow "MERIDA" sign, and stumbling into more than a few photogenic buildings. We recommend swinging by Plaza Grande to start. There, you can gaze up at the Cathedral of Merida, and the Governor's Palace, then spend time strolling down the massive homes of the wealthy Paseo de Montejo neighborhood.
Feel free to do your own wandering, or join the free walking tour with the Merida Tourism Office. It leaves every morning at 9:30 AM and lasts until around 11:00 AM (just meet the group in the Palacio Municipal). It's free, but tips are welcomed.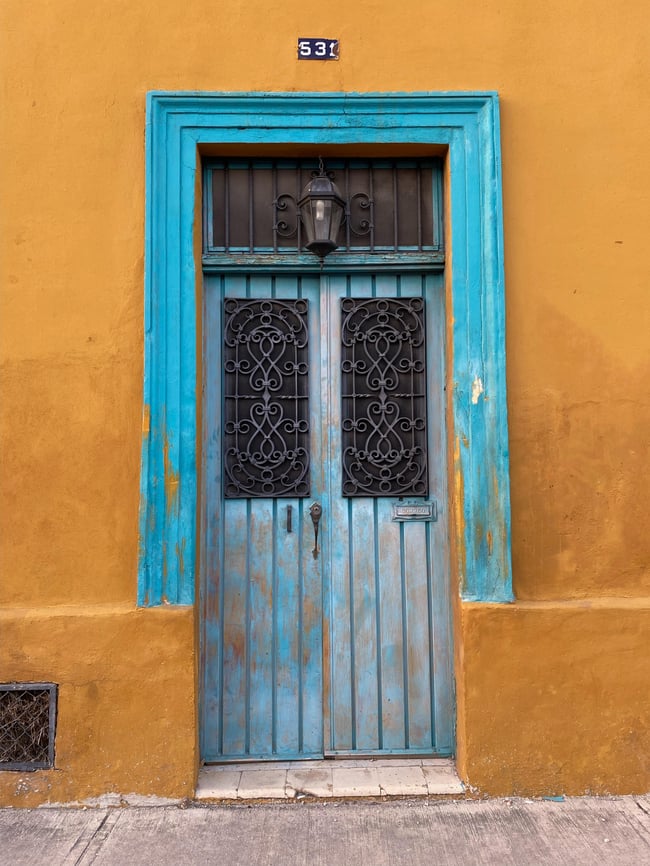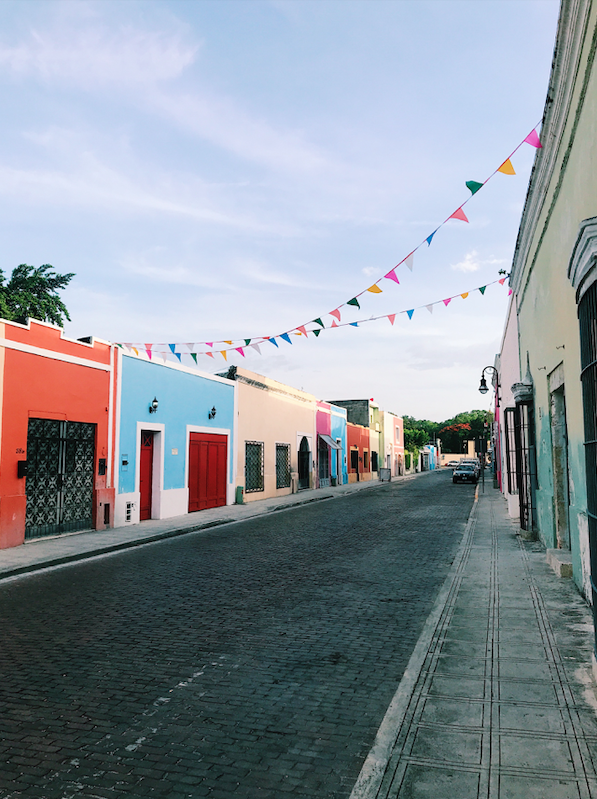 Look For These Chairs
One group spent a day just walking around the city center, enjoying whatever caught their attention: like these chairs. While you're out and about, see if you can spot the Tu y Yo chairs — two seats in an "s" shape, with a unique history, supposedly designed so dating couples can look into each other's eyes and have a conversation but not be too close to each other physically. It's a quirky remnant of the city's history that really helps Merida to stand out from other Mexican cities.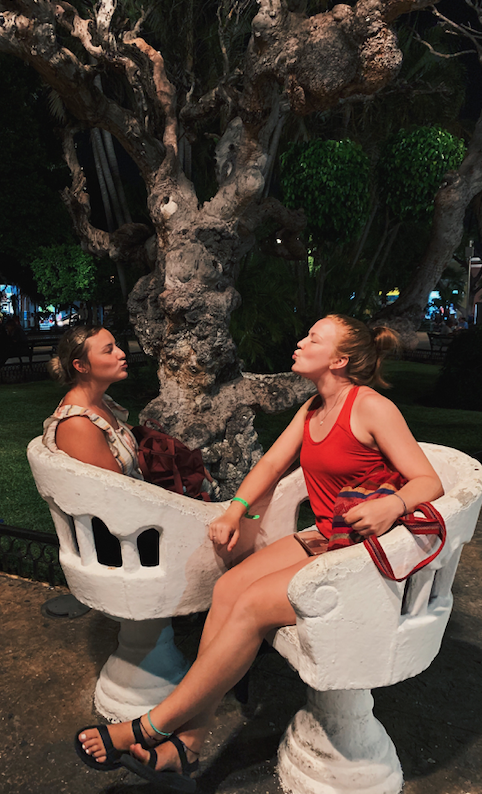 A Temple Visit
For members of the Church of Jesus Christ of Latter-day Saints, maybe you'd like to find time to visit the temple here. Found in the rich historical area of Mesoamerica, this temple has served as a place of worship for the local members since it was dedicated in 2000.
Get more information about the temple's schedule here.
Address: Calle 70 #527 x Calle 65 y Calle 67, Centro, 97000 Mérida, Yuc., Mexico

A Little Taste Of Home
After spending a whole semester in Mexico, there are some things you miss from home — when one ILP group was hanging out in Merida, they spent a night just enjoying some of those things.
Amy's group had been volunteering in Mexico for three months now and was missing a bit of home, so it was an afternoon at the movie theaters to see an American movie, zip around in an Uber to the nearest Dairy Queen, and enjoying some of the things they had missed.
Merida is home to such good food (more on that below) but if you are missing home, you can find restaurants like IHOP, Chili's, TGI Fridays, Dairy Queen, and a few others.
What To Eat
We love (LOVE) the food in Mexico, especially the unique dishes you can really only get here, in the Yucatan. Several countries and cultures have lent dishes and flavor profiles to create unique dishes like Marquesita (thin crepes that are rolled up with cheese and something sweet like Nutella — it's a warm, crispy, and sweet snack that's rather addicting).
Other dishes to look out for include this soup (Sopa de Lima) which is a brothy chicken soup filled with lots of lime and crunchy tortilla strips, or try Salbutes, which are fried tortillas piled high with shredded pork or beef and veggies like lettuce and tomato. Queso Relleno is another local favorite, which is a ball of cheese stuffed with peppers, tomatoes, meat, olives, and spices.
Taking a cooking class or going on a food tour are popular options to taste all of these (and more) or you can hunt down items on menus at places like Manjar Blanco or La Chaya Maya. You can also find some favs on the street, like the little carts serving up Marquisitas.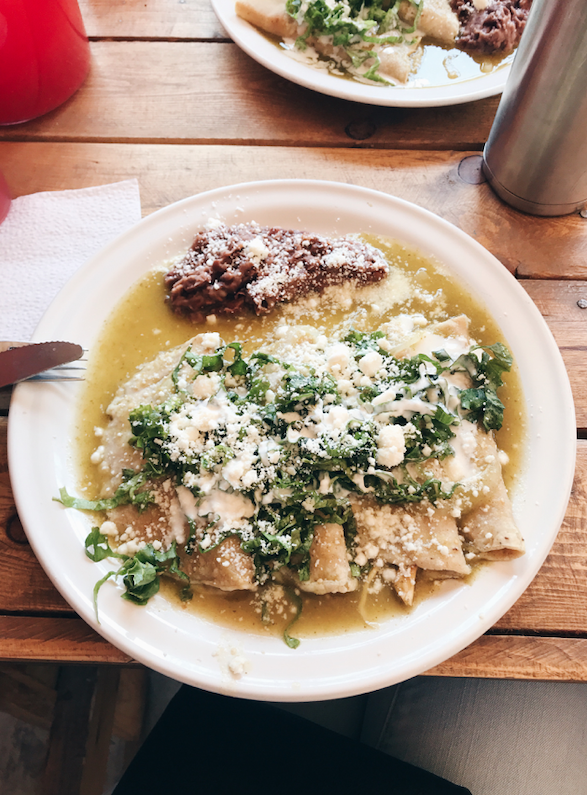 Where To Stay
You'll find a huge spread of hostels and Airbnb options while in Merida, but some volunteers stayed at Hostal La Ermita Merida which had low prices (even when you paid a little extra to get a room with A/C — something that's totally recommended if you're traveling in Mexico in the summer months). It's found in one of the renovated homes in the historical neighborhoods of Merida, complete with a pool. It's about a 20-minute walk from the city center, just as a heads up.
Others stayed at the Guaya Hostel, which is around a 10-minute walk to the city center, and a 5-minute walk from the ADO bus station. We love the free breakfast and the hammocks found in the common space where you can relax (and the AC).
Hostal Boutique Casa Garza is another recommendation from past volunteer groups. It's a restored, Yucatan-style home with a pool, breakfast buffets, and a few other perks.
Hostal la Ermita Merida, according to some, is "adorable ... it was very very hot, but you could pay more for an A/C room if you want. They have a little pool, too".
Nearby Trips To Take
See A Few Ruins
Just around Merida, there are several ruins to go explore — you're easily within 1 - 2 hours of Uxmal, Chichen-Itza, and Ek Balam.
Uxmal is about an hour away by car, so it's an easy day trip to fit into your itinerary. Uxmal is the remaining ruins of a whole city, one of the largest in the whole area. Historians guess that around 20,000 people lived in this massive complex. Today, you can wander around the pyramids, climb huge staircases up to courtyards and facades, explore various temples, and stand on stepped platforms. There's a 428 peso fee to enter.
You can also see some other Mayan ruins called Ek Balam in a day. The tallest ruins have been restored which means you're free to climb to the top and get a 360° view (most ruins you aren't allowed to climb, so that's a perk). There's a 413 peso fee for these ruins.
Chichen Itza is about two hours away, so another day trip option if you want to fit in a world wonder into your vacation. We have all the info about visiting Chichen Itza here.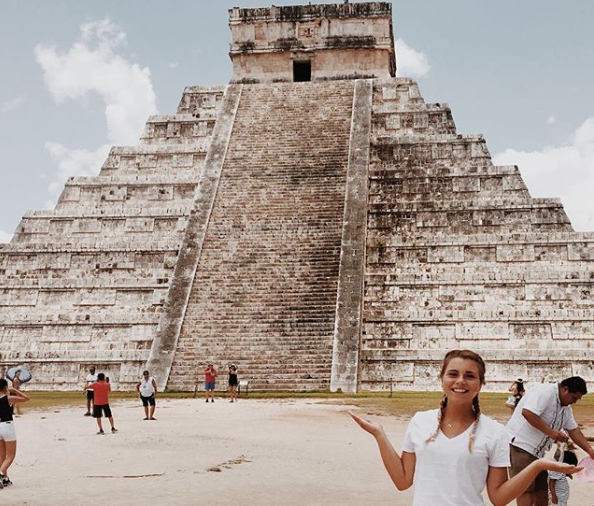 Visit These Spots
One of the reasons why we love Merida the most is because it's a good point to add in via bus from a handful of favorite cities sprinkled across the Yucatan. We have a whole itinerary for backpacking the Yucatan for 8+ days if you're interested, but here are a few to visit that are close to Merida:
Progreso Beach — Where the locals come for a beach day. It's not our top beach in Mexico, but the warm water and swaying palm trees just a 1-hour drive from Merida is pretty tempting sometimes.
Valladolid — The best place for a chill trip full of cenotes and colorful streets (we love this place!). A 2-hour car ride from Merida.
Cancun — A resort-filled tourist hot sport, that's a jumping point to favorites like Isla Mujeres. A 4-hour car ride from Merida.
Isla Mujeres — Come to swim with whale sharks, or enjoy the best beaches around. A 4-hour car ride from Merida.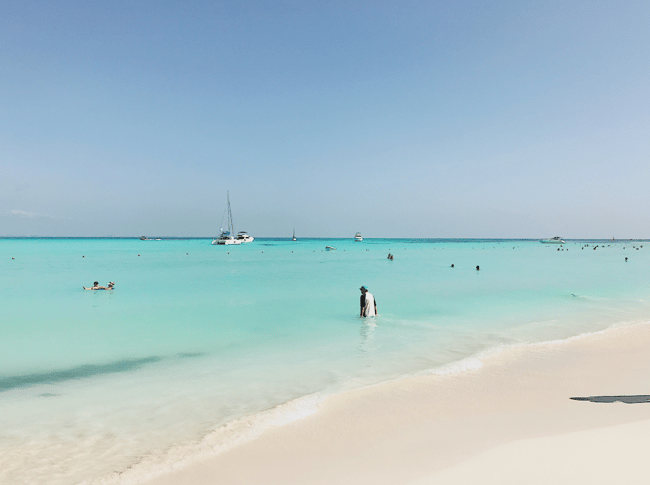 Getting Here & Around Merida
Getting To Merida
You're welcome to fly (the city has an international airport with several international and domestic arrivals and departures — airport code MID) but our volunteers typically bus around to this city + others.
But getting around Mexico is a cinch once you know all about the buses here. They're affordable (some routes are less than $5, seriously), comfortable, and can get you to tons of our favorite vacation spots, including Merida. This post is all about traveling by bus in Mexico and spells everything out.
Getting Around Merida
Like we mentioned, a lot of the city is walkable, though it does get hot in the summertime. Volunteers do love that Merida has Uber, so that's worth downloading before arriving if you want to go somewhere by car.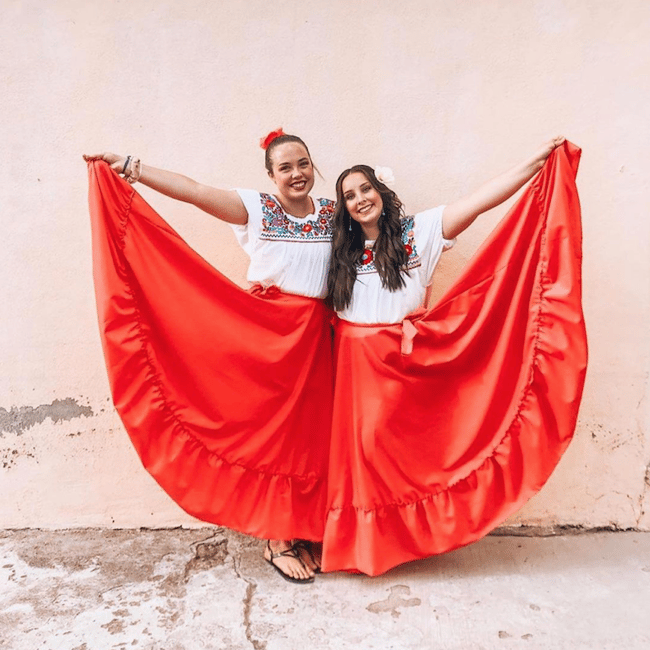 Do you have more questions about how it all works to volunteer in Mexico?
We're here to help with that! ILP sends college-aged volunteers all around the world to teach English and make a difference. You'll be set up with a fellow group of volunteers to teach, live, and travel with, all semester long.