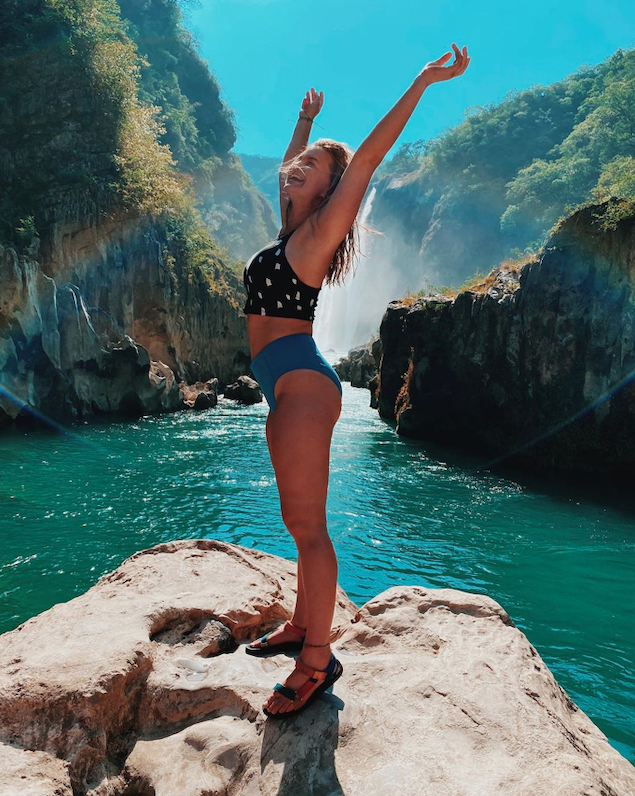 As if you needed another reason to come volunteer in Mexico, these prettier-than-possible waterfalls will seal the deal.
A semester abroad in Mexico is kind of like a dream come true. You'll get jungle adventures, dreamy beaches, a class of the cutest kids, arguably the best food because tacos, plus the fact that some of the coolest getaways are just a weekend away (and couldn't be cheaper). All this in just one rad country.
Sure, you can hit some of the highlights when you're here for just a week or so, but let me tell you — out of all of our country locations, the volunteers in Mexico often do the most traveling to the most unexpectedly beautiful places. I'm talking mountain hikes to see millions of butterflies, releasing turtles on picuturesque beaches, weekends to chill hippie towns, and visiting some of the most colorful cities I've even seen pictures of.


---
Coming to adventure in Mexico?
See it best while you volunteer here for a whole semester
---
If you scroll the ILP blog, you can get a little taste of all the things there are to do (and eat) in this country but we're here to talk all about some blue, blue, blue waterfalls in a place called Huasteca Potosini in Ciudad Valles — a sprawling mountain range crammed full of waterfalls, caves and jungles. It's these places in Mexico that convince anyone that needs to come to this country ASAP, right? This vacation looks almost too pretty to be real life, but here we are, with all the info you need to know before you visit (and see this place for yourself).
First! Something To Know For Your Trip
Ciudad Valles is a large area, filled with so many waterfalls, cenotes, caves, etc (which we get to in a minute), but you'll want to realize that everything is very far away. Plan on traveling 40 minutes or longer to each of the waterfalls from the city center (Zona Centro). We have more information about how to get around to each of the falls below, but it's just good to know that you can't visit all of these in a couple of hours.
We also have info on where to stay, since this area is just enormous. It's very important to realize how spread out everything is, so you can budget time to travel to each attraction for each day you are here, instead of planning on seeing all the waterfalls in a single day.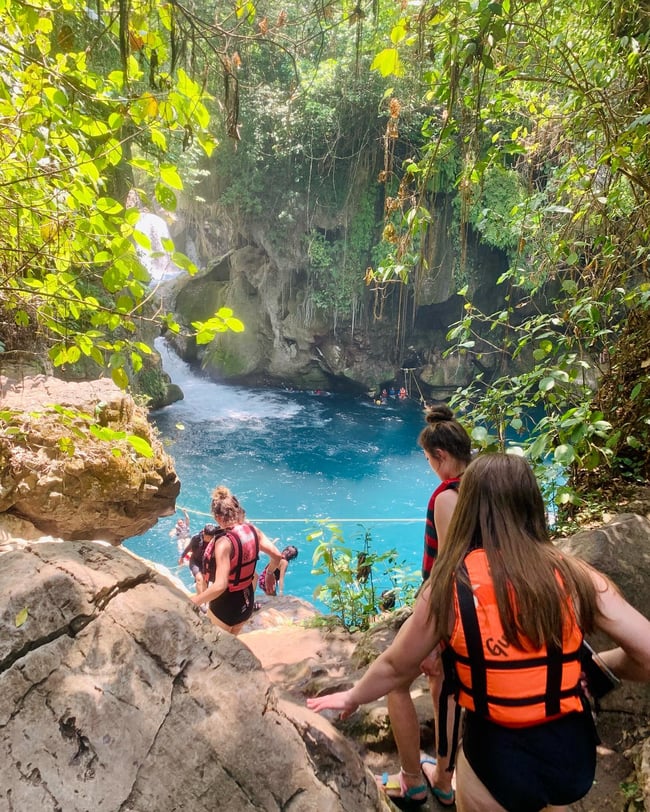 Our Favorite Waterfalls
The Ciudad Valles is a huge area (about 200 miles long) so there is a lot to see and a lot of waterfalls to explore — but here are a few of our favorites if you're looking to prioritize!
El Puente De Dios
This spot is in Tamasopo, a small town with two beautiful waterfalls — Cascada de Tamasopo (read more on that below) and El Puente De Dios. According to a couple of ILP volunteers, Puente de Dios is so amazing, it's worth doing twice (plus there is tons to do here). This particular area is made up of waterfalls that cascade into a gorge, creating an amazing swimming pool, at the top and bottom of the falls. You'll need to climb the 380ish stairs to get there, but it's worth it! Just remember to leave enough energy after swimming and exploring to make the hike back out.
You can climb up to a few jumping off points to dive into these turquoise waters, or climb up the impressive waterfall itself. Oh, and of course there's also a cave you can swim in. Just pass through the waterfall through a rock tunnel to reach the cave. Some groups recommend going on a tour here to explore areas you can't find without a guide — more info on that below.
The current here is pretty strong (you're required to wear a life jacket), plus you can look out for a few cords which are strategically placed in the swimming hole to help you swim against the current.
Tips for travelers — go before noon before it gets too crowded and take goggles if you can find them! The water is crystal clear and gorgeous.

There are restrooms available, along with little stands selling food, drinks, and snacks but they're not located directly by the falls and swimming spot. There are lockers you can rent to stash your things.
Cost: 70 pesos entry fee, plus 30-60 pesos for a life jacket (which is required).
This place is rumored to close at 4:00 PM or 5:00 PM, so make sure you come here with plenty of time to do a lot of exploring — groups in the past have said they loved this place and wished they planned to be here for 4-5 hours instead of the 1-2 they had planned. There are sometimes lifeguards there who will blow whistles if you're not wearing your life jacket, and when the area is closed for the night to signal that it's time for everyone to get out of the water.
We have transportation info below but know that the falls are found near the town of Tamasopo if you want to take a bus here from Ciudad Valles. Buses run pretty much every hour, all day long, and are about 86 pesos for the 1.5-hour long ride. Just know it takes about 35-minutes of walking (about two miles) to get to the falls (or you can take a taxi).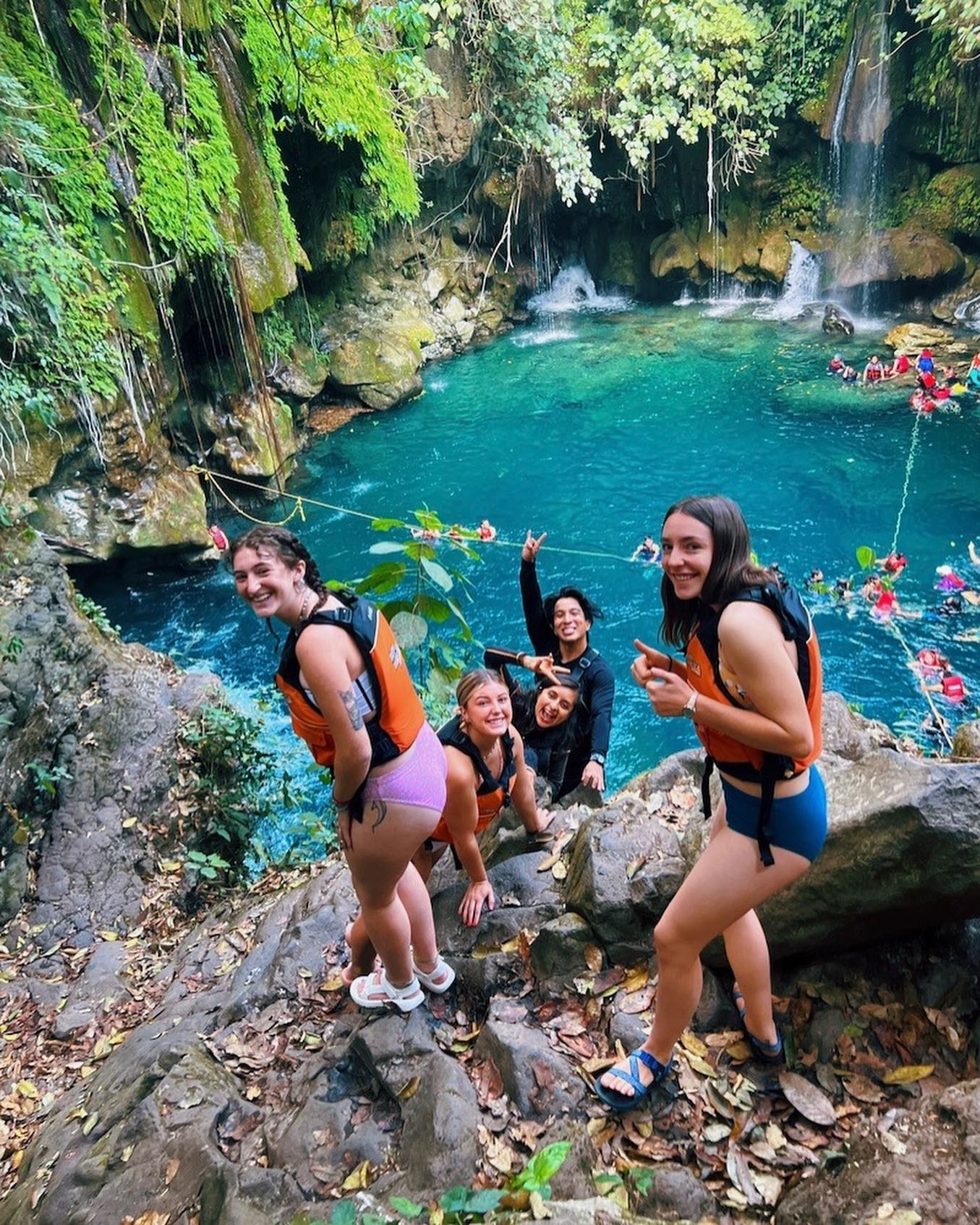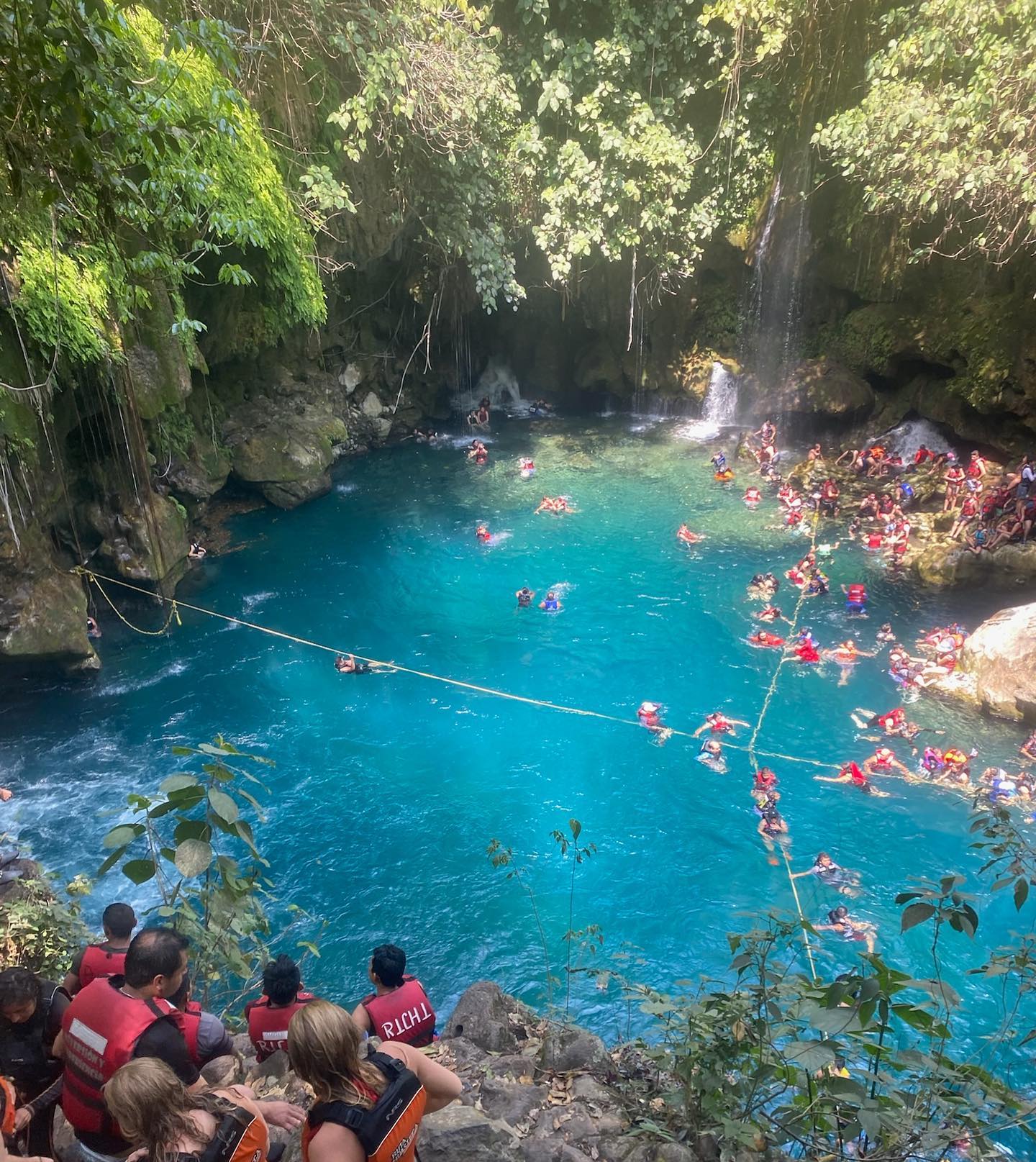 Tamasopo Waterfall
Like El Puente De Dios, you'll find these falls close to the little town of Tamasopo. This waterfall is pretty developed, with bathrooms nearby, as well as restaurants if you want to time your visit around lunch. We're also big fans of the swimming you can do at the base of the falls, but there is a rope swing too if you're wanting to test that out.
Cost: 80 pesos (lifejackets are mandatory, which is around 60 pesos)
We have more transportation options below but know you can opt to bus from Ciudad Valles to Tamasopo and make the 20-ish minute walk to Tamasopo Waterfall if you'd like. Buses run pretty much every hour, all day long, and are about 80 pesos for the 1.5-hour long ride.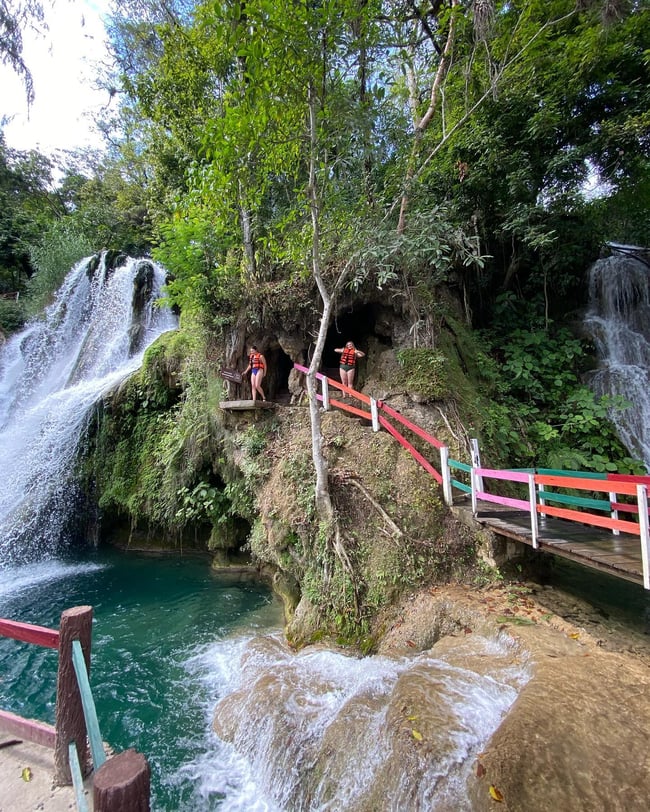 Cascadas de Micos
Here, you'll rent a life jacket and jump right into the first waterfall, only to realize that a pounding, 80-foot waterfall is right next to you! That waterfall pools into a series of smaller waterfalls you can climb up and jump off of, plus a few rope swings and deep pools to swim in — welcome to Cascada de Micos!
This whole area is known for the activities to do here, as well as the beautiful pools of water that create layered pools down the jungley hill. There are a handful of areas to take a swim, or explore another side waterfall and set of pools. There are some colorful boats you can rent to take around if you'd like, or just relax and float around.
If you're looking for a bit more adventure, there is zip lining here, as well as a suspension bridge to tackle. You can also see the whole thing from above if you try out sky biking. (Get more info on the activities available at this waterpark, here) You can spend a lot of time here, that's for sure.
Cost: 30 pesos + 30 pesos for a life jacket (life jacket is required).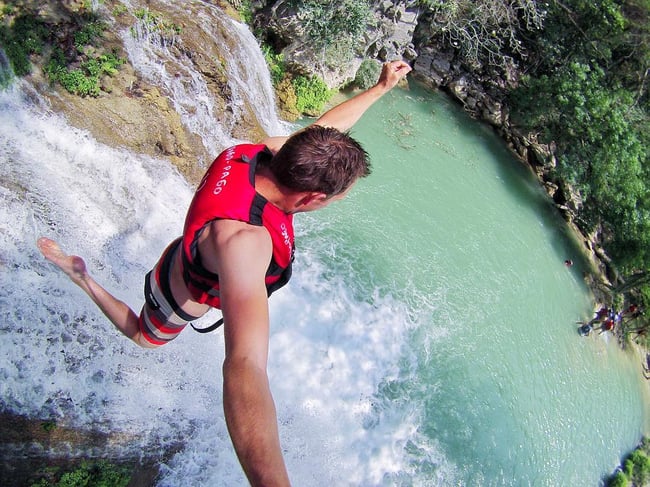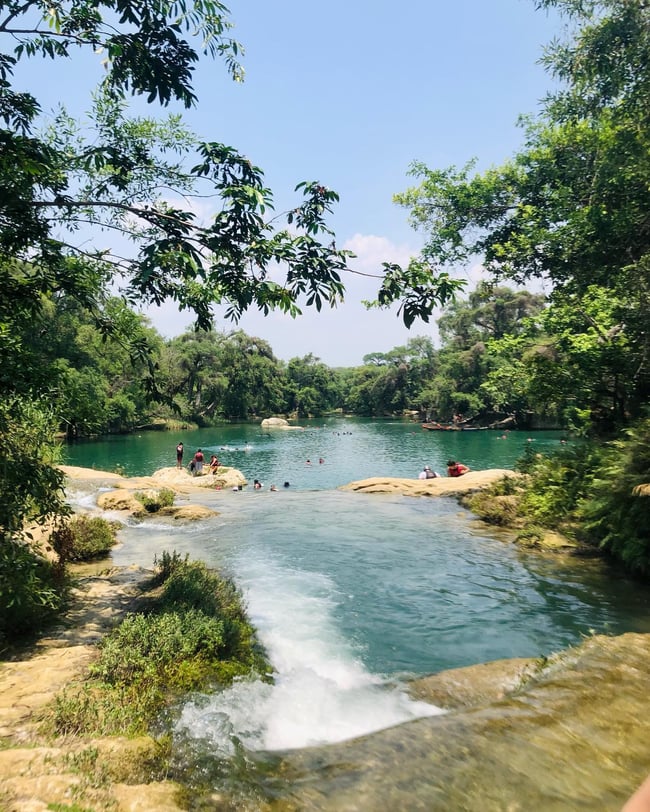 Cascada de Minas Viejas
This is another highlight, complete with beautiful calm pools you can swim in that steam from a massively tall waterfall (it's over 180 feet!). One group said "it was our favorite one! Our hostel had a map of all the waterfalls in the area and there were two other waterfalls near it that we would have loved to explore if we didn't run out of time!" Sounds like a place you could spend a whole day at!
You'll see some swimmers jumping into the water from the base of the waterfall (here are some rocks you can climb up, but they are extremely slippery!) but we love finding a chill place to just relax. You can also join in on the action by going repelling with a tour company set up around Minas Vierjas.
You can get a good view of the whole area by taking a little bit of a hike up — about halfway up from where the bathrooms are that will lead you up. The view is amazing!
It's around 80 kilometers from Ciudad Valles, but is a favorite if you have the time.
Cost: 30 peso entry fee (it's compulsory to wear a life jacket while swimming).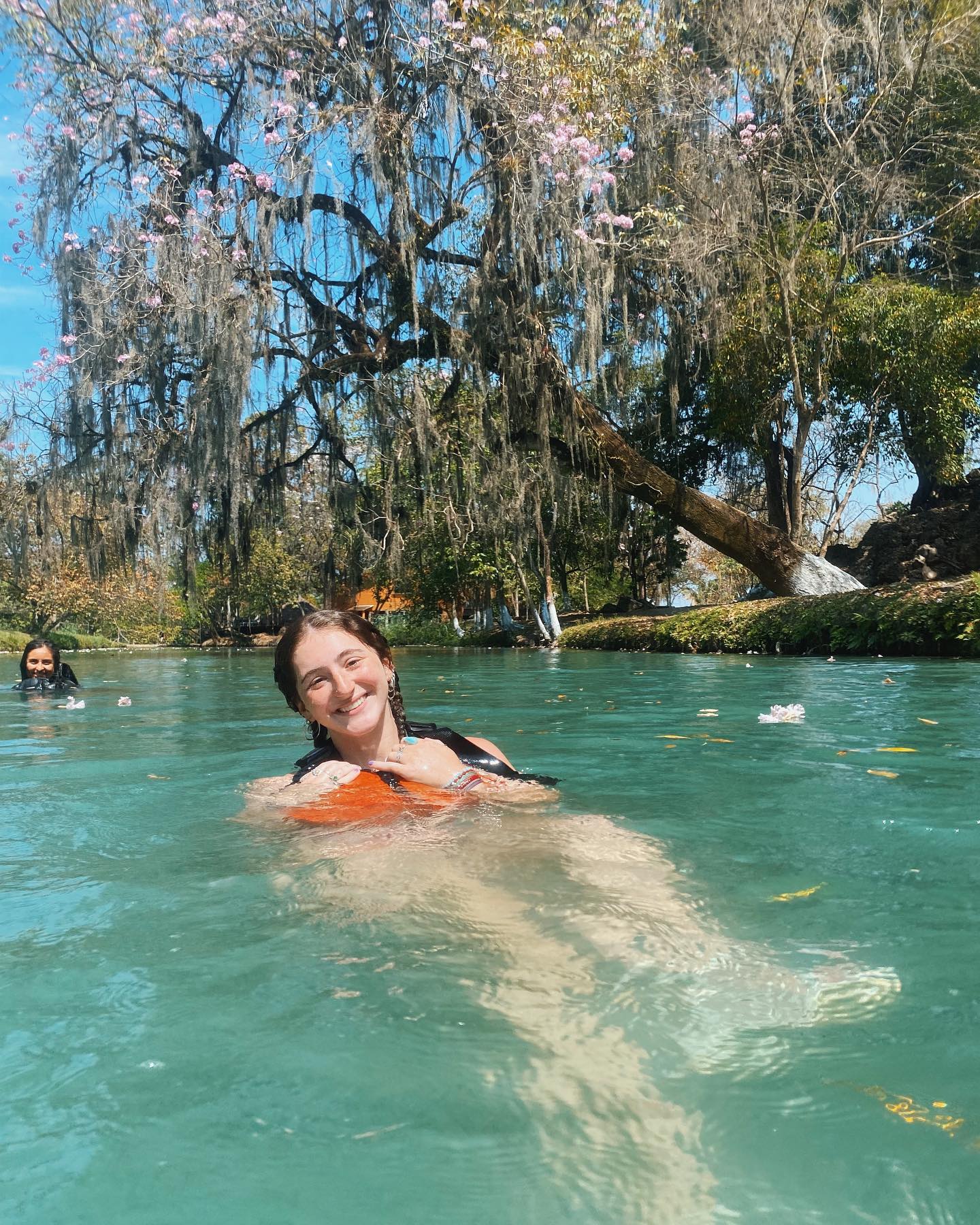 Tamul
Tamul Waterfall is probably the most famous in the area. A guide will take you down to a series of boats where you can snag a life jacket and a paddle, where a 2-mile boat road takes you through a deep green canyon. Pack up your waterproof cameras because other boats love to splash you, but you'll for sure want pictures because this place is stunning … and the boat ride is definitely the way to see this impressive waterfall. On the way back, there's a cenote (underwater cave) that's perfect to swim in.

Tips for travelers — go before noon before too many boats are on the water. Oh, and just know that the water does change colors depending on the season (you can be prepared for milky-brown water in the summer months).
Cost: Around 150 - 200 pesos depending on how many people are in your group.
Get a bit more about the Tamul waterfall here.


El Meco
This set of falls is a little further out from the others, but is worth the trek out there. It's in a more remote location that's popular with the local community, but sometimes is less visited by tourists than the other falls on this list — but it's absolutely one of the best waterfalls in Ciudad Valles. El Meco starts as a turquoise blue pool at the top that spills out over several large rocks to create the most stunning cascade. You can see the falls two ways: one, from a viewpoint up at the road that passes right by, or two, by boat tour. We're recommending the boat tour.
There are vendors who will take you upstream to get a closer look, paddling through a canyon on the blue water (which is also so blue it's hard to believe it's real). The boat tour will take you up close to the thundering falls where you're free to dive in for a swim, if you'd like. Just know the current can be strong! Life jackets are included. The tour is about an hour.
Costs: The tours are around 150 pesos plus a 35 peso recreation fee for entering the area. If you're visit El Meco with a tour group that's taking you to other waterfalls in the area at one set cost, this should all be included in your tour price — more on those below.
We have more transportation options below, but know this waterfall is about 100 kilometers from Ciudad Valles, closer to the small town of El Naranjo.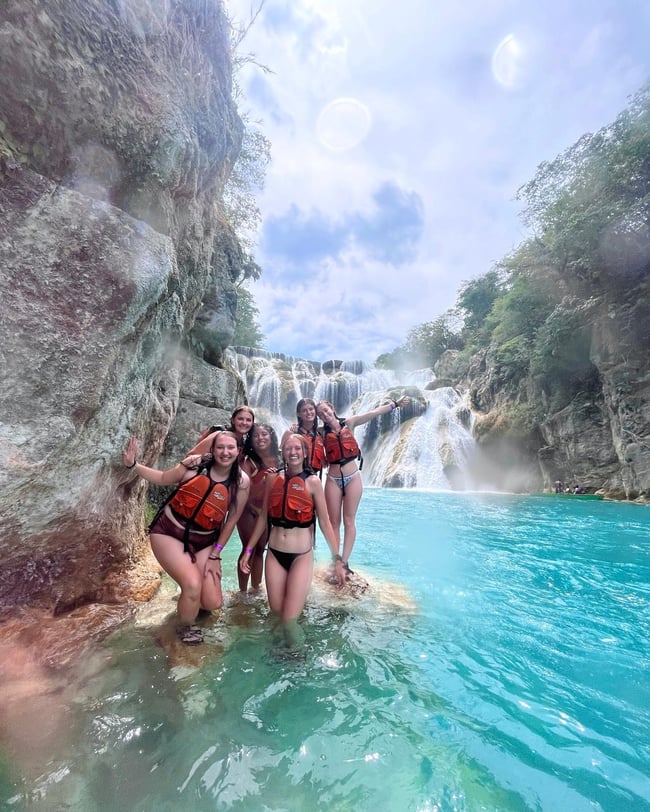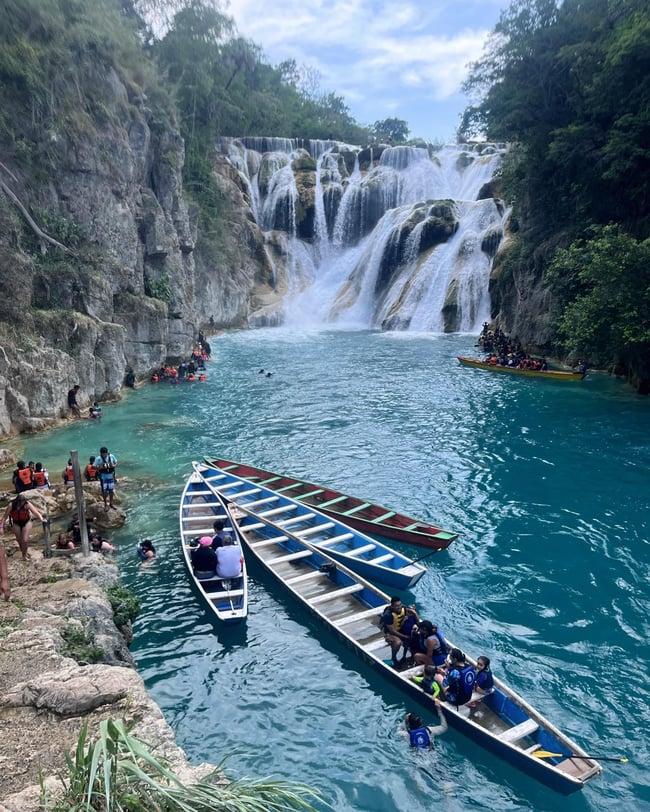 Sótano de las Huahuas
This is a cave, not a waterfall, but is still rad. This is really a hidden gem, deep in the jungle — a cave is so big it can fit the entire Empire State Building inside. If you're into caves you can also head to the Sotano de las Golindrinas. If you can go at sunrise or sunset because thousands and thousands of birds leave and enter the cave.
Cost: 40 pesos.
How Do I Get Around To All The Waterfalls?
Talk To Your Hostel For Bus Info
If you're traveling on a budget and have more time to travel between the falls via public transport, that's a fantastic way to go. A good hostel usually has all those helpful details like where and when to find the bus.
We've had multiple volunteer groups visit Punte de Dios and a couple of waterfalls by bus over a couple of days with no problems. It will include a more adjusted time schedule and more walking than hiring a driver, but it's do-able to DIY and stick to a smaller budget via the bus!
Taxi Advice
Taxis are also an option, but can get a bit more expensive depending on where you are traveling to and from each day. Make sure you're prepared for the driving distance, and cost, and please schedule a taxi to pick you up when you're done! They aren't always just there to take you back, and you don't want to end up stranded.
Hire A Driver
Some groups who have a bit more spending money recommend hiring a van or car to help take you around for the day. Your hotel and hostel can probably help you out with that too. There are some public buses that can take you to the more popular spots but a driver will be able to take you to more places, in less time.
You can also taxi to some waterfalls (like the Tamul) but just know it'll be a bit pricey. If you split the cost of a driver and or a taxi with your ILP group, it should cut down on the cost, so keep that in mind.
Join A Tour Group
There are also tour group options that you can look into. It will probably cost more than a taxi driver, but the benefits are that they know all the best spots to take you to, plus you don't have to plan a thing ... some even include hotels and meals. Here are a couple you might want to check out:
Huaxteca offers tons of tour options and has wonderful reviews. They offer day tours which include waterfall jumping, repelling, hiking, stand up paddle boarding, white water rafting, and more. You'll have plenty to choose from when deciding what you want to do!
Prices will depend on what tour you choose and if you choose to do a package with the company. The repelling trip costs about $75 USD, while stand up paddle boarding is about $50 USD. Check the prices and excursions here for more details. Packages will include the excursion, meals, hotels, and sometimes a few other things. They range from about $145 USD to $245 USD depending on what package you choose. Here are the details for the packages.
Ruta Huasteca is similar to the Huaxteca in the fact that they both offer individual excursions or packages. They have a lot of options, and even some different ones like cave exploring and the Edward James architectural garden (which is amazing!). And, you can stay on their property in cool little huts while you are doing tours with them! We've had several ILP groups book with Ruta Huasteca and had rave rave rave reviews.
They vary depending on what you are doing. Rafting is about $61 USD and an excursion where you visit the architectural garden and caves is about $51. You can find a full list of prices under the "activities" tab on their website. Packages are more because they include lodging and food, as well as excursions. They vary but start at around $180 USD for a two day package, then go up to eight day packages. Here are the prices for those.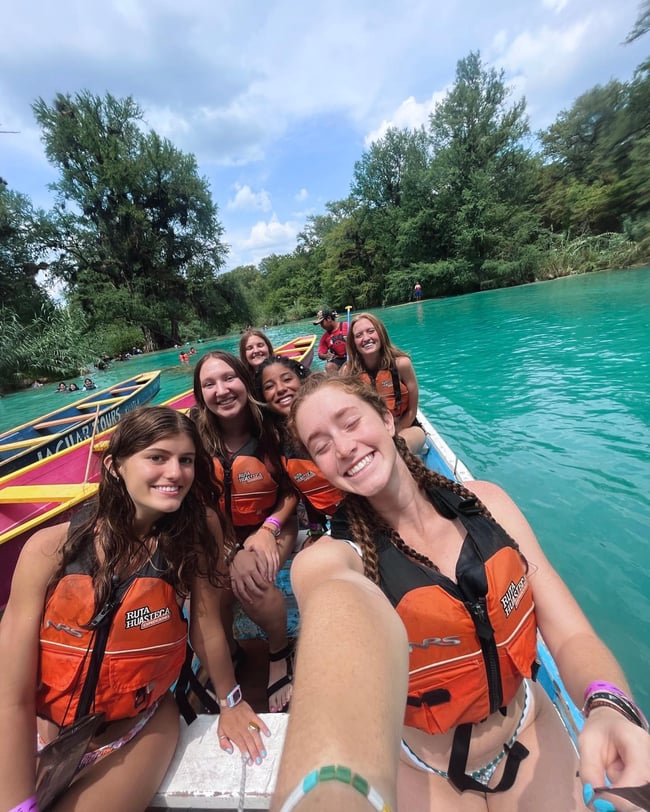 Where Should I Stay?
When it comes to accommodations, it's best to book a place that is near the center and plan time to just hop around to the different falls.
ILP volunteers suggest booking in either Aquismon, Tamasopo, or Ciudad Valles — it's helpful to look at which waterfalls you're interested in visiting and if you''ll be hiring a driver or taking the bus. Those two factors can help determine which city you make as your "home base" to come home to after exploring waterfalls. For example, Punte de Dios is closer to Tamasopo, but Cascadas de Micos is closer to Ciudad Valles.

Ciudad Valles has plenty of hotels (and hostels) for a good price and have been a good location for groups who want to see a lot of the waterfalls in the area. Here are a few options ILP volunteers have used in the past if that's helpful to know, but there are several to choose from:

Hotel Galeana
Grann Hotel Valles
Hotel Casa Ortiz
Hostal Casa Huasteca *
This Airbnb
Another Airbnb
Another Airbnb option
*Groups have mentioned that they liked staying here because of the location (and the A/C). It's found near the bus station (within walking distance) and also within walking distance of the Ruta Huasteca Expediciones if you book a tour with them (we have more tour info, below). Another piece of advice? "Get the licuados down the street!! SO GOOD!" Sounds like quite the option if you ask me.

When It Comes To

Meals

Check to see if there are meal options at your hostel, which can be an easy way to grab breakfast or dinner on a day of adventure, but don't forget about the places to eat around town, either.
In The City Center
The city center has a market every day with fruit and other goodies which is fun, place an amazing ice cream place called Michoacana (it's near the bus station) which is worth visiting more than once.
Dona Torta is another highlight (find it near the Hostel Casa Huasteca), with tortas for just 70 pesos. Find it in the City Center : Francisco I. Madero 107, Zona Centro, 79000 Cd Valles, S.L.P., Mexico.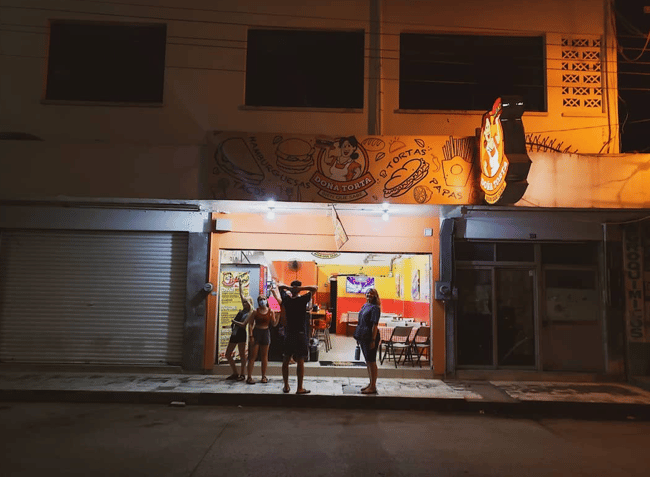 Near Minas Viejas
Another recommended spot is called Comedor y Estacionamiento (find it tucked away in the corner of the courtyard near the Minas Viejas waterfall) with amazing gorditas for 10 pesos each. This spot comes straight from one of the ILP groups who got an insider opinion from their taxi driver ... and if you speak Spanish you'll realize this place is just called "Eatery and Parking" so we're not quite sure what this place is, but we love it — "we still talk about those gorditas all the time and the owners gave us free mangos when we left!"
To help you find it, peek at these pictures below. The restaurant is about halfway down the stairs to the waterfall and it opens up into this plaza type thing, with lots of huts for stores, food, and bathrooms. Find the recommended spot tucked away in the very corner!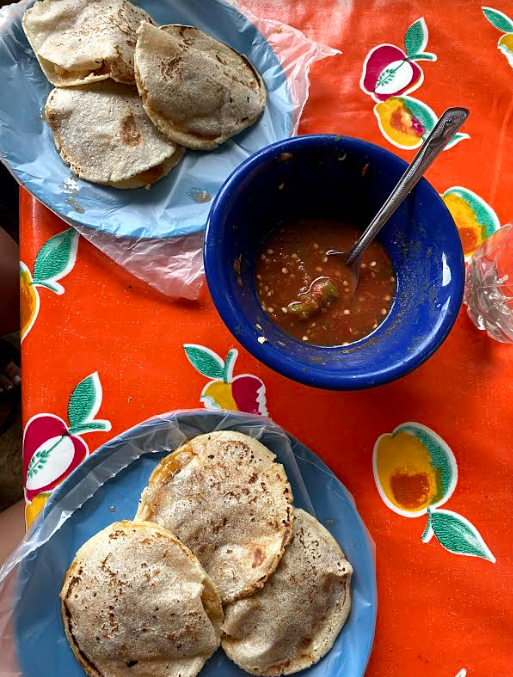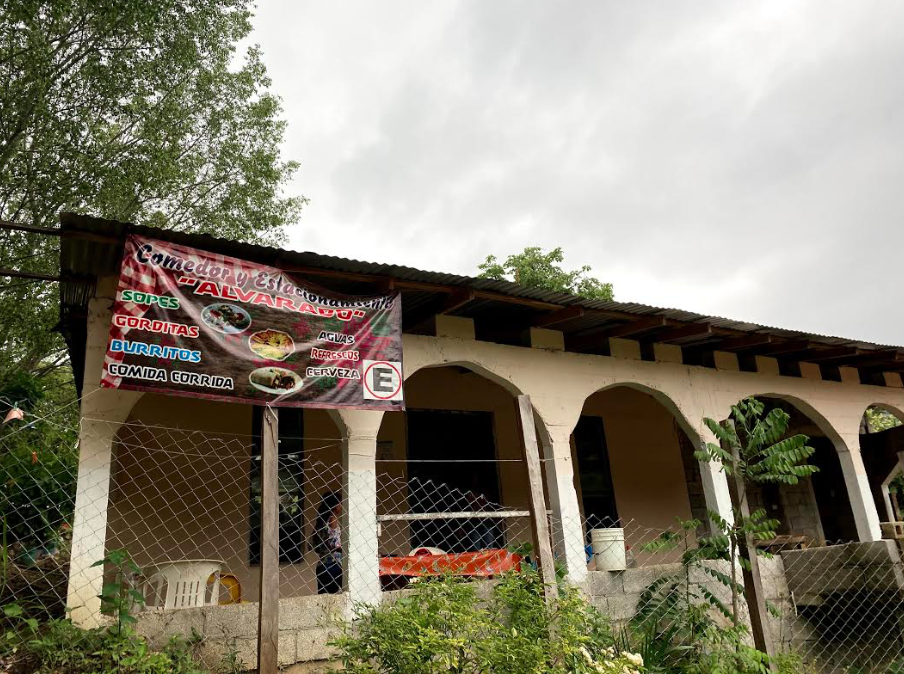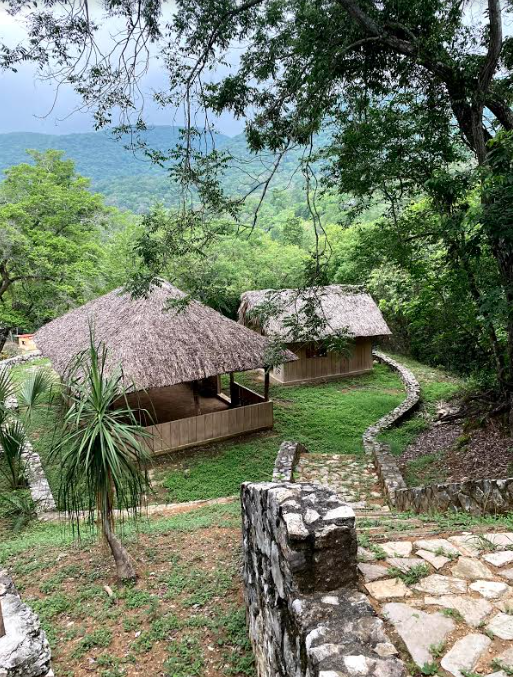 Getting To Ciudad Valles
We love traveling by bus in Mexico, especially since there are a few connecting points to get you to Ciudad Valles that work well, depending on where you find yourself in Mexico. We have information below on how to get you here from a few of the more popular routes, but you can get a lot of detail about the how the bus system works in Mexico, here (complete with favorite bus companies, how to book your tickets, look up routes, etc).
From San Luis Potosí
Find yourself near this bustling city? You're in luck because there is a quick and direct bus from the city of San Luis Potosí to Ciudad Valles. You can have your choice of a bus ride that's 3ish hours, or more like 4.5 hours, depending on the price and timetable you're working with ... but we like the shorter option through Omnibus de Oriente or Omnibus de Mexico.
Some groups have just used San Luis Potosi as a jumping off point, taking a bus from where they are living to Queretaro, then a bus from Queretaro to SLP, then from SLP to Ciudad Valles because it's such a direct route from SLP to Ciudad Valles.
From Pachuca
There is a direct bus from Pachuca to Ciudad Valles which is a good option if you're enjoying all the things to do in Pachuca. It's about an 8-hour itinerary, so it works well if you'll be taking an overnight bus and can arrive in the morning. Ovnibus and Omnibus de Mexico are both companies that have itineraries from Pachuca to Ciudad Valles.
Bonus? Going on an overnight bus means waking up to sunrise views from your bus window. Dreamy.
From Queretaro
Querétaro is a good jumping off point (we love all the things to do in Querétaro!), plus it's a large transportation hub if you find yourself nearby in cities in the area.
From Queretaro, it's about a 6-hour bus ride, through Omnibus de Mexico. Or, you can use Queretaro as a jumping off point to somewhere like San Luis Potosi. It makes for a long series of bus rides, but volunteers who have made the trek have said that it's worth the bus rides to get here if that's helpful to know.
From
Xilitla
You're just two hours away from one of the most stunning surrealist jungle gardens, Las Pozas. We are huge fans of making the trip to Ciudad Valles to Xilitla (and vice versa) especially since you can grab a bus and be there in about 2-hours. Talk about a win-win.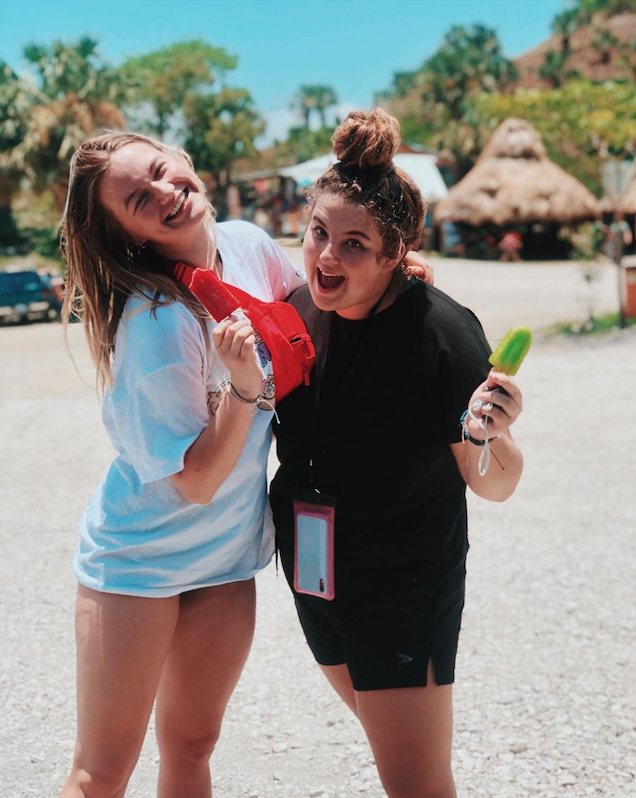 How Long Should I Stay?

A Loose Itinerary To Keep In Mind
We have had groups hit this on the weekend (more on that below — it helps if you're already living close, or can find an overnight bus option that can get you there in the morning, so you're not losing a day on traveling), but figuring out which waterfalls you want to see can help you determine how much time you spend here.

It's totally up to you, but here are a few ways people have broken up the trip:
Day One: Tamasopo Waterfall and El Puente de Dios
Day Two: Micos Waterfall and Minas Viejas Waterfalls
Day Three: Tamul Waterfall (this is an all-day event) / or El Salto / El Meco

Others have crammed it into two days like this:
Day One: El Puente de Dios, Micos Waterfall, and Minas Viejas Waterfalls
Day Two: Tamul Waterfall / or El Salto / El Meco

Other groups have skipped Tamul and added on waterfalls like El Meco waterfalls and El Salto del Agua. Some have just done Tamul and El Puente de Dios to maximize their time at one of the two most popular places in the area, or just visiting Cascades de Micos, Punte de Dios, and Tamasopo in two days.
What's important to keep in mind is that Tamul waterfall is a full-day activity, and the rest of your time can just be decided by how much actual swimming time you want to spend at the falls versus getting to your next waterfall adventure.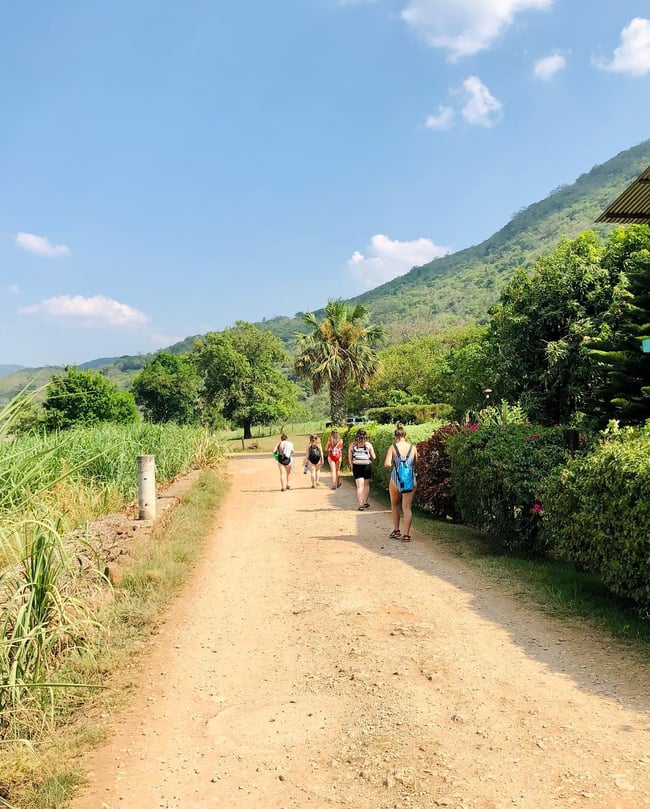 What Some Groups Said About Costs
It depends on a few factors, like how much transportation costs you, how much you spend on food, how you decide to get around to all of the falls, and how much you spend on somewhere to stay, but there have been groups how have managed a trip here for around $150 - $200 (but there have also been others who have spent a lot more, too).
For groups who wanted to keep costs low, they ordered from the little food carts in town, instead of eating out at nicer restaurants (we love the street tacos and Gorditas here). Others packed sandwiches and snacks to save money on eating out.
Making sure you take the local buses, rather than going through a tour group or taxi, is another huge way to keep your budget. However, if you'd like to have transportation and everything all taken care of, a tour group will handle of those details for you — one group did this on a weekend and paid about $200 total for tours, bus tickets there and back, and the hostel.
Is This A Weekend Trip Or Not?
It can be done on a weekend but be prepared to not sleep very much because it'll be a lot of running around to see it all. The area is so large that a 3-4 day trip is probably best unless you're living close by. One group of ILP volunteers loved this part of Mexico so much they went back 3 times; once on a vacation, and 2 weekend trips!
Here's what one ILP volunteer, Joe W., had to say — "All of it can't be seen in a weekend and would take a week or two to truly see it all. We were the only white people there every time and it isn't even well known by Mexicans. The entire area is a hidden gem and we totally recommend everyone who goes to Mexico to go there!"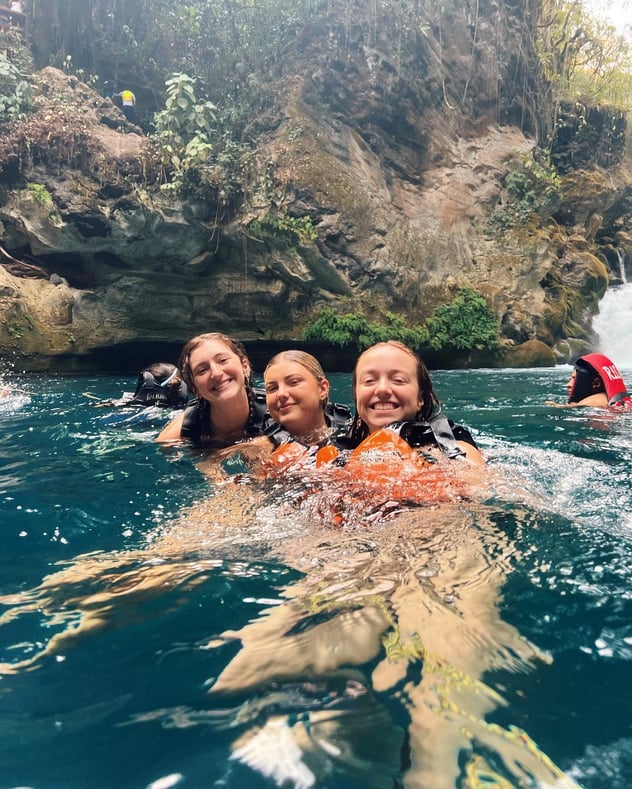 What's this about a group of volunteers in Mexico?
Come join the club! ILP (International Language Programs) sends college-aged volunteers all around the world to teach English and spend time traveling around the country they call home for a semester. One of our favorite destinations is Mexico ... can you see why? Learn more about all there is to do here as an ILP volunteer.