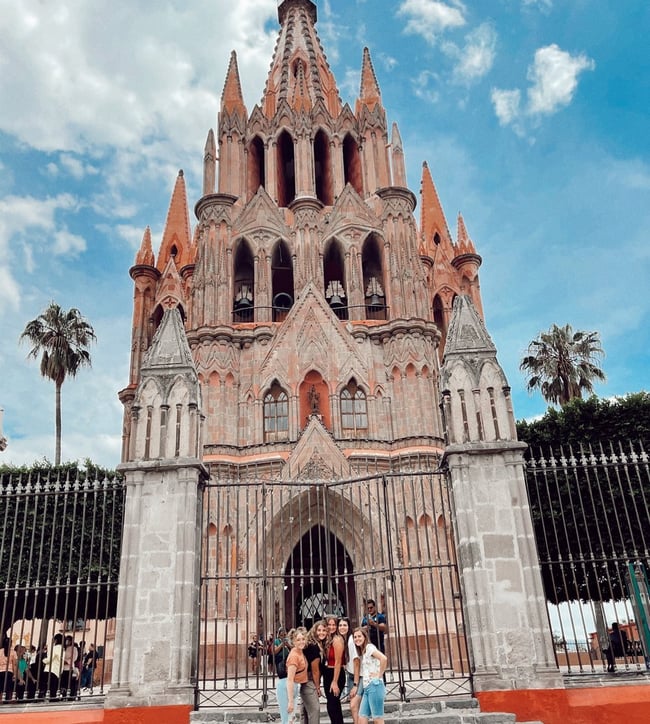 Mexico's biggest secret? It's our #1 pick for a country where you can do a ton of traveling on the weekends for way less than you think.
You have it all in Mexico: fabulous beach resorts to vacation to, world wonders and ancient ruins to explore (not to mention the fabulous fresh fruit and horchata bag drinks) but that's not even counting the weekend adventures.
Mexico has a dozen-plus unreal vacation spots that are close enough for you to visit on a regular weekend. When it comes down to it, Mexico is one of the best countries to travel to if you want to do a lot of traveling on a tight budget ... it's a big reason why Mexico may be the country ILP volunteers love the most.
Because we don't want you to miss the best of the best when it comes to this country, we have all your weekend plans listed below — sounds like you better get used to visiting colorful cities, thundering waterfalls, and more on your Saturdays and Sundays as an ILP volunteer!


---
Love the idea of traveling all around this gorgeous country?
See what living and volunteering in Mexico is all about with ILP
---
Each of ILP's schools in Mexico right now are close to some really amazing cities that are only a few hours away (so easily done on a weekend or day trip). To make it really easy to see which ones are best to visit depending on your location, we have the areas blocked out, with lists of the cities you can visit that are in that area.

As a quick caveat, even if you're living in east and some of these spots are to the north, it can totally still be a vacation spot for you. Maybe that means a longer bus ride to fit it in on the weekend or a longer trip to help justify the longer bus ride. In any case, these area all cities that our ILP volunteers have visited during their ILP semester — perks of having every single weekend off, plus vacation days to really see it all!
We have a couple of maps and a section about getting around to these destinations depending on where you're located to help you figure out which would be quicker trips depending on where you're spending your time in Mexico.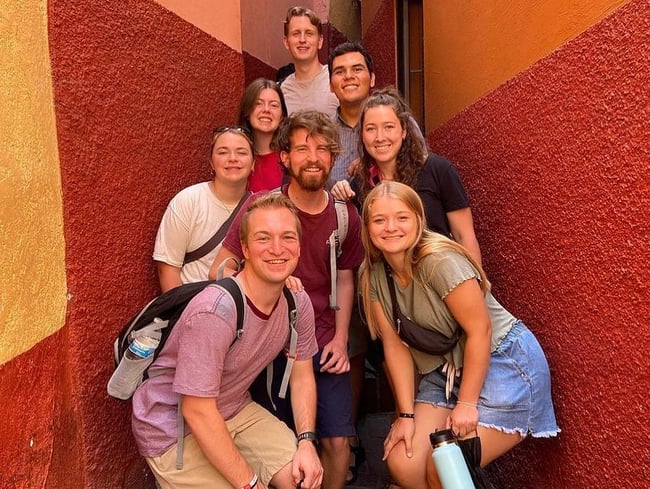 Our Favorite Weekend Spots
Okay, these are the spots that most volunteers make happen, no matter where they're living in Mexico. They're the top spots, the ones that many have said are worth long or short bus rides to get here. It's a list of bright and colorful cities and the prettiest spots to swim — sounds like quite the weekend line up, doesn't it?
Soak In Hot Spring In Grutas De Tolantongo
People see pictures from this place and instantly put Mexico on their "to travel list". The idea of soaking on hot springs hiding in the green hills is just pretty unbeatable. This place is an absolute gem, known only to people who really do their research about this part of the country and we're completely in love with a weekend here.

Turquoise water spills out in small waterfalls that you can zip line over, there's a cavernous cave for you to explore and of course a series of thermal pools perched above the whole scene, just to give you a taste of how to spend a weekend in this place. More pictures and tips for visiting Grutas here.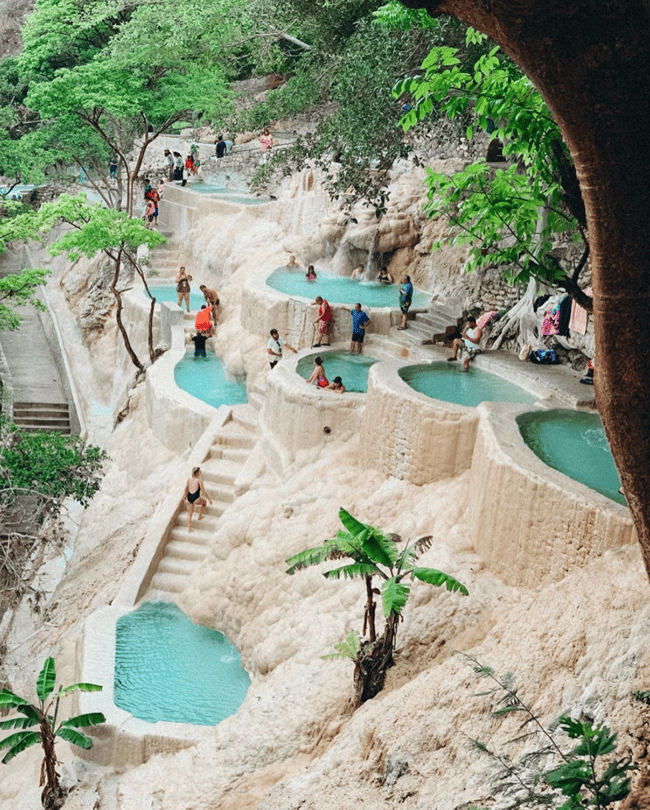 Guanajuato's Rainbow City
An absolute must-see if you're into the most colorfully breathtaking views spilling out below you. In Guanajuato, so many homes and storefronts are painted in the brightest colors, creating a cityscape dotted with canary yellows, bright tangerines, soft teals, pops of hot pink, and dashes of bright green. The entire effect is completely mesmerizing when you take the funicular up to the top of this hill and you can see the rainbow houses spread across the rolling hills. It's amazingly pretty — some say it was their favorite city in all of Mexico if that gives you an idea of this place!
Once you have your fill of the view, one thing you'll have to do is visit the Alley of the Kiss where supposedly, two lovers were forbidden by their families to see each other, but the narrow alleyways allowed them to kiss from their balconies. Wondering what else to see? Check out our Guanajuato Guide.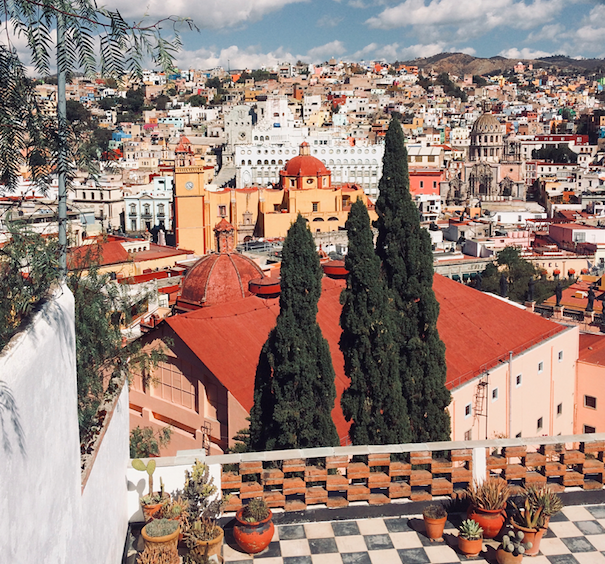 San Miguel de Allende's Stunning Streets
Some say this city is the prettiest and most photogenic in all of Mexico. The most famous church in the city ("Parroquia de San Miguel Arcangel" ) towers above a busy city square, and turns the most stunning shades of pink and orange at the sunset. Bookended by palm trees and you've got quite the view.
The Zocalo (which is basically a city park) is also a huge hit: a sprawling center where you'll find benches for people watching, little pop-up popsicle and churros stands, and on the weekends, lots and lots of street performers and musicians.
The entire design of the city is laid out to be photographed, with narrow alleyways of painted buildings hung with colorful flower boxes and the occasional festival. More than a few ILP volunteers visiting have been lucky enough to spot Mojigangas: huge puppets dressed up like a happy bride and groom, or famous figures from history walking down the Spanish-inspired streets. In a nutshell, get your camera ready for a weekend in San Miguel de Allende.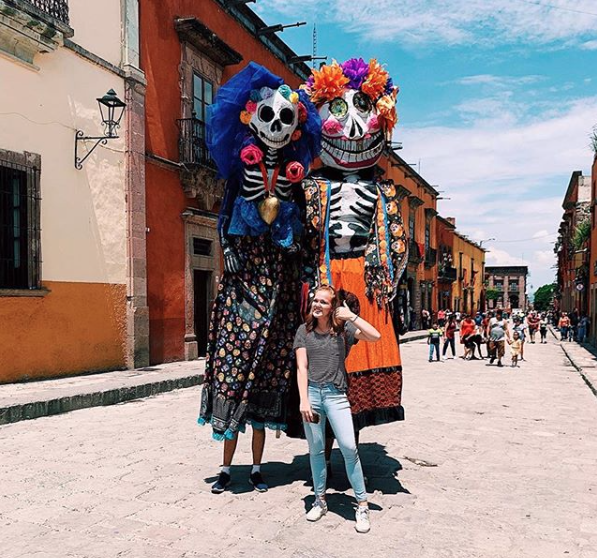 Mexico's Prettiest Waterfalls (Ciudad Valles)
Who would have thought that the best parts of Mexico are the ones the tourists don't even know about? We're loving the turquoise waters you can come swim around in this part of the country — this whole area is dotted with so many stunning waterfalls, you'll want at least the weekend to come see a few of them.
Picture a half a dozen waterfalls for you to swim in: some cascade into a gorge, creating an amazing swimming pool, at the top and bottom of the falls. Others start as a pounding, 80-foot waterfalls that pools into a series of smaller waterfalls you can climb up and jump off of, plus a few rope swings and deep pools to swim in. Or, some visit the real star of the show, the Tamul Waterfall. You can head out with a tour or come DIY, just don't miss hitting our favorite waterfalls the Ciudad Valles!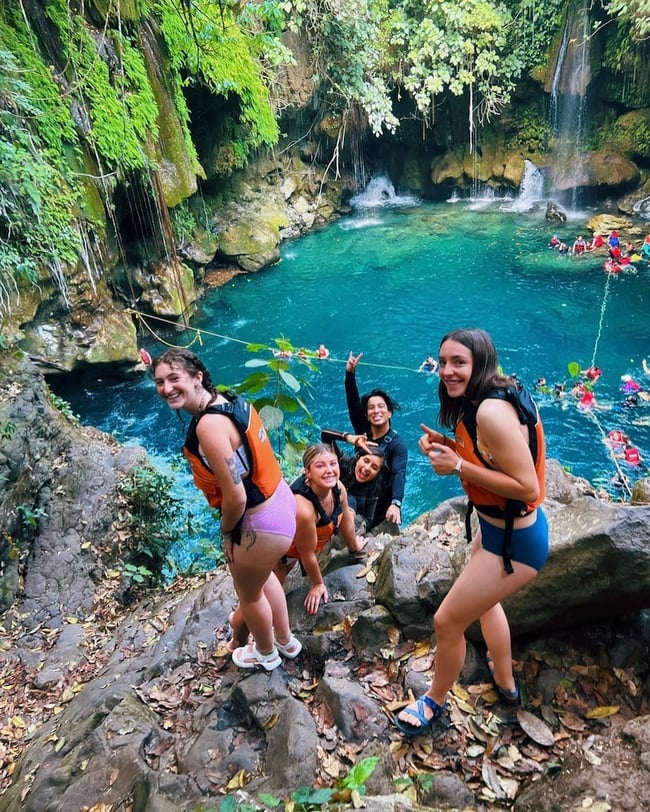 Stroll European Streets In Querétaro (+ Nearby Spots)
Hang around hand-painted murals, ancient aqueducts that remind you of the architecture in Rome, and see a free comedy show on Sundays out in the main plazas while you munch on churros or sip chilled horchata.
The pedestrian-only street Andodores runs right smack in the middle of the historic center letting you wander the shops, peek into restaurants, toss a coin or two in the fountains and admire the statues that pepper the city center. The city has a European feel to it, with gorgeous cathedrals and basilicas completing the scene. Get more on Queretaro here.
We also love love love Querétaro because it's an excellent jumping off point to so many locations in Mexico. Just nearby, is the magic city of Tequisquiapan: it's home to a pale pink cathedral, caves where you can mine for your own opal gems, and wander cobalt blue streets. Oh and we're also in love with Bernal, full of colorful streets and a hike to give you views of the town. Bernal is just an hour outside of Queretaro!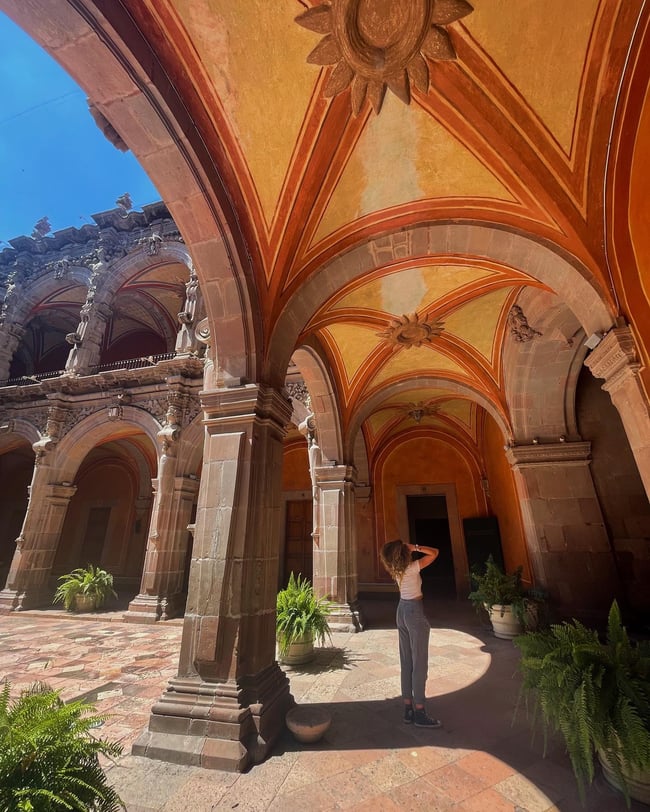 All The Reasons To Love Puebla
Truth be told, there are many (many!) weekend trips we rave about, but Puebla is easily one of the best. Some volunteers even said that Puebla was their favorite city in all of Mexico. Sounds like you need to see this place for yourself, right?
First, we love the European feel in the city, thanks to its Spanish roots. There's a big religious presence here (the Spanish called this city the new Jerusalem), with a rumor that there are 365 churches in town, one for each day of the year. While that number is more like 40, you have a lot of churches to visit in Puebla if you'd like to see them all. The city center is also worth a visit, same with the sweet street, and the "Valley of the Frogs". Cool off with a tour of the city via the underground tunnels, and don't miss a day trip to Cholula either! You'll stay plenty busy with a weekend (or more!) in Puebla.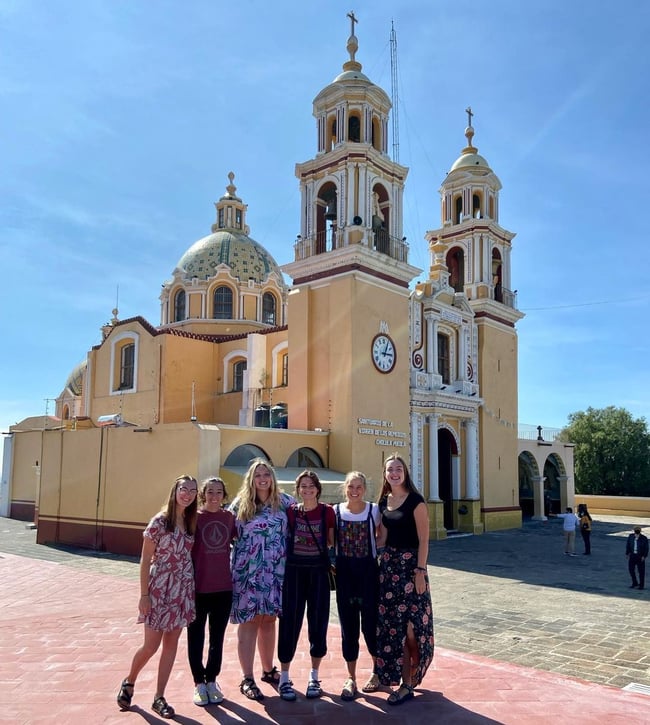 If You're In The Neighborhood
Ready for more of Mexico? This next section are for the weekend spots that volunteers typically always visit if they're nearby, but not everyone makes it over here just because there are other things to see and do a little closer to home.
Don't get us wrong! These spots are well worth your time, and we've had groups come check them out even if that means taking the long bus ride ... because who can really resist climbing atop ancient pyramids, hiking to see thousands of butterflies flitting about this mountain top, or shopping in the "show capital of the world"?
Teotihuacan's Pyramids
We've had a few ILP volunteers visit these pyramids and the world famous World Wonder, Chichen Itza ... and ended up liking the Teotihuacan pyramids better. Hugely massive pyramids and other structures line an enormous boulevard, creating a blueprint of what this ancient city used to look like.
Teotihuacan is one of the only places where you can climb up on these ruins, marching up all 250 stairs to get to the top of the Sun Pyramid to really get a stellar view of the entire complex. See more of Teotihuacan here.
Shopping In Sunny, Sunny Leon
One of the must-see spots in Mexico that most tourists miss unless they're spending some serious time in Mexico, and not just hopping from beach to beach. Maybe Leon's biggest draw is all the shopping: there's a market called Zona Peil that has stacks and stacks of leather sandals — woven with bright yellow straps, pattered with blue and red, strung with a herringbone design ... you name it. 3,000+ vendors set up shop selling everything from belts, bags, shoes, purses, wallets, boots, you name it. Leon is sometimes nicknamed the shoe capital of the world, and a visit to Zona Peil makes that title pretty fitting.

But you can also visit the temples and cathedrals, too. Our favorite is the towering Neo-Gothic church with a stained glass rose in the middle, and intricate windows painted creamy whites and pale pinks, complete with a crypt in the basement.
It's a pretty city year round, but we're a fan of visiting Leon in November so you can see a hot air balloon festival in the city: wake up early and see the sun-streaked sky above Leon dotted with dozens of hot air balloons? Yes, please.
Don't miss anything with our Leon city guide.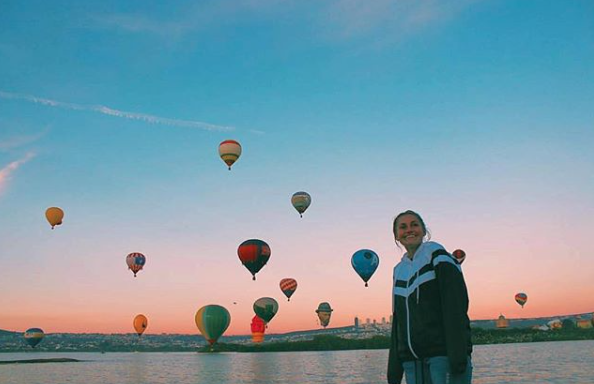 Visit Guadalajara For A Foodie Weekend
This is a definite weekend trip if only just to see everything in the Mercado Libertad or San Juan de Dios; a huge multi-level market that sells everything. I mean everything. Stereos, fruits, vegetables, CD's, guitars, clothes, shoes, butcher blocks … everything.
We're also a big fan of visiting Guadalajara to peek at the massive murals that cover corners of the city, spending time in the butterfly dome at the Park Agua Azu, and taking the chance to take a walking tour of the best foodie spots in the city. A guide will take you to the best places to grab tacos, churros, salsas, moles, and other local foods from the best vendors for about $12.
But you can also get out of the city and visit the Instagram famous spot, Tlaquepaque. A quiet little town with an alleyway topped with a "ceiling" of opened umbrellas makes for quite the photo stop. Get info on Tlaquepaque and things to do in Guadalajara here.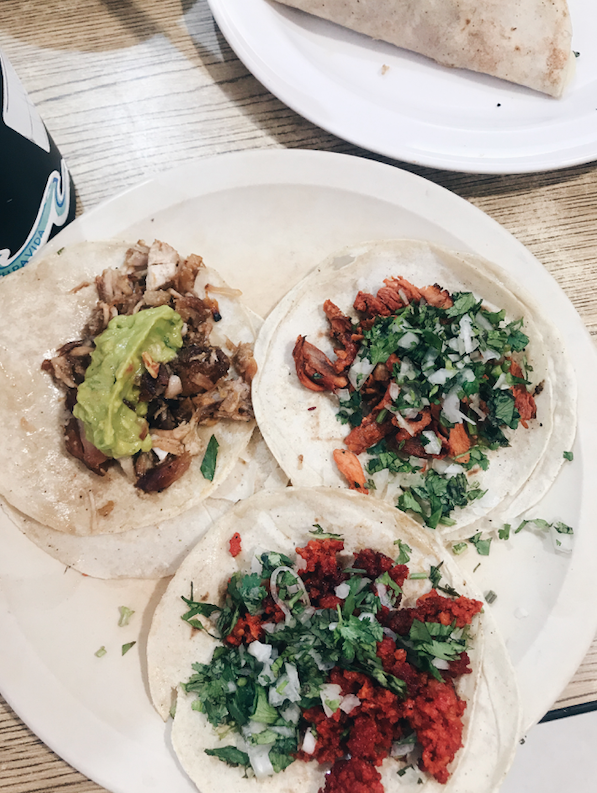 Spas + Pretty Streets In Aguascalientes
Ready to add another photogenic city on your list? The small city of Aguascalientes is a set up for a chill weekend of strolling around and hanging out in a nearby spa. There are huge central parks rimmed with towering churches and dotted with street vendors, selling your favorite snacks. There's a museum all about the "Day Of The Dead", and a garden sprinkled with brightly colored murals and a light-up gazebo.
Get your Aguascalientes guide right here (we know you want to visit).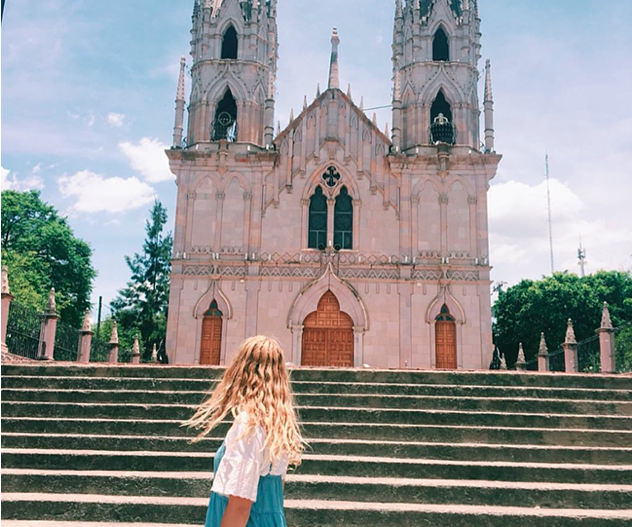 Plan More Time In Morelia
Besides being delightfully picturesque, this old settlement is the jumping-off point to a hike where you can be surrounded by monarch butterflies that flit around the nearby mountains. It's amazingly magical, and may very well sweep you off of your feet. Plan on touring the city's cathedral, snacking at the candy market, and finding a few delicious places to eat before tackling the mountains to find thousands of monarch butterflies.

If you want to know what our ILP volunteers say about Morelia, it's all here: "It's a quiet town that is so so pretty and has some of the prettiest cathedrals I have seen in Mexico ... we bought a bus ticket for an earlier return and I wished we had a couple more hours here!"

Get more on Morelia here.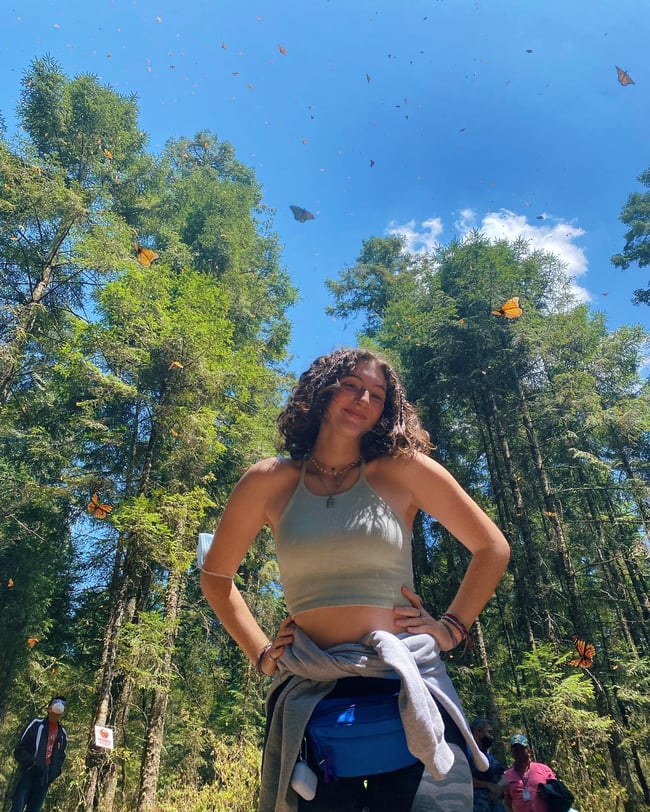 The Magic Of Cuetzalan
Most tourists coming to Mexico never hear about this quaint little town which means they miss out on the rich history and culture Cuetzalan has to offer. Let's make sure that doesn't happen to you. Cuetzalan sits about 3-4 hours northeast of Mexico City (or Puebla), just inland from the gulf and is known to be the spot for some of the most stunning festivals this country has to offer. Yes, you'll find cobbled streets, smooth from years of use, and the buildings painted in whites and reds ... it's a very pretty city, but if we're being honest, the festivals in Cuetzalan are where it's at.
Come see the trained Voladores, or visit during the Huipil and Coffee Festival. Anytime you are in Cuetzalan, you also can't miss the little markets, full of traditional fabrics and homemade marmalades, plus towering Gothic churches. Here's more about Cuetzalan.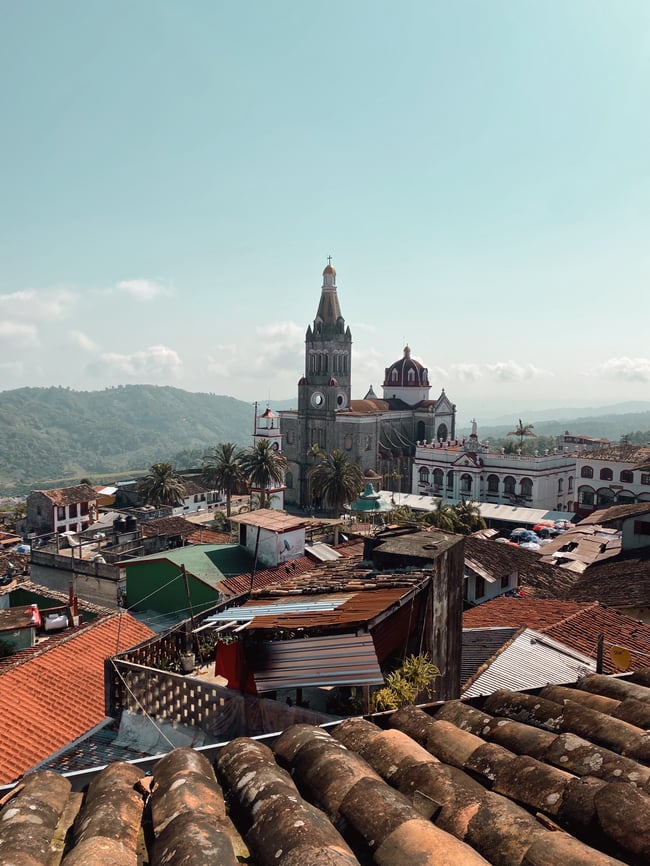 Oaxaca City's The Spot For Food, Festivals, And More
Oaxaca is known for its food. I know that you hear this about all of Mexico (we looooove the cuisine here) but Oaxaca has been a culinary capital for centuries. The food here is a UNESCO experience that pulls in tourists from all over. Many people head to this city for a solid week to just have enough time to eat all the regional dishes you can find here. One ILP group said "the point of visiting this city is the food" if that all helps you paint a picture of what your focus should be while in Oaxaca. Plan on tasting a whole range of dishes like Tlayudas, Tamales, Empanadas, Tejate, and Nieve ... along with countless other favorites known to the area.
Still need a bit of convincing? Oaxaca has preserved much of its colonial-era architecture, meaning you can admire cobblestone streets, doorways painted a dozen different colors, and desert plants spilling over balconies, as well as a span of murals depicting the city's history. You'll quickly see why Oaxaca is a top-tier destination for photographers!
Come see the Nacho Libre church, eat your fill of "the best food in Mexico", and see why more than a few visitors say Oaxaca was their favorite city they visited! Get all the info about planning the best visit to Oaxaca City possible, here.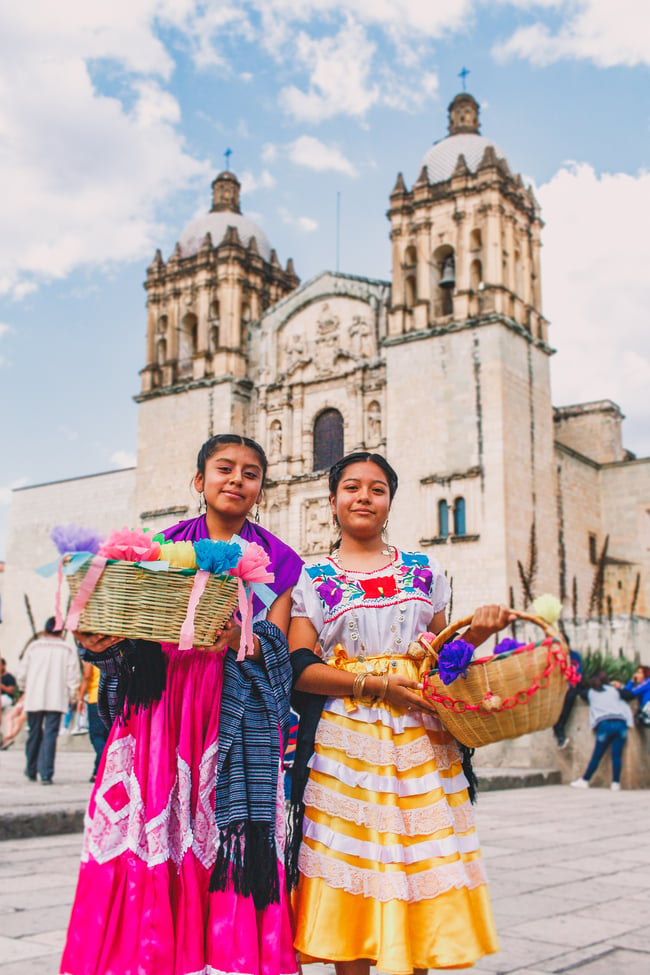 A Little Map To Help You Out + Getting Around Mexico
Mexico's a big country, and all of these spots are localized in the middle of the country, surrounding the capital city. Luckily for you, Mexico is easily navigated thanks to a bus system. Each of these locations are reachable by bus (with a few exceptions where a flight is also an option if you want to travel for less time but spend more money). We have all the tips and tricks to traveling around to Mexico by bus here.
Like we mentioned, these locations are all options to visit no matter where you're coming from, but some are closer which means easier access! To help you organize which trips are closest to you, we've blocked out some colored regions, and listed out these destinations based on where they are:
Around Mexico City (ish)
Puebla
Teotihuacan
Querétaro (+ Tequisquiapan + Bernal)
Oaxaca City
Morelia
Cuetzelan
Around San Luis Potosi (ish)
San Luis Potosi
San Miguel de Allende
Leon
Querétaro
Aguascalientes
Ciudad Valles
Around Querétaro
Querétaro
San Miguel de Allende
Leon
Guanajuato
Grutas De Tolantongo
Morelia
Guadalajara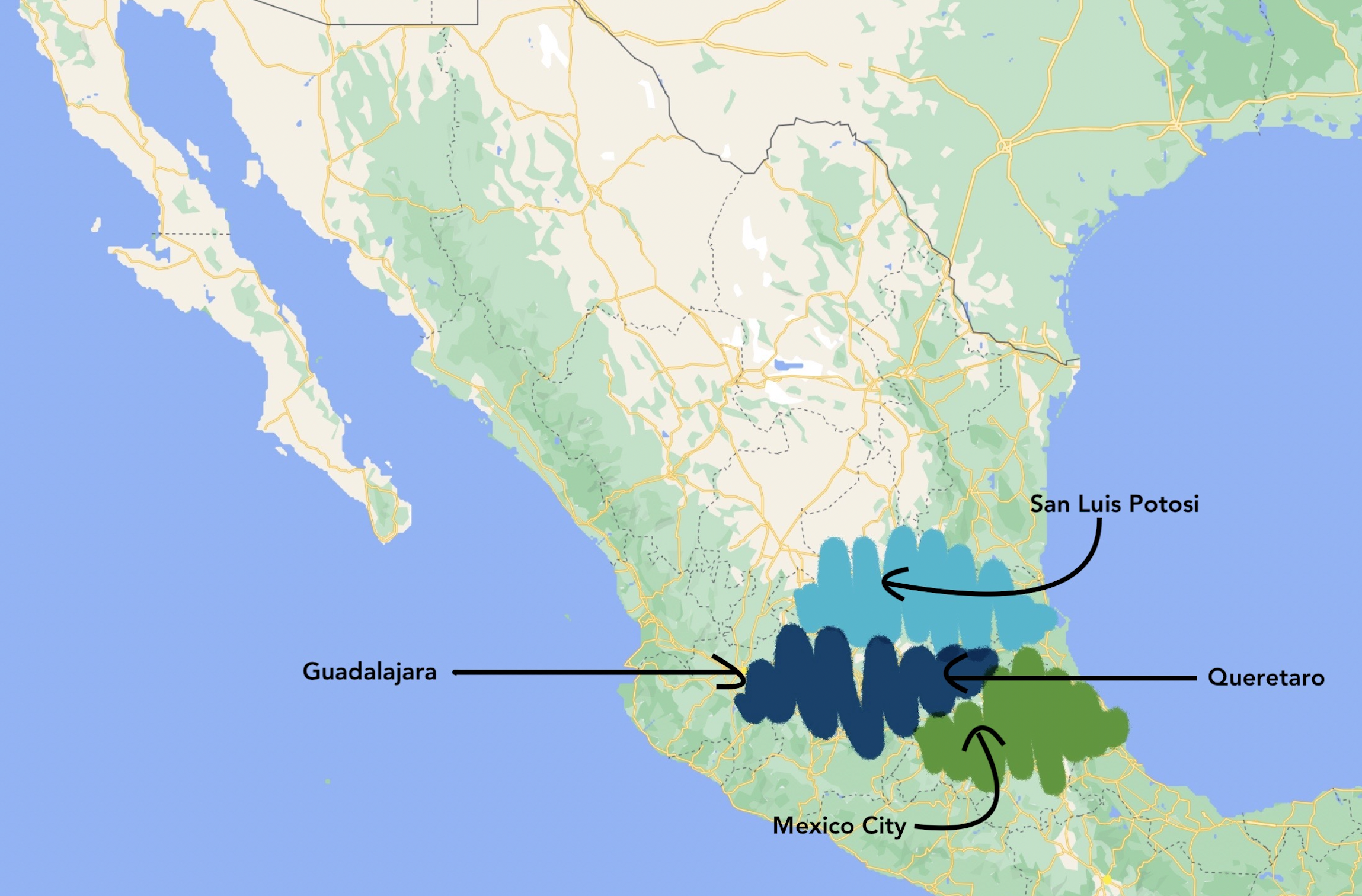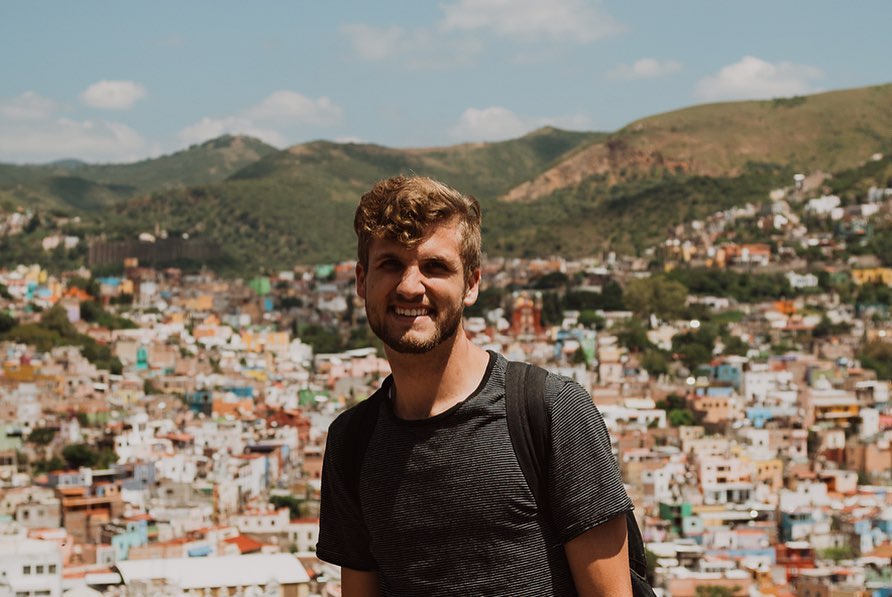 Mexico's the adventure you're looking for
Unless you're not up for a semester of adventure through jungles and waterfalls, ancient ruins, colorful magic cities, or heading to the stretches of white sand and turquoise water found all along the coastline. Come live in Mexico and see what else you can find here.