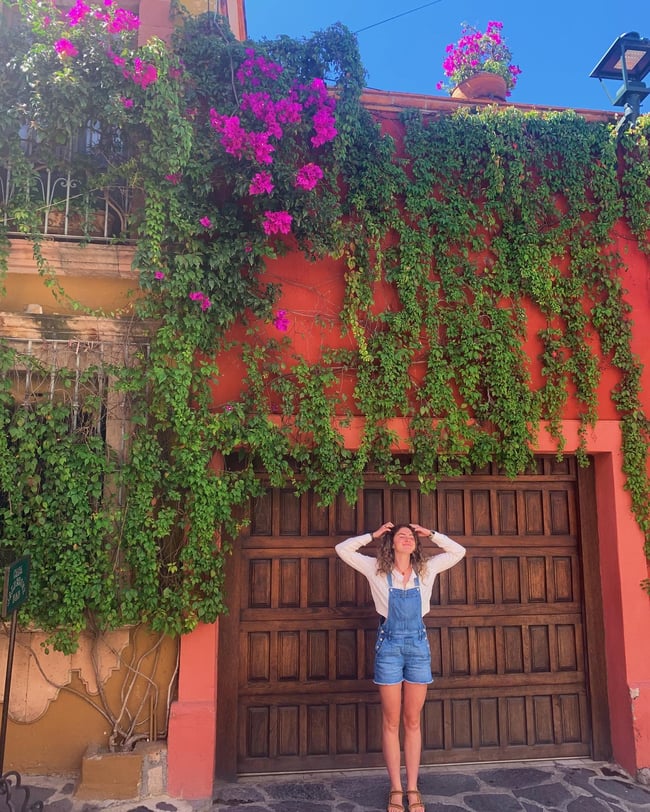 Any city that was "built for relaxing" is somewhere you just can't pass up.

Not to pick favorites, but this photogenic city is a total favorite. You won't find cobbled alleyways and a European-look at home in the US, but you'll find them in Mexico. Apparently, you can just go here instead of Europe to feel like you're in Spain. Shocker, right?
---
Make sure you're not missing the best spots in Mexico
Come volunteer here with ILP!
---


Tons of travelers from the States, Canada and Europe vacation here and decide to stay, till forever, and we really can't blame them. And the whole city is 90% walkable, meaning no need to fuss about bus schedules or taxis. Still need a little more convincing? You asked for it. Pretty sure you'll want to visit San Miguel De Allende after reading all about it: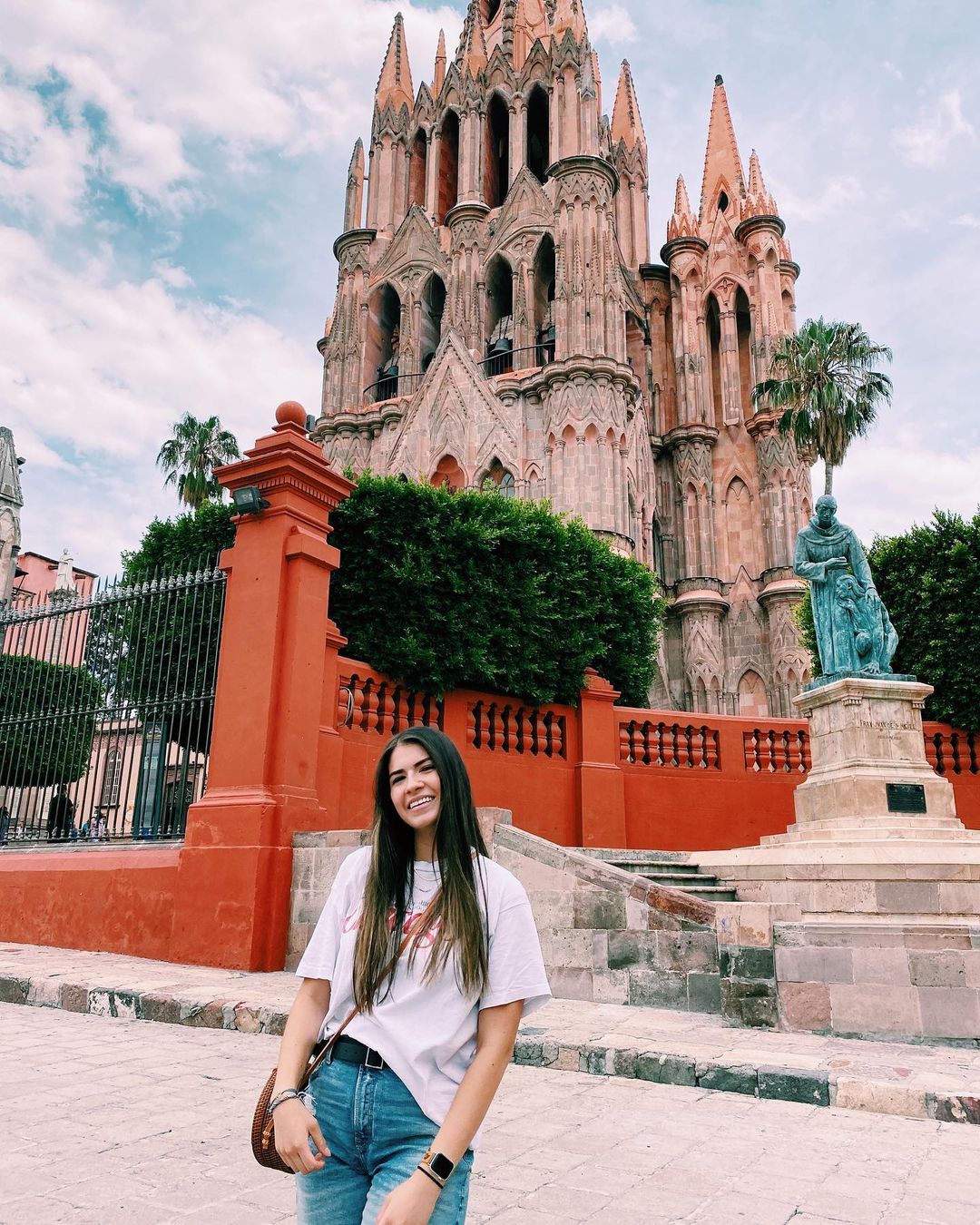 Our Favorite Things To Do
This Pretty Pink Cathedral
You'll want to take about 2,301 pictures of the Parroquia de San Miguel Arcangel, because it's that pretty … and looks different in the morning, afternoon and evening so you may want to visit it more than once to get the best lighting.
Traffic can get crazy, so watch yourself while you're walking around and keep an eye out for weddings happening there: after you see this cathedral in person, you'll understand why so many people want to get married here.
Address: Plaza Principal S/N, Zona Centro, 37700 San Miguel de Allende, Gto., Mexico
The church overlooks "El Jardin" which is a big city square where you'll find vendors selling favorites like horchata, tacos and ice cream; maybe plan your visit here around lunch time or after dinner so you can admire the church and eat a treat.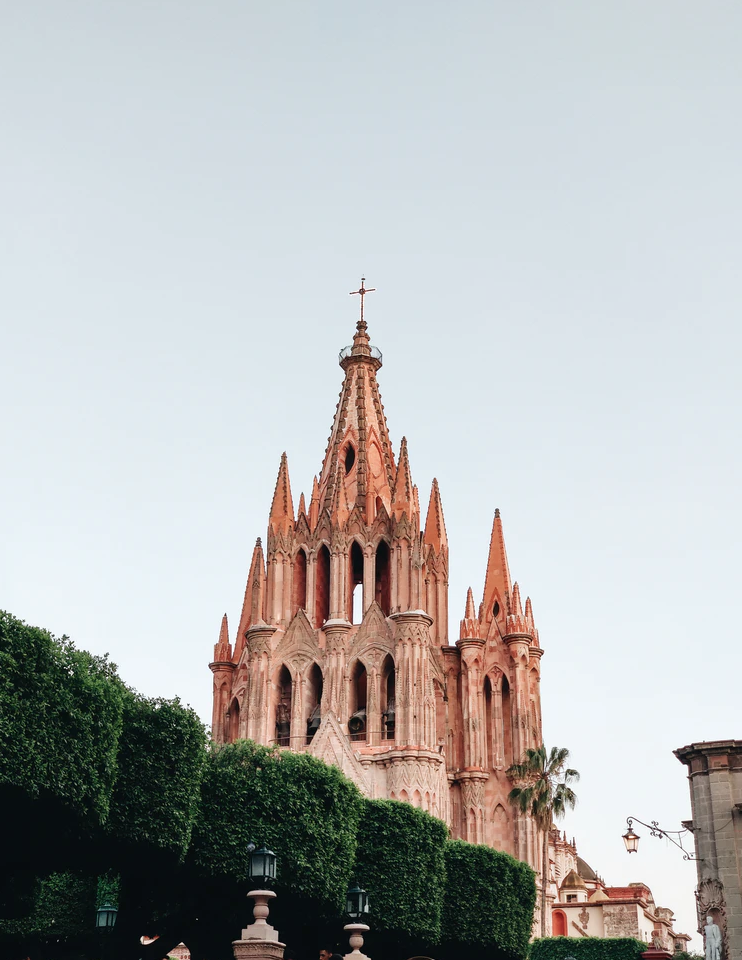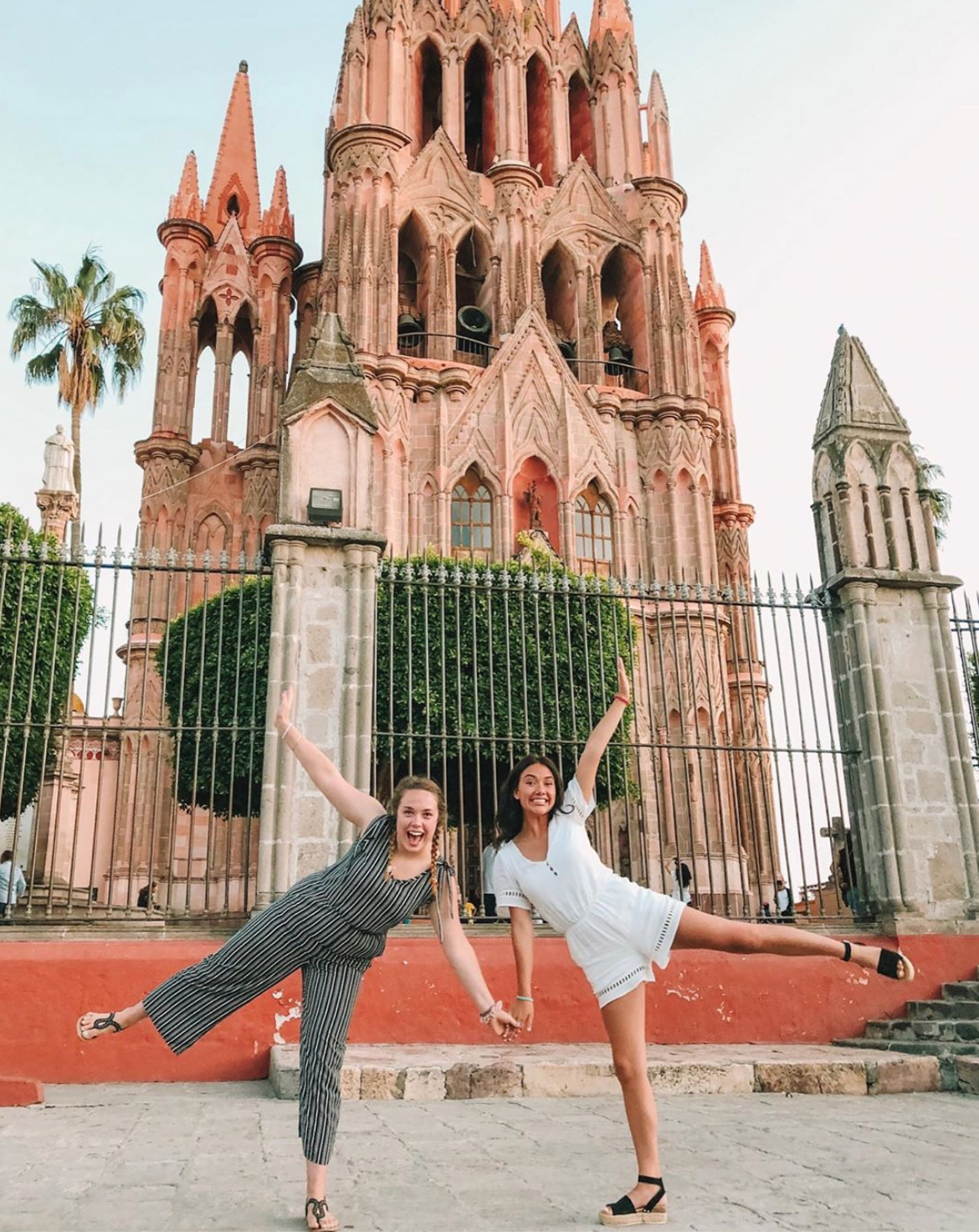 Dreamy Streets and Alleyways
Don't get me wrong, there is lots to see here, but one of the best things to do in Mexico (and this city) is just to walk around the lovely streets around sunset (with some aqua fresca or some tacos in hand, right?). On and don't forget your camera because these sunset walks are pretttttttty.
El Jardin (right by the cathedral we talked about earlier) is a particularly picturesque street and square, with colorful buildings and a big, pedestrian walkway.
We suggest starting in El Jardin, then working you way towards the steep hills on the outskirts of the city. On your way, you'll peek down streets painted a rainbow of colors, plus beautiful homes, and picturesque doorways. It's a photographer's dream.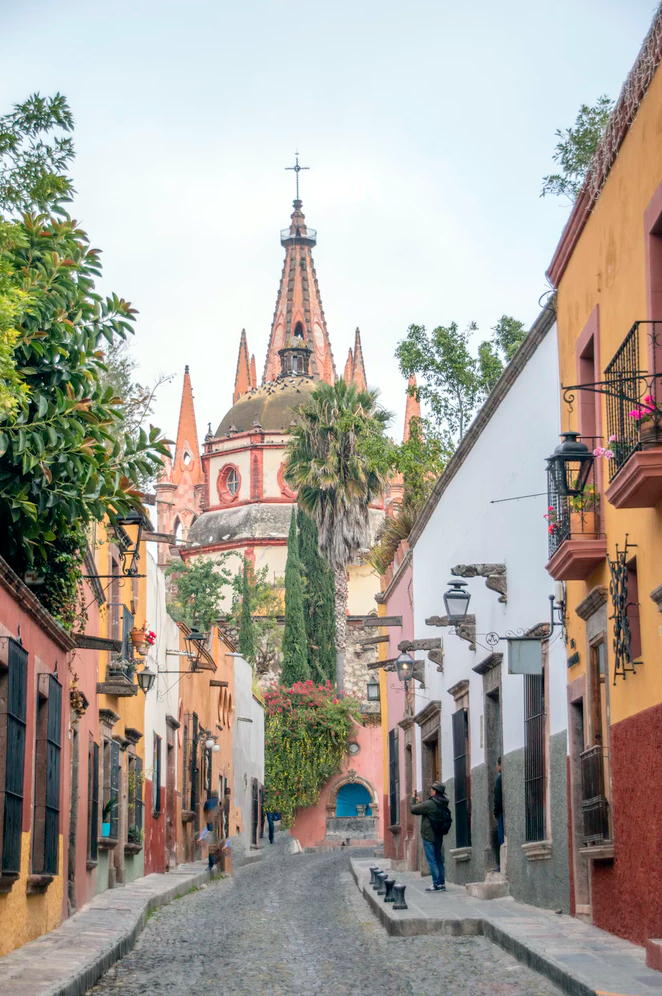 A Bit About The Shopping
In general, the shopping you'll find in this Mexican location are more upscale — find boutiques full of artwork, higher-end souvenirs, beautiful decorations, etc. It's a great place to do a little investing in a more expensive, investment kind of piece if that's what you're looking for.
If you're hunting for the classic souvenirs like leather sandals, woven blankets, pullovers, etc volunteers typically do their shopping in other areas like Puebla or Guanajuato.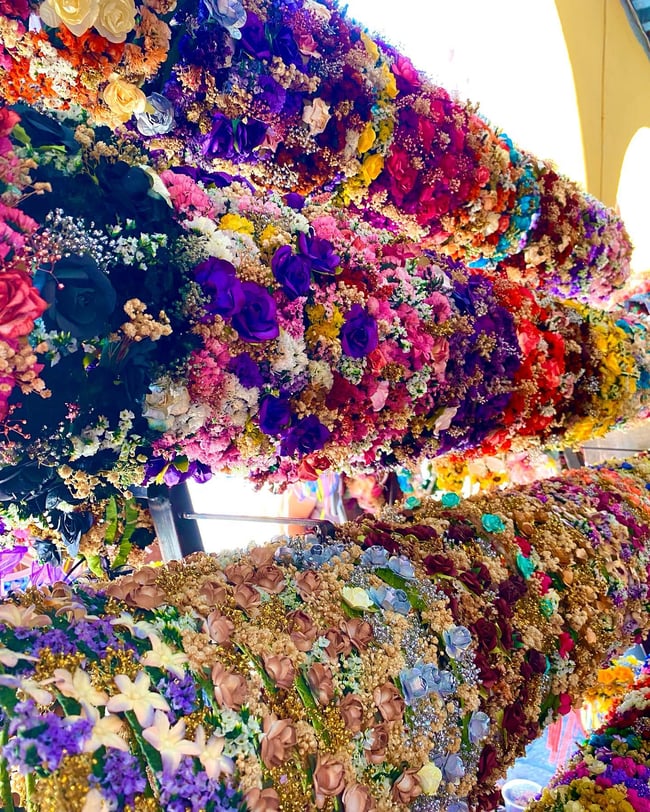 Find The M
ojigangas!
Found at pretty much any celebration in San Miguel de Allende, Mojigangas are giant puppets that are hard to miss. Dressed up in a paper-mache face of makeup, fanciful clothes, sometimes the mojigangas are dressed up to look like famous figures (like Frida Kahlo) or just in celebratory clothes. Snap a picture if you find them!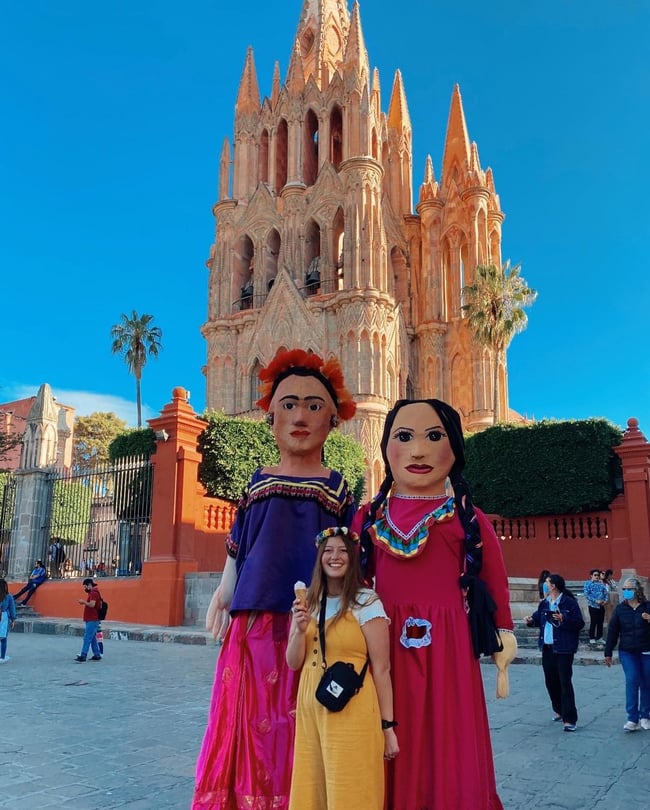 The Botanical Gardens
Plan on a taxi ride or a steep, 30-minute HIKE to get there but it's worth it! Volunteers say that you can take a taxi, but they loved seeing more of the colorful city by walking — it's quite a strenuous uphill climb, but worth it if you're prepped for it.
The Botanical Garden is full of so many cacti, palms, aloe, yucca, and other native plants along with some gorgeous views ... but the cacti are the real stars of the show. Find varieties that are like huge pin cushions on the ground, others that look like a twisting ribbons, and others that are several feet taller than you. The paddles that are sporting yellow, orange, and pink blooms are also rather lovely.
Just know that there isn't any shade in the gardens, so you'll want to make sure you have plenty of water with you for the hike there, your walk around the gardens, and your hike back.
Address: Paloma S/N, Las Colonias, 37720 San Miguel de Allende, Gto., Mexico
Hours: 9:00 AM to 5:00 PM
Learn more here.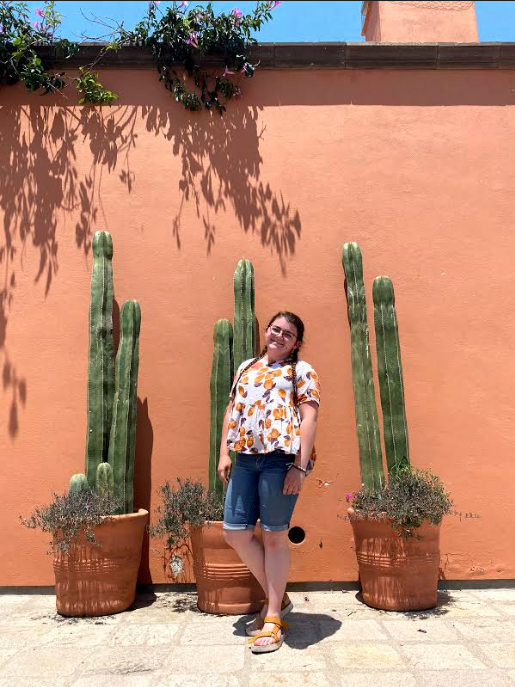 This Toy Museum
Next up is La Esquina Mexican Toy Museum; a quaint collection of vintage and handcrafted toys that are charming (and slightly creepy sometimes). Volunteers also mention meandering around the lovely little library nearby.

Address: Núñez 40, Centro, Zona Centro, 37700 San Miguel de Allende, Gto.,
Hours: 10:00 AM - 5:30 PMish (times fluctuate in Mexico)
Cost: 30 pesos
Places To Eat
We're a big fan of soaking up of the street food you'll find in Mexico, but there are a couple of cafes we'd recommend:
Tortitlan
The tortas here get all caps — they are SO GOOD. If you're not familiar, tortas are similar to sandwiches and can be stuffed with all sorts of good things. At this restaurant, find
fillings like beef, pork chicken, avocado, ham, and options to create your own.
One volunteer said she hasn't had tortas in Mexico that were that good ever since their visit.
Address:
Benito Juárez 17, Zona Centro, 37700 San Miguel de Allende, Gto.
Hours: 9:00 AM to 7:00 PM
Lavanda Cafe
One of the most popular cafes in the city, this is a go-to spot for a sit down breakfast. Their poached eggs come highly recommended, same with the eggs benedict, as does their hot chocolate (and their lavender latte). You might need to wait in line, because this place is popular.
Address: Calle del Dr Ignacio Hernandez Macias 78, Centro, Zona Centro
Hours: 8:30 AM to 4:00 PM (Closes at 2:00 on Sundays)
Cafe San Augustin
Plan on a long line to get a plate of hot churros and chocolate at Cafe San Augustin! The place does serve food, but people really come for the churros and the melted pot of chocolate that is perfect for dipping. Plan on grabbing your order to go, and sitting outside on the street (with a good view) instead of sitting at a table.
The churros here are so good, groups go twice ... one day ... for every day they are here. We love those kind of places.
Address: San Francisco 21, Zona Centro, 37700
Hours: 8:00 AM to 11:00 PM (Open until Midnight Friday and Saturday)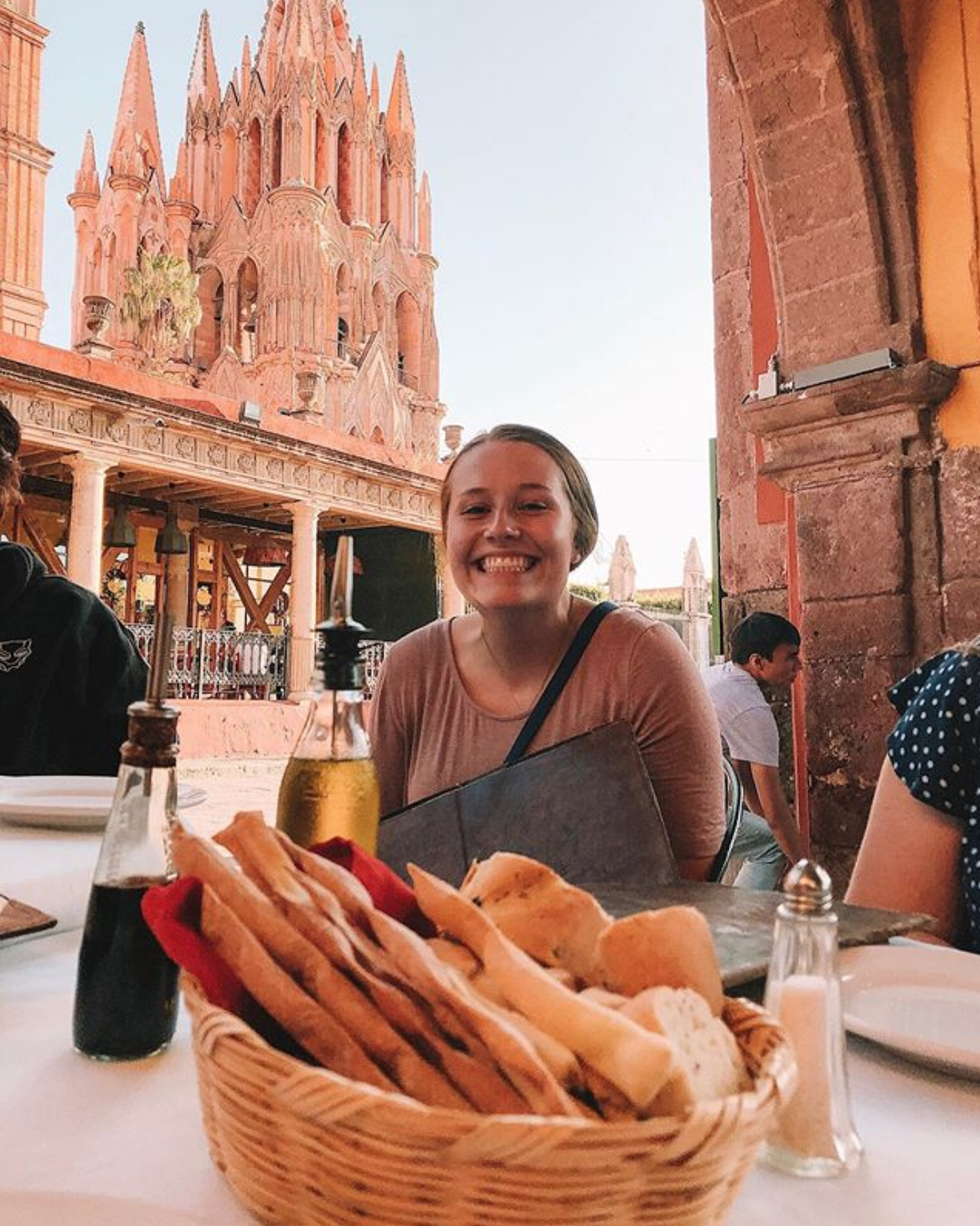 Places To Stay
You'll have your pick of hostels and AirBnBs when you're visiting this city, but volunteers have a few recommendations if you'd like to know where past groups have stayed:
Hostel Inn is a short walk down to the center of town (the main square), so it gets high ratings for location. This place also has access to a full kitchen, luggage storage, and a few other perks. Book here.

Lool Beh Hostel Boutique is another one ILP volunteers have stayed at in the past. Perks include a free breakfast, free city maps, and the general vibe of this place. It's about a 20ish minute walk to the city center, or it's located by a bus stop that'll take you there in less time for 6 pesos. Book here.
Find La Catrina Hostel close to the main park in the city, with perks like free breakfast, city maps, WiFi, and other highlights that make it a favorite stay. Book here.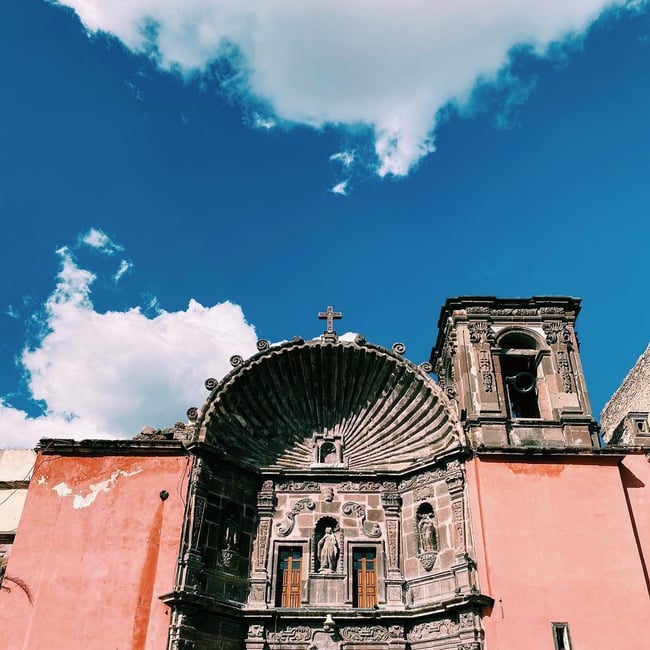 How To Get To San Miguel de Allende
This city is located in the state of Guanajuato, tucked between other favorite cities like Leon and Queretaro, and just 1.5 hours from Guanajuato which is another cutie must see city.
That's great news for our ILP volunteers who live in that area because it's just a short bus ride and it makes for an ideal weekend trip, just like a soak in the Los Grutas De Tolantongo or Querétaro (just a couple of our favorite weekend getaways).
By Bus
Head to the central bus station and see if you can book tickets on a Premiere Plus bus (they are our fav). Tickets are very inexpensive. They don't have change usually, so bring small bills and coins.

You'll want to book tickets beforehand to make sure you get a spot, but sometimes you can show up same day and get on the bus you want.
Tip: If you can't book directly, catch a bus to Guanajuato first and spend a day there, then make your way to San Miguel De Allende (1.5ish hours from Guanajuato).
By Taxi
Past volunteers also suggest taking a taxi since it isn't that far from where they are living (even 1-2 hours away is good). The price isn't too bad if you split it with your ILP group and then you won't have to worry about your bus arriving on time or arriving late (that's a thing that happens on Mexico).

The fare is usually around $40 - $65.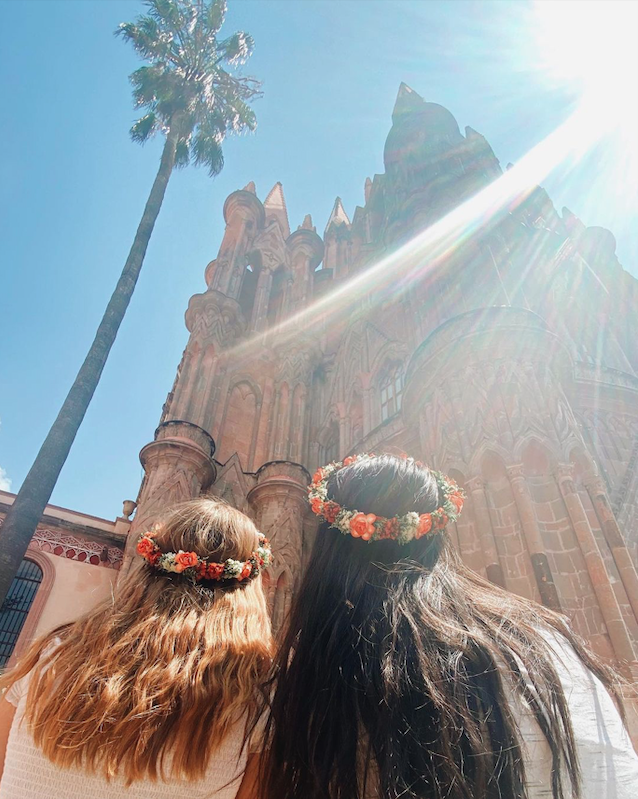 A Nearby Adventure
Visit Thermal Pools Just Out Of Town
Take a taxi ride to the La Gruta Spa and soak up in the warm thermal pools. You'll be able to spend a few hours on the pretty grounds and the pools — one pool has warm water in a tunnel that leads you into a cave. Rad, right? Pack up a towel and bathing suit and share a locker with your ILP group (to stash your other valuables in).
There's also a restaurant where you can grab snacks and lunch but it's a tiny bit pricey (but yummy). We suggest going early because this place is a local favorite and can get crowded.
Hours: 7:00 AM - 5:00 PM
Cost: 150 pesos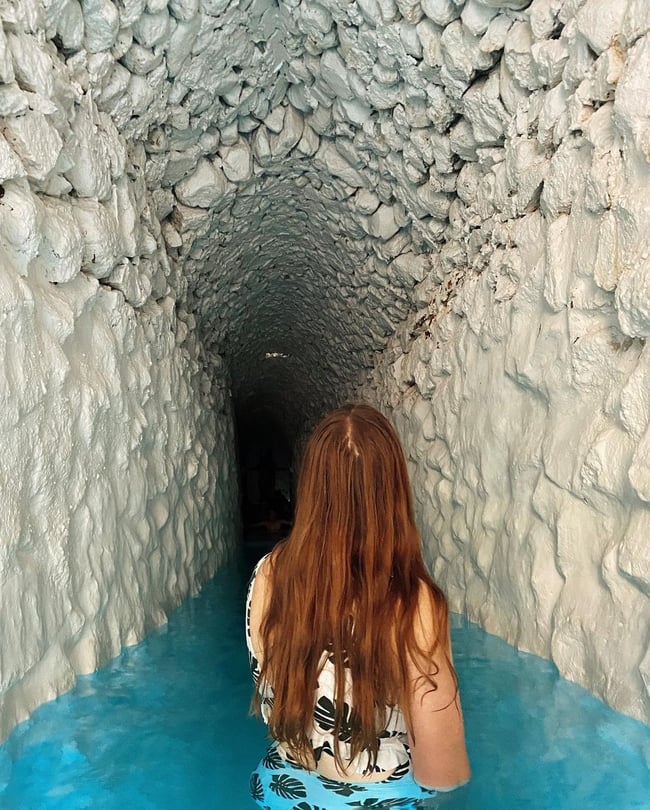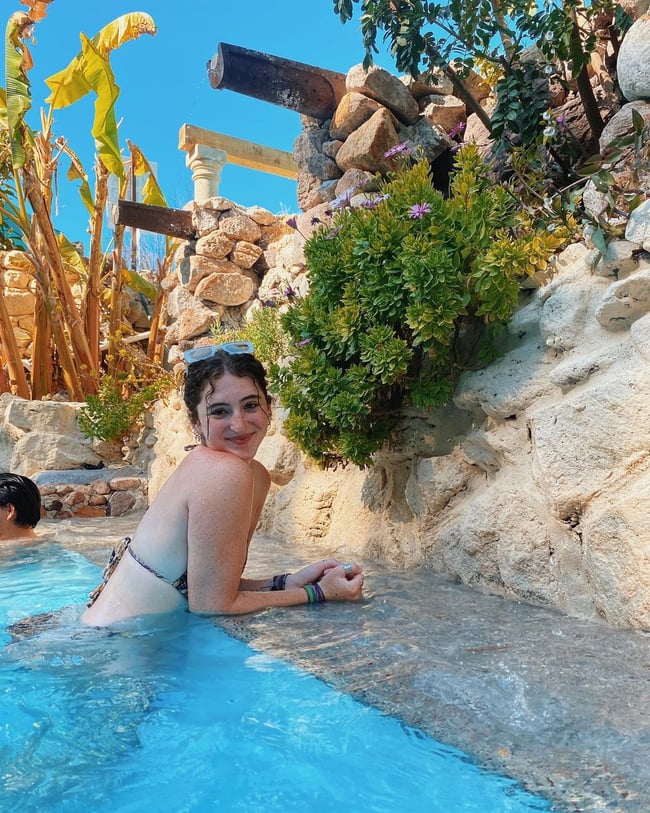 Ready for more Mexico? Of course you are!
Have the chance to call this country home for a semester, teaching English part time and exploring part time. Volunteers have weekends off plus vacation days to explore nearby cities like San Miguel De Allende.