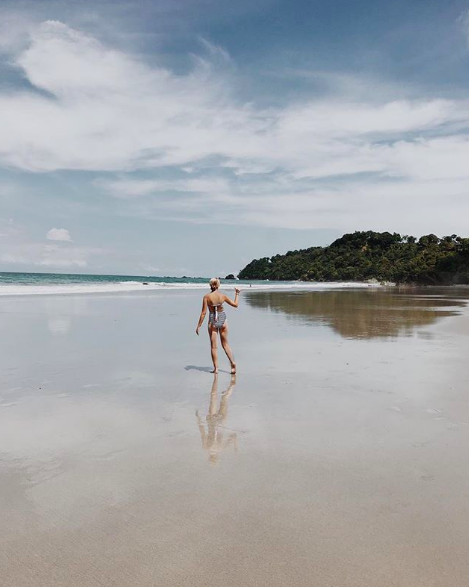 You have your weekends covered if you find yourself around Uvita, Costa Rica!
Costa Rica is (obviously) an ideal place to volunteer abroad for a semester. Who wouldn't love soaking up the sunshine, lounging on beaches, exploring the jungle, and teaching the cutest kids for a few months? With your choice of places to visit on your semester abroad, you'll likely want a taste of it all — adventures like zip lining and treetop jungle hikes, spotting sloths and surfing in the ocean, and trekking to waterfalls, right?

Luckily for you, you can cram all of this into your weekends off if you find yourself near or around Uvita, Costa Rica!


---
Are you ready to start living your best life?
Come see what volunteering in Costa Rica is all about
---

No matter where you are as an ILP volunteer, you have every weekend off, meaning you can really fill up those Saturdays and Sundays with plenty of weekend trips.
If you're on the Pacific side of Costa Rica, you have so many adventures to choose from. We especially love an area further south down the coast — a little town called Uvita. It's quieter, sits close to the beach, and is surrounded by waterfalls and even a National Park!
There are so many adventures all along the Pacific coast of Costa Rica though, so if you're in the Uvita area, know that you've got quite the pick of nearby spots to explore. We've put together some quick adventures that are close by with all the tips and advice on how to get there (and guides for your mini vacations). To help you organize things, we're ordering these weekend vacations from north to south along the coast (for the most part).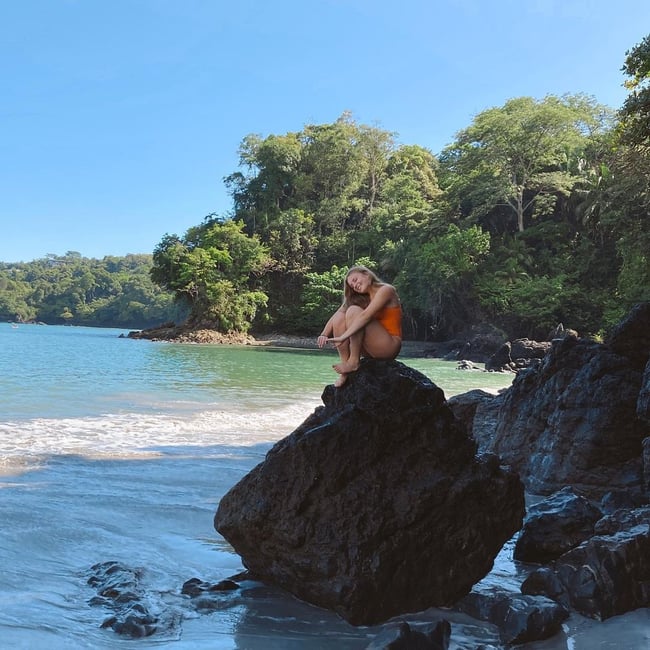 Jaco + Tortuga Island
Jaco, Costa Rica is just right up the coast from Uvita and is the perfect place for a weekend getaway in the sand and sun. Volunteers love a weekend of surfing, snorkeling, and horseback rides on the beach. There are also a few beaches to hit for a classic "beach day", along with a string of cafes and smoothie shops, plus a set of secret ruins that make for a fun hike.
If you'd like more of a half-day or full-day excursion, think about spotting parrots or sloths at the nearby Carara National Park. Or, book an excursion to snorkel Tortuga Island: it's just a short boat ride away from Jaco. Can you see why it's such a tourist hot spot?
When planning your trip, make sure you check out our weekend itinerary for Jaco — it's literally got everything you'll need to know!
Getting Here From Uvita: Hop on a Tracopa bus. It's about a 2.5 hour drive that will most likely stop in Quepos, but keep heading north until you arrive in Jaco. Tickets are typically $5-$8 each way. Learn more about routes and times, here.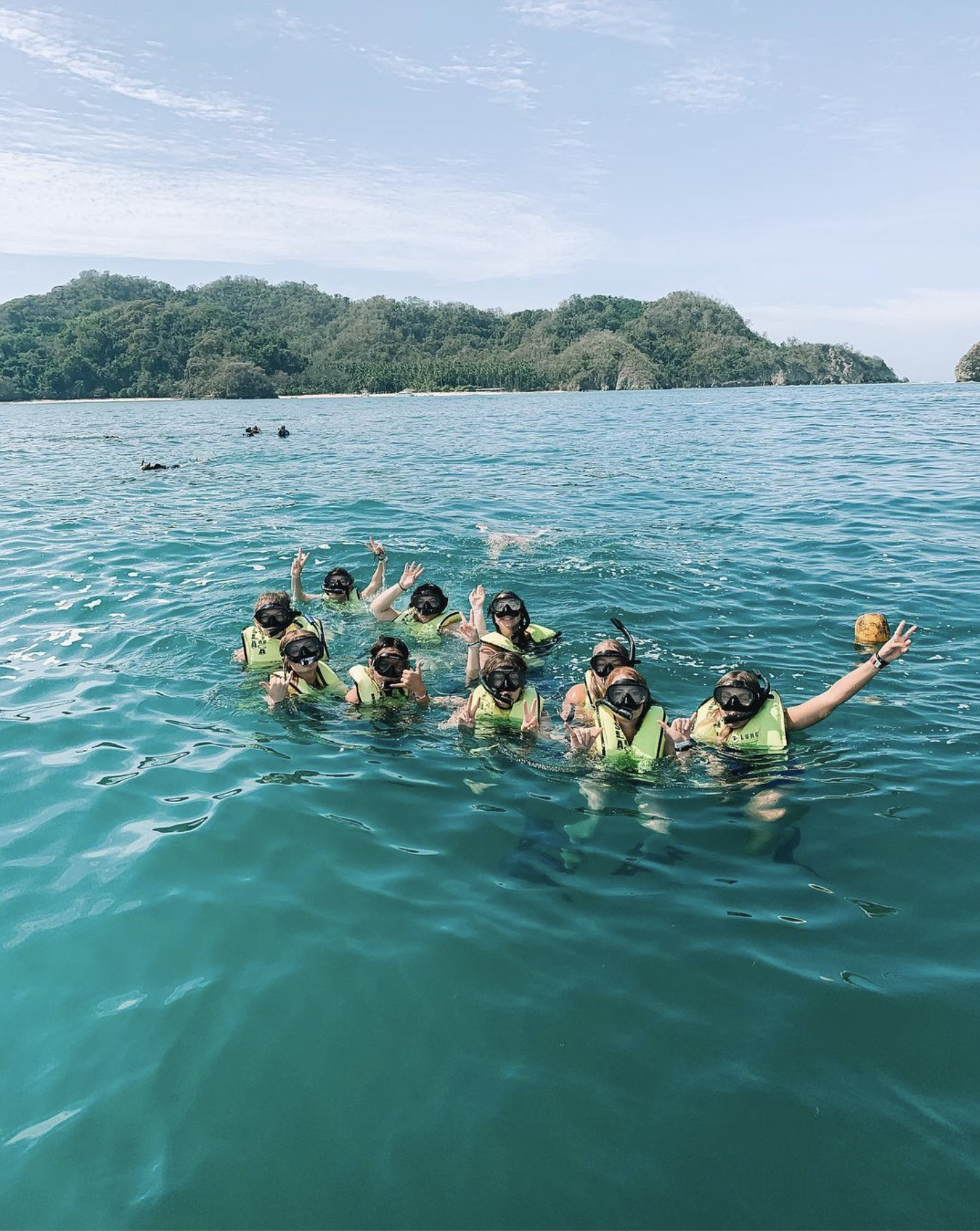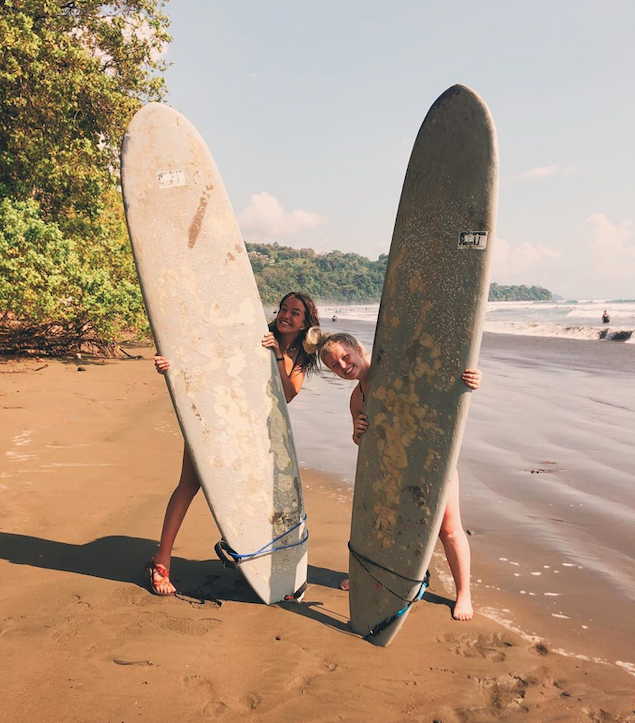 Quepos
Swaying palm trees, a dozen beaches, and right next door to one of the country's most famous national parks, and that's just the start! Sometimes, Quepos gets overlooked because it's next to the big, beautiful national park, Manuel Antonio (more on that later) but it definitely stands as an ideal weekend getaway on its own.

Plan on some beach time, fresh fruit at the farmer's market, and dinner on the marina, before planning a jam-packed day of snorkeling (on a catamaran tour), a day on Manuel Antonio, or white-water rafting. We have your whole Quepos itinerary here!
Getting Here From Uvita: Volunteers typically snag a Tracopa bus (it's just about an hour drive, with tickets in the $3-6 range). Book in person at the station, or learn more online.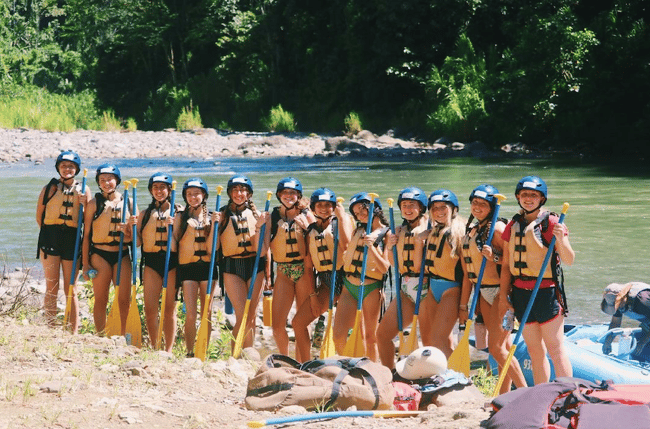 Manuel Antonio
Manuel Antonio is a hugely popular national park right outside the city of Quepos. Though it is the country's smallest park, Manuel Antonio is one of the most visited and has been a favorite since it was established in 1972. Once inside, you can hike thick tropical trails full of animals like colorful parrots and playful monkeys, or head to the treetops for adventures like zip lining or hikes to waterfalls. It has more than enough to keep you busy for a couple of days.
If you want a very tight weekend, you could check out Quepos and then spend a day in the National Park, or you could split these two trips up between two different weekend getaways. If you ask us, we think you'll want to spend at least 2-3 days exploring all the things to do in Manuel Antonio.
Getting Here From Uvita: Most volunteers ride to Quepos on the bus (more info about that, above), then Uber or taxi to the entrance of the park. In our Manuel Antonio Guide, we outline some overnight accommodations (you can choose to either stay in the park or in nearby Quepos).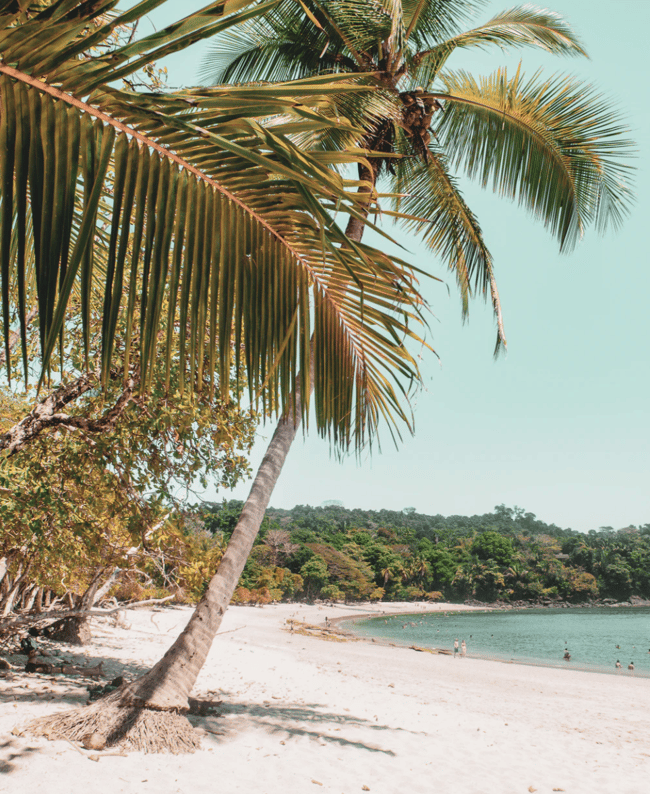 Bellena Coast + Waterfalls Galore
If you find yourself in Uvita, you're also on the Bellena Coast! The Mario Ballena National Park covers hundred of acres on land and thousands in the sea, established to help protect so much of the life that calls this part of Costa Rica home. The stretch of beach here has an iconic "whale-tail" shaped sandbar ... it's even more iconic considering this is one of the best places to whale watch in the country!
Volunteers typically spend a lot of time at the beach here, whether just exploring the sprawling coast, or renting surfboards out for the day. You can also ask around for a whale watching tour. There are also a handful of waterfalls in this Ojochal area (waterfalls like Nauyaca) and others. All of that makes for enough activities to keep you busy for an entire weekend.
Get our Ballena Coast guide, here.
Getting Here From Uvita: If you're in Uvita, you're already here! It's a quick, 20ish minute walk or so if you're in the little town of Uvita.

Volunteers also like traveling to the nearby coastal towns to experience lesser-known areas. Dominical and Ojochal are both easy to reach via Uber/taxi, or bus schedule (routes and times to Dominical) — best to travel to Ojochal by taxi.
We have transportation options to the waterfalls in the links above.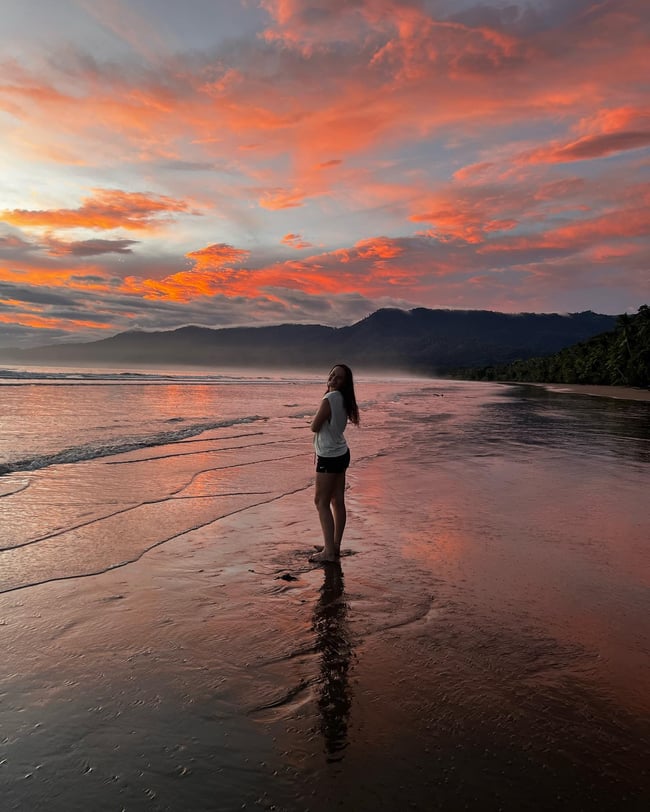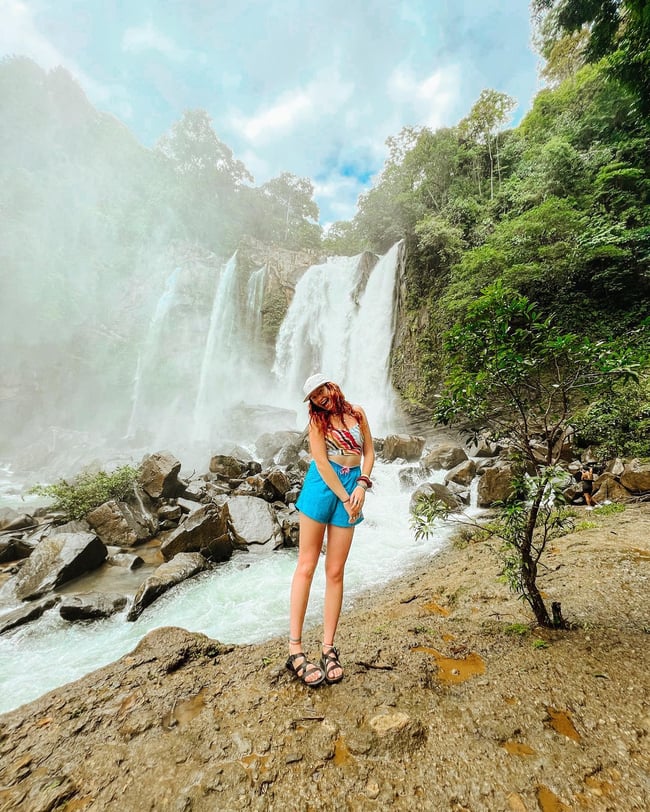 Cano Island
One of the biggest pulls to coming to Drake Bay (more on that below) is a day trip snorkeling near Cano Island. It's part of Corcovado National Park (more about that below), and sits just 10 miles off the coastline .... it's actually said to be one of the best spots for snorkeling in the entire country! Some visitors say it's like swimming in an aquarium, with the chance to see big silvery schools of Bigeye Jacks, angelfish, parrotfish, and some rarer visitors like dolphins, turtles, whales, and manta rays.
If you don't have time to head here for the weekend, but still want to snorkel Cano Island, there are tours that are arranged from Uvita, rather than Drake Bay. We have info about snorkeling Cano Island, here.
Getting Here From Uvita: Again, if you want just a day trip to Cano Island, that blog post above has info about tour operators that will handle transportation.

You can also visit Cano Island while you're in Drake Bay. We love taking a mangrove boat ride there from Sierpe (we have those directions outlined below, in our highlight of Drake Bay.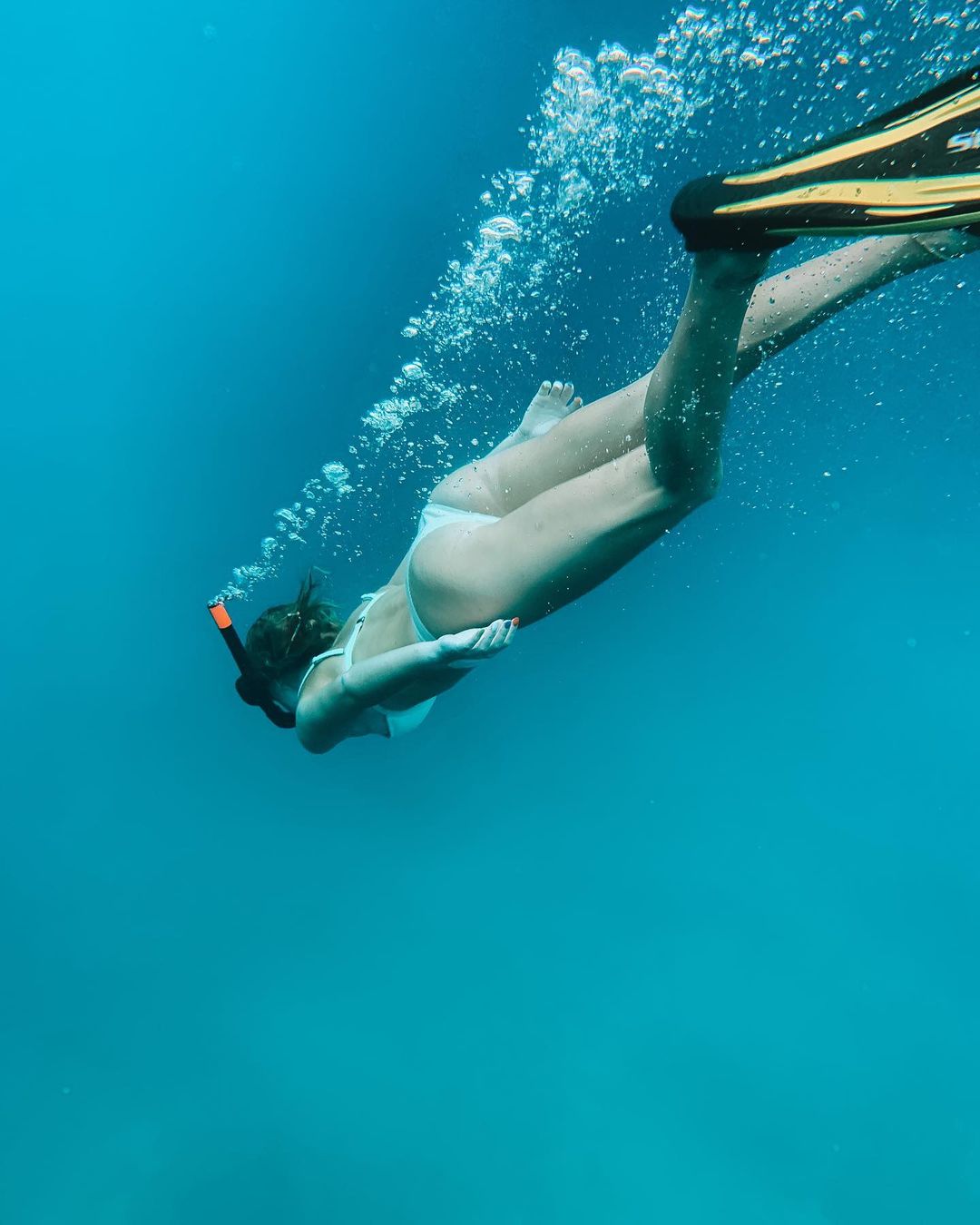 Drake Bay + Corcovado
Drake Bay is found on a little peninsula that juts out from the western side of Costa Rica, near the south (by the border of Panama). We'll get to this in a minute, but this peninsula of absolutely exploding with a handful of other locations to add to your trip here — like an overnight trek through Corcovado National Park, snorkeling Cano Island, or a visit to Puerto Jimenez (and the Sweet Gulf) if you have more time ... we love all the things to do in the Osa Peninsula!
In a nutshell, Drake Bay is an ideal jumping-off point to waterfall hikes, gorgeous beaches, the best snorkeling around, and tours aplenty. There is a ton waiting for you in this part of Costa Rica that you'll want to spend more than just one weekend here, that's for sure!
Getting Here From Uvita: Catch a bus to Sierpe. You can get on a Tracopa bus (more info here) to make the 1.5-hour ride, for about $3-$5. Once you arrive in Sierpe, you can take a water taxi to Drake Bay. This blogger has a detailed experience on how to make that happen, just know that times are limited, and it's more expensive to make the return journey (but the experience is well worth it!).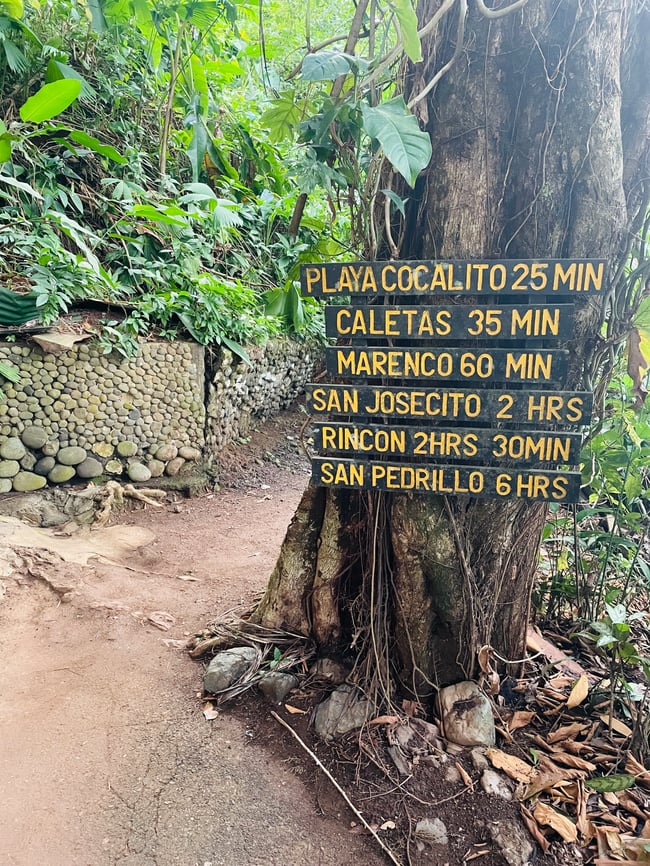 Trips With More Travel Time
Remember, all ILP volunteers have every weekend off, plus vacation days. So some groups like to hit the places close to home on the weekends and spend their longer vacations exploring areas farther away from where they live. However, some groups like to explore all the can on the weekends and visit other countries on their vacations!
If you're not too bothered by 5-7 hour bus rides, these are also ones ILP volunteers have squeezed into a weekend trip (though most of these are better suited for a 3-4 day adventure, at least).
Tamarindo: Another beachy getaway, with the prettiest sunsets.
San Jose: Explore museums and colorful streets in the capital city.
La Fortuna/Arenal: The country's most famous waterfall and volcano are found here!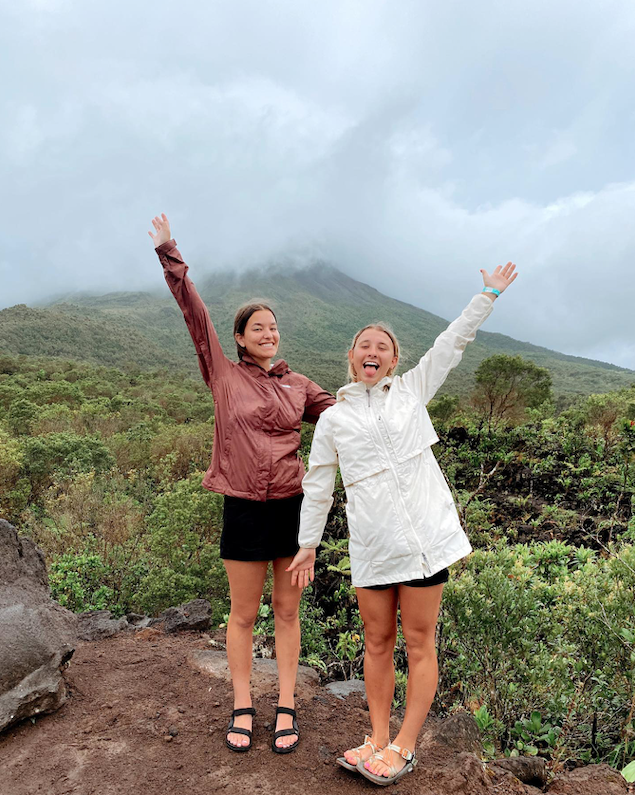 Come volunteer with us in Costa Rica
International Language Programs sends college-age volunteers each semester to live like locals in Costa Rica, explore, and serve the community by teaching children English. It's the kind of experience you won't forget, especially with so many weekend trips like this. Click that button to learn more about how it all works!