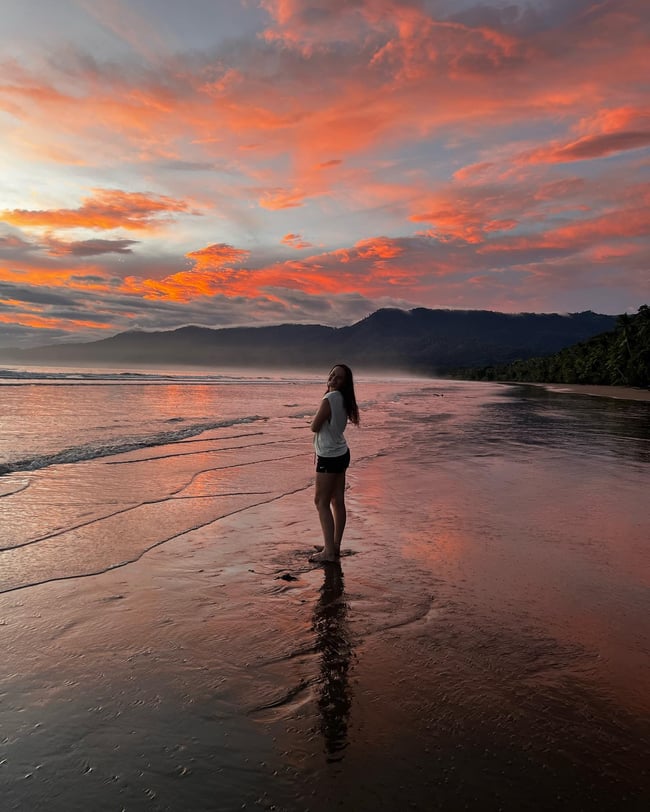 If you want a side of Costa Rica crammed full of waterfalls, a world famous whale watching spot, and miles of coastline, this guide is all you'll need.
---
Think about living in Costa Rica?
Get started by filling out an application right here
---

We're big fans of the Ballena Coast; these miles and miles of coastlines harbor one of the newest (and prettiest) national parks in Costa Rica, plus several sleepy beach towns that hug the coast. The entire area is rimmed with dense jungles … that happen to be full of hidden waterfalls and colorful parrots. Basically, you've got beach, jungle, adventures and animals, all in one spot. It's a very popular area for tourists, so you have some infrastructure like guides and recommendations built-into this coastal town (as well as several shops and restaurants along the coast).
Can you see why it's such a popular destination to add onto your Costa Rican itinerary? You are going to want to visit — To make your trip here even easier, we've outlined all the info you might need:
Things To Do
Besides just lounging on the beach, there are lots and lots and lots of things to do in this area, especially if you include the surrounding beach towns (more about those below).
Walking down the main street in Uvita gives you a glimpse at everything to do near the Ballena Coast; in the high seasons, the entire street is lined with vendors and tour shops advertising day trips and adventure packages. Here are a few highlights and quotes on cost. These are not direct recommendations, just quotes to help give you an idea of what there is to do here and about how much it could cost.
Oh, and it's absolutely an option to just explore the beach! You'll probably want to visit a low tide so you can admire the famous sandbar and have plenty of sand to spread out on. The beach is backed by a thick jungle so you can catch a little bit of shade, but you'll want to pack plenty of sunscreen. As with any beach, don't leave your belongings unattended.
Whale Watch
The Mario Ballena National Park has a whale-tail shaped sandbar and some of the best whale watching in all of Costa Rica which is a coincidence I can't get over. Most tours leave out of the beach town of Uvita (more below) and cost about $80 - $100 for the day.
The focus is on the whales, but you might see other animals like dolphins, sea turtles or sting rays. Most tours usually include some snorkel time too plus lunch.
Stand Up Paddle Boarding
With the ocean around, days filled with surfing and sun bathing shouldn't surprise you, but a new trend might — Stand Up PaddleBoarding (SUP) is in full force along the Ballena Coast. In nearby Uvita, you can rent a board (around $30) or take a tour (around $55 or $75 which includes a guide and the board, along with a snack usually).
If you're into surfing, that's also an option. Keep reading for a place to stay where you can get board rentals for really cheap.
Surfing
Want to test out the waves? Volunteers love taking surfing lessons during their time in Costa Rica, and this stretch of sand and ocean is a great spot to try things out or get in some practice. Visiting groups have rented boards for about $15-17 a day, or paid about $50 for lessons. There are a few around who can rent boards and teach you, but one past groups have gone with has been Surfing Uvita. Other groups have gone with Amigos del Sol.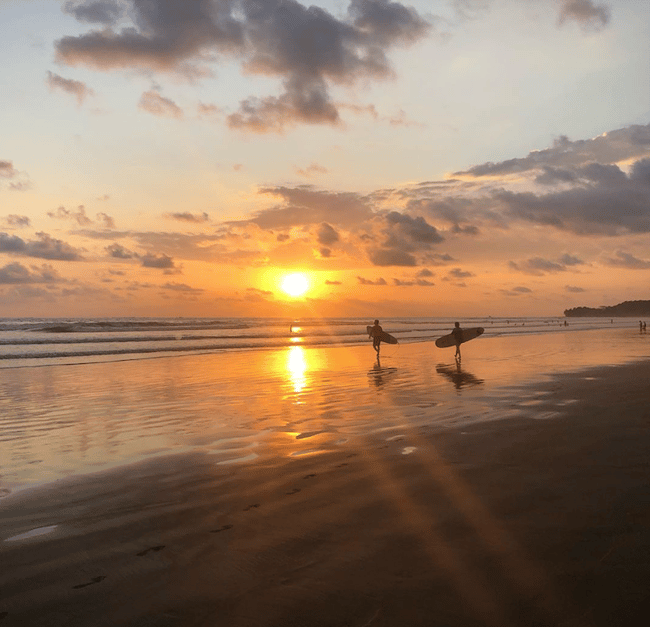 Day Trip To Cano Island
Just 32 miles away from the Ballena Coast is Cano Island, which some call the best place snorkel spot on side of Costa Rica … it feels like you're snorkeling in an aquarium full of sea turtles, dolphins, Bigeye Jacks, trumpet fish, angel fish, purple parrot fish and others.

It's about a 1.5 hour boat ride to get to Cano Island. Tours (book these online or in Uvita) will take you from Uvita or the Ballena Coast, and provide your snorkel gear. ILP volunteers do suggest bringing sunscreen and some anti-nausea because the boat ride can be a bumpy. Prices seem to hang around $80 - $95 (and up) for a day tour to Cano Island.
We've got a post of all things Cano Island to help you plan your trip.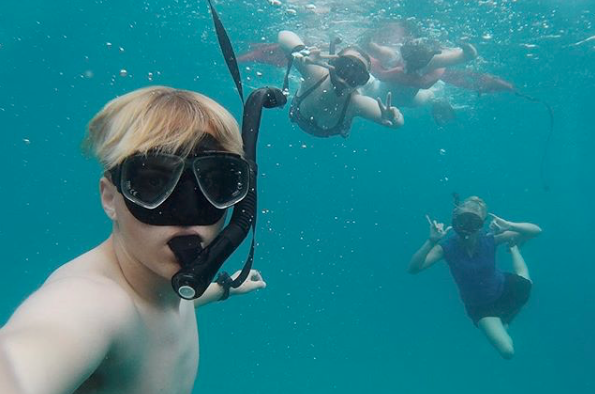 Hike To Nauyuca Waterfall
Take a day to explore the Nauyuca Waterfall, hidden in the lush jungles right around the city of Uvita. You can hike it yourself or go with a tour via horseback before arriving at these waterfalls — a multi-tiered cascade that pools into the most delightfully blue swimming hole.
The trailhead starts at Don Lulo's home and you'll need a few details to make it happen, but don't worry because we've got that all here for you.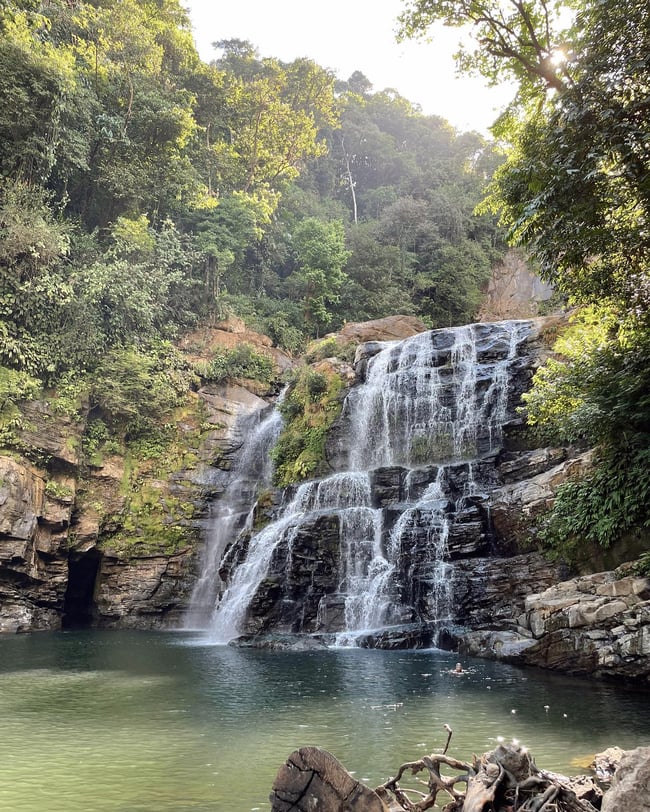 Trek To A Few More Waterfalls
The areas of Uvita and Ojochal (just a bit south of Uvita) are home to a couple of waterfalls that make the perfect place to hang out and swim for a weekend if you'd rather have a break from the beach. These falls are either a quick taxi ride away or very short hike, meaning you'll have time to visit a few even if you're staying for just a couple of days.
Get info on the set of falls around Ojocahl here.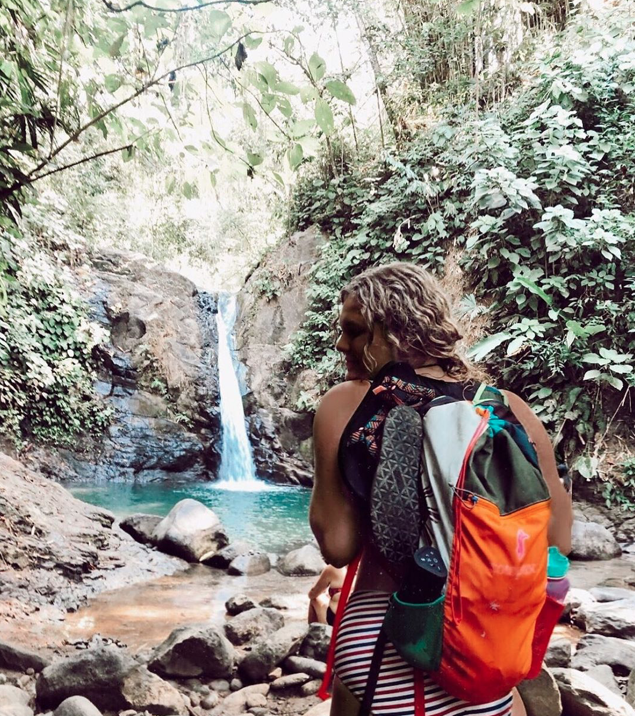 Where Exactly Is The Ballena Coast?
The Ballena Coast is found on the western side of the country, a 14 mile stretch of coastline all along the Pacific Ocean. Apart from the blue ocean waters, there are green, green mountains that shoot up behind the sandy shores so you can head into the jungle after you're done with the beach.

The Bellena Coast is actually one of Costa Rica's newest national parks and is famous for a few reasons — at low tide, this beach actually reveals a "whaletail" shaped sandbar which is pretty ironic, considering this is one of the best places to whale-watch in all of Costa Rica.
The Mario Ballena National Park is the official name of this whole area.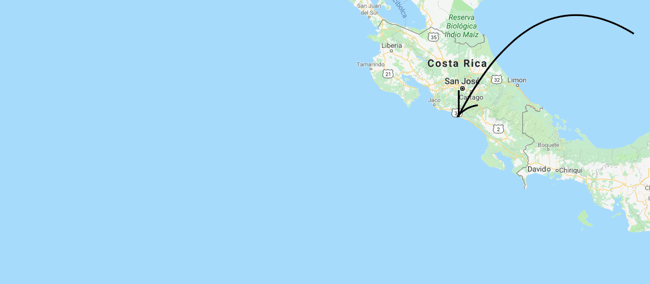 Entry Tickets To The Park + Hours
Because it's a National Park, there is an entrance fee to visit the beaches in the park. Foreigners are charged 3000 colones, which is about $6.
The Mario Ballena National Park is open from about 6AM – 4 PM, and is closed Monday.
Your ticket allows multiple re-entries on the same day, so hold onto it if you're here to swim in the morning and want to come back to see the sunsets.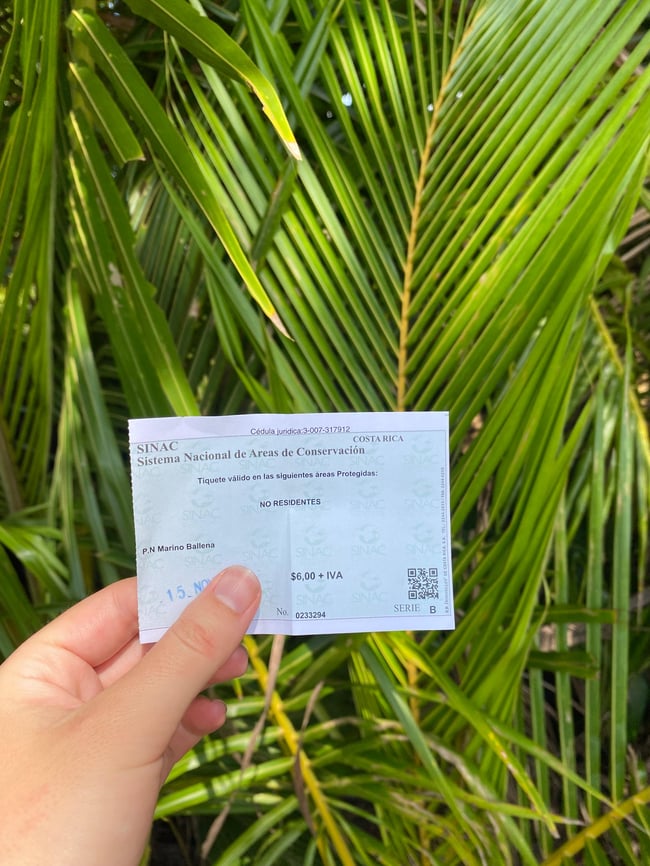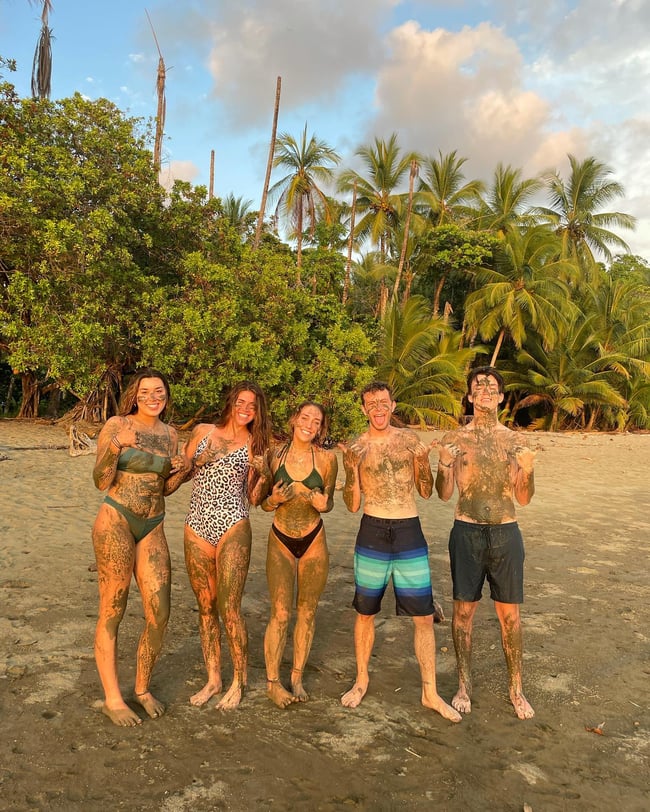 Coastal Towns To Visit
All along the Ballena Coast, you'll find a few costal towns to check out. We've already talked a lot about Uvita; you'll probably end up booking most of your tours along the main street, plus you can walk straight into the National Park from the main street, but here are a few more details plus a few more towns to see:
Dominical
Dominical is the place for surfers and chill beach yogis. It's a popular spot to try out some new cafes, do some shoppings, and walk along the beach. Sometimes the surfing is rough due to branches in the water and it's recommended you have waterproof shoes for swimming (it's a rockier beach in sections). A 15 minute cab-ride north of Uvita will get you to Dominical, or you can take a 20-35 minute bus ride. The La Junte restaurant comes recommended.
Ojochal
Ojochal is 16 minutes away by car too, but this time head south to find a food mecca that's more inland than Uvita or Dominical. You'll still get a good beach, plus more jungley mountains and a main street full of colorful shops and restaurants serving up classic rice and beans plus other local meals. That's the jumping off point to several of the waterfalls in the area.
See the Town Of Uvita
Back to Uvita, which is just behind the coastline of that famous whale-tail sandbar; it's within walking distance to the national park, and right in the middle of the northern city of Dominical and the southern city of Ojochal. Like the other two, it's quiet, costal and crammed full of places to book tons of snorkel tours, hiking treks, and guides who can take you into the jungle to spot waterfalls in the high season.
All of these spots are little towns that give you a peak in to the less touristy spots of Costa Rica. They tend to shut down in the low seasons and are quiet in the shoulder seasons, then ramp back up when tourism picks up.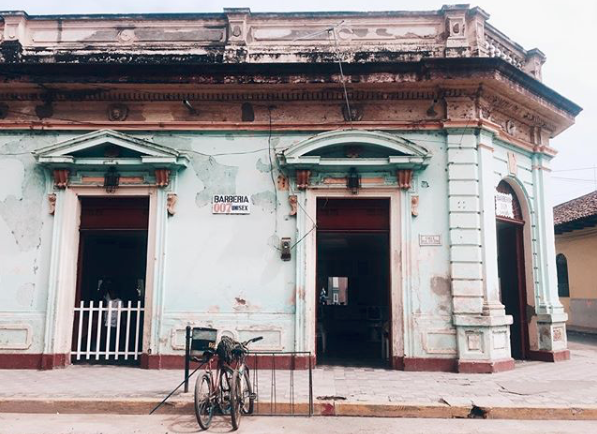 Best Time To Visit
This park isn't flooded with tourists so anytime is really a good time to visit, but if you're there late November to mid-December or the month of May, it will be particularly empty … you might have the whole place to yourself.
Whale watching happens pretty much year round, but the best months are August and September. The Whale Festival happens in Uvita in late August, but whales hang around January to April, too.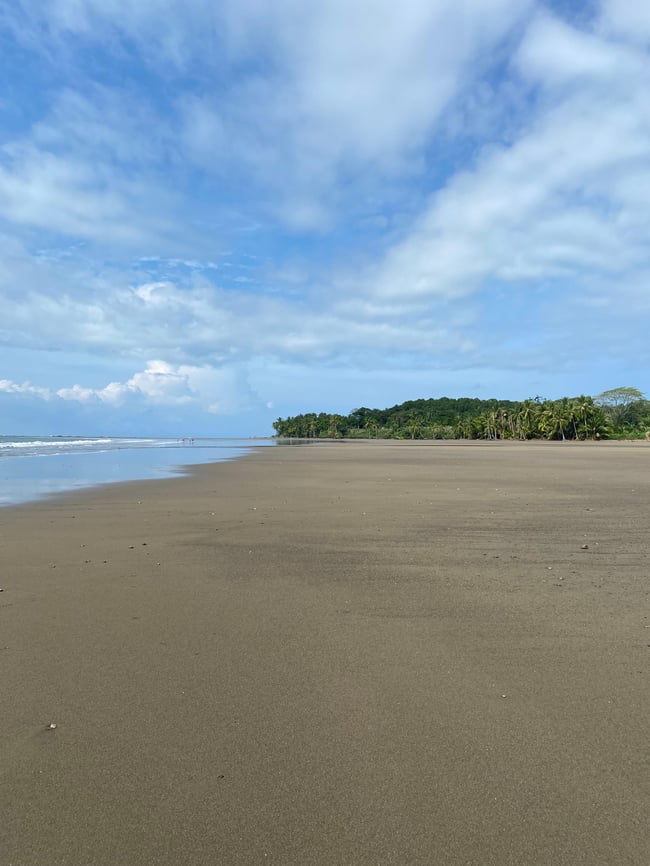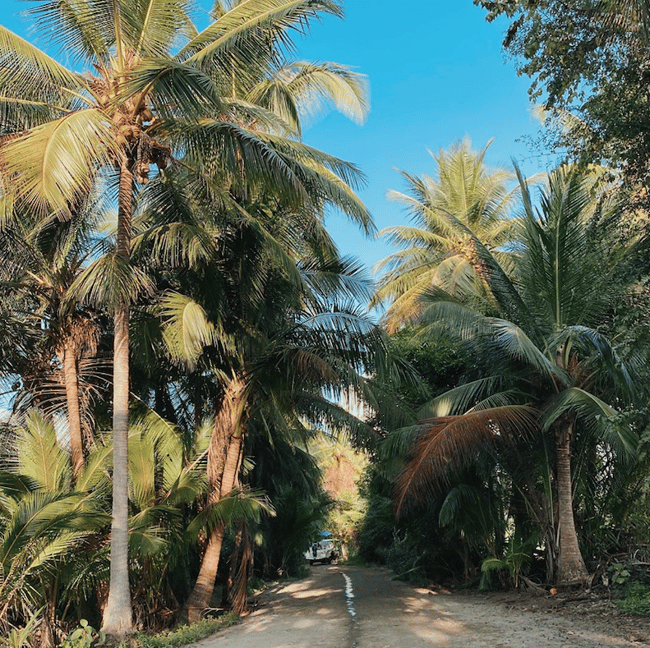 Where To Stay + Places To Eat
The Flutteryfly House
One group has rave reviews about this place. You can rent surfboards for less than $5/hour plus the hostel is a literal treehouse. There's no walls and all our beds are in these little tree shacks. You can snag smoothies and hang out with all the other beach loves, plus take some bananas from the bunch that's hanging out in the middle of the place, free to everyone.
Tucan Hostel
Other ILP groups have stayed at this cozy hostel, complete with perks like hammocks in the tropical courtyard, a pool, and a community kitchen (which means you can make meals at home if you'd like). Book here.
AirBnBs
Want to stay with your whole group? We love this stylish place, that's close to the beach (and also has a pool). Check it out on AirBnB. Anther group stayed for a couple of nights here, at this AirBnB, which is just a short walk from the famous "Whale Tail' beach. Other groups have rented out this place.
Places To Eat
There are a whole host a cute cafes and places to grab a bit. Here are some recommendations: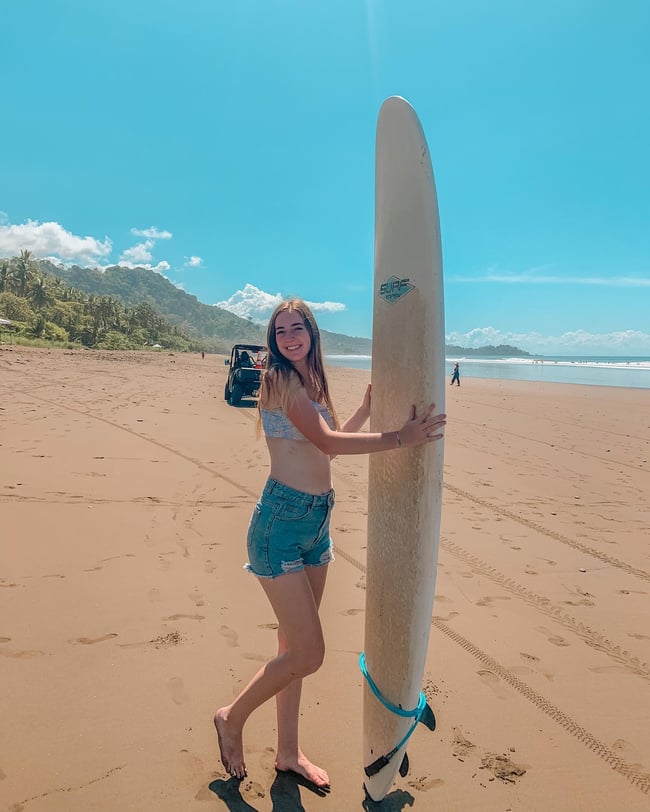 Getting To Uvita
From San Jose
From the capital city of San Jose, it'll cost you about $10 and will take about 5 hours — you can get more shuttle info here. If you're not coming from San Jose, you can check out this post on how to travel via bus in Costa Rica.
By Plane
If you'll be flying, the nearest airport is in Quepos or Palma Sur; both will require you to take an hour drive or a 45 minute drive (from Palma Sur) to get to Uvita. From Uvita, you'll be very close to the Ballena Coast, and can easily take a taxi to nearby Dominical and Ojochal if you'd like. You will probably need to fly into San Jose first, then into Quepos or Palma Sur.

What if you don't want to leave?

Not a problem — just spend an entire semester here instead of just a short trip. ILP (International Language Programs) sends college-aged volunteers abroad to live and teach English in countries like Costa Rica and Nicaragua (plus a few other countries).