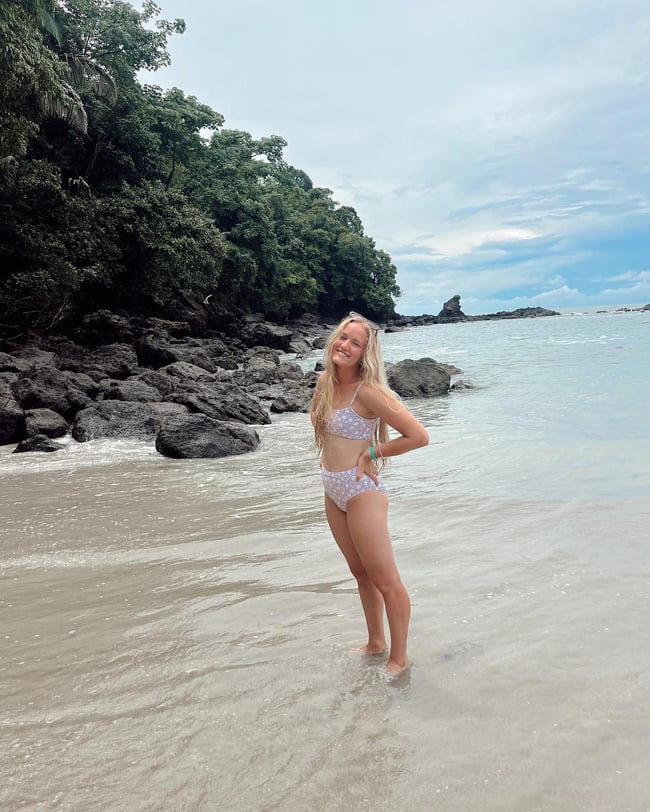 Find yourself surrounded by swaying palm trees, a dozen beaches, and right next door to one of the country's most famous national parks — and that's just the start.

Costa Rica is full of places to explore. Whether you're looking for an artsy capital city, sprawling jungles filled with adventures, hikes to towering volcanoes, or a lazy weekend on pristine beaches, you can find it all in Costa Rica. In fact, sometimes it's all in the same spot.


---
Do more than just visit Costa Rica
Get more out of your trip with this Central America Destination Guide
---
That's why we suggest a vacation in Quepos: it's a smaller city on the western coast of the country and is home to every adventure you could want, including some of our favorite beaches. Plus, it's the perfect place to visit before heading to Manuel Antonio, one of the best national rainforests Costa Rica has to offer.
Since you have to go to Quepos to get to Manuel Antonio (Quepos is where buses will take you from San Jose, and where the airport is), you might as well explore the area around it. Here are a few things to do in Quepos to help you plan your trip.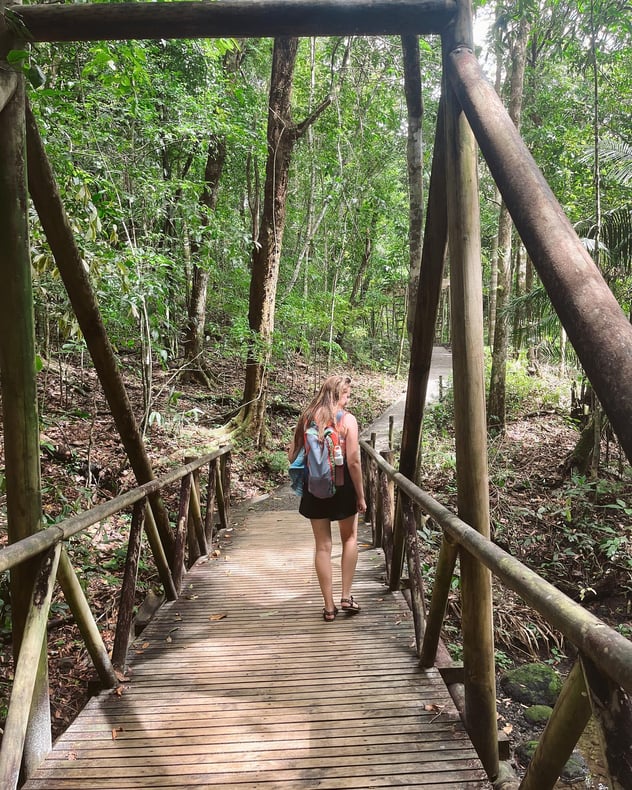 What To Do In Quepos
The Beaches
There is a beach you can access inside the National Park (more on Manuel Antonio below) but that means paying the park entrance fee. Just a short taxi or bus ride from Quepos city center to the coast means access to a few other public beaches. Here are the favorites:
Espadilla Beach
This is our go-to beach in Quepos, outside of the one you'll find inside the park. You'll find restaurants on the southern end (which tends to make that section of the beach more crowded) but with more than 3 miles of sand, you can head toward the northern end and leave the crowds behind.
Along the beach you can find vendors selling chairs and umbrellas for the day. You can bargain to get two chairs and an umbrella for about $10 for the day, but vendors will try to ask for more! Or you can lay out your own towels in a shady section by the trees. It's a fun swimming beach and a prime spot to rent boogie boards.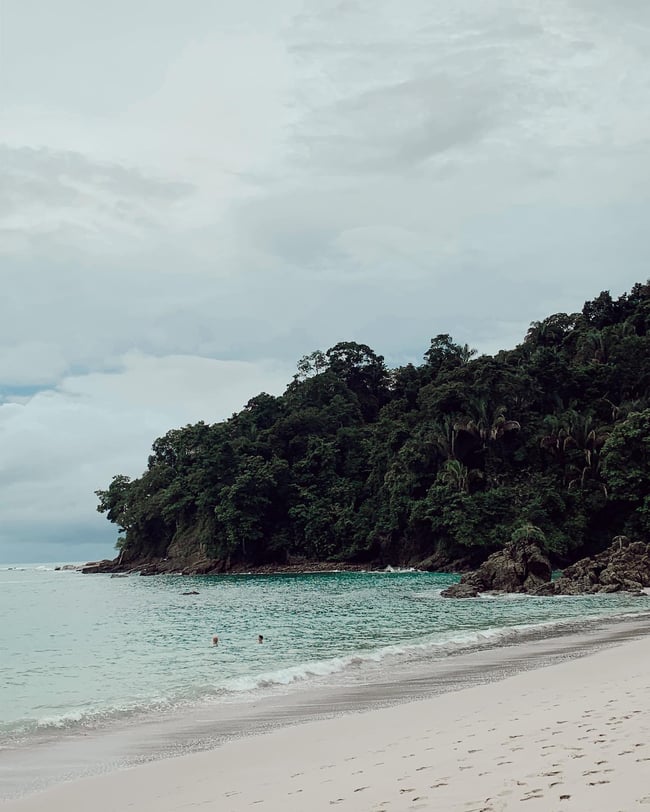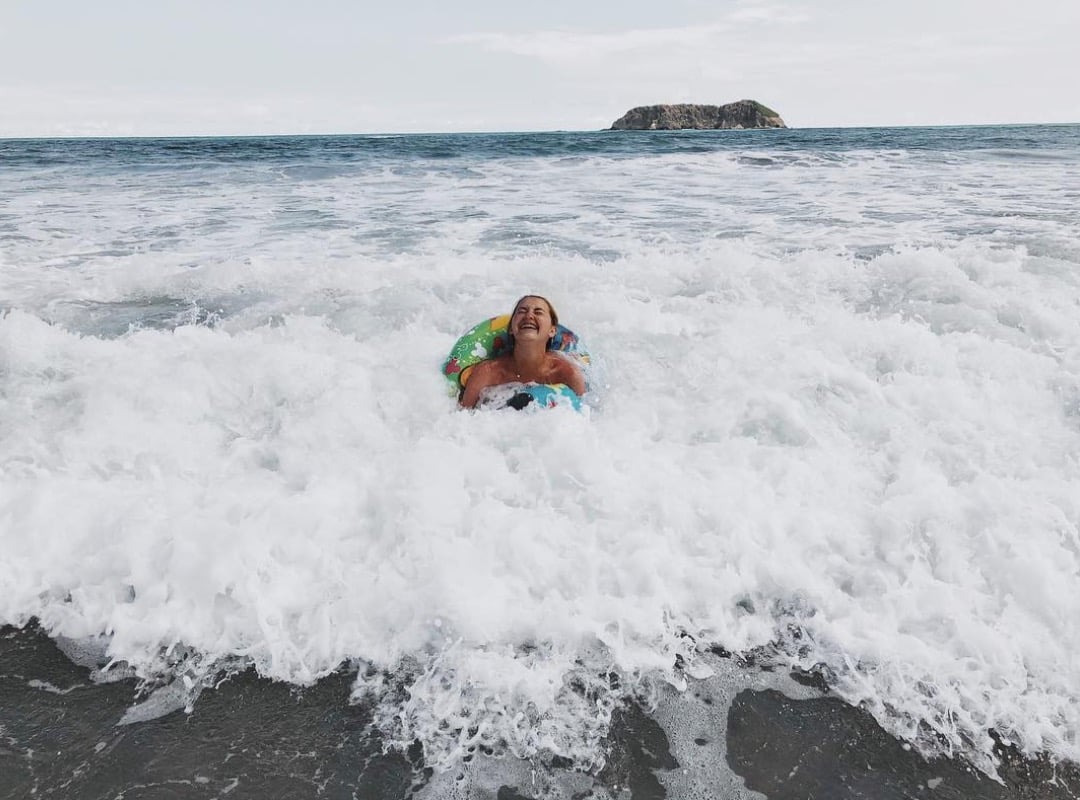 Biesanz Beach
One beach in particular that's worth checking out is Biesanz Beach. It's on the road to Punta Quepos near the Parador Resort — you'll see a little sign pointing you towards Biesanz Beach, but the trail itself isn't marked. To get to the beach, you'll walk through the forest for about five minutes. Look for the little gate on the side of the road, at the bottom of the hill. It's a great swimming beach, with a little cove that creates calm waters.
You can also catch a bus straight there from the city. From Quepos, there's a bus that runs to Biesanz Beach for about $0.50. Look for the bus with "Biesanz Beach" in the front windshield.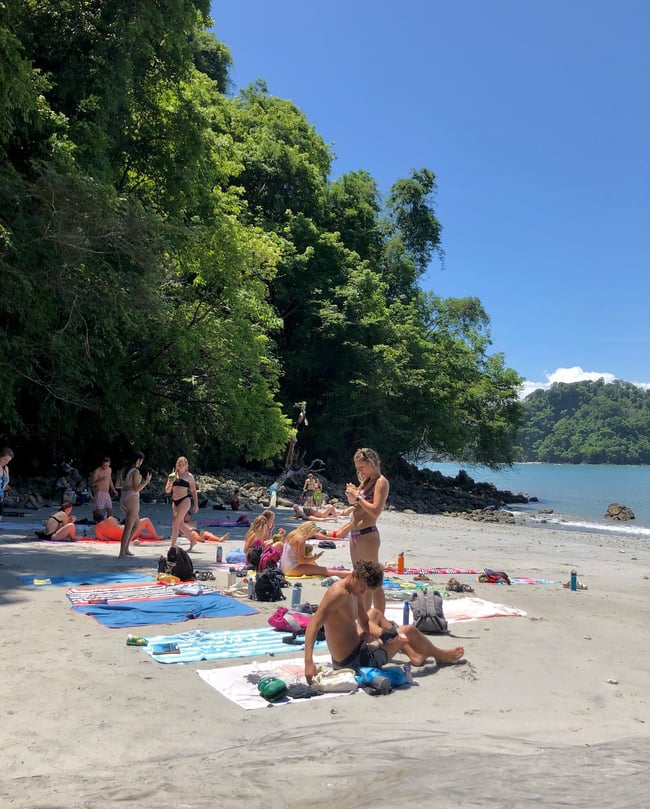 A Heads Up
On most of the beaches you'll find things to keep you busy — kayak rental ($15-20 for the day), deep sea fishing excursions, snorkeling gear to rent, etc. These gals lucked out and found vendors selling floaties for around $1.50. Score.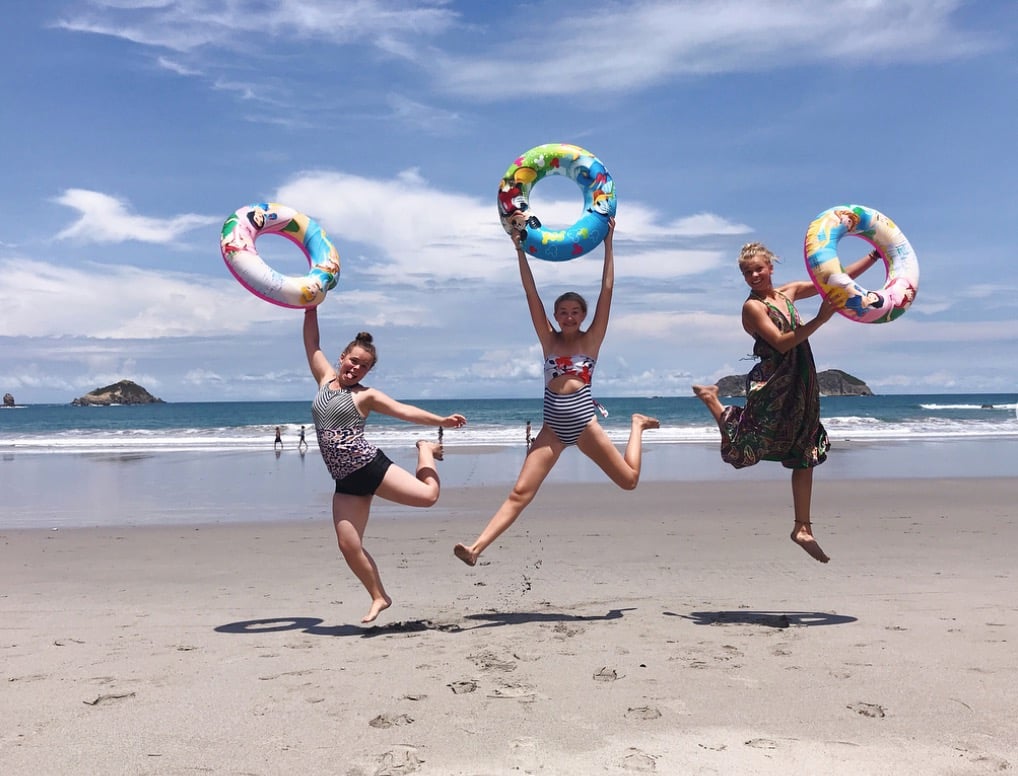 The Farmer's Market
Take advantage of living in a tropical paradise by visiting one of the bigger farmers markets (ferias) in the area. We're talking piles of pineapples, coconuts, passion fruit, gleaming rambutans, huge melons, bunches of bananas, papaya, and more, along with baked breads and pies, refreshing ice cream, and freshly made cheese. In the mood for some souvenirs? You can find those here too, among the local art, jewelry, and woven baskets.
It's nice to visit in the evenings on Friday when it's not so hot, or early Saturday morning. Most of the vendors and customers are locals, so knowing a bit of Spanish will go a long way.
Open on Friday afternoons and Saturday mornings, just head to the seawall in downtown Quepos.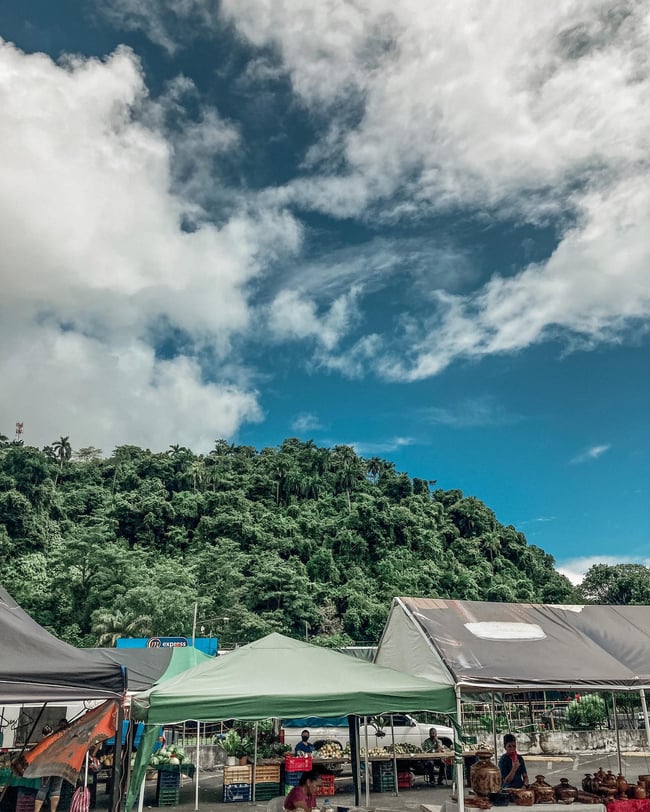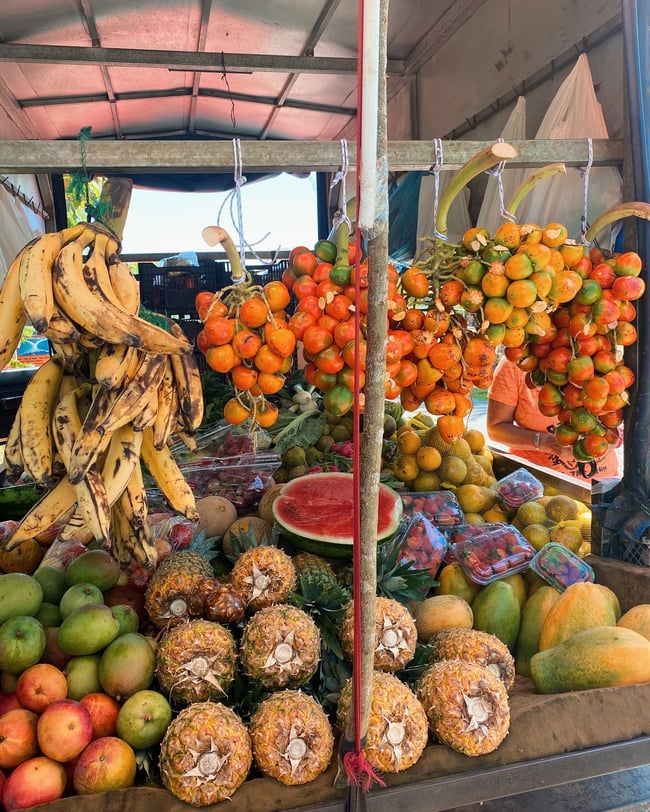 Walk The Marina + Have Dinner
Past volunteers recommend taking some time to wander around the Marina in Quepos — find cool boutiques, cafés, restaurants, and a gorgeous view of the boats on the water. The views here are beautiful, especially at sunset. Groups can spend a whole evening here by snagging dinner between walking around and enjoying the shops and the views. You'll have quite a selection of food. Past groups have enjoyed Runaway Grill for a dinner of salads, burgers, quesadillas, and more. Yum.
Here's the address:
CRGM+H35 Marina Pez Vela
Puntarenas Province, Quepos, Costa Rica
Hours: 7:00 AM to 9:00 PM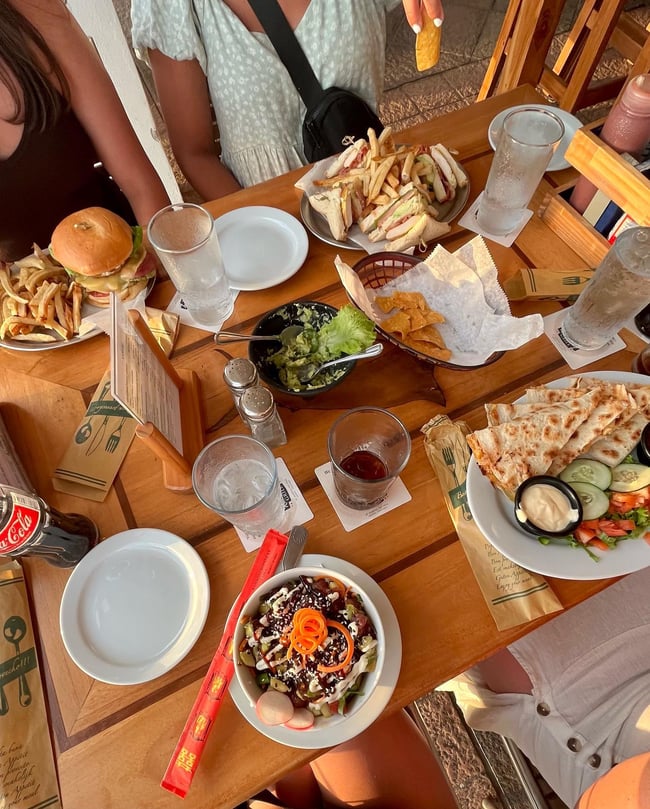 Foodie Tours
I don't always love tours because I'm more of an adventure seeker, but I have to admit that I love tours in Costa Rica. Going on a tour is a great way to meet and support the local people, and they can help you experience the hidden gems of their country.
One tour you might want to check out is Villa Vanilla — a spice tour on a plantation just outside of Quepos. One ILP group said "the tasting at the end is to DIE for! 10/10 recommend." And the views out there are insane. Learn more about it here.
+Nearby Adventures
There's a lot to see just outside of Quepos, which is one of the main reasons why tourists come to this part of Costa Rica. Here are a few things to check out:
Take A Catamaran Tour
A popular option if you want to taste luxury for the day. Past groups have loved booking a catamaran tour that takes you along the coastline, typically with lunch and fruit included, and a sunset view with whales or dolphins if you're lucky. Some also include snorkeling to see the animals from below the water. There are a few to choose from, but some groups have gone with this company and loved it.
Manuel Antonio
Probably one of the main reasons people come here in the first place: inside the park of Manuel Antonio, you can hike thick tropical trails full of colorful parrots and playful monkeys. You can also head to the treetops for adventures like hiking to waterfalls or zip lining. Past volunteers highly recommend booking a guide for these hikes because the guides are professionals at spotting animals. In the past, volunteers have been able to see sloths, monkeys, lizards, iguanas, bats, and tons of butterflies! Past volunteers have also said that there is a gorgeous beach inside the park. Plus, the beach has great little souvenir shops. I'd say this place has enough to keep you busy for a couple of days, at least.

We have a guide to Manuel Antonio Park here to give you an idea of what you can do inside of the park.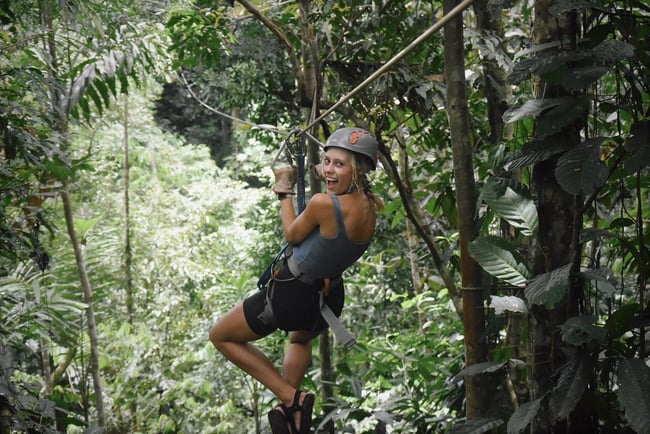 White-Water Rafting
The areas just outside of Quepos have world class white-water rafting. And don't worry, you don't need any experience — the majority of tour companies will set you up with a professional guide to help you navigate the foamy waves.
One ILP Group went rafting with Amigos Del Rio and "LOVED IT." It was $90 per person and included breakfast, lunch, and several hours of river rafting. They have a few different packages depending on your skill level and what kind of experience you want. If you need a little more convincing, one ILP volunteer said "it was one of our favorite things we have done here."
Another group went rafting on the Savage River with Iguana Tours (we "HIGHLY recommend this"). It's $95 per person for a day of rafting, the chance to jump into the river when it's calm enough to get in and swim, and a team of trained guides to join you.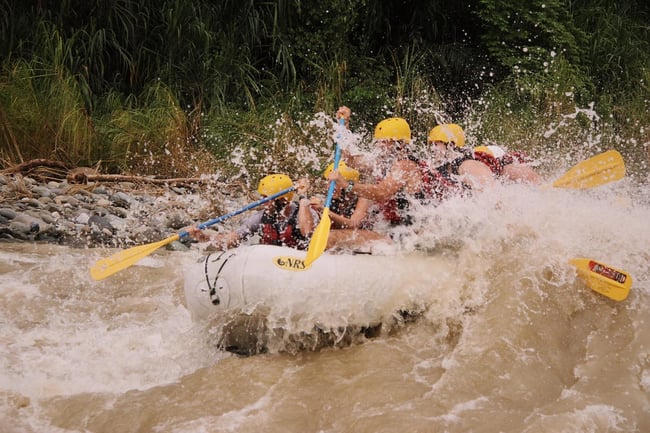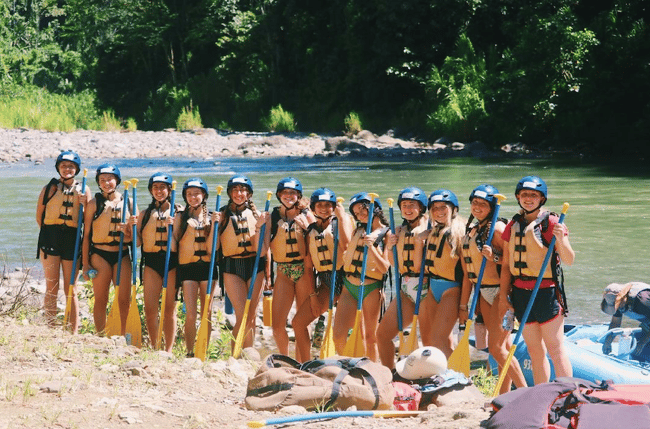 Kayak Through Mangroves
Other groups recommend kayaking with Tucanes Tours, where you can paddle through the tropical mangroves and maybe get a closer look at some wildlife. You'll be kayaking under a huge forest canopy that is pretty and peaceful. It is a nice change of pace from high-adventure activities like white-water rafting, and a highlight not to be missed.
Chocolate Tour
Another option that gives you some insight to the local culture, and more time in the jungle, is taking a chocolate tour. There are a few options to choose from, but you'll typically get the chance to hike up and see where the cacao plants are grown, and then learn how they're roasted and turned into chocolate. Most include a chocolate tasting as well! Past groups have gone with Villa Vanilla Chocolate and Spice Tour and had a great experience.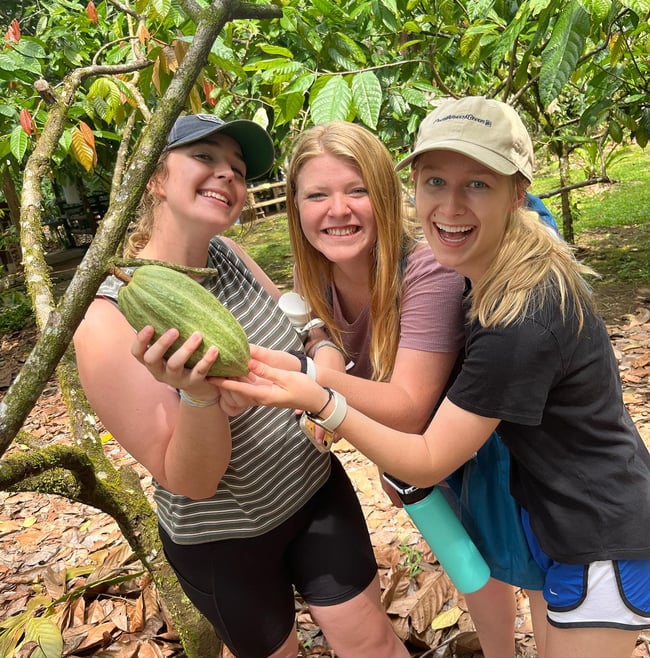 Hike To Nauyaca Waterfall
One of the most stunning waterfalls in all of Costa Rica is just a couple hours away from Quepos and easily done on a day trip. Most companies will take you on horseback (an adventure we highly recommend) but you can also hike to the falls on foot. Either way, you'll need to head to the office of Don Lula, who owns the property. A ticket to the hike is $8, and it's about 2.5 miles each way. You can get horses here at the office.
Visit this blog post about the Nauyaca Waterfall for more info on how to plan your trip here.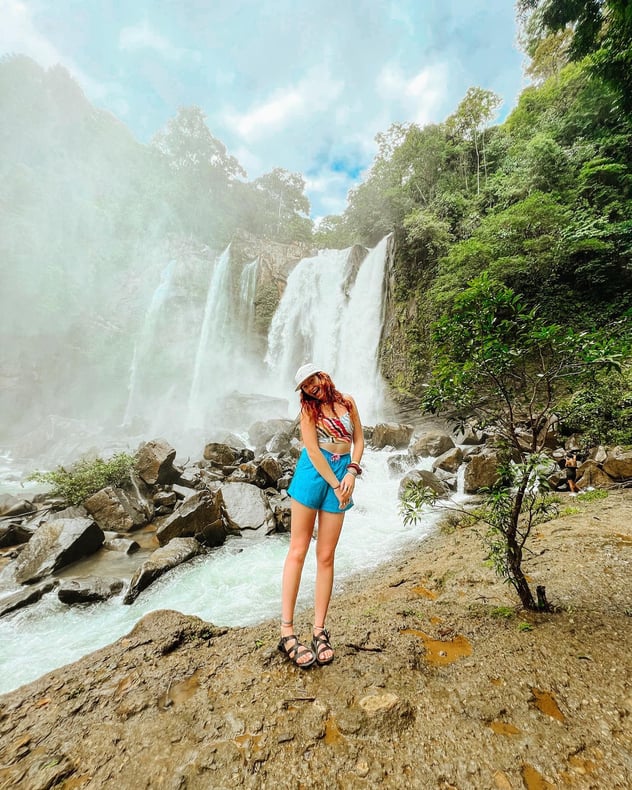 A Few Tips For Visiting
When Should I Visit?
It's pretty gorgeous here year round, but keep in mind it is also rainy here year round. You'll see lots of muddy trails during the rainy season, from December to April in particular.
How Long Should I Stay?
We think about 4 days is the ideal time to spend in Quepos and Manuel Antonio. That amount of time lets you spend time on the coast, in the rainforest, and take a day trip or two.
Where Should I Stay?
Some opt to stay in Quepos, while others find spots in the park itself. I'd look at your itinerary and decide where you are going to spend most of your time. If you plan on doing four days in the park, you won't want to bus to and from Quepos each day.

However, if you just want one day in the park, then want to spend your other days on the Quepos beaches or day trips like rafting or treks to waterfalls, we vote staying in Quepos.
Volunteer groups in the past have enjoyed staying at the Art Hostel Costa Linda, within walking distance to the entrance of the park.
Another few groups have stayed at Hostel Plinio tucked into a jungle-like setting which has a pool and free breakfast. It's located right next to a bus stop so it's easy to get to the park from there.
La Posada is another option recommended by past ILP groups, who had this to say: "La Posada was a very affordable price when split between people, has a pool, and A/C. There are hostel options, but we just preferred those perks over the cheapest price!"
Here's an Airbnb that can maybe fit the whole group that gives you the jungle experience but still lets you be close to everything that's going on in Quepos. It's a favorite according to a couple of past ILP groups.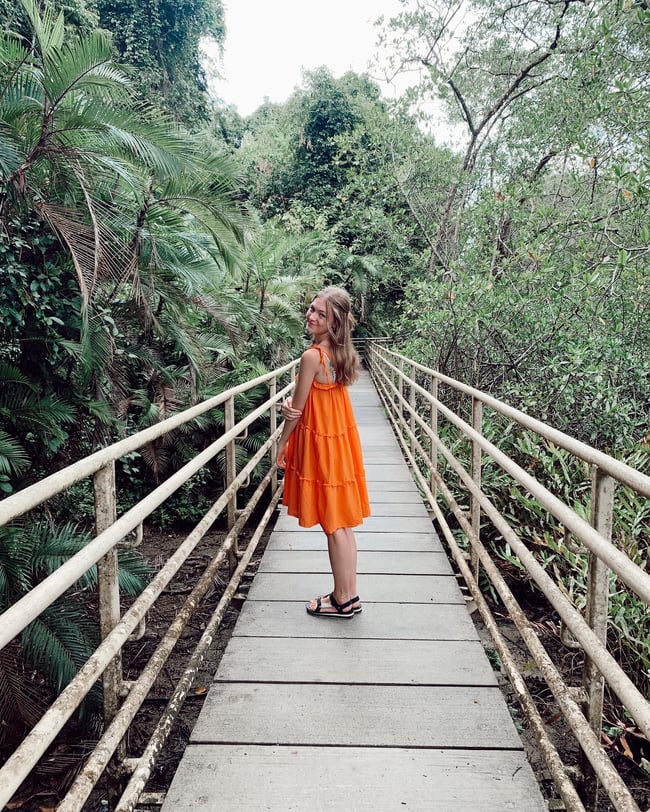 Getting To Quepos

By Bus From San Jose
It's a 3.5 hour bus ride and costs around $8 to get to Quepos. It's best to take a "directo" bus because you'll have fewer stops and you'll get there faster, but the "collectivo" buses can sometimes be a bit cheaper.
San José Tracopa Terminal: Buses leave for Quepos from San Jose at 6:00 AM, 9:00 AM, 10:30 AM, 12:00 PM, 1:15 PM, Monday – Sunday.
We have more information on buses and bus schedules in Costa Rica here. You'll get pretty familiar with traveling by bus in Costa Rica if you spend a few weeks here and don't want to spend money on airfare.
By Plane From San Jose
You can also take a short flight from San Jose to Quepos: a 25 minute plane ride gets you there for around $122 on Nature Air.
Once you're in Quepos, you'll want to get a taxi into town, to your hostel or hotel, or even to the Manuel Antonio Park. Be alert: the official taxis are bright red and always have a yellow placard on the side — there are lots of pirate taxis around that try to scam tourists. Expect to pay around $6 – $7 to get between the Quepos and the national park.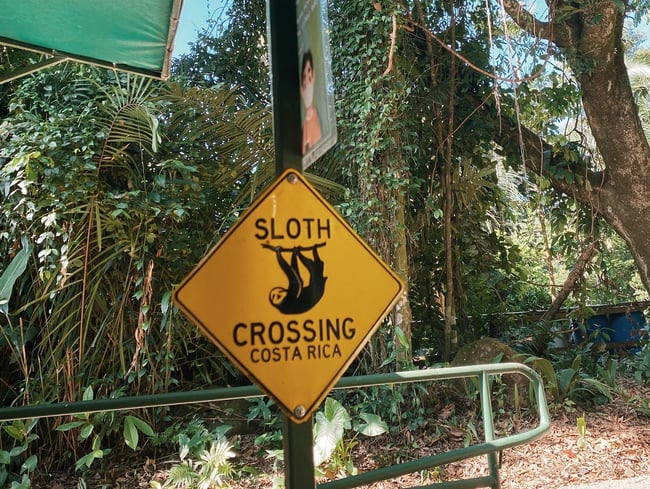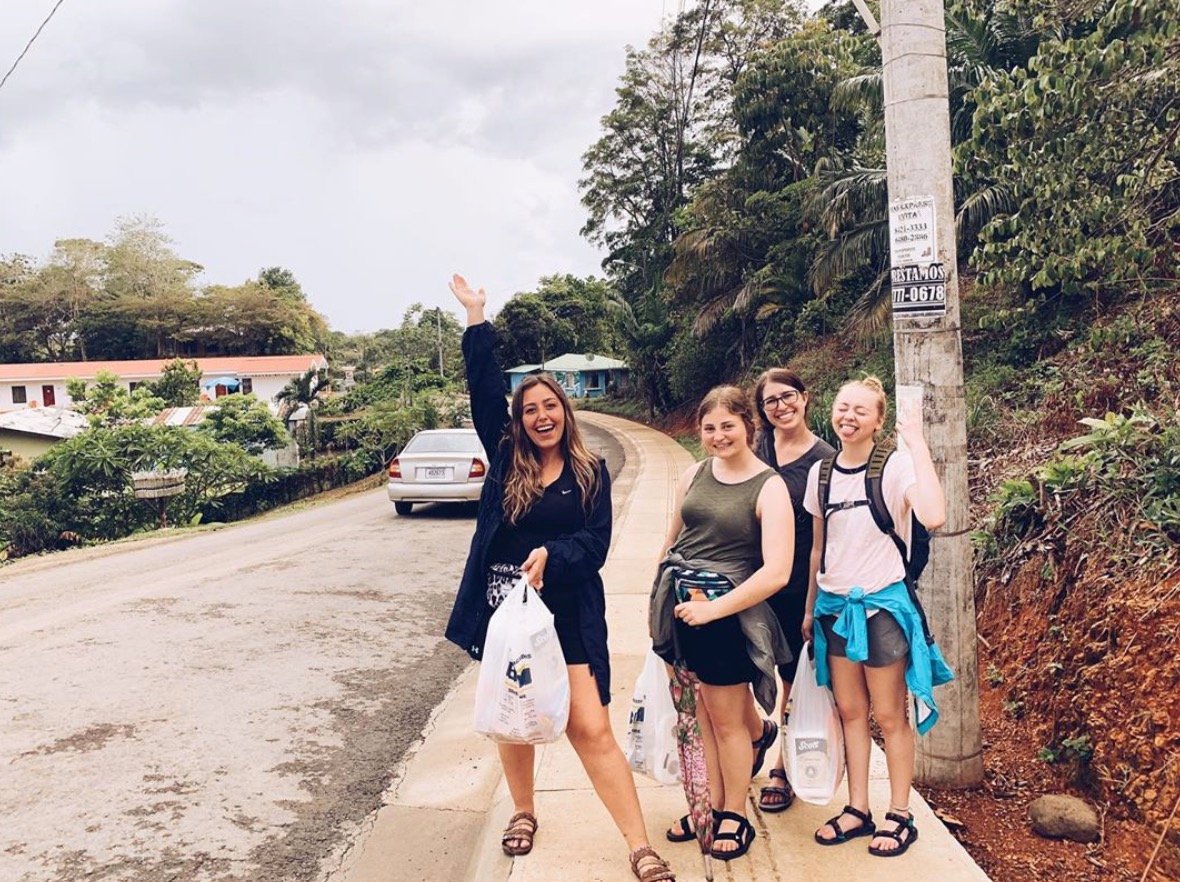 Costa Rica's the perfect place for you
If you're looking for the chance to spend more time exploring jungles, trekking to waterfalls, and soaking up that Pura Vida lifestyle, you'll love the idea of volunteering in Costa Rica! Come see what it's like: