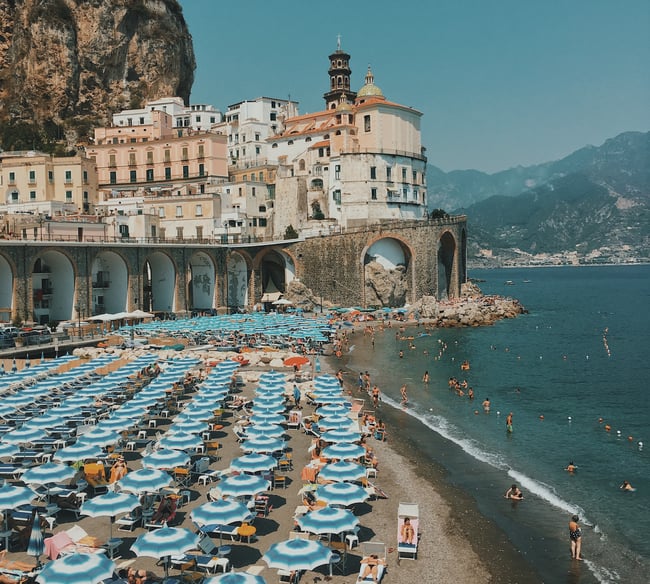 When you think of Europe, it's probably the museums, castles, and pastries that come to mind, right? All amazing! But don't forget about the pretty fantastic beaches. No matter what time of year you visit, these favorites are sure to take your breath away!
When trying to decide which country you want to spend a semester volunteering in with International Language Programs, we know we've got some fabulous beachy locations. Yep — Nicaragua, Costa Rica, Haiti, Mexico, and the Dominican Republic—we're talking bout you! And we totally get wanting some sand and sun and ocean waves, cause who doesn't!? But don't let your love for the beach keep you from getting excited about Europe, because it's full of stunning beaches!
---
Let's just talk about how affordable a semester abroad can actually be:
How To Pay LESS For A Semester Abroad
---
Yes, part of what makes a semester abroad with us such a great price is that you're teaching English to children. But, you'll still get plenty of vacation time! We're talking every weekend, plus two 4-day vacations, and a 10-day. And you'll probably find at the end of the semester that it was the kids who made the experience so eventful, life-changing, memorable, challenging, fulfilling, and worthwhile anyways. But, we cannot lie; the vacations are amazing!
So when planning your vacations for the semester, make sure you include at least a few beach days on your itinerary! We recommend any and all of these beaches, no matter which European country you get to volunteer in. Make sure you bring your weekender backpack, one of these ideal water bottles, and a good book or two for the perfect vacay!
A Handful Of Europe's Beautiful Beaches
Montenegro
Greece
Cyprus

Croatia

Spain

Portugal

Italy

France
Montenegro
Budva
Raise your hand if you're excited about this ILP location! And guess what, the best beach in the whole country (yeah, it's tiny—but still) is actually right in the town that our volunteers get to live and teach in. Awesome, right?! Budva is the resort town for all Russian vacationers, and as soon as you spend a day there, you'll understand why. Bečići Cove is especially nice since it's divided from the other main beaches by a little peninsula and is surrounded by beautiful mountains. Yes!
Not volunteering in Montenegro? Don't worry! There are direct flights from Moscow, Russia to our favorite tourist city in Montenegro. Can you think of a better place to escape a Russian winter in the middle of March? We bet not. Here's a quick sneak peek into what to expect in Budva and even Montenegro in general!
Petrovac
If the summer touristy vibes of Budva get to be too much for you, head up to the more relaxed town of Petrovac. It's advertised as a family resort town, so you'll see plenty of them enjoying the sandy beaches and water activities available in this area. With plenty of charming cafes that line the water's edge, this will definitely become a fav spot for our volunteers. Hit up the secluded Drobni Pijesak Beach for beautiful yellow sand, or Petrovac Beach for the redish sand. Lucice Beach, surrounded by pine and cyprus trees is another great option, and the shallow water is perfect for wading.
Get a list of the best beaches in Montenegro here.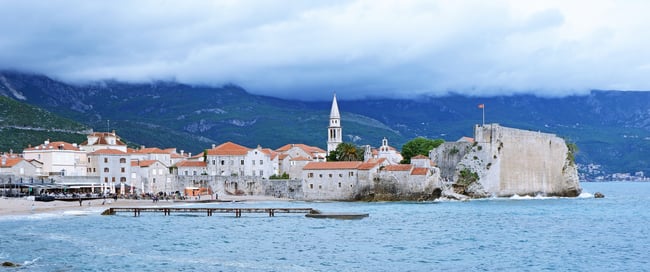 Greece
Crete
It's really no secret that Greece has some of the best beaches in the entire world. And if we want to narrow it down even further, then Crete has some of the very best. If we had to pick one, it might just be Elafonissi Beach, which really couldn't be any prettier. White AND PINK sand? Ummm...you know where to find us tomorrow. Wanna join? Just jump on one of the buses coming from Chania and we'll see ya there. Get all the details on visiting Chania here.
Naxos
Here's another one that's just too perfect not to mention. This island has a huge variety of beaches, and while the St George Beach (closest to town) is great, some of the even better ones are found by jumping on one of the buses that go up and down the coast every day. Make sure you check out Plaka Beach cause we hear it's the best of the best!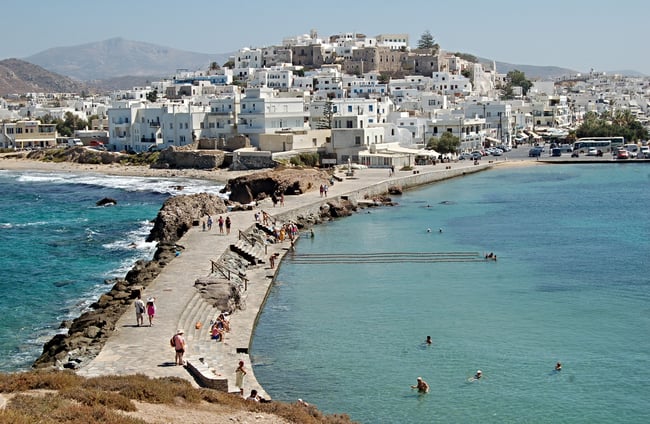 Santorini
In all honesty, this island is known more for the views and blue-domed houses than its beaches. Check out our full guide for a great weekend getaway! But if you're determined to get some beach time out of this vacay, then head to Perissa Beach for some sand and sun.
Mykonos
This is yet another one you'll thank us for namedropping. Ornos Beach is just a ten-minute bus ride from town, and is known for its beautiful, peaceful water. And you can rent an umbrella for the day! But like the majority of these Greek island beaches, it can be quite crowded during high tourist season. Late August through early October is going to be your best bet.
Zakynthos
Navagio (Shipwreck) Beach gets its iconic name thanks to a ship which was washed to shore and abandoned. And yes, it's still there! Plus you'll find great views if you climb to the top of the cliffs. We expect to see some Insta pics after that hike!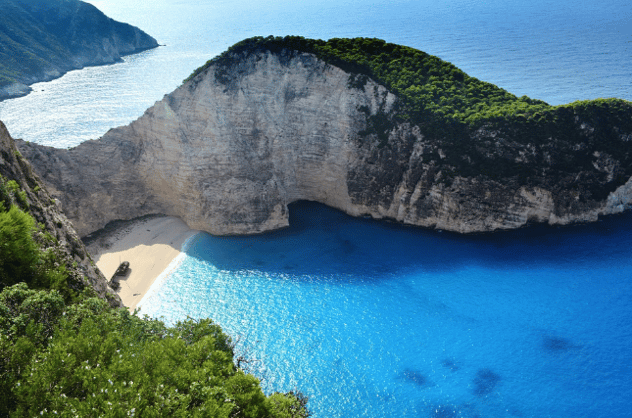 Skopelos
Get your singing voices ready, because spending a day on the island where Mama Mia was filmed will have you reenacting every musical scene! Obviously if you've seen the movie you know these beaches are divine, but Stafylo Beach just happens to be a favorite.
Athens
If you're skipping out on all the islands, and only spending your days in and around Athens (it's amazing btw), but still want some beach time, then head to Vouliagmeni Beach. It's about an hour away by bus, but totally worth the hours you'll get to spend in the waves (or napping by them).
Cyprus
This eastern Mediterranean island has all the vibes and variety we're here for. And lucky you may get to be with the first group of ILP volunteers to explore this island! We'll give you two beaches to check out. Makronissos Beach is on the west side of Cyprus, and has both white sands and unique rock formations. Plus some ancient tombs on the tip of the peninsula that you can visit for free.
On the opposite side of Cyprus, you'll find Fig Tree Bay (Protaras Beach). With golden sand, shallow waters, and everyone's favorite fig trees that line its edges, this beach is still said to be one of the best in all of Europe. Since it is becoming a more popular tourist spot, it has all of the amenities you'll need for a comfortable and relaxing beach day.
Get your whole guide to Cyprus here.
Croatia
Brac Island
Croatia is one of the most underrated countries in Europe, but it is rising in popularity. Zlatni Rat Beach is a pretty small strip of sand that jets out into the ocean. Because of its size, it can be a bit crowded, but look at that water! You can rent kayaks and take boat rides all around this gorgeous beach.
All the info you'll need about visiting Brac Island is right here.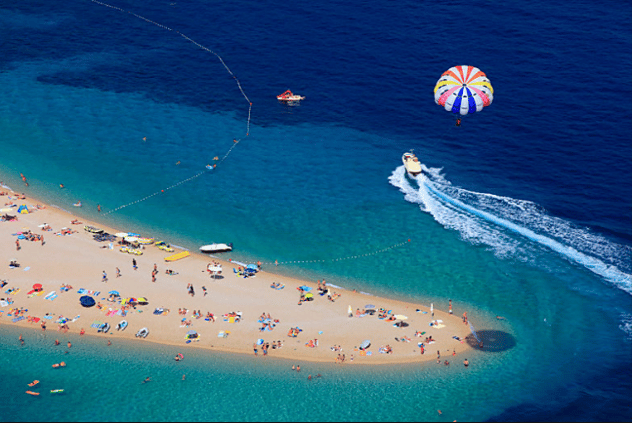 Pelješac
The entire Dalmatian coastline is a dream, and the little peninsula is no exception. Getting to the secluded Divna Beach may be a bit tricky, but it's worth a try because the water and landscapes are sublime! Its name literally translates to "beautiful", and it's easy to see why. Just make sure you bring all of your needs for the day (especially sunscreen) as this beach is pretty removed from popular amenities. Here's some more info about things to see and do in this area.
Dubrovnik
One of our favorite old towns in Europe has great beaches too. What?! Here's our guide to this perfectly charming town. While you're there, make sure you check out Dubrovnik's most popular beach, Banje Beach. Then if you're up for an adventure, take a boat to Betina Cave Beach. It's unique because this pebble beach is actually inside a giant, overhanging cave. Won't get any sunburns here!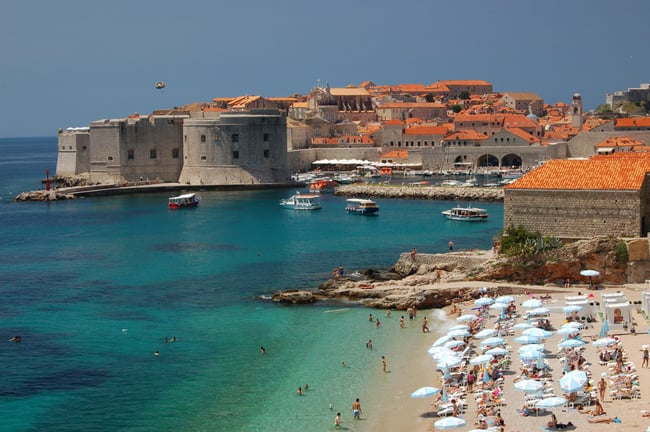 Spain
Tarifa
If you're spending any time in the magical Andalusia community in Spain, then it's worth taking the trek to this beach. The town itself is tiny...we're talking under 300 locals. But the thing that makes Bolonia Bay so unique is that the ruins from an old Roman city stand at the northern point of the bay! So not only can you enjoy a 2-mile stretch of sun and waves, but you'll also get to explore one of the most complete set of Roman ruins still in existence. And check out the sand dunes that are also some of the tallest in Europe!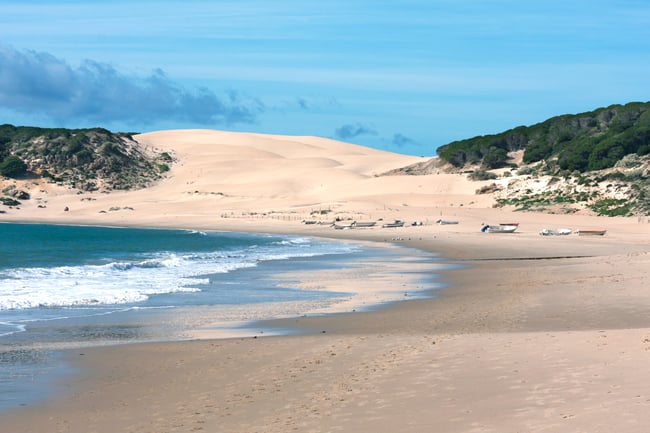 Costa Brava
Calella de Palafrugell, a Spanish fishing village, has the most charming white-washed houses and winding streets. It also has a number of small coves that are accessible via a coastal walk. Sounds totally serene, right? Here's an awesome post with info about various annual festivals in this quaint town, and ideas for a great itinerary!
Mallorca
Calo Des Moro is a pretty small beach but every inch is beautiful. It's covered in bright, fine sand and surrounded by clear and clean water in a variety of deep turquoise shades. There are cliffs all around you which makes it really unique and keeps the water calm. It's the perfect beach to relax on and explore. Heads up, because it's surrounded by cliffs, you do need to climb down a bit to get to it. Make sure you have more than flip-flops with you for climbing.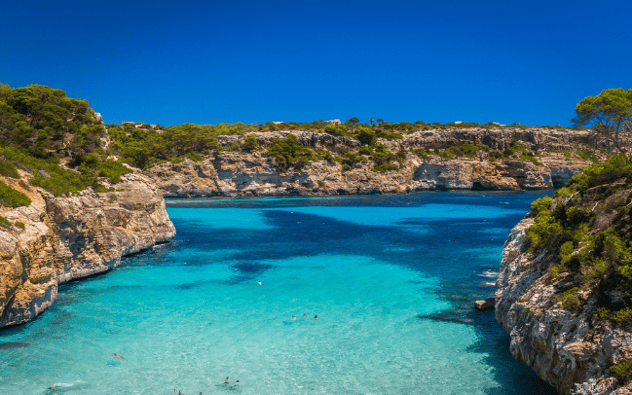 Portugal
Algarve
Both of our next two recommendations are found in the Lagoa region of this beautiful country! The view from the top of Praia da Marinha is incredible, so make sure you check that out! Once you are ready to head to the beach, take the stairs that are built into the cliff and they will lead you right down to the warm, warm sand. There are also a lot of hidden lagoons ad coves you can look around and a little restaurant so you can grab some snacks (unless you've packed your own).

Here's our guide to the best beaches around Lagos!
Carvoeiro Beach really is the epitome of a stunning European beach, and if you're visiting Portugal it should be at the top of your list! With whitewashed houses, golden sands, and turquoise water, it's not only picturesque but also makes for a perfectly relaxing weekend.
Italy
Almafi Coast
We're totally smitten with the best beaches along the Amalfi coast, but do have a few favorites that really top the charts.

If you get a chance to visit Naples, then slide on over to Atrani for a day. It is the cutest fisherman's village, with colorful houses built up and down the edges of steep streets. Plus it's not far from Almafi (you can even walk from one to the other), which we hope you've heard of cause you also need to go there! Here's a helpful guide for visiting both.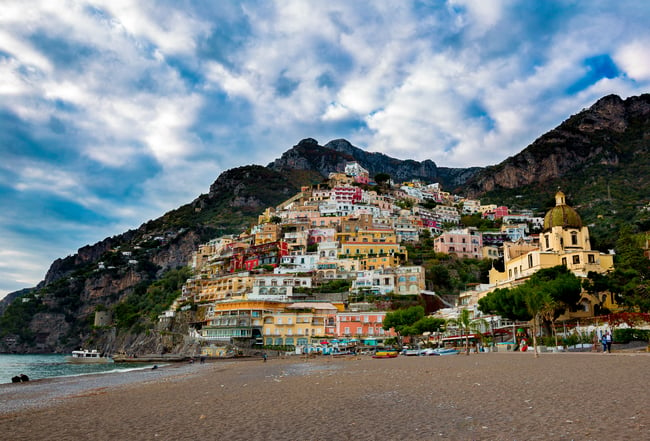 Calabria
Tropea Beach is situated on an amazing reef where you can snorkel, kayak or just float around. The view from the water is really neat as you look up to the top of the cliff side and see the buildings that seem to be hanging off. Are there any views better than this combo of steep cliffs and sandy beaches? We think not!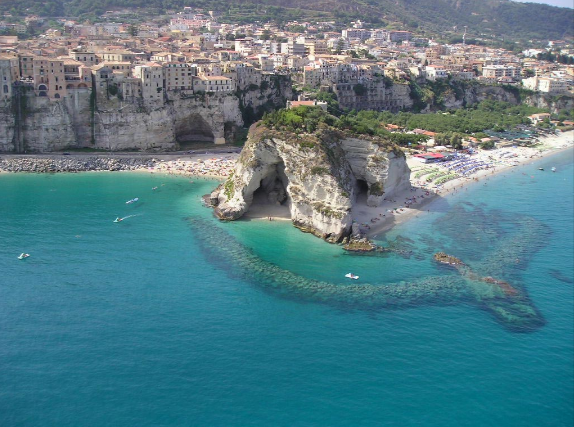 Cinque Terre
Since this is a collection of five fishing villages along the Italian coastline, you'll have plenty of beaches to choose from. Only one is ideal for sunbathing (and even then it's still a pebble beach), but all of them have the most stunning views. Think colorful house stacked on rocky cliffs.
Check out our guide for all the info you need for a perfect weekend trip!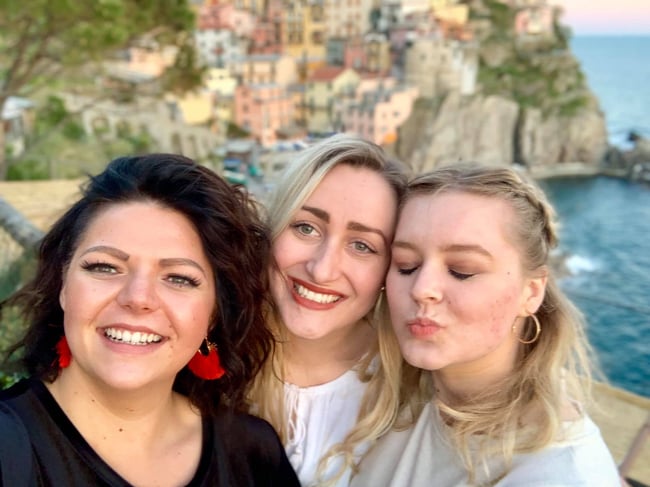 France
Britanny
If you loved reading All The Light We Cannot See like the rest of us, then a trip to St Malo is the thing for you! Although it does rain quite a bit in northern France, the golden beaches are still worth the visit. Just the history of this walled city alone is amazing! So grab a crepe (or a few), and enjoy a weekend of exploring this unique, quirky, and unforgettable beach-side city.
Cassis
It's no secret that the French Riviera has some of the best beaches in all of Europe. Bestouan Beach is about one hour from the Marseilles airport, and has actually stayed out of the tourist limelight. With pine trees, pebble beaches, and creeks, Cassis is sure to steal your heart!
Nice
Four miles of stunning beaches line the edge of Nice. Also found on the French Riviera, it's one of the most popular holiday spots in France! Although most of the beaches are more pebbles than sand, they are still some of the dreamiest destinations you can find in this amazing country. Beaulieu-Sur-Mer is actually a 30-minute bus ride from the city center (on #81), and there are 2 private beaches, but also a long public one. The crowds here are a bit quieter here than at the main beaches, and the water is so pretty!
Villefranche is another great option that can also be reached by jumping on bus #81. Get off at the "Octroi" stop, and then make the 15-minute walk through Old Town and down plenty of stairs. If you'd prefer to take the train, it actually does drop you off right above the beach. Enjoy an afternoon of ice cream, pebbled sand, and perfect water!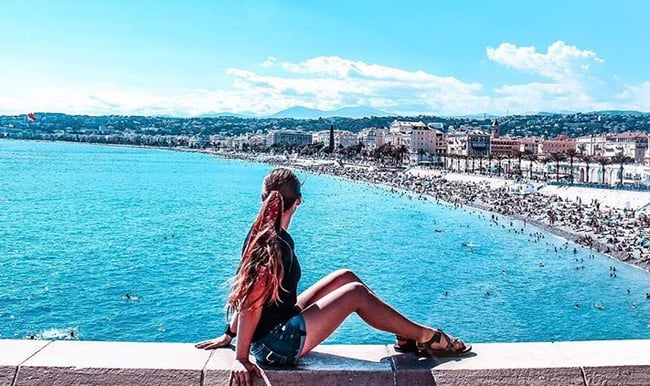 Ready to make a beach trek all across Europe?
Just take us with you, mmk? But it really is possible to experience a vacation or two like this when you volunteer in Europe with International Language Programs. Click on the button below to start you application: