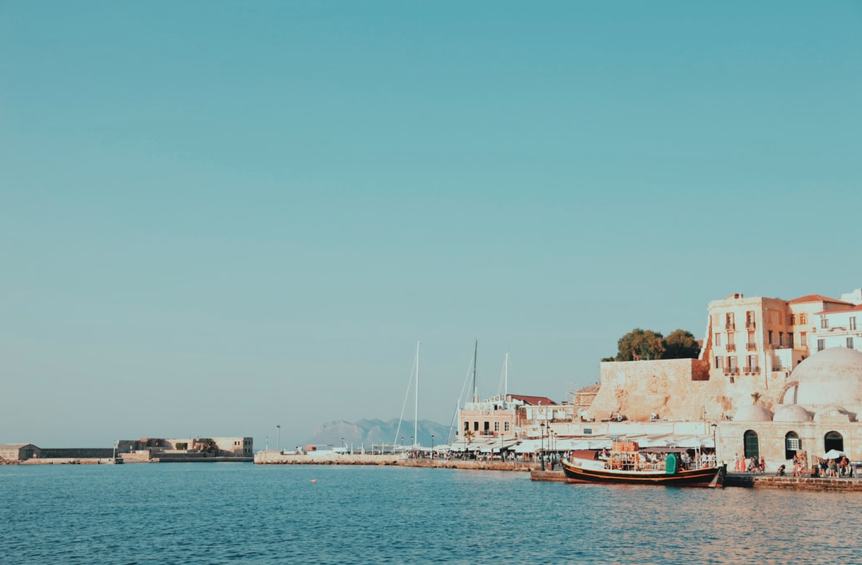 Uh oh, another place to visit ASAP. (But somehow, I don't think you can be mad about another swoon-worthy island destination to hit up while you're vacationing in Greece.)
If you're like me, you don't need much convincing to throw everything into a backpack and hop on a plane to Greece. This country is d-r-e-a-m-y. I really can't decide what I liked more about visiting — the food I'm still drooling over, the prettiest pictures on my camera roll, or just the overall "I can't believe I'm actually here" feeling. I love tons of other places in the world, but there is something about Europe I can't get enough of.


---
Have you wanted to spend a semester abroad in Europe?
Come check out how the ILP program works
---

You can easily see why our volunteers love vacationing in Greece. As an ILP volunteer you're set up with about 2 weeks off of teaching or helping in the orphanage program (plus weekends!) so a quick trip to Greece is 100% possible … and we think you'll want to book a ticket straight to Chania on Crete when you a get a glimpse at what's waiting for you. Oh and this place just became a little more perfect when you realize you can get a direct flight to this paradise from Romania, Athens, and a few other of our favorite spots in Europe.
How To Vacation In Chania
Hit The Beach
Nea Chora Beach is the most popular beach that's close to the harbor (and the center of the city). It's a sandy stretch of beach where you can rent sunbeds or chairs for the day for about 6€. Another perk? It's backed by a rim of restaurants and cafes serving up fish fresh from the ocean. Since it's so close to everything else, it's a prime spot to grab a little bit of sun if you don't have to time to travel to some of the other beaches.
Chrissi Akti is another good pick that's just a few miles away (about a 15-minute taxi ride) where you can spend the day swimming, hanging out in the sand, watching the kite surfers, or rent out a sunbed for around 7€.
However, if you have the time, taking a day trip out to the "pink sand beach" of Elafonisi island sounds like an absolute dream. It's an island found on the western side of Crete, a couple of hours away from Chania. Bits of broken coral form a beach made up a rim of pale pink where the shallow shore meets the most beautiful light blue water. Tour companies (like this one) pick you up in Chania, take you to a few other nearby spots, out to the beach for a swim, then back to Chania. It's an all-day thing that looks pretty close to perfect.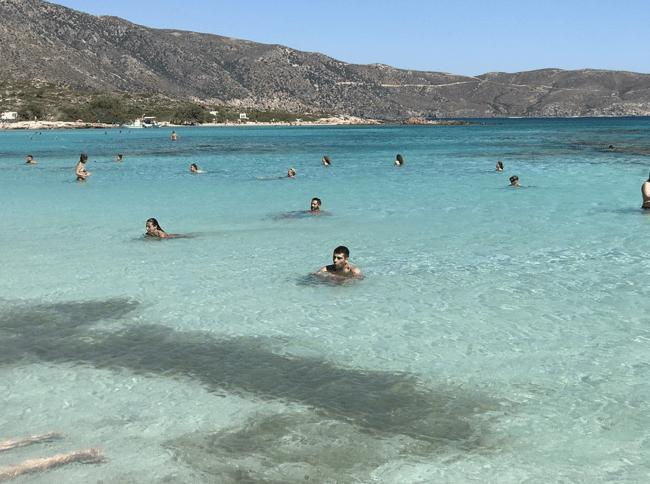 Pack Your Camera For The Harbor
Is this the most beautiful port city in Greece (or maybe even Europe)? It's certainly at the top once you see what the Old Venetian Harbor is all about. First off, this place is just pretty. It's classical Italian architecture with pale pastel buildings, umbrellas casting shade over little cafes, and window boxes filled with flowers. It's the hub of the city, shaped in a curling half-moon shape that's a dense cluster filled with cafes, restaurants, shops at the waterfront, an art gallery housed in an old mosque, excursion offices, and more making it a hot spot for locals and tourists.
And to complete this postcard picture? Out on the northwestern tip sits a lighthouse that you can walk to, which is highly recommended around sunset. You've got to spend some time here whether you're out walking around on your own, following your own self-guided tour, or joining a free walking tour.
Stop By This Museum
No visit to Greece is complete without a visit to a museum. Greece has shaped world history for thousands of years, with relics found in museums all over the world. In Chania, you can spend a few hours inside the Archeological Museum Of Chania and view pieces from the origin of the port city, nearly 5000 years ago. You'll find decorated pots, ancient coins, jewelry, detailed mosaics, and more. The building itself is worth a visit — the artifacts inside are housed in the Monastery of St. Francis which was one of the architectural centers during Crete's Venetian period (1211-1669). It's one of the best and most popular ways to spend an hour or two in Chania.
Address: 28, Chalidon St, Chania 731 31, Greece

Hours: 8:00 AM to 8:00 PM (April through October) 8:30 AM to 3:30 PM (November to March)

Cost: 4€.

More info here.
Spend Time In The Four Neighborhoods
We love the coastline in Chania, but behind the water is a maze of narrow streets that wind between the colored buildings. The neighborhoods of Chania are also worth seeing and help break up the coastal city into four distinctive sections. The Kastelli neighborhood rounds over hills and has tight, narrow streets to wander through while the Jewish District is dotted with a couple of synagogues and wider streets. Topanas and Splantzia are equally lovely if you have the time to visit — Splantzia used to be part of the Turkish Quarter where you can visit a temple-turned-mosque, complete with a bell tower and a minaret.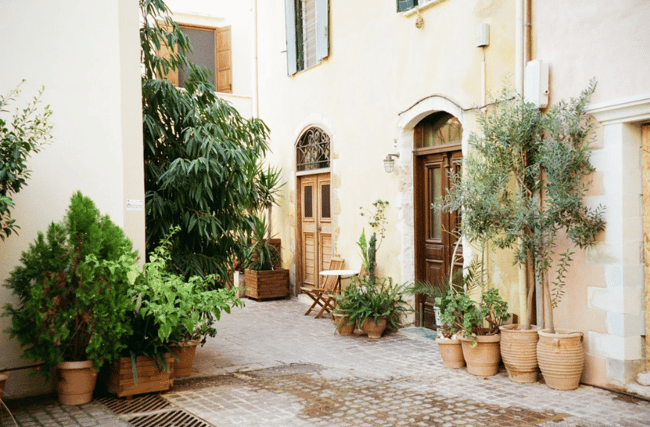 Hang Out At A Monastery
So much about what we love about Greece is the untouched fields of gnarled olive trees and the history. You can get a slice of that level of paradise by visiting a few of the ancient monasteries around Chania. Agia Triada is one of the most famous which has been standing for almost 400 years, still tended to by monks who harvest olives for olive oil and watch over the surrounding orange orchards.
The complex itself is pretty impressive, boasting a church, surrounded by a courtyard that's typically dripping with bougainvillea as well as old storehouses where olive oil used to be kept. You can still purchase oil made from the groves here, at the monastery shop.
Getting Here: It's found on the nearby Akrotiri Peninsula

which is about 15 minutes from Chania.

Hours: 8:00 to Sunset in the Spring, Fall, and Summer. Things close around 2:00 PM or 4:00 PM in the winter.
Remember, this is an active religious site, so please dress respectfully, with your shoulders covered and no shorts.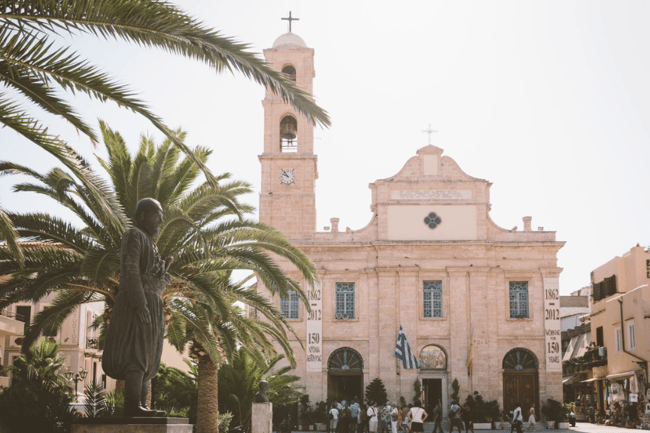 Tips For Your Trip
Eat Bougatsa For Breakfast
Plan on having this pastry for breakfast every day you're here. It's a filling made from custard (for a sweet version) or with cheese/meat (for something savory) and wrapped in flaky phyllo. You can find bougatsa around, but supposedly the best is from a place called Lordanis. The owner's grandpa started this place back in 1924 when he immigrated from Istanbul.
Hours: 6:30 AM to 2:30 PM (closes at 1:30 PM on Sundays).

Address: Apokoronou 24, Chania 731 35, Greece
Getting Around Chania
The whole main area of Chania is easily walkable, though some streets are charmingly narrow and lined with cobblestones. If you'd like to visit one of the nearby beaches or the hilltop monasteries, you can take a taxi. Tour options are your best bet if you'd like to explore other sections of Crete.
To get from the airport to the main section of Chania, you can take a bus or a taxi. The bus stop is found outside of the airport terminal and is a 30-minute ride. Plan on paying 2.30€. Taxi is another option, though you'll be paying around 25€ for the trip.
How Long Should I Stay?
This is a relaxing trip, a slower-paced section of your vacation where you spent sunny days strolling around the quiet neighborhoods, ducking into art galleries around the Old Harbor, and hanging out on the beaches. If you'd like to do one of the day trips (like to Elafonisi island) you'll want to plan at least 2-3 days, minimum. I'd recommend a couple of full days with the knowledge that the main things to do are walking around, hitting the beach, and just relaxing.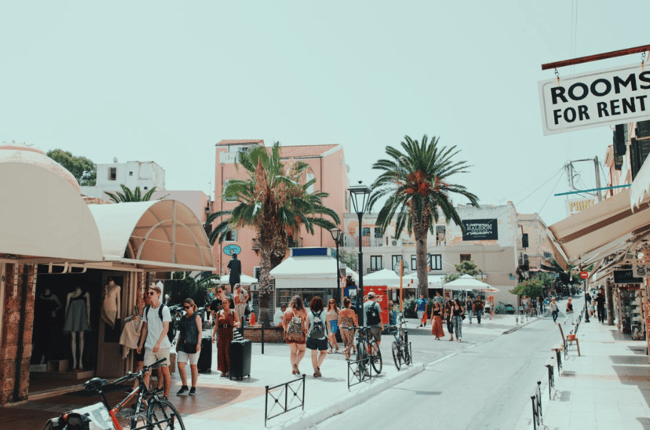 Getting Here
From Athens, Greece
We love a vacation in Athens. It's the starting point for any Grecian vacation if you ask me. I'd recommend spending a few days in the capital before jumping off to the dreamy islands you have on your itinerary like Santorini or Crete … especially since you can get affordable flights from Athens to Chania. You can snag a fare around $130, or as low as $60 during some parts of the year.
From Bucharest, Romania
Okay, if you want to talk about underrated countries, I can talk your ear off about Romania. I've had the chance to hit all the big hitters in Europe (places like Greece, Italy, England, etc) but I love love love Romania and am pretty jealous that you can spend a semester volunteering in Romania in the orphanage program there. As an added bonus, our volunteers living in Romania can get a non-stop flight for around $115 from the artsy capital of Bucharest to Chania which is ah-mazing.
From A Few Other European Gems
When you're volunteering with ILP, volunteers have vacation time to run all around Europe, hitting places like Italy, Spain, Sweden, Finland, Austria, Poland, France, Hungary, and more … and several of your favorite European cities have flights to Chania for around $100-$150. Score.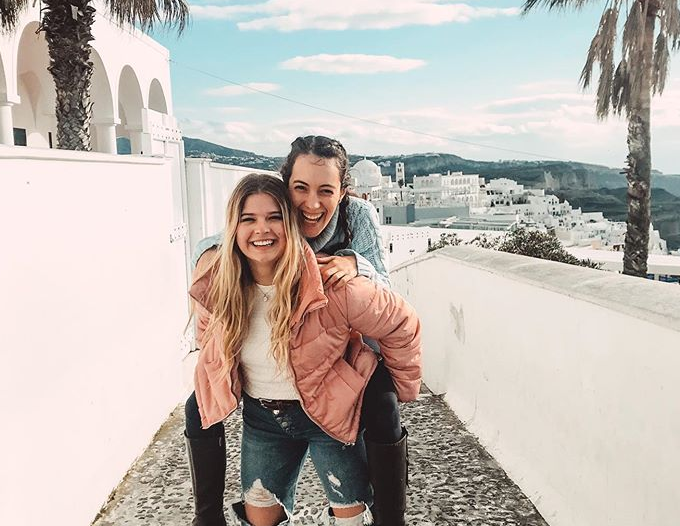 Do you want to live in Europe and vacation in Greece?
It's more than do able if you're an ILP volunteer! ILP sends college-aged volunteers abroad for a semester to teach English or help in the orphanage programs we have set up. We have a few programs in Europe, each with vacation time that lets you hit all the spots on your bucket list. I loved my semester abroad and can't stop talking about all the countries I got to visit.