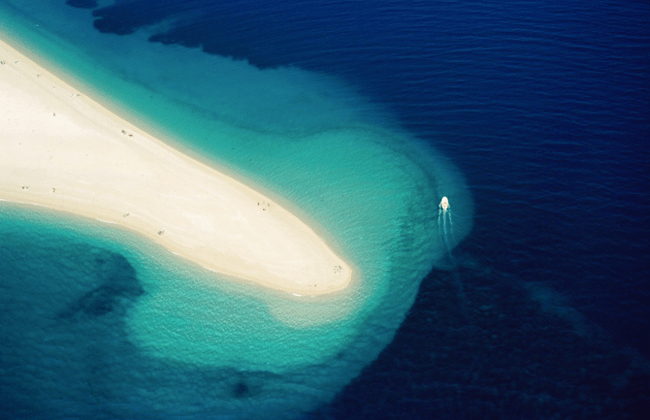 You'll die over the pictures of Zlatni Rat Beach, but that's not even the best part of this island. It's the dreamy-day trip you're looking for.
Are you totally in love with Croatia yet? This European country needs to be on your "to travel" list, STAT. Inside, you'll find the coolest National Parks hiding thundering waterfalls that are colored a dozen shades of turquoise. Thinking you want dreamy coastal cities that remind you of Italy? Croatia has that too — Croatia also has a smattering of islands that are going to make all of your European beach vacations come true.

---
Croatia's easy to visit once you're living in Europe
See what volunteering in Europe with ILP is all about.
---

So many people choose to vacation on Brac Island just to visit the famous Zlatni Rat beach but you'll be majorly disappointed if you didn't check out what else is found on this island. I'm talking teeny postcard villages hugging the coast and stretches of beaches that aren't nearly as famous, but are just as pretty as Zlatni Rat.
Things To See On Brac Island

All About Zlatni Rat

Getting To Brac Island

Getting Around Brac Island
Things To See On Brac Island
Hike Way Up To Vivoda Gora
Want to break up all the beach-going with a hike? This impressive trek leads you to the highest point in the Adriatic, letting you see the island (and coastline) of Brac spilling out below you once you make it to the top. You'll even be able to see that "golden horn" curve of Zlatni Rat Beach from the top. The hike is a stunner, that's for sure and one that's loaded with some history if you look for it. The beginning of the hike leads you up past a rock quarry — the island is known for a stunning white stone that was actually used in the construction of the White House. It does get harder though, leading you some rocky switchbacks. The hike itself is pretty well marked with "Vivid Gorda" signs which is nice, or little red and white circles or arrows.
It's a 7-mile round trip hike, just so you know. Most hikers take around 4-5 hours start to finish, though there is a picnic table at the top where you can certainly hang out for longer.
Here are the coordinates if you want to find it on Google: 43.265236, 16.649414
Find the trail in Bol (we have more on that city below). Find it between these two roads: Ul. Donje Podbarje and Ul. Uz gospojicu.
Visit Bol, The #1 Spot On Brac
Bol is easily the most visited part of the island, its home to the Vivoda Gora hike, and the jumping off point to Zlatni Rat Beach (more on that later) and a few other things you won't want to miss out on. It's a walkable city that's familiar with lots of tourists, so it's set up with lots of cafes, restaurants, and things to do.
There are a few things to not miss, like the Blaca Monastery. Remember how this place is riddled with history? This monastery began as a cave carved right out of the stone, used by two monks who were escaping the Turks. The cave soon evolved to a monastery that was used for 400+ years, complete with a library home to 11,000 books plus a detailed study that's home to an 800 pound piano that was carefully carried over the stone steps. It's beyond impressive. You can find hiking tours up from the Bol Port. The monastery is open to visit from 8:00 AM to 5:00 PM. Tickets are 40 kuna.
The Dominican Monastery is another gem of the city, situated right on the coastline. The real pull to this church is the painting of the Madonna and Child inside, painted by Tintoretto, a famous Italian painter in the 16th century. Before leaving, wander around the stone cemetery or walk around the cove of turquoise water for a quick swim. The view of the church's steep situated against the blue water is quite the photo-op. The church itself is open from 8:00 AM to 12:00 PM, then again from 5:00 PM to 8:00 PM. There's a 10 kuna price to enter.
There are also a smattering of beaches. Beach Kotlina is sometimes called the best beach on Brac island, and is way less crowded than Zlatni Rat. It's still crowded, surrounded by a couple of cool murals and restaurants, but definitely on the same level as Zlatni Rat.
Beach Port Bol is more of a picturesque harbor but there is some space for swimming too. You'll be able to get tickets to nearby island, plus a little something to eat and drink as you hang out on the shore. There's a stone promenade and a little "cove" that's meant for swimming. It's right in town, so easily reached.
Aquamarine beach is found just west of Zlatni Rat and has stellar snorkeling, though it does have a very rocky cove. There's a section of the beach that is made up of smaller and smoother stones where you could hang out on.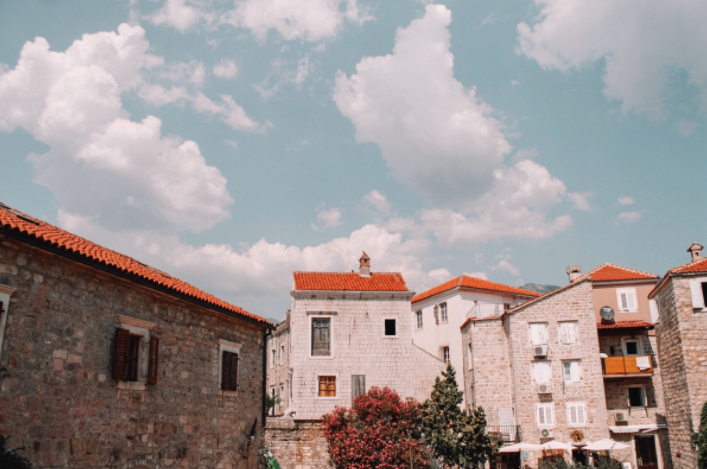 See Sumartin's Charm
The charming coastal city is waiting for you if you make the trek out to Sumartin. It's found on the eastern most tip of Brac Island and isn't on most people's itinerary, making it even more of a place to explore if you want an off the beaten track experience. It's a darling port city, where just a few hundred people live. It's a unique part of the island if you brush up on a little history. Initially founded by the Dutch (trying to escape the Turks) there's a unique dialect shift not found anywhere else. You'll find lot of maritime influences — a town built on fishing, shipbuilding, olive growing for exporting, and ferries that connect Brac island with the mainland.
Along with a small seaside village dotted with some cafes (and AirBnBs), you'll find a towering Franciscan church and the church of St. Martin which add some height to the white-walled town. There are also a few coves and bays perfect for swimming. Sumartin bay is the most famous and is worth a quick swim if you have the time.
There's a ferry connection from Makarska, but you can also reach Sumartin by bus if you're already on Brac, but not in the area. We have more info on how to get around Brac below if you keep reading.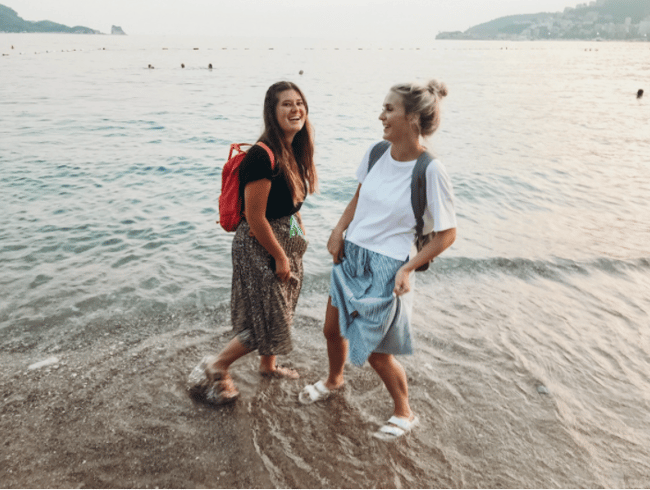 Get Olive Oil In Skrip
A small but noteworthy settlement is the place to be if you love olive oil. It has quite the history, with olive oil that's been pressed here since the 1800's going through several techniques to extract the oil over the years. The island of Brac is known for olive oil, peppered with ancient trees that have been pressed for hundreds of years. The olive oil you can taste at the museum has won several awards (it's that good) plus you can walk through a few exhibits that outline the excruciatingly time consuming process.
It's easy to get to, just a 10 minute taxi ride from the Supetar ferry port (where you'll probably be arriving). It's a 15 kuna entrance fee, but only 30 kuna if you want to get a ticket inside plus a tasting ticket. You can also get here via bus (there is more bus info about getting around on Brac below if you keep reading). Get more info about the olive oil museum here.
All About Zlatni Rat
"Golden Horn" beach is easily the most photographed beach in Croatia, found near Bol. It's the icon of any postcard stand you'll run into, made famous by the golden stretch of small pebbled sand that rounds into a "horn-like" little extension. It's more like a "V" shape, with the shore on either side, and a thick forest making up the perimeter and very top center of Zlatni Rat. It's also the biggest beach on this particular island, adding to its popularity. In the summer months you'll see a blanket of colorful umbrellas and chairs ready to be rented, but the beach is a bit quieter in the off season. Visit in April if you want warmer weather and not too many crowds. That iconic shape is all natural and often helps this beach reach one of the many "best beaches in Europe" awards.
Plan Your Visit
One thing to note: this is not a sandy beach, nor will you run into many sandy beaches in this part of the sand. Instead, you'll find small stones which add so much to the overall feel of the beach. Because there's no sand to stir up, the waves and water are a pristine "I can't believe this is real" blue. You may want to pack up some water shoes if you don't want to be stepping on the stones while you're walking around or swimming. The water is beyond clear here, if you want to pack up your fins and snorkel mask, it's a great place to snorkel. The winds here also make for rad windsurfing which is fun to watch. There are kiosks where you can get windsurfing lessons (around 55 or 85 euros + ) or you can rent a paddleboat if that's more your speed.
There are chairs and umbrellas to rent out (typically 50 kuna for both) but are free to use after 5:00 PM — good to know if you want a stellar place to watch the sunset.
There are a few lifeguards on the beach, and you'll want to avoid the western coves (one of which is a nudist beach). There are kiosks for food and some drinks, but prices are much higher than if you were to pack up your own things. You'll want to bring small bills (there are some restrooms to use, for 5 kuna or less).
Getting here — the best jumping off point is Bol. From the city center, it's around a 25 minute walk or you can snag a taxi (for the 8ish minute ride).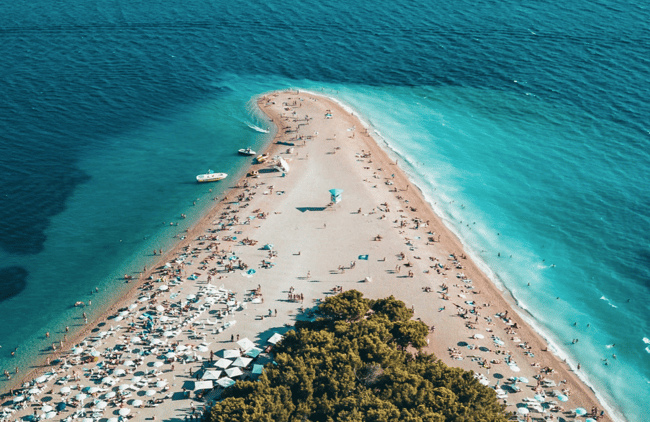 Getting To Brac Island
Go From Split
Probably the most popular route is from the popular vacation destination, Split. For foot passengers, you'll need to take a ferry over operated by the Jadrolinija company. They have different routes, frequencies, and prices depending on when you are visiting so be sure to double and triple check their schedule here. Prices are in the 20-40 kuna range depending on when you're traveling (whether that's in high season or low season). It's about an hour ride from Split to Supetar, which is the main entry point to Bol. It's the largest town where you can catch buses or taxis to other sections of the islands.
There's quite a bit to see in Supetar including a gorgeous church and sculpture studded cemetery, along with a few beaches.
Try The Airport
There is a small airport which has the occasional flight from places like Zagreb, Croatia as well as Brussels, Belgium. You may also be able to get a flight here from Vienna, Austria. Try Croatia Airlines, TUIFly and Czech Airline for these routes, just know they are limited. Most operate only one or two days a week and only in the high summer season. Prices are also more expensive, so if you're on a budget, you'll want to head to Split and take a ferry over instead.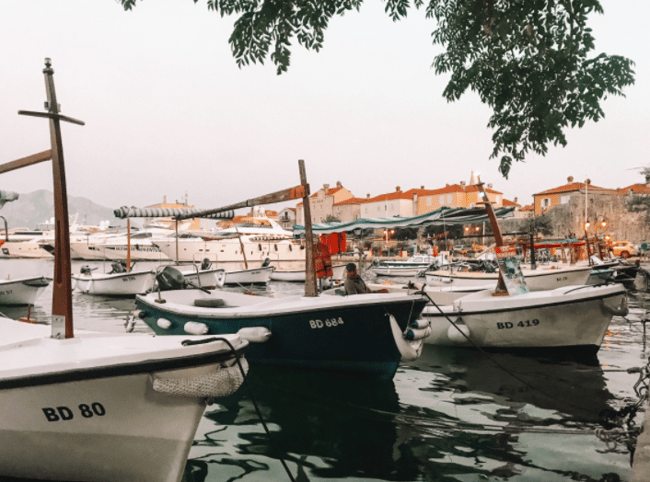 Getting Around Brac Island
You'll want to keep this bus schedule handy. Arriva is the bus operator on the island and does make it possible to visit most of the places we've listed on this post. Handy, right? Just know that you'll need to plan if you're taking the bus. The schedules are rather infrequent, but it's doable. Get the info on how to book tickets, look up prices/schedules and a bus route map here.
Taxis are also an option, albeit a more expensive one. They typically hang around the port cities, so you'll be able to flag one down once you arrive in Supetar. They'll know all the most well known areas on the island if you'd rather go that route.
There are also tourist information offices in Bol. They can help you call a taxi, figure out a bus schedule, or let you in on any events happening while you're visiting. Another perk? The office is housed in a 15th century Gothic building (don't you love the history found in Europe?). Visit their website for more tourist info.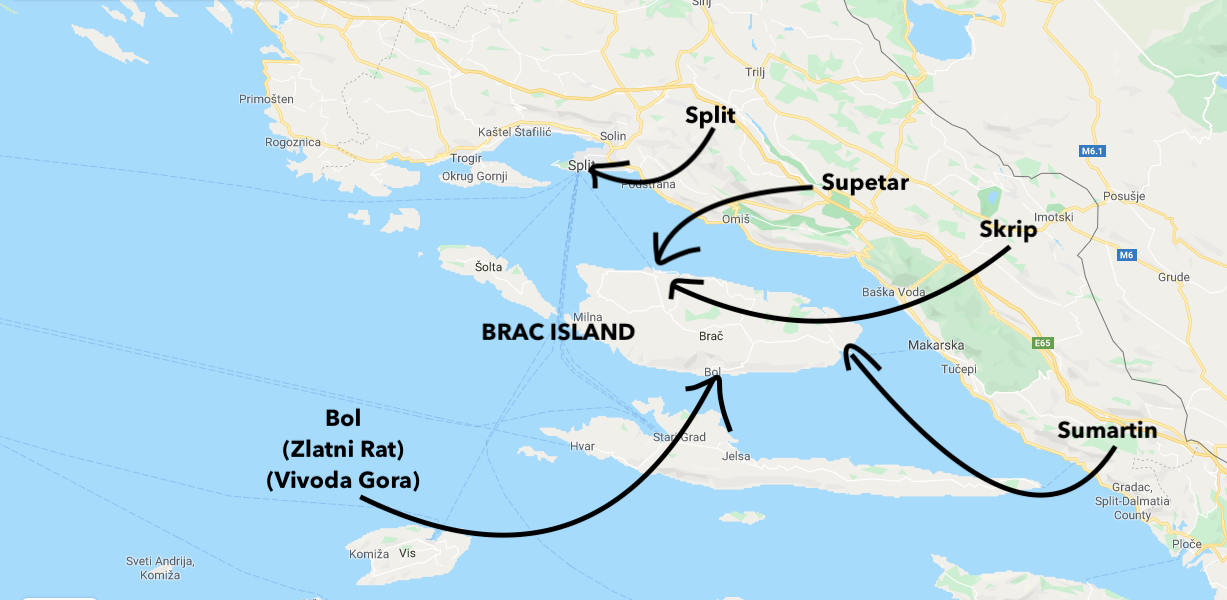 You can spend a semester living in Europe
Yep, it's as dreamy as it sounds. I volunteered with ILP for a semester and called Europe my home while I was teaching English. I was only teaching part time, had weekends and vacation days to vacation all around Europe, and was living, teaching, and traveling with a group of volunteers .... and loved it!