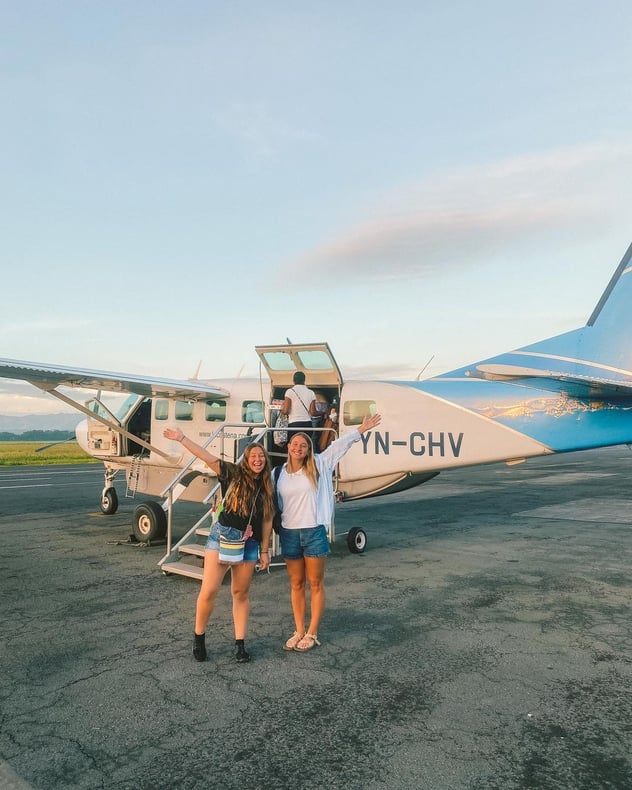 Having a great backpack to stow your stuff in while exploring different countries is a must! Check out what backpacks our ILP volunteers recommend as you make plans to travel across Europe, explore Thailand, or adventure wherever your semester abroad takes you!
Having the right bags for a trip is so important, and it's no secret that we're big fans of avoiding the suitcases and just packing up a backpack for those weekend trips and even week-long getaways. Having a good backpack can make a huge difference! Especially if you need one that will hold up for at least an entire semester's worth of excursions, flights, hostel stays, mountain treks, train rides, and so much more. Here is our ultimate packing guide!


---
Is traveling the world as a volunteer one of your dreams?
Follow @ilpadventure on Instagram to see where our volunteers are serving every semester!
---

With so many great backpack options on the market these days, it's probably hard to know where to start, right? Functionality, size, quality, and affordability are all factors for us. And there are great options available for every budget. We've put together a list of our top five favorites, plus we've included a handful of reviews from ILP volunteers who have actually used these backpacks! We've organized them by price (from lowest to highest), since that's often the #1 priority for volunteers traveling on student budgets. Let's help you find exactly what you're looking for!
And just a heads up: No one likes extra luggage fees, and we love that a backpack usually counts as just a free carry-on. Yay! You'll absolutely want to check the carry-on dimensions and weight limit restrictions for the airlines you know you'll be taking, and then keep an eye on them throughout your semester when booking additional flights as well.
Travel Backpacks We Recommend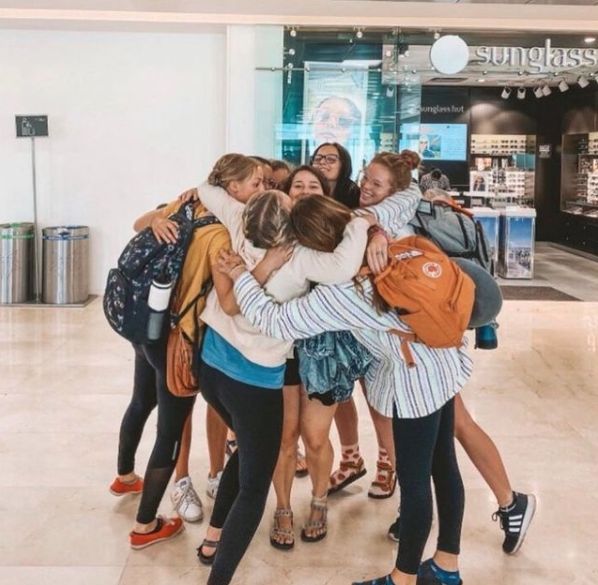 Hynes Eagle
This is actually my backpack, and as a frequent traveler who has tried a different pack for almost every single one of my semesters abroad, this has been my favorite so far and I am sticking with it! The price is right, about $45, and the 38 L size works for every airplane I've traveled on. My favorite feature is that it opens like a book, rather than at the top. It also has a duffel bag handle and another one on top, which provide great carrying options for the moments that my back just needs a little break. The pockets are the perfect size for organizing everything I need, and there are several colors to choose from. Check it out here!
Walker Family Goods
If you're looking for a bag that isn't too big, but will still fit everything you need, while having all the best cosmetic features, the Arrow Pack is the bag for you. Another plus is that you'll be supporting a small, family-owned business. When unzipped, this bag lays flat, so it is easy to pack and then remove items as you need them. The three compartments inside also make it a breeze to organize all of your belongings. You have ten colors to choose from, and this is $60 you'll never regret spending. Check it out here!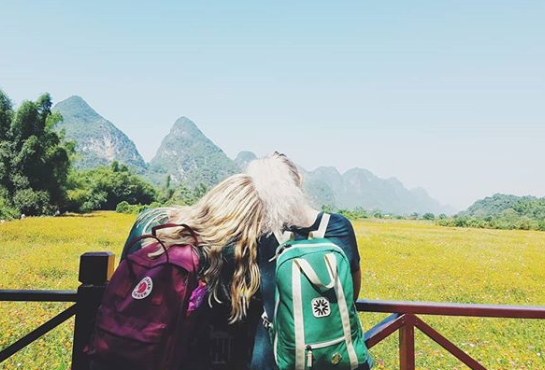 Cotopaxi
These colorful bags have become very popular in recent years, especially with the rise of Questival, an adventure scavenger hunt that you should definitely participate in if you ever get the chance. They even throw in a free bag for all participants, so that makes it kind of a no-brainer. The new Allpa 28L Pack has every feature you'll need for your trip, and if you're wanting to invest in a great bag it's well-worth the $170 you'll pay (in my opinion).
A bit out of your price range? Opt for a smaller, Batac 16L Pack with front zippers and a similar shape for $60, or even the Luzon 18L Pack for $55 or the Luzon 24L Pack for $75. This is one of the most popular bags among our volunteers. Myra L. likes that her Luzon backpack isn't too big to use for shorter trips, but still big enough for longer trips.
"This is the Cotopaxi that I have! I love this bag because you can fill it up and carry a lot of things. I really like that it has a side pocket to access your stuff in so you don't always have to dig it all out. It's great for bringing on 10-day to two-week trips (I've never taken it on longer, but I haven't had the opportunity either). It stretches when full without ripping which is really nice. You can also adjust how tall it is with the side straps which is great at the end of the trip when your bag has all your souvenirs In it. I've been to about 7 countries on three separate trips with that bag and I love it."

Deuter
If what you want is a top-quality, traveler's backpack, this is our recommendation. Yes, it will cost you about $160, but if you're planning on being a traveler for the long haul, it would be a great investment. Jeremiah T. has volunteered with ILP multiple times and loves Deuter backpacks. Check out our favorite and all of its incredible features here!
"I would say that Deuter is definitely one of Europe's most popular backpacks. Europeans love them! They are also very quite affordable! The brand has many different styles and varieties so there is definitely something for everyone. I love the specific one that I have because it is VERY sturdy. There are a lot of pockets and you can tell that the overall space of the backpack was thought out. They utilize every inch of it. I especially like that the entire front zips open so it's almost like a duffel bag and makes it easy to pack or unpack things. It isn't over sized yet I took it to Thailand and that's all I had for 12 days. It's awesome!"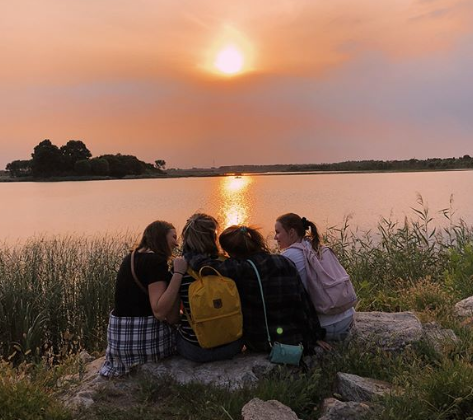 Fjallraven
Haven't jumped on the Fjallraven train yet? Well, now is the perfect time. The 20L Kanken bags ($120) are spacious enough for weekend trips, or even four-day vacations. If you want to go a little smaller and cheaper, check out the 16L Re-Kanken bag ($90) which is still big enough to fit all of your essentials.
If you want a bigger bag that works for longer trips, take a look at the Friluft Pack. Haley J. took this backpack on her semester abroad and loved how much it could hold.This is a little more expensive than some of the others, about $200, so keep an eye out for sales! Check it out here!
"My backpack is a Fjallraven Friluft with 35 Litre capacity. I absolutely love it because it's designed for women so the frame is a bit smaller and more manageable. It's adjustable in loads of different places so it can get bigger when you need it (or smaller if the airline is giving you trouble). I've had it for three years and it doesn't really show any signs of wear so it's worth the investment. I can pack for a 10-day trip in it and not worry about trying to get a rolling suitcase through the cobblestone streets in Europe. I bought mine on sale from Moosejaw but if you shop around there are usually deals you can find from at least one retailer. "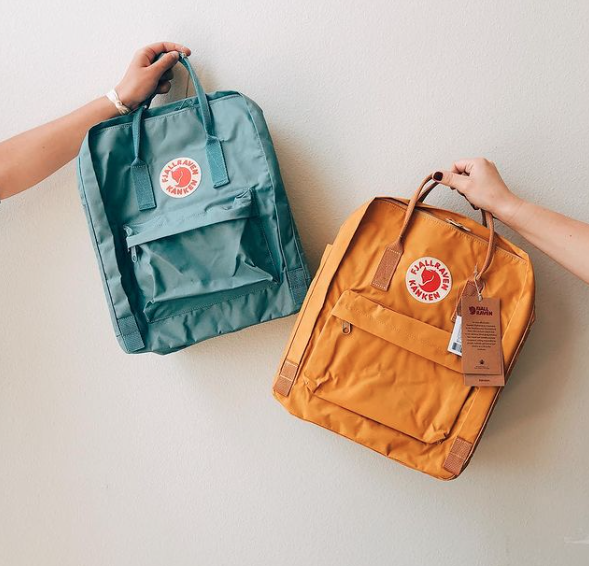 Are you wanting to volunteer but just not sure how to afford it?
You're definitely not alone. This is a common concern for many of our volunteers, so we do all we can to help make this an affordable and realistic option for you! We have a lot of information about fundraising that has helped many of our volunteers! Click the button to learn more about how to afford a semester abroad, and let's make your dreams come true!