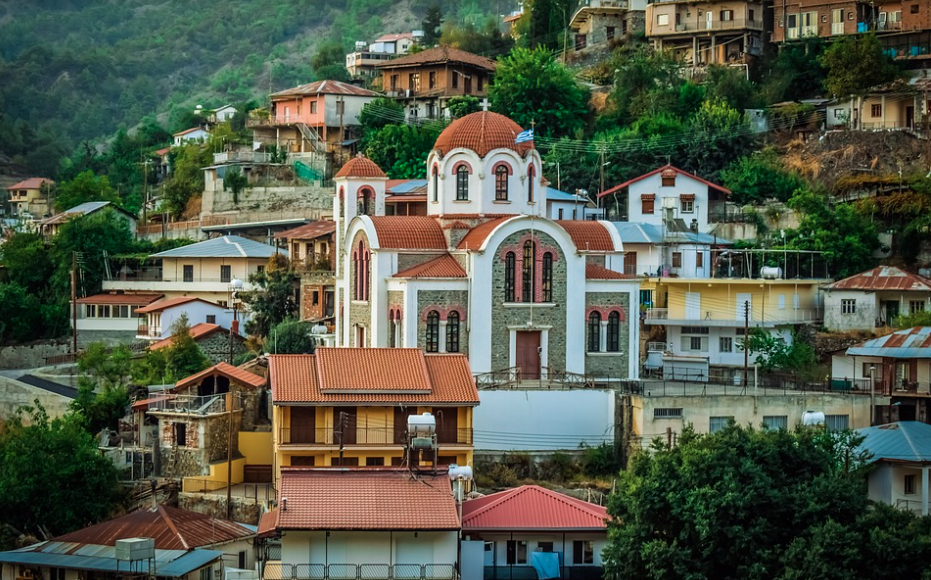 Turquoise beaches, secret waterfalls, hidden monasteries, stoney castles, and palm trees lining the streets — just a few reasons we are head over heels for this country (and think you'll be more than thrilled to see it all yourself).
While most crowds flock to the beaches of Greece, we think a visit to Cyprus is going to be higher up on your list. But ... is Cyprus not on your radar yet? We're not surprised since it's not as touted by Instagrammers and travel bloggers (yet) like France and Italy are. But we love it even more because of that fact. You know Turkey? Just head south from there and you'll run right into Cyprus.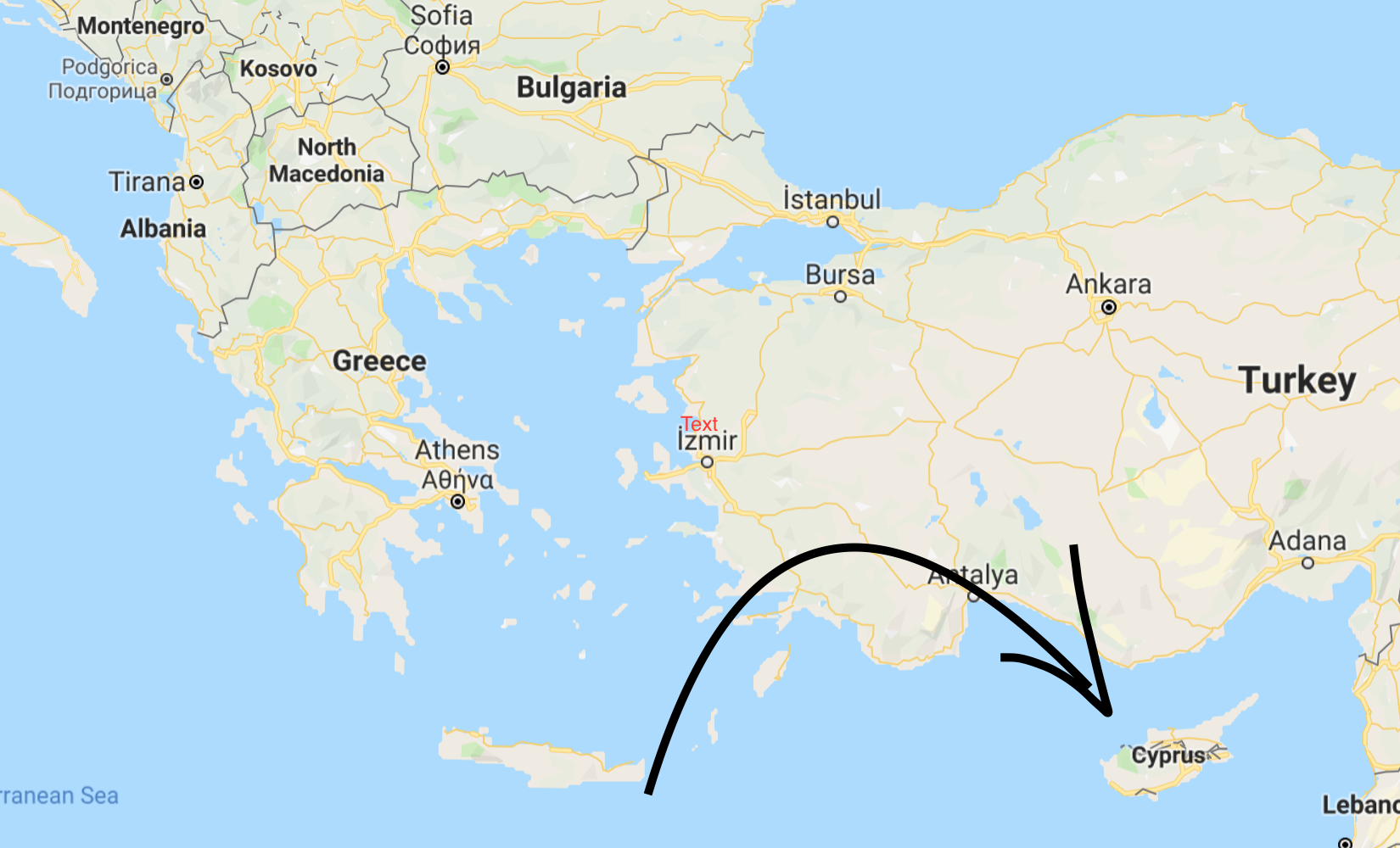 It's a European island country split culturally with both Greece and Turkey, found in the warm Mediterranean sea, boasting Greek history, rocky cliffs that overlook swimming-pool-blue waters, palm lined spice bazaars and nature parks dotted with waterfalls. It's your one-stop for a vacation full of ocean views, treks to hidden swimming spots, city hopping to explore ancient monasteries and museums, and more — definitely a vacation you're not going to want to miss.


---
Planning a trip to Europe?
You'll want this European Destination Guide
---
Our ILP volunteers all over Europe are pretty lucky to have the chance to come vacation in Cyprus (especially since we found pretty good flights out of Athens, a favorite city to volunteers already love to vacation in!), and doubly lucky they have this big long list of things to see and do here.
Blue lagoons

Picture perfect beaches

Instagram worthy ocean archways

Hidden sea caves

Shipwreck spots

White sand bays

Snorkeling and sea kayaking

This lavish monastery

360 degree sunsets

Oceanside churches

Ancient tombs

Step back into the Bible stories

Visit English Castles

Watch baby sea turtles

Visit two other countries

See the Aphrodite pools

Hike to Aphrodite's loop
The Best (And Prettiest) Swimming Spots
The Blue Lagoon
Clearly one of the best swimming spots in all of Cyprus thanks to a beyond-perfect sheltered bay that circles a pristine snorkel, swimming, and diving spot. The Blue Lagoon is best reached by boat tour, where you can hang out on the deck of those pretty white cruisers that anchor for a few hours, letting you dive off the deck into the clear water. Cruises are inexpensive, starting at about 15 euros for the afternoon and often include free juices. Check out Alkion cruises. You'll catch a boat in Latchi, which is reached by a handful of buses (618 Paphos Harbour to Karavella, 645 Karavella to Polis , 622 Polis to Latchi, 648 Coral Bay to Polis or 622 Polis to Latchi).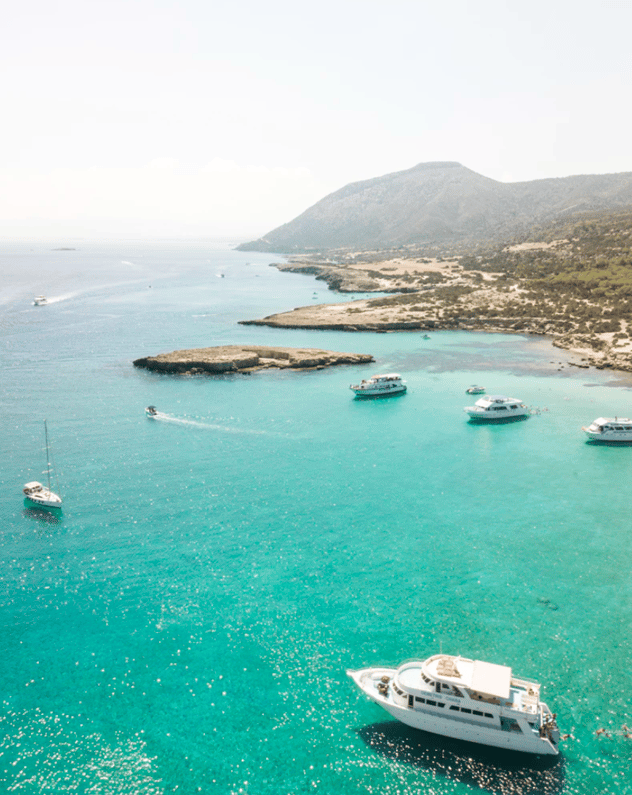 Konnos Bay
You'll find golden sands on Konnos beach, fringed with a thick green forest behind you, and turquoise waters in front of you. The beach curves into a bay dotted with lounge chairs and umbrellas to rent out for the day, making it an ideal way to spend your morning and afternoon in the sun. The water here is perfectly pristine (a stop-in-your-tracks-blue) complete with small calm waves (with stark white rocks strewn amongst the waves on one edge). It's one of the island's most famous beaches for tourists and locals, and one of the best swimming beaches on the island.

Cape Greco's Arches
Framed by a rocky arch that plunges into the perfectly blue water, this swimming spot was made for Instagram. Found just a short drive away from Konnos bay, the area is on a protected nature reserve, with winding trails that lead up to impressive viewpoints (more on the hikes you do in Cyprus later), but the views from the rocky outcrops on Cape Greco can't be missed. You won't find sandy shores, but the area does have a few inlets and lower cliffs where you can dive in for a swim. The area is also known for snorkeling and scuba, thanks to the clear blue water.


Greco's Sea Caves
Before leaving Cape Greco, trek to the sea caves hiding underneath the rocky limestone cliffs. A few of the deep caverns are only reachable by boat, but during low tide, the turquoise waves pull back, revealing winding trails that can take you down the pathway that hug the cliff's edges and leads you to a few entrances.
See A Shipwreck
Nearby on these sea cave shores in Cape Greco sits a shipwreck that's a #1 photography spot. This vessel set off to Rhodes in October of 2011, but wrecked shortly after departure, thanks to a sudden and violent storm. The leaning, rusted ship is a favorite tourist lookout point, and is just a few hundred meters from the shores of the sea caves we mentioned above.
Nissi Beach
Cyprus' most famous beach does get crowded, but thanks to the Caribbean-esque water here, you'll want to join in on all the fun and the crowds on Nissi Beach anyways. Come early and rent a sunbed + umbrella for the day (about 2.5 euros for each), wade into the shallow waters, or grab a smoothie-in-a-pineapple from one of the many restaurants who line the shores behind the beach. Unlike other beaches on Cyprus, you'll find soft white sand here.
During low tide, you can walk across the now exposed sandbar to a tiny island, then head back to the shore before the sparkling waters of high tide come in.
Snorkeling At Fig Tree Bay
Who wouldn't want to hang out in a place called Fig Tree Bay? Another absolutely stunning swimming spot with all the things you're looking for — calm waves that are an unbelievably blue/green color, a pebble beach that leads to clear water, a little islet ideal for snorkeling, and more. Come early, rent a sunbed and umbrella for 2.5 euros each, and lots to do: take wake surfing lessons, or take a peddle boat out for the afternoon.
Pro tip — you'll have dozens and dozens of beaches to choose from in Cyprus, some with stretches of soft white sand, while others are covered in round pebbles. Generally, beaches in the east have sand while beaches in the west are typically covered in those smooth pebbles. There are pros and cons to both (I love sunbathing on sand, but pebble beaches give you the clearest water), so I'd recommend checking out a variety during your island getaway.


Hidden Monasteries + Towering Churches + Stony Castles

Kykkos Monastery
Complete with an archway-filled courtyard, and a dazzling gold room of worship complete with gilded icons and impossibly detailed mosaics, Kykkos Monastery is something not to be missed. The entire island of Cyprus is peppered with monasteries, churches, castles, and mosques, and Kykkos is one of the most well known and lavish. Make sure you're covered (shoulders covered and no shorts — you can rent modest clothing if you're not properly dressed). Thousands of visitors name this as a can't miss spot!
Sunsets At Profitis Iias Church
A short and steep hike up from the town of Protaras gets you to a stoney monastery that's filled with pretty things inside (peek behind old wooden doors for gilded icons) but our favorite time to visit is right at sunset. The monastery is perched atop a hill giving you a 360 degree of the valley below you and the glittering waves as a creamy orange and pink sun sets over the whole view. It's the ideal spot to watch a sunset.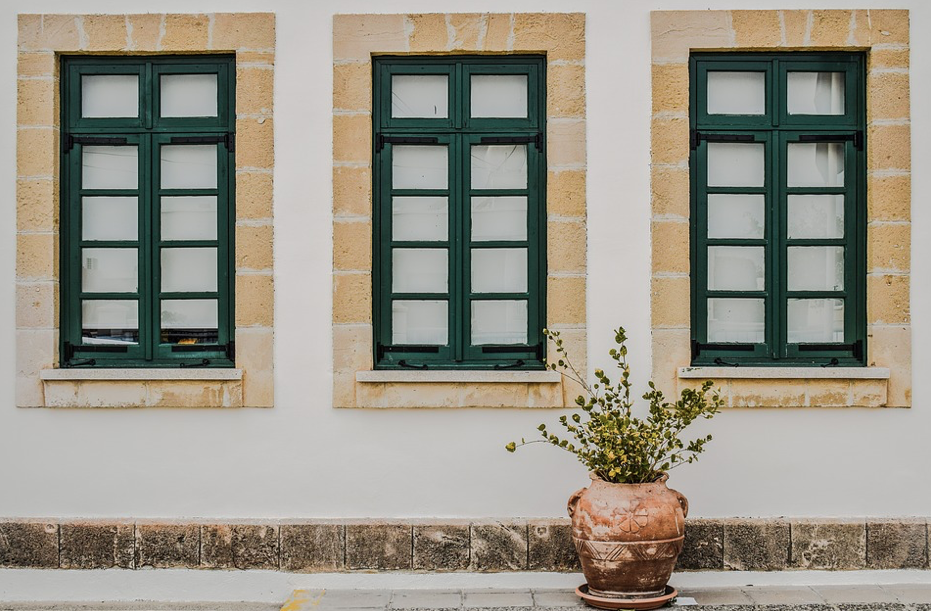 Beachside Views At St. Nicholas Church
Forget the prices in Santorini, you'll want to save your euro and come for photoshoots in Cyprus instead! Spend a day lounging by the beach before throwing on a dress to go explore St. Nicholas church. You'll want to bring your camera for shots of the white-washed walls, turquoise dome, and distinctively Greek feel this part of the island has.
The Tomb Of The Kings
Coming to this part of the world to see iconic and ancient ruins? The Tomb of the Kings is your ideal pick for all that. Just 2.50 euros gets you into a large complex where you can wander the rocky grounds or delve into the caves to see the tombs for yourself. The space is broken up into rocky walls, smooth columns, huge fields that dip below to reveal entrances into a tomb complex, and router ancient ruins.
Come early and bring water — the whole area is mostly uncovered, and it gets hot. Make sure to wander down all the way by the beach to see some of the formations down by the waves. While there aren't any kings buried here, it used to be the resting place of high ranking officials, dating back to the 4th century. There's a lot to see: an easy way to step back into history for an hour or two.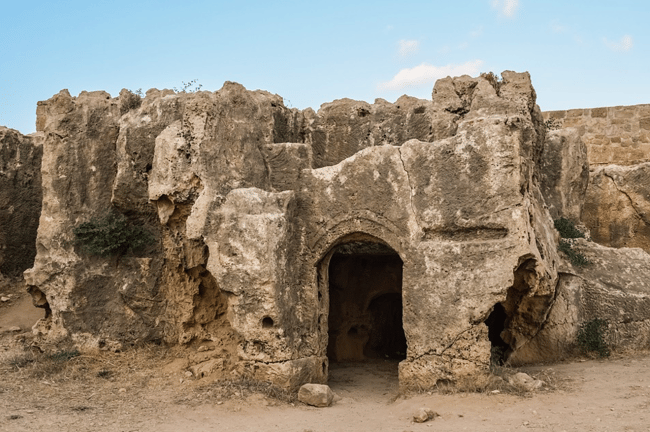 See The Tomb of St. Lazarus
History and religion are deeply tied in Cyprus, and St. Lazarus' Monastery is one example of this. According to local legend, the church was named after the same Lazarus who Jesus raised from the dead. Lazarus became the region's bishop and the building sits over his supposed tomb (after his second death, some 30 years after the miracle). It dates back to the 9th century, and is home to a golden interior, hung with intricate artwork and chandeliers and a stoney courtyard lets you glimpse what the church looked like hundreds of years ago.

King Richard's Kolossi Castle
Add a "trip" to England to your list of countries while you stay in Cyprus. The country has a wide history, encompassing mainly Turkish and Greek influences, but visit Kolossi Castle and see how England influenced this section of the island. Traveling to Crusade claimed land, Richard the Lionhart's crew was shipwrecked Cyprus and were captured, until Richard himself arrived and defeated the local ruler. A wedding was held in the Kolossi Castle, which is adorned with English coat of arms, though the space has been the property of the English, the Byzantines, The Venetians, and several other countries since its construction in the 13th century.

The "Can't Miss" Cyprus Adventures
Turtle Spotting Near Akamas
The rugged western portion of the island is home to one of our favorite seaside adventures: watching baby sea turtles! The golden sand of Akamas beach (and Chrysochuos Bay) are the laying grounds for hundreds of Loggerhead and Green turtles, so a visit here in the midsummer months may mean the chance for you to watch these little cuties hatch and crawl through the sand to reach frothy ocean waves. The Lara Bay Conservation Station helps educate visitors about the turtle hatchings and is the spot to go for turtles in Cyprus.
Visit Two Countries
The capital city of Cyprus is the last divided capital in the entire world: Nicosia, also known as Lefkosia, is split into two halves — one half is recognized by Greece and the other is recognized by Turkey. In the north, you'll find a larger Turkish influence with buildings built in the Ottoman Empire, towering mosques and busy bazaars, with vendors speaking the nationally recognized language (Turkish) and using the Turkish lira. In the south, you'll hear Greek and spend your euros at the shop-and-cafe-lined alleyways.
When you visit Nicosia, you can "visit" two different countries by walking around the two halves of the city and get a distinct feel for the way the country is separated. As a head's up, ILP volunteers will need to stick to the southern portion of the island for all of their activities: there are sections of the north that aren't accessible for tourists and for visa reasons, you'll only be able to visit the northern section of the country in the capital city itself before walking back over to the southern half of the island.
The Baths Of Aphrodite
Supposedly where the goddess of beauty bathed, the Baths of Aphrodite are found in a park — a short trail through the greenery reveals a clean, and cool pool where water trickles out from the rocky wall on one side. It all creates an oasis that's lovely enough to believe that this is the spot where Adonis saw the goddess and fell in love.
Hike Aphrodite's Loop
After playing all day in the glittering blues waters around Cyprus, it's only fair you do a little hiking to get to one of the prettiest viewpoints on the island: the lookout on Aphrodite's Loop. Found just around the corner from the Baths of Aphrodite, this hike leads through rocky and dusty trails to a spot where you can see the stunning blue coastline. It's about an 8km hike that tends to take longer than 2 hours, only because the scenery on the way is beyond picturesque. It's not the most difficult hike, but can be quite steep in some areas, and is in the open sun for the most part: you'll want plenty of water and it's best to start early if it's going to be a hot day.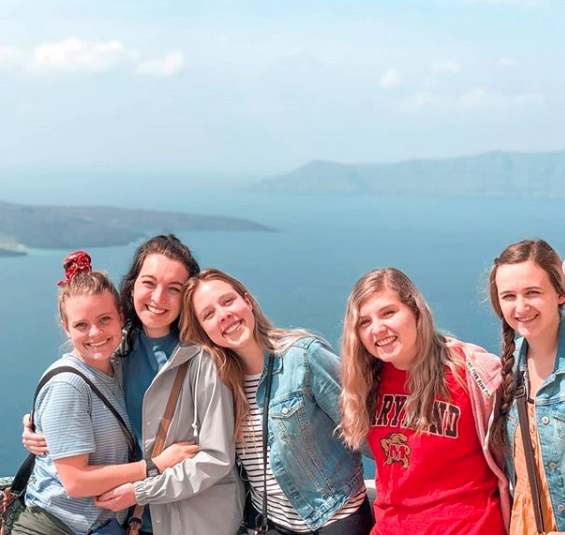 Want to come to Cyprus with us?
ILP volunteers are teaching English or helping in an orphanage in several countries in Europe, with vacation days to come check out countries like Cyprus. We're now accepting applications for college-aged volunteers who are looking to help in a local community and do some traveling, so if that sounds like you, send us a text!