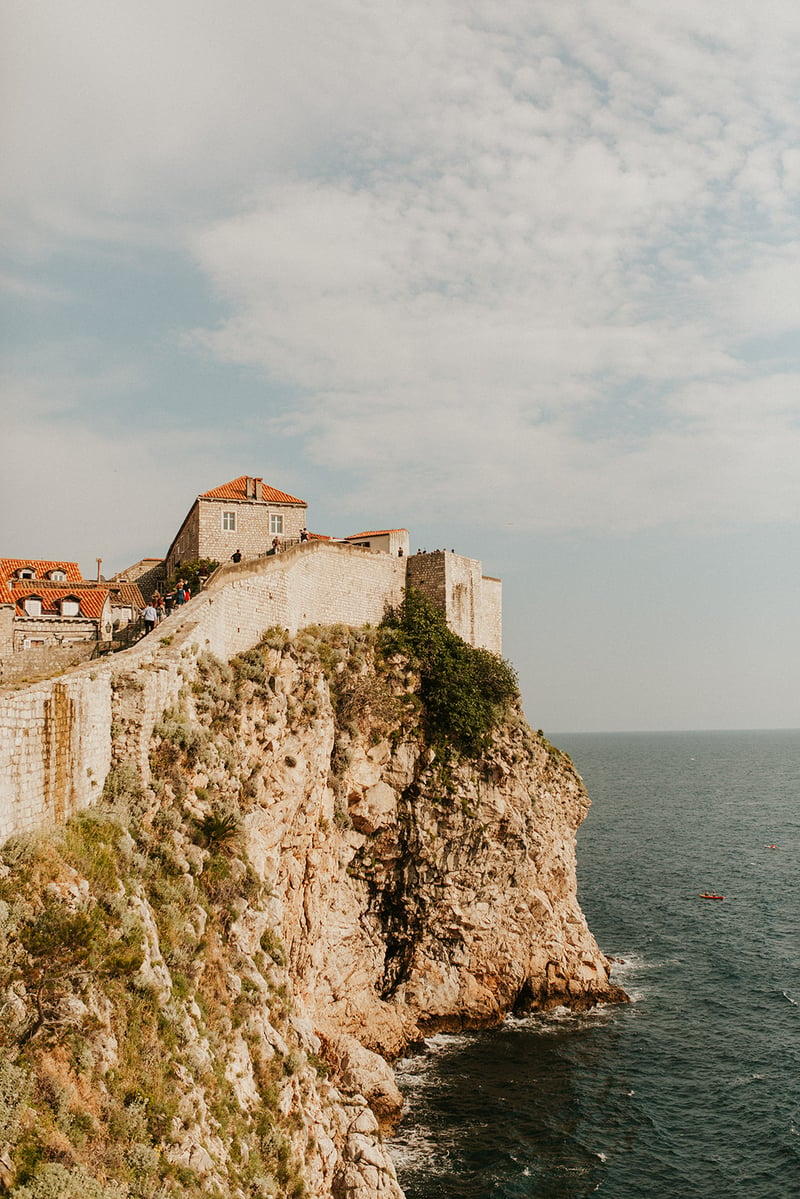 This country is big, yet still crammed full of a hundred things to do, so if you're only visiting for a few days …. where do you start?

Unless you have the luxury of spending a couple of months in Croatia (wouldn't that be a dream?), you'll want to know the absolute best things to see in a short amount of time. But even just a weekend or a few days in this country would definitely be worth your time. Croatia is bursting with some of the prettiest national parks, coastlines, charming cities, and dramatic cliffs, so yes, you'll want to visit no matter how long you can stay.
---
Ready to vacation in Croatia?
Travel all across Europe on your semester abroad with ILP - apply today!
---


Since you'll find everything from dense forests hiding emerald lakes to Rome-like cities dotting the shimmering coastline, you'll want to pick the right places for the adventures you're looking for.
Croatia's Prettiest "Dalmatian Coast" Cities

Do Some Island Hopping

Trekking In Picture-Perfect Parks
Croatia's Prettiest "Dalmatian Coast" Cities
Called the Dalmatian Coast, Croatia boasts some 3,000+ miles of coastline along the Adriatic sea, right across from Italy. And along these sharp cliffs, crashing waves, and picturesque beaches are some of the most gorgeous cities Croatia has to offer.
Dubrovnik's Beaches + Medieval Old Town
This city is sometimes called one of the world's prettiest … and we agree. With thick stone walls and a mess of alleyways weaving you in and out of the red-roofed city, Dubrovnik is a favorite tourist spot for a few reasons. It's right on the southern tip of the country, peppered with ancient fortresses, artsy cafes, and scenic walks. Plus, it sits right on the water giving you great beach access or the chance to do some island hopping. If you want some sun, you'll want to visit beaches like Sveti Javoc Beach which is just 15 minutes walking from Old Town.
Get your guide to visiting Dubrovnik here. It's easily reached too, with an international airport that connects the city to more than a few spots in Europe. Since it is a main hub, heading to Dubrovnik first means easier access to all the other spots on this list post.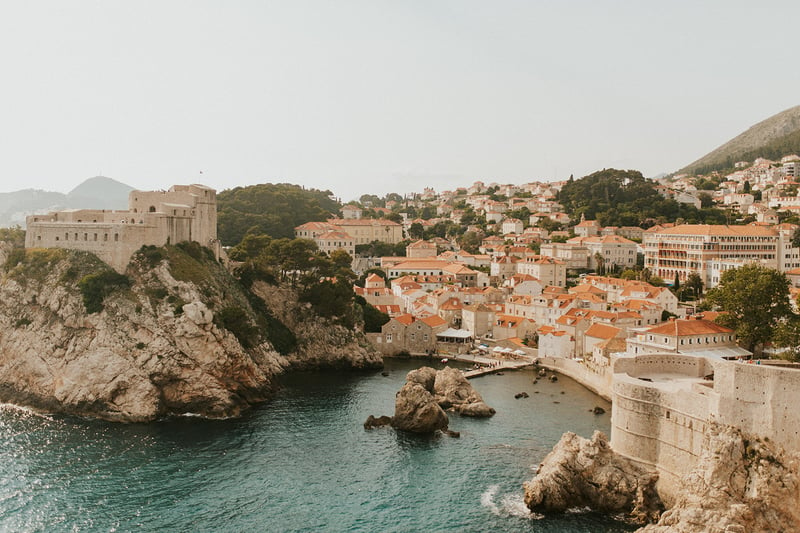 Jumping Off From Split
Filled with towering Roman citadels, a smattering of Greek fortresses and a palm-tree lined promenade, Split is probably Croatia's second most popular city. We love the idea of heading here for a half or full day then using it as a jumping off point. You can access a handful of the country's prettiest islands plus get to some of the area's most impressive national parks all from Split. The clear water and soft sandy beaches of Zlatni Rat, one of the most famous beaches in the world, is just a couple hours away from Split (find it on Brac Island) — and a short drive from the city gets you hiking in the lush forests to find tumbling waterfalls in Krka National Park.
Getting to Split is rather straight forward, thanks to a few options. The city has a nearby airport (SPU), but if flights are too pricey, think about flying into the country's capital city, Zagreb, first, then taking a train down to Split. Book a train for about 30 euros and get to Split in about six hours. You can also take a bus from Dubrovnik which will only set you back around 10 euros and take 4-6 hours.
We've got a ton more details to help you plan your trip to Split in this post though.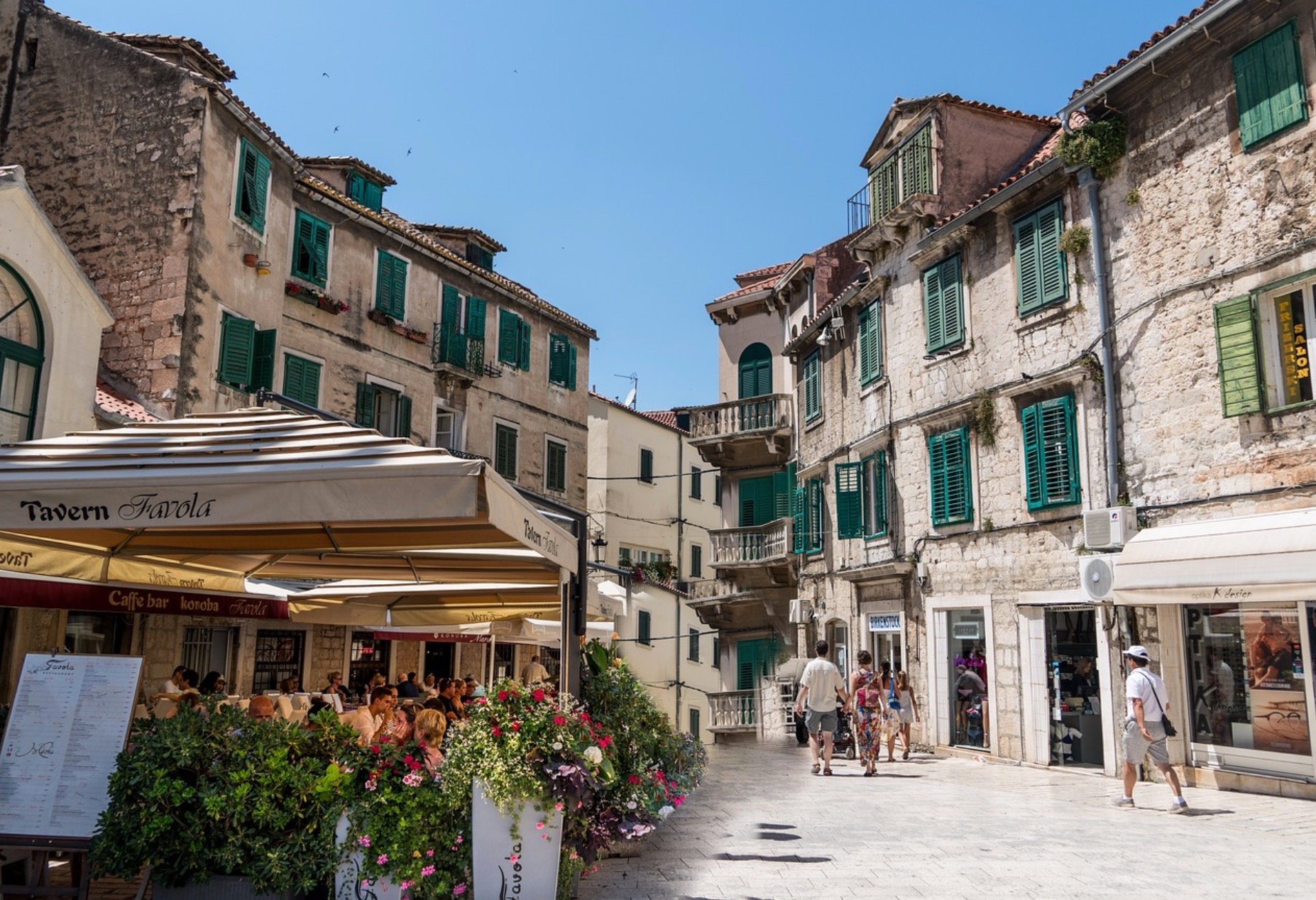 Plus The Country's Capital,
Zagreb

So the capital city is not along the coastline, but it's definitely one to consider in your itinerary. Loads of flights will take you straight to Zagreb, and we love exploring the trendy museums, colorful walking streets, and a huge towering cathedral that'll make you think you're vacationing in Vienna, Austria. It's one of the world's best kept secrets, and vacationing up here will give you a jumping off point to some of Croatia's national parks.

Getting here is a cinch. There are regular flights that will take you to ZAG, or you can take a bus from a nearby cities like Salzburg, Vienna, or even Berlin. Get your guide to Zagreb here.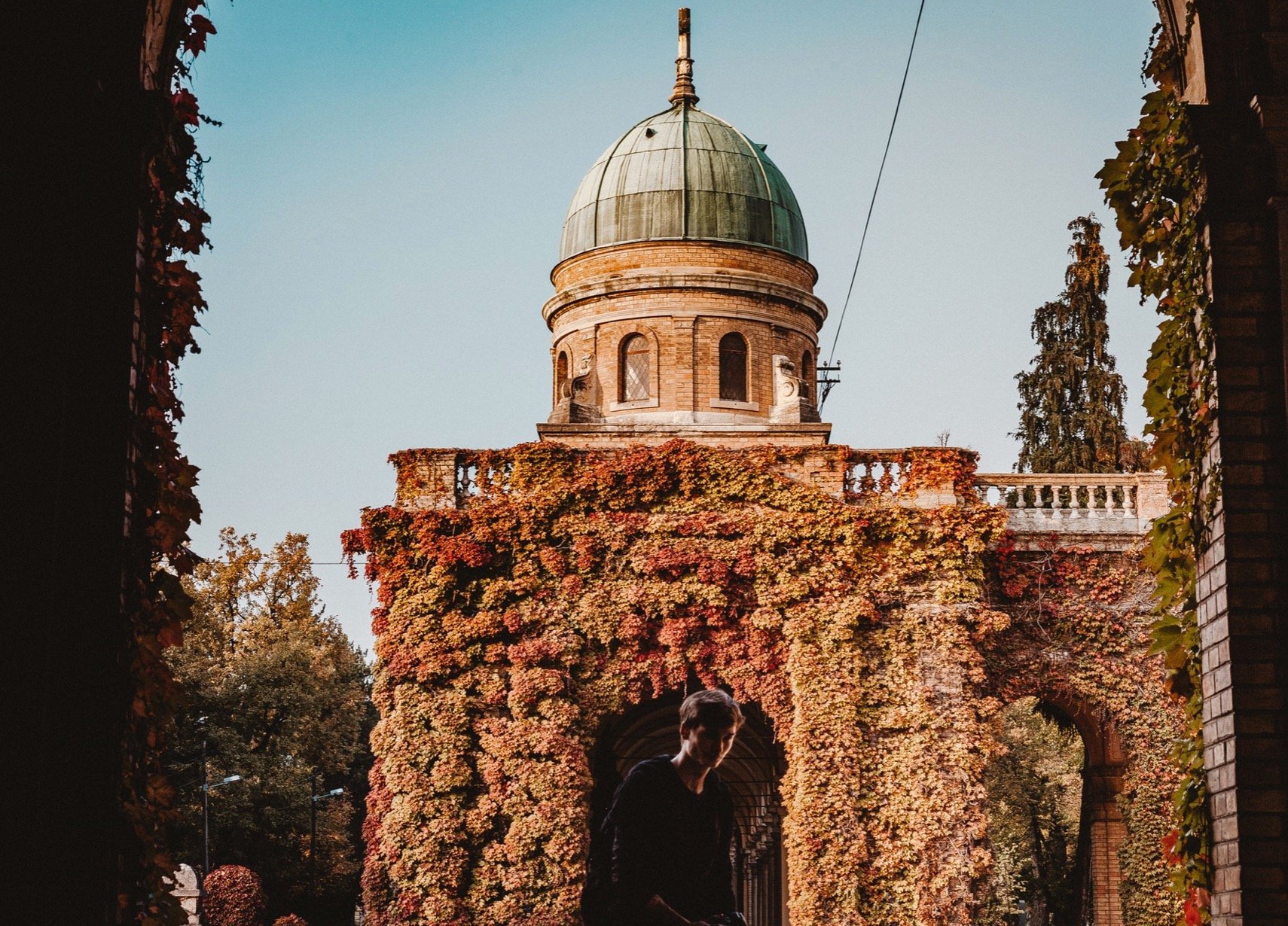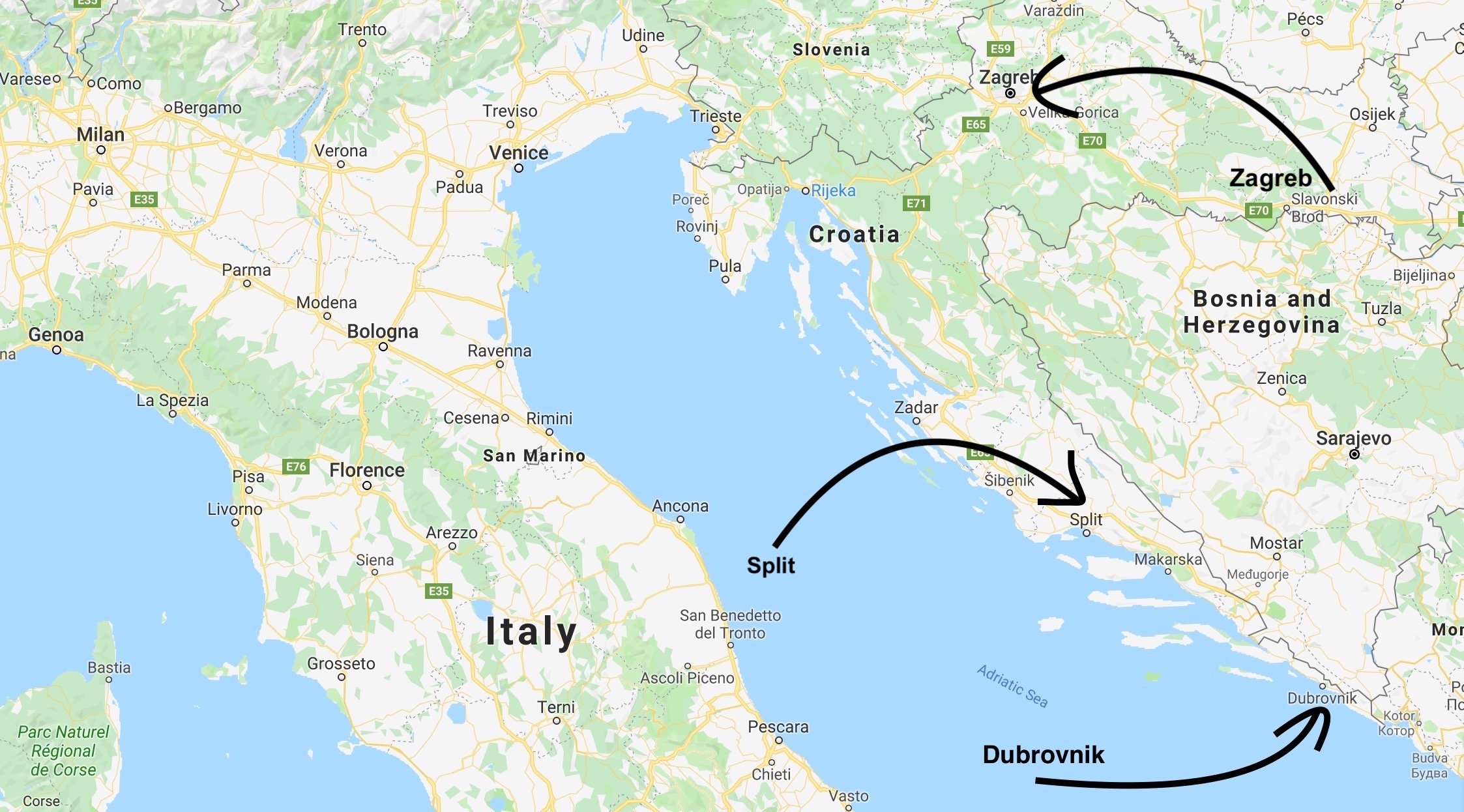 Do Some Island Hopping
The zig-zag coastline of Croatia shatters into a thousands craggy islands which are a dream to explore. So many of Croatia's prettiest and more popular islands can be reached from major cities (like Dubrovnik or Split) that will probably already be on your itinerary. Here are just a few of the hundreds you could choose from:
Brac Island
Just a two-hour ferry ride from Split is Brac Island which is home to one of the country's (and the world's?) most beautiful beach, Zlatni Rat. Peek the golden pebble peninsula that juts into the turquoise water. You'll see pictures of this beach in ever souvenir store. It's very popular with tourists and gets crowded but visiting Zlatni Rat beach is just something you must do. The island of Brac is also a place you could spend a day or two. Rimmed with beautiful beaches and a charming harbors this place is known for seaside cafes, quiet streets, and olive oil.

From Split: Take a catamaran over to Brac Island — you'll dock at Bol, and from there you can hop on a public bus that'll take you to Zlatni Rat beach (or you can walk the 3 km) or bus to other spots/beaches on the island.
Get your guide to Brac Island here.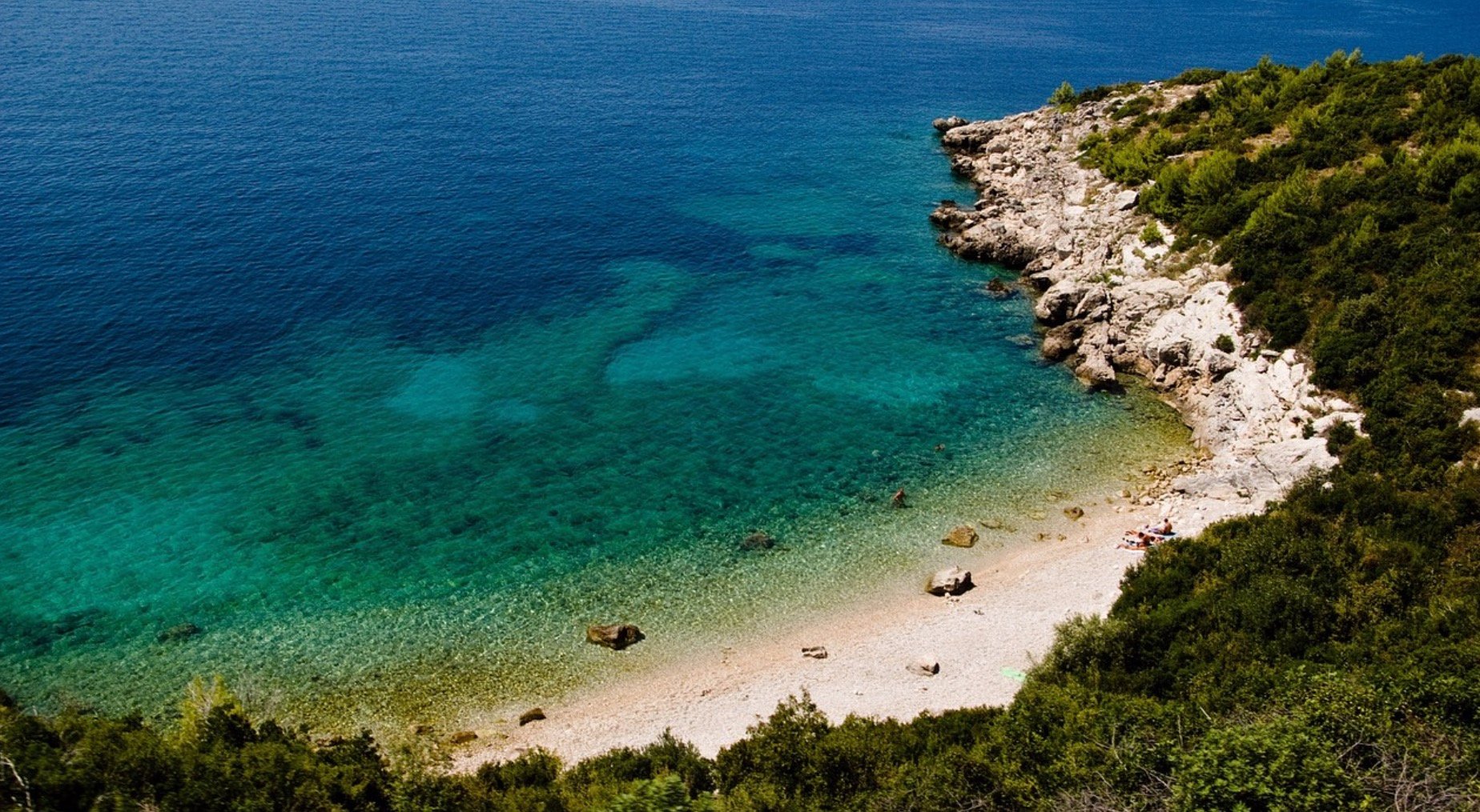 Hvar Island
Probably the most famous island to visit, this sunny spot not only has some of the best beaches in Croatia, but also has blooming lavender fields and spreads of wild oregano. Unreal. Hvar town is gorgeous — unless you don't love gray stoney towers topped with red tiles and narrow alleys peppered with palm trees you'll love it here. When it comes to beaches here, we love the pebble beaches on Dubovica Beach or the sandy shores of Jelsa or hopping over to the nearby Pakleni islands for a quieter stretch of sand.

From Split: Take a ferry and you're there. Jadrolinija has a catamaran that will take you between Jelsa beach on Hvar Island to Split (and has you stop on Brac Island) which is handy.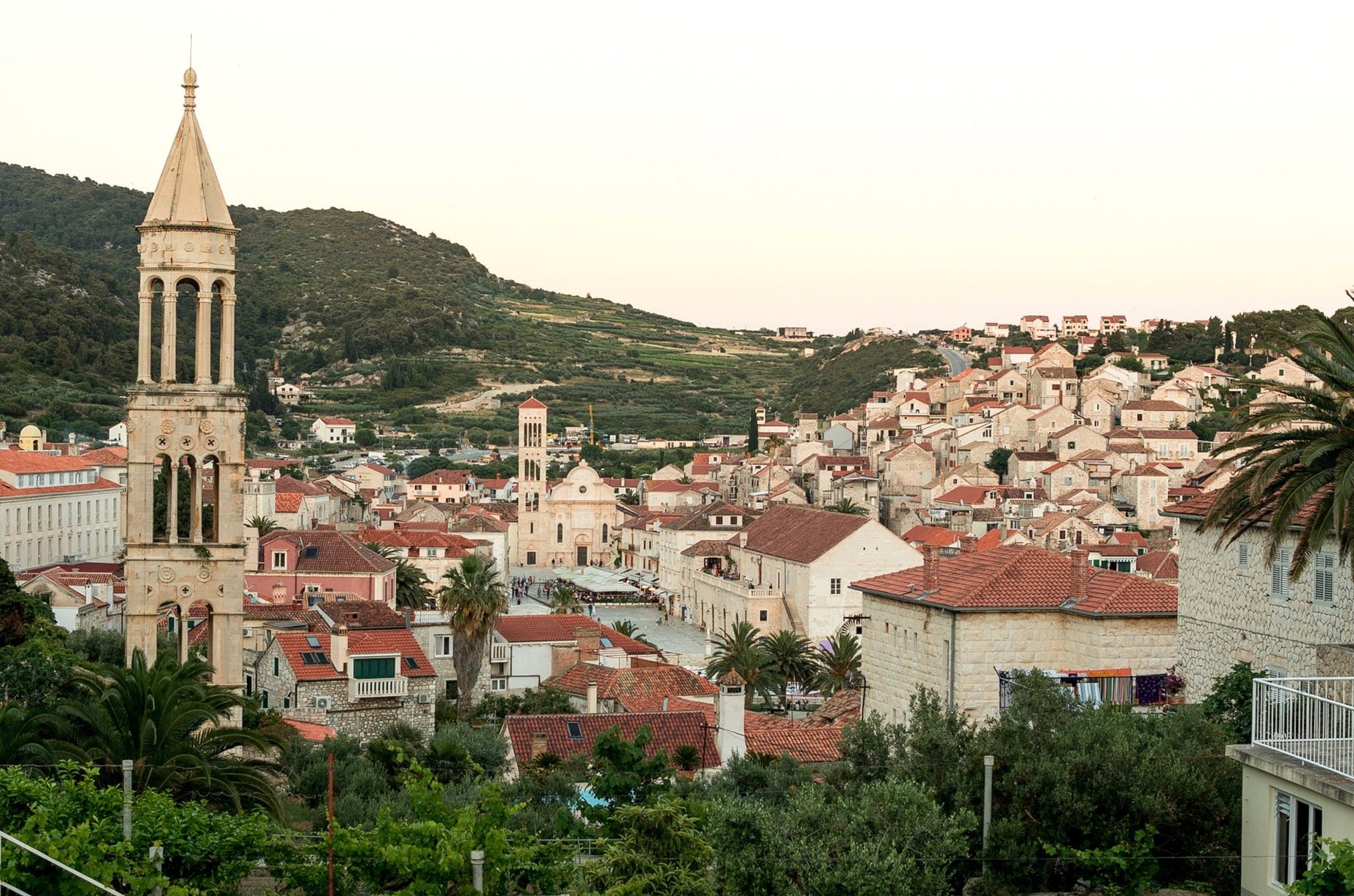 Korcula Island
Sometimes called "little Dubrovnik", you already know a bit of what's waiting for you on this island. You can find the fortified walls, pretty rooftops, and classic Venetian archways and courtyards. Marco Polo was born here, giving the island some history to add to the stunning views. And like any island, you'll have a few miles of beaches to explore, too, like Pavja Luka Beach or Vaja Beach.
From Dubrovnik: You'll just need to hop on a catamaran and in just under two hours you are there.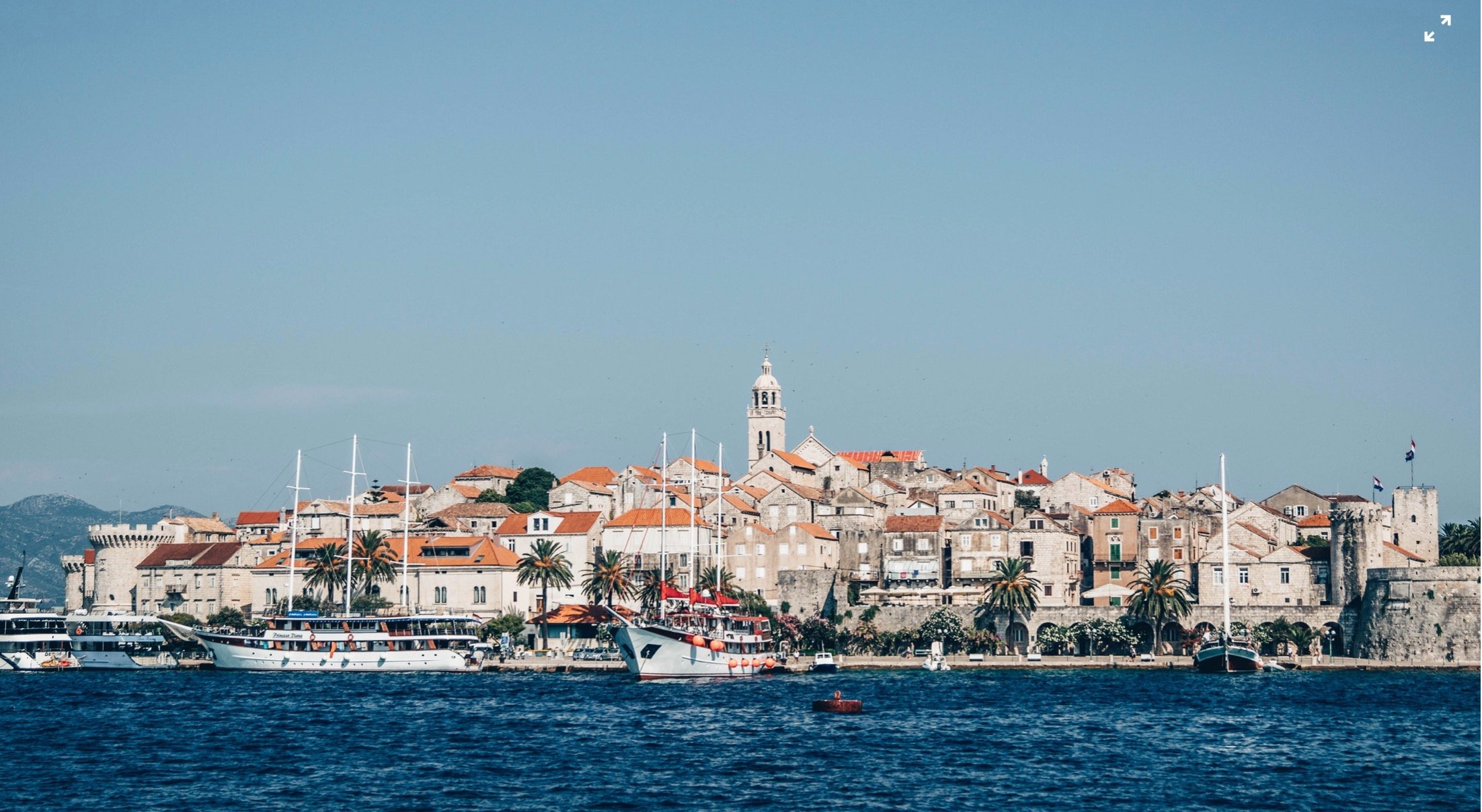 Trekking In Picture-Perfect Parks
So the coastline in Croatia is more than Instagram worthy, but outside of the craggy cliffs and shorelines is some of Europe's best hiking. We're talking thick forests that hide impressive waterfalls, stunning alpine lakes, and curvy rivers that fade from turquoise to a rich emerald green. You'll find a few other gems if you stay longer but for a short visit, you should visit at least one of these parks:
Turquoise Lakes In Plitvice National Park
This place is most famous for the hike up to it's cascades: You'll walk on a wooden boardwalk over turquoise reservoirs that are fed by some 90 waterfalls (yep, the effect is amazing). The park also has some panoramic viewpoints where you can see the view from above. We're talking green green jungles topping rocky cliffs all surrounded by emerald green waterfalls and lakes. It's one of the reasons people come to Croatia and once you visit, you'll totally get it.
Getting here: You can get here from most major places (like Dubrovnik - 5 hours driving or Split which is 3 hours driving) but it's best reached by Zagreb, the country's capital city. We have your whole Plitvice Lakes trip planned right here.

Swim In Krka National Park
This National Park is similar to the Plitvice Lakes, but here you can dive right in and go for a swim. After you trek through the trees to get to a huge waterfall framed by thick trees that flows into what is probably the coolest place to swim. Think about hiking through to amazing viewpoints then spend time splashing in the crystals clear turquoise water.
Getting here from Split: Split is going to be your best jumping off point. From that coastal city, there are buses that can take you to Krka National Park. Most tourists use a trip to Krka as a fun day trip while visiting Split, but you could spend more time in this park if you'd like by staying overnight in Skradin or Lozovac. We have way more about Krka here.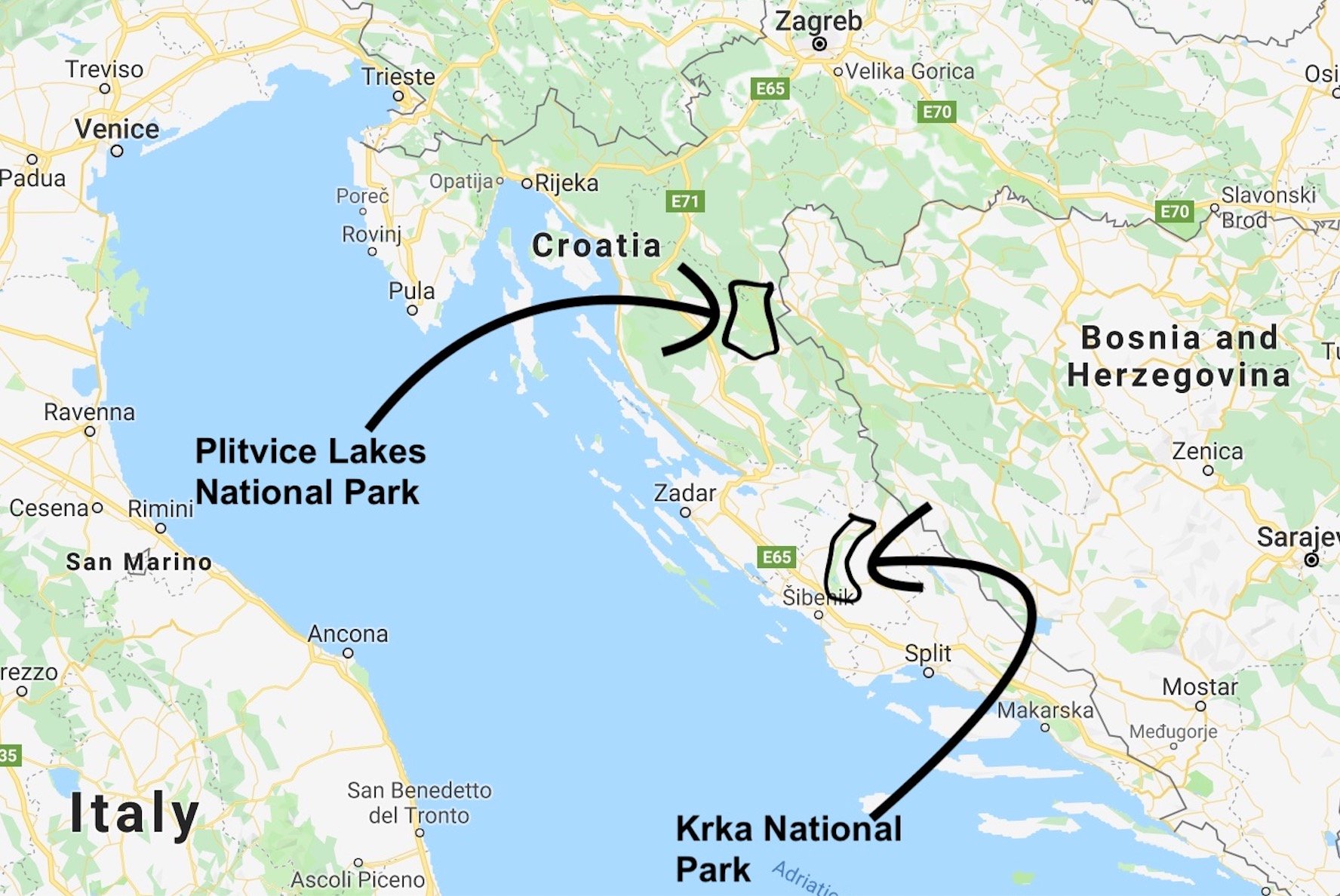 Want to visit Croatia on the weekends?
Once you live in Europe, it's a cinch to get around to all the places on your bucket list by train, plane, or bus. Do just that on your semester abroad with International Language Programs! See what volunteering here is all about.