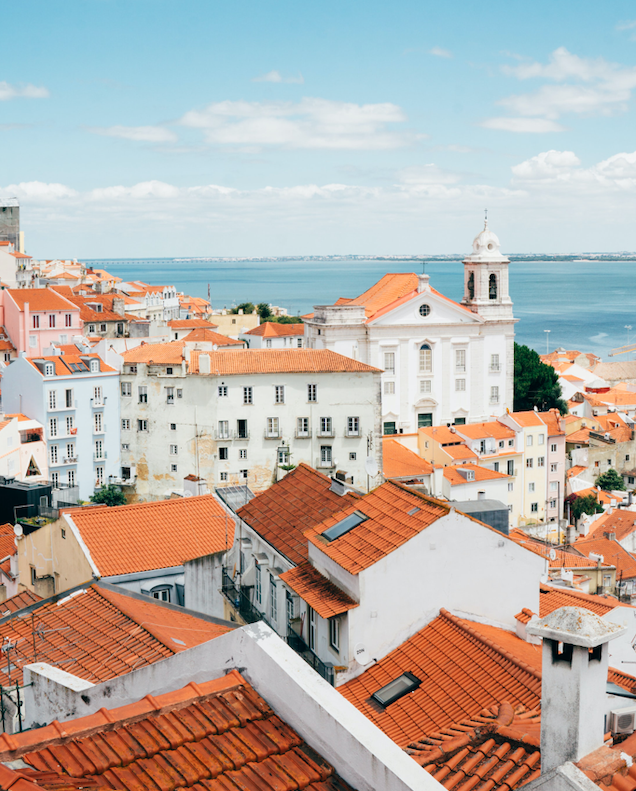 With cheap flights here from cities all across Europe, you can see why adding this city to your itinerary is a cinch (plus, we love all there is to do in Lisbon).
For our volunteers living in Europe for a semester, their vacation days are full of country hopping ... and those who do their research find themselves in Portgual.
It seems impossible that one country can possess coastlines full of jagged cliffs and turquoise waters and cities that are painted the prettiest shades of pink. You'll also find iconic cathedrals, famous works of art hanging in dozens of museums, and don't get me started on the food. I've been itching to spend a couple of months or so exploring everything Portugal has to offer, but this post is here to tell you that Lisbon is your best starting point for any trip to this country (or jumping-off point to other favorites in Europe).


---
Worried about missing the next "it" spot or travel advice?
Our travel-obsessed team is sending out weekly Adventure Updates
---

Because there is so much to tackle in Lisbon (and we're guessing you're just spending a couple of days here) this post hits the highlights:
A Bit About The City
The capital city of this country is home to around half a million people, but around 4.5 million tourists tend to visit Lisbon each year. What used to be an under-the-radar getaway is now one of the hottest places to take a vacation for good reason. It's one of the oldest cities in Europe, is situated on seven hills (which means a lot of walking uphill but some stellar views), and is incredibly picturesque. Lisbon is also one of the sunniest cities in all of Europe, soaking in around 2800 hours of sunshine each year.
The city is broken up into different neighborhoods, but you'll typically find most of the tourist attractions in the Alfama zone (we'd recommend staying here, which is the city's historic zone) or somewhere like Avenida da Liberdade.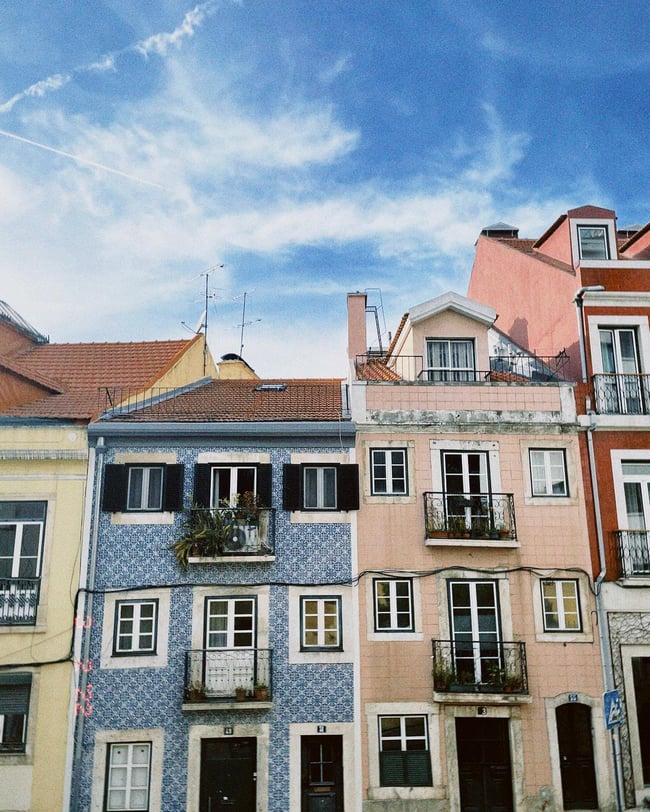 Tops Things To See In Lisbon
Before we dive in, I'd recommend making a list of these ideas + others you find and grouping them geographically by day, so you're not zipping back and forth across the city when you could be spending a full day in one area, before exploring another section of the city. More planning now means spending less wasted time on transportation later!
You'll find that a lot of these go-to sites are clustered in two or three areas of the city which makes it easy to maximize your time depending on what you want to do.
Wandering The Alfama Neighborhood
It's the oldest part of the city, with a strong Moorish influence, and steep streets that wind in and out of old buildings and colorful apartments, to lead you to grand historical buildings.
The main highlight of the city is the Castelo de Sao Jorge which boasts some gorgeous viewpoints of the city, peacocks strutting around, and see the imposing fortress up close. It's around 11 euros to get in where you can walk around the small museum and walk around the ramparts. The view from the top really is very stunning, but if you'd rather skip the entrance fee, you can admire some viewpoints for free at the Miradouro da Graça. Find it on Google Maps as Miradouro Sophia de Mello Breyner Andresen.
You might also want to soak in the views at the Lisbon Cathedral which has the most beautiful tiled flooring and soaring views from the rooftop. Or, head up to the rooftop of the National Palace (which was originally built as a church) If you're here on the weekend, Graca's Campo de Santa Clara has a very eclectic flea market to experience.
The rest of your time can be spent walking in and out of cafes, and museums (we have info on the Fado museum below), and walking up the hills before sunset before calling it a day. You can easily spend a half or full day in the Alfama neighborhood.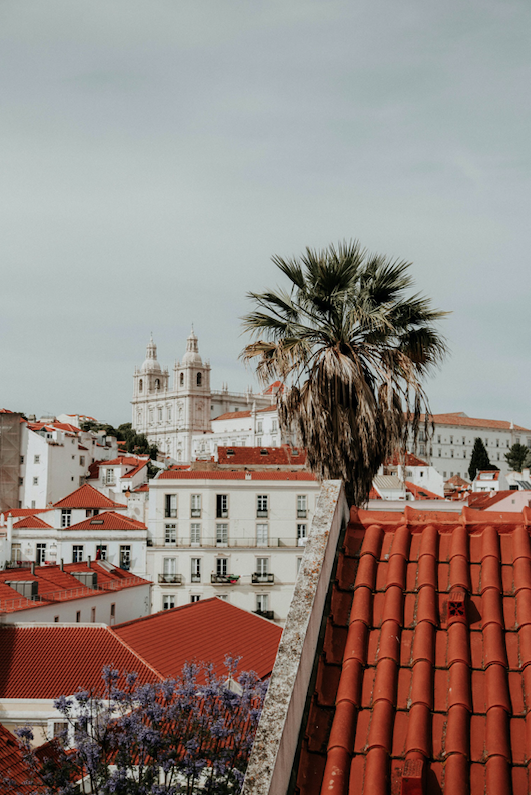 Gelato In The Baixa-Chiado Neighborhood
The Baixa neighborhood is another area of the city to just wander in, home to the most beautifully manicured gardens at Parque Eduardo VII (and more). We love snapping a picture of the geometric hedge maze before walking straight down to the Avenida da Liberdade until you hit Rosso Square. Rosso Square leads to Rua Augusta which is connected to the famous Commerce Square, a huge open area of beautiful architecture and tons of places to grab lunch (and in the nearby side streets, which typically have less touristy options).
We're also big fans of stopping into Amorino Baixa for a fancy gelato topped with a macaron and skipping the Elevador de Santa Justa (an outdoor elevator) to instead see more impressive views for free by taking the supermarket lift to Rua Garrett.
+ A Few Museums
The National Azulejo Museum is where you can admire the painted blue and white tiles that are famous in Portugal. This style of tile work has been around for hundreds of years and the museum itself is housed in the Madre de Deus Convent, which makes for quite the exhibit. The highlight is a mural formed out of 1,300 tiles of the cityscape, made way back in 1738. Learn more here (and get a sneak peek).
Address: Rua Madre de Deus, 4

Hours: 10:00 AM to 6:00 PM (Wednesday to Sunday), 2:00 PM to 6:00 PM on Tuesdays. Closed Mondays.

Cost: 5 euros
The Fado Museum is the spot to learn all about the unique Fado music in Portugal, which had a huge cultural impact not only in music but in Portuguese cinema.
Address: Largo do Chafariz de Dentro, 1 Alfama

Hours: 10:00 AM to 6:00 PM

Cost: 5 euros
Belem
Belem is found west of the city center, making it a very easy addition if you're a bit shorter on time. Belem hugs the coast and is home to the best pastel de nata (more on that below). It's also known for architecture, so don't skip out on admiring Jerónimo's Church and Monastery. You can also spend time in the artsy district of LX Factory, an old textile factory that's now a hub for street art, coffee shops, bookstores, and indie gift shops.
This portion of the city is also known as a hub for navigational achievements, paying homage to the Portuguese sailors of the nation's past.
Tram 15 takes you straight to Belem.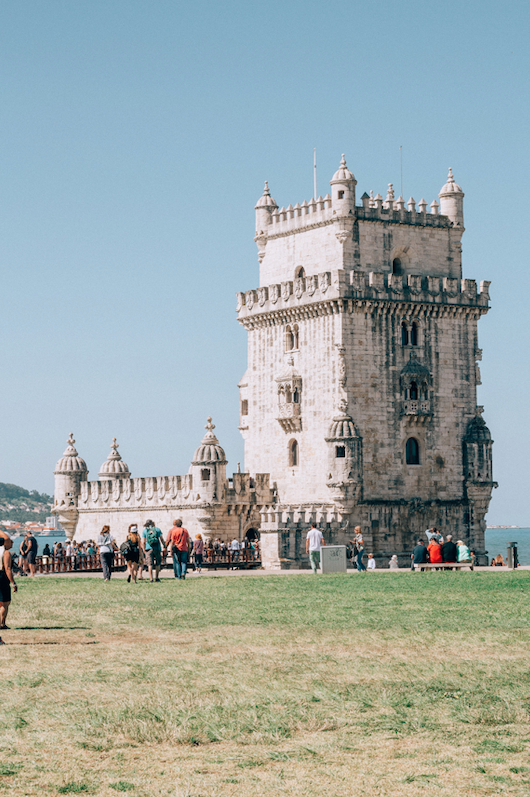 A Few Things To Keep In Mind
The Trams
The trams in the city are iconic, painted in bright colors and zipping around the steep hills that the city is built on. Electric trams have been around since 1901, and some of the currently running cars are built in the 1930s or 1940s (or sometime in the 1990s).
It's a good way to get around, and a huge tourist attraction, which leads to trams that are packed full (and get rather hot and sweaty, with easy targets for pickpocketers). Tram #28 is the most popular tram with tourists, making its way through the Alfama neighborhood and sometimes used as a way to tour the city as a kinda "hop-on, hop-off" bus.
If you still want the tram experience but want to avoid the more touristy ones, you can ride Tram 28 early in the morning (7:00 AM) or try another route that'll take you more off the beaten path. Tram 12E winds its way through Martim Moniz and parts of Alfama. Or start in Cais de Sodré with 18E to see lesser-explored areas of Santos, Alcântara, and Ajuda.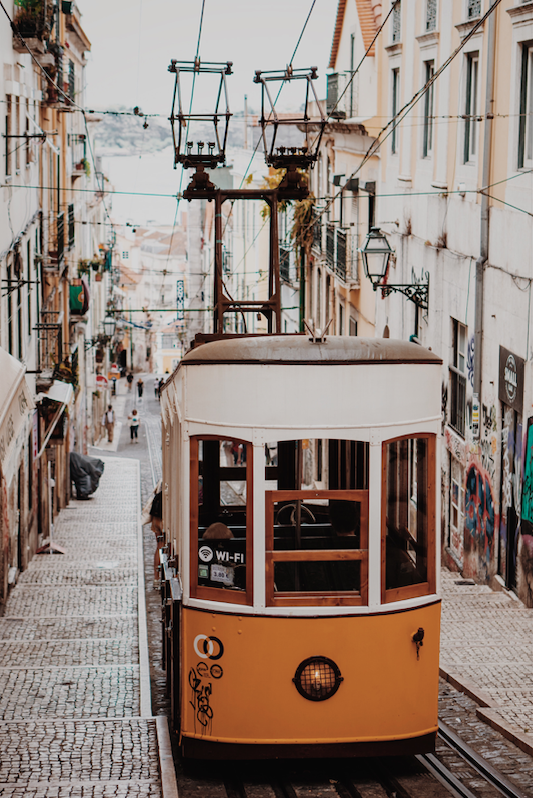 All About These Famous Tarts
Pastel de Nata is the name of these famous custard tarts that began in Portugal, but are now found all over the world (I first saw these in China — they're hugely popular in Asia!).
Every vendor is slightly different, but all tarts are a sweet custard with a hint of cinnamon, surrounded by flaky pastry, and baked until those iconic dark, caramelized patches form on the top. They're sweet, crispy, creamy, and buttery all at once.
The tarts have been around for over 300 years, stemming from a need to use more egg yolks. At the Jerónimos Monastery in Belém, there was a shortage of laundry detergent, so nuns and monks were using egg whites as clothing starch, leaving behind a lot of egg yolks, which were turned into these custard tarts.
The recipe is closely guarded, but tourists line up to taste one of the original Jerónimos tarts in Belem at Pastéis de Belém (found just 3 minutes away from the monastery).
If you're in Lisbon, these shops come recommended (though you'll find shops all over):
Avenida João XXI

Fábrica da Nata

O Mercado do Peixe

Natas de Lisbod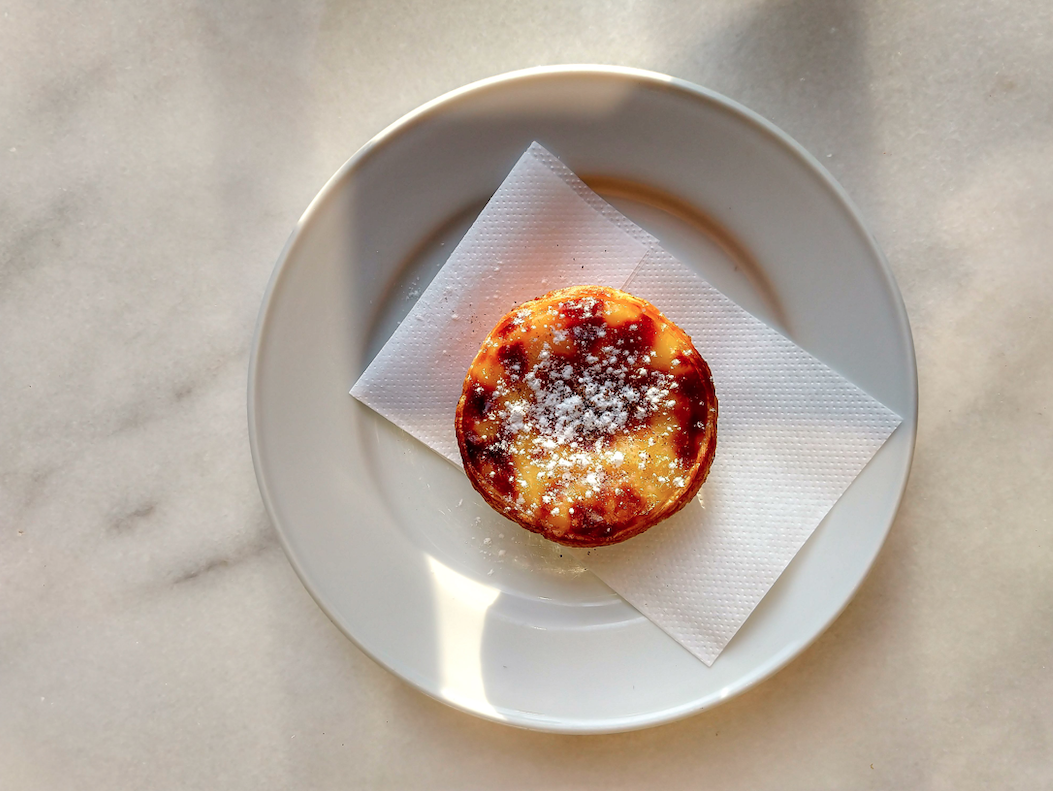 When To Visit?
You'll need about 2-3 days to see the highlights of Lisbon, and the best times to visit are the spring (Mid-March through May) and the Fall (September through October). The summers are hot, humid, and crowded if you can avoid them — if that's when you're in Portugal, you can avoid some of the summer swells by visiting during the week and avoiding the weekends.
Nearby Gems To See
Sintra
We love taking a day or two to see the highlights of this Portuguese city. Nearby Sintra is home to an outrageously ornate and luxurious mansion, the detailed Monserrate Palace, and my personal favorite, the colors of the Pena Palace — it's a hodgepodge of yellow and red colors, plus Moorish and Gothic architectural styles, Pena Palace is one of the country's most iconic UNESCO sites.
It's been destroyed and remodeled over the few hundred years and produced a striking summer home to the royal family, and a historic tourist favorite if you visit today. Some say it inspired the classic German Neuschwanstein Castle (which inspired Walt Disney's castle in Disneyland). There's so much more to Sintra, we can't wait for you to see them all!
Getting Here: From Lisbon, it's just a short train ride to Sintra (just snag a train from the "Lisboa - Rossio" station — here's the timetable). The ride is just under an hour, about 40-49 minutes.
But that's not all that you'll love about Sintra! This city is bursting full of Moorish castles, winding streets, intricate palaces and more. You'll want all the tips on spending 1-3 days in Sintra, that's for sure.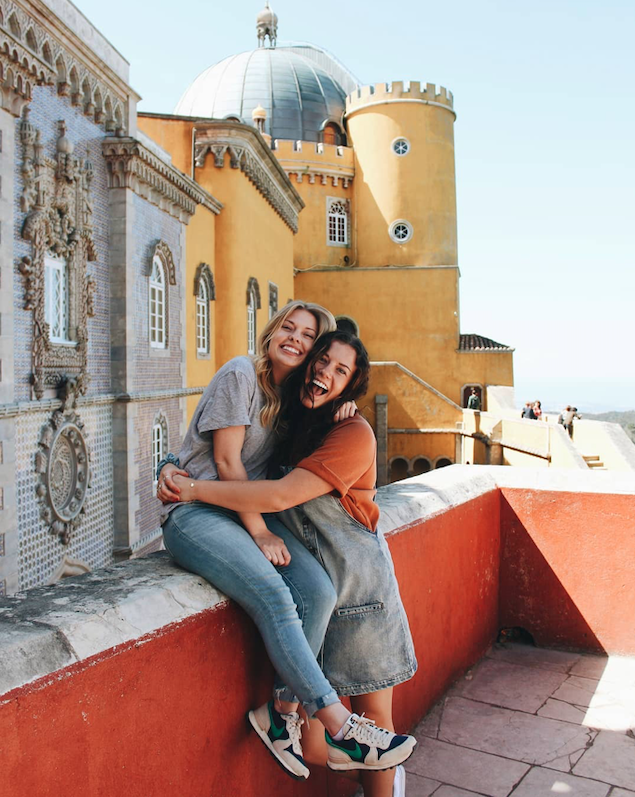 Obidos
Another charming day trip. Obidos boasts winding medieval streets, a towering castle, and a picturesque town with topped with red-tiled rooftops. It's a very pretty part of Portugal, and perfectly suited for travelers who want to wander twisting cobblestoned streets.
Getting Here: There's an express bus that runs from Lisbon to Obidos a few times a day (the ride is about an hour). Here's the timetable.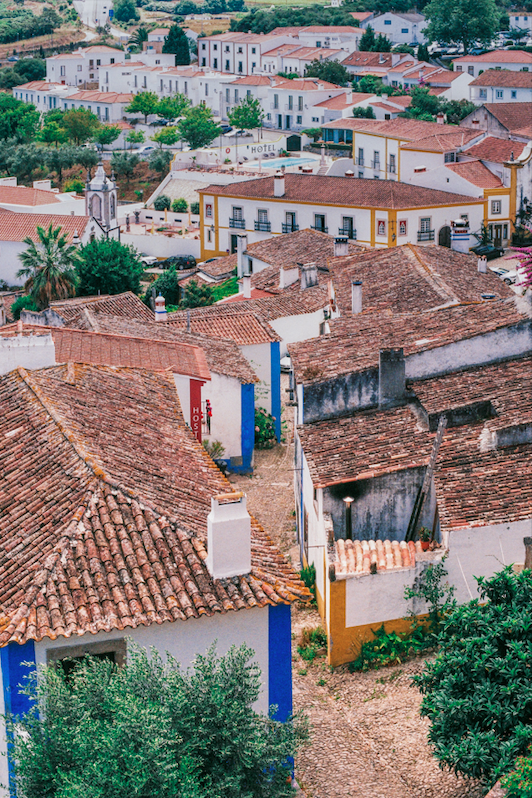 How To Get To Lisbon
Snag A Cheap Flight
We love all the cheap flights you can get in and out of Lisbon, especially from our ILP countries! Flights are our fav way to get to Lisbon because they are so affordable from so many locations, and considering where it's located, going by bus or train isn't great (even from Spain, it's a long ride that sometimes costs more than a flight would).
We've pulled a few examples to help you get a frame of reference, just know that flight prices can always fluctuate based on when you are flying and who you are flying with.
+ Getting Around Lisbon
You'll find most places are very accessible by walking (which is my preferred way to get around when I can). I find I see way more of the city that way, and don't feel bad about three scoops of gelato and a bag full of custard tarts I constantly munch on while exploring.
However, Uber is also available and typically rather affordable. Rides are almost under 15 Euros, but typically average about 5 (which is very affordable when you split that with your ILP group).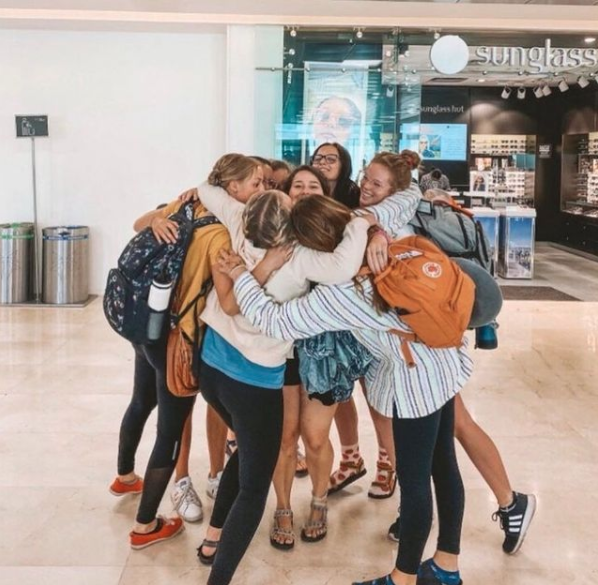 Explore Europe with a group of new friends for a semester!
There's just too much to see in Europe, you need time to live there for a few months, don't you think?
We set up trips for college-age volunteers to live in Europe for a semester, volunteer by helping local kids learn English (or assisting in an orphanage), and still have plenty of time to travel around and get a taste of living like a local. Learn more to see if volunteering is a good fit for you on that button below!