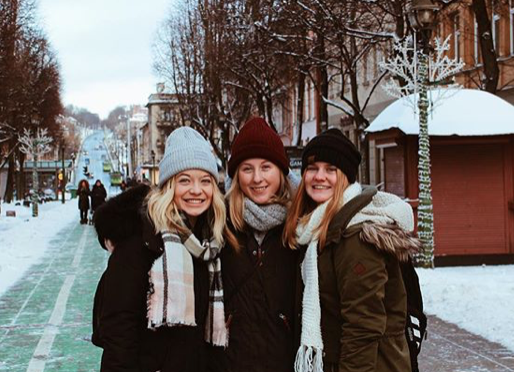 Ready to dive into one of this country's charming little cities? Us too — Kaunas is a city full of cafes, cathedrals, a castle, cats, and is a favorite for a few other reasons.
Lithuania is a country tucked away on the Baltic Sea, a hidden gem when it comes to the great cities people typically visit when they book a flight to Europe. But this country is hiding some of most favorite things about Europe: a captivating history, a melting pot of half a dozen countries, streets lined with cafes, quirky street art, and towering cathedrals painted in pastels. See why we love this place?
---
Are you ready to experience Europe?
Come volunteer in Lithuania with ILP!
---

If you'll be visiting Kaunas, or just need a little convincing about why you should spend some time in this city, here's what you need to know:
Our Favorite Things To Do In Kaunas
This is just a handful of the things to do in this city. We've listed a couple of churches, just know there are dozens more to explore. We have our favorite places to eat … but it just scratches the surface. We're just big fans of spending your whole semester in Kaunas or visiting more than once so you can try to see it all:
Stroll Down Laisvės Alėja Walking Street
Whether you plan on seeing this street on purpose or end up bumping into it, this pedestrian street gives you a good way to admire the pretty buildings in Kaunas and stroll past some shops. Tall Linden trees line the street, which adds shade in the summer time. Along this street, you'll find several shops, supermarkets, eateries, cafes, museums, booths with tourist information and a post office. In the afternoon, you might also see stalls pop-up that are selling snacks and souvenirs.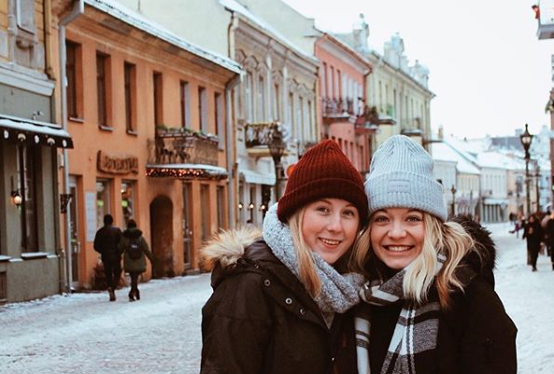 Visit The Devils Museum
It sounds weird, but it's a unique thing to do in Kaunas, especially if the weather is chilly and you need to stop inside and warm up for a bit. This museum houses several carvings and sculptures of devils, including depictions from all over the world. It's quirky but cool (also very inexpensive).

Address: V. Putvinskio g. 64, Kaunas 44211, Lithuania
Hours + Costs: Tuesday to Sunday 11:00 AM-5:00 PM, Thursday 11:00 AM-7:00 PM. Tickets are €3
Get A Good View Via Funicular
There are a couple of funiculars in this city. The Žaliakalnis Funicular is the oldest in Lithuania (and one of the oldest in Europe — running since 1931). This banana-yellow funicular climbs behind the Great War Museum to the Church of the Resurrection, giving you some great views of the city (bring your camera for pictures of red-tiled rooftops and church spires!). Open during the summer season; tickets are a couple of euros.
Address: Aušros g. 6, Kaunas 44174, Lithuania
Another funicular, the Aleksotas was built a couple of years after the Žaliakalnis funicular, and takes you up Alesotas hill. You'll get another stellar view of Kaunas downtown, from above. Open during the summer season.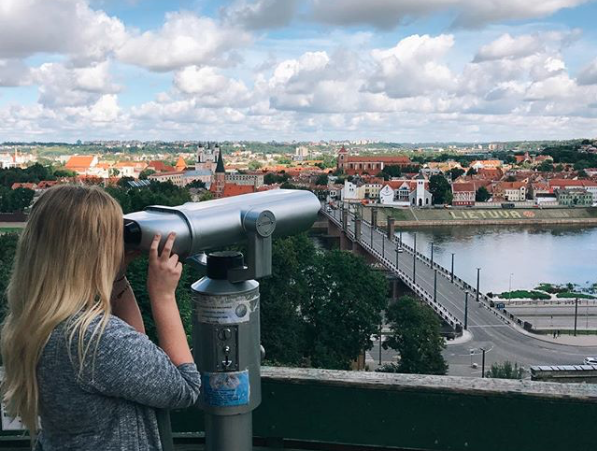 Visit Kalnieciu Parkas (also known as Highlands Park)
A huge park with nice trees and green grass everywhere, this is a pick for anyone visiting in the spring and this summer. Our volunteers love walking around this park and exploring the little castle there — there's a big grassy area and a river that creates a place for a pretty picture.
Bus #24 gets you close; get off when the streets Statybininiky and S. Zukausko intersect.
Do Some Shopping
The malls here are not like the ones in the United States — Mega is one of the favorites to visit; it's a huge complex with a bowling alley, and restaurants and a big fish tank full of tropical fish.
Address:

Islandijos pl. 32, Kaunas 47446, Lithuania


Hours: 8:00 AM to 9:00 PM Monday

through Saturday (open until 10:00 PM on Sundays)
Akropolis is another fun place to hang out. You'll find a food court full of local favorites and foods from home, a movie theater, an ice skating rink, and more. There is an Adidas Outlet there where you can get some stuff too. This place has thousands and thousands of Google reviews; it's worth visiting!
Address: Karaliaus Mindaugo pr. 49, Kaunas 44333, Lithuania
Hours

: 8:00 AM to 10:00 PM, daily
Hunt For Street Art in Old Town
Known for a lot of things, we absolutely love the street murals you can find in Old Town. You can see red brick and beige brick buildings livened up with whimsical faces, quirky designs, elaborate patterns ... you name it. All around Kaunas and other cities in Lithuania you'll find bit of art around where you least expect it. Look on the sides of buildings, right where the sidewalk meets the street, and on building corners.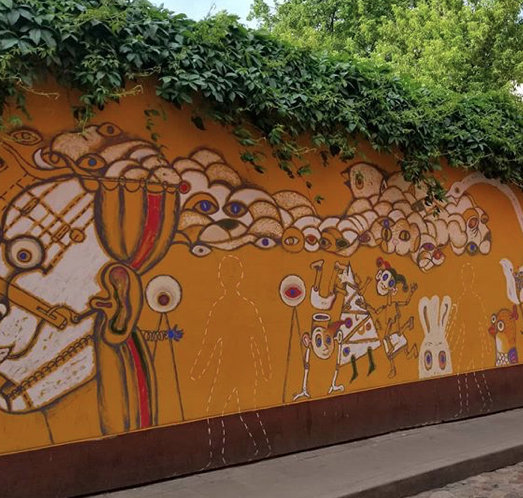 Best Places To Eat
Lunch + Dinner Places
If you want a Indian place, go to Masala City in Old Town. The mango coconut curry is the best but you'll also find other curries, samosas, dosas and other favorites.
Address: Vilniaus g. 30, Kaunas 44287, Lithuania
Hours: 11:00 AM to 10:00 PM (Open one hour later on Friday and Saturday night, and closed Mondays).
Jurgis ir Drakonas is a really cute place to get pizza in Old Town. Get ones topped with arugula, onions and peppers, zuchunni and other options. It's yum.
Address: Kurpių g. 26, Kaunas 44287, Lithuania
Hours: 12:00 PM to 10:00 PM ( Sundays and Mondays close at 9:00 PM).
Rock N Rolla is the place to head if you want a good plate of nachos, burgers and fries, soups and salads and a few other dishes from home.
Address: Vasario 16-osios g., Kaunas 44251, Lithuania
Hours: Thursday they are open until 2:00 AM
Friday through Saturday, until 3:00 AM.
We love the food court at the Akropolis Mall — Inside you'll find favorites like CanCan Pizza, Charlie's Pizza, Le Crepe and the Chinese restaurant, Gan Bei. Also, we love getting gelato at Valentinos (order the coconut gelato) after you eat.
Desserts
If you're into sweets, visit Mon Ami Boulangerie: According to ILP Lithuania volunteers, "they have the best eclairs" but that's not all. Order up slices of decadent cakes, fresh loaves of bread, wafer thin cookies, classics like croissants, and more.
Address: Laisvės al. 79, Kaunas 44297, Lithuania
Hours: 9:00 AM - 8:00 PM Monday - Friday, 10:00 AM - 6:00 PM on Saturday and closed Sundays.
Holy Donut is another favorite place to eat. I mean, how can you resist ordering a huge milkshake topped with a pile of whipped cream and a whole donut? It's a rite-of-passage if you're going to be visiting Kaunas (see the picture below to start drooling).
Address: Vytauto pr. 24, Kaunas 44355, Lithuania
Or visit their other location: Vilniaus g. 37, Kaunas 44289, Lithuania
Hours: 8:00 AM to 8:00 PM daily. Weekend hours: 9:00 AM to 8:00 PM
Go to Spurgne! It's a Lithuanian donut shop where you can get donuts filled with jam or if you'd rather have savory ones, get them filled with veggies and meat. The donuts are very cheap and are served hot. Yum!
Address: Laisvės al. 84, Kaunas 44250, Lithuania

Hours: 8:30 AM to 8:00 PM, Monday to Friday.
Saturday is from 9:00 AM - 8:00 PM,
Sunday hours are 10:00 AM to 7:00 PM.
We have a list of some of more of our favorite cafes in Kaunas (and Vilnius) here.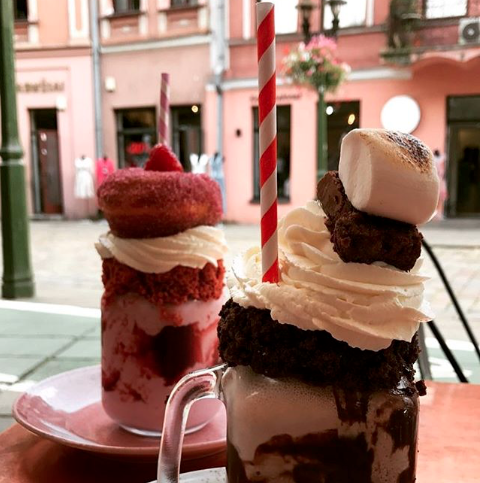 Places To Stay
Visiting volunteers have stayed at R Hostel, which has a good nighty rate and was pretty close to all the places they wanted to see (or was decently close to bus stop which got them where they needed to go. It's very close to the walking street we talked about above.
Don't Miss Day Trips Outside of Kaunas
Tour Trakai Castle
Come see the oldest building in Kaunas (and fill your Instagram with pictures of this pretty place). It's one of the most iconic buildings in Kaunas and a must-see. The first construction of this vibrantly colored castle took place in the 1300s, but it fell into disrepair not long after. It later served as a private home, prison, and royal summer residence. In the 1600s it was plundered and completely left in ruins. Restoration began in the 1800s and was carried out by Germans, Poles, and even Soviets, but the project wasn't completed until after WW II. The castle rests right in the center of a tiny island with only a skinny bridge connecting it to the mainland. Quite the picturesque dreamland! Get more about your visit to Trakai Castle here.
Getting Here: Ride bus #39 and get off at Kauno Pilies (here's the address in case you need to give it to a taxi driver: Pilies g. 17, Kaunas 44275, Lithuania)
Hours: Open 10:00 AM to 6:00 PM Tuesday to Saturday (closes at 4:00 on Sundays and closed Mondays).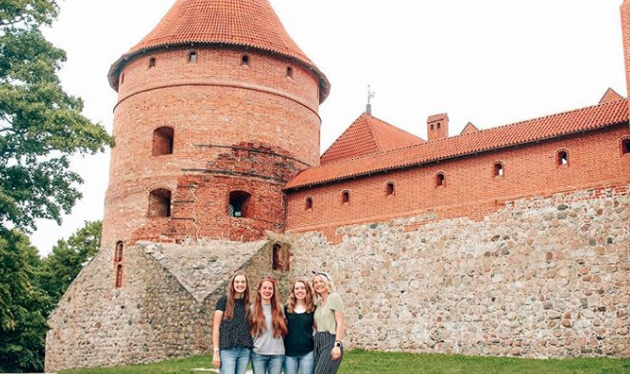 Fort Ninth:
This is an absolute don't miss when in Kaunas. It's an outdoor and indoor museum about the Soviet occupation of Lithuania during WWII. Thousands and thousands of Lithuanian jews were killed and the impressive monument serves as a memorial for the victims. The museum holds artifacts from the time period including cell recreations where prisoners were held, photos of the victims, and other portraits. It's a sobering experience, but one that helps to educate you about this country's history.
Getting Here Via Bus:
Board bus #23 (runs from Kaunas Town Center starting at 6:00 AM and ending at 11:00 PM). Buses run three an hour, usually. You'll probably be near Kauno PIlis bus stop in Old Town or the stops along Gedomino Gatve during your time in Kaunas; both are good place to catch this bus to the fort. It's a one-way bus.

You can also pop into one of the Tourism centers in Old Town and see if they can give you an accurate time table of the buses, but plan on paying less than 1 Euro per ride. It will take about 20 minutes to get to the monument. Get off at the stop called 9-ojo forto muziejus.
To get home, catch the same bus; it picks up going the opposite direction by the supermarket (you can also buy snacks and drinks and such here if you get hungry).
Hours and Costs:
Open April to October, Tuesday through Sunday (10:00 AM to 6:00 PM).
Open November to March, Wednesday to Sunday (10:00 AM to 4:00 PM).

Entrance price is 3 Euros, 1.5 Euro for students. Guided tours are available if you're interested. Get more museum info here.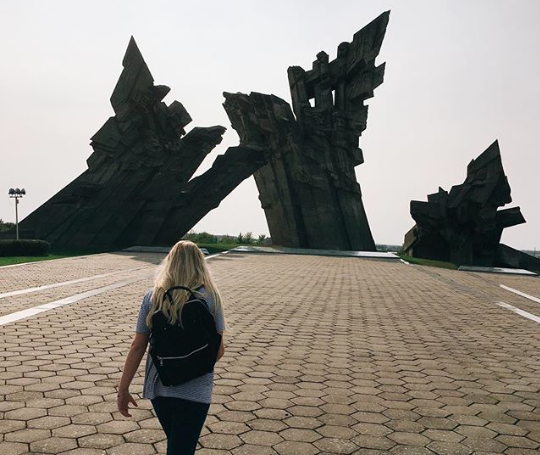 The Beaches
Kaunas does not have an ocean nearby (but if you'd like, you can choose to visit the pretty sea-side coastal towns of Palanga or Klaipeda) but there are some lakeside and riverside beaches which are nice to visit in Kaunas' warm weather.
Panemunes Park Beach is a part of the Panemune Park (start from the Molas shopping center on K.Barsausko Street) and walk along A. ir J. Gravrogku street. You'll cross a pedestrian bridge that goes over the Nemunas river; do this via a taxi then arrive at the beach. Bring your own towels and snacks and water for a fun day in the sun.
Hidden in the western part of the city, Lampedžiai Lake Beach is a small lake and park with a little bit of beach. Bus #48 or Bus #9 run here.
Found on the shore of Pažaislis Park, Kaunas Reservoir Beach sports the best water in Kaunas when it comes to beaches. It's an artificial lake that is popular in the summer time. Trolleybuses #9 or #12 go here in the summertime.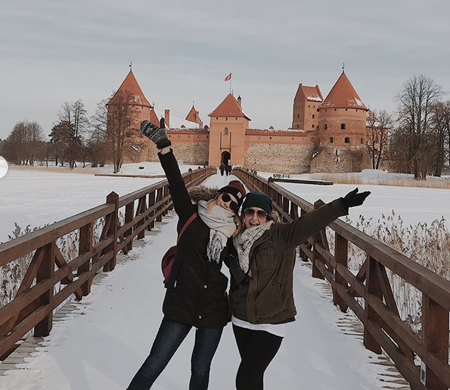 Where Is Kaunas?
This city is found about an hour and a half west of the country's capital city, Vilnius (making it an easy weekend trip if you're already in Vilnius). In case you are curious, Kaunas is Lithuania's second biggest city, boasting a population of around 300,00 people, but we know you really care about the colorful cathedrals and the darling cafes here more than the population (Kaunas is full of them, don't worry)
How Can I Get There?
Most travelers will be landing in Vilnius which is a great jumping off point to Kaunas. Though there is a small airport in Kaunas, it does make a bit more sense to jump on a train or a bus to get there instead of flying from Vilnius. It'll likely be loads cheaper and there are multiple train/bus departures that will fit with your itinerary.
By Bus:
Buses leave Vilnius for Kaunas every 20-45 minutes starting from 5:45 AM to 11:00 PM. This site gives you a timetable from buses from Vilnius to Kaunas. Prices are just above 6 euro. Busbud has an excellent English website, with one-way ticket around $8 USD.
By Train:
This site allows you to look at prices and timetables. Prices for first class tickets are under 6 euro for a one-way, and less for second-class tickets.
Good to know: Travelers also mention that since buses and trains leave so frequently (especially buses), you could arrive at the bus station in Vilnius (Sodų g. 22, Vilnius 03211, Lithuania) and buy a bus ticket over to Kaunas in a snap.
Getting Around Kaunas
You can visit most things on foot, thanks to Kaunas' small size; the Old Town is home to a few of our favorite eateries and sites you will want to see, but if you'd rather not walk or need to get to places farther away, Kaunas has a good public bus and tram system in place.
You can get a map of the bus system here to help you get around — that link lets you zoom in and click the bus stops to see which buses stop on certain streets. Visit this site to get the bus routes and timetable. Just buy a single-use ticket every time you board the bus from the driver. Best to pay in direct change (1 euro) beaus the driver does not give out change.
Trolly Buses and buses run from 4:30 AM to 10:30 AM. Use the app Trafi to help you plan your route.

There are also taxis available if that works better for you. Download the Taxify app to help you call a cab (it basically works like Uber).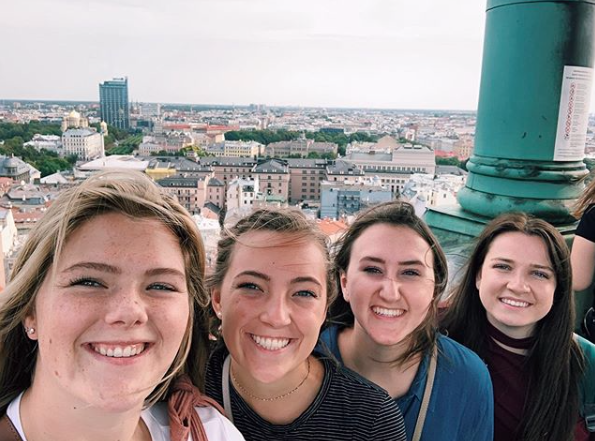 Ready to see more Lithuania?
Come volunteer in Lithuania for a semester (that link gives you some info about what it's like to teach English here, what a typical day looks like for a volunteer, and other info you'll want to know). Still have questions? Come get them answered by chatting with an ILP representative: