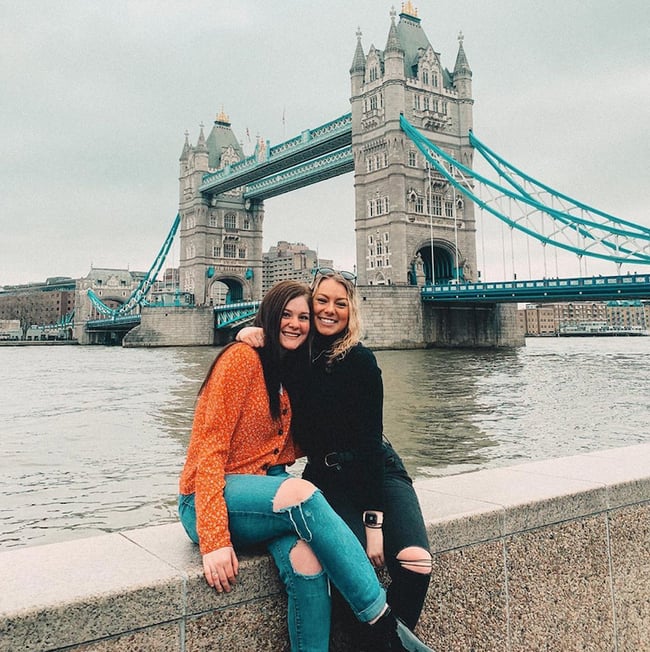 What isn't there to love about London? Here's our tips on how to see the highlights and enjoy your vacation to this amazing city!
You can spend a lifetime in London and not see everything, I'm convinced of it. No matter how many times I go, I visit my favorite spots and still run into a new favorite or two…Which is good news for ILP volunteers living in Europe. You can be living in ILP Europe countries and have London just be a short flight away from where you call home.
---
Europe is full of amazing countries to visit!
Here is our guide of your must sees while you're abroad!
---

Get ready to fall in love with London and all it has to offer!
What You Need To Know About Visiting London
Top Things To Do
Buckingham Palace
Don't miss the changing of the guard at Buckingham Palace; it is a part of London you have to experience. Generally the start time is 11:00 am. Look up the exact day you'll be there to make sure you don't miss the time though. Get there early to get a good standing place because the crowds that gather here can make it very hard to see what's going on.
Seeing the changing of the guard is free.
You will be able to visit the inside of Buckingham Palace in the summer months when the Queen isn't there (usually between August and September). A tour inside guides you though stately rooms, the grand staircase, past famous works of art, and the Throne Room. Tickets for a tour are usually around 24 pounds, or more if you'd like include afternoon tea.
Address: Westminster, London SW1A 1AA, UK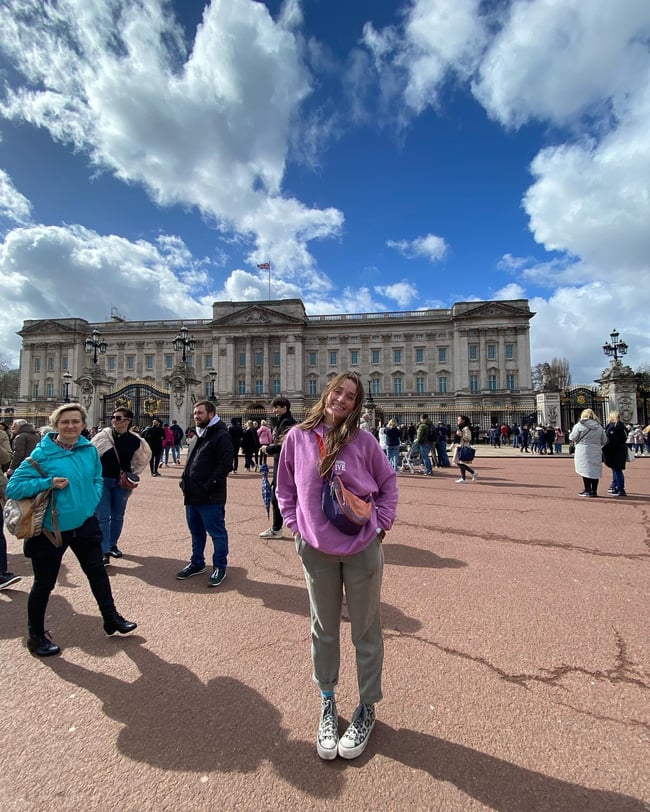 Take A Tour
I know you want to start running around England and explore, but hear me out. Walking tours in Europe are a popular way to get around and see things! There are a couple different kinds: some are free and some are a little more pricey.
A lot of tours will have the places you likely want to see anyways like Westminster Abbey, St. Paul's, Parliament and lots of other places (like Buckingham Palace, Trafalgar Square, and Piccadilly) on their itinerary. Here are few we'd recommend looking into...
Free Tour - Take a free walking tour. There are several categories to choose from. Whether you want to see where the good food is or the must see attractions, you can't go wrong.
This company is awesome. Check out their website for tour options, and location meet ups.
Double Decker Tour - Think about doing the touristy red double decker bus tours. The guides are hilarious and will let you check off all the locations on your London "to do" list in an afternoon.
There are a few companies you can go through for a double decker bus tour. Check out this one and this one, which seem to be most popular.
Prices: About $40 for a day pass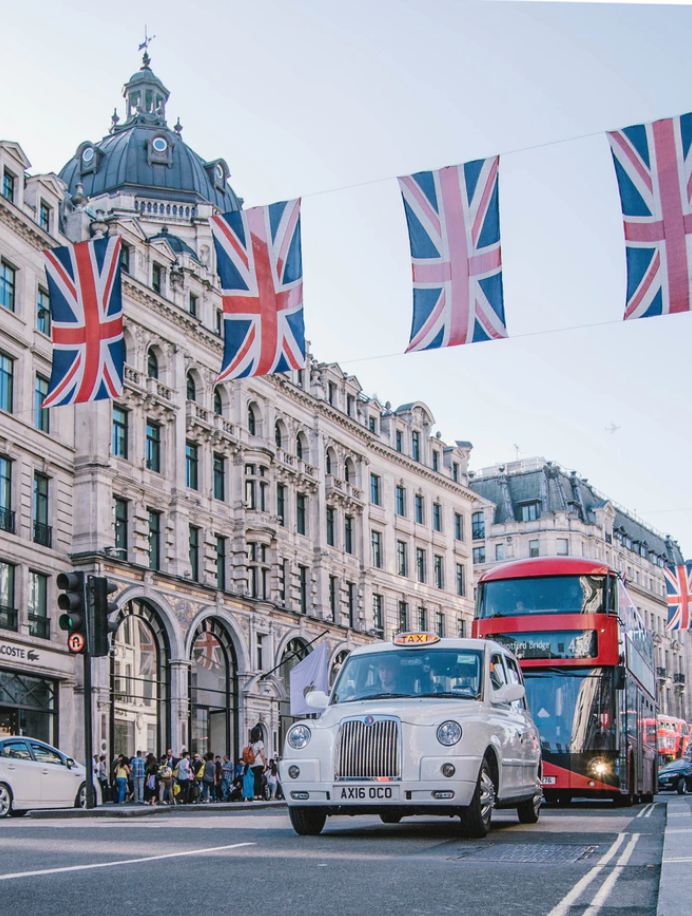 Relax In Hyde Park
If you are tired from all that running around, take a break in Hyde Park. There are usually some cool events happening (some are free) that are worth checking out. A few years ago, Hyde Park had local artists paint huge elephant statues that they lined up to celebrate the Queen. There is always something happening at this park.
Hopefully the weather will cooperate with your day in the park….you might want to bring an umbrella just in case.
Visit Westminster Abbey
If you just go see the outside, it will be worth your time, but inside, you can see where Prince William and Kate Middleton were married! Plus, where tons of famous poets and other influential Brits are buried. (Side note about seeing where famous Brits were buried: the cemeteries in London are really cool, so see if you can fit that into your itinerary as well.)
Address: 20 Deans Yd, Westminster, London SW1P 3PA, UK
Check this website for the most accurate info on opening hours and prices, but to get a ticket inside Westminster, plan to pay 20 pounds online or 22 pounds in person.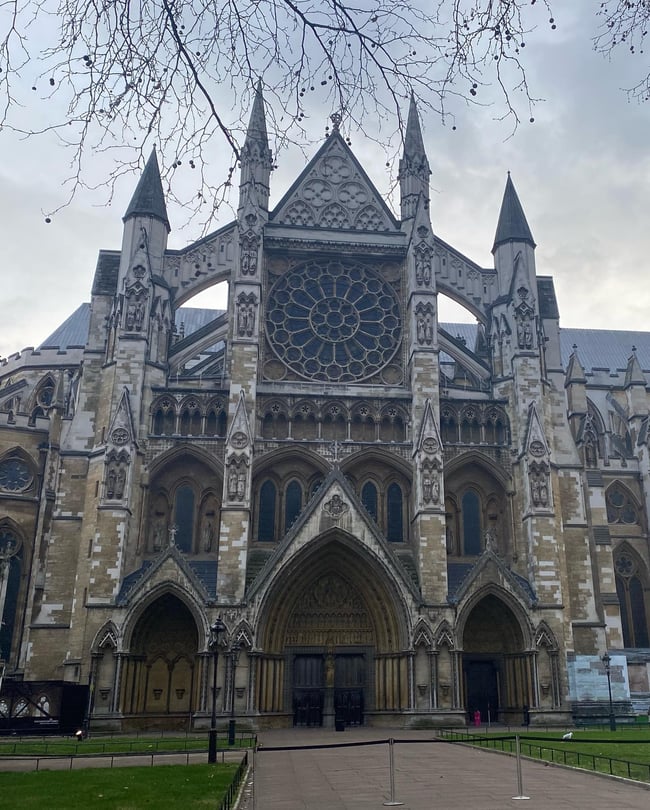 See Big Ben
No trip to London would be complete without the classic photo in front of Big Ben and Parliament! This landmark is beautiful at all times of the day and night, so you don't have to worry about cramming it into your busy schedule before the sun sets.

For an extra cool view, take a ride up in the massive London Eye which is a whimsically huge ferris wheel that lets you see Big Ben from above. Plan on paying about £27 to ride this ferris wheel unless you have a student ID card: you can get a ticket for £16 if you pre-book during Monday - Friday (on a non-holiday) and present your ID card when you pick up your tickets.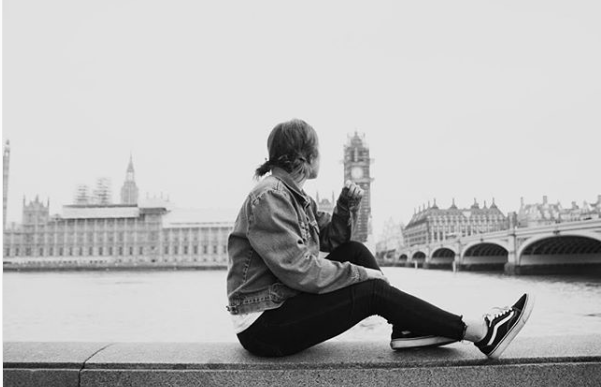 See A Masterpiece
Museums
Please see some art while you are here, especially if you want to save money and do something for free. The (incredible) National Galleries are completely free here and are well worth your time. Or, the Tate Gallery is also really neat to check one to check out.

National Gallery Address: Trafalgar Square, London WC2N 5DN, UK
Free to visit

Tate Gallery Address: Bankside, London SE1 9TG
Some exhibits are free, tickets to other exhibits are £15–£25.
While you can't buy the masterpieces, think about buying art from the street artists for a worthwhile souvenir.
Shows
You can also go see a show in London! Wouldn't seeing The Phantom of The Opera, Wicked, Lion King or other Broadway favorites be amazing? You can see those and others in London (see what's showing in London here) and here's how to score cheap tickets.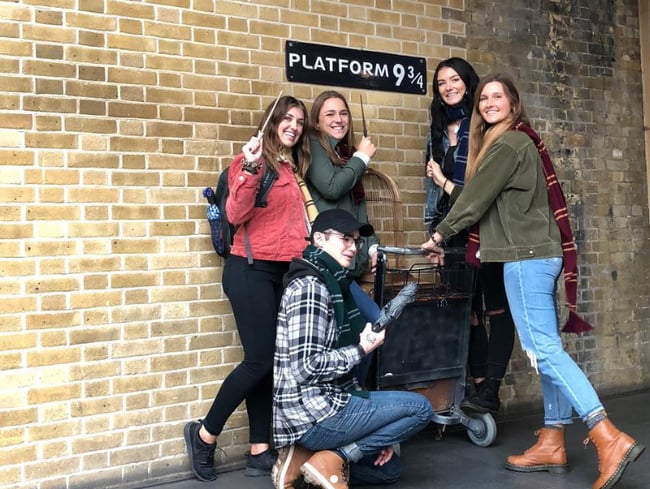 Admire St. Paul's Cathedral
Again, you might cover this if you do a tour, but don't skip it! This incredibly beautiful cathedral took a decade to design and 40 years to build. If you go inside, you can also climb a very rickety wooden stair into the dome for some really breathtaking views.
Also, the "Wobbly Bridge" is right across the street…you know the one from the sixth Harry Potter movie? Well worth your time!
Tickets are about £16, however you can also visit the cathedral during hours of worship to attend a service there. Things like the stairs to the dome and the tombs are closed off during the service, but you can still admire the stunning views inside.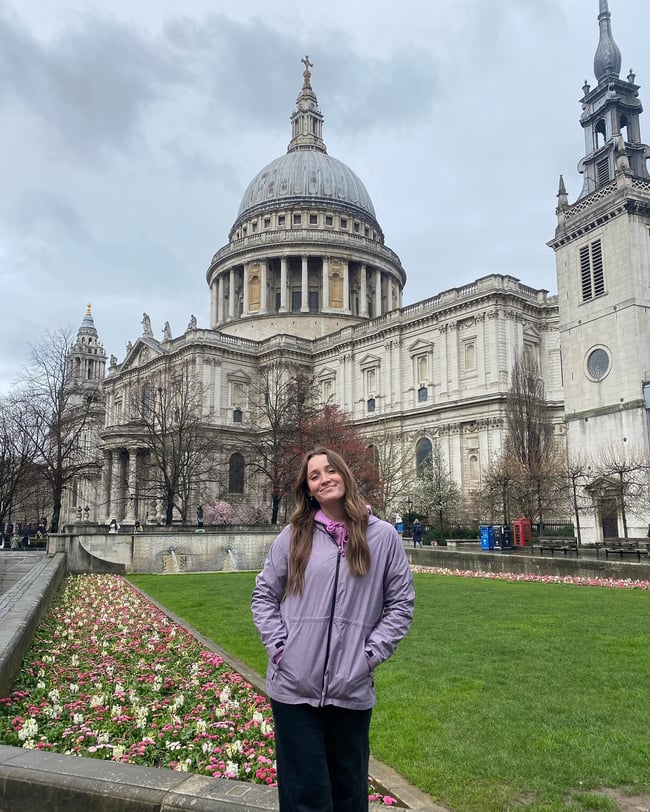 Catch A Train To Stonehenge
If you have any extra time, you can't miss this iconic monument! It's about a 2 hour+ commute over to Stonehenge from London, so this is more like a full day trip. Wake up early and catch the first train and fit it into your schedule, you won't regret it! Here's all our tips for getting to Stonehenge.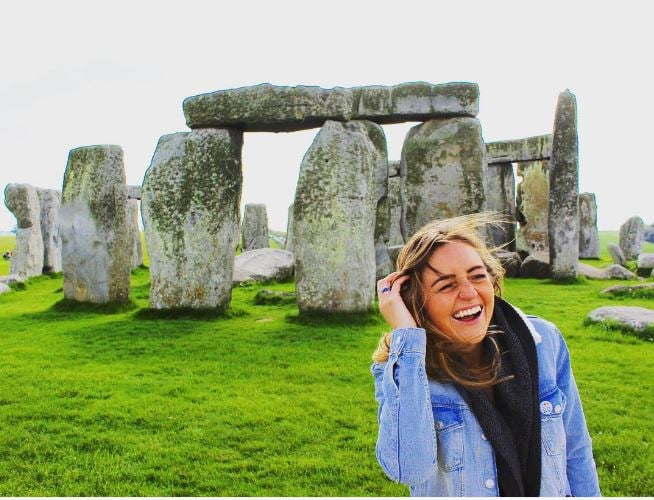 A Bunch Of Things To Eat
This city has ah-mazing food. I'd go back for it in a heartbeat! Don't miss out on getting lunch or dinner at a pub, and snagging fish-n-chips off the street (the fried Mars bars are also top notch).London is also a huge melting pot, and actually has Tikka Masala (an Indian dish) as their national dish.
If you'd like a few more restaurant recommendations for your trip, here are a few:
Burough Market
If you want a whole market of things to eat and purchase, you have to take a visit to Burough Market. You'll find everything here — groceries like fresh fish and flowers for sale, snacks like fudge and strawberries topped with melted chocolate, along with grab and go pastries and loaves of bread. The market has a spread of casual eateries serving food from all over the world. There's no way you'll leave this place hungry!
Widmill
For a good meat pie, this is your place! With pies full of chicken, bacon, veggies, fish, and more you will definitely find one you love. If meat pie isn't your thing, you can't go wrong with their fish-n-chips or steak ... but a classic meat pie is the thing to eat when in England.
Address: 6/8 Mill Street, London, W1S 2AZ
Tayyabs
Remember how we said the curry is more than good in London? Go here to experience it for yourself. Try the popular Tikka Misala, or honestly any curry and you can't go wrong at Tayyabs. Their curries and mago lassi is top notch!

Address: 83-89 Fieldgate St, Whitechapel, London E1 1JU, UK
Ben's Cookies
This place is unreal, a total favorite. I'm partial to their classic chocolate chip, but they have a bomb chocolate-chocolate flavor that I also can't get enough of. I may or may have purchase a whole tin of these bad boys once ... or twice. You'll find them all over London (and scattered abroad in places like Dubai and Singapore).
Poppies
Its hard to find "the best" fish-n-chips in London, but Poppies is a favorite for sure! The fish is battered to perfection and you really won't be disappointed. Plus, we don't think a visit to London is truly complete after you have a serving of fish and chips, with plenty of black vinegar.
Address: There are a couple locations scattered through London, but here are more recommendations for fish-n-chips in the city.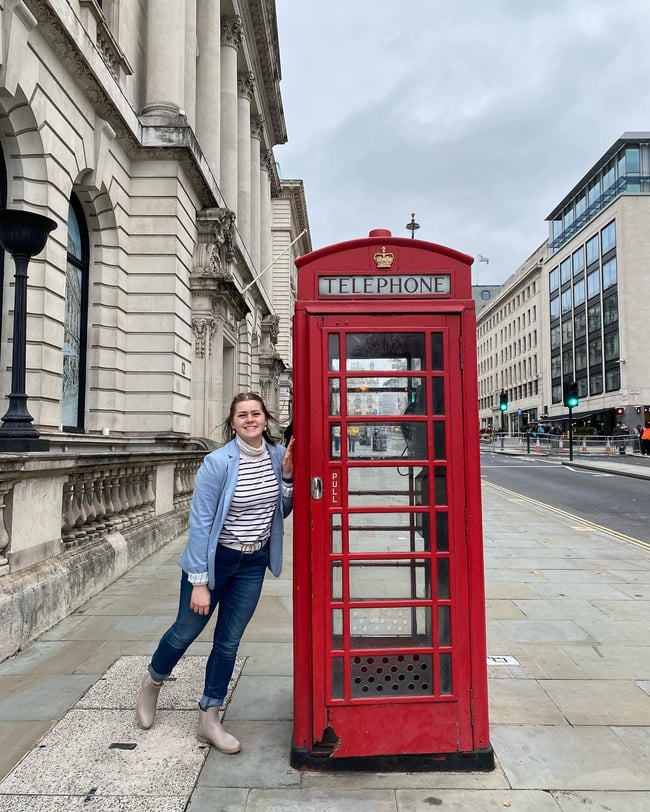 How To Get Around
Walk
Walk when you can! You will find a lot of hidden gems if you go at it on foot, plus many of the sites are close together so you can see a few if you plan your route right. Google Maps is my go-to for helping me navigate a new city and see where all my favorite attractions are located.
London is big though, so you will also want a way to cover more ground. The two ideas below are great options.
Use The Underground
You have to get around using the Underground: it's a huge metro system that helps you get around the city, affectionally known as "The Tube". There are nine zones, but central London is zone 1 (where you'll probably be spending most of your time). There are 11 individually colored lines that run pretty much from 5 AM to Midnight (with some reduced hours on Sunday).
You'll want to get an Oyster card to help you get around. It's a multi-use pass that you can put pounds on depending on how long you're staying. There are £10, £15, £20, £25, £30, £35, £40 or £50 cards. And, according to their official website:
If you're visiting London for two days, start with £15 credit.
If you're visiting London for four days, start with £30 credit.
Get these cards all over London: you can visit news kiosks but every underground tube station will have a ticket counter where you can get an oyster card.
Helpful tips: you can easily top off the cards with more if you run out during your visit. The money on your card doesn't expire so you can loan it out to friends and family, or plan on visiting London again. You can also get a refund on the amount on your card after your visit.
Double Decker Buses
Use your double decker tour as your transportation. Just purchase a "hop on, hop off" ticket and get on and off wherever you want! You can find multiple companies that offer a hop-on and hop-off tour with a range of prices, but here's one that has several routes and good prices for the day.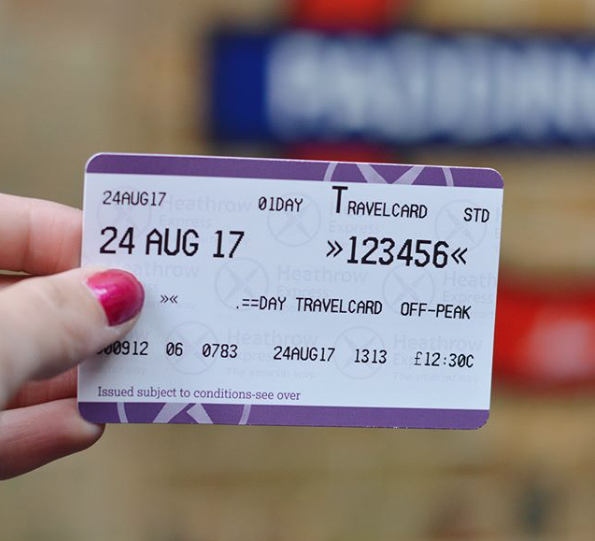 Where To Stay In London
You have a whole long list of places to stay in this massive city. We've pulled some examples of where past ILP groups have stayed along with a few suggestions to help you get a gauge of where to stay and what prices are like.
AirBnb / Hotels
AirBnb's are an awesome option in London. You can find entire apartments to stay in and just split the price between your group. $100 might look pricey for one night, but when you split it, it is an awesome deal.
This apartment, this apartment, and this apartment are great! You get the entire to place to yourself and they are all around $90-$100 a night.
One ILP group stayed at this hotel which is quite close to a tube station, so you're not far from all the things you want to see in the city.
Hostels
Hostels are a good option if you want something fairly inexpensive. You'll be in a dorm style room with other travelers and have shared bathrooms, as well as common rooms to hangout in.
This one, this one, and this one have good reviews and will cost about $40-$45 per person a night.

Ready to spend time in Europe?
International Language Programs sends college-aged volunteers abroad to do some traveling and to teach English or volunteer in an orphanage. Come start an application and get in touch with someone who can answer your questions: