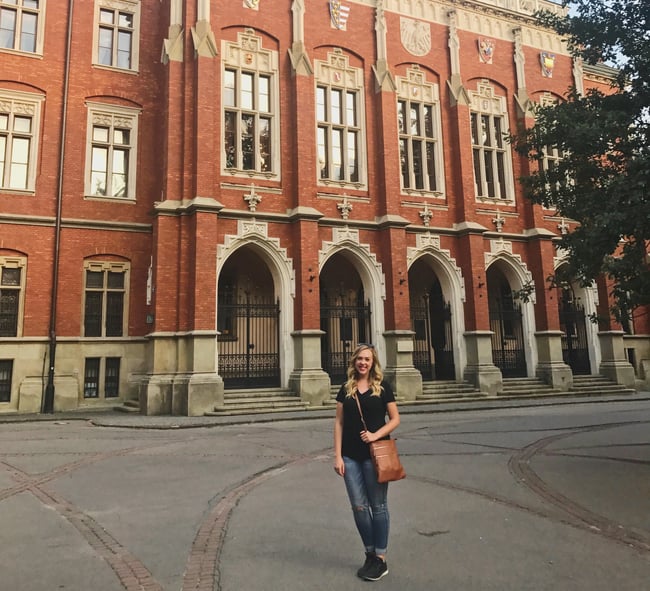 If you're planning a trip to Poland, spending a few days in and around Krakow should be at the top of your list! Here's a list of tips and tricks for planning the ideal vacation in this one-of-a-kind city.
Krakow is absolutely captivating. It has all of the quintessential European charm, but mixed in with the colorful buildings and endearing folklore is a fascinating yet sobering history. Krakow is a trendy city that connects the old with the new and is perfect for the history learners, beauty seekers, and foodie lovers.


---
ILP Volunteers Get To Travel All Over Europe During Their Semesters Abroad
Check out our guide to European destinations

---

I had the opportunity to live in Krakow for four months back in 2017 and then visited the city again in 2018. And can I just say that Krakow completely has my heart? If you have the time, I'd recommend spending weeks here, but if you're like most travelers, you likely just have a few days to spare. Spending 2-3 days in Krakow lets you get enough of a feel for the city that you'll hopefully see the highlights but will be planning your next trip to see even more!

Here's a collection of my best insider tips that will make your time in Krakow more than memorable.
Top Things To See + Do
Don't Miss These Things
There is SO much to see and do in Krakow! This city is packed with culture and beautiful architecture, so a lot of your itinerary really could be walking around to soak in all of the sites. Not to mention all of the amazing museums too! There's a ton to keep you occupied, but if you're only visiting for a few days, here are some highlights:
Schindler's Factory
Oskar Schindler, originally a member of the Nazi Party, owned an enamelware factory in Krakow and employed hundreds of Jews. Over the years, he used his own fortune to bribe Nazi soldiers and keep his Jews from being taken to concentration camps. Because of this, Schindler helped over 1,000 of his Jewish employees to survive WW II.
In this museum, you can learn about how the war affected Krakow specifically during the 5 years of the Nazi occupation. One of our favorite rooms has the good deeds and kind acts performed by many brave Polish citizens during WW II written in different languages across all of the walls. It is very touching and overwhelming to see how these people helped each other through one of the most tragic periods of their history.
We've written an entire post about visiting Schindler's Factory to help you plan your trip, so make sure to check that out!
St. Mary's Basilica
Located in Market Square, the inside of this church is painted in vibrant colors and houses a stunning altarpiece of Gothic design. It is from these towers that a trumpet is played every hour. You'll notice that the song stops suddenly, which is in commemoration of the trumpeter from the 13th century who was shot in the throat while alarming the city of an attack from the Mongols.
Tickets are about $1.50.
Address: Find it here.
Hours: Weekdays from 11:30 AM to 6:00 PM. Sundays and holidays from 2:00 PM to 6:00 PM.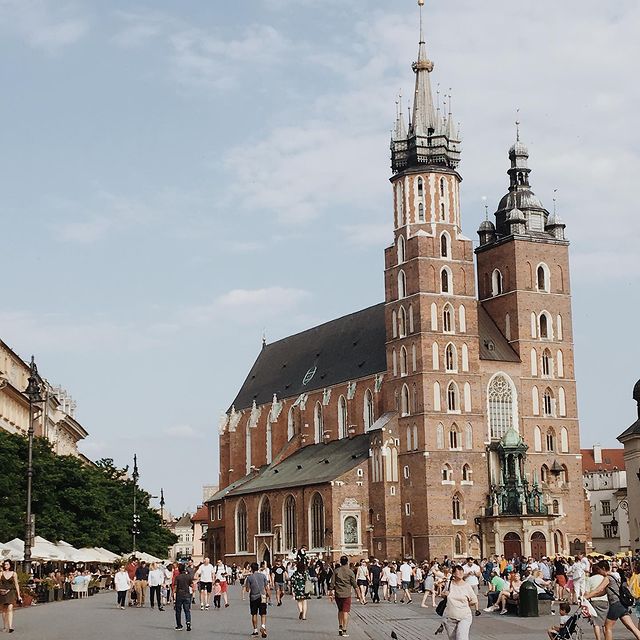 Church of Saints Peter and Paul
The crypt of this Jesuit church now serves as the final resting place for some of the Poles who have made distinguished contributions to the arts and sciences. Lining the gates to the entrance are statues of the twelve apostles. The baroque interior of this church is much less colorful than some of its neighbors but is still worth a visit.
Address: Find it here.
Hours: Open Mondays-Saturdays from 9:00 AM to 5:00 PM, and on Sundays from 1:30 PM to 5:00 PM.
Tour Wawel Castle
Constructed during the 13th and 14th centuries, this castle is a collection of many structures built around an Italian-style courtyard and features several different architectural styles. It has been the residence of kings and presidents for hundreds of years, but since the end of WW II, the interior has functioned as one of Poland's grandest museums. It is definitely one of the most important sites in Krakow, and you can come here to see various sculptures, tapestries, paintings, armor, furniture, or simply enjoy the beautiful gardens outside. Plan on spending a couple of hours exploring the expansive grounds and interior.
Visit the official website for all the information about exhibitions and ticket sales.
Shop For Souvenirs In The Cloth Hall
The Cloth Hall, at the center of Old Town, has been the location of a trade hall since the 1300s. It's one of the best places to stock up on souvenirs. The building is full of little stalls run by different vendors selling leather purses, mugs, chess sets, nativities, lace, amber jewelry, wooden toys, and a lot of other authentic gifts and trinkets.
Our advice: walk all the way around the hall before you purchase anything because a lot of the vendors will be selling the same items for different prices. And if you don't find something you love inside, then just stop by each of the small shops around the exterior of the hall as well.

Address: Find it here.
Hours: Daily from 10 AM to 6 PM, but closed every Wednesday.
Wander The Jewish Quarter
Since we've already mentioned this place a few times, we should probably just tell you to do yourself a favor and spend a few hours walking around one of the most beloved areas in all of Krakow. It's artsy, quirky, vibrant, and a perfect mix of old and new thanks to its complicated history. Make sure you check out our guide to the Jewish Quarter before you head over there!
Need more ideas? For the complete list of all you need to experience in Krakow, check out this blog post that has details for every single one of our favorite things in this city.
My Favorite Foods + Restaurants
Good Lood Ice Cream
It's not just our volunteers who call this place the "best ice cream in Krakow". Even when it's not hot outside, you'll want to come here for a sweet treat. Plus, they have new flavors that rotate out daily which means you'll need to visit at least 20 times, right? Fresh raspberry, salted caramel and banana, roasted almond, honey and sunflower, creamy peanut butter, white chocolate and hazelnut, cashew, strawberry waffle, caramel with pink Himalayan salt, and more are some of the tempting flavors at the ice cream place. Unreal.
Still wondering how good this place is? I accidentally missed my bus from Krakow to Kosice and wasn't even mad because I could go back to Good Lood. Visit their website for more info.
They have multiple locations, but here's my favorite.
Restauracja The Piano Rouge
A more"special occasion" pick, this restaurant has prices similar to what you'd find at a nicer restaurant in America, but the place has a fun atmosphere and has a menu that covers everything from pastas to goat cheese salads, to Polish classics like dumplings. Oh, and fun desserts like creme brûlée, tiramisu, and cheesecake.
Visit their menu and website here.
Address: Rynek Główny 46, 30-001 Kraków, Poland
Some Fun Street Food
These aren't really established restaurants, but we still love grabbing these for a quick snack or meal when you're out and about. There are food trucks that meet in Judah Square pretty much every day from 12:00 PM to 12:00 AM (or 1:00 AM on Saturdays and 11:00 PM on Sundays), which is a fun place to eat.

Order the crepes and the baked potatoes from these trucks. These baked potatoes are so bomb, you won't regret eating one for lunch and going back for dinner (may or may not be a true story).
Need More? Of course you do! Get even more suggestions on our favorite places to eat in Krakow here.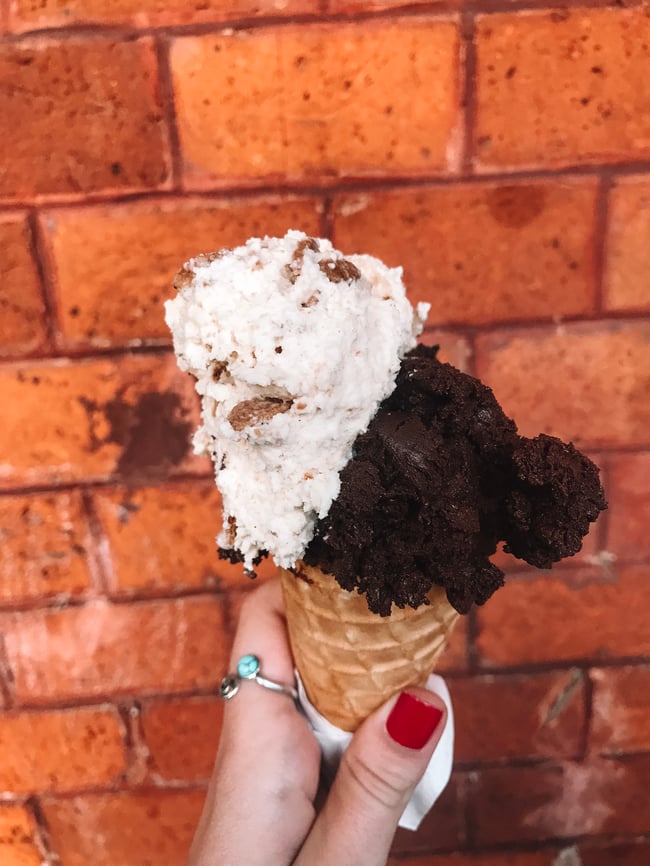 Where I'd Stay In Krakow
There are no shortages of places to stay in Krakow! We've had groups stay at popular hostels and some have opted for an Airbnb. I'd just recommend picking somewhere that is close to the main square or Old Town (since that's likely where you'll be spending most of your time). Again, we have transportation info below to help you make your bus connections when traveling to and from the airport or other places in the city, but I'd recommend staying somewhere that's within walking distance to most of your destinations.
There are plenty of options when staying in Krakow, but here are a few places ILP groups have recommended in the past:
Dizzy Daisy Hostel
About a 10-minute walk to the main highlights of Krakow, Dizzy Daisy Hostel is bright, and pretty spacious. There's a free city map available to help you get around (breakfast is not included which means you'll need to head out to a local bakery for that).
Greg & Tom's Hostel
Free breakfast and free dinner at this hostel, located right on the main square. It's a popular spot for backpackers who want to make friends and have fun, but ILP volunteers especially loved the good deals for Auschwitz tours and the free dinner. There are a few different locations of this hostel (some focus more on the party atmosphere) so make sure you're booking the one you think you are. Book here.
Atlantis Hostel
Just 10 or so minutes away from the center of the Old Town, Atlantis Hostel boasts very helpful staff and a convenient location. The staff will set you up with a city map when checking in and can help you book popular city tours if you'd like. Book here.
Go For An Airbnb
As I'm sure you know, Airbnbs can be an awesome choice for your European getaway, especially since you can have your own private kitchen (many hostels will have a shared kitchen). There are tons of options, but ILP groups in the past have stayed here. This is also a cozy apartment ILP groups have stayed at in the past.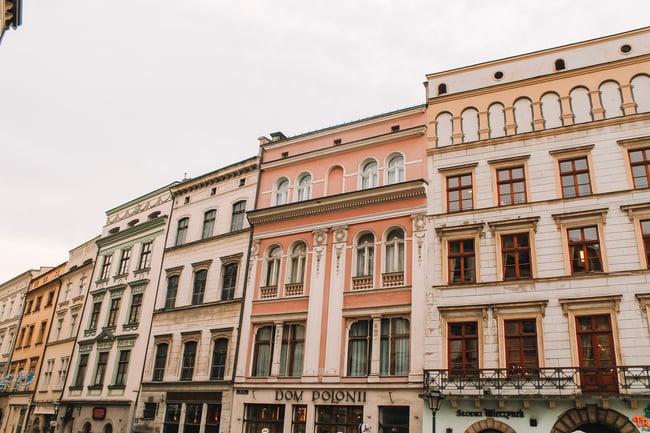 Easy Ways To Get To Krakow
There are a handful of beautiful cities and even countries that are just hours away from Krakow. Whether it's easiest to get here via plane, train, or bus you won't have much trouble finding a route to get you to Krakow.
By Plane
The Krakow Airport is about 7 miles outside of the city. Domestic and international flights are frequent here (airport code KRK). Airlines like RyanAir, KLM, EasyJet and several others fly into this airport regularly. You can check out these discount airlines in Europe to see which countries you can fly from to get pretty good deals.

Once you land, you can take a taxi into town. The official Krakow Airport Taxis have a set price (about 90 zloty for the 15 kilometer distance). It should take about 25 minutes. There are other taxis and rideshare services, most of which have a rate of 7 zloty then 3 zloty per kilometer. This may be less expensive.
Or, you can take the train from the airport, which is affordable and very straightforward (a single ticket is 17 zloty). You can buy tickets at the Arrivals Hall, on the station platform, or from the guard on the train itself (though they only accept cash, and may be hard to find — best to avoid the crowds and snag your ticket at the Arrivals Hall before you board). The kiosks sell tickets with English menu options (you'll likely need to head to the city center, which is the Kraków Główny stop. The train runs every half-hour from 4:25 AM to 12:20 AM.
By Train
Dworzec Glówny PKP is the central train station (just located outside of Old Town). Inside the train station, you'll find 24 hour ticket booths, an expansive mall (seriously this mall is huge and cool to check out), cafes and eateries, currency exchange, etc.
From the train station, it's a short walk to Krakow's Old Town. If you'd rather not walk, you can take a bus or tram (get information about that below in the section, "Getting Around Krakow).
By Bus
Several European countries are close enough to reach Krakow by bus. If you're coming from Lithuania, Lux Express buses have routes here, and we also love FlixBus — You can pretty much get a bus from any larger city to Krakow (with a few connections if you're traveling far).
Once you arrive, it's a similar situation to arriving via train (the bus station is semi-separate from the train station) but you can walk to Old Town quite comfortably from the bus station side.
You can find taxis on the upper and lower floors if you'd rather not walk, or can take public transportation (get info about that below in the sub-section, "Getting Around Krakow").

The most direct way to Market Square is underground, through the train station. Follow signs for "Stare Miasto (Old Town)" or ul. Lubicz.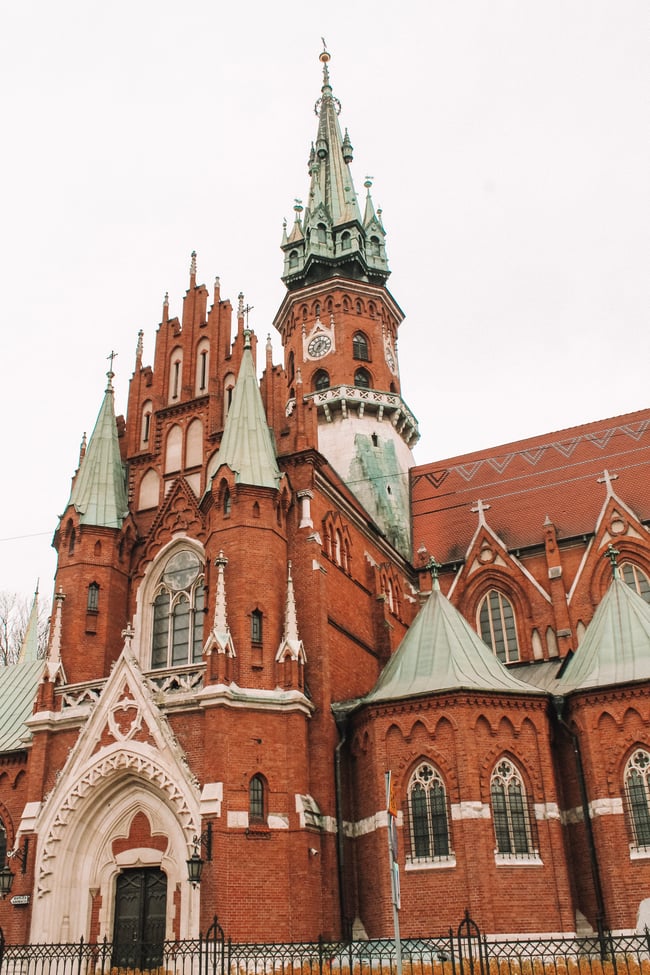 Getting Around Krakow

With This App
Most of Krakow's Old Town and surrounding areas are walkable, but you will most likely want to use a bus or tram to help you visit the farther away districts. Downloading the Jakdojade app is going to be a life saver. You just type in your starting location and where you want to go and it gives you the direct route, time, and which bus and tram to take. You can find Jakdojade online, but the app is really convenient when you're on the go.
To buy tickets, visit the kiosk or ticket machine by the tram or bus stop (you'll see them in multiple languages). If you don't see a kiosk but see a tram or bus with a large "A" on the front, that means you can buy your ticket onboard. You'll want to have exact change (the driver will not give you change).
Once you board you'll validate your ticket by punching it in the validation machine. Make sure you do this because otherwise you'll get a hefty fine from the ticket inspectors who randomly board the buses and trams. You can use a single ticket for multiple rides as long as it's still in the time period you purchased it in — there are 20-minute tickets, 40-minute tickets, and 1-hour tickets. There are also day tickets (24 hours) or multi-day tickets (48 or 72 hours). Prices range from a couple of zloty to more like 30 or 40 depending on your time range.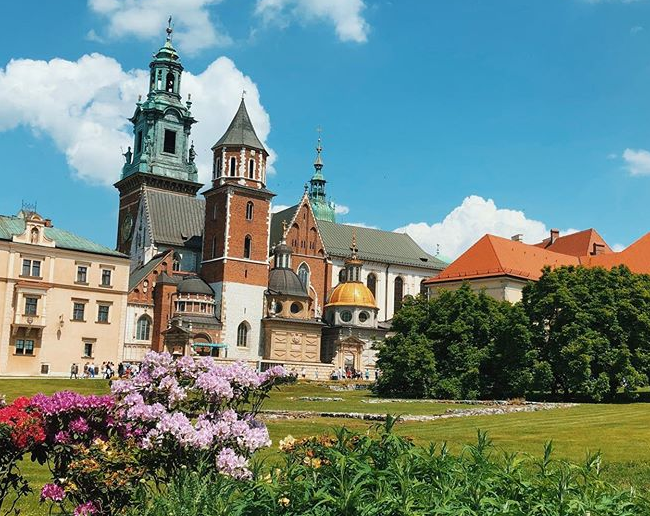 Other Nearby Destinations In Poland
After finishing up your time in Krakow, how about jumping on a bus and visiting some of our other favorite spots in Poland? Some are close enough for a quick day trip, or you can hop over to another city for a day or two. Traveling by bus in and around Poland makes all of these locations very accessible.
Zakrzokwek Lake
In the summer time, you have to spend a few hours at this lake — it's just right outside of the city! It used to be a mining site but has been turned into our favorite Krakow getaway. The water is just as turquoise blue as the waters of the Caribbean—but don't expect the water temperature to be that warm. Definitely don't recommend swimming in this icy water if the sun isn't out and shining bright. Check out this blog post for all of the details you'll need for visiting Zakrzowek Lake.
Zakopane
Just an hour or two south of Krakow is this skiing town where you can find one of the prettiest hikes you'll ever experience. The walking trail is found in the Tatra Mountains National Park and will lead you up to a lake called Morskie Oko. Depending on the time you go, you might see fields of wild flowers or piles of melting snow. The water is sparkling and the trees are towering. There are other things to see in Zakopane too, like The Upside Down House.
Check out this blog post for all the details about visiting Zakopane.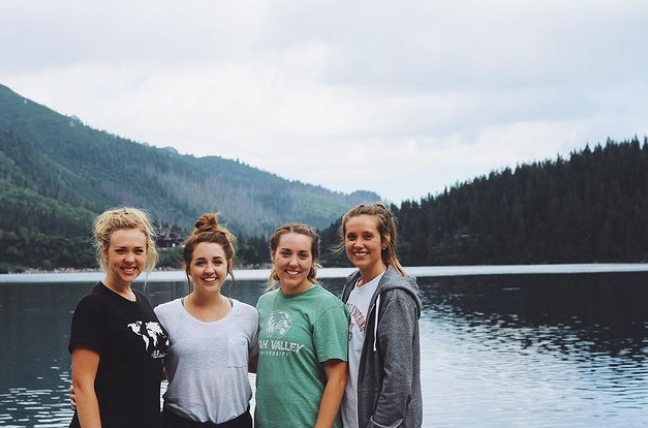 Warsaw
A visit to this country without visiting Warsaw means missing out on a huge slice of what Poland is all about. If you were able to visit Auschwitz Concentration Camp (which really is a must), then you know what a major role this city has played in Poland's tragic history. While a lot of Warsaw was destroyed during WWII, there are still many beautiful parts and the city center itself is hiding surprise after surprise under its vibrantly painted facade.
Use our complete guide to Warsaw when planning your trip.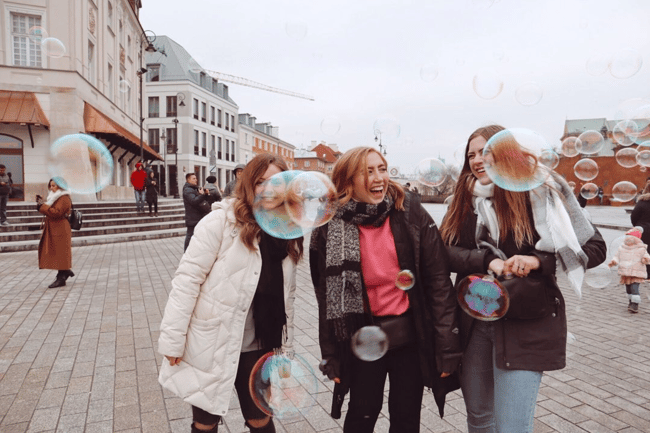 Malbork, Poland
Malbork Castle is actually the largest castle in the world when measured by land area, which means there is a lot to walk around and see. Plan on 3-4 hours if you are following through the set exhibits!
The castle was first built in the 13th century, but its claim to fame came later, in the 14th century when the castle was fortified and enlarged by powerful German crusaders called Teutonic Knights. When the castle was run by these knights they required that there be enough food to last 2 years for all of the knights and their servants. That resulted in TONS of food and lots of needed storage space, hence the utterly massive size of the castle and the surrounding grounds.
Check out our guide to Malbork Castle before planning your trip there.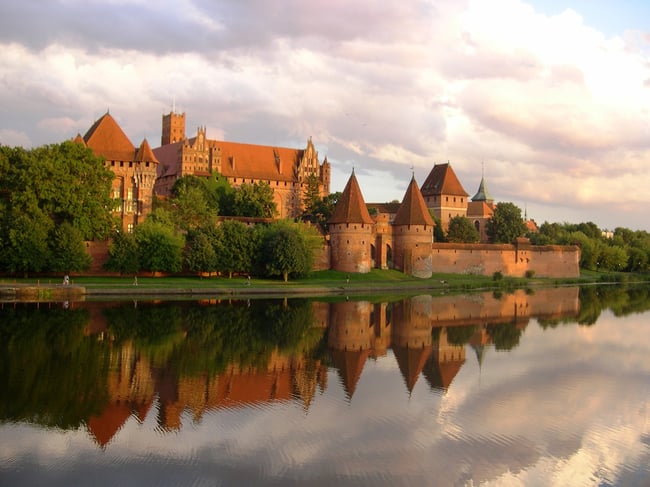 Gdansk
This picturesque, coastal Polish town has a very complex history and very beautiful architecture. You'll love the museums that tell quite the story about the role Gdansk played in WWII. Did you know it was the first Polish city invaded by the Germans? Wander the colorful streets and enjoy some souvenir shopping. You could easily enjoy an entire weekend here!
Use our complete guide for Gdansk to plan your trip.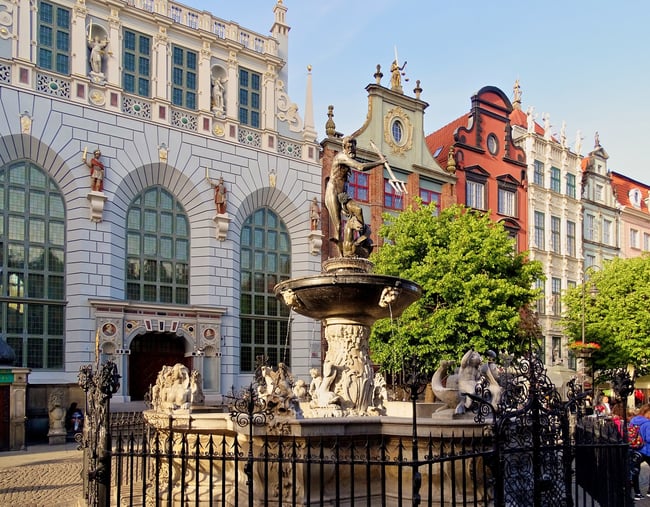 Want to live in Europe as more than a tourist?
It makes the semester so much more meaningful! See if you can find which country in Europe would be the best fit for you, and then click the button below to get your questions answered by chatting with an ILP representative.