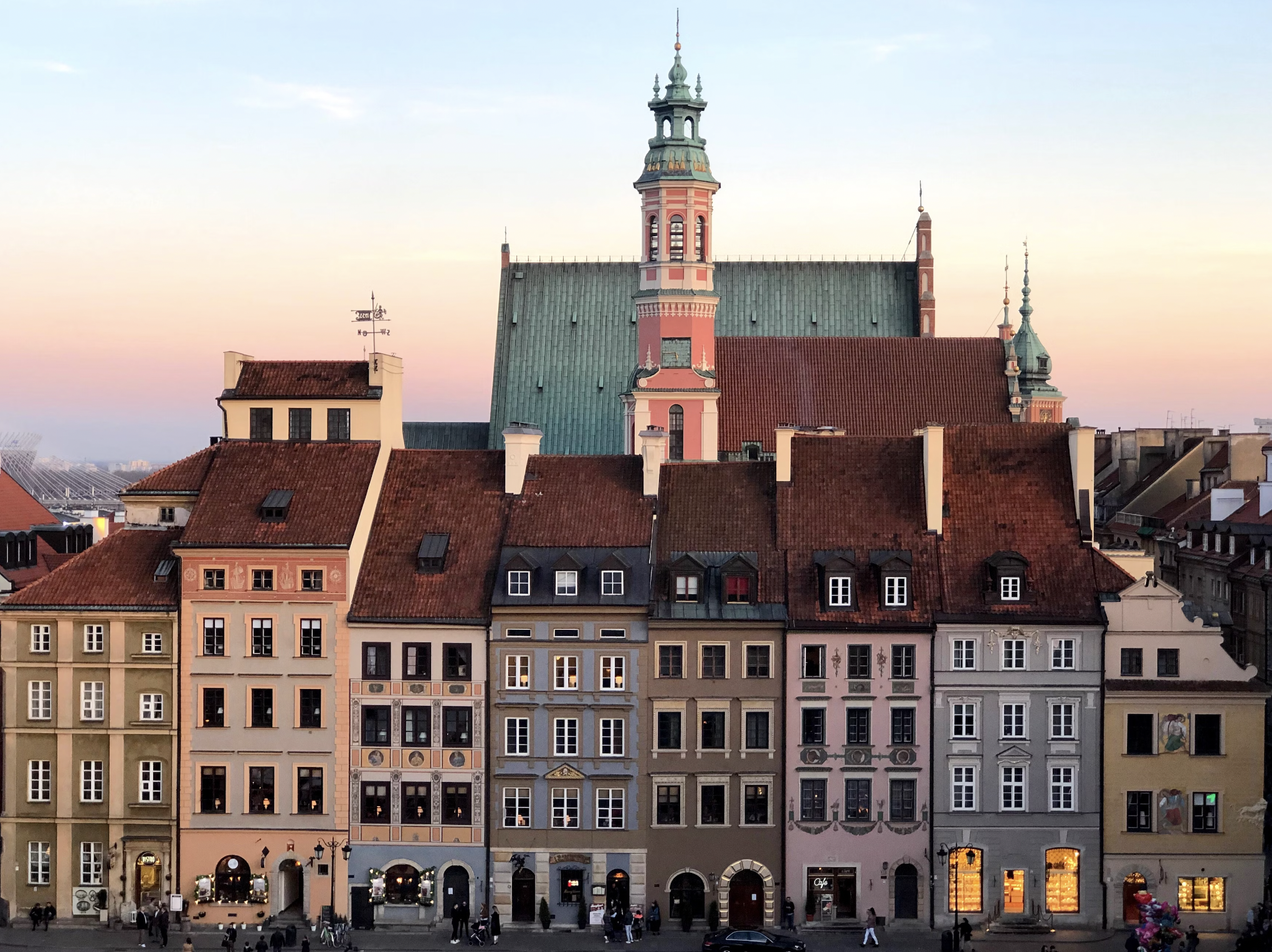 All of Europe is pretty historical, but the bright colors and chapters of history found in Warsaw are only two reasons to visit the Polish capital.
Living in Europe means you'll get a history lesson, even if you aren't looking for one. But the history of Europe is part of why it's so cool to live there, right? I spent a semester volunteering with ILP, meaning I got to live in Europe for a whole semester, with free time each day to explore my city, and do quite a bit of country hopping on the weekends and on vacation days. And Poland was one of my favorite places I visited.


---
Does a semester in Europe sound pretty perfect?
Come fill out an application to snag a spot on an upcoming volunteer trip!
---

You have a lot of places to choose to visit if you're volunteering in Europe for a semester, but Poland is hands down one of the best places to see for yourself. While we love the adventures to be had in Krakow, a visit to this country without seeing Warsaw means missing out on a huge slice of what Poland is all about. The city center of Warsaw is hiding surprise on surprise under the beautifully painted facade ... like the surprising secret of the Old Town.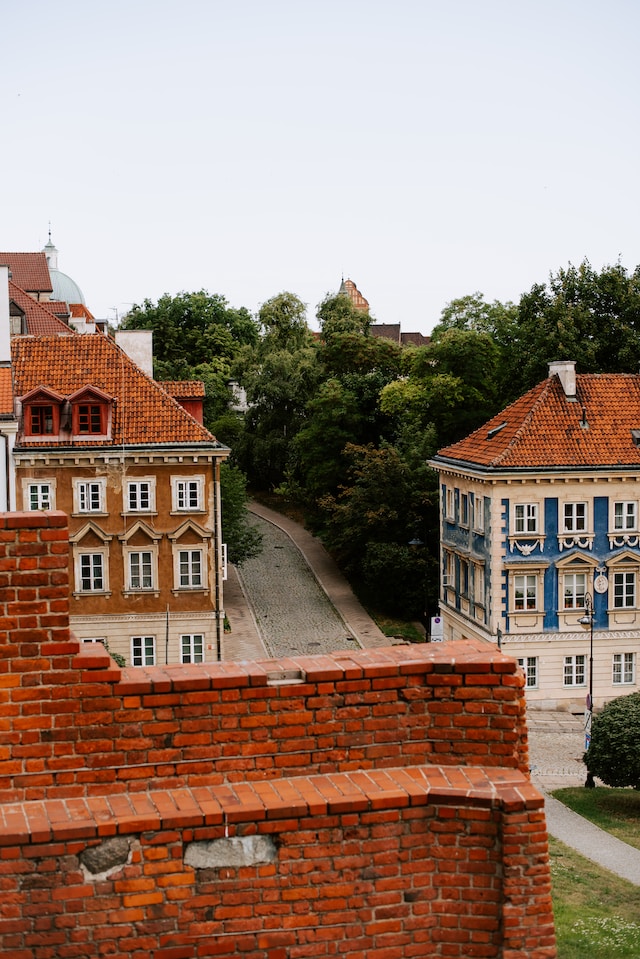 A Bit Of History In Warsaw
Have you ever wandered around Europe and thought "I wonder what that statue is all about" but kept on walking? Warsaw is not a place to visit without a mini history lesson! You won't appreciate half of what you see without knowing a few key things. It's a melting pot of cultures and has a pivotal role in the events of WWII, but you'll want to know a bit more than that. Here's a brief intro to the city's history so you won't feel so lost when exploring.
Warsaw and WWII
All across Europe, cities were touched as World War II raged on, and Warsaw was unfortunately one spot that was hit especially hard.
The Germans bombed this capital city in the fall of 1939, soon conquering Warsaw — over 31,000 people were killed in the siege. Around this time, about a third of Poles were Jews and Germany concentrated on deporting them all to the Warsaw Ghetto, where more than 100,000 inmates died from starvation and execution. Later in the war, the rest of the Jewish inhabitants were shuttled off to various death camps or killed on spot. If you visit Warsaw today, you can see two memorials that commemorate the victims (more on those later).
Later, as Germany realized they were losing the war, Hitler commanded Warsaw to be completely destroyed. About 85% of the city was destroyed including historic Old Town. Around 800,000 people — more than half of the city's population — had been killed.
Rebuilding Warsaw
In 1945 as the war closed, Soviet troops entered the destroyed city and decided to rebuild according to the Soviet ideas. Warsaw was reconstructed with modern styles, everywhere except for Old Town.
Years before in the 1700s, artists like Italian painter Canaletto (Giovanni Antonio Canal) had famously drawn Warsaw's Old Town with a few creative improvements — Canaletto had added some elaborations in his artwork to make the city appear more beautiful. Fast forward to the mid-1900s and leaders decided to reconstruct Old Town according to Canaletto's (fake) drawings. You can hear way more about this by listening to this podcast (it's fascinating). But the effect is really beautiful. Warsaw's Old Town is definitely worth seeing.
Warsaw is known as the Phoenix City because it was able to rise from the ashes and become the bright and busy city it is today.
Can't Miss Warsaw Adventures
Castle Square — Plac Zamkowy
This might just be the most popular and consequently the most iconic viewpoint in the city. It's a hot spot of history and photo ops for the many tourists who stroll around this part of town.
Castle Square is a big open square (more of a triangular shape actually), lined with some of Warsaw's most colorful buildings and the imposing brick of the Royal Castle. These stacked buildings are mostly four stories high, peppered with little rectangular windows against pastel colors, and topped with steep shingled rooftops. It's a gorgeous slice of architecture. You'll immediately notice the center of the square where a towering and ornate column is topped by Sigismund III, the Polish king who decisively moved the government's base from Krakow to Warsaw back in the 16th century.

You'll find plenty of charming cafes today in this space where some of the most important chapters of Poland's history once took place. US President Clinton welcomed the nation as a part of NATO in this square, the site of several bombings in WWII, and the ground where a handful of Russian sieges took place.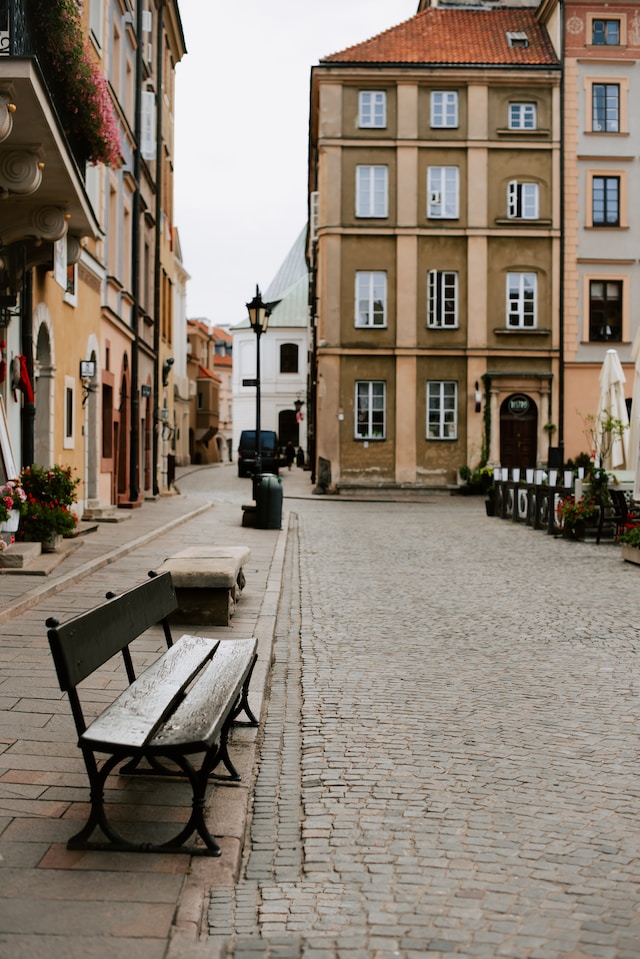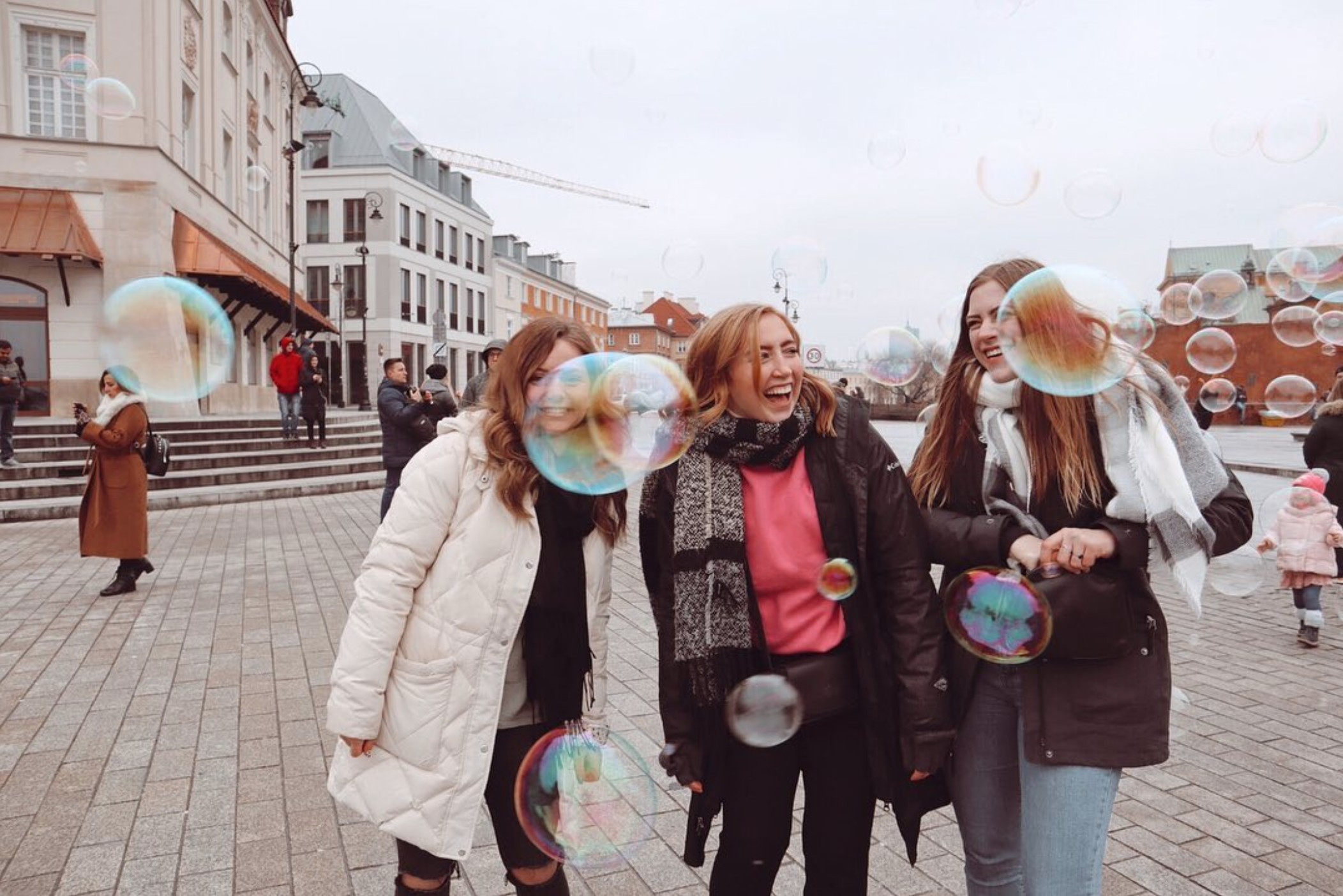 The Royal Castle
Another can't miss while you're in Warsaw is the Royal Castle. It's more like a palace rather than a castle, serving as the home of Poland's nobility in the 15th century. Visiting here means walking the halls where kings walked (after a hefty dose of restoration, that is). WWII brought this impressive building down to a pile of rubble which was meticulously restored to its former glory, sparing no detail or expense.
It's also located within Castle Square, so it's easy to hit up both spots at the same time.
You can stroll through the ornate Great Assembly Hall with walls adorned with gold. Or the impressive gallery of paintings which houses a few works by Rembrandt. Oh and if the weather is nice, don't skip out on a stroll through the Royal Gardens, designed in a classic French Baroque style.
Find ticket prices and hours here.
Find it on Google Maps.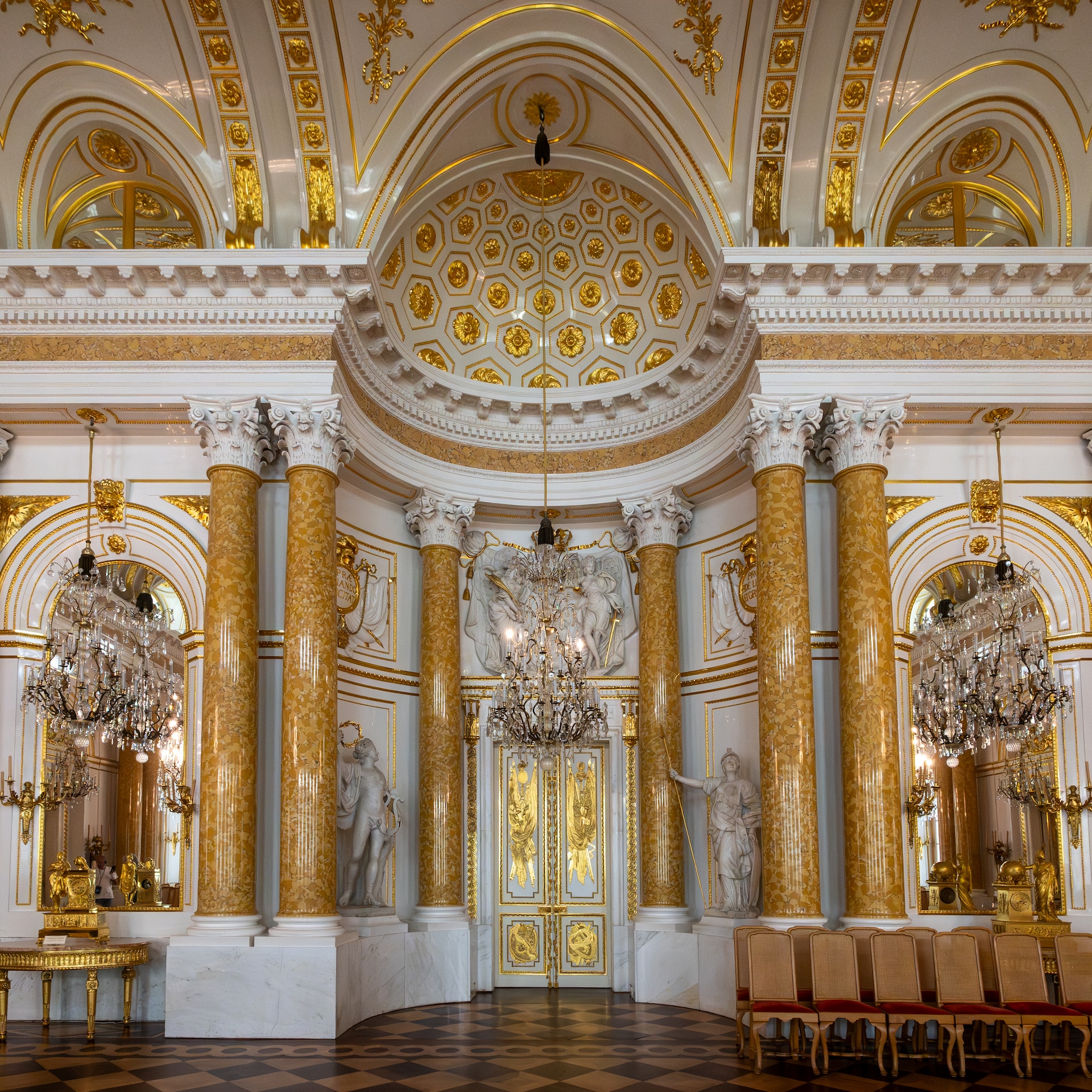 Get The Prettiest View
If you're looking for that perfect Warsaw picture, just climb the 150 steps up the Old Observation Tower and you'll be set. This viewpoint looks over Castle Square and the Old Town, so you can get a shot of those pastel buildings. Find the Observation Tower next to St. Anne's Church (which is also worth seeing). As a heads up, it does get very windy at the top if it's breezy down below, and the tower tends to close when it's raining or snowing.
Find it on Google Maps.
Get hours and prices here.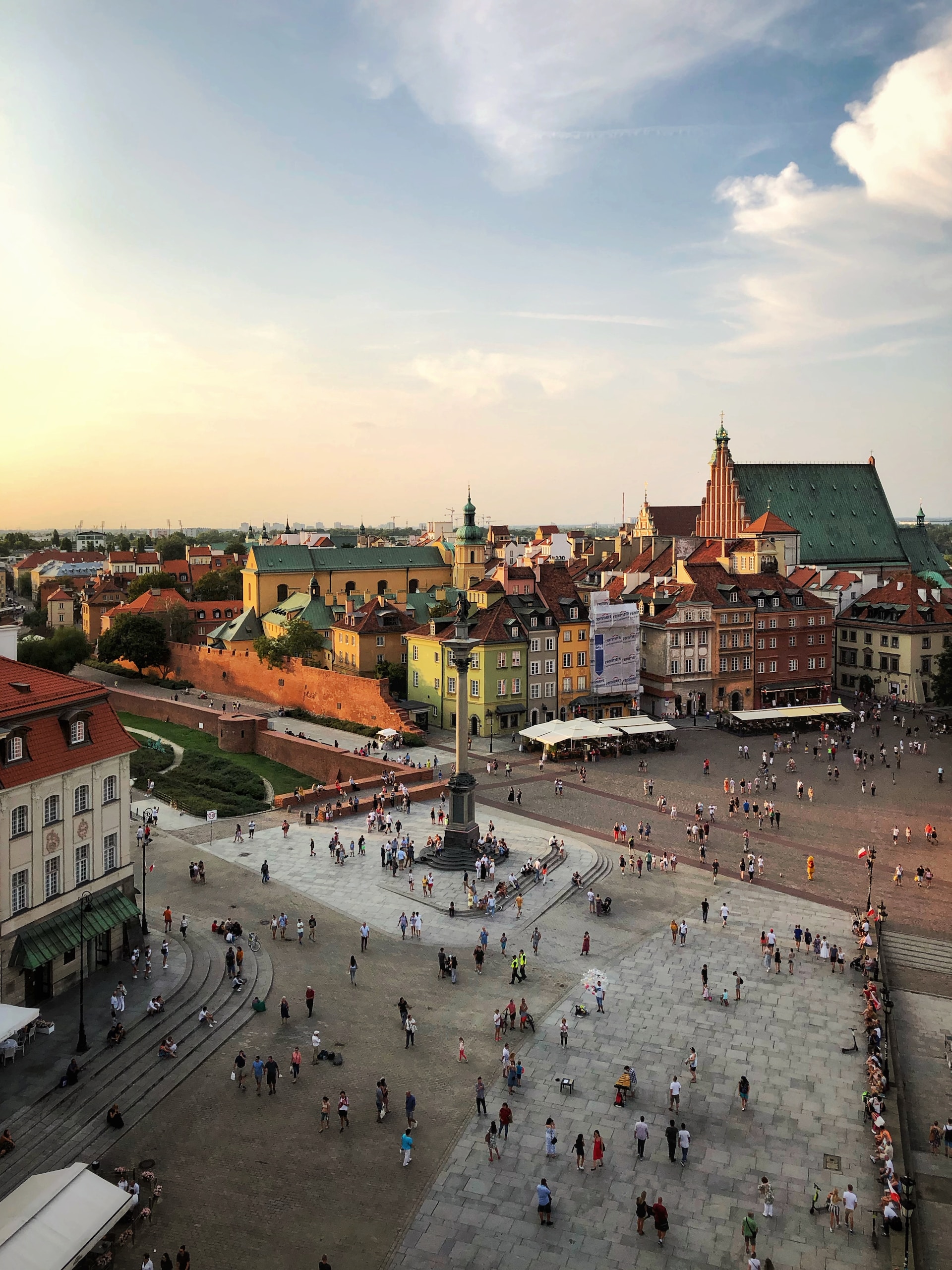 The Warsaw Barbican
Don't you love that you can just stumble upon castles that are hundreds of years old when you're traveling around Europe? This impressive structure is another example of that, built way back in the 1500s (on the remains of a previous fortification gate), and is a must-stop while in Warsaw. It's also close by, within walking distance from the Royal Castle.
The Barbican was built to help protect the city but was only used in 1656, against a Swedish attack. The building was partially demolished to make room for apartment buildings, then was restored (with a bit of an interruption when WWII broke out, which completely destroyed the Barbican). Now, it's part of the Old Town restoration, connecting the Old and New sections of Warsaw.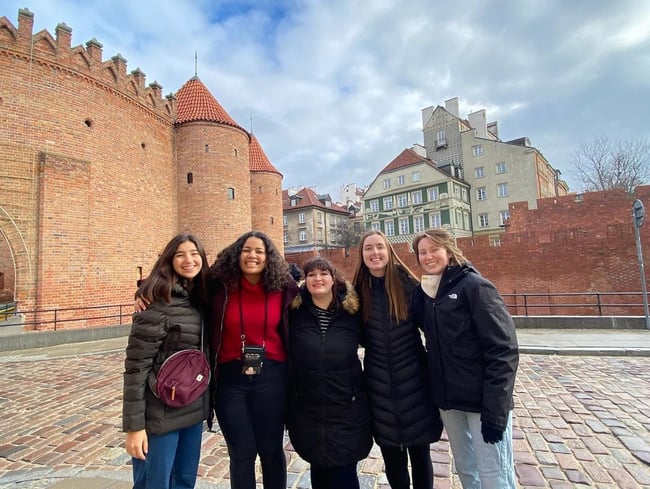 See Old Town Via A Free Walking Tour
Visiting any European city's Old Town is kind of a must-do, but we love taking a free walking tour of the city while in Warsaw.
One ILP group mentions loving the tour offered by the Orange Umbrella (though there are several others you might consider as well). They have a few tour options — an Old Town Tour, one focused on WWII, another detailing Jewish history, and another that hits the highlights of Warsaw. The tours are operated daily and are free, though you're encouraged to tip your guide.

Get the tour schedule and other info here.
The Warsaw Uprising Museum
Warsaw hosts a whole collection of museums, but if you only visit one, make it the Warsaw Uprising Museum. Opening in 2004, 60 years after the historic events in 1944, it's not one to be missed. It details the courageous uprising that occurred in the city and the devastating aftermath. The museum has loads of info, so one visitor suggested heading right to one exhibit first, a 3D film called "The City Of Ruins".
Here, you'll watch a short video full of aerial footage that shows the city reduced to rubble. It's best to get there before the first showing of the day, then go back to see the exhibits you passed on the way to this exhibition. The museum is rather interactive, with sections replicating the radio stations, the sewers that created an escape route for some, and sounds that paint the picture of the chaos. It's a well down memorial for the lives lost preserving the independence of Poland.
Get hours and prices here.
Find it on Google Maps.
Free Parks and Gardens and Cemeteries
Poland is a very affordable country to travel to, especially if you take advantage of the free things to do and see in this city. One ILP group mentions spending a lovely afternoon walking through Lazienki Park and the University Library Gardens. Another group recommends strolling through Ogród Krasińskich.
The city of Poland has a rich Jewish community that's been pillaged and brutalized throughout history. The city is home to some of the largest Jewish cemeteries in the world, with some 250,000 graves in the Cmentarz Zydowski cemetery alone. Now a place of peace and remembrance, it was once used during WWII for executions and irreverent burials for those who had died during the uprising. It's still an active cemetery today, so please be respectful during your visit. It's best to enter on Okopowa Street.
Another notable cemetery is also worth a visit, home to over 1 million tombs and is the final resting place for some of the most important figures who shaped Polish history. See all of this in the Powazki Cemetery (Cmentarz Powazkowski).
Nearby Adventures
Malbork Castle
Big fan of this day trip option. Malbork Castle is actually the largest castle in the world when measured by land area. It's a stunner for sure, first built in the 13th century, but its claim to fame came later in the 14th century when the castle was fortified and enlarged by powerful German crusaders called Teutonic Knights. It's a living testament to the crusades that swept through Europe and wandering through the massive rooms and grounds gives you a taste of what life was like back then.
It's about 2-3 hours away from Warsaw, easily reached by train. Get more info about your visit to Malbork Castle here.
From Malbork, you're just another 30 minute train ride to another city we love, Gdansk!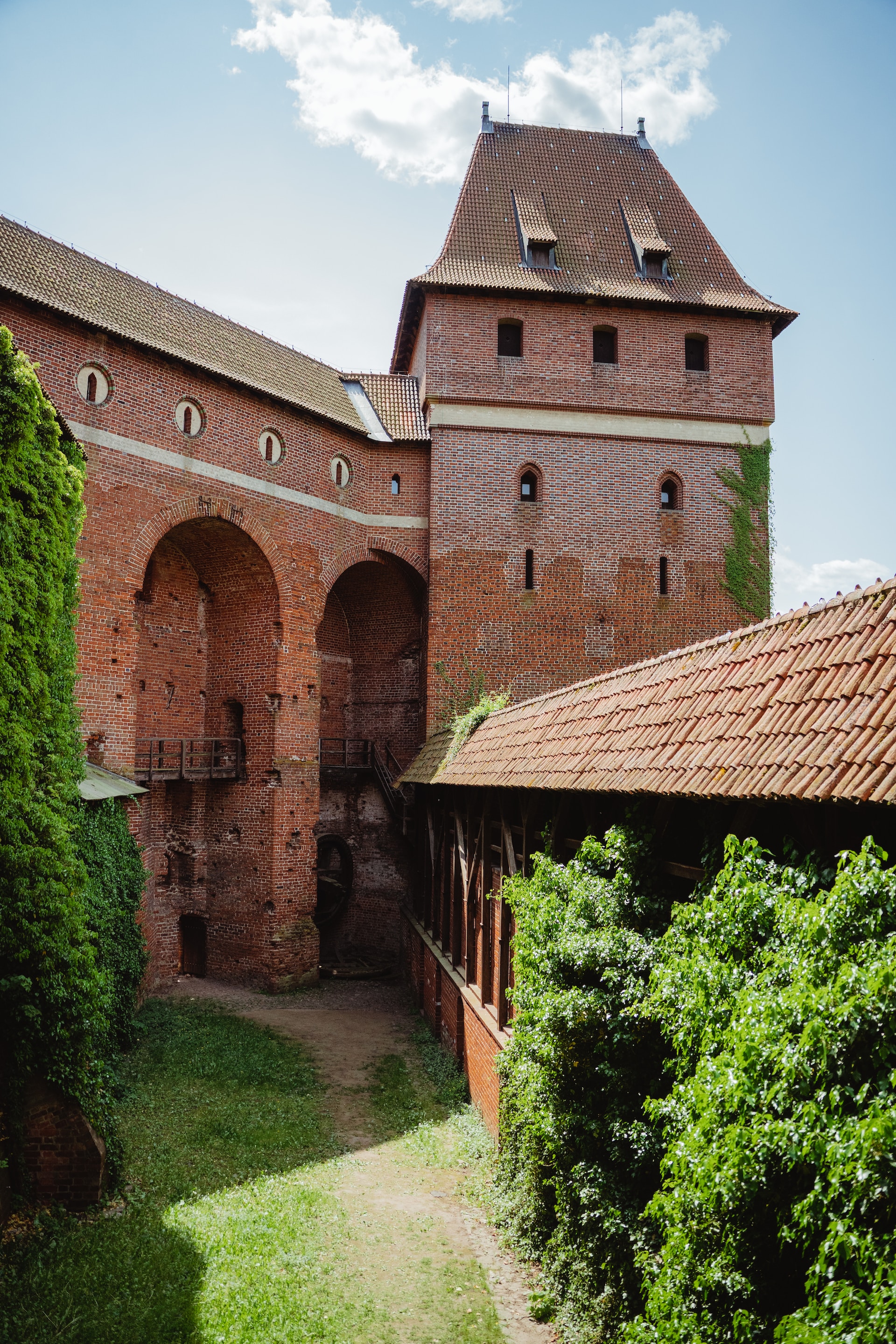 Krakow
We love the city of Krakow and think you can easily spend 3-4 days here, especially if you're looking to explore the nearby Wiezlicka Salt Mine (do it, I was totally blown away at this last minute choice to add this to my trip!) or step into the somber history unfolded at Auschwitz. Krakow is a beautifully historical city with a beyond beautiful and artistic Jewish Quarter and is officially home to the best ice cream I've ever had.
Krakow is about 2 hours away by train. Get all the things to do, places to eat, and places to stay in Krakow here.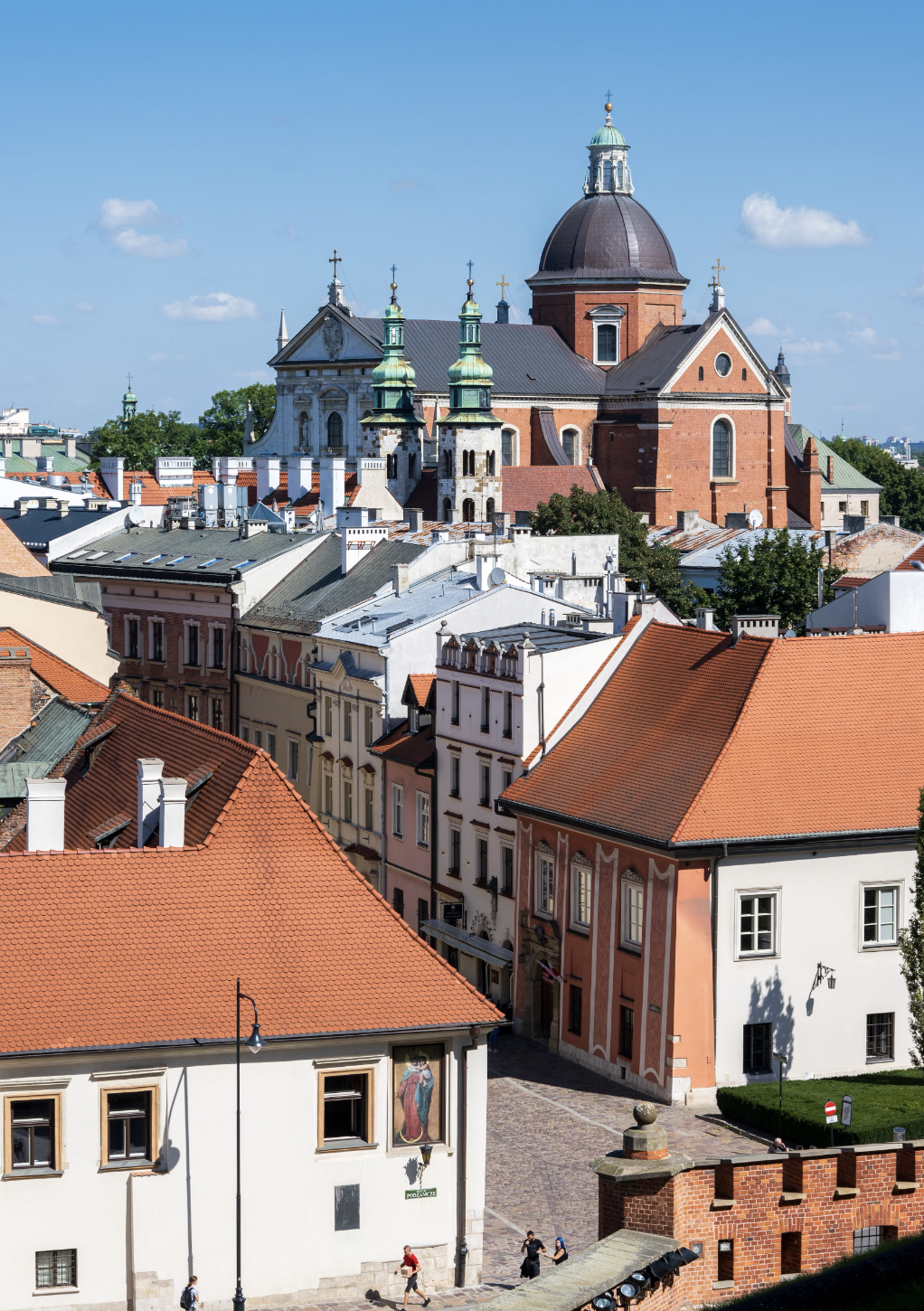 Pozan
Wanting to see even more of Poland? Pozan's a city just west of Warsaw boasting a colorful Old Town, a croissant museum, baroque churches, and a few other things to keep your attention. It's an easy day trip if you don't mind the longer train ride, or a nice addition to your Poland itinerary if you're hoping between Warsaw, Pozan, then Wroclaw before spending your time in Krakow. From Warsaw, you can take a 3 hour train, or a 5ish hour bus ride.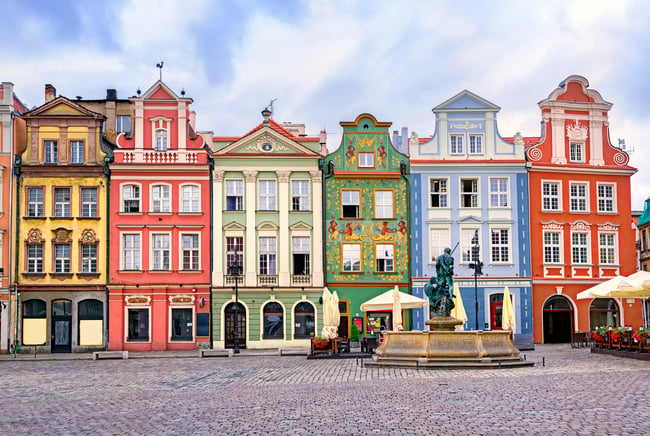 Places To Eat
Bar Mleczny F

amilijny
If you're in the mood for Polish food for a good price, this is the restaurant to know. This is more like an old, canteen style place to eat, rather than a place with waiters. Ask for an English menu at the front, and sit down to piles of pierogis, warm soups, plates full of fried fillets with cabbage and potatoes, and lots of pasta.
Find them on Google Maps.
Specjaly Regionalne
Another place where you can taste the local fare, you'll find creamy soups filled into bowls of bread, plates with cheese and cured meats, roasted chicken with local veggies, and pierogis of course. Check out their Facebook page for more info.

They have a few locations, but this one may be the closest if you're exploring Old Town.

Places To Stay
Hostel Helvetia
One ILP group loved their stay here, mentioning the good location to Old Town and the overall feel of the hostel. There's a helpful staff who likes to point travelers to their favorite restaurants and things to do in the city. Book and get more info here.
Chillout Hostel
A highly rated hostel that's a bit out of the way (around 3km from the Old Town) but with some perks like a helpful staff, group activities for those staying there, and in a good location (just not in Old Town). Book here.
Safestay Warsaw
Safestay Warsaw is another hostel ILP groups have stayed at in the past. It's a 2-minute walk from the Old Market Square, has free breakfast, and a 24-hour reception. (Note that towels aren't included, so pack up your ultra light microfiber for your stay). Book here.
Airbnbs
Other groups have loved finding a good Airbnb for their stay in Warsaw, saying that most of the more affordable options are tucked away in little neighborhoods that aren't right in the Old Town but close to everything you're going to want to see anyways. Check out Warsaw Airbnbs here.
Getting Cheap Tickets Here
Warsaw is incredibly well connected, with routes by train, bus, and flights from all over Europe. It's also common for travelers outside of Poland coming to visit other cities, land in Warsaw first. It truly is the hub of the country.
Here are a few recommendations based on some popular European destinations to help you get an idea of what's out there. As always, our favorite places to check out buses and train routes are Flixbus and Omio, and we love looking at Skyscanner for flights.
Podgorica, Montenegro — one-way flight from $75

Berlin, Germany — 5 hour train for $32
Vilnius, Lithuania — 8 hour bus for $25
Kosice, Slovakia — 9 hour bus for $27
Barcelona, Spain — one-way direct flight from $110
Oslo, Norway — one-way direct flight from $45
Brussels, Belgium — one-way direct flight from $78

Milan, Italy — one-way direct flight for $79
Budapest, Hungary — one-way flight from $82
+ Getting Around Warsaw
You're going to want to download the Jaktojade App, it'll help you navigate all the buses, trams and metro lines in Warsaw. With this app, you don't need to know any bus numbers, stop names, or city layouts. Just type in an address or pick a point off of the map and it'll work out your route. For some routes, you can also buy a ticket right from the app. It's a lifesaver.
Get it free here for Android and here for IOS
(There is a free version for IOS, but the paid version is more similar to the access you'll get on the Android version).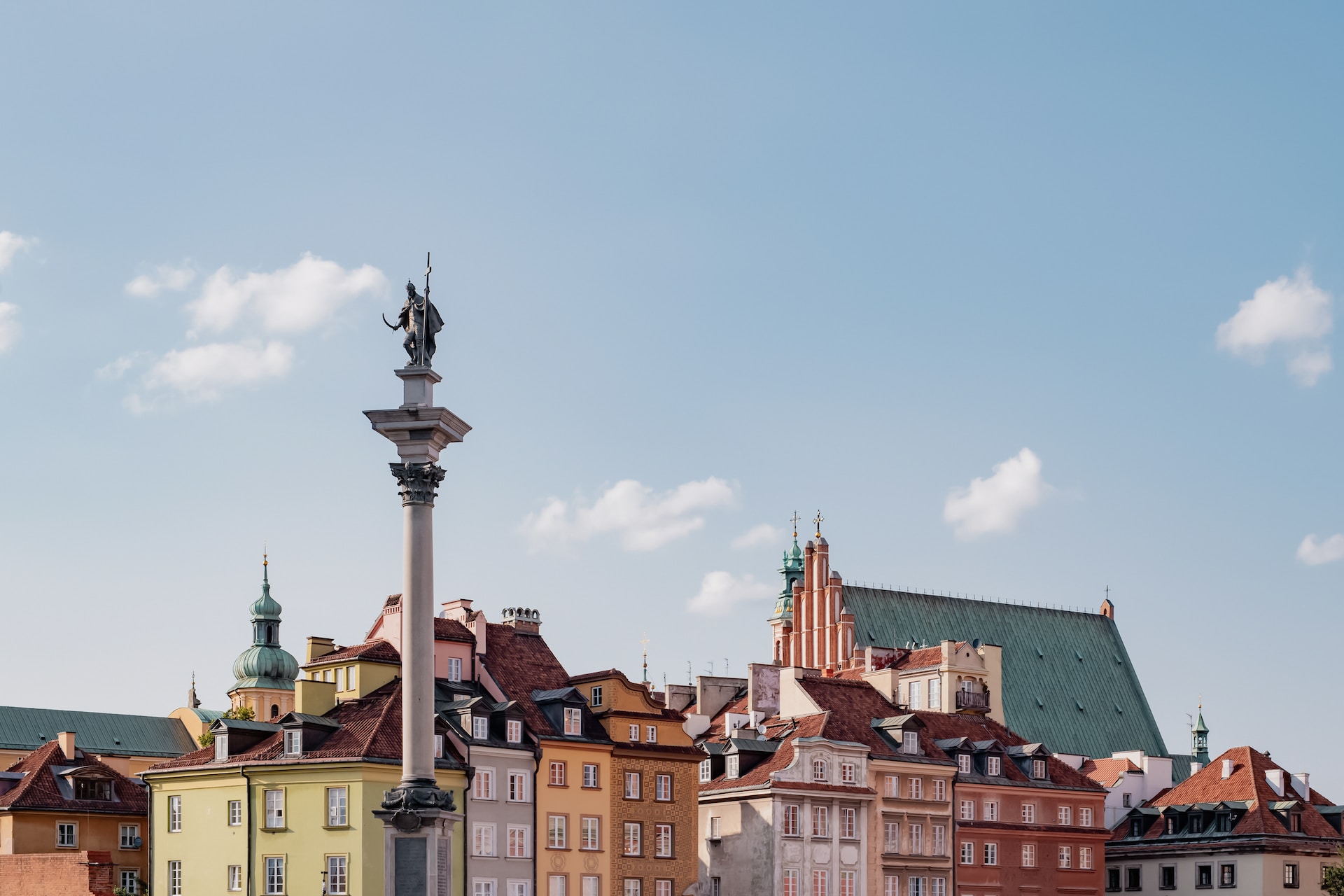 Come live in Europe for a semester!
ILP is a USA-based nonprofit organization that sends college-aged volunteers abroad to teach English or help in an orphanage. You're set up with a group of volunteers to travel, teach, and explore with, so you're never alone. We have several programs all over the world, including Europe — come see which one is the best fit for you!