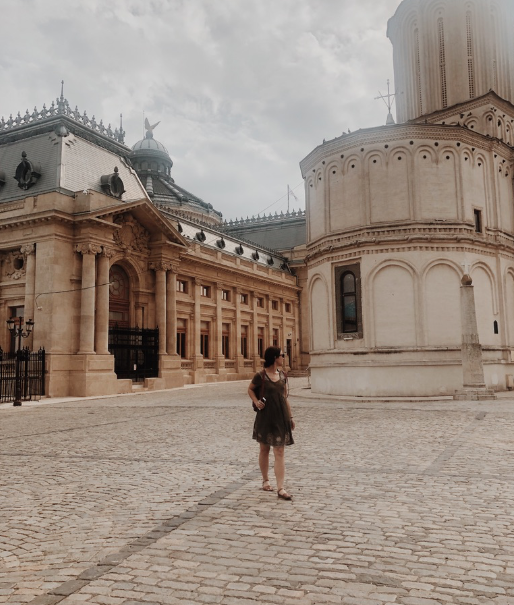 Spending some time in Romania? Make sure you spend a weekend in Bucharest! Here are all of our recommendations for planning the perfect trip to this city full of hidden gems.
Many experienced travelers agree that Bucharest is a beautiful city with a dash of Paris and a splash of Berlin with a twist of the Gothic. Did you enjoy your stay in either of those cities? Then you'll probably fall in love with this one too (especially because it's a bit off the well-beaten tourists' path).
If you're volunteering in Europe for a semester with International Language Programs, then you'll have plenty of vacation time to visit unique and memorable spots like Bucharest. Tourism in Romania has yet to explode as it has in other European countries, so if you are hoping to experience the authentic culture of Eastern Europe, then Romania is absolutely one of the countries we recommend visiting.


---
Want to spend a semester volunteering abroad?
Start your application here!
---
Getting ready to visit Bucharest? Here are a few random things you should know. As Romania's capital, it has a mix of many different cultures, architectural styles, and vibes. It has a completely different feel than most cities in Europe who appear more polished — Bucharest feels old and close to the city's extensive history. It has a very Gothic feel, with looming architecture that's smeared with street art and huge open parks rimmed with Transylvanian towers. The most pleasant times to visit are in the spring and fall, although the city is also decorated beautifully for Christmas.
We know that actually planning the itinerary for a trip to a new city can be a little intimidating, so we're here to help you out. Keep reading for all our suggestions that will make this vacation one you will never forget!
Everything To Know About Bucharest
Can't Miss Things To Do
Take A Free Walking Tour
Free walking tours are all over Europe, and Bucharest is no exception! If you're spending a day or two in Bucharest, why not walk around with a local who speaks English, can take you right to the best places (both famous and lesser-known spots), and will explain it all to you.

Walking tours are a rad way to see the city — you can join a group, learn fascinating history, and meet people from all over. Here is a great website with more info. They give free tours of Bucharest every day, rain or shine! Don't hesitate to leave your guide a tip if they do a great job.
If you're not interested in taking a tour, make sure to block out time just to tour the city. The Old Town isn't like any of the Old Towns you've probably seen in Europe: yes, it's an a pedestrian street lined with cafes, but the buildings and Turkish-inspired churches (plus sections that are vaguely Roman) surrounding the space add to an eclectic section of the city. Don't miss it!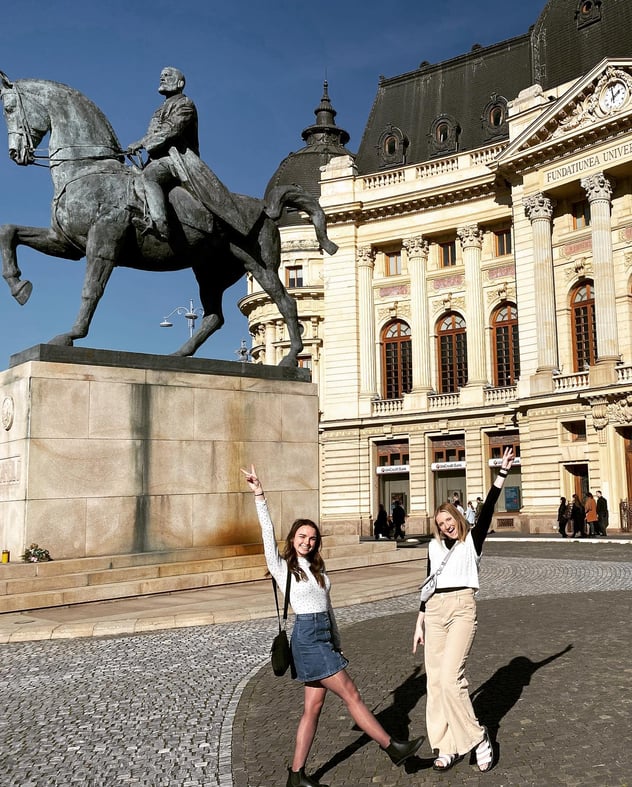 Wander The Passageways
There are a few winding passageways in Bucharest which transport you to another world. If you find your way to Pasaj Victoria, the first thing you'll notice is that the "roof" is made entirely of colorful umbrellas. So charming! It's a must-stop spot for anyone with an Instagram account.
Pasajul Macca-Vilacrosse is another passageway we all love! Remember that mention about how Bucharest has been described as Parisian? This passageway communicates that very clearly. It's a winding space between two towering buildings, lined with cafes on either side, with a glass roof topping the entire space.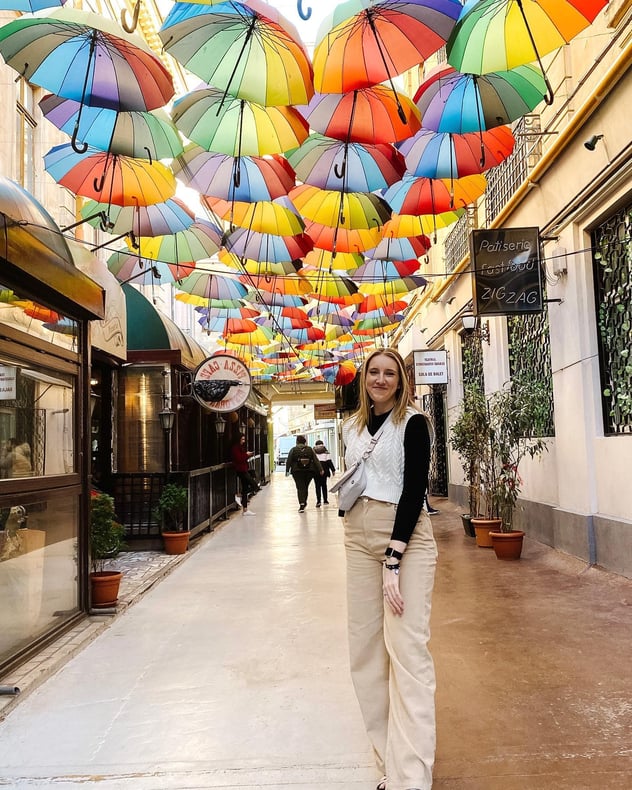 Browse Through This Bookshop
Carturesti Carusel is every book lover's dream come true! Complete with a winding staircase, balconies, and white columns, this is easily one of the most charming shops in Bucharest. They have other locations, but this one is their number one store, because it's incredibly beautiful (peek the picture below for proof). There is even a little cafe on the top floor and a gift shop in the basement that sells all sort so knick-knacks, including Romanian China, souvenir mugs, quirky pencils and notebooks, and the most charming little t-shirts and book bags. Make sure you stop by whether or not you're a bookworm, this place is somewhere you can easily spend an hour or two at.
Hours: Always open 10 am to 10 pm
Address: Strada Lipscani 55, București 030033, Romania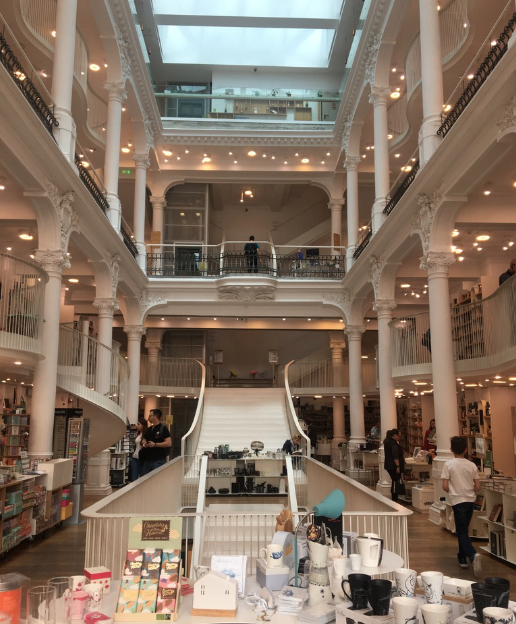 Relax At Therme Bucharest
This is the largest wellness center in all of Europe and probably Bucharest's best kept secret. There are three main areas: Galaxy (family area with lots of slides and a wave pool), The Palm (adult area in tropical gardens with pools, hot tubs, and free activities and treatments like facials), and Elysium (other adult area with six themed saunas).
And it is a bargain! Even for the most expensive, all-inclusive day pass, it's still under $28. But there are cheaper options too. After purchasing your ticket, you'll get an electric bracelet that acts as your locker key and even controls some of the settings for a lot of the massages. Make sure you bring your swimsuit, towel, and flip flops, which are actually mandatory. This may be one of the most relaxing activities of your whole trip!
To get here, jump on the free shuttle bus that runs 7 days a week from Piata Romana at Bucharest's city center. The bus stop is at the top of the roundabout and is clearly marked in Therme Branding. After a few stops along the way, it will drop you off right outside the doors of the spa complex.
Hours: Open from 9:30 am to 11:30 pm every day.
Address: Calea Bucureşti 1K, Balotești 077015, Romania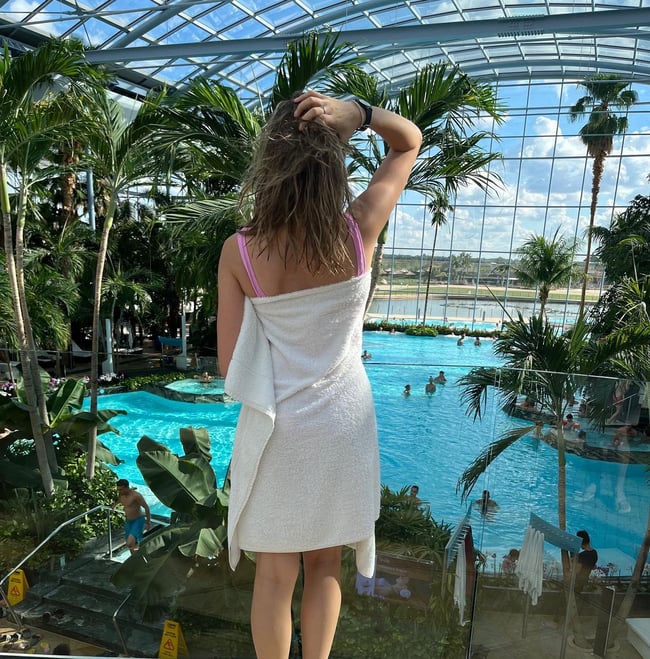 Visit This Bazar
There's this super rad, under-the-table flea market hiding in one of Bucharest's abandoned buildings. You'll find that the city (overall) feels almost dark and gothic partly due to the abandoned buildings lining the streets. These towering and now empty spaces are home to soaring ceilings and vaulted windows, aka the ideal spot to host a little market.
Inside, there are stacks of canvases, knitted sweaters, valuable antiques, and painted eggs — a Romanian staple when it comes to souvenirs. Stop by, even if you don't intend on buying a single thing (though I dare you to not pick up one of these painted eggs: they're incredibly intricate and all done by hand).
Address: Strada Doamnei 11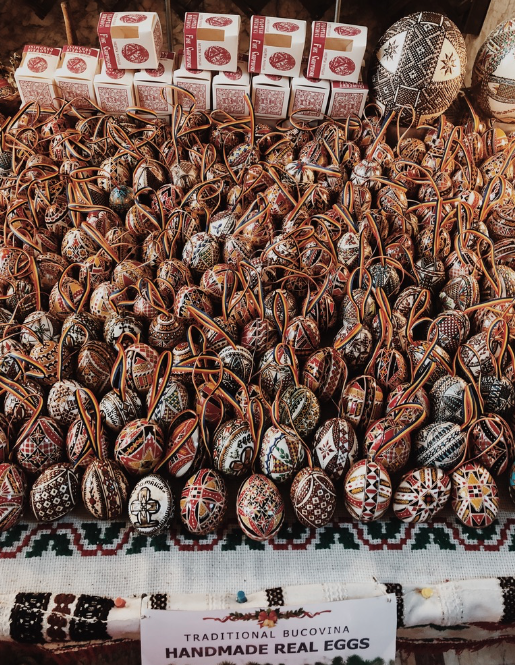 Find All The Street Art
You'll see a lot of graffiti in Bucharest, but also a lot of stunning murals. The best street to find some on is near Piata Romana around Strada Arthur Verona. One of the longest walls in this area is actually repainted every year during a festival, so snap of picture of this year's while it's still there!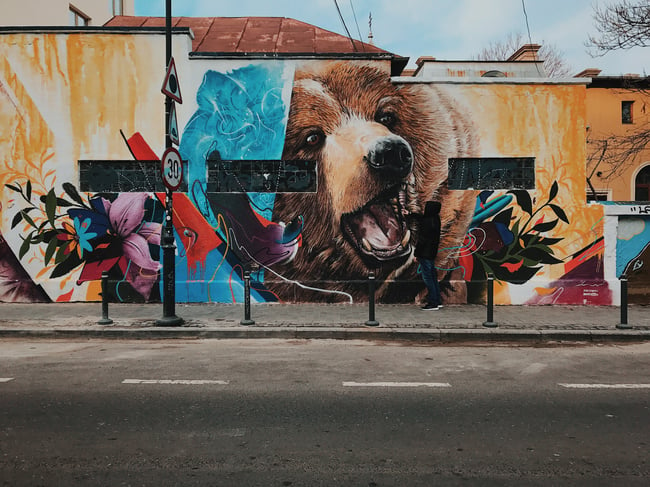 Get A Picture At The Arch Of Triumph

Many European cities have huge arches to honor those who have defended their countries, and Bucharest does too! Built in 1978, it is a bit smaller than many others you'll see across Europe, but also less busy and a bit out of the way. If you take the public bus from the airport to the city, you'll see it on the drive. It is also near the Romanian royal family's current home, Elisabeta Palace.
Address: Strada Izvor 2-4, București, Romania
Go For A Boat Ride On The Lake
Bucharest is full of beautiful parks to relax in. The biggest, Parcul Herăstrău, also has a large lake where you can rent a boat to row around in. And rental only costs about $1.50! If the weather is good, spend the afternoon relaxing on the lake. Then have had a picnic lunch and spend the rest of your time lounging in the park, people watching, and just soaking up the culture. It's a huge thing to do in Bucharest, just hanging out at the parks. You'll find huge boulevards lined with giant trees, spaces lined with colorful flowers, imposing marble statues and benches aplenty to just relax on. Don't leave the city without seeing a few parks.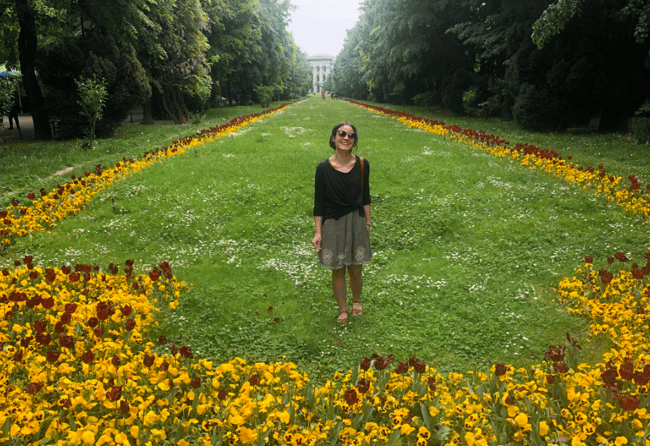 Visit The Palace Of Parliament
This impressive building is one of Bucharest's main attractions and is the second biggest building in the world! Ready for this...12 stories and 3100 rooms! It can even be seen from the moon!
Please stop by just to soak it all in, but you can also get a closer look by taking a tour to see the inside. Make sure you bring your passport if you want to take a tour. And trust us, you'll want to take that tour so you can see the stunning stained-glass dome in the Senate Plenary Room. The cost of tickets is about $10. Visit their official website for more info!

Hours: Open from 10 am to 4 pm every day.
Address: Strada Izvor 2-4, București, Romania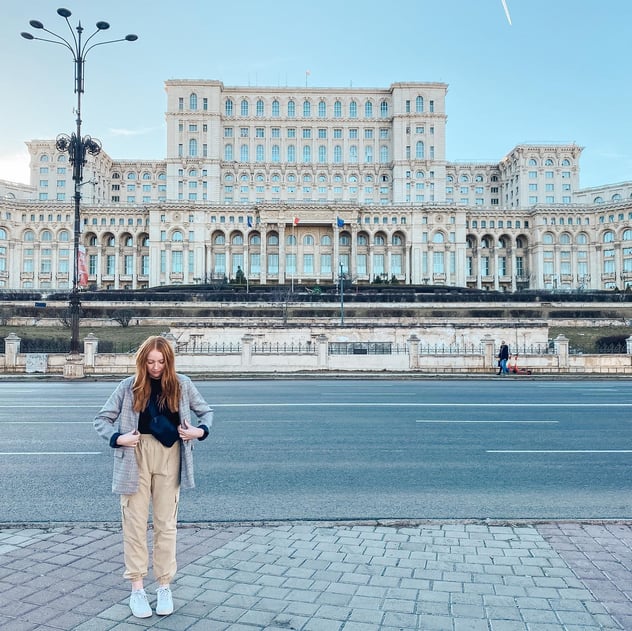 Explore the Museum of Senses
The goal of this museum is to challenge the human senses and to help visitors experience many things for the first time! Some of their 40 exhibits include an infinity room with tons of lights and mirrors, an inverted room where everything is upside down, and a room lined with stereograms where you learn how to see a 3D object in a 2D painting just by changing your perspective.
Tickets are less than $10! Visit this museum if you're ready for a memorable afternoon of brain exercises.
Hours: Open from 10 am to 10 pm every day.
Address: Bulevardul General Vasile Milea 4, București 061344, Romania
Attend The Opera
The Romanian National Opera was built in the 1950s and is the perfect place to see a ballet or an opera. They have different performances almost every day, but make sure you get your tickets ahead of time since they almost always sell out completely for their weekend shows. Check out what will be on the stage and purchase your tickets from their official website.
Address: Bulevardul Mihail Kogălniceanu 70-72, București 050104, Romania
Where To Stay In Bucharest
Of course we always recommend checking out the AirBnb options, but here are a few highly-rated hostels that would be great places to stay as well!
Sleep Inn Hostel
Just a 5-minute walk from Old Town, this hostel is located near everything you'll want to see and do. They also have free wifi and the cost to stay in one of their 4-bed dorms is only $12 a night!
Book your stay here.
Address: Strada Mavrogheni Nicolae 8, București 030182, Romania
First Hostel
Free breakfast, wifi, and bikes! Everything about the inside of this hostel is cheerful and welcoming. Plus, it's only a 10-minute walk from the Palace of Parliament. Stay in one of their 4-bed dorms for about $15 a night!
Book your stay here.
Address: Bulevardul Mărășești 86, București 030167, Romania
Podstel Umbrella
This place is so charming and has so much history (and my number one recommended place to stay in Bucharest!). This hostel is in a building from the 1920s that still has much of its original charm and beauty, while also being clean and comfortable (and beyond photogenic). There's a huge mural pictured below that leads to a green courtyard, and inside rooms and hallways are decorated with original fixtures.
Here you can either rent a 3-bed dorm to share with your group for about $50 total, or stay in the 4-bed dorm for about $15 each. While being a 20-minute walk from Old Town, it is only a 5-minute walk from the airport bus stop (no. 783), as well as many cafes, bookstores, and one of Bucharest's most famous streets, Calea Victoriei. And free WiFi.
Book your stay here.
Address: Strada General Christian Tell 21, București 030167, Romania
What + Where To Eat
Here are just a few of the best restaurants in Bucharest that will give you quite the bang for your buck (or lei in this case)! Before you go out for a full meal, make sure you also check out our list of the best Romanian treats!
Caru' Cu Bere
For an authentic experience in a beautiful gothic building that is over 120 years old, eat at this restaurant. It's basically like dining in a museum. And they serve everything...just take a peek at this menu! Their loaded breakfasts will make you want to get up in the mornings and are less than $5, making this one of the most reasonably priced places in Bucharest.
Hours: Open from 8 am to midnight every day.
Address: Strada Stavropoleos 5, București 030081, Romania
Za Lokal
For the best burger in all of Bucharest, stop by this restaurant. The prices range from about $6-$15, but if you want a very filling and familiar meal, then the cost is worth it! Not feeling a burger? Don't worry, they have tons of other options, including vegetarian, as well.
Hours: Open from 9 am to midnight every day.
Address: Calea Victoriei 214, București, Romania
Burger Peter
Okay, yep this is another burger place because we know that since ILP volunteers will already be eating a lot of Romanian food during their semester, sometimes they want something that tastes more like home. So this is the place to go if you want a gourmet burger, but only have about $5 to spend! Yes, it's that cheap, especially if you go during Happy Hour (Mon-Fri 11 am to 3 pm ). Look at the full menu here!
Hours: Open 11 am to midnight every day.
Address: Strada Popa Nan 48, București 030167, Romania
Cereal Crunch Cafe
Calling all cereal lovers! This is your spot for breakfast every day you're in Bucharest. It's a small cafe with a wall lined with box after box of cereal, some you'll recognize from home, and others that are European classics. Choose your bowl size (small, medium, or large), choose your milk (hot or cold, flavored or colored) and get to mixing. The larger sizes allow you to mix a couple of kinds, or you can stick to a single flavor. This place is too cute.
Hours: 9:00 AM to 8:00 PM (10:00 AM opening on weekends)
Address: Bulevardul Națiunile Unite 3, București 030167, Romania

How To Get Here
By Plane
If you plan to get to Bucharest by plane, then Blue Air is usually the best airline to use. There are two airports in the city: Henri Coandă Airport (Otopeni) and Aurel Vlaicu Airport (Băneasea). The Băneasea is the one you'll most likely fly into since it is mainly used for the low-cost airlines, like Blue Air. From the airport, you can jump on a bus that will take you straight to the city center.
By Train
The primary station in Bucharest is the North station that is located less than 2 miles northwest of the city center. It is pretty simple to take a train from any of the other major cities in Romania to Bucharest, and a ticket will usually cost around $15-20. Visit the official site to see the train timetable and purchase your tickets.
By Bus
Although it is possible to get to Bucharest by bus, sometimes the tickets are more expensive, and the route always take a lot more time than other modes of transport. Eurolines and Flixbus are pretty reliable, but they may not have a bus departing from the city you'll be staying in. You may need to do a little digging to see if this is the best option for you, depending on where you're coming from.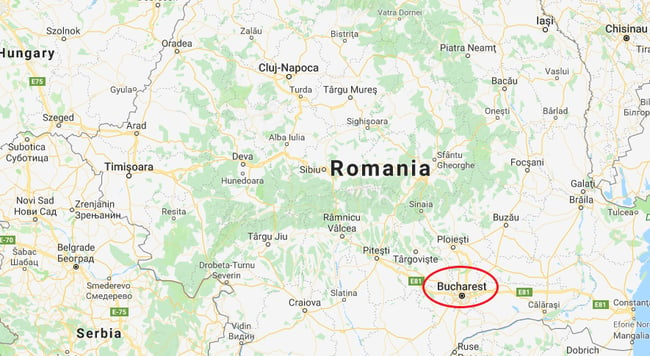 How To Get Around Bucharest
As far as public transport goes, Bucharest has buses, trains, metros, and trams though it's a bit run down and can feel intimidating to take at night. Overall, the city is really walkable if the weather is nice.
Check out this complete guide for help in figuring out the system, and learning what will be best for your trip! We also recommend staying away from taxis if you can help it, because even a short ride will generally be way more expensive than any other mode of transportation (but are an option — sometimes it shakes out okay if you walk one way, then taxi home).
We think that one of the best ways to see a European city is by bike! Go where you want, when you want, with everyone in your group. There are lots of places to rent bikes around the city but one of the cheapest is I'velo. They are bright yellow and are at the entrances of two parks: Herastrau Park and Tineretului Park. You can rent for an hour at a time or even the full day for a cheap price!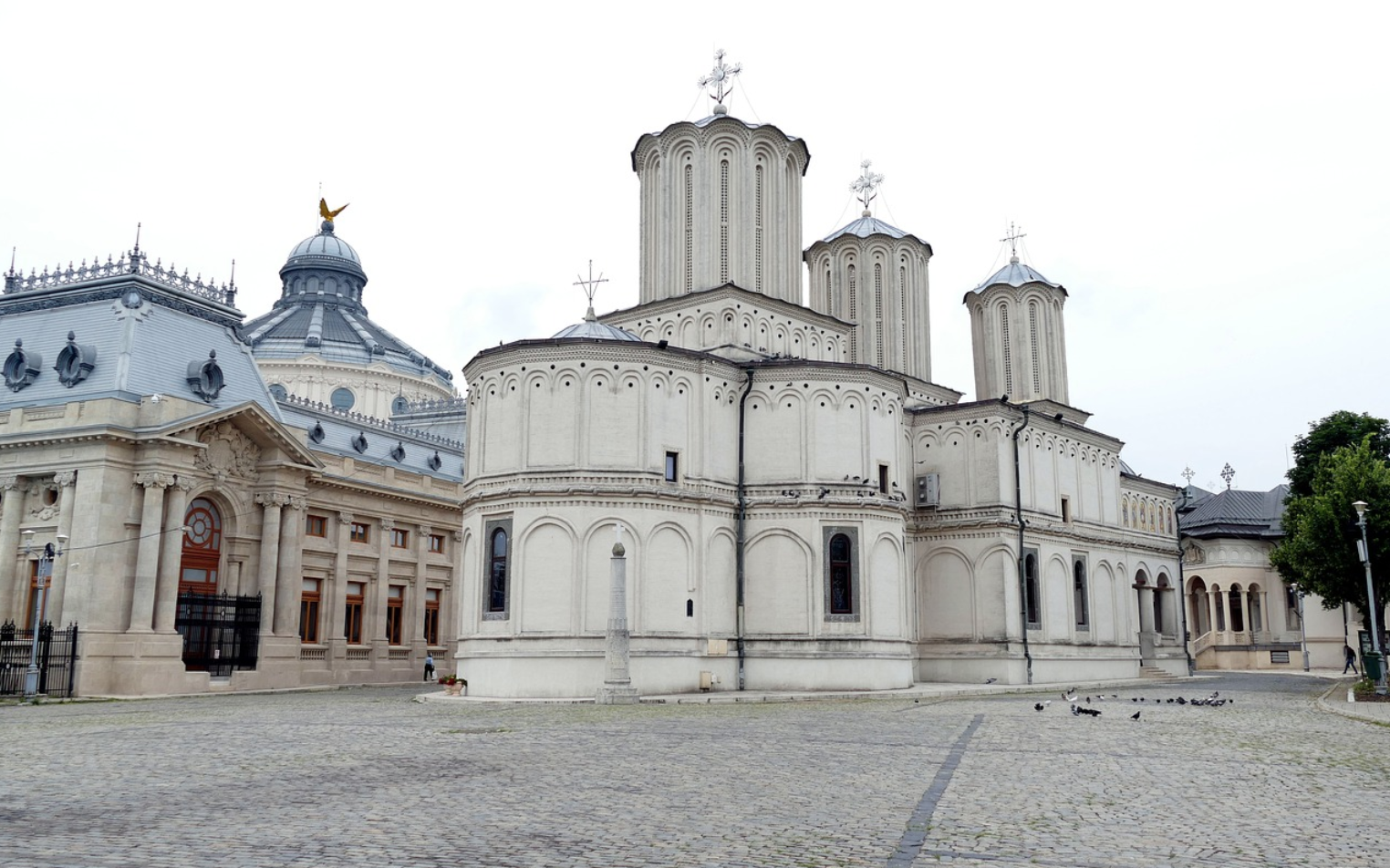 Interested in being a volunteer at an orphanage in Romania?

Our volunteers in Romania get to have a very unique experience helping some of the kids who need love and kindness the most. Click the button below to find out how you can be a part of this program: