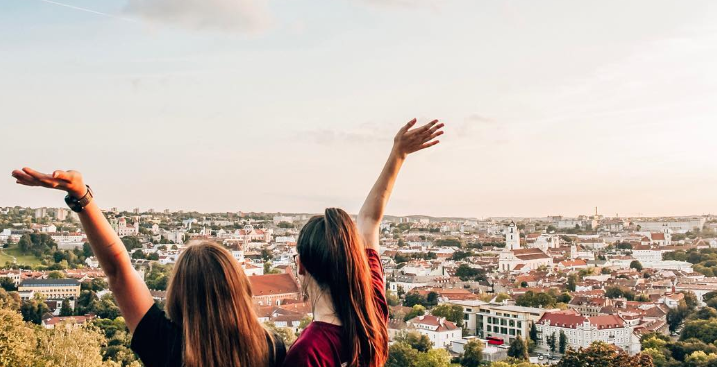 If you're heading over to Vilnius anytime soon, consider yourself lucky! Lithuania is a total hidden gem with tons to see and explore. Here's our guide for everything you need to know about visiting this city.
Europe is enchanting. Period. But Lithuania? It's just far enough away from the most popular tourist destinations that you can stroll the Old Town without running into swarms of crowds (although the secret is starting to get out about this charming city). It was actually left mostly in tact during WWII (which is rare in Eastern Europe) and still holds so much history.


---
Want to live in Lithuania for an entire semester? Learn more here:
Volunteer in Lithuania
---

As an English-teaching volunteer with International Language Programs, you can actually live in Vilnius (or another city in Lithuania, like Kaunas) for an entire semester! But even if all you have time for is a little weekend trip, Vilnius is perfect. We've put together this city guide just for you, so you can be sure to experience all the best parts of Vilnius no matter how much time you have.
A Quick Intro
Is this your first time looking into Lithuania? For some reason Lithuania tends to get missed by Instagram influencers who splash their European trips across social media, so it's no surprise if you haven't seen all this country has to offer. The real truth is that it's bursting with charm, and it's time you're in the know.
And like many countries, the capital is the first place you'll want to see and Vilnius keeps that trend going. While there's so much to see across the country like the Baltic coastline, a castle on the Iake, and national parks ... Vilnius can give you a pretty good taste if you only have a few days. Lucky for you, Vilnius is a hub for many budget airlines, making it easy to hop over and explore for a few days.
Vilnius is beautiful year-round, but know that there are four distinct seasons here. Temps are pretty mild throughout the seasons with sunshine over the summer, beautiful bright orange trees over the crisp fall, and you'll often get those charming snowy scenes if you're here over the winter.
Lithuania is a melting pot and that may be due to its history. Over the years it has been claimed by other territories, and passed around until successfully gaining its independence in the 1990s (this is actually a really cool story that you can read about when you visit the tower, more on that below).
What To See + Do In Vilnius
Oh baby, this list is long! We can't even write about everything in one post because this city is just so packed. Whether you're here for an entire semester or just for a fun weekend, you'll find plenty of things that will your camera roll.
Stroll Old Town
Okay if you do only one thing in Vilnius, this is it. Head to the heart of the city (Old Town), forget the map, and just get lost following the cobblestone streets full of vendors selling handmade goods, art, and souvenirs. You won't have to look far to cutie cafes where you can sit, relax, and enjoy a treat — crepes are big here, as is a cup of something like tea or hot chocolate to warm you up on a chilly afternoon. You're also bound to pass by stunning cathedrals, colorful shops, and ornate buildings.
A map to help you out —
A day wandering in the city is an adventure in itself, but here are some highlights! I've got all of these spots pinned on a Google map right here that you can download and pull up on your phone while you're wandering (you can even use the map in real-time without data if you download it — here's a blog post that explains how that works).
Cathedral Square
Start your day here. This is the main square in Vilnius and a perfect sort of home-base to get your bearings for the day. Most things are within walking distance from here, tourist information booths are here, and trolley and buses have stops nearby.
There's a tall bell tower here that you won't miss. And if you've researched photos of Vilnius prior to this post, you'll likely recognize it as it is a feature of the city. The bells ring at 5 PM daily, and you can actually go inside the tower for 5 euro if you'd like and get great views of the square. Whatever you do, make sure to stop and get photos.
Just next to the bell tower is the Vilnius Cathedral Basilica of St. Stanislaus and St. Vladislaus. The white cathedral and columns, adorned with white angels, next to the white bell tower are the classic views in Vilnius. Walk around the outside of the church and get a closer view of the intricate designs that are begging to be admired ... and don't forget to look up! The ceilings overhead are just as beautiful as anything else.
You are also welcome to enter and view the inside (It's open from 7 AM to 7 PM), remembering that this is an active church and deserves to be respected. Mass is held here if you'd like to plan to attend — You can find out more about the cathedral's mass and services here!
Address: Šventaragio g., Vilnius 01143, Lithuania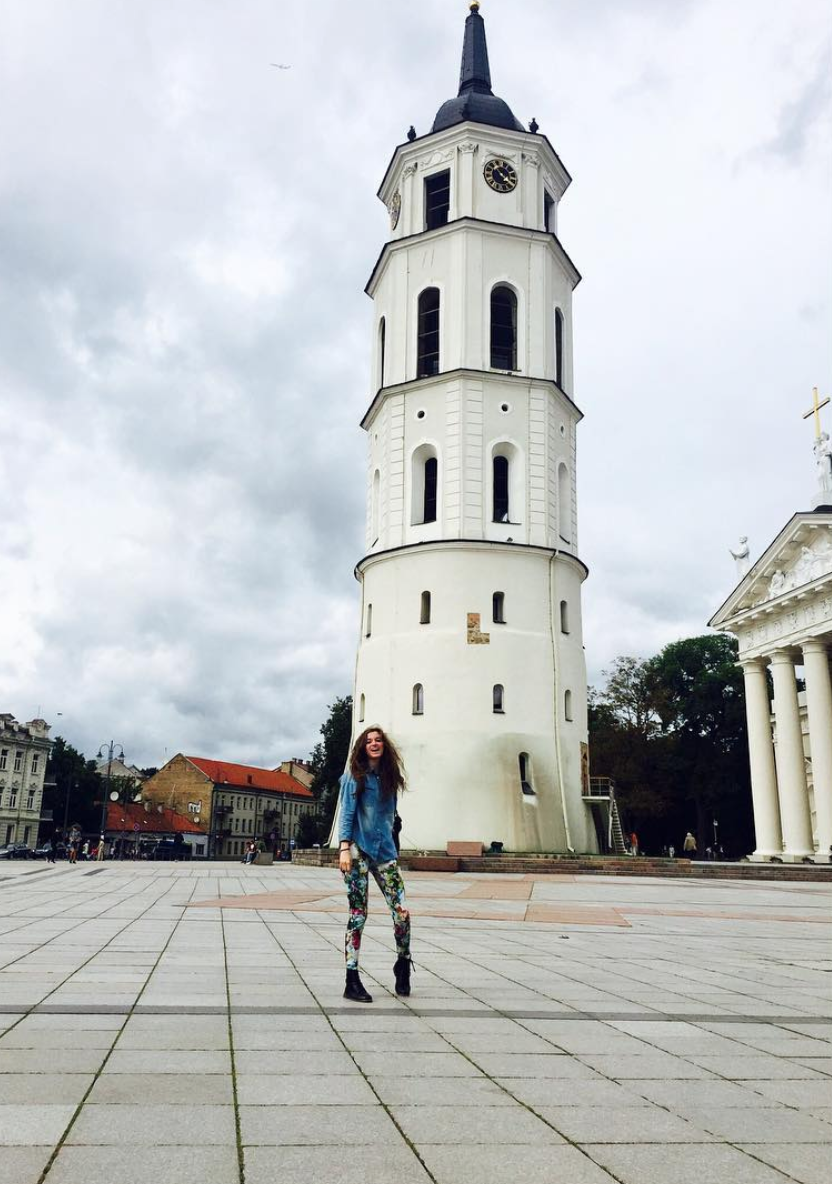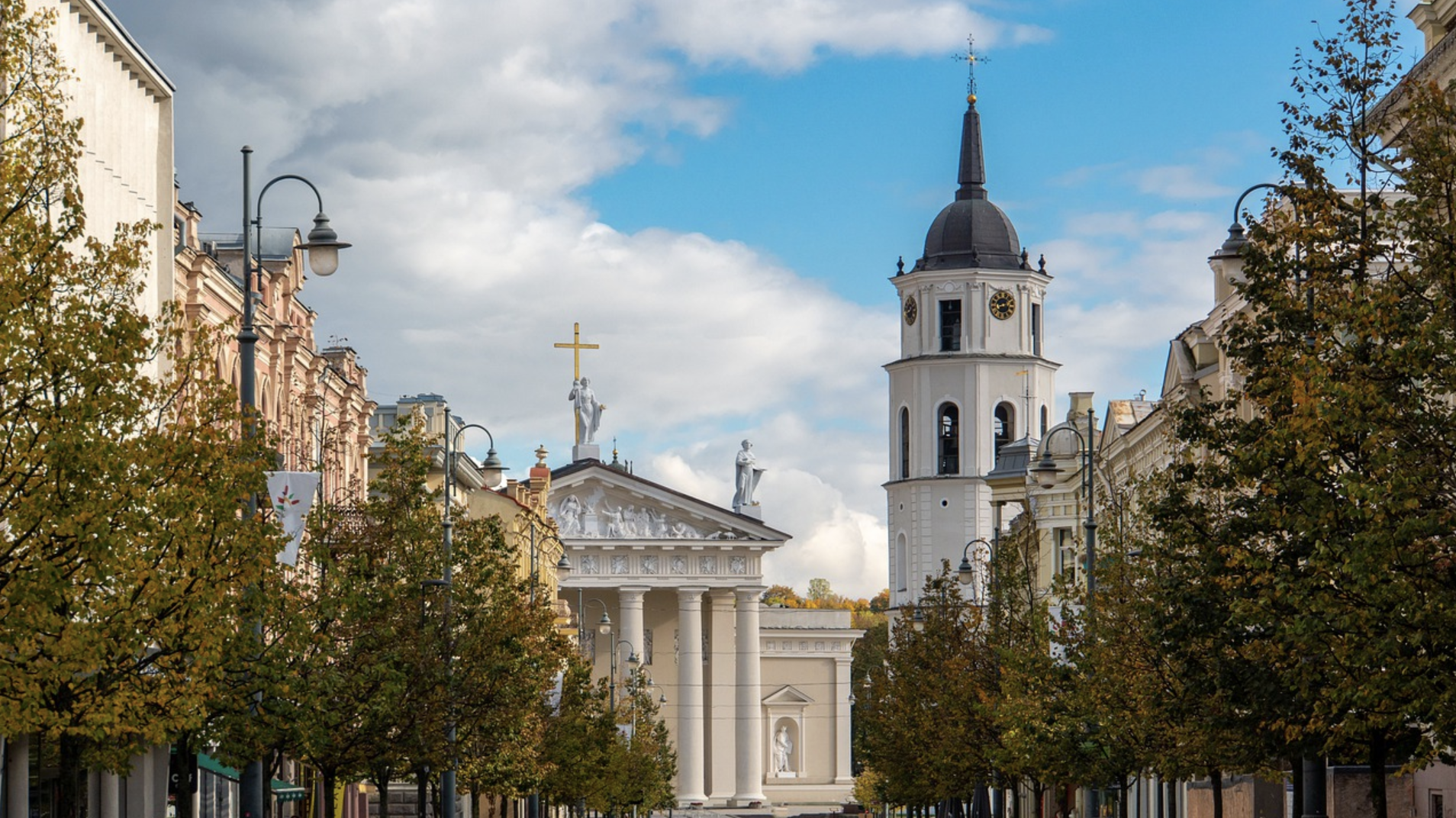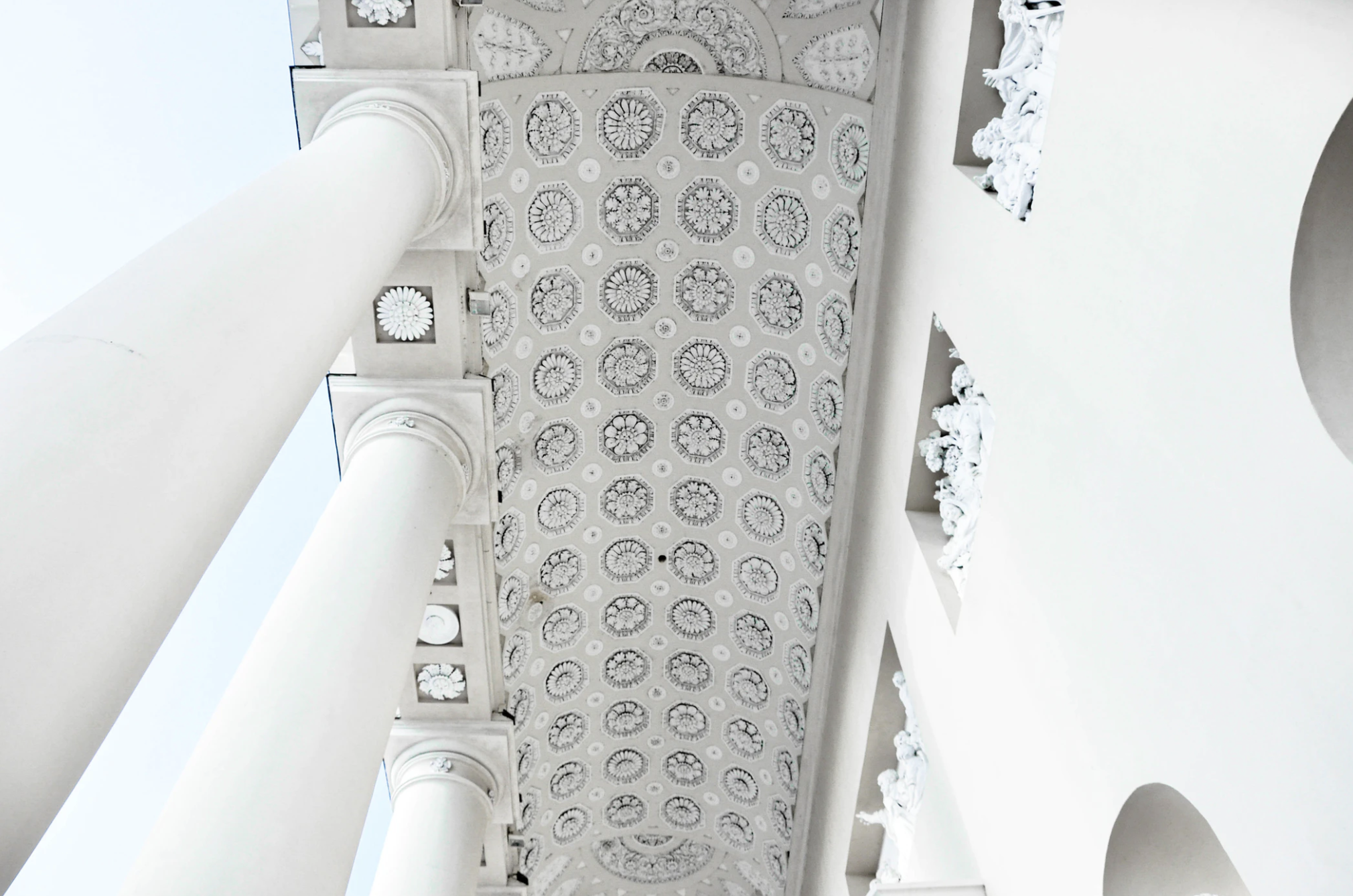 Pilies Street
Pilies is one of the oldest streets in all of the city. It's a cobblestone pedestrian street, lined by some of the most charming pastel painted buildings, which is likely why it's such a favorite spot to come explore.
If you're in the mood to pick up a souvenir or two, this is where you'll find vendors (especially on warmer days) selling everything from artwork, to wooden utensils, to scarfs and amber jewelry. I like to plan my day so that I'm in this area around lunch or snack time because it's easy to find a bite to eat as well. Not to mention this street is full of European architecture that ranges from Baroque to Renaissance style. It's almost like walking through a fairy tale!

Pilies street starts at Cathedral Square — it's quite easy to find from here (especially if you downloaded our map). Just head up the street, explore, and head back down.
Gediminas' Castle
A brick tower on the hill proudly displaying the Lithuania flag is the remains of what was once an impressive castle overlooking the city. Although time (and a massive fire) has changed what once was, we love hanging out at the tower. Because it sits up on the hill, you'll get awesome views of the city! You can also head inside for a small fee to get even higher views, plus see a small museum which includes beautiful imagery of how Lithuania gained their independence.
You can walk up here and have a nice view of Old Town along with a nice museum. It's open from 10am to 8pm from October to March and then 10am to 9pm from April to September. Admissions costs about 5 euro. It's fun to climb the tower and definitely worth the visit!
Again, it's easy to get to from the main square (just opposite of Pilies street). You'll need to walk the road leading up the hill which gets a bit steep, but is quick and easy.
Address: Arsenalo g. 5, Vilnius 01143, Lithuania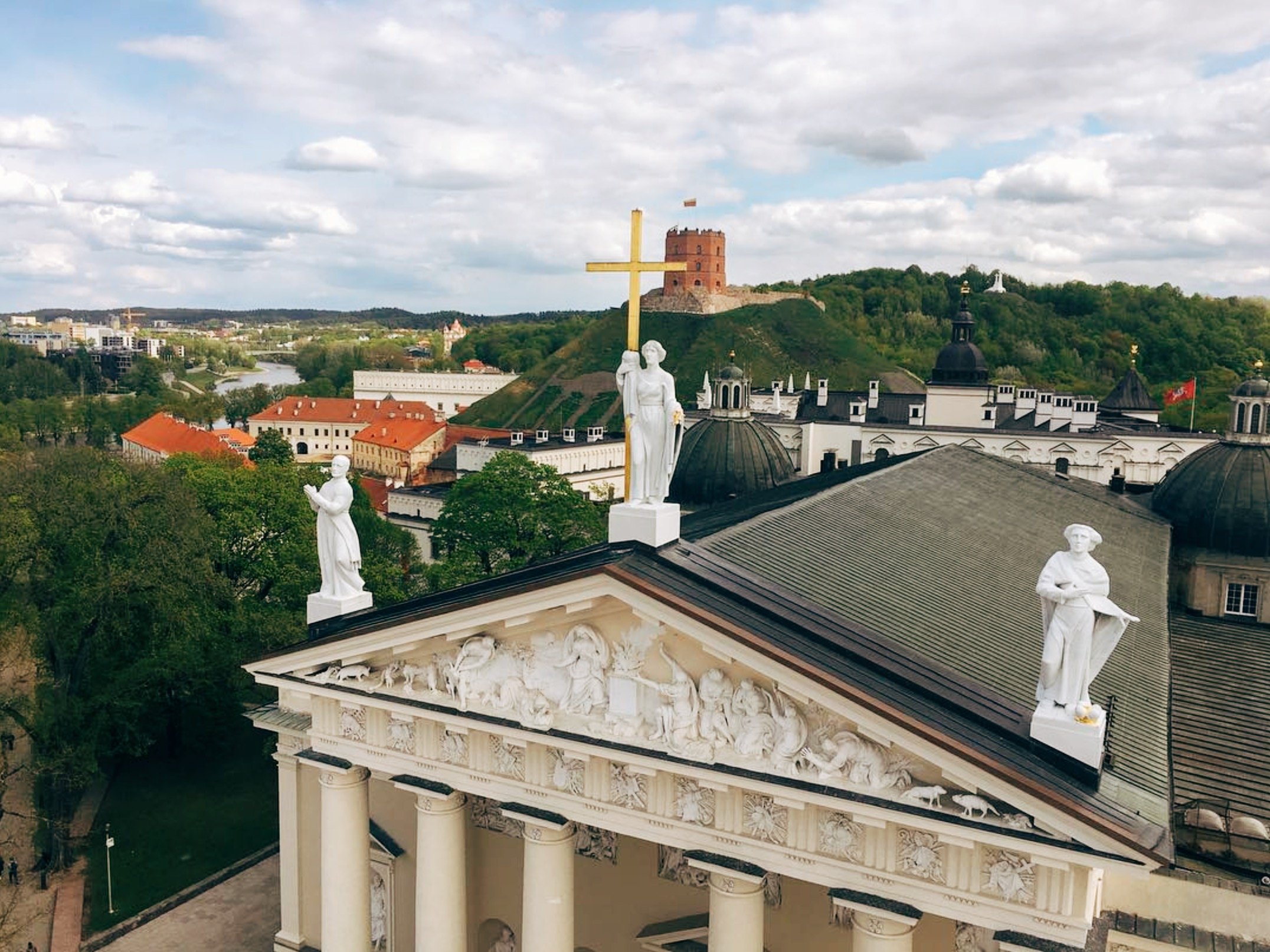 St. Anne's Church
This isn't just another church ... this is THE church. If you're looking up top things to do in Vilnius, this impressive Gothic church makes the list every time.
The red brick with lovely towers and turrets, as well as the interior make this corner of the city really stand out. There's a rumor that Napolean Bonaparte fell in love with this church and wanted to bring it back to France. It's just a quick walk over from the main square so you'll definitely want to swing by. Plus it's free! We love free.
The outside views are the real stunners, but you can also head inside for more. The church is open from 11 AM to 6 PM from May to September, and from October to April hours are shortened to 5 PM to 7 PM.
Address: Maironio g. 8, Vilnius 01124, Lithuania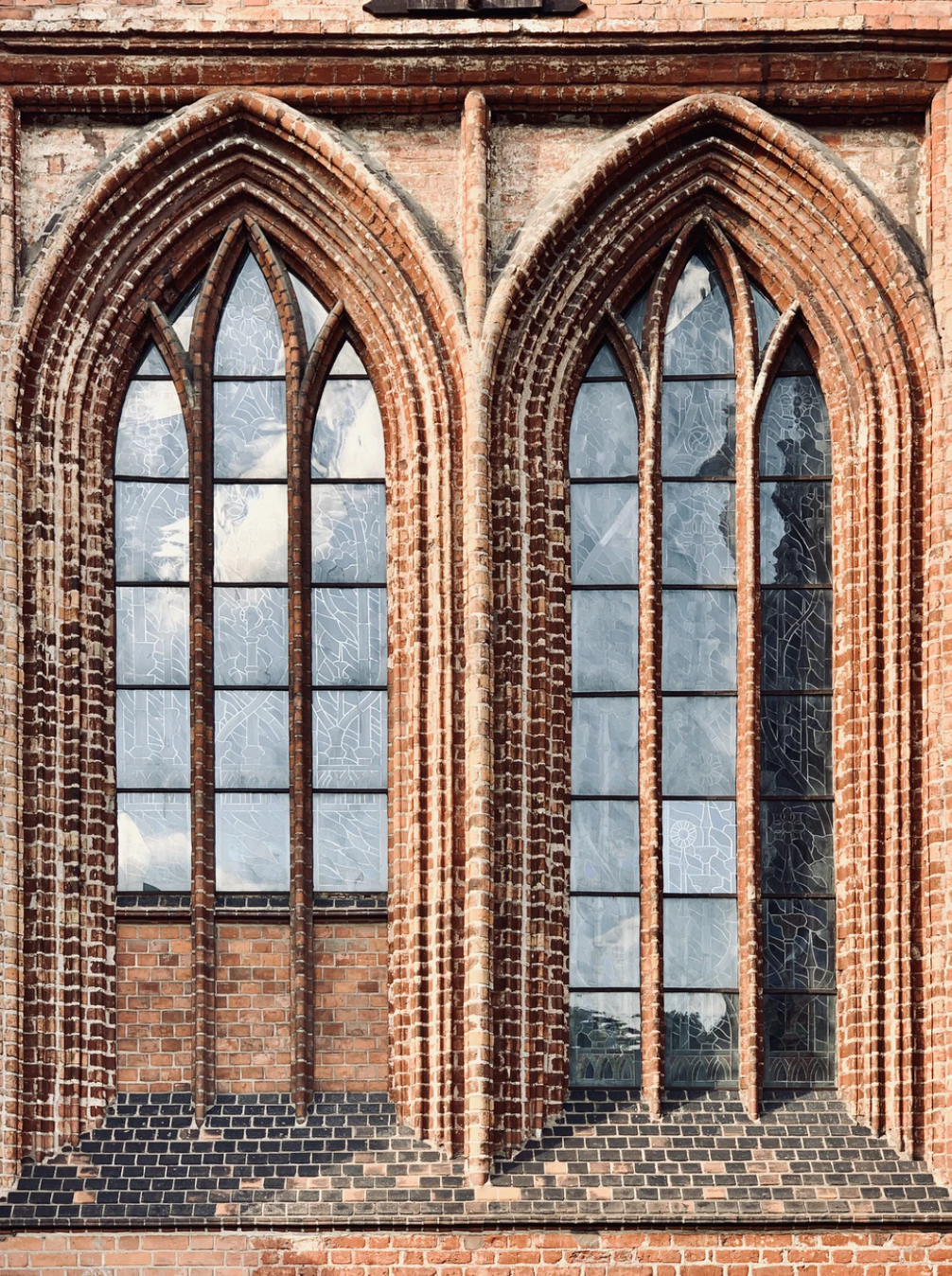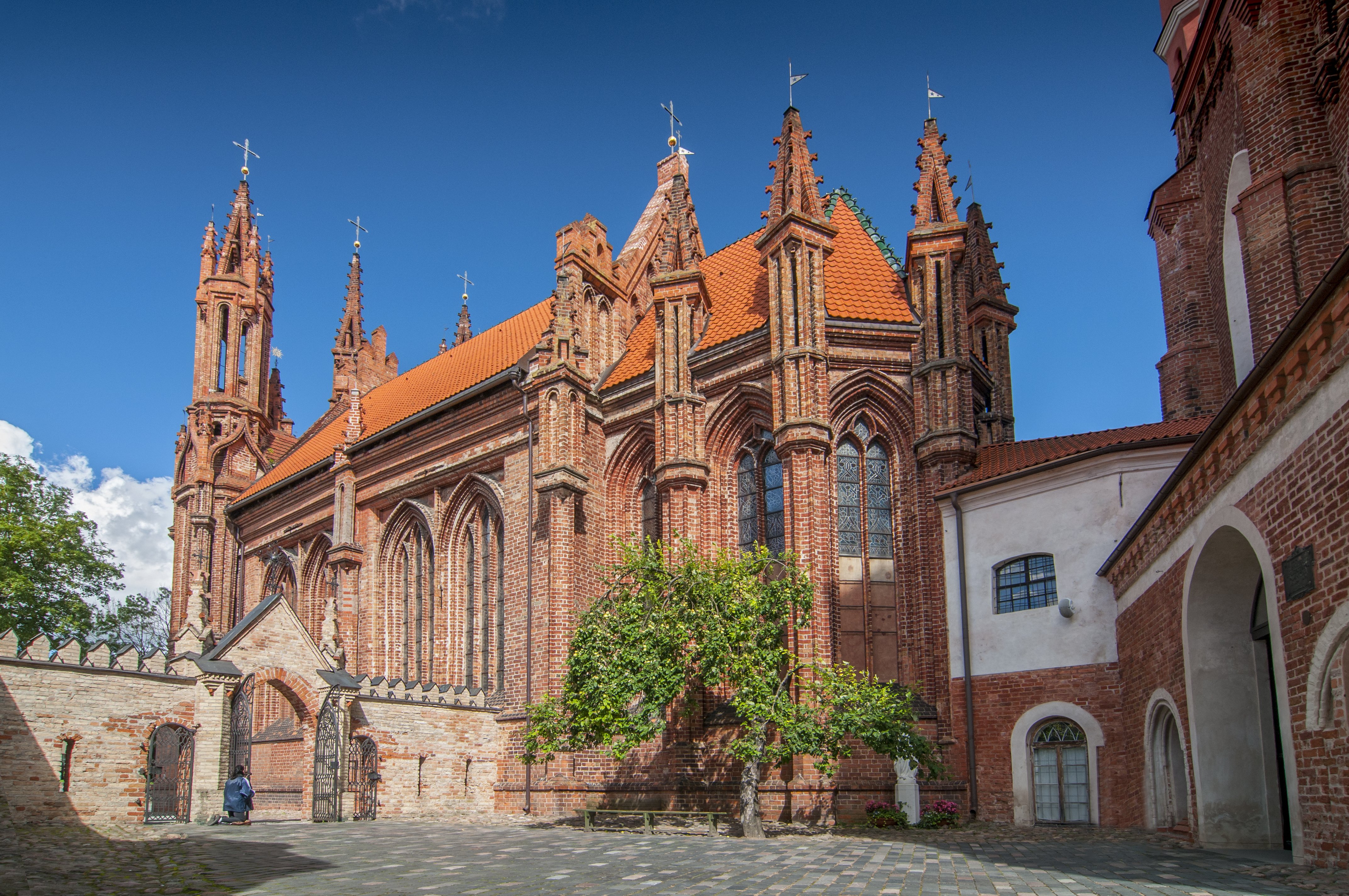 Stikliu Street + Zydu Street
You can visit Lithuania's old Jewish quarters when you explore these streets which meet up just outside of the main square. Here you'll find many signs and statues that commemorate Jewish history as it relates to the Holocaust and Soviet eras in Lithuania. Most know what happened in countries like Poland and Germany, but you might be surprised to know these events occurred right in Lithuania (as well as many European countries).
If you're interested in the more historical side of the Jewish quarters, try a walking tour! We love that it's a way to support locals who know so much about their home city, and adds more significance to your visit as you learn the background on the sites you're at. You'll find different options online, but here's one you might check out.
Gates of Dawn
These are the last remaining gates from the original protective barrier for the city, dating back to the 1500s! It's a bit of a walk to get here, so make sure you have good walking shoes ... but again just wandering the city is the one of the best things to do here anyways so you'll find so much on the way here. Come swing by to get a photo at this spot.
We've got a post here that goes into more depth as far as directions getting to the Gates of Dawn, the history, and a couple of spots you should see while you're in the area (a cutie little local owned shop and a yummy spot to eat).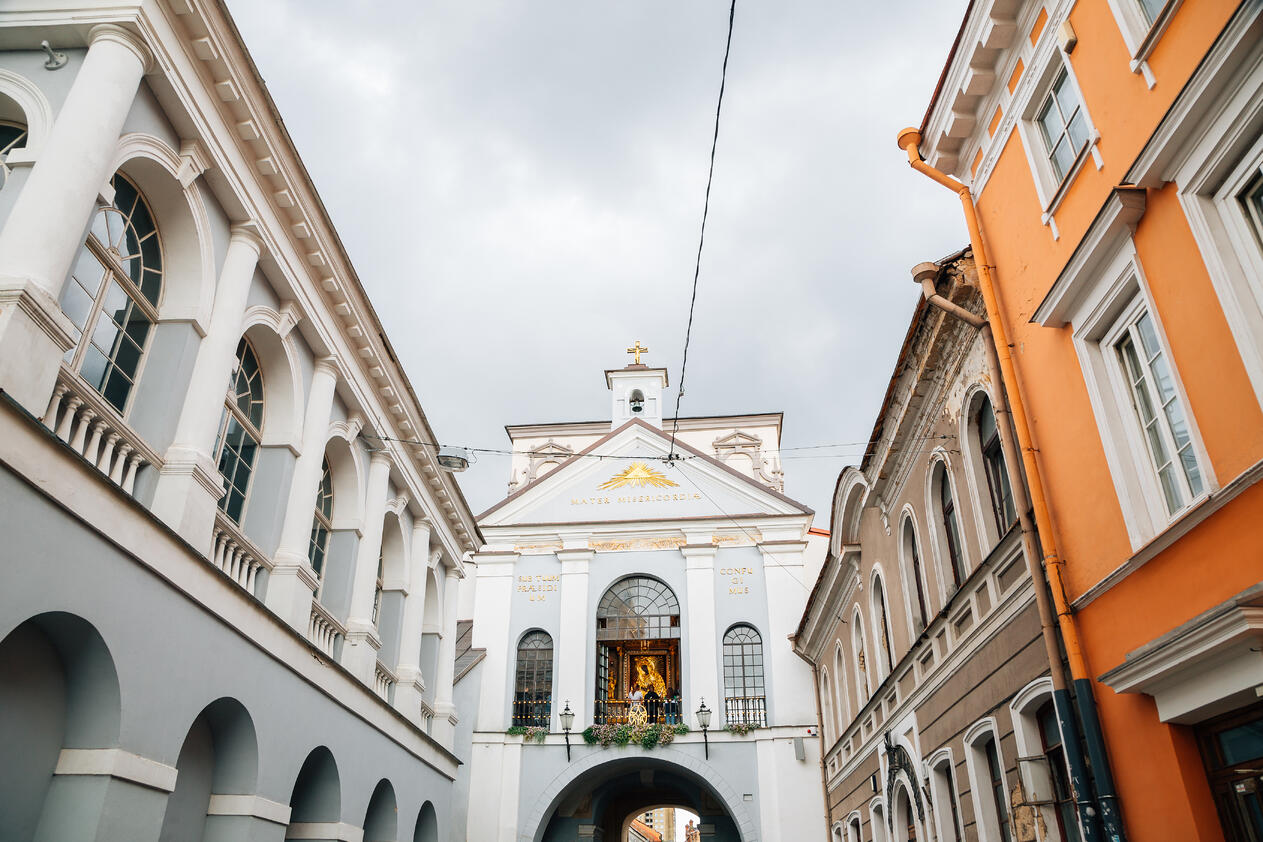 The Basilian Monastery Gate
Just a hop and skip away from the Gates of Dawn is another amazing piece of architecture: the Basilian Monastery Gate. Not only is it beautiful (and a place you'll definitely want to bring your camera), but we love the story behind it. It was built for Catholics, by a Protestant. It's just one of many examples of how Lithuanians truly bridge the gaps between different cultures, religions, and backgrounds, and welcome all to the city. This site has some really beautiful images of the spot so that you know what to look for.
The street that takes you from the Basilian Monastery to the Gates of Dawn is really quite charming in itself. While you walk along the cobblestone Ausros Vartu street, take your time and soak it all up!
Address: Aušros Vartų g. 11, Vilnius 01304
Walking Tours
Hire a local
Walking tours are quite popular in cities all over the world and we love it! It's usually a local who's excited to show you around their city, so not only do you get a convenient way to see the highlights of the city, but they often have more tips for you. Many walking tours are free + a tip for your guide, so it's especially great for travelers who are on a budget.
DIY
This site, Walkable Vilnius, is so rad! Seriously. They've got tons of walking routes around Vilnius already mapped out, including how many steps it is and approximate time it will take you. Their routes include many of the places we've mentioned here, along with loads more. So if you've got lots of free time (looking at you ILP volunteers), and want to see every corner of Vilnius ... definitely bookmark that site and work through the routes on your weekends while you live abroad.
Museums
This city really does have something for everyone whether you be the more adventurous type or the kind that loves to learn new things all day. Since Vilnius is so full of WW II history, this is a prime place to visit museums. Here's the list of our five favorite museums in the city!
Some other fun museums not mentioned would include places like the Vilnil Museum of Illusions. This museum is focused on making you question what you see and wonder whether or not your brain's working properly. They have 3-D artwork, virtual reality, and performances done in LED light. While it's not necessarily the most historically and culturally focused museums out there, it sure is a lot of fun. Tickets cost about 11 euros per adult.
Address: Vokiečių g. 8, Vilnius 01130, Lithuania
Visit the Uzupis District
A country within a country? Calling all free spirits. This quirky little country has some of the best street art you'll ever see. A definite must visit for your time in Vilnius and usually a favorite memory for our volunteers who live in Vilnius for their semester abroad. Here's all the details.
There's even a swing under a bridge that you can search for if you've got the time. Have you discovered it recently? We found it around 2017 and would love to know if it's still there!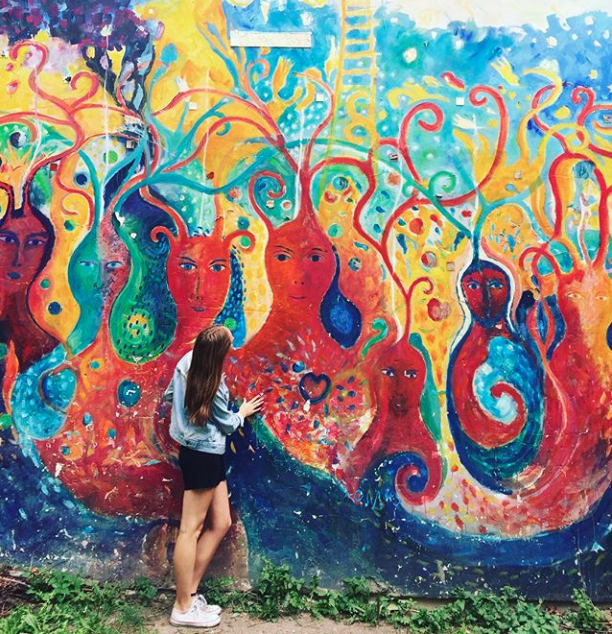 The Hill of Three Crosses
About a 15-20 minute walk from the Uzupis district, in Kalnų Parkas, you'll find this monument — three crosses sitting up on a hill. We've got information on the story behind this place as well as directions on how to get there right on this post.
Adventure
Up for an adventure? Bet you didn't think you could do some of the same things our volunteers in Costa Rica are doing. They have an entire adventure park made up of rope courses high in the trees that you can go through and explore. Head to the UNO Adventure Park for a day you won't forget!
And just for kicks, we've got to add a snippet about kayaking down the Neris River! It costs about $12 each to rent a kayak and you'll have 2-4 hours to float with your friends. Our past volunteers have used this website through which you can email the renting company and they will tell you where to meet them. Your kayaking adventure will start off in the forest and end in the Old Town area.
Where To Eat
Anyone who says food isn't a big part of their travel experience clearly doesn't know how to travel. It might surprise you, but Vilnius is a city for the foodies! Here's a list of our favorite places, including the famous Holy Donut with their donut-topped milkshakes, and the Cat Cafe with (you guessed it) cats as your lunch dates.


Getting To Vilnius + Around
Lucky for you, there is an international airport just outside of Vilnius. Once you arrive at the airport, there are many buses that take only 15 minutes to get to the center of the city. Vilnius is also a hub for many budget airlines which means you might be able to snag a great deal on a flight.
But if you're coming from a country close by, a bus or train will most likely be the better and cheaper option. Here is a website with a lot of information about all of your different options. We've heard great things about this bus company, so make sure you check it out to see if they have buses going to Vilnius from your city!
Getting Around Vilnius
For getting around the city, we recommend downloading the Taxify app, which works like Uber but is way cheaper in Lithuania. If you're planning to use public transportation, download the Trafi app that will give you all the bus schedules.
There are several ways to buy tickets, but one of the easiest is to just buy them from the driver for about $0.50. These are only good for that one trip on the bus though. We recommend the month pass for volunteers who will be living in Vilnius and taking the bus every day. There will often be security in yellow vests on the buses making sure you have your ticket, so just keep it in your hand for the whole ride.
If you're feeling extra adventurous, try exploring Vilnius by bike!
Where To Stay
LITINTERP Guest House
This is a real winner and recommended by other travelers. Located in the middle of Old Town, it is a cozy, clean, well-lit house that will make you feel right at home. Even at the height of tourist season you won't be paying more than $23 per person for each night, which is a great deal for somewhere so well located. Free wifi in all rooms, plus a small kitchenette! And you can pay an additional small fee for airport pickup and breakfast. Literally doesn't get better.
Address: Bernardinų st. 7, LT-01124 Vilnius
Hostelgate
Also located in Old Town Vilnius, this hostel is another great deal. On your departure day, you can still leave your luggage at the hostel while you finish up exploring the city. It's got wifi, a laundry machine, a hot tub, and hair dryers! An you'll be paying under $20 per person for each night.
Address: Aušros Vartų g. 17, Vilnius 01304, Lithuania
Don't Miss These Day Trips
Kaunas
Located about 1 1/2 hours west of Vilnius, this is the second biggest city in Lithuania and the location of another ILP school. It makes for a great day (or weekend) trip. Plus it's always fun to meet up with other volunteer teachers and have them show you around their city! Here is our complete guide for Kaunas.
Getting there: Buses leave Vilnius for Kaunas every 20-45 minutes starting from 5:45 AM to 11:00 PM. This site gives you a timetable from buses from Vilnius to Kaunas. Prices are just above 6 euro. Busbud has an excellent English website, with one-way ticket around $8 USD. If you want to go by train, this site allows you to look at prices and timetables. Prices for first class tickets are under 6 euro for a one-way, and less for second-class tickets. Buses and trains leave so frequently (especially buses), you could arrive at the bus station in Vilnius (Sodų g. 22, Vilnius 03211, Lithuania) and buy a bus ticket over to Kaunas right then.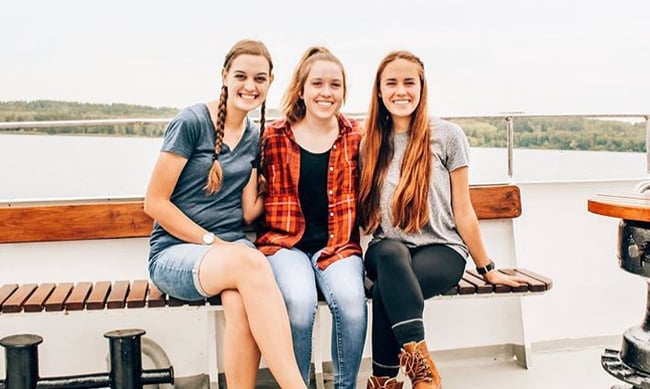 Trakai Island Castle
The first construction of this vibrant orange castle took place in the 1300s, but fell into disrepair after the 1700s. The Germans, Poles, and even Soviets played a part in its restoration, which wasn't completed until after WW II. The castle rests right in the center of a tiny island with only a skinny bridge connecting it to the mainland. Quite the picturesque dreamland. For more info about how to plan the perfect day trip, read our post all about Trakai Castle!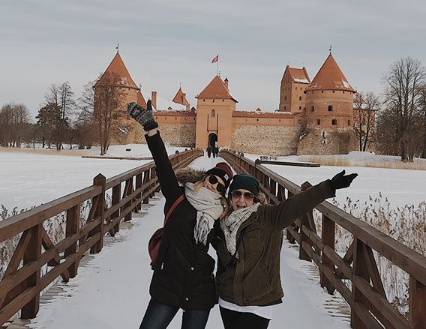 Klaipėda
These beaches may not be as warm as the ones you're used to, but sometimes any beach is a beach, right?! As the location of an ILP school, this would be another opportunity to meet up with more volunteers. There are quite a few neat things here like lighthouses, the Maritime Museum, and the "Black Ghost" sculpture. Plus the city is charming, with colorful houses that line the harbor. Here's some more info about visiting the Lithuanian beaches!
Getting there: Past volunteers have talked to their Local Coordinator about hiring a van to drive them which is very convenient if it works out (and not too expensive, since you'll spit the cost with your ILP group). You can also easily reach Klaipeda from Vilnius on public transportation which takes about four hours. You can book tickets here. For a second class ticket it will cost you about $15-$18, but you can pay more for a first class ticket if you'd like.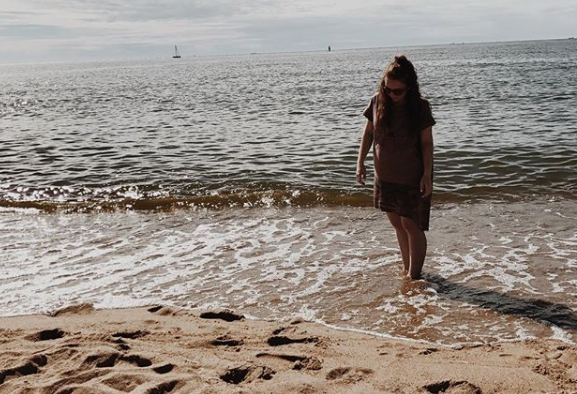 Fort Ninth
This site was once used by Lithuanian soldiers as a fort, but during WWII it was turned into a concentration camp by the Nazis. Today it is an indoor and outdoor museum that honors the 50,000 victims from all over Europe that died here. Visiting this memorial will be sobering and memorable. Entrance price is about $3.50, but students can get in for half that, so make sure you have your ID! Guided tours are available if you're interested.
Getting there: Since this is right outside of Kaunas, one of the easiest ways to get to the fort is by traveling to Kaunas and then catching a bus from there to the fort. Board bus #23 (runs from Kaunas Town Center starting at 6:00 AM and ending at 11:00 PM). It's a one-way bus and usually runs three times every hour. To get home, catch the same bus; it will come from the opposite direction by the supermarket.
If you want to get there straight from Vilnius, visit this website and make sure you type in "devintas fortas" as the destination.
Hours: Open April to October, Tuesday through Sunday (10:00 AM to 6:00 PM).
Open November to March, Wednesday to Sunday (10:00 AM to 4:00 PM).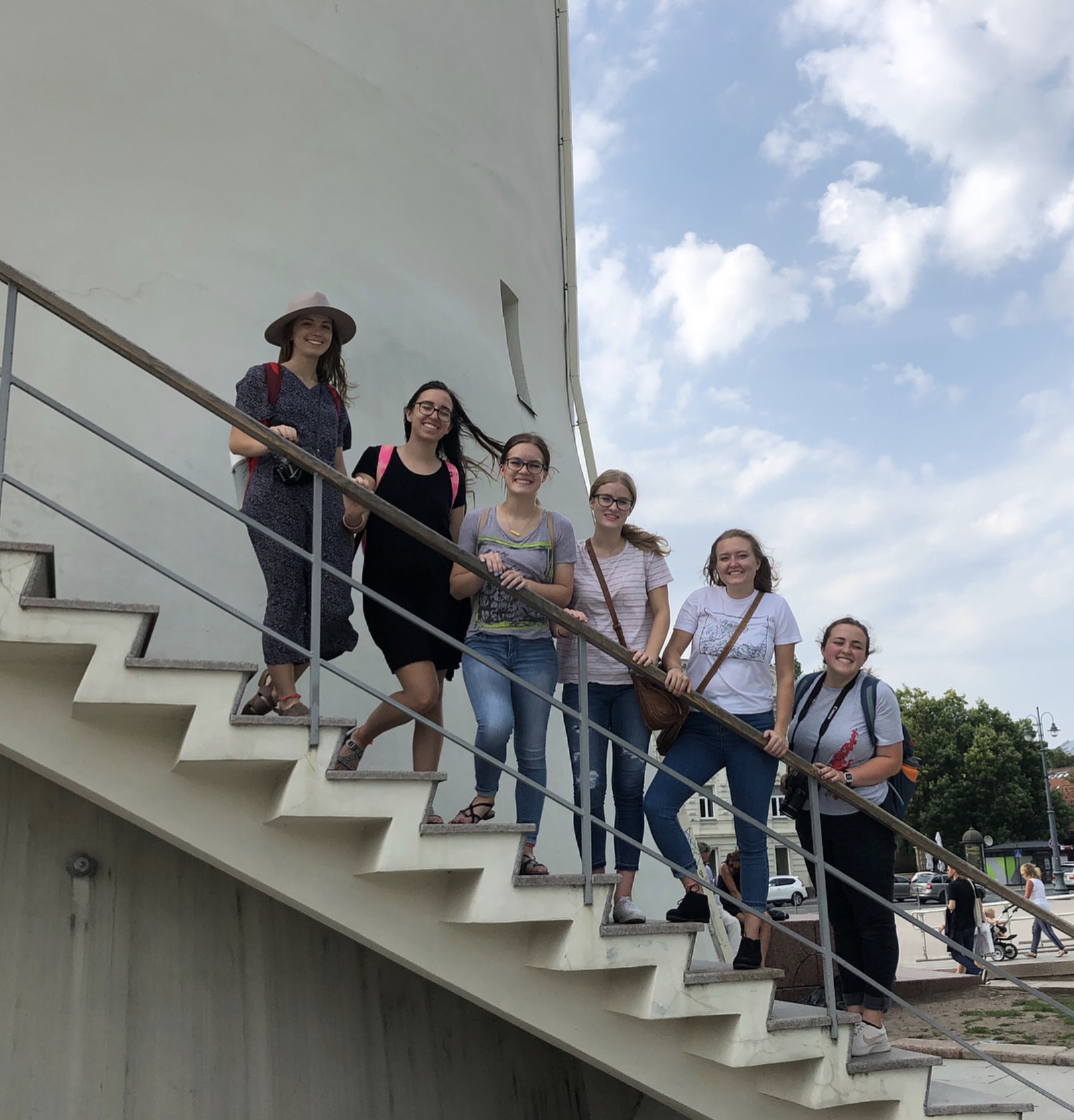 Want to volunteer in Europe but not sure if it's a good fit?
Click that button below for a real quick overview of what volunteering with International Language Programs is all about and if it's right for you!