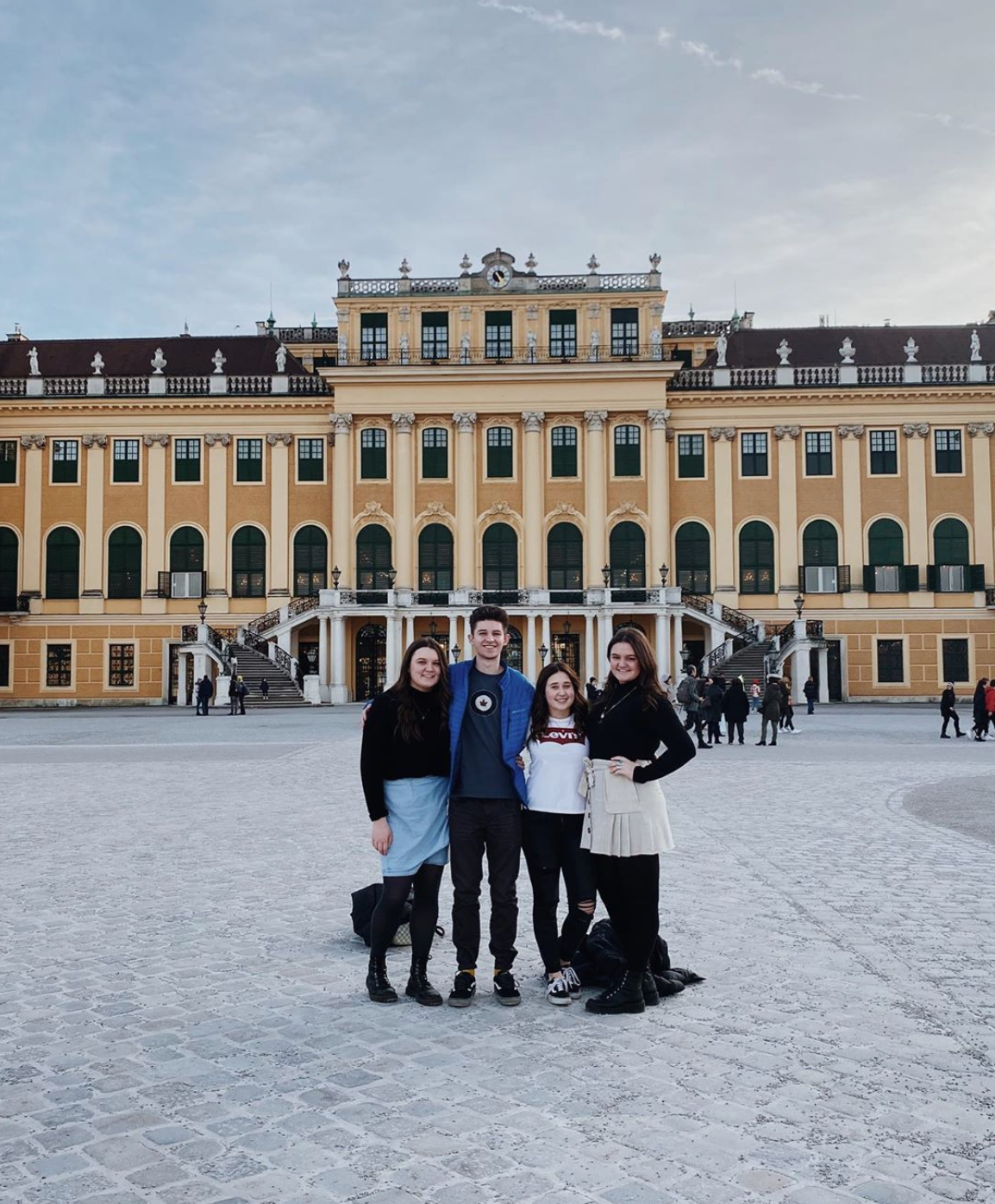 Dreams of running around Austria? Pretty sure everyone has that dream … but if you are actually going to make that happen, you are going to need these travel tips!

Not sure there's a reason not to visit Vienna, so this post isn't about convincing you to come run around the pretty streets and ogling over the amazing museums here. Instead, there are just a few things you should know before giving this country a visit so you have the best vacation possible.


---
Thinking you need to spend more time in Europe?
Come apply to volunteer in Europe with ILP
---
Lucky for you, I've pulled together all of my tips from my own trip here so you know you're getting an insider's scoop to the capital city of Austria. Here are your go-to tips for exploring Vienna:
My Favorite Things To Do Here


Go To Day Trips

Favorite Places To Stay
Restaurants + Foods To Try
Get Yourself To Vienna + Getting Around


Tips For Your Trip
My Favorite Things To Do Here
You will be busy, busy on your trip here! Vienna is all about cafe culture, art, and the architecture, so if you're not into walking around and staring at pretty buildings and learning about history, this isn't the city for you ... but if you are into all of those things, you'll be in love. While there are also a billion things to do in a city, here are just the highlights you won't want to miss on your visit.
Schönbrunn Palace
Come admire the gorgeous architecture and expansive (and carefully curated gardens) on the outside of this impressive palace. This was the main summer residence of whole host of rules, boasting an impressive 1,000 + rooms you know are all complete with intricately decorated ceilings and gold-laced chandeliers.
As if the interior isn't stunningly amazing itself, the gardens are equally impressive. The canary yellow palace sits on hundred of acres of carefully curated gardens, designed in the classic French style. There's a hedge maze filled with Grecian marble statues and a huge boulevard lined with the largest trees, plus a delicate orangerie. A pro tip? Make sure you trek up the hill that slopes up behind the palace. It's quite a climb to get all the way up there, but there's a pond and benches situated right at the top so you can look over at the palace and surrounded gardens. It's just gorgeous.

You'll want to block out most of your day to explore both the inside and the outside of this place, that's for sure.
Hours + Costs + Directions
Hours fluctuate a little depending on when you are visiting, but it's typically open from 8:00 AM to 5:00 PM, give or take an hour or so on the closing end of things. Get the official hours here.
Costs also depends on what you're looking for. There are tons of tour options that are a couple hours long to full day options — see more on their website. There are sections of the garden that are paid and ticketed, but a huge section that is totally free. Even if you aren't sure you want to go inside or pay to visit the paid sections of the gardens, go anyways! The free sections of the garden plus the outside view of the palace are worth it in my opinion.

Directions: If you take the UBahn, get off at "Schönbrunn" on U4. Or you can take the tram, getting off at "Schönbrunn" on trams 10 and 40. The bus can also get you there, just hop on bus 10A and get off at the same stop. The palace is one of the main attractions of Vienna, so you should be able to ask around if you happen to get lost.
Here's the address if that's helpful, too: Schönbrunner Schloßstraße 47, 1130 Wien, Austria.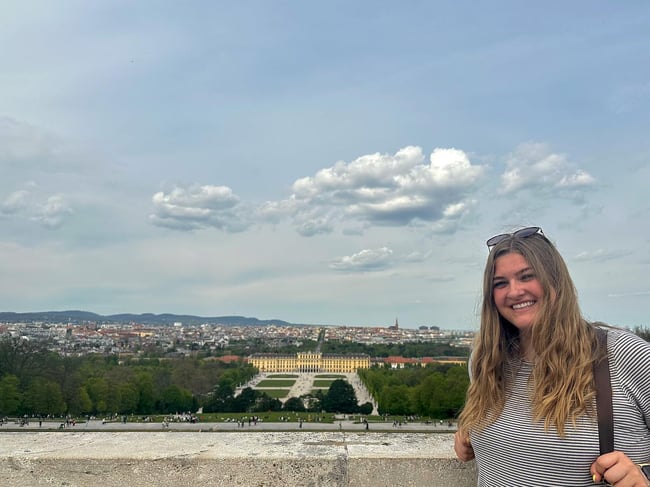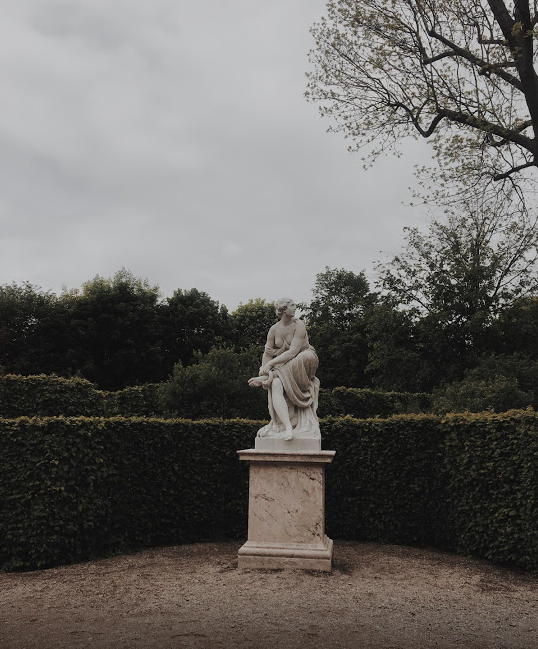 Belvedere Palace
Okay this was a total highlight of my time in Vienna. If you're into art, this is absolutely a must see. Another stunning Baroque style palace, the Belvedere is where Prince Eugene used to hang out in the summer time. Since then, it's been turned into one of the most impressive museums around, containing some of the most recognizable artwork in the world. This is where the good stuff is, people.

Come inside and see famous pieces of art like Kiss (Lovers) and Judith by Gustav Klimt (these are MUST-SEES for art lovers). You'll also see pieces from Claude Monet, Vincent van Gogh, and Max Beckmann. For good reason, it gets very busy and very crowded ... I'd suggest arriving early and waiting for big tour groups to pass by so you can get a glimpse of your favorite works without huge crowds.
Hours + Costs + Directions
The museum is open from 9:00 AM to 6:00 PM
Tickets are separated into sections (you buy tickets at a separate office, then enter the huge Belvedere itself. Just ask around if your'e not sure, but don't make the mistake of trying to walk into the palace without a ticket ... you'll just be sent back and will need to wait in line again).
You'll need to choose between three sections: the Upper, Lower, and Belvedere 21. You'll probably want to visit the Upper Belvedere which houses the most iconic works. You can also purchase combined tickets. Get more ticket info here.
Prices are in the 8-16 euro range, but there is a student discount that you may be able to get by bringing your student ID, if you have one.
Getting here is easy, too. By subway, just take the U1 line and get off at Hauptbahnhof and walk about 15 minutes, or take the 18, or O line to Quartier Belvedere and walk for 7 minutes. To get there via bus, take 13A and get out at Mommsengasse and walk for 10 minutes.
This site also has walking directions if you'll be close. Here's the address if that's helpful: Prinz Eugen-Straße 27, 1030 Wien, Austria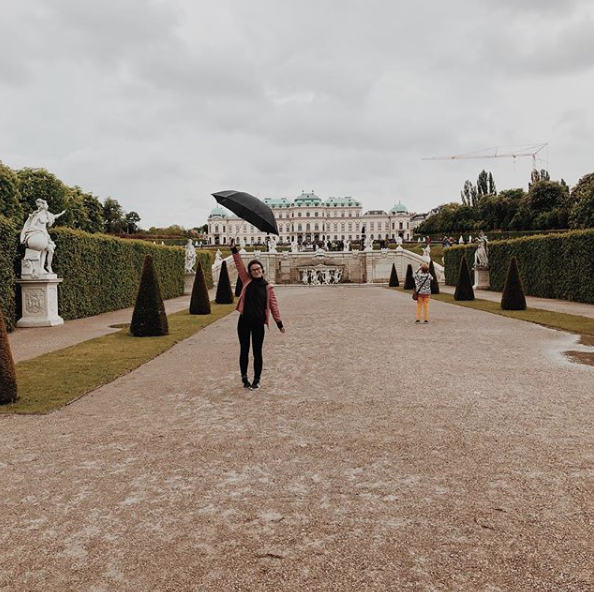 Votivkirche Church (AKA Votive Church)
When someone failed to assassinate Emperor Franz Joseph, Emperor Archduke Ferdinand built this church as a thank you (um, pretty great thank you gift, don't you think?) This looming-gothic church is stunning to see in person. No trip to Europe would be complete without admiring some mad-pretty churches, and Votive Church certainly fits the bill.
Hours + Costs + Directions
4:00 PM to 6:00 PM, Monday - Friday
10:00 AM to 1:00 PM Saturday & Sunday
*These are hours open to the public, but you can of course admire from
the outside whenever you'd like.

Tickets are 3.90 euro if you'd like to go inside, but for me, visiting this church in the early hours before it was open to the public (to admire from the outside) was a highlight.

Here's the address: Rooseveltplatz, 1090 Wien, Austria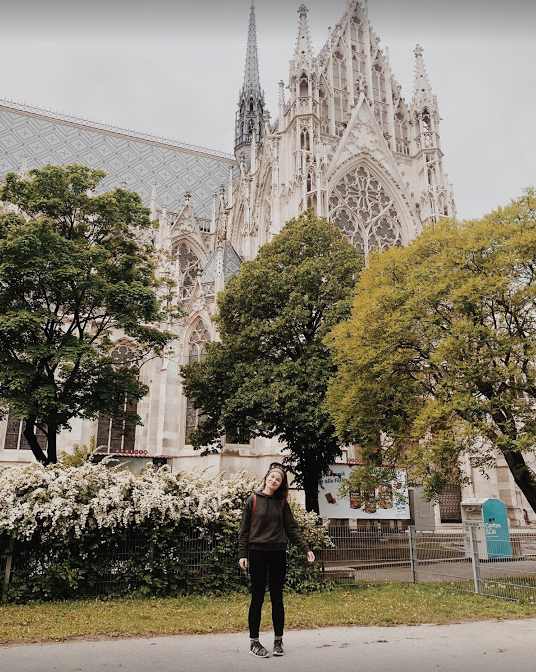 St. Steven's Cathedral
Another stunner, the St. Steven's Cathedral is an iconic beauty, looming with carved pinnacles and detailed spires. It's a massive Gothic church that's complete with a unique tiled rooftop and a vast, soaring interior. That roof is amazing —thousands of colored tiles are detailed out to form the Imperial double-headed eagle and Vienna's coat of arms.
The church is found in the center of town, surrounded by restaurants, cafes, souvenirs stands, and a few notable shopping centers. The space in and around the church gets busy, but it's a humbling effect to enter the church and have the loud city around you suddenly hush as you stare at the intricately decorated glass windows and the arc of the ceiling. I highly recommend walking around the whole church to get a good view of that tiled roof, then going inside for some quiet. Plus, the walk around the church is so beautiful once you step outside of the circle of shops.
Hours + Costs + Directions
The church is open to the public daily.
Monday - Saturday (6:00 AM to 10:00 PM) and Sunday 7:00 AM to 10:00 PM.
It's free to enter, but tours and a visit to the catacombs do cost.
Address: Stephansplatz 3, 1010 Wien, Austria
Take the U1 or U3 train to Stephansplatz, then walk to the cathedral if you're not already in walking distance to the cathedral.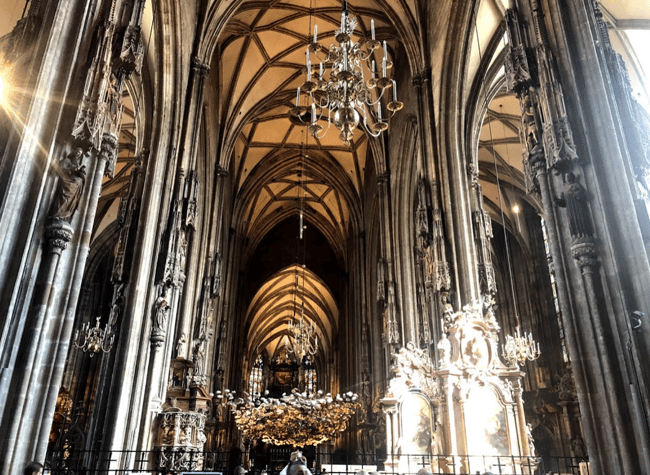 Kunst Haus Wien, Museum Hundertwasser
Looking for a more unique museum visit? Look no further than this museum designed by Friedensreich Hundertwasser. This section of the city is amazingly unique, a curving, undulating design that carries over from the museum to a set of apartments designed by the same architect. Mosaic tiles with bright colors are situated next to huge sections next to a grid-like glass panel. It's quite the site the see, even if you don't enter the museum. It was like a more colorful and industrial version of Gaudi's work in Barcelona, if you ask me.
Hours + Costs + Directions
*This is all for the museum itself — you're welcome to admire the outside of the apartments and the museum at any point, free of charge.
Open daily from 10:00 AM to 6:00 PM
Tickets are broken up per exhibition, in the 9 to 12 euro range. Get ticket information here.
Public transportation makes it easy. If you want to take the underground, just hop on U4 (to Wien-Mitte or Schwedenplatz), or U3 (to Wien-Mitte or Rochusgasse), or U1 (to Schwedenplatz or Praterstern), or U2 (to Praterstern).

Trams are also an option: Line 1 (to Radetzkyplatz)
Line O (to Radetzkyplatz)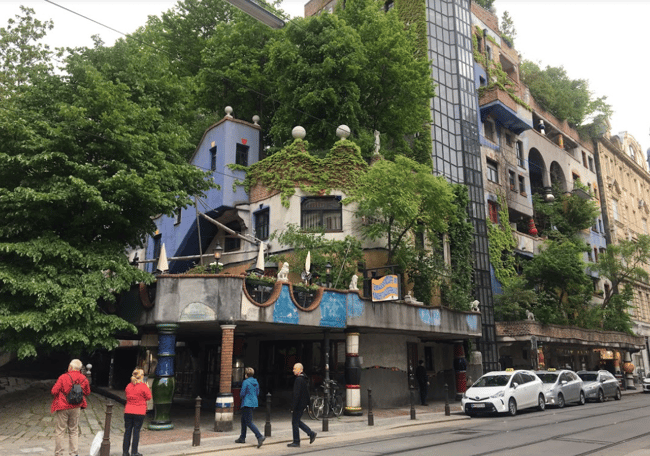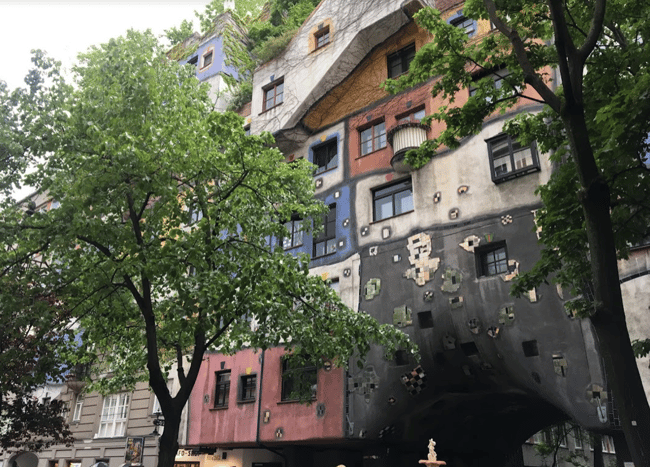 Need more to do?
We have you covered. Alumna Kerry H. is an ILP alumna who has been to Vienna three times — she recommends checking out:
Maria Theresien Platz

The Volksgarten (very near M.T. Platz)

Austrian National Library

Hofburge Palace

Rathaus (Town Hall)

Spanish Riding School
Go To Day Trips
Hallstatt
Situated in the mountains overlooking a lake is the cutie little town of Hallstatt. It's easily reached via train from Vienna where you can spend a day peeking into a little museum, renting paddle boats for the lake or riding the funicular up the slopes.
Get more info about Hallstatt, here.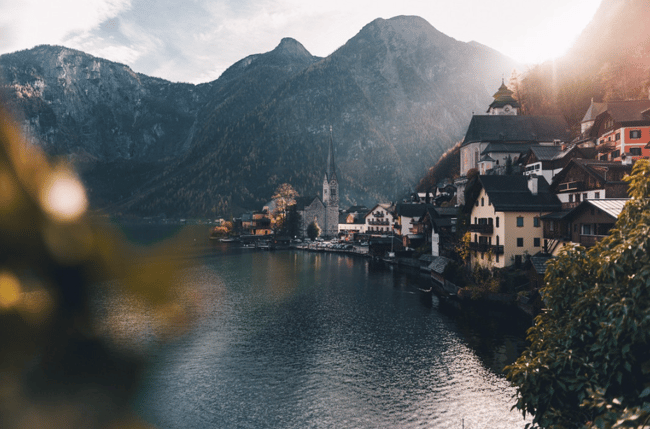 Bratislava
This colorful Slovakian city is only about an hour away ... and we've found bus prices for as low as around $6 so it's a no brainer to come scoot over here. Bus prices do vary depending on what time of year you go, and even which day of the week, but you can check out prices really quick on Omio. They've even got mobile tickets on Omio for Vienna to Bratislava, so it couldn't be easier to get there!
We've also got a complete guide to Bratislava to help you make the most of it.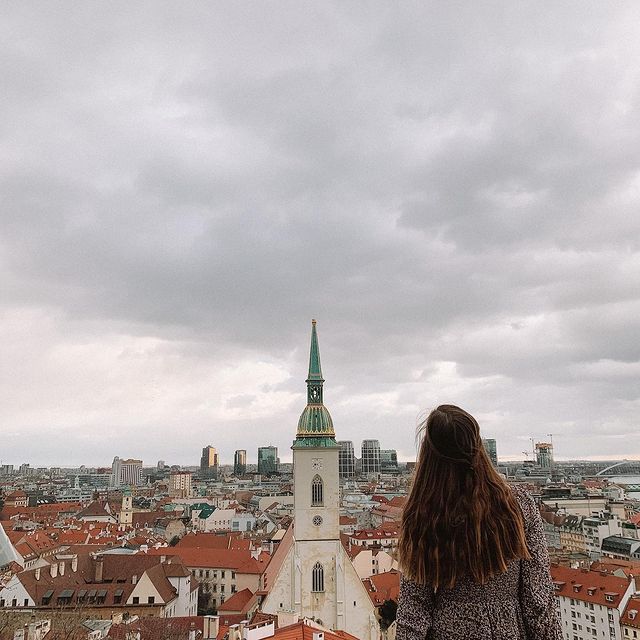 Salzburg
The city of Salzburg is just a couple of hours away from Vienna and is home to the Sound Of Music Tour which we're pretty much in love with. Hop on the train (it's about $50) and soak up the Austrian country side before spending a day or two in Salzburg. In all honestly, I loved my time in Salzburg more than Vienna and was so glad that I spent 2-3 days there, and just 1.5 days in the capital ... but that's just me!
Get info on booking a train from Vienna to Salzburg, here.




Favorite Places To Stay
There are tons of places to stay, so you won't have any trouble finding something to fit your budget if you book early. We do have a couple of recommendations form past ILP volunteers if you'd like an idea of where they love to stay.

Hostel Hütteldorf — ILP Volunteer Kerry says "It's nothing fancy but its cheap, clean, and you get linens and breakfast which is why I've stuck with the hostel!"
Westend City Hostel — Caitlin R. says "Westend City Hostel is a perfect location and they have an awesome breakfast!"
Wombats City Hostel (Naschmarkt) — This place is just across the street from the Naschmarkt which was a huge perk for me. The staff was helpful with city maps, and is pretty close to the U4 line.
Hostel Ruthensteiner — one ILP volunteer in Lithuania said "This hostel was awesome. They have everything you can think of and are so helpful (book the 6 person room with your own bathroom if you can!)
Restaurants + Foods To Try
Vienna Isn't Vienna Without Cafes
When you start traveling, you'll hear of places that are UNESCO sites — which basically mean they are pretty special culturally. Sites like the Great Barrier Reef and Stonehenge are UNESCO sites. What does this have to do with Vienna? Cafe culture is deemed a UNESCO practice.
Yep, sipping drinks and munching on pastries on the dreamy streets of this city are as important to Austria as some of their other huge and historic palaces. Cool, right? So while you are here, set aside some time for a good cafe lunch or two.
We particularly love Cafe Landtmann - (get the hot chocolate). Just so you know, it's very fancy inside, so we suggest packing up a dress or a nice outfit and wearing that here if you don't want to feel under dressed. Paul McCartney and Sigmund Freud are reported to have visited this cafe more than once.
Hours: 7:30 AM to Midnight
Address:

Universitätsring 4, 1010 Wien, Austria
Apple Strudel
A trip to Austria is not complete without some apple strudel. You'll find this dessert all over, but I'm partial to a little stand (sorry, no name for this one) that's found near the Opera House (here's the address: Opernring 2, 1010 Wien, Austria).
The Naschmarkt
One of my favorite parts of my trip to Vienna was having lunch (and dinner) here more than once. It's a huge alleyway lined on either side with vendors selling food from all over the world. Get a taste of honeyed baklava, piles of split watermelons and other fruit, rows of freshly fried falafel full paired with a dozen kinds of flavored hummus, and breads baked with all sorts of fillings. You won't want to miss this place, that's for sure.
Stalls open at 6:00 AM and open until 9:00 PM (6:00 PM on Saturdays). Closed Sundays.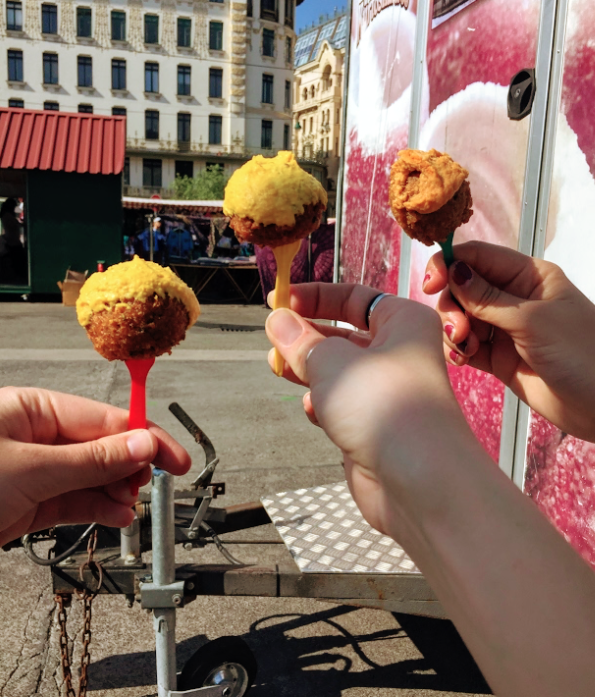 Get Yourself To Vienna + Getting Around
Flying
You'll probably fly here, so look for cheap tickets to Flughafen Wien-Schwechat, or VIE. From Kiev, you can score flights for around $100 but it looks like for other European capitals, it can be more like $200. See if you can better prices from other countries you may vacation to, like Germany. We like using Skyscanner to hunt for cheap flights .
The airport is just outside of the city limits, so you'll need to take a taxi or ride public transport to get where you want to go.
Train
Vienna is very well connected by trains so it might be cheaper to get there via rail instead of flying. Head's up — when booking tickets, look at two domestic tickets, instead of one international one. If you're heading here from Budapest, take a train to the edge of Hungary, then use a separate ticket to get you from the edge of Austria to Vienna.
I tend to book all my train tickets on Omio.
Getting Into The City Itself
The cheapest way is to rock the S-Bahn, which is a commuter train. It runs from 5:00 AM to midnight and only costs 4 Euro for a ticket into the city center. Get the train to Floridsdorf and get off at the Wien-Mitte Station (it's a 35 minute ride). From there, you can take the U-Bahn to where you want to go. U3 takes you to the core of the city and the U4 gets you out to the Schonbrunn Palace. We'll talk more about public transportation below.
You can also take a taxi if you'd like, but it will be more expensive.
Navigating The Public Transportation System
Vienna has a rad public transportation system (think subways, trains, trams, buses, night buses and a railway) which means you can get everywhere you wanna go pretty easily. All public transit is called VOR and you can buy tickets on the platforms in red ticket booths. You'll pay per ride.
I suggest getting a 24-hour, 48-hour, or 72-hour ticket instead of buying a single use ticket every time you get on the tram or metro. The full day fares are only 8 Euro, and even the week long ticket is only double that. Not a bad deal, right?
Get information about the tickets for VOR here.
Avoiding The Fines
You won't need to show your ticket to hop on the bus or tram, but instead will need to stamp your ticket before getting on the platform. It looks pretty easy to just hop right on without a ticket, but that's not only super dishonest but you can be fined a few hundred dollars if you get caught riding without a ticket. So just know it's not free, it just looks free.
Tips For Your Trip
Say The City's Name Right
Look like a local if you practice your German and say "Wein" instead of "Vienna". The "w" here makes a "v" sound, so you'll be saying "Veen" instead of the very American version, Vee-N-A.
Spending Your Time Here
I loved my time in Vienna, mostly because I'm a huge fan of art so seeing some of my favorites was just a dream come true. However, if I had to pick my favorite city in Austria, I would have to say it was Salzburg. Ideally, you'll have time to visit both (I spent about 3 days in Salzburg and about 1.5 in Vienna) and thought that was absolutely perfect. However, there are friends of of mine who adore Vienna, going back 3-4 times.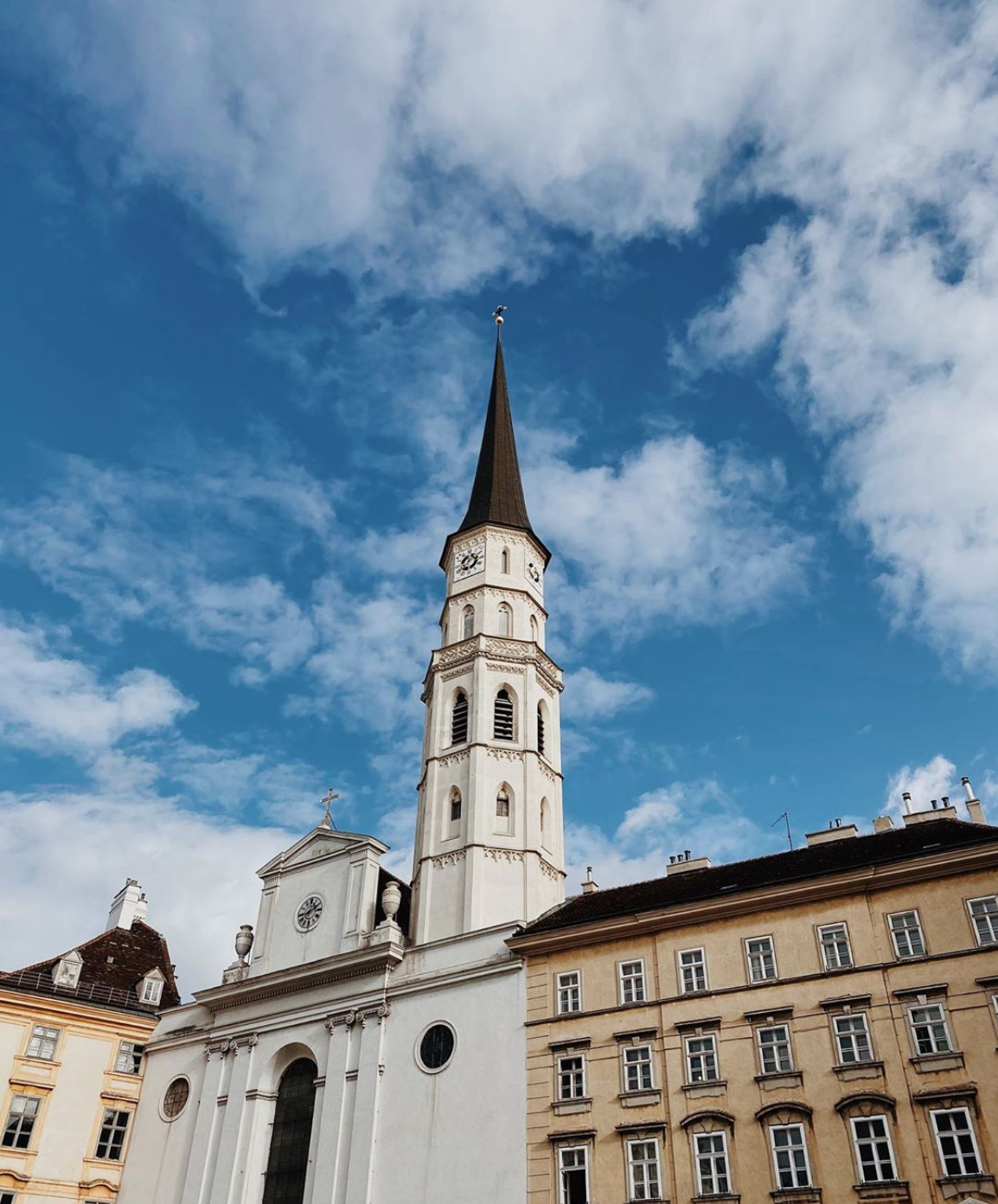 Live in Europe for a semester
International Language Programs has schools in quite a few European countries where you can teach English or volunteer in an orphanage. Oh and as always, you get vacation time to see countries in the European Union, like Austria!