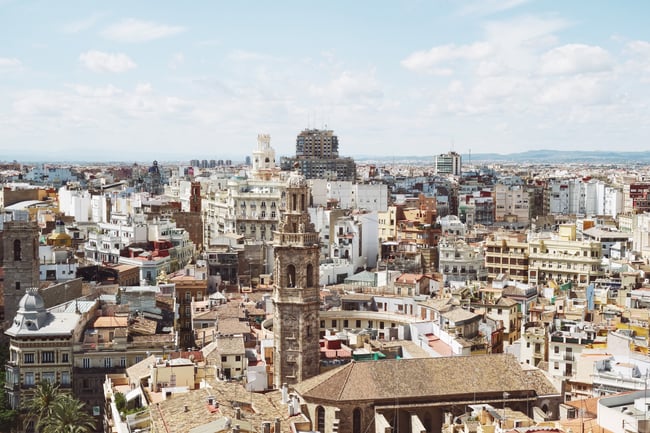 Yep, you read that right. If you love both antique and futuristic architecture, then Valencia is the place for you. Here's everything you need to know when planning your trip to this unique and exciting city!
Spain is definitely one of Europe's tourist hot spots. And for good reason! Have you seen pictures of Barcelona? Or better yet, spent a day or two exploring that vibrant city? As a volunteer with International Language Programs, you'll have plenty of vacation time to visit many of these dreamy destinations. So if you're planning a trip to Barcelona or Madrid, don't forget about this other amazing city that is just a few hours down Spain's coastline.


---
Want to spend a semester abroad as a volunteer? Check out the countries we can currently sending volunteers to:
Exchange And Humanitarian Programs
---

Valencia is still one of the least touristy cities in Spain, so if you're looking for something different than what everyone else is doing but that is equally incredible, this is a city you need to experience! It's definitely on our list of places to visit in Europe if you're looking for alternatives to the super duper popular cities. And Valencia still has everything you could hope for in a weekend vacation! In fact, you might be surprised by just how much there is to cram into a short day or two. Sandy beaches, cobblestone streets, unique architecture, and fascinating museums are the perfect recipe for the ideal trip.
Pssst: Check out Valencia's tourist card and see if it's a good deal for what you're trying to do. The 24 hr pass includes free access to public transportation, discounted tickets to some of the main museum, plus loads of other discounts, even to local restaurants! Just something to think about.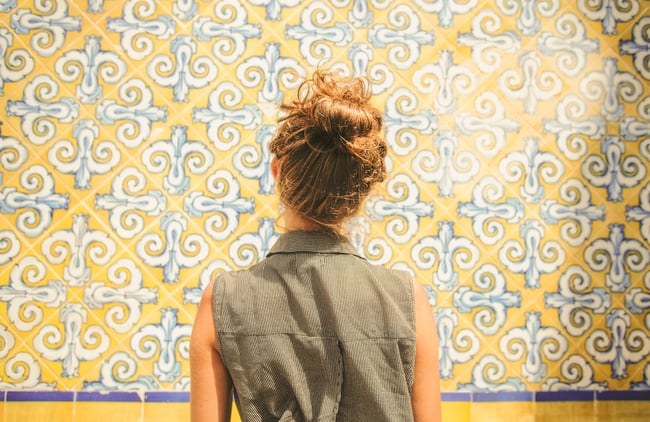 What To Do There
Ciudad de las Artes y las Ciencias
This ultra-modern complex is the City of Arts and Sciences, and you could honestly spend an entire day just here. It consists of six striking, white buildings that are overflowing with things to see and do, so how much you're able to experience depends on how much time you have. These four listed below are particularly popular and enjoyable for visitors! All six buildings are usually open from 10 am to 6 pm, but it depends on the time of year, so you'll have to double check before you go.
L'Oceanogràfic: Europe's largest aquarium, should be your first stop. There are almost 500 different species inside, from oceans and seas all over the world, and you'll need at least a few hours to experience the 7 different marine-life exhibits in this aquarium. Tickets are about $35, the most expensive entrance fee of any building in the complex.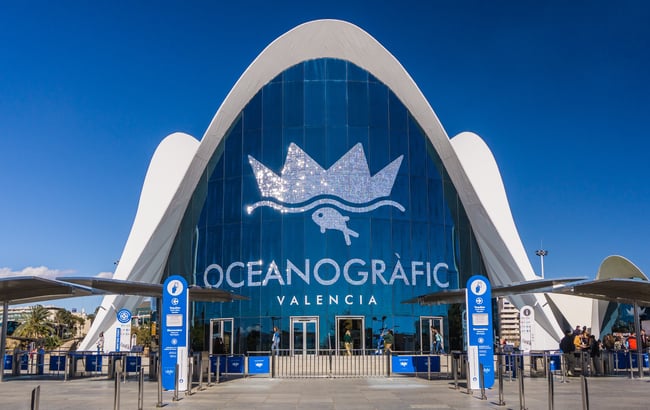 Hemisfèric: This building was constructed to look like a human eye. Here you can watch educational films about phenomenons in outer space and on earth in the gigantic IMAX cinema. Tickets are about $9.
Museu de les Ciències Príncipe Felipe: The interactive science museum has many exhibits and experiment rooms, where the goal is to inspire curiosity and creativity. Their motto is, ""Forbidden not to touch, not to feel, not to think". Tickets are about $9.
Umbracle: This is technically the parking lot, but is also home to stunning gardens! Make sure you take a few minutes to step out onto the Art Promenade, a balcony where sculptors created by contemporary artists are often exhibited. Entrance is free.
Definitely look into getting the combined ticket if you have a couple of days! And check out this website for everything else you want to know about the City of Arts and Sciences.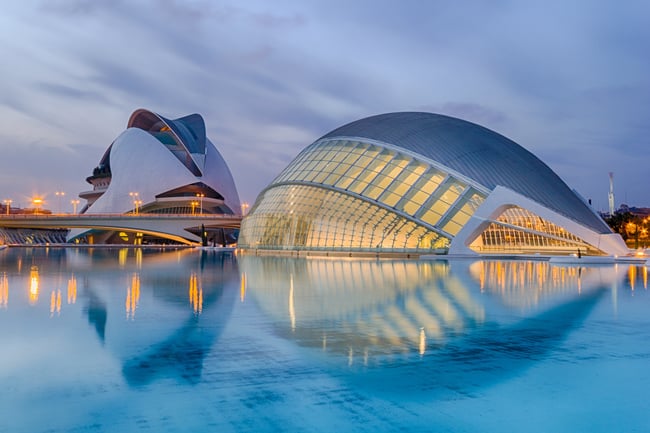 Jardin del Turia
This is one of the biggest city parks in Spain, and is the ideal place for a picnic, or even just to sit and rest your feet for a bit. If you decide to walk it, you can honestly cross through the entire center of Valencia without passing a single car. It is over 5 miles long and runs between many of Valencia's most famous landmarks, including the City of Arts and Sciences on its eastern edges. Definitely a slice of paradise you don't want to miss.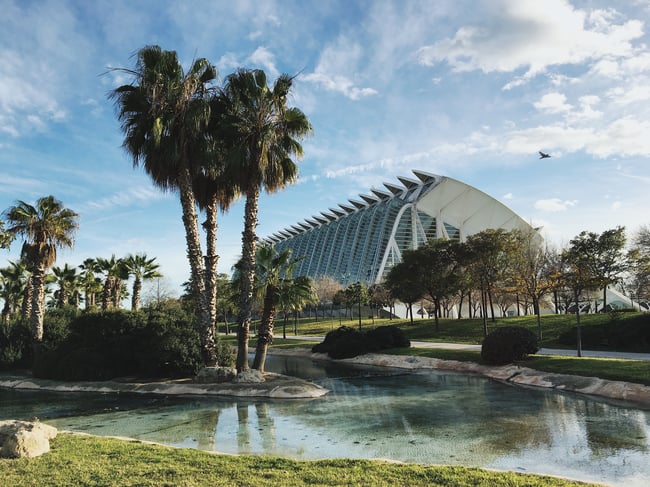 Central Market
So, the main thing you need to know about this place is that when it was completed in the early 1900s, it somehow ended up looking more like a modern cathedral than your average indoor market. It's literally full of colorful tiles, stained glass, and domes to let in all the natural light! Imagine doing your weekly grocery shopping in a place like that. The stalls are primarily full of food for sell, so it's a great place to stop and get everything you need for a picnic lunch or afternoon snack.
Hours: Open Monday through Saturday from 7 am to 3 pm.
Address: Plaça de la Ciutat de Bruges, s/n, 46001 València, Valencia, Spain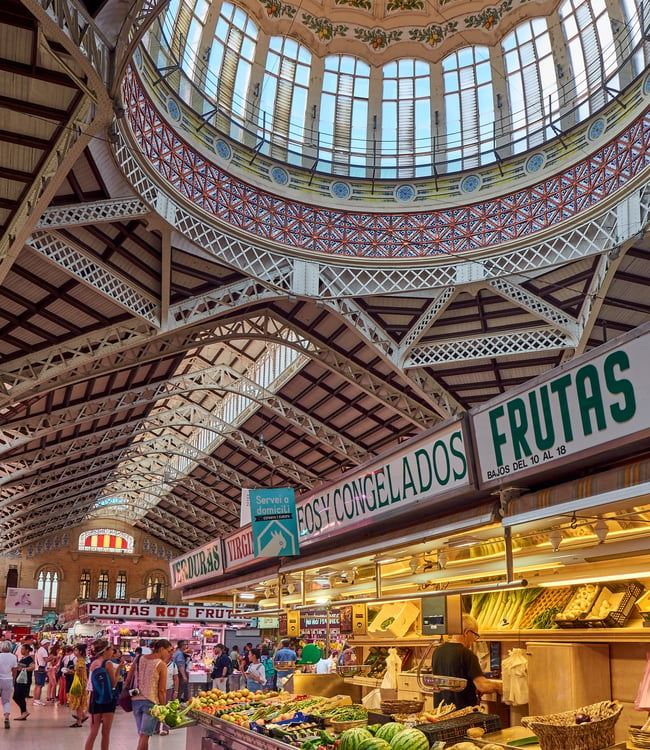 Valencia Cathedral
What would a European city be without her cathedrals?! But this one is extra special, because it claims to be the home of the real Holy Grail. And not the cup you see Indiana Jones find in Raiders of the Lost Ark, but tradition says it's the chalise actually used by Christ during the Last Supper. There are a lot of fascinating legends regarding how it ended up in Spain. Did St. Peter take it to Rome and Alfonso the Magnanimous bring it to Valencia after it had been hidden in the Pyrenees Mountains during the Muslim invasion? Who's to say? But definitely worth seeing.
The Gothic cathedral itself was completed in the 1200s on the site of a former mosque. The museum exhibit inside includes many stunning paintings by Spanish and Italian artists. And if you like panoramic views, there is none better of Valencia than the one you'll see after climbing 207 steps up the Miguelete Tower.
Tickets: About $9, but free on Sundays. Just make sure you don't walk around during mass.
Hours: Open Monday through Saturday from 10 am to 6.30 pm. Open on Sundays and holidays from 2 pm to 6.30 pm.
Address: Plaça de l'Almoina, s/n, 46003 València, Valencia, Spain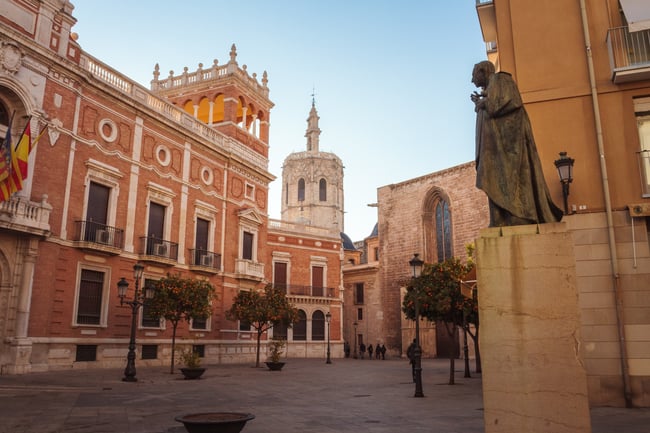 Playa de la Malvarrosa
Since Valencia is right on the coastline, of course you have to stop by the beach! Even if you forgot a swimming suit and only have time to walk along the boardwalk and listen to the sound of the tide. The wide stretch of fine sand can get a little crowded during the summer months, but there is still room for everyone to enjoy the sun and waves.
To get here, just take one of the seven bus lines that travels through the city. Some operate all year (lines 2, 19, 31 and 32), but others are added specifically for the summer months (lines 20, 21 and 220). It's about a 45-minute walk from the City of Arts and Sciences to the beach, so that may be a little far on foot unless you have the time.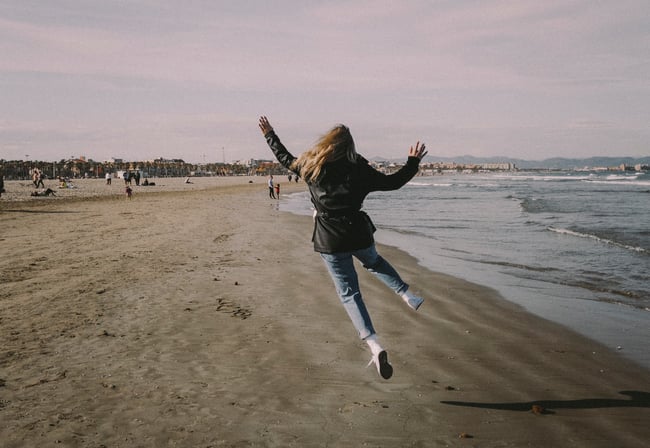 How To Get There
While it is possible to fly from both Barcelona and Madrid to Valencia, we still recommend taking the train. Yes, it will add a couple of hours to your trip, but it will also be cheaper, and who likes having to hassle your way through additional airports and then find transport from the airport to your actual destination (since they're usually quite a distance from the city center)? The Valencia station is very centrally located, as are those in Madrid and Barcelona. That's how we would do it, but you do, you friend!
From Madrid
Trains leave regularly from the Madrid-Chamartin station and then arrive in Valencia's Estació Nord station. The length of your journey really just depends on which train you catch, since some are a lot faster than others, but if you travel on one of the most common Alaris trains, your trip will take about 3 hrs 45 min. You can see the timetables and purchase your tickets online or you can wait and get your tickets at the station, but do try to book them as early as possible. Once the seats are full, they're full!
Get your guide to Madrid here.
From Barcelona
Regular trains travel to Valencia from Barcelona Sants station every day. Again, the price and length of your journey can vary quite a bit, so you'll just have to find the one that works best for your wallet and schedule. The average train ride though will take 3 hrs 15 min. Again, you can purchase your tickets online, or wait to buy a Large Distancia ticket at the station. Try to book your seat as far in advance as you can!
Get your Barcelona guide here.
From Alicante
Just down the coast you'll find another coastal city that travelers love to see. And the best part is most routes are less than two hours (although some can be up to 3) by train or bus and prices often hang around 20-30 euros.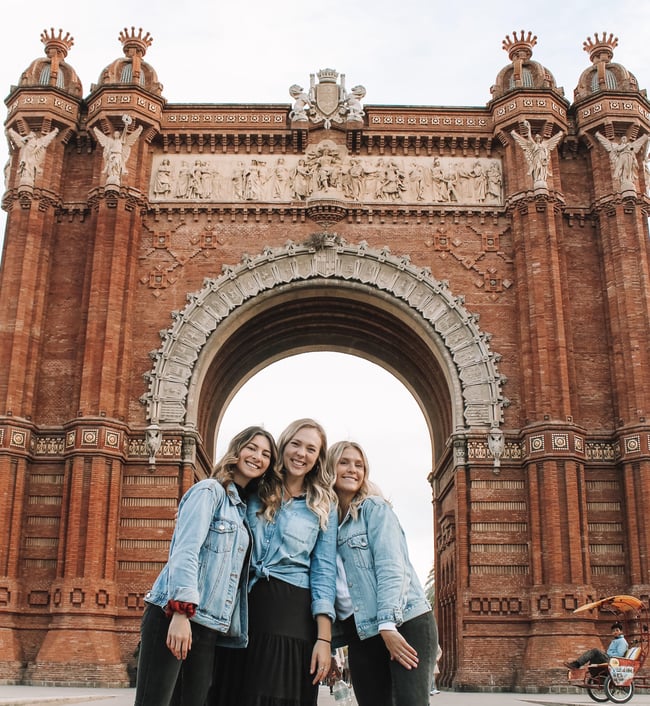 Where To Stay
Hostels
There are several benefits to staying in hostels! They'll often organize tours for you, give you local travel tips, and some even provide breakfast. In Valencia, there are a lot of awesome hostels right in the center of the city! But here are a couple that we'd love to stay in.
Home Youth Hostel has great reviews and offers the best amenities of any hostel in the area. It's located in the Old Town of Valencia, just a 10-minute walk from the main train station, and get this ... there are no bunk beds! It's covered in original murals, there's free wifi, and you can participate in the free "family dinner". Maybe you'll agree with past guests and this will be the best hostel you ever get to stay in!
The Purple Nest Hostel Valencia looks like another good option since it's just a 5-minute walk from a metro station, the various rooms are bright and colorful, there's free wifi, and you can pick up breakfast every day for 3 euros.
Airbnbs
Alright, to be honest, if we have to choose between a hostel and an Airbnb, 8/10 times we'll choose the Airbnb. More privacy, greater variety, often for cheaper prices, providing authentic experiences. Enough said! Here are several in Valencia that look like especially awesome deals, with ideal locations, and Superhosts.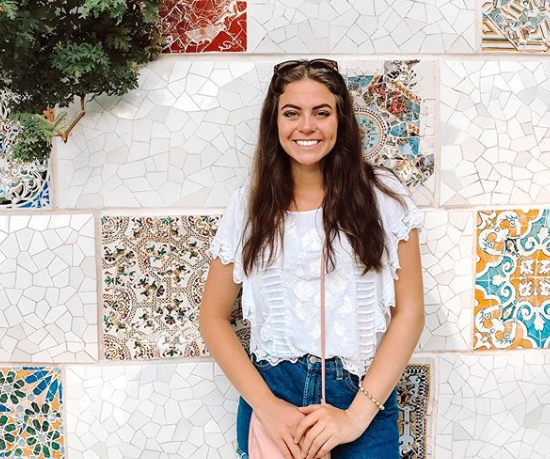 Curious to know more about what a semester with ILP is like?
We know that deciding to volunteer abroad for an entire semester is a big commitment. And we're here to answer all of your questions about this incredible and unique experience! Click the button below to learn some of the basics about our program: