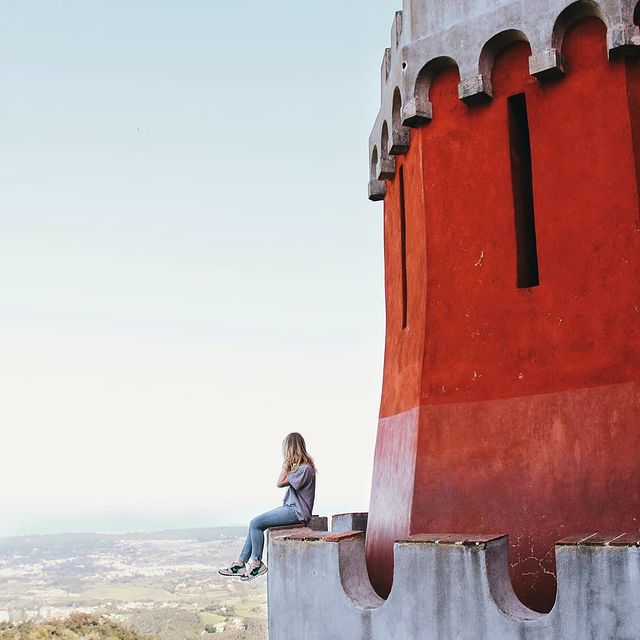 You'll want more than a day to soak up just the highlights found in this colorfully charming Portuguese city. Sintra is more than just a day trip. Sure, it's easy to access from big cities like Lisbon and even the seaside getaway of your dreams found in Lagos, but we think you'll be majorly missing out if you just visited Sintra in just a day! Sintra's hiding more than a few things to keep you captivated, like medieval palaces (with secret passages), a picturesque hilltop Morrish castle, and an intricately decorated Arabian villa that couldn't be more lavish.
With so much to do, you'll want to narrow down your list and see how long you need here: even though we think you'll want more than a day, the highlights found in Sintra are good enough that even if you can just steal away for a day, you'll be oh-so-glad you did.


---
READ NEXT: 12 Spots In Portugal That Make For The Best Vacation
---

We're going to give you a list of our go-to things to see, do, and eat in Sintra so you can pick and choose what fits the time you have in this pretty city before jetting off to hopefully enjoy more of Portugal!
The Main Things To See
If you're here just for the day, then picking 2-3 things off this list will probably fill up your time — make sure to account for crowds and leave time to have dinner in the city center to enjoy the colorful downtown and the food found in Sintra.
The Red And Yellow Pena Palace (And The Park)
Have you ever seen such a colorful and whimsical castle? A hodgepodge of yellow and red colors, plus Moorish and Gothic architectural styles, Pena Palace is one of the country's most iconic UNESCO sites. It's been destroyed and remodeled over a few hundred years and produced a striking summer home to the royal family, and a historic tourist favorite if you visit today. Some say it inspired the classic German Neuschwanstein Castle (which inspired Walt Disney's castle in Disneyland).
In any case, it's one of the most stunning places to wander around and take a picture — out of all the things we will get to in Sintra, Pena Palace is probably the number one thing to come and see, so don't miss out! Most suggest spending about 45 minutes admiring the staterooms (no photos inside, please), and about 30 minutes on the decorative terraces.
While the colors and details of the palace may steal all the attention, the palace sits on quite a stretch of land, which means there are wandering pathways, lookouts, statues, and gardens. Around the palace, you'll find ornate duck ponds, the Queen's fern garden, the Queen's Throne (a 15-minute walk), and more. You could easily spend a couple of hours here, making a visit to Pena Palace and the Park an easy half-day adventure.
Getting Here: There's a tourist bus (434) with a route to the Pena Palace, but tuk-tuk and taxi are also an option. You can find more info about the tourist bus below, in the transportation section of this post (it's at the end).
Tickets:


Combined ticket (Park + Palace) — 14 Euros


Park Only: 7.50 Euro

Hours:


Summer Hours: (March 25th - October 27th)

Palace: From 9:45 AM until 7:00 PM

Park: From 9:30 AM until 8:00 PM

*Things get exceptionally busy in the summer months, so you may need more time to see everything with all of the crowds.
Winter Hours: (March 24th - October 29th)


Palace & Park: From 10:00 AM until 6:00 PM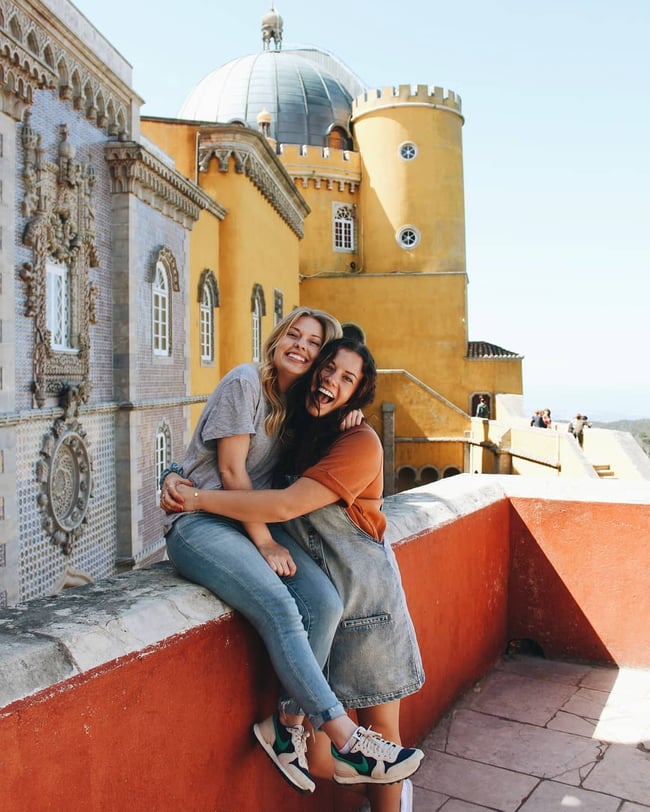 See The Moorish Castle
This highlight is up next, partly due to its popularity, and partly due to its location — you can meander through the grounds of Pena Park and reach the lower entrance, where the entrance of the Moorish Castle is just a couple of minutes away. From the entrance, it's a 10-15 minute walk to the actual castle. It makes it easy to see them both on the same day if you're shorter on time.
But now, onto the details of this stunner of a castle. The whole structure is stretched on the rocky hilltop, overlooking the city, and boasts an impressive history. The Castelo dos Mouros was first occupied by the Moors until it was conquered by the first king of Portugal in 1147, was abandoned, and fell victim to a damaging earthquake, then was extensively restored by King Ferdinand in the 19th century. Through it all, Castelo dos Mouros has always boasted some of the best views of the area. Now, it's a popular tourist attraction where you can climb atop the watchtowers and admire the oldest attraction in Sintra.
You'll be adventuring outside on the castle, so watch your footing, be aware you'll be out in the sun all day, and know that sometimes there's a bit of a fog that obstructs the views on cloudy/rainy days.
Hours:

9:00 AM to 6:30 PM (last entry 6:00 PM).


Cost:

8 Euros
Getting Here: The 434 bus can take you here, however, many tourists recommend making the walk here between Pena Palace to help avoid crowds and enjoy the grounds between the two (it's a picturesque hike).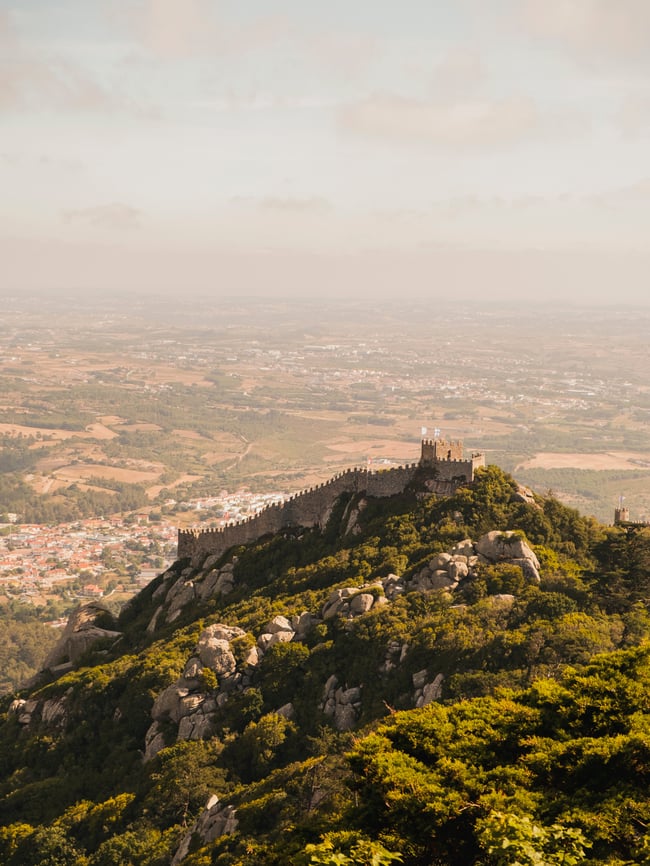 Quinta da Regaleira
Another stunner that some say is the best part of Sintra that sometimes gets overlooked by daytrippers. The Quinta da Regaleira is a stunningly extravagant estate found in the city center. It was built by a wealthy Brazilian miner, who was fascinated by the Knight's Templar and Freemasons, which added to the intrigue of the estate's grounds — you can find hidden passages in the caves, spiral staircases that lead to secret rooms, and several symbols representing religious orders in a garden with grottoes and waterfalls.
But the house itself is also a wonder: the exterior is full of Neo-Gothic flourishes as well as elaborate statues and carvings. If you know your European architecture, you can spot Gothic, Moorish, Neo-Manueline, and Renaissance features, as well as some Egyptian designs. The rooms inside are also a wonder, guiding you through curving staircases, inlay mosaic tiles on the floor, and elaborate ceilings. The first floor is open to the public, though the estate has five total — it's a big place!
However, while the interior is worth seeing, it's really the grounds that capture curiosity, to say the least. First off, it's quite large and full of things to keep you busy. Admire the line-up of Greek statues before walking down the 9-level spiral staircase to a well surrounded by mystery ... was it used as a hideout? For rituals? As a symbol of Dante's inferno? In any case, it's worth a visit along with the rest of the elaborate garden.
Hours:

9:30 AM to 8:00 PM (Winter hours are slightly shorter). Most plan on staying for 1.5-2.5ish hours.

Cost:

€8.00 (

More info here

)
Getting Here: It's found in the center, less than a mile from the Sintra train station. Here's the address: R. Barbosa du Bocage 5, 2710-567 Sintra, Portugal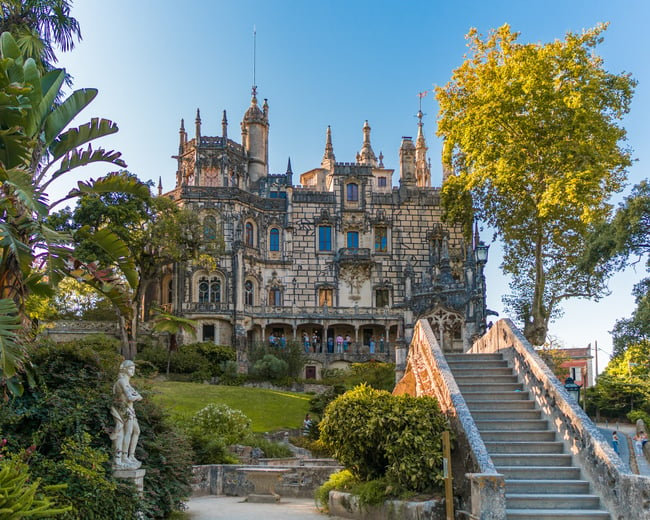 A Few More Highlights If You Have More Time
As was discussed, many tourists see Sintra in a day and get to visit a couple of things on the list above. However, so many more recommend spending at least two days here, or even three, to really see all the highlights this city has to offer. In addition to the activities discussed above, here are a few more recommendations to add to your Sintra itinerary.
Tour The National Palace Of Sintra
If you haven't gotten the drift by now, the castles and places are the highlights in Sintra, with the main National Palace of the city being another one of the most famous. It's the oldest place in Sintra that's been meticulously preserved, meaning you can get a glimpse of the medieval splendor enjoyed by the royals. First, we need to start with the exterior which is hard to miss, with beautiful white walls, ornate windows, and two massive white chimneys which mark the location of the kitchens on the inside of the building. These two chimneys are an icon of the city's skyline, and just the start of the iconic things you'll see on your visit.
Inside, every single room is a different experience. As was mentioned, this place has been extensively preserved so you do get the feeling of stepping back in time to admire fireplaces made of painted Magpie tiles, painted ceilings, ornate doorways, and more. The palace is home to some of the most impressive collections of painted blue tiles that some believe stem back to the 14th century. These blue tiles cover one room floor to ceiling. The kitchens are also worth a visit, same with the chapel, and a smattering of royal bedrooms and salons. Many visitors loved this particular palace because of the history and size — there is much more to see here than the rooms at the Pena Palace, making it another favorite place to visit.
If you'd like to read up on the history of the palace, here's a good recap.
Oh, and it can get very crowded, which means lines to enter the palace and waiting around for crowds to clear so you can really admire the detail of this place. Some mention that visiting during a weekday can help, as can visiting this place as early as possible.
Hours:

9:30 AM to 6:00 PM (last ticket administered at 5:30). Most felt like 1-2 hours was a good amount of time to spend here.

Cost

: €10
Getting Here: The Sintra National Palace is located about a 10-minute walk from the train station if that's helpful to know. The walk up to the palace is particularly scenic and is around the corner from a few notable museums if you have more time in your itinerary.
Here's the address — Largo Rainha Dona Amélia, 2710-616 Sintra, Portugal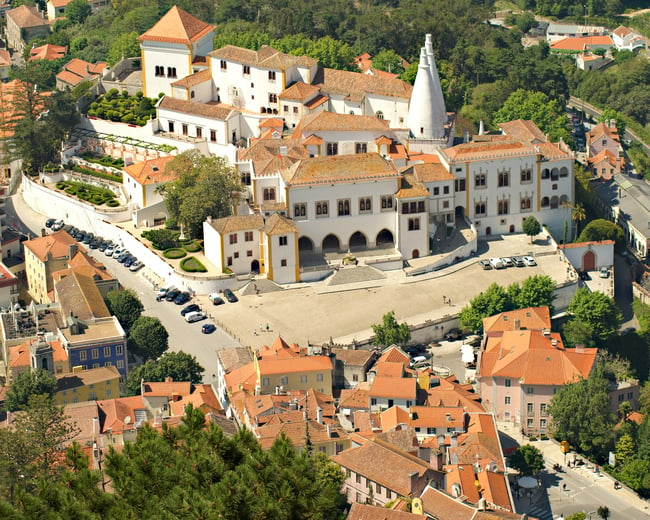 Monserrate Palace
There have been some travelers who have skipped out on a couple of the "must-see" Sintra spots to head over to Monserrate Palace because this place does not disappoint. Waiting for you here is a lush garden surrounding one of the most detailed and intricate palaces around. Built in an iconic and colorful Arabesque-style, marble-column hallways, courtyard fountains, and incredibly symmetrical flourishes around every corner are waiting for you. The overall effect of the geometric Islamic style is truly captivating, as well as the sprawling gardens (home to over 1,000 different plant species) make for quite the visit, unlike what you'll find in Sintra. It's well worth a trip out here to see if you have a bit more time than just one day!
Cost:

€8.00

Hours:

9:30 AM to 6:30 PM (last ticked administered at 5:30 PM). As a head's up, this place is rarely busy with tourists meaning you may only be sharing this gem with a handful of people (not always the case with sites to see in Sintra).
Getting Here: The 435 tourist bus can take you here (more info about that at the end of this post, in the transport section).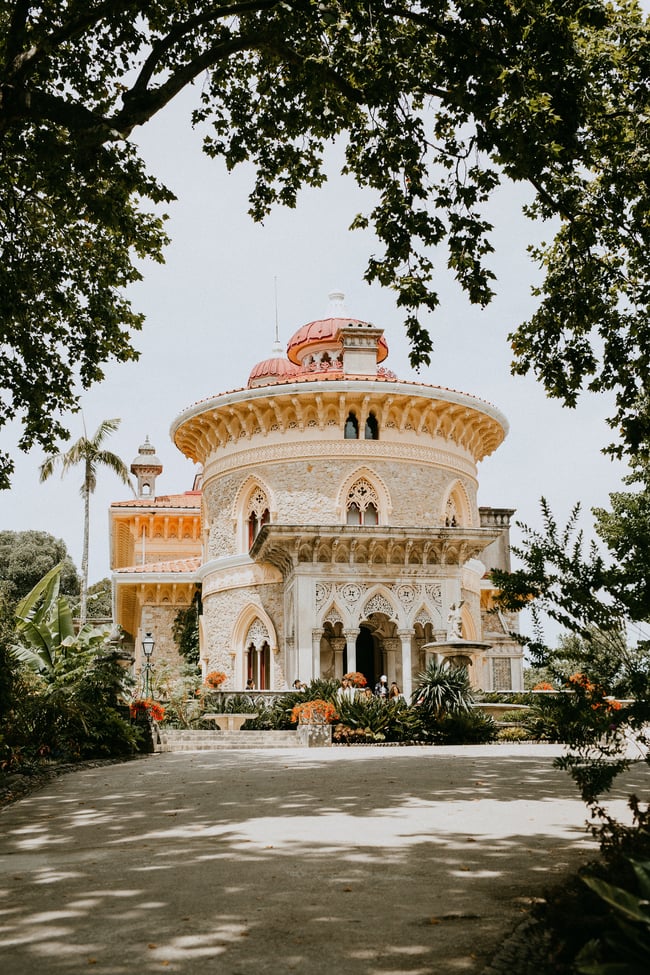 A Bit About The City Center
If you have the time, I highly suggest exploring the city center. If you're a sucker for pastel-painted buildings, delightful cafes, and cobblestone streets, you'll love it. There are a network of winding alleyways and neighborhoods that can keep your walking feet busy for a couple of hours if you're looking for a more relaxed, unplanned activity to take up time in Sintra. Feel free to start wandering, but if you want a bit of a plan, you can find several side streets along Rua das Padeiras that are quite charming.
The Old Town is also worth a wander, with streets filled with postcards and other souvenirs, as well as a line of cafes. Find favorites at many shops, including ceramics at Olaria S. Pedro, but you'll find jewelry stores, art for sale, embroidered fabrics, and more in this part of the city.
A Couple More Things To Know
Some Desserts To Try
Lisbon may be the home of the custard egg tart (pastel de nata) but while in Sintra, you'll want to start and end your day with a travesseiro. It's a fluffy pillow of puff pastry baked golden brown and filled with a creamy egg and almond filling. Yum. Queijada is another to try when you want something sweet. A mixture of cheese, eggs, butter, flour, and sugar are blended together and baked to have a bit of a crunchy top. It's sometimes flavored with orange or coconut, which means you might have to try this treat in a few different varieties.
You'll find pastry shops all around, but Casa Piriquita is one of the most popular (partly due to its location near the Palace Of Sintra). Café Saudade is another recommendation for sweets (and a light lunch).
Get More From The Visitor's Center
In the mood for more of Sintra's history? Interested in snagging a map of this place? You can get all of this plus some more suggestions on what to see by visiting the Sintra Welcome Center. They're also a good place to rent bikes for an afternoon or two, which is a rather fun way to see the city if you'd rather not walk.
Address: R. Visc. de Monserrate Nº40, 2710-591 Sintra, Portugal
Easy Ways To Get To Sintra + Travel Around Town
There are a handful of ways to get from Sintra, whether that's by public transport, or by arranging a tour if you're somewhere like Lisbon. Since it's a cinch to get here from some other popular spots our ILP volunteers are visiting, we have details on public transport from those favorite vacay spots:
From Lisbon
From Lisbon, it's just a short train ride to Sintra (just snag a train from the "Lisboa - Rossio" station — here's the timetable). The ride is just under an hour, about 40-49 minutes, and is the last stop on either train.
There are also tour agencies around Lisbon who arrange trips to Sintra, but that means you're going to be short on time and may not visit the things you want to in Sintra. I'd vote to just make the quick trip via train (it's under an hour, after all), plus getting around Sintra is rather easy as well, but that's up to you.
From Lagos (Actually, Faro)
We've had ILP volunteers visit Sintra before heading down to the incredibly pretty coastlines found in Lagos, which kind of sounds like the perfect vacation if you ask me. Faro is the name of the jumping-off point that you'll need to get to before visiting Lagos, so play on visiting Sintra on your way back from Lagos (and just going from Faro to Sintra) or visiting Sintra before you make the connection to Faro, before visiting Lagos. Make sense? Here's the train info between Faro to Sintra.
It's a 3.5 - 4 hour train ride and tickets are about $20-ish. We love booking on Omio.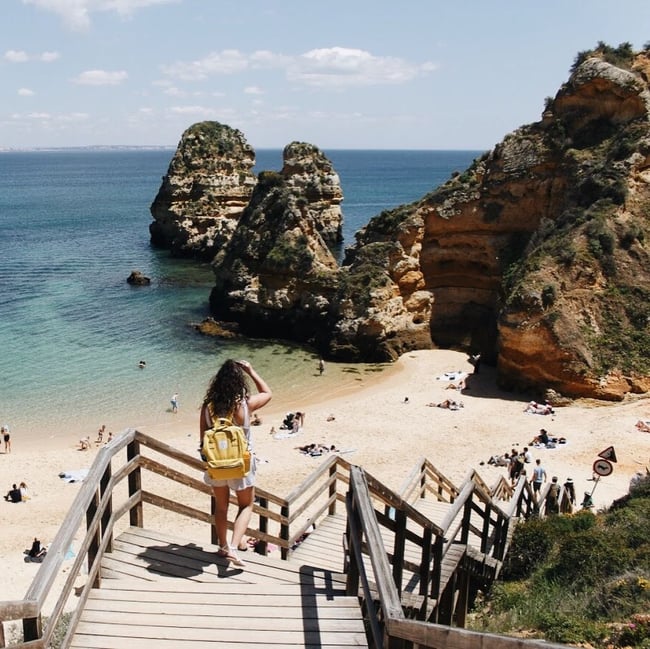 Getting Around The City
Parts of the city are rather walkable, although certain sections are quite hilly. If you have a few places on your Sintra to-do list, you'd do best to know about the tourist buses (434 and 435) which visit some of the most popular places. It can also save you time if you'd rather not climb the hill to arrive at the Pena Palace or the National Palace.
You can find all the details about the bus system here (where it goes, cost, hours, etc), just know the bus gets very crowded in the summertime. There are reports of some tourists waiting an hour plus for the bus, so it taxi or tuk-tuk is your best bet if you want to avoid that experience. However, others recommend getting the "hop-on, hop-off" ticket which is good for 24 hours, especially if you want to see a lot in the city (and nearby) while you're here.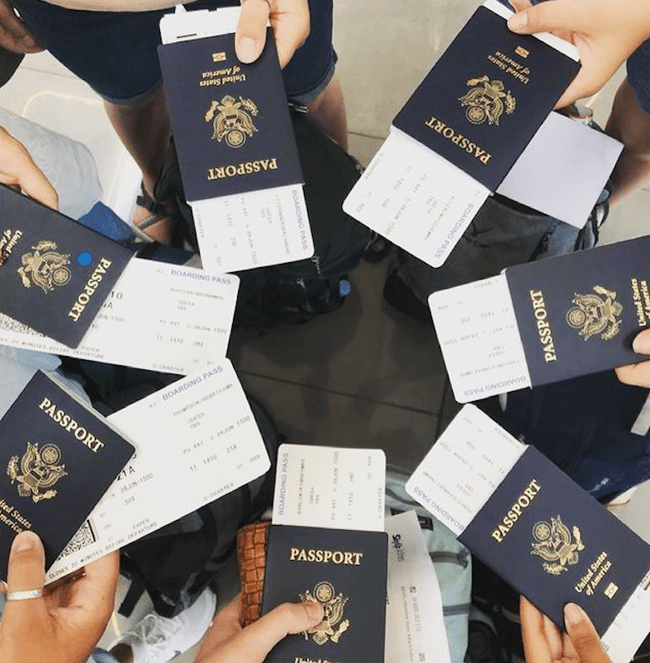 Ready to come travel all over Europe?


Why settle for a week or two in this part of the world when you could come live in Europe for a semester! ILP (International Language Programs) sends groups of college-aged volunteers abroad for a semester of teaching English or helping in an orphanage in various countries throughout Europe. Think about it — living in Europe for a whole semester, with every weekend off and vacation days to visit Portugal (+anywhere else on your EU bucket list)!