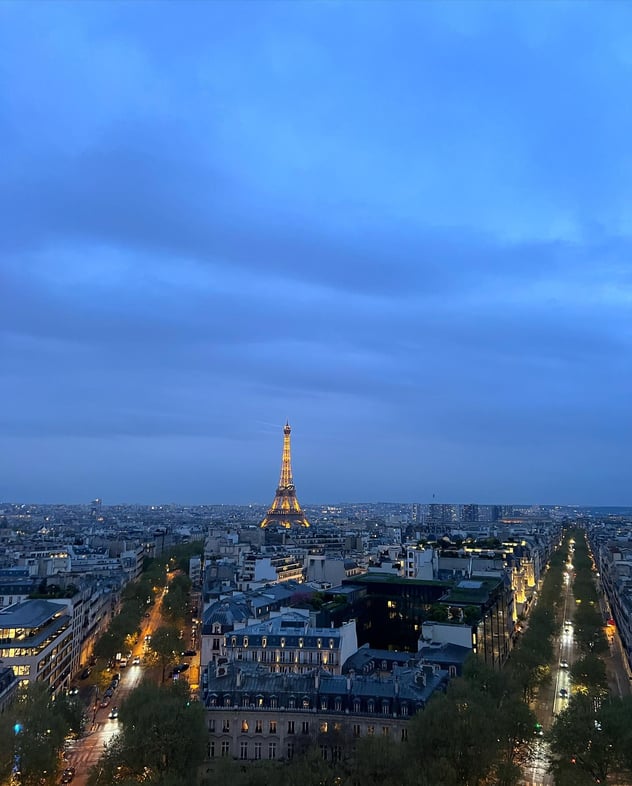 Trust us, Paris is always a good idea! Everyone who goes to Paris ends up loving it (and if they say they don't, then they did it wrong). Want to hit everything on your Paris bucket list? This is the perfect destination guide for you.
Paris is known for having some of the tastiest treats, most fabulous fashion, prettiest architecture, and most iconic artwork in all of Europe. If it isn't already on your list of cities to visit, it should be!
Visiting a handful (or more) of other countries is one of the highlights of volunteering in Europe. Flying over to Paris is an ideal way to spend one of your four-day vacations for any of the International Language Program volunteers living in Europe.


---
Don't Miss Our Complete Guide To Paris
---

Our biggest tip for anyone visiting this iconic city is to have a detailed plan before you go so that you can make sure you see everything you've ever heard about, plus a few hidden gems too! Lucky for you, we've compiled all of our insider tips from ILP volunteers to make sure that your time in Paris is exactly what you're looking for. Here's a 4-day itinerary that can easily be rearranged, lengthened for a slower pace, or can be crammed into a shorter trip if you're only here for a little bit.
Day One:
Palace of Versailles
LDS Paris Temple
Eiffel Tower and Le Carrousel
First, start your day off right—and like a local—with some coffee or hot chocolate and a delicious pastry or two. You'll see so many boulangeries and patisseries all over Paris, but a local favorite is Le Grenier à Pain, which has quite a few locations around the city so you should be able to find one close to wherever you are. Then enjoy some people watching, since there is nothing more Parisian than that. Okay, now you're off to enjoy the rest of your itinerary!
Palace of Versailles
On the first day, you'll want to start with one of the sights that will take the most time, and we recommend going to the Palace of Versailles. It's a bit out of the city, so here's how to get there and everything else you need to know about visiting. Make sure you get an early start to avoid some of the lines and plan on spending the majority of your day here. Many of our volunteers feel like this is the very best part of Paris!
Versailles is known for its huge gardens, marble statues, bright paintings, and of course the famous "Hall of Mirrors". This is where Marie Antoinette was living at the start of the French Revolution, and since everything has been maintained to look like it did then, spending a day at this extravagant palace really does make you feel like you're French royalty.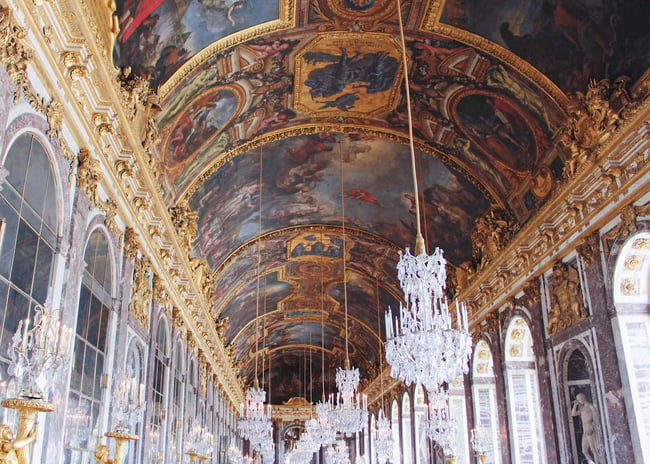 The Church Of Jesus Christ Of Latter-day Saints Paris, France Temple
Literally up the street from Versailles, the temple is a short walk and quick stop if you're temple hopping in Europe! The grounds are really quiet and after spending the day with thousands of tourists, its a nice place to relax before heading back to the city. Find it here.
To get back to the Eiffel Tower (your next stop today), you'll need to either catch the local bus just outside the temple grounds like we did, or get a taxi. Either way you'll need to get to the RER station, Versailles Château Rive Gauche Station, where you arrived in the morning and then get on the RER that takes you back to the heart of Paris.
The Eiffel Tower
Going to the top of the tower seems like a "must" as a tourist, but it isn't necessary for having a memorable evening. Besides, the best pictures have the Eiffel Tower in the background anyways, right? The lawn in front of the tower, Champs de Mars, provides the perfect place to have a picnic dinner. There are several local markets in the streets around it, so grab some baguettes, fresh fruit, and cheese and sit down to for some good old fashioned people watching. Don't forget the pastries!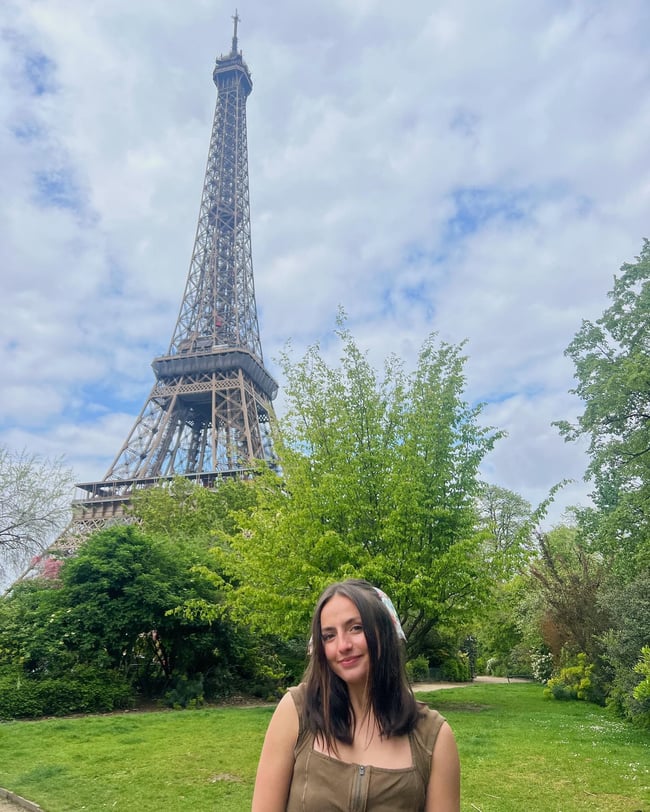 Right next to the tower is Le Carrousel de la Tour Eiffel. Can you think of a dreamier way to end your perfect first day in Paris? It's a little pricey, but we hear it's worth it. And even though you'll be exhausted, don't head back to your hostel quite yet! You've got to stay awake long enough to see the Eiffel Tower sparkle in the dark! Pure magic.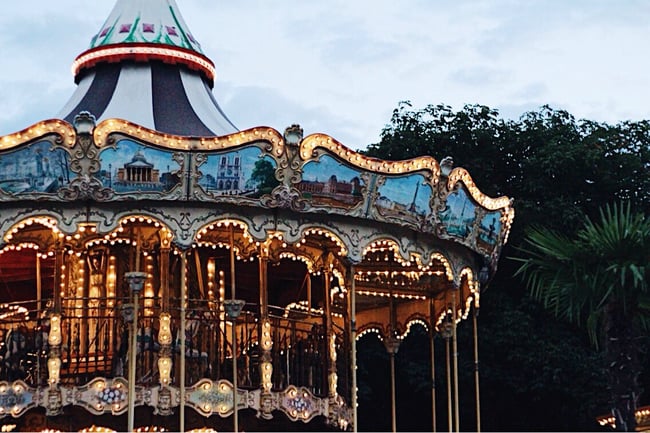 Day Two:
The Cathedral of Notre Dame
Sainte-Chapelle
The Louvre Museum
Champs de Élysées
Arc de Triomphe
The Cathedral of Notre-Dame
This is going to be another early morning, but you'll thank us when you see the crowds start to line up to see the home of your favorite hunchback. This place has been around since 1260, and is located on an island in the Seine, Île de la Cité. There's really only one word to describe all the stained glass and statues. Majestic. And you can take pictures in this cathedral, which isn't always the case. Entry is free, but you can pay a fee to go to the top (about $10) and see the view alongside the gargoyles.
Find it here.
While the Cathedral of Notre Dame is on every tourist's list, it is also much beloved by the locals. To experience her like a Parisian though, make sure you're here at 7:00 AM to beat all of the tourist crowds. As more and more people arrive, make your way to the nearby Sainte Chapelle (gothic cathedral), Place Dauphine (beautiful public square), or even this cute flower market.
Since 1808, Marché aux Fleurs has been one of the favorite open-air markets in Paris! While the vendors sell colorful, delicate bouquets every day of the week, they also bring out a variety of birds on Sundays.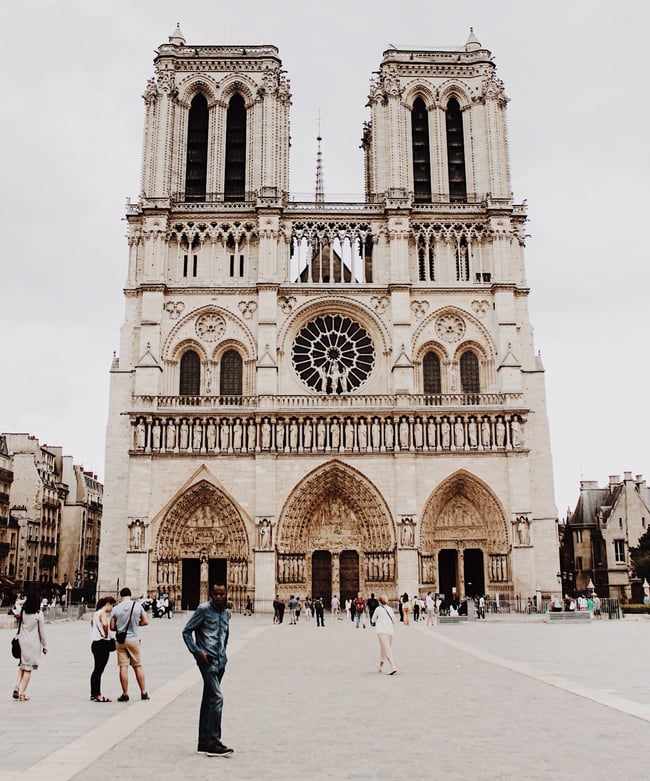 Sainte-Chapelle
If you're feeling up to visiting another incredible cathedral, Saint-Chapelle is right next to Notre Dame, and the walls are almost entirely made of stained glass with stunning Gothic ceilings. It's inside a former palace, and if the entry fee is in your budget, it might be worth a visit!

Find it here.

The Louvre Museum
Now you're going to walk back over to the right side of the Seine, but make sure you cut through the flower market by Notre Dame. Who doesn't love an excuse to smell fresh blooms?
The Louvre is massive, and you could literally spend all day just here. If you don't have time or don't want to pay the fee, you can opt to just take a picture with the famous glass pyramid outside. Of course then you miss out on the Mona Lisa, but unless you're super into art, you might be a little unimpressed with it. If it's your life-long dream to see the Mona Lisa, do it! If not, then you will probably want to avoid the endless crowds and spend your time elsewhere.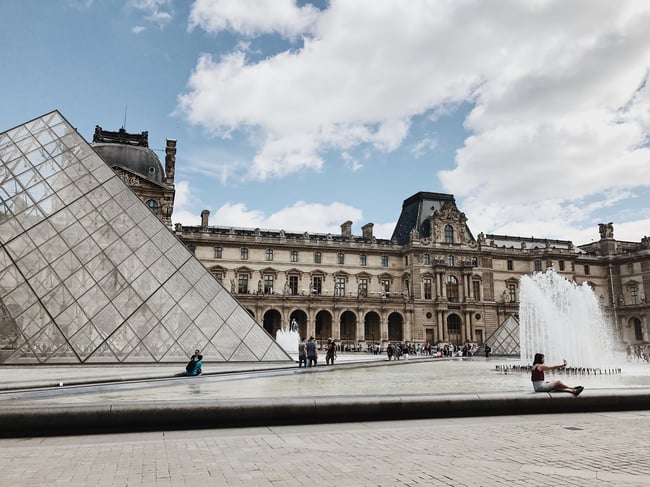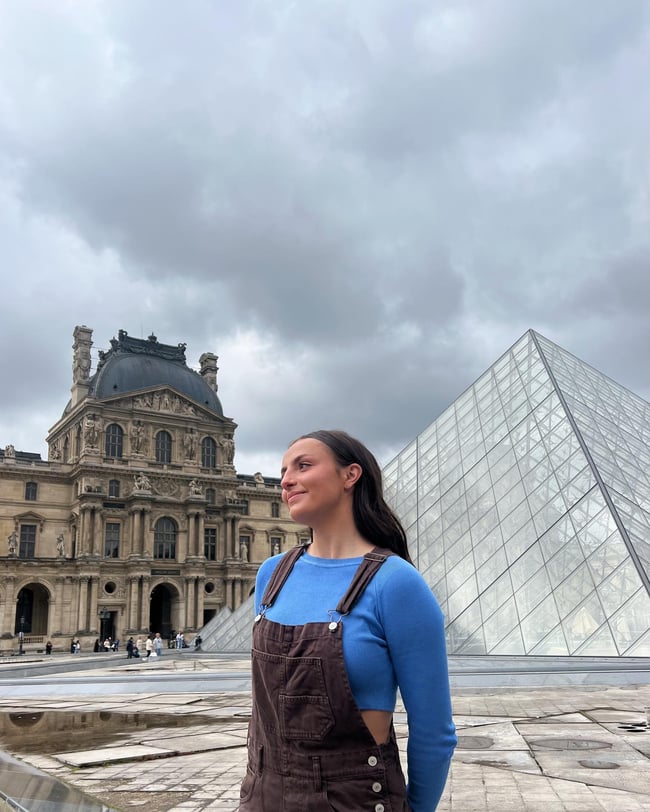 Champs de Élysées
This shopping street is a little further away from the cathedrals, so you can either catch the underground metro or just make the walk like we did. There are so many gardens and beautiful buildings along the way that it's actually totally worth it! Just follow the Seine and cross as many bridges as you can. You may even find some of the local vendors selling oil paintings of Paris done by real art students like we did!
Let's be honest, you can't go to a fashion capital like Paris and not shop! Or at least window shop. And Champs de Élysées is the best place for that! They have a lot of high end stores (where my Louis Vuitton fans at?) but several more budget-friendly ones as well (hello Zara). Make sure you swing by Tiffany's and say hello to the picture of Audrey Hepburn, too.

Find it here.
Arc de Triomphe
It's at the end of Champs de Élysées and is really just a great big roundabout, so watch out for all the traffic while you're getting that perfect pic. You can then either head back down to the Eiffel Tower for another evening picnic, or pay a bit more for dinner at a cafe. Then call it an early night because you still have two more full days of walking! Find it here.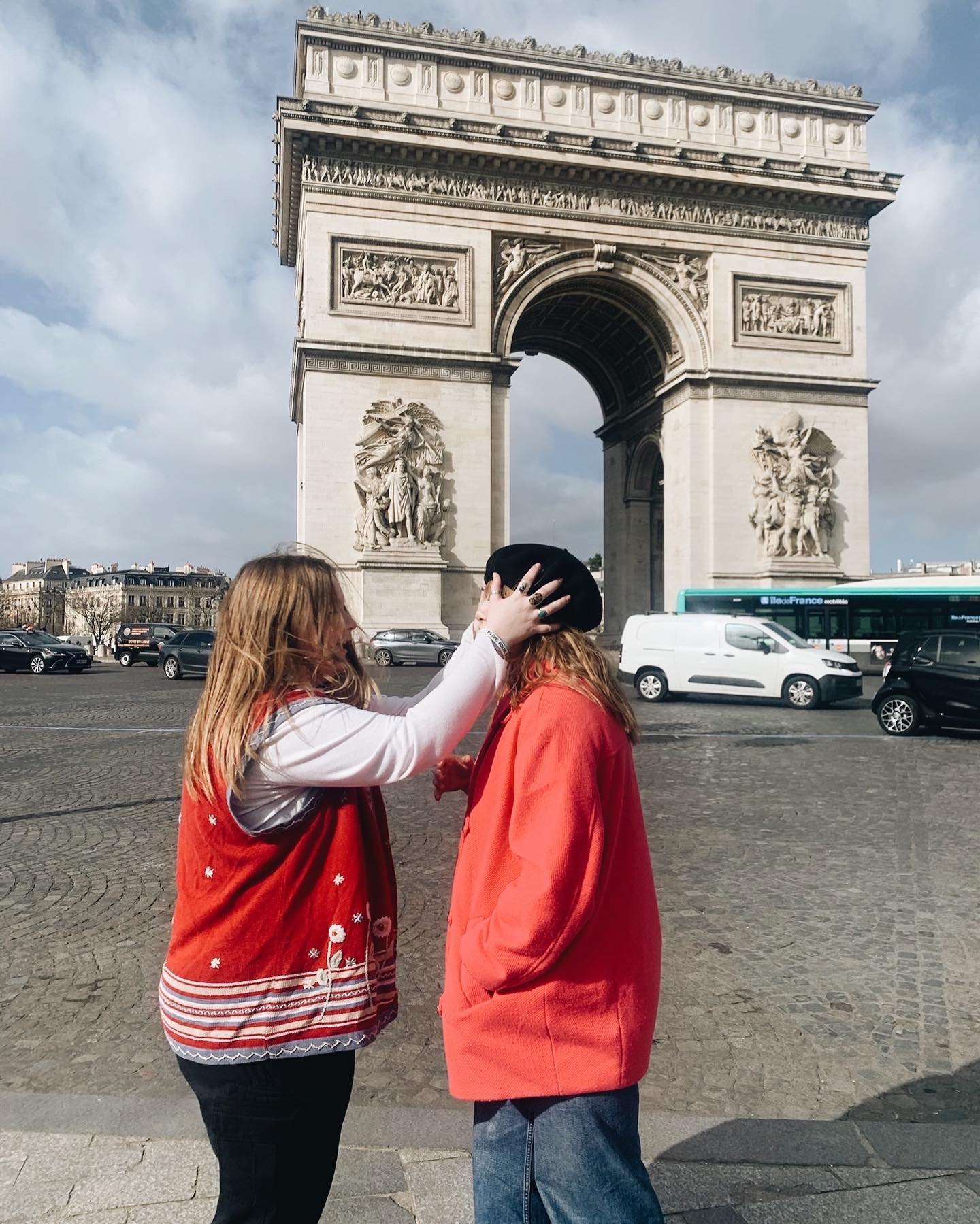 Day Three:
Quartier Latin
Shakespeare and Company Bookstore
Jardin du Luxembourg
Catacombs of Paris
Bridges of Paris
Boat Tour on the Seine
Quartier Latin
Home to the university, La Sorbonne, this is the place where students hang out. It is full of bookstores, cafes, museums, and old Gothic churches. You can also find the Pantheon, where many of the most famous French people, including Voltaire and Marie Curie, have been buried. So grab some (more) macaroons, and just explore the most medieval part of Paris! Find it here.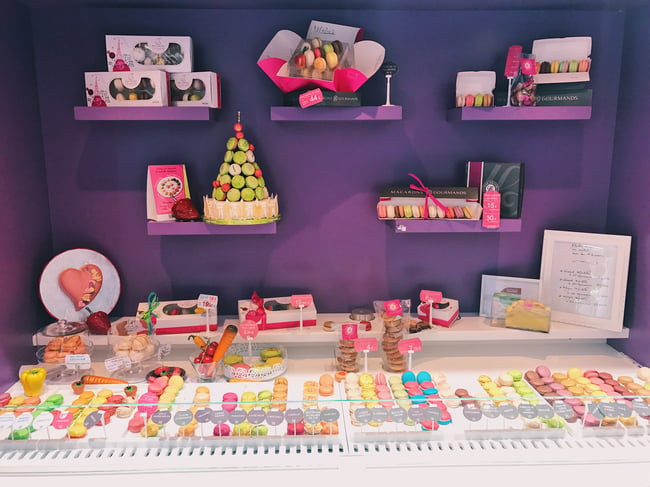 Shakespeare and Company Bookstore
If you're a book lover, this place is for you! It's actually on the outer edge of the Quartier Latin, so you won't even need to walk far. In the past it's been a library, publishing, and boarding house for writers like Hemingway and Joyce before it was closed during WWII. It was reopened in 1951 and remains a landmark in Paris. Located on the Seine's left bank, just across the river from Notre Dame, it's a quick stop. Find it here.
Jardin du Luxembourg
Okay, you can't leave Paris without spending time in some of her gardens. Surrounding yet another palace (yeah we've lost track of how many Paris has, too), these gardens are some of our favorite. Statues, fountains, lawns, shade trees, flowers, tons of history, and cutie old men playing bocce ball for hours. Another ideal place for a picnic, and also right next to the Quartier Latin, so just make this your end destination of your walking tour and you'll be set! Find it here.
Catacombs of Paris
Six million skeletons are here, folks. You'll probably want to jump on the metro to get to this one, but it isn't far if you're up for walking. After all the art and statues you've been seeing, this will mix things up a bit. Find it here.
Bridges of Paris
When you're done at the catacombs, head back to the center of the city via metro. Each bridge (ponte) in Paris has a story, and you've got to make sure you've had a chance to cross every single one between the Cathedral of Notre Dame and the Eiffel Tower. This one is "Ponte de Alexander III", named after the Russian Princess Anastasia's grandpa. It provides great views of the gold-topped dome of Les Invalides and, of course, your favorite tower. The bridges make for some of the best photo spots, too.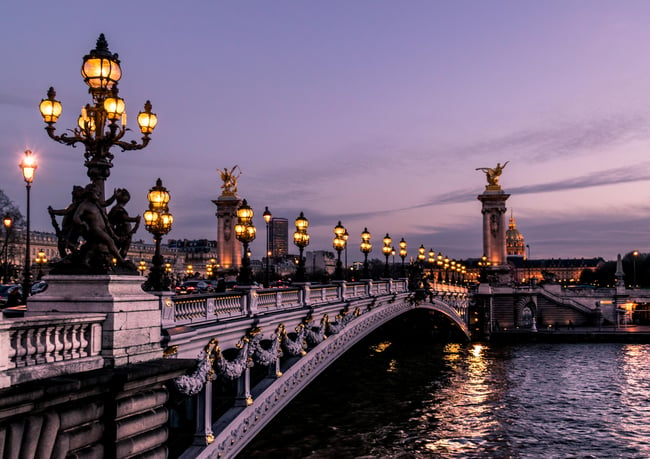 Boat Tour on the Seine
While in Paris, you have to indulge in a boat tour on the Seine! Make sure to reserve your tickets beforehand. The guides will tell you a bit of the history of the city, while pointing out some of the lesser known landmarks you may have missed. Also a great excuse to rest your feet that will most likely be killing you at this point. So sit back and watch the evening lights start to turn on.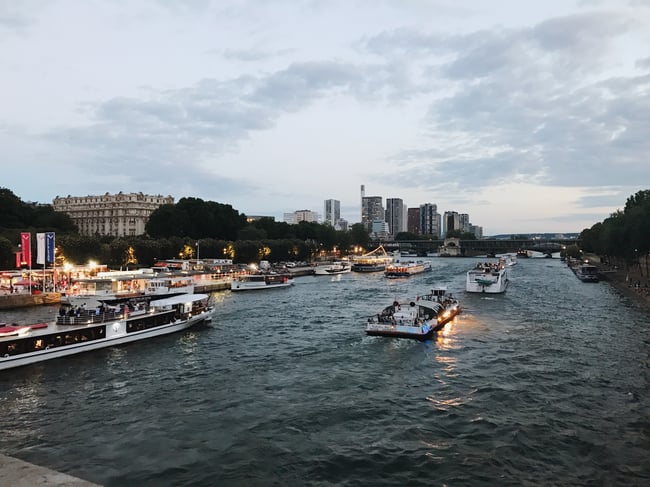 Day Four:
Palais Garnier Opera House
Galeries Lafayette and Angelina's Cafe
Sacré Coeur Basilica
Montemartre
Palais Garnier Opera House
We've saved the best for last, because this is low-key our very favorite place in Paris. Like if you only have time to see one thing, this is it! And best part? Most people don't even know about it! I'd recommend that you buy your tickets online ahead of time and skip some of the line. This place has architecture and gold like Versailles, but hardly any tourists if you go early enough! And this is the setting for one of the most timeless musicals, "Phantom of the Opera", so watch the movie before you go.

Find it here.


Galeries Lafayette and
Angelina's Cafe
Do you want a free view of the Paris skyline? We've got you! This shopping center is the place, and it's right around the corner from the Opera House. You can go straight to the top, but we're guessing you'll want to look at the shops too. Plus, you'll find free, clean bathrooms! That is a rare find in Europe. Find it here.
This is also the place to have the best hot chocolate (literally a melted chocolate bar) or any other chocolate dessert you'll ever have in your whole life! Angelina's is a bit pricey, but here's the menu, and keep in mind that you pay for the experience. There are a few locations around Paris, but this is where we went and it gets 5 bright gold stars from us. Yes, definitely a touristy experience, but absolutely loved by the locals too. Find it here.
From there, walk to the nearest escalator or elevator and make your way to the terrace (Level 8). Then, just walk around and experience the panoramic views of Paris! You won't be able to get a good view of Sacre Couer from this terrace, but all of the other notable landmarks are visible.
Sacré Coeur Basilica
You'll probably want to jump on the metro or RER for this trip, since it's a bit further north. But make sure to stop and see the Moulon Rouge windmill on the way, if that's on your list.
The name of this church literally means "sacred heart". It's on the tip top of the highest point in the city and gives great views of Paris. You can't take pictures inside, but the dome is spectacular!

Montemarte
One of the most charming districts in Paris is found right behind the basilica. It's where the artists of Paris gather, so you can find the prettiest paintings, or even get someone to paint a picture of you. There is often live music, and we totally suggest grabbing one of those famous French crepes to enjoy while you're walking around. This area does get a little wild at night (watch out for pickpockets), so make sure you leave before it gets dark, just in time for dinner.
Parisians usually eat dinner pretty late (7:00 PM and beyond), so if you have the time and money, there is no better way to finish off your day of experiencing this city like a local! We recommend Le Select, which has quite the reputation and was frequented by Ernest Hemingway and Pablo Picasso in the 1920s.
Check out the menu before going and definitely try to get a reservation online. Keep in mind when making a reservation that each "couvert" is a place setting. So if you have 4 people in your group, then you want "4 couverts".
If you don't want to spend the money on a dinner, consider eating lunch at a restaurant instead (Parisian lunch menus are so much cheaper). Then, opt for an authentic picnic dinner! Find it here.
We'll be honest, even with four days in Paris, you'll still have to pick and choose what to spend your time on. There is so much to see and experience that we didn't even get to include in this itinerary. There might be some things you don't get to do, but that just gives you an excuse to go back!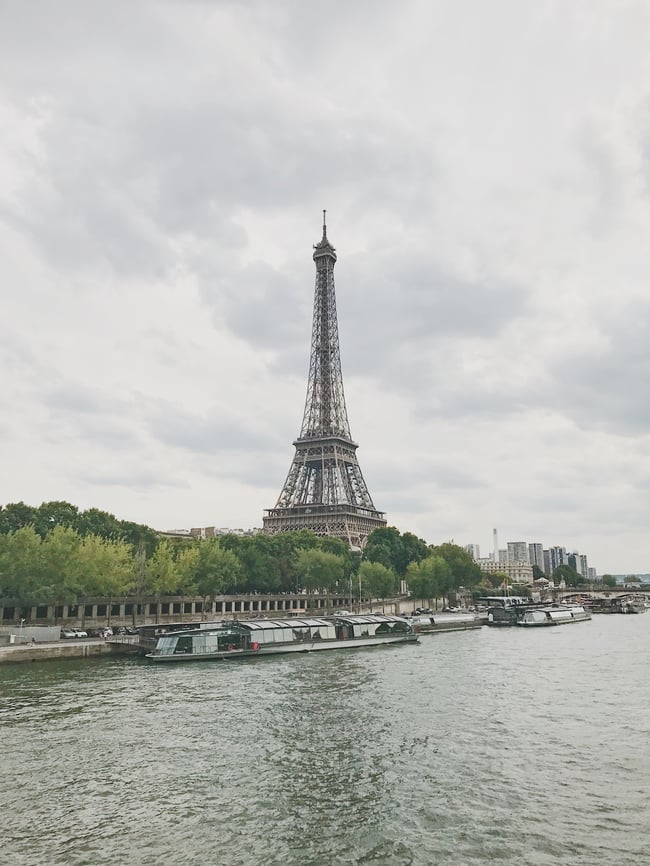 Ready to make your dreams come true?
If your dream is to vacation in Paris while you're spending a semester
living in Europe, you may have come to the right place. Want to know how to make this happen? Come chat with an ILP representative!