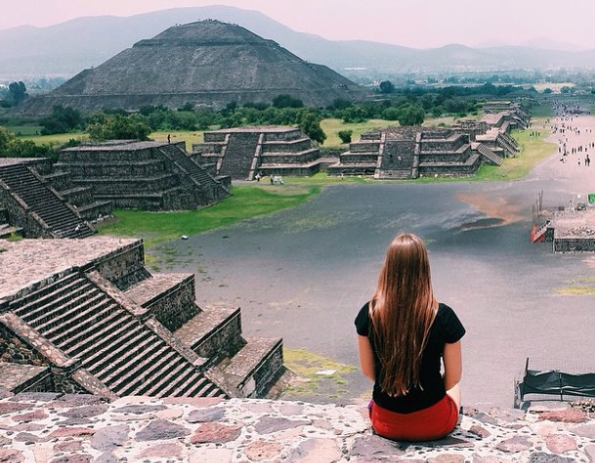 Headed to Mexico? Whether you're going for a week long visit or are planning a rad vacation in middle of your semester abroad with ILP, you'll have to visit Teotihuacan.
To be honest, we're pretty much smitten with Mexico — this country seems to have it all. Unreal beaches, tacos everywhere (and other rad food), baby sea turtles you can release into the ocean, a long history, a culture you'll miss when you're back home, plus some jaw-dropping ruins.


---
Ready to see all this and more?
Mexico Destination Guide is here for you.
---
We know there are dozens of vacation places to choose from in this country, but there's one must see spot in Mexico that ILP volunteers love ... come visit the City of the Gods, AKA the famous ruins of Teotihuacan.
One volunteer even said this — "Originally what I wanted to see the most in Mexico was Chichén Itzá. You know, THE WORLD WONDER. But honestly, Teotihuacan was my favorite of the two. Highly underrated. If you have to pick between the two, I say pick Teotihuacan". We're in!
To help you out, we've put together a little history and top travel tips from alumni to make your trip a success.
What Are These Ruins?
Favorite Things About Teotihuacan
Ticket Prices And Hours

Getting Here

Helpful Tips
What Are These Ruins?
They are only the also the most visited archaeological site in Mexico, but if you want a few more details — Teotihuacan is about 30 miles northeast of Mexico City, so an easy day trip if you're already in the neighborhood. Its name means "City of the Gods" or "Birthplace of the Gods" because the Aztecs believed the Gods created the universe in this very spot. The city was thought to be built around 100 BC and continued to be built until 250 AD (wow).
The ancient city was a center for culture and home to potters, jewelers and craftsman (you can find lots of obsidian sold as souvenirs there today) ... until the city was burned in the 7th or 8th century. It's still unclear whether the entire city was attacked by outsiders or a possible uprising from those inside the city. Now, the site's been turned into one of the most impressive ruins in all of Mexico and still is surprising archeologists who are studying the area.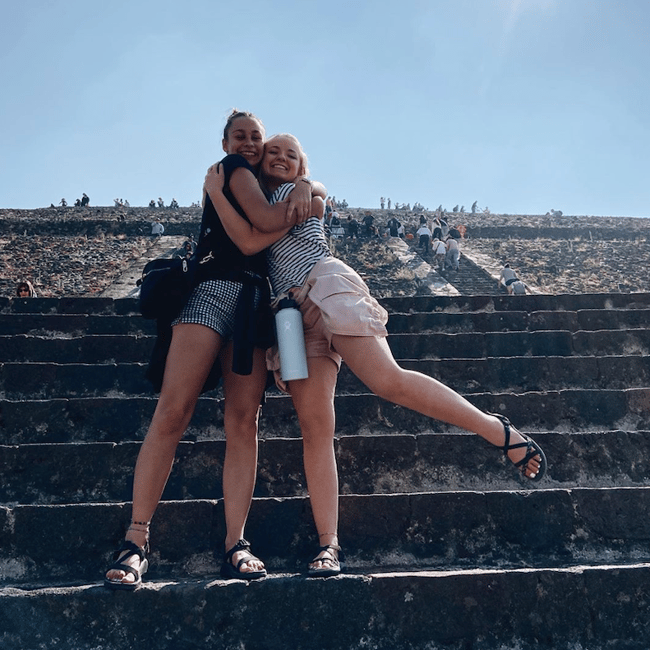 Favorite Things About Teotihuacan
+ The Sun And Moon Pyramids
The most famous things to see in Teotihuancan, and for good reasons. Teotihuacan is unique in a lot of ways, but one is the fact that you can climb the pyramids which isn't something you can do when visiting other ruins in Mexico. The Sun Pyramid is h-u-g-e: it's one of the largest pyramids in the entire world, and you can climb to the top. It's about 250 steps but the views are amazing — from here, you can see the whole ancient complex spilling out below you. It's pretty wild to think of how this pyramid was built thousands of years ago without the modern tools we have today.
The Pyramid of the Moon is equally impressive. You can also climb to the top if you're up for more stairs, but doing just that will give you a spectacular view of the Avenue of the Dead.
+ The Avenue Of The Dead
This avenue connects the Citadel to the Moon Pyramid and is over a mile long and is named because the Aztecs supposedly through the mounds on the sides of the road looked like tombs (don't' worry, they aren't).
+ Temple of Quetzalcoatl
Another impressive pyramid, this structure is covered with detailed carvings of a feathered serpent god, Quetzalcoatl. Under this temple, archaeologists also discovered that there were hundreds of religiously significant burials that may have been sacrifices to the ancient god.
+ The Museum
Your ticket price includes access to the museum, so why not stop by? Get a break from the sunshine and see a whole model of the park so you can get a bird's eye view, admire some artifacts pulled straight from these pyramids, plus read a little bit about the people who used to live here.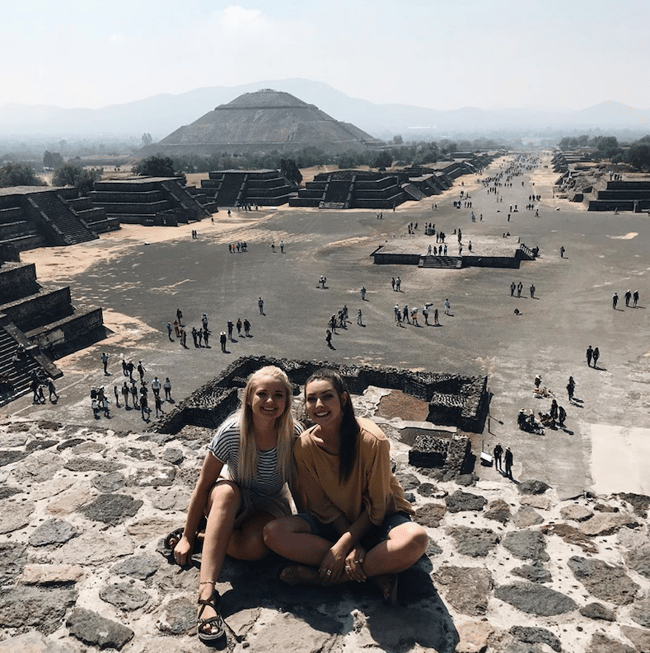 Ticket Prices And Hours
It's 75 pesos to enter which like we mentioned before includes the entrance to the museum.

It's open from 9:00 AM to 5:00 PM, daily … however some visitors have had luck getting there at 8:00 AM or earlier and were able to still get a ticket. Just as a head's up, it's free to visit on Sundays for Mexican citizens, so it tends to be really crowded on Sundays.
Getting Here
The ruins are just about 30 miles northeast of Mexico City, making it a perfect day trip from the busy city.
You can take a tour bus (expensive, but convenient — your hostel or hotel can help you book that), an Uber (again, convenient but expensive at around $50 USD each way), but our pick is to get here using public transportation. Several buses leave from the Terminal Central Del Norte (the Northern bus terminal) in Mexico City. Head to gate #8 and book a ticket for buses headed to Teotihuacan. Look for buses stamped with Teotihuacan "pirámides".

The bus ride is a bumpy one, but takes just over an hour. Prices are around 88 pesos for a round trip ticket.
Buses leave about every 30 minutes, but double check the schedule so you don't miss the bus coming back fro the ruins! The last buses stop running around 6:00 PM.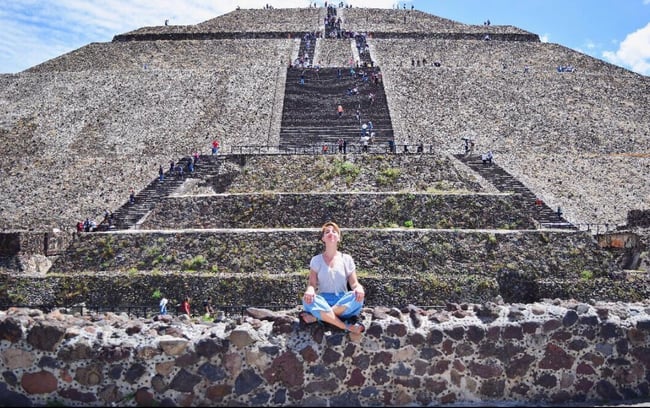 Helpful Tips
When To Visit
This is definitely a day trip thing. The ruins are found outside of Mexico City which is easily reached by bus for all of our ILP volunteers living in Mexico. Also, we cannot recommend enough visiting in the morning enough. It's less crowded plus the entire complex is in straight sun, so visiting earlier in the day will mean lower temperatures. If you can swing it, visit early.
Go On Your Own
You can totally hire a guide to take you around (we've had groups get a guide for about 500 pesos) but this is a place in Mexico where you can easily explore on your own if you'd like. It's not hard to explore, the guides are just great to help explain the significance of the ruins you're exploring so if you opt to go on your own, we recommend swinging by the onsite museum and doing a little research first.
What To Pack
Our volunteers suggest packing up plenty of water plus some snacks. There are a handful of restaurants within walking distance of the pyramids (look up Restaurante Techinanco or Restaurante el Jaguar) if you have time and don't mind waiting. There are also some food vendors where you buy your tickets, but not so much once you get to the actual ruins.

Also, pack up sunscreen, sunglasses, a hat. Wear lightweight clothes and comfortable walking shoes and be prepared to be outside all day. You'll be in direct line of the sun without any cover if it's a cloud-free day.
Be Sure To Barter
You'll find lots of popular souvenirs sold here (thanks to all the tourists who visit) but be sure to bargain down the price. Expect to find things like silver jewelry, obsidian shards and jewelry, colorfully woven blankets, bracelets, wallets, headbands, bags, shirts, and more.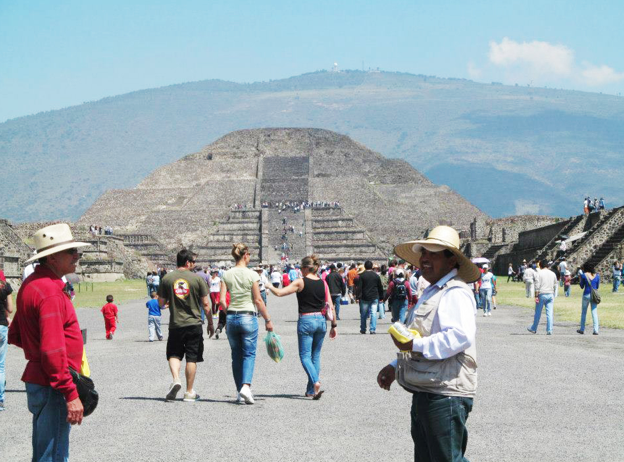 Did you get all of that?
Keep an eye out for any Mexico posts on our Instagram @ilpadventure (our volunteers love visiting places like Valladolid and Puerto Escondido along with a a few more favorite spots). Or, get info on what a semester is like here with International Language Programs.