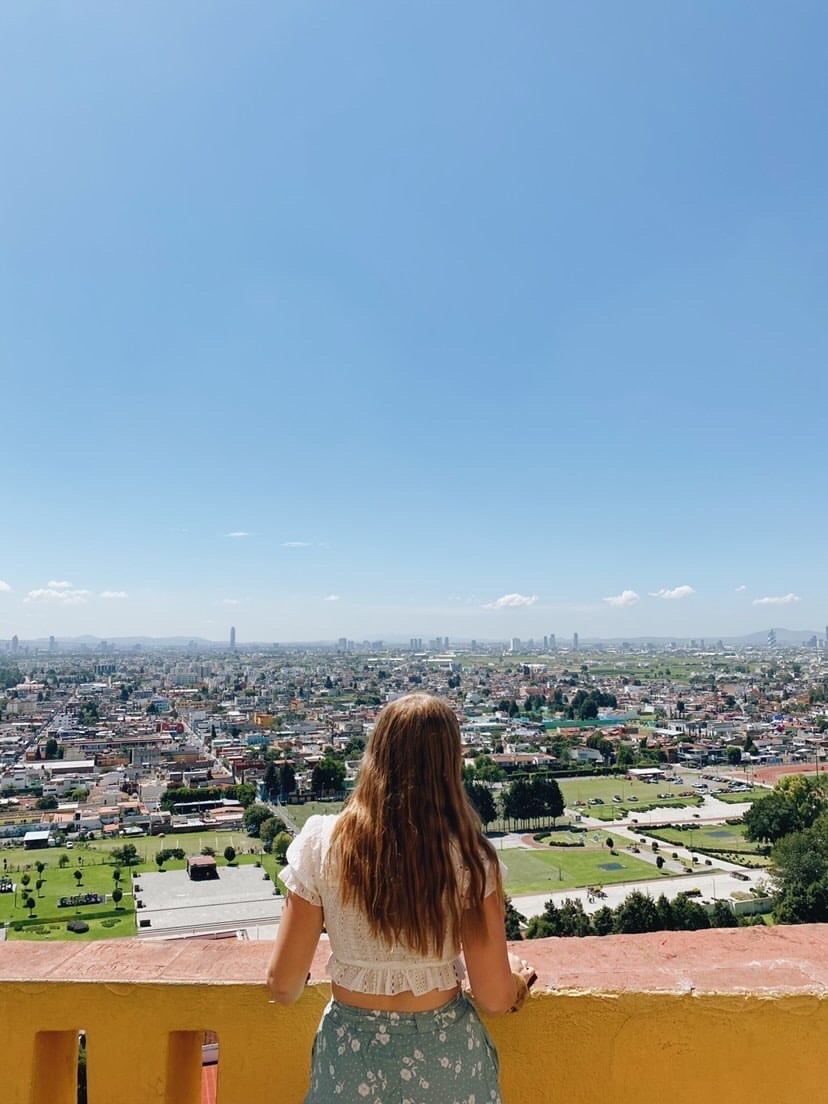 Puebla is the place for colorful streets bursting full of towering cathedrals, tons to do, and some of the best food in a country. See why we love it here?

I'm not sure if you know, but Mexico is kind of where it's at. ILP (that's us, a Utah-based non-profit!) sends volunteers to teach English and help orphanage programs to countries all over the world, meaning you have a lot of country options. But let me clue you in to Mexico — this place has incredible vacations, a captivatingly bright and vibrant culture, more magic cities than you could visit on the weekends, and so many local dishes to fall in love with.

Oh, and you can get all of this (and more) in the city of Puebla, an easy weekend or getaway place for our volunteers living in Mexico for a semester!


---
Learn more about volunteering in Mexico, here.
---

Truth be told, there are many (many!) weekend trips we rave about, but Puebla is easily one of the best. Some volunteers even said that Puebla was their favorite city in all of Mexico. Sounds like you need to see this place for yourself, right? Good thing you can find a blog post highlighting the best of the best, below:
A Bit About The City
Okay, first things first — Puebla is the name of two places in Mexico, the state, and the city. This blog post is all about the city of Puebla, found in the state of Puebla, Mexico. It's a huge city (the fourth largest in the country) but is still sometimes thought of as a quick day trip from nearby Mexico City ... which isn't so! Even though it's just about 60 miles from the country's capital, Puebla itself is bursting with tons of history, a whole list of things to do, plus is a jumping-off point to many adventures. Don't make the mistake of treating this place like a day trip when you could easily spend a weekend (or much, much, longer) here.

You can read more about the city details below, but overall, we love the European feel in the city, thanks to its Spanish roots. There's a big religious presence here (the Spanish called this city the new Jerusalem), with a rumor that there are 365 churches in town, one for each day of the year. While that number is more like 40, you have a lot of churches to visit in Puebla if you'd like to see them all.

Another thing to notice? Through a history of Spanish conquistadors, French rule, and later Mexican independence, the city is now a unique mix of food, art, architecture, and culture that's not found anywhere else in Mexico. The whole historic center of the city of Puebla is an official UNESCO site, which includes over 5,000 buildings. This place is pretty special.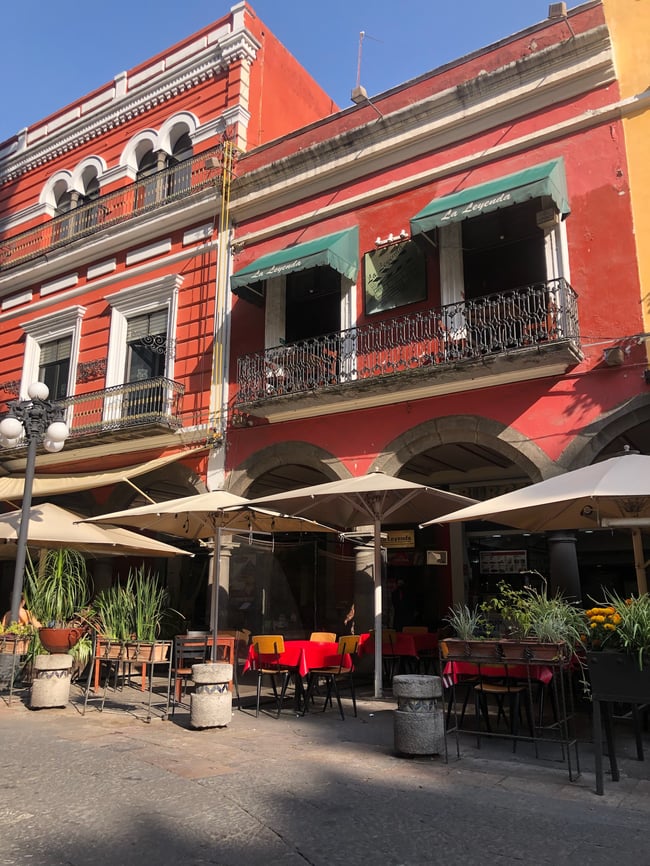 All The Things To Do Here
Alright, onto a long list of our favorite things to see while you're in Puebla. There are many more that didn't get a feature on this list, so know you'll be able to keep yourself busy here if you're staying longer than a couple of days, these are just the highlights suggested by visiting volunteers.
First, A List of Churches
Among other things, Puebla is known to be home to some of Mexico's most amazing churches ... and having a lot of them. While you could visit all 40-something in the city, here's a shorter list to check out:

The central Church of Santo Domingo may be the most notable Baroque church in the area, which has an interior chapel that's beyond ornate. Imagine a rounded vaulted ceiling absolutely dripping with gold ornamentation. It's a lavish, insanely detailed, and incredibly intricate interior you won't want to miss.
Address: Av. 4 Pte.
Hours: Check online (they're closed Mondays, and open for short windows throughout the week)

The Templo de San Francisco is another to see, and hard to miss, being bright yellow. You'll find the mummified body of a San Sebastian in the north tower. Sabastian was a Spaniard who planned many of the city's roads, became a monk, and is supposedly a step away from sainthood. It pulls a lot of worshipers, as the patron saint of drivers, merchants, and farmers.
Address: Av 14 Ote.
Hours: Supposedly 9:00 AM to 8:00 PM, daily.
The Puebla Cathedral is huge, took over 100 years to build, and is one of the most impressive Baroque churches around. Part of the appeal of this church is the sheer size — the church absolutely towers over the city square, and inside? Massive chandeliers hang to help fill the space between the tiled ground and vaulted ceilings. The huge gold organ is also a pull, with some visitors saying they were lucky enough to visit when the organ was being played.
Address: C. 16 de Septiembre
Hours: 9:00 AM to 1:00 PM, then 4:00 PM to 8:00 PM, closed Sundays.
Touring The Zocalo
Puebla's city center is probably a spot you'll spend a lot of time in (it's near attractions like the Puebla Cathedral and others), plus there's a lot to see in this part of the city. Find fountains, park benches, and tall leafy trees to enjoy while you listen to street performers or munch on a snack from one of the foodie carts.

You might also notice the opulent Biblioteca Palafoxiana nearby, one very old (and very beautiful) library, founded back in the 1600s. It's the oldest library in the Americas if you didn't know. Be sure to take a peek inside for just 40 pesos if you love the idea of standing in front of wooden library shelves that are hundreds of years old.
The Museo Amparo + This Rooftop View
There are a handful of noteworthy museums in the city, but the Museo Amparo is a fav for visiting ILP volunteers. The museum focuses on pieces from Mexico's early history, a stunning display of 19th-century art and furniture, as well as some contemporary pieces, giving you a taste of quite a few artistic periods and movements. It's also housed in two colonial-era buildings which adds to the charm.

Once you've made the rounds, make sure to head up to the top floor where you can get a stunning view of the city (there's also a cafe up there, but we think you'd like to eat somewhere we talk about in our foodie section — we have some yummy suggestions).

Address: Av 2 Sur 708
Hours: 10:00 AM to 6:00 PM, closed Tuesdays.
Cost: 35 pesos
Find more info on the museum here.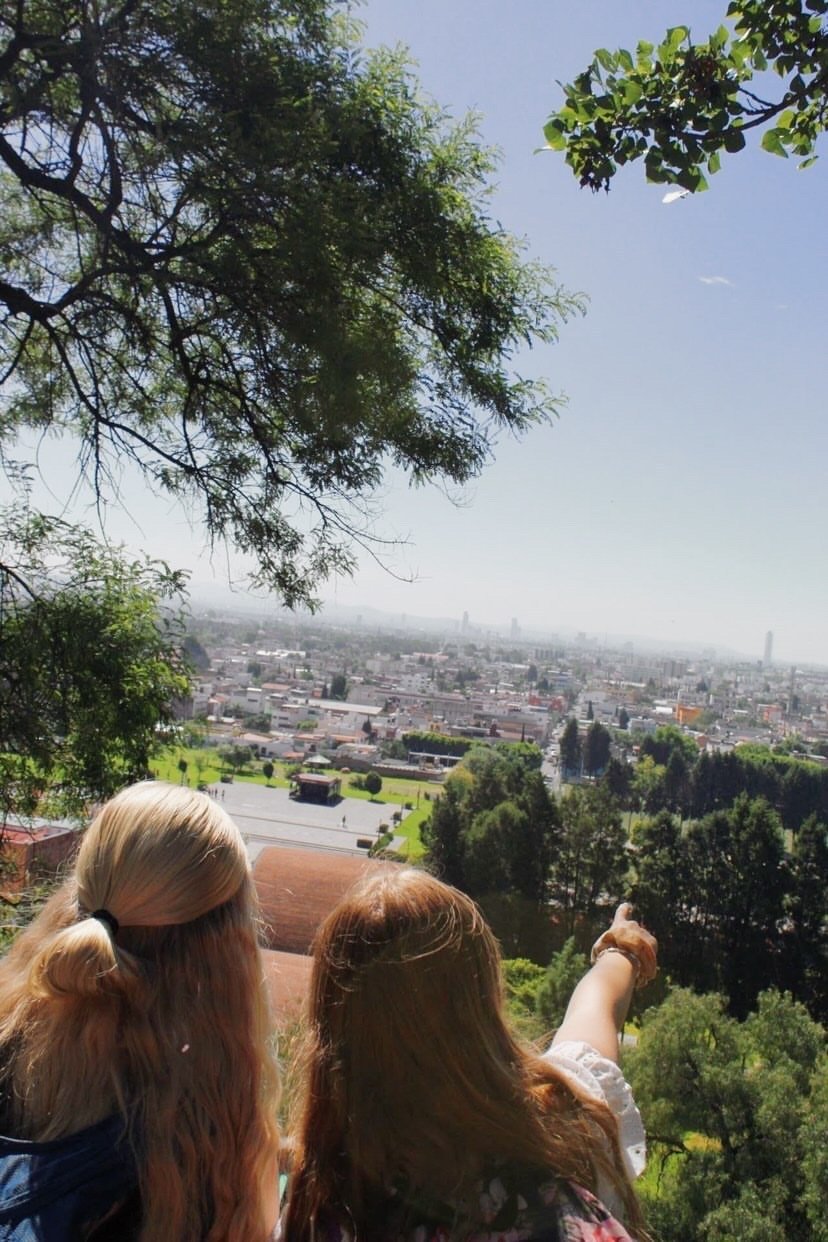 Callejon de los Sapos - Frog Alley
One of the best spots in the city, according to some. This colorful walking street is painted in bright yellows, peaches, and ambers, and at night it's lit up with string lights. It's perfect for taking photos, doing some shopping (find blankets, mugs, earrings, Frida Kahlo statues, bags, little skulls, and lots of candy), persuing the different restaurants nearby, and more. Some groups who were here just for the weekend came back multiple times, they loved it so much.

Oh and a bit about the name — supposedly, this street once flooded and was full of frogs.
It's only a couple blocks from both Museo Amparo and the Zocalo, so very easy to walk to! Find it here.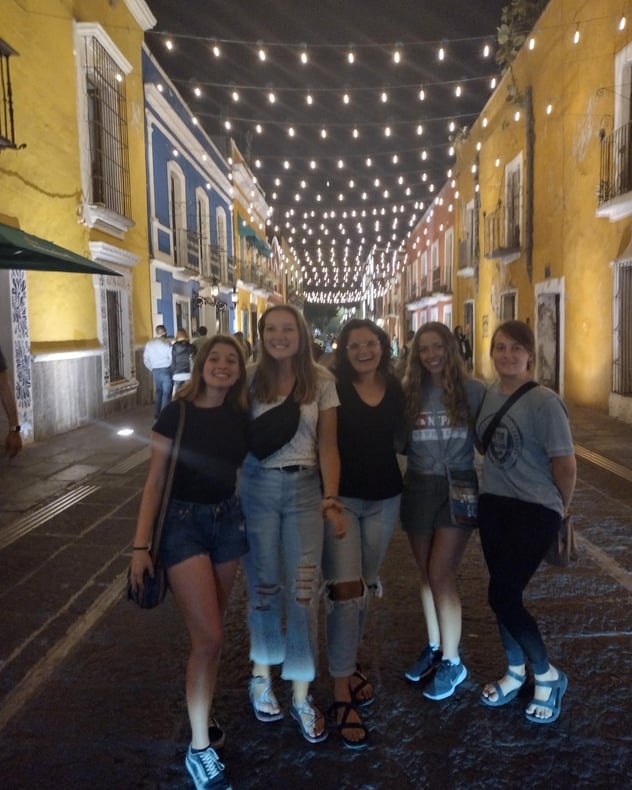 The View From The Gondola
Want to see the city from above? Come take a ride in the teleférico! This cable car ride takes you 58 meters high, giving you a 10-minute panoramic view of all the cathedrals and parks you have been admiring below.
Catch the cable car at the Parque del Paseo del Teleférico, found here. It's a bit further from the Zocalo and other places we've mentioned, so you'll want to catch a taxi to take you over.
Cost: 30 pesos
Hours: 10:00 AM to 10:00 PM
Learn more here.
Walk Underneath The City
Now that you've seen the city from above and ground level, it's time to delve underground into the series of tunnels that twist and turn below Puebla.

There are several cities in Mexico with folktales of secret tunnels used during the revolution (either used by royalty or during the inquisition, depending on who you ask), but in Puebla, that's true. The tunnels are something like 500 years old and through to be just a bit of the city's folklore until they were recently rediscovered, and later opened to the public in 2016.

The tunnels are wide and tall enough that someone could pass through riding on horseback, leading to the idea that they were built for drainage (and sewer purposes) but also during the battle against the french for secret travel.

Now, you can walk through the tunnels, though make sure you're visiting the one you have in mind. One set of tunnels (called Los Secretos de Puebla) is found across from Ave 2 Ote (around the Ikonik Hotel Puebla). These tunnels are smaller, with a small museum.

The other is known as the Historic Passage May 5 or "Tunel Secrets Puebla" if you're looking on Google maps. The entrance is right next to the street along 5 de May blv. This tunnel is about 500m long, and quite tall. The tickets are 26 pesos.
For Markets Galore
There are many markets crammed into the city of Puebla, which some say has the best shopping around if you're looking for souvenirs! Find kiosks filled with brightly colored shirts and tunics, traditionally handmade dolls, woven bags, shoes, scarves, and more. You'll want to plan time and money to do a bit of shopping in Puebla.

As far as places to visit, some love the El Parral markets (sometimes called El Parian, home to many fixed-priced stalls), the massive market known as 5 de May, Del Carme, or La Acocota, or shopping along the Alley of the Frogs (talked about above). There are also places to shop if you visit the Cholula ruins (a very popular day trip option while you're in Puebla).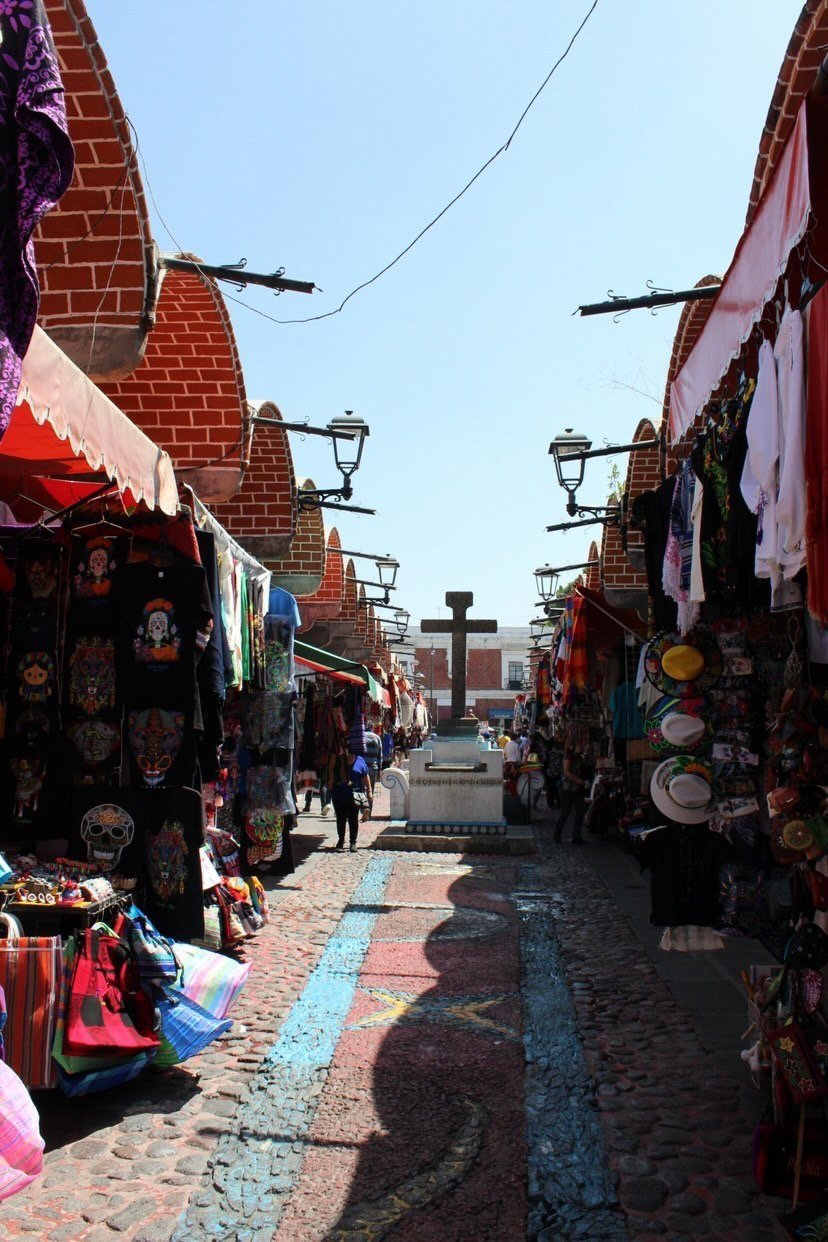 Visit The Safari Zoo
No need to go all the way to Africa for a safari. Some of our volunteers have recommended the Africam Safari Zoo (which is just outside of Puebla). They actually said it was the highlight of their trip!
"The safari was so cool, I definitely recommend it. We spent the first little bit inside the bus driving through seeing elephants and giraffes and bears and then we had an hour and a half to walk around. We saw flamingos and lions and otters and got to hold parrots for free! There were also emus just wandering around."
You can take a guided tour where you will see hundreds of animals in their natural habitat. Our volunteers found a travel guide in the center of town that set them up with a tour the day of, but you can also check their website to book tickets ahead of time and see more information and options.

Don't Miss Cholula
When you're searching for things to do in Puebla, you'll most likely bump into activities that aren't technically found in Puebla but are located in nearby Cholula.
Cholula is a separate town about 10 miles from Puebla and holds more than just historical significance and popular tourist attractions. It is one of the country's most historically important cities (it's also considered a "Magic City") while also boasting the world's largest pyramid, along with dozens of churches plus a colorful zocalo. The pyramid is really the main attraction here, which you can read all about below. It's a "don't miss" stop!
This is a day trip that's kind of integral to Puebla — seeing one without the other would give you a half experience, which is why we recommend budgeting enough time to visit both thoroughly.
Get all the details on visiting Cholula, here.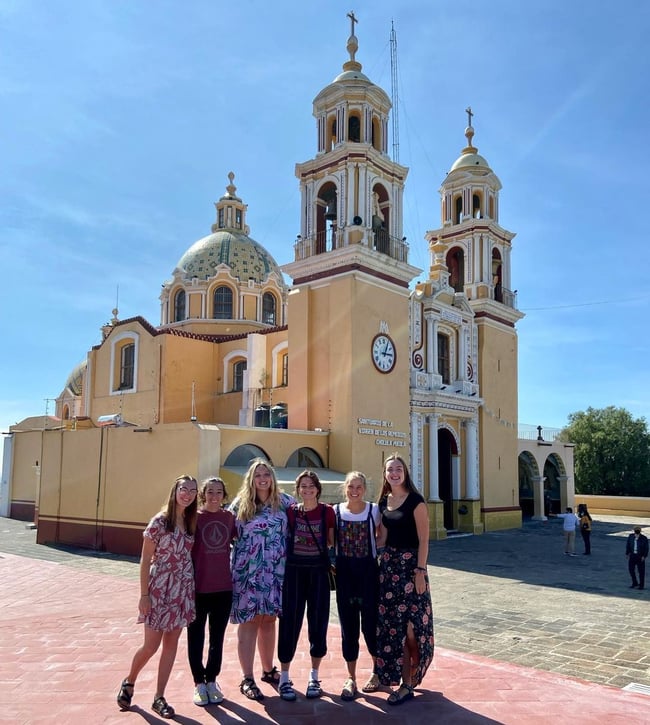 Puebla's Picks For Places To Eat
Mexico is known for food, especially in Puebla. There are a range of dishes that are home to this particular part of the country, so you'll definitely want to add "foodie time" to your Puebla itinerary. When you sit down for a bite to eat, keep an eye out on the menu for these specialties!
For Chiles En Nogada
Tuck into a delicious dish famous in this part of Mexico, chiles en nogada. Rumor has it, this dish was created to celebrate General Agustin de Iturbide, a very important leader during the Mexican War when we marched through the city of Puebla. The dish is a stuffed poblano pepper, filled with cheese, spices, and meat — then covered in a creamy white sauce made of cream and finely chopped walnuts — and topped off with parsley and pomegranate seeds. The colors of the dish replicate the colors of the Mexican flag and is a local specialty.

Quite a few places serve this when in season (try Mi Viejo Pueblito, if you're looking for a recommendation). Just know it's typically, it's a seasonal dish (ingredients are in season, April to October) but you can find a few places that serve it year-round. Fonda Tipicana La Poblana, found within walking distance from the Zocalo is one.
For Mole
Mole is another dish famous in Puebla. While you can find this thick, spiced sauce (mole is kind of like curry) all over Mexico, some say the best is in Oaxaca or Puebla. Puebla Mole is what's famous here, made with over 20 ingredients, creating a rich and complex sauce poured over rice, chicken, and other staples. Keep an eye out for this dish at several restaurants.
For Churros
You probably don't need convincing to spend some time eating cinnamon-and-sugar coated churros that you can dip into a cup of hot chocolate, right? You can find these goodies in several locations around the city, but one place comes recommended: Puebla La Churreria. You can get churros for 4 pesos apiece, meaning you should block out a whole afternoon to eating piles of churros. Oh and the best part is it's located about a block from the Zocalo, on the way headed towards the museum, so stop and grab one for the walk on your way!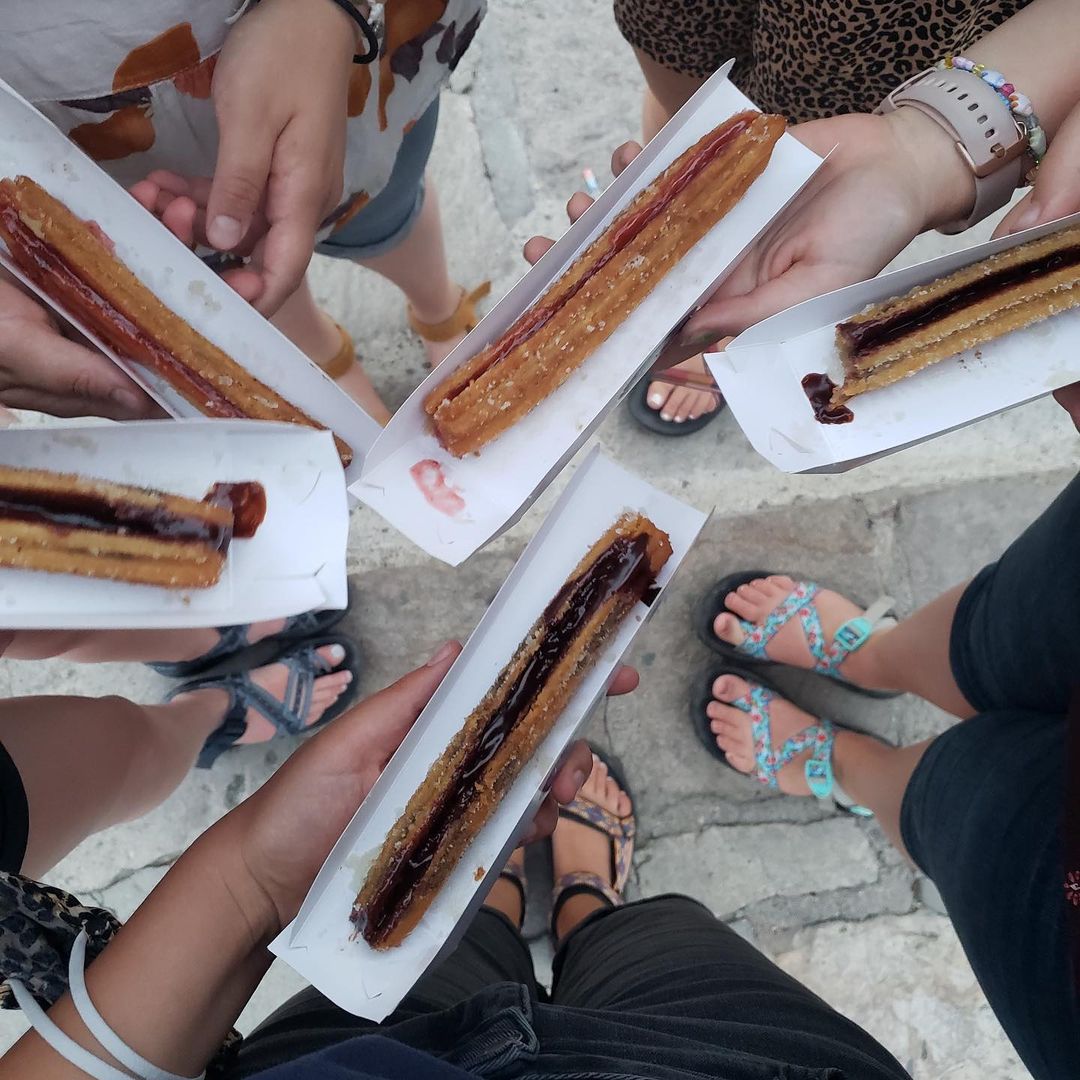 Get Dessert On Calle De Los Dulches
This city has a whole "sweet street" which is something I can behind. This street is filled with various candy stores where you can get a whole bag of goodies for just a few pesos.
Some mention trying camotes (a sweet-potato candy that comes in a whole range of flavors, like strawberry, vanilla, chocolate, honey, and more), cocadas (shredded coconut that's sweetened and fried), and anything dulce de leche, but there are so many others!
Our suggestion? If you don't already know your absolute favorites (after spending some time in Mexico) ask the person at the counter for their recommendations (Que recomiendas probar?) and get ready to find a new go-to. You can also read up on the street's history and get some more suggestions on this article.

Address: Av 6 Ote 10
It's located just a block or so away from the Church of Santo Domingo, so it works great to combine these two stops at the same time.
Eat Cemitas
A fan favorite for our volunteers, cemitas are another local specialty (here, but also throughout Mexico as well). Cemitas are kind of like sandwiches, where sesame-seed topped buns sandwich a massive pile of meat, stringy white cheese, peppers, avocado, and herbs. You can find cemitas all over (giving you the chance to try a few places to find your favorite).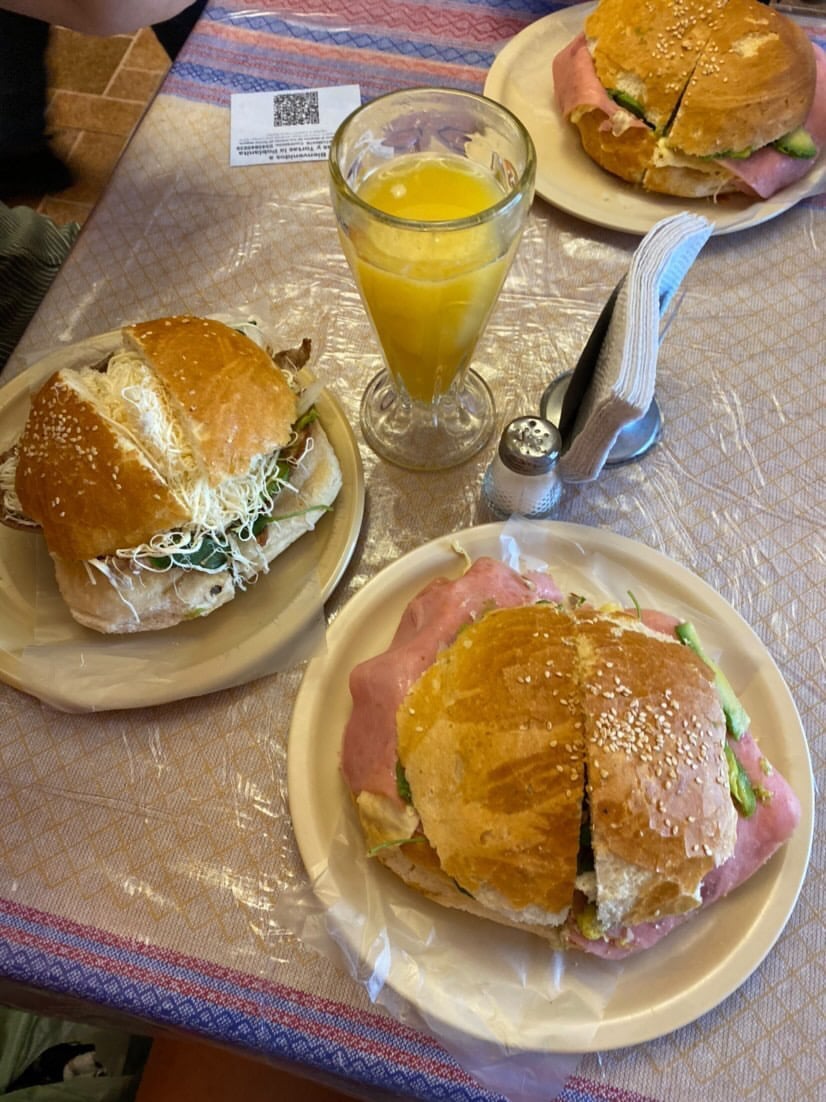 A Few Tips

How Long To Visit

You need at least two days if you want to get a taste of Puebla and visit Cholula (most people see both, for good reason), but you can easily fill 3-5 days if you're visiting and want to get a bit more out of Puebla. But like we mentioned, this city has tons and tons to do and what we've talked about is just kinda the highlight reel of Puebla. It's a place you could spend a lot of time in, that's for sure.
Visiting groups have stayed at the Casa Pepe Puebla if you're looking for a recommendation (though there are tons of places to stay). Other groups have stayed at Posada Vee Yuu.
Join A Free Walking Tour
At 11:00 every day, you can join a free walking tour which will take you to the talking points of the city. The tour meets in the main square and is tip-based. It's a good way to get your bearings, then visit the places in more detail that caught your attention.
About The Shopping
You will find places to shop in a lot of our other favorite places in Mexico. Places like Queretaro and Leon come to mind, but some say the best shopping out of anywhere was in Puebla! Check back on the market suggestions to find a few places to get souvenirs (but know that volunteers have found some great knock-off markets found right by the bus station).
The Easy Way To Get Here
From Pachuca
Nearby is the city of Pachuca (another favorite place in Mexico), just a 3-hour bus ride away. Catch the Autotransportes Hidalgo (schedules here) to San Martín de las Pirámides to transfer, then a 90-minute bus to Puebla (check schedules here).
From Mexico City
If you're near Mexico City, you can bus from the capital to Puebla, no problem. There is bus that leaves about every 20 minutes and gets you to Puebla in about 2 hours. Check schedules here.
+ Weekend Trips
Need a few places to visit after your time in Puebla? We have this whole list of day trips and weekend trips that are a cinch to visit from this magically colorful city. Find adventures like colonial buildings and waterfalls in one town, or a 90-minute flight to some of our favorite beaches. We have a feeling you'll want to visit them all.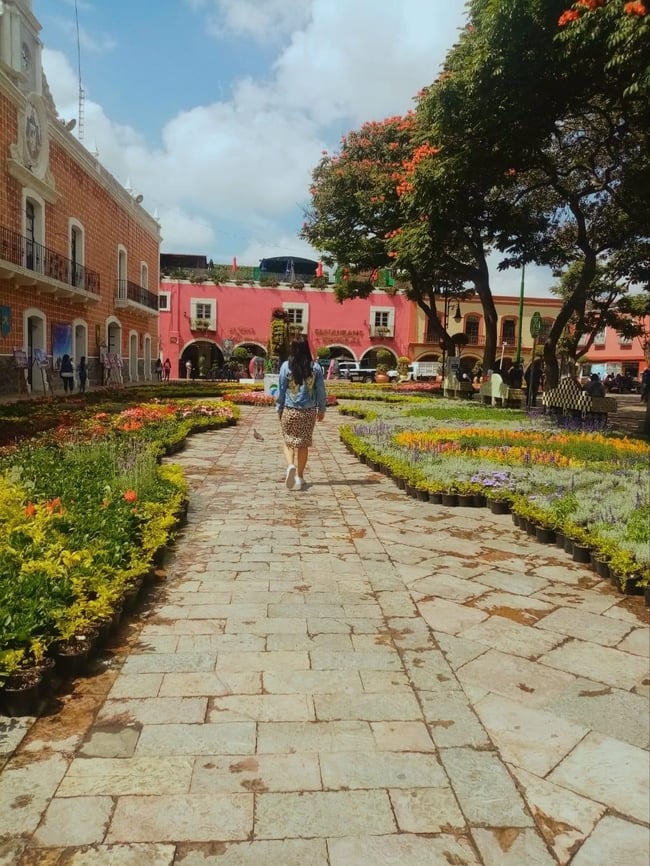 For more travel tips, and info about ILP, follow us on Instagram!
I'm not sure about you but I'm ready to book my trip to Mexico right now. Our program sends out college-aged students to teach English abroad for a semester with plenty of free time to travel and check out cool cities just like this one. See more on our Instagram account!