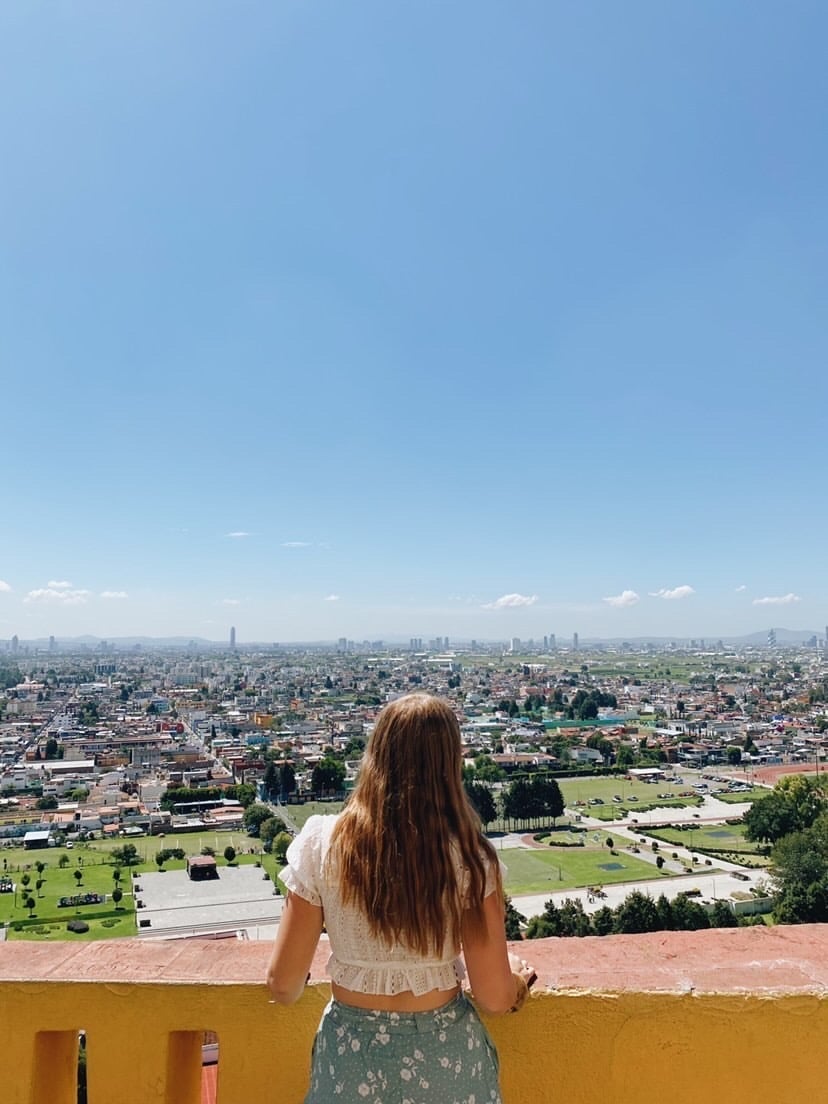 Looking for your new favorite city in Mexico? With beautiful cathedrals on top of mountains, amazing food, ancient ruins, and a safari park, you've got it all in Puebla.
Puebla is a city just a bit southeast of Mexico City and worth a visit if you're looking for a city ILP volunteers are just raving about. Not only will you find a whole list of things to keep you busy, some volunteers say this is their absolute most favorite city in all of Mexico. In this post, you'll hear the details about Puebla, and the neighboring town of Cholula.


---
Already interested in volunteering abroad in Mexico?
Learn more about our semester program here!
---

Our volunteers in Mexico have it made because they are just hours away from so many spots worth exploring. You can spend every weekend in a new city if you want ... just make sure you don't miss out on Puebla — our volunteers are raaaaving about this spot.
What You Need To Know For Your Trip To Puebla
Things To Do In Puebla
Museo Aparo + Rooftop View
Our volunteers that have visited recommend stopping by the art museum, Museo Aparo. There are several exhibits to explore and many include modern pieces! Once you've made the rounds, make sure to head up to the top floor where you can enjoy some lunch at the cafe or just take photos of the view.
Find more info on the museum here.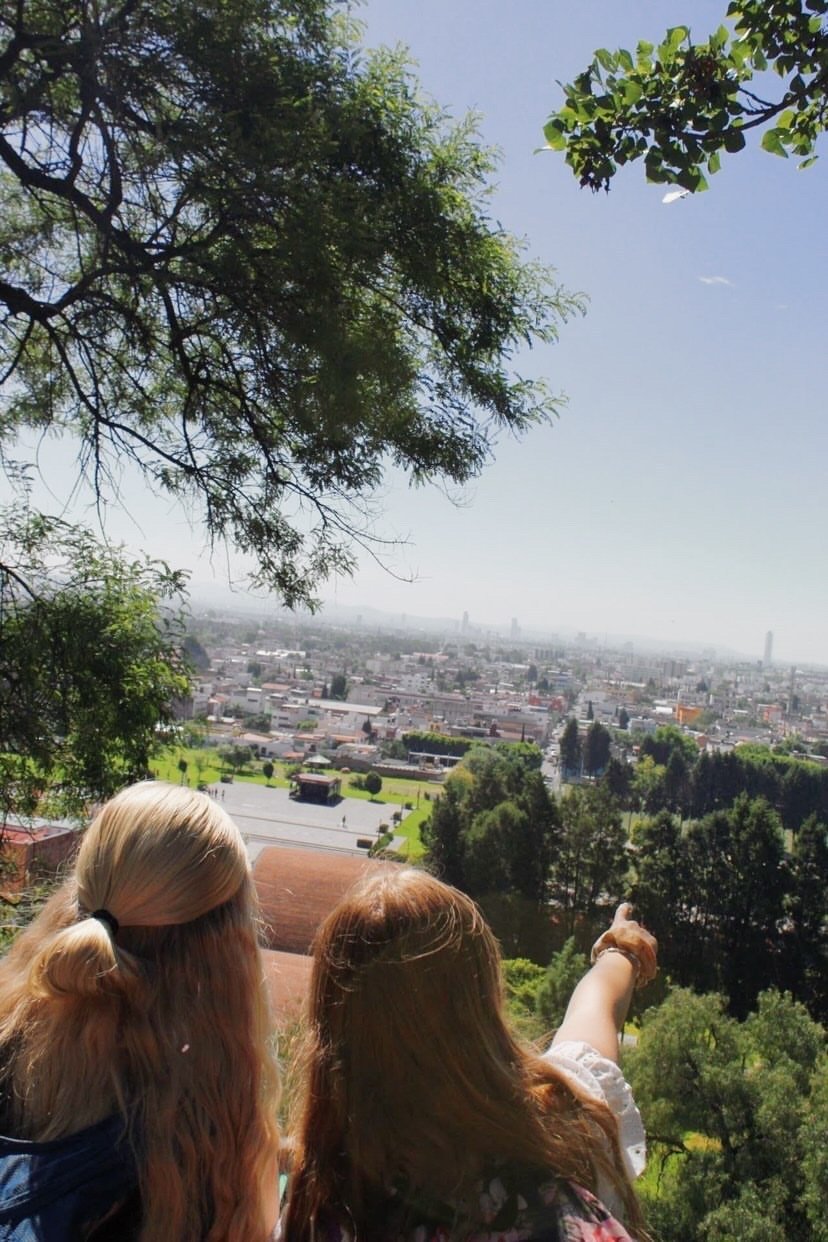 Callejon de los Sapos
After the museum, just one block away you'll run into this cutie little walking street, so make sure to save some time to come wander! Callejon de Los Sapos (AKA the Valley of the Frogs) is lined with buildings painted in bright yellows, peaches, and ambers, and at night its lit up with string lights. It's absolutely perfect for taking photos.
It's also a great spot to do some shopping and make sure to come hungry because there are lots of spots to grab a bite to eat here. Our volunteers spent most of their time searching for unique and authentic souvenirs, finding blankets, mugs, earrings, Frida Kahlo statues, bags, little skulls, and lots of candy.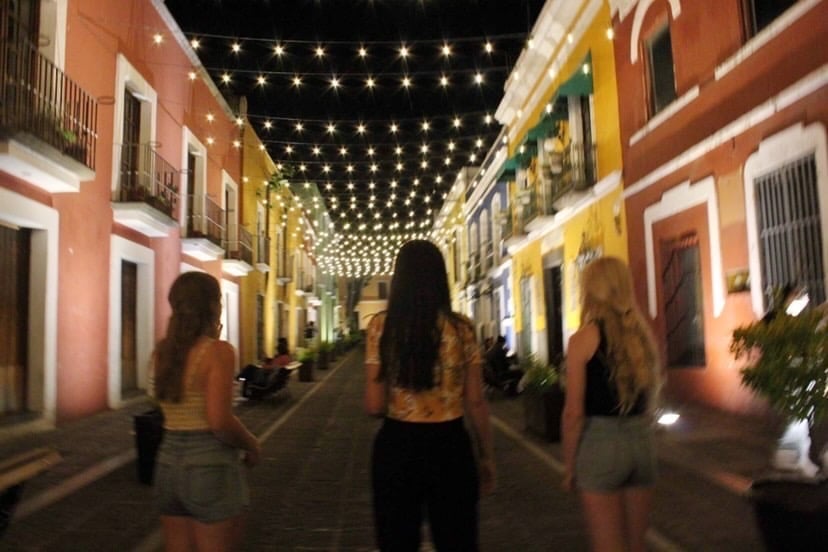 Visit The Safari Zoo
No need to go all the way to Africa for a safari. Some of our volunteers have recommended the Africam Safari Zoo (which is just outside of Puebla). They actually said it was the highlight of their trip!
"The safari was so cool, I definitely recommend it. We spent the first little bit inside the bus driving through seeing elephants and giraffes and bears and then we had an hour and a half to walk around. We saw flamingos and lions and otters and got to hold parrots for free! There were also emus just wandering around."
You can take a guided tour where you will see hundreds of animals in their natural habitat. Our volunteers found a travel guide in the center of town that set them up with a tour the day of, but you can also check their website to book tickets ahead of time and see more information and options.

Visit Nearby Cholula
Okay this isn't technically in Puebla, but it's such a highlight that we're mentioning it right off the bat. Cholula is actually another town about 10 miles from Puebla, and holds more than just historical significance.
It's one of the country's most historically important cities, and boasts Mexico's largest pyramid, and dozens of churches. The conquistador Hernán Cortés visited and instructed the city the build a church for every day of the year. The city doesn't quite have 365, but is home to 40 churches (a fair amount considering the size of this city). If you'd like to tour the more popular churches, make room in your schedule to see the Ex Convento de San Gabriel.

As far as things to do, we suggest hanging out in the Zocalo (the main plaza). Like many colorful Mexican cities, it's the place to be, with a string of cafes, little stores, and restaurants, as well as some people watching.
Another thing to know? You can take a free tourist train right into the heart of the Puebla to get to Cholula: The Puebla – Cholula tourist train runs twice in the morning and once in the afternoon on weekdays, but even more often on weekends and holidays. It will drop you off right at the base of the pyramid (more on that below) and then catch it later on at 11 nte esq 18 pte in the city center.
The church + views
The train drops you at the pyramid because this spot is on everyone's to-do list! It's centrally located and looks like a big hill with a stunning yellow church on top that can be seen for miles. You're fairly high elevation-wise at this point, so that alone can make the hike a bit strenuous. Just take it easy on the way up if you need to. To give you an idea of what to expect, one blogger mentioned that her Fitbit registered the hike to be the equivalent of 20 stories.
Once you reach the top, make sure to spend some time in that beautiful yellow church — Iglesia de Nuestra Senora de los Remedios. it's a Catholic church that's actually active, so if you're there at the right time you may even catch a mass. Just enjoy your time here! Soak up the views and admire the intricate details of the church. Next you will want to explore the Cholula ruins.
The ruins
When you exit the church, go back down the stairs, about half-way, until you reach an open field. There is a path you can't miss running to the left — follow it down until you can enter the ruins on your right.
The Great Pyramid of Cholula, also known as Tlachihualtepetl is said to be the largest pyramid in the world (by volume). In its peak days, Cholula had quite the population and this pyramid played its role as an important center for worship and burial ground for many human sacrifices.
The Cholula ruins cost 80 MXN per person but the ticket includes entrance into the Cholula tunnels and the museum as well. The ruins are open from 9 am to 5:30 pm and have info in English about the inhabitants that settled here more than 2,500 years ago.

Foods To Try
If you're anything like me, you're always looking for a yummy bite to eat while you're traveling! And Puebla is known for just that thing, so make sure to look out for these dishes on the menu when you're out.
Chilies in Nogada
This is basically a giant stuffed poblano pepper filled with fruits, nuts, spices, ground beef, and pork. The real kicker is its special sauce made of cream and walnuts, topped with pomegranate and parsley. Yum!
Mole
Have you tried mole yet? It's made a bit differently depending on which part of Mexico you're in and it's a must try in Puebla if you ask me. To be honest I have a lot of friends who aren't a big fan, but it's such a unique dish to Mexico that I think you have to at least give it a try. Maybe order one dish to share with all of your travel buddies.
It's a dark, almost curry-like, sauce made from over 20 different spices that's dropped over different proteins, usually chicken. The most distinct flavor in mole is cocoa .... yep, like chocolate cocoa!
Cemitas
These are overstuffed sandwiches with cheese, the meat of your choice, guacamole, onions, veggies, chilis all on a white roll. This is a classic, easy meal that you can find all over Mexico but this style is unique to Puebla so you have to try them!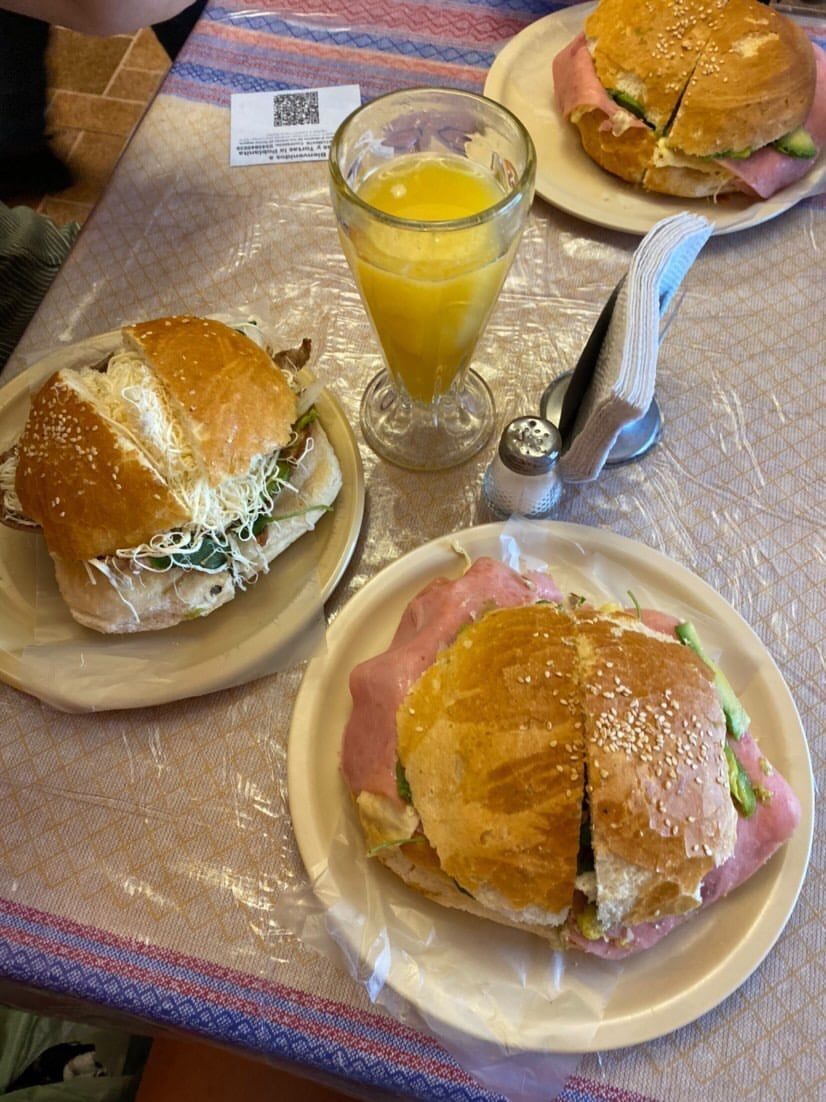 Churros
I doubt I need to talk you into getting a churro. There is nothing better than strolling down the streets of Mexico and coming across a churro cart! Seeing these delicious desserts being made in front of your face will be life-changing I promise. I still daydream about them daily.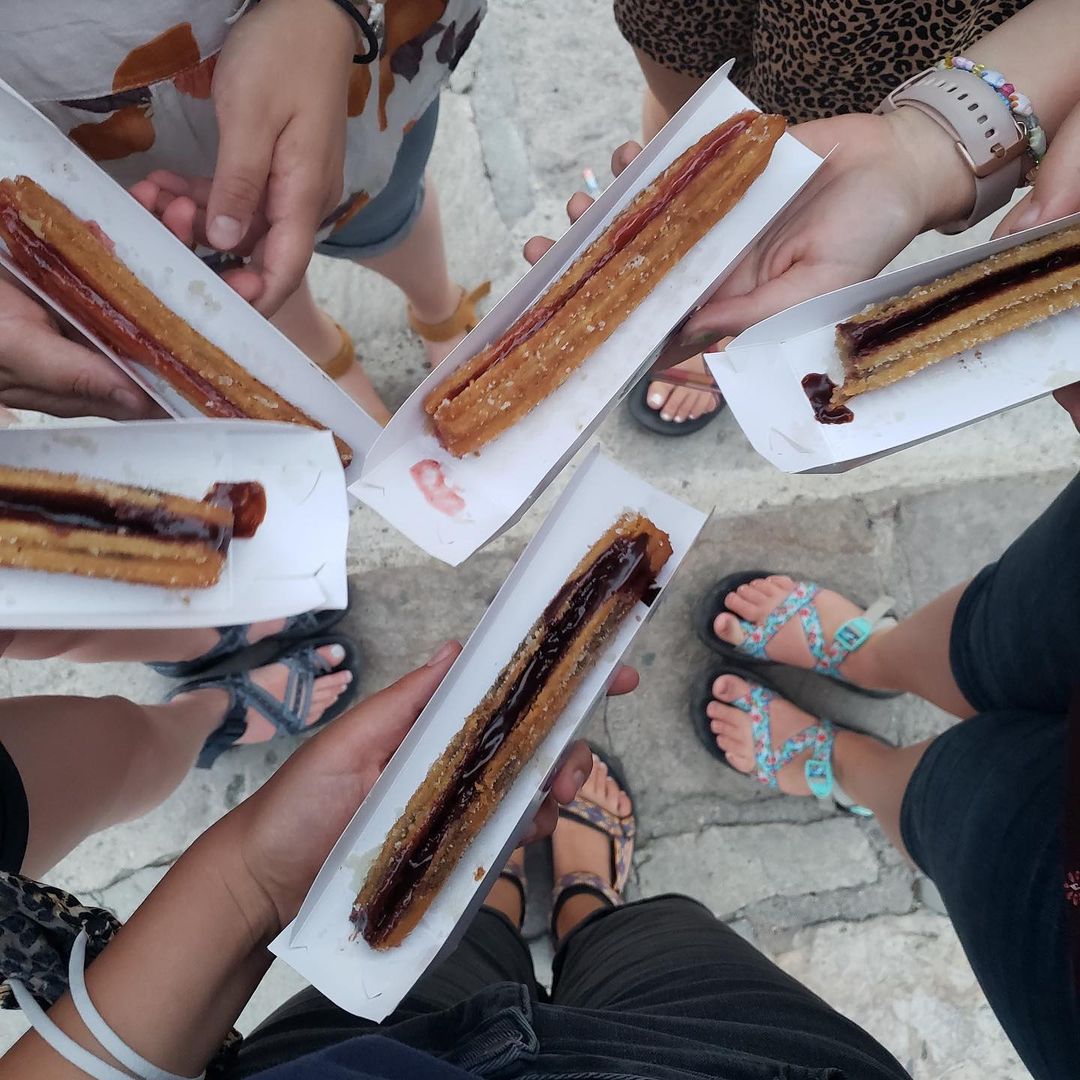 How To Get There
First things first — there is a city named Puebla that is located in the state of Puebla. We're talking all about the city in this post.
You'll find Puebla located southeast of Mexico City. It's pretty straight forward to get here from Mexico City.
Coming from Mexico City
If you are coming from Mexico city you will want to find the bus station located right next to the airport. Buses will be running hourly and they cost between 200-400 pesos each way. There is no need to buy tickets ahead of time. The bus ride is a little over two hours and it will take you straight to CAPU station.
Coming from Pachuca
If you are coming from Pachuca you can snag a bus there for about 200 pesos one way. Buses traveling between Pachuca and Puebla leave from Aero. Fiesta Inn Pachuca or Pachuca, HGO and arrive at Terminal de Autobuses, Blvd. Carmen Serdán & Calle 27 Nte., Puebla, El Mimbre, 26453 Zaragoza, Coah., Mexico. The ride is a little under two hours.
Where To Stay
Puebla has all the classic options : rent an Airbnb, stay in a hostel, or book a hotel. It is up to you, your group, and what type of budget you have.
Looking for a recommendation? Past volunteers that have visited stayed at the hostel Gente de Mas and loved how quirky it was.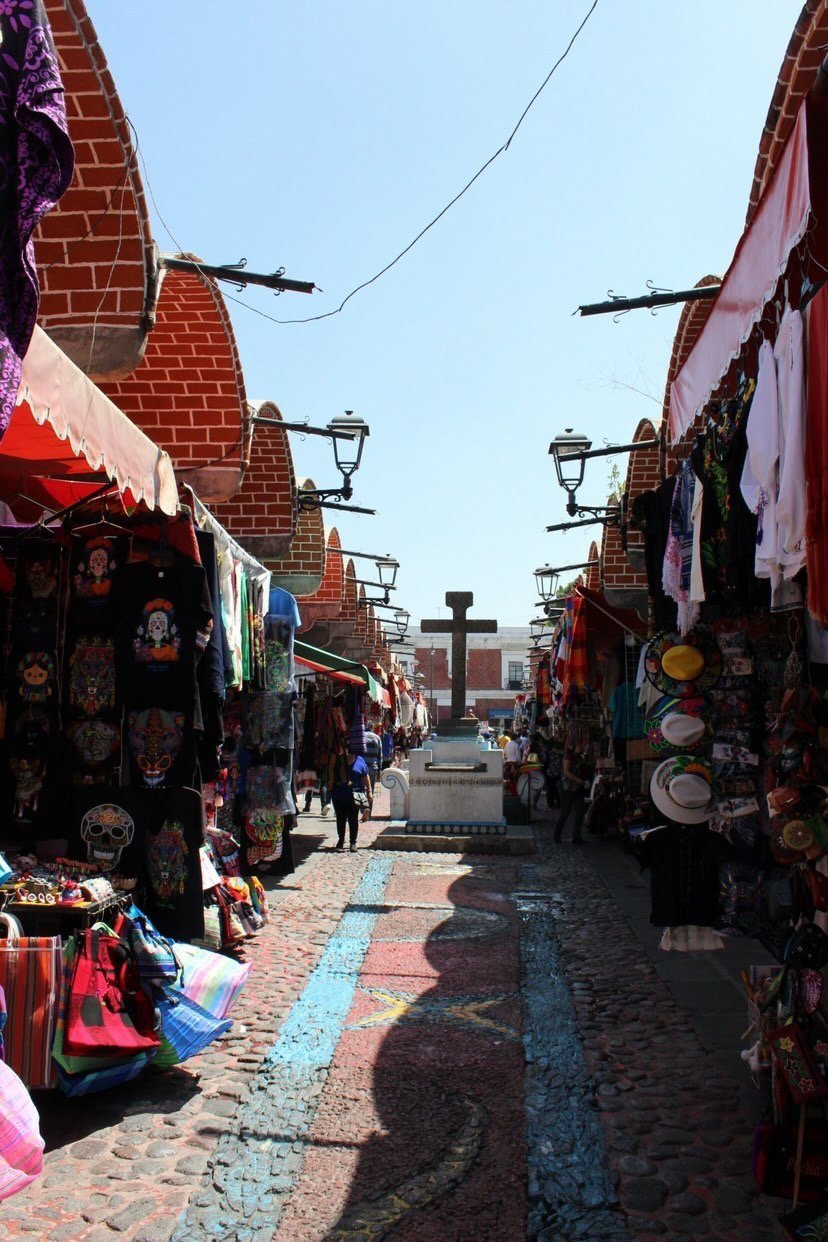 For more travel tips, and information about ILP follow us on Instagram!
I'm not sure about you but I'm ready to book my trip to Mexico right now. Our program sends out college-aged students to teach English abroad for a semester with plenty of free time to travel and check out cool cities just like this one. See more on our Instagram account!