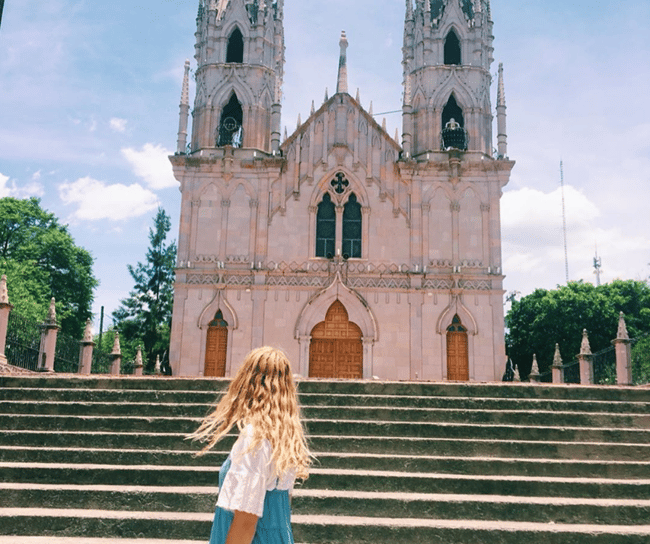 Colorful streets, towering cathedrals, and a photogenic city center, this is the getaway you're looking for.
Mexico's best kept secret is all the travel you can do here, all on a budget. We're talking the chance to hop on a bus for just a few dollars and end up on half a dozen colorfully unique cities, some boasting sprawling shoe markets while others are home to hot air balloon festivals and narrow alleyways. But in Aguascalientes, you'll find butterfly-strung main streets, a rainbow painted set of stairs, a smattering of churches and museums, just to start.


---
See what else this country is hiding
Mexico Destination Guide
---

If you'll be spending some time in Mexico and are hanging around Central Mexico, Aguascalientes is a chill weekend getaway complete with all the things you want in a chill getaway — a handful of spas, bright murals, street vendors selling your go-to snacks, plus some photogenic buildings. Here's what you can't miss:
Things To See + Do
Sightseeing Around The Templo de San Antonio
This church has stories to tell. Built by self-taught architect Refugio Reyes Rivas in a combination of styles (Baroque, Gothic, Arabic and Russian), Rivas built some of the most important buildings in the city. This 100+ year old church is just one of his achievements, a colorful combination of stones form the outside, with a golden Russian-style dome topping the tallest tower. Inside, you'll find soaring vaulted ceilings decorated with golden frescoes and hung with rows of chandeliers. This church is easily the most iconic building in Aguascalientes and is still an active church — a popular place for mass each week and lots of weddings.
Address: Calle Pedro Parga 252, Zona Centro, 20000 Aguascalientes, Ags.
Hours: 6:30 AM to 9:00 PM
Visit This National Death Museum
Familiar with the "Day of the Dead" holiday? This museum takes an eerily deep dive into Mexico's close relationship with death, showcasing photos, paintings, sculptures and other artifacts amassed over the years. Tastefully macabre, the museum opened in 2007 after the institution received hundreds of donations from Octavio Bajonero Gil, including some of his own artwork. Plan on spending about an hour touring the collection of rooms, peeking things like a photograph of Frida Kahlo on her deathbed and fantastically colorful painted porcelain skulls. Now, there are some 2500 items to look at when you visit. It sounds quirky and maybe not up your alley, but it's easily one of the most popular things to do when in Aguascalientes!

Address: Rivero y Gutiérrez x, José María Morelos y Pavón, Zona Centro, 20000 Aguascalientes, Mexic
Hours: 10:00 AM to 6:00 PM (closed Mondays)
Cost: 20 pesos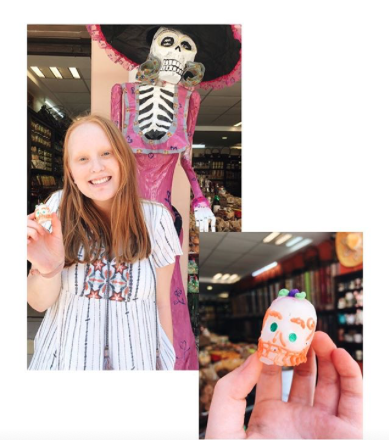 Stroll Around San Macros Garden
San Marcos Garden is the go-to hang out space for locals and tourists who want to walk around the old park — it's been around since the 1800's! Inside the green space you'll find murals, a light-up gazebo, and wrought-iron benches lining the shaded paths where people just stroll around or people watch. On Friday nights and on the weekend, you may find some live music or other performers.
It's also a good spot to grab some snacks, where pulled carts set up taco, aqua fresca, and elote stands. You can also venture out and try a few other dishes, try the chaskas or esquites: boiled corn kernels cooked with green peppers, mushrooms, or bacon, then stirred together with mayo, some fiery sauces, and a heavy squeeze of lime juice. Not a fan of the spice? You can get these doused with ground garlic instead. Or test out some Mexican-style hotdogs, piled high with jalapeños, caramelized onions, a squeeze of lime rice and a squirt of ketchup.
When visiting the park, don't forget to peek into the nearby Templo de San Marcos, built in the 18th century.
Address: Jesús F. Contreras, Barrio de San Marcos, 20070 Aguascalientes, Ags.
Hours: 5:00 AM to 10:00 PM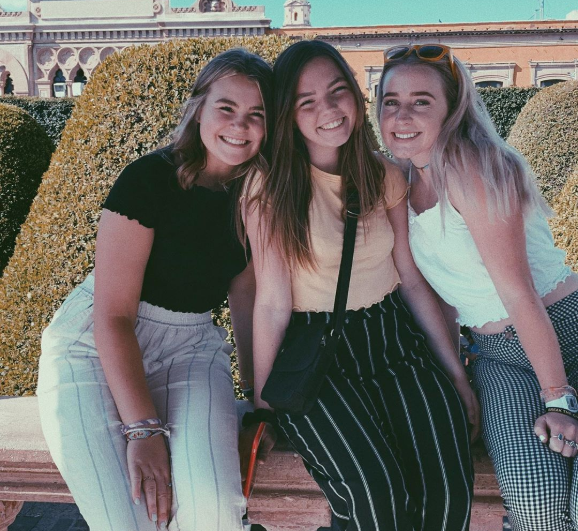 Take A Spa Day
If you know a bit of Spanish, you may have puzzled out that the name of the city, Aguascalientes, translates to "hot water" which makes complete sense when you study the geography of this place. The whole area is blanketed with thermal pools that have turned it into a popular place to visit if you want a day at the spa. The Ojocaliente hot springs is the most popular place for a soak, boasting a few pools full of mineral hot springs (temperatures of the water hang out between 38°C and 40°C!) which supposedly has healing properties. The space has been used since the 1800's, a space for tourists looking for relief from arthritis, sore muscles, and stress.
You'll hire a pool for an hour at a time, the size depends on how many people in your group (they have spaces for groups of 3 and up to groups of 15). Once your group is all settled, someone comes in a turns on a faucet for the hot water which cools as it hits the tile — the space is yours to sit and relax for an hour, then you can enjoy the rest of the building. There's a recommended (though expensive) restaurant, El Mezquite, where you can hang out after lunch and soak up the garden space. Peek their Facebook page for pictures and more info.
Getting Here: Best to taxi, it's about a 10 minute drive out from the city center (or a 30-40 minute walk). Here's the address: Baños Termales de Ojocaliente, Av Tecnológico 102, Héroes, 20190 Aguascalientes, Ags., Mexico
Hours: 8:00 AM to 8:00 PM
Cost: About $10 per hour
Some Things To Know

It's A Chill Getaway
There aren't a laundry list of exciting events happening in this small town, so a visit here is more about hanging out in the Colonial-style square and the park and just soaking up local life after you photograph the local churches. It's more a day trip or low-key weekend place if you're in the neighborhood, rather than a huge destination by itself.
Visiting In April or May?
The Feria de San Marcos is a huge (think: absolutely massive) festival that typically starts the third week in April and lasts for 22 days. You'll find all sorts of things to keep you busy: concerts, rodeos, bull-fights, carnival rides, and more. Schools are often closed and some companies, and the city fills up with tourists and locals from neighboring cities. Hotels really fill up fast so book your stay very early if you'll be visiting during the St. Mark's Fair.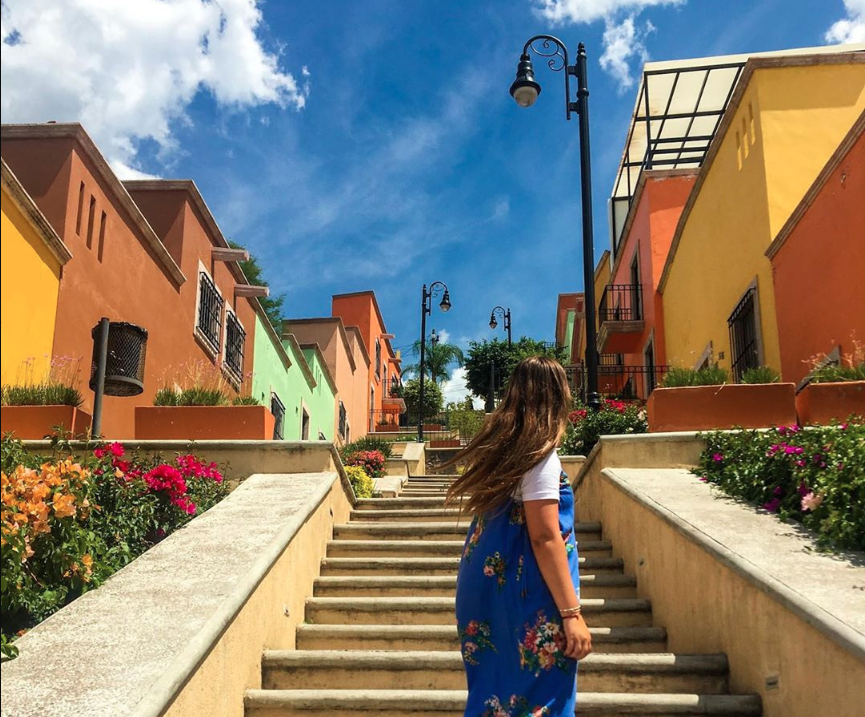 Getting To Aguascalientes
Arrive By Bus
Bus is our go-to travel method for traveling around Mexico — you can find multiple routes that can take you to a dozen different cities for just a few dollars. From Mexico City it's about a 3.5 hour drive with routes from a few different companies. Check companies like Citi Express, Rede Expressos, Omnibus de México, Futura, and Primera Plus. Our ILP volunteers also like heading to Aguascalientes from other favorite cities. From Leon, it's a 2 hour drive. Or you can leave from Irapuato and get there in about 3.5 hours. Check multiple routes, prices, and times on this website to give you an idea if you can book tickets from your city to Aguascalientes.
If You Fly
You can fly into Aguascalientes: the airport is about 45 minutes outside of the city center, with prices that range from about $45 to $100+ for a one-way ticket if you're leaving from Mexico City. The flight is short, just around 1.5 hours from Mexico City on airlines like Volaris and AeroMexico. You can look on skyscanner.com to check out alternative routes and prices for your itinerary.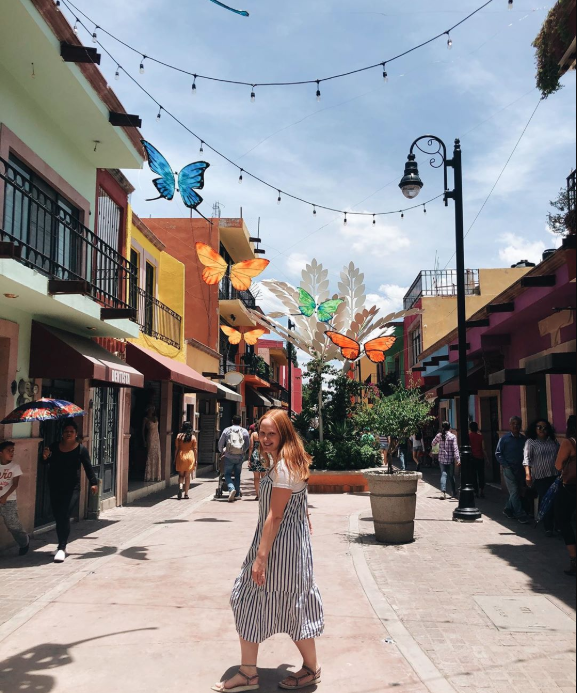 Mexico's waiting for you!
Come spend a semester living in Mexico with ILP! Volunteers spend part of their time teaching English and the rest of their free time, weekends off, and vacation days to explore even more ... there's too many places to see on just a short visit, so come see what you can experience in a whole semester: