Most tourists coming to Mexico never hear about this quaint little town which means they miss out on the rich history and culture Cuetzalan has to offer. Let's make sure that doesn't happen to you.
Mexico is such a beautiful country! And it's so big, offering so much more than most know about. The colorful towns scattered across Mexico, such as the hidden gem Cuetzalan, are so charming. Trust me, the more you learn about Mexico, the more you'll see how worthwhile it is to come see for yourself.


---
Want to see Mexico for yourself?
Check out our semester abroad programs for college-age volunteers!
---
Have you heard about Mexico's magic towns? We go more in depth on what that is exactly on this post, but in a nut shell — it's a town that has been deemed significant and special for one reason or another. Good thing ILP volunteers have every weekend off where they can come explore towns like Cuetzalan, who has held this title of being magical since the early 2000s.
Cuetzalan sits about 3-4 hours northeast of Mexico City (or Puebla), just inland from the gulf, if that helps you know where we're talking about .... now, we can move onto all the reasons you should plan your own trip here: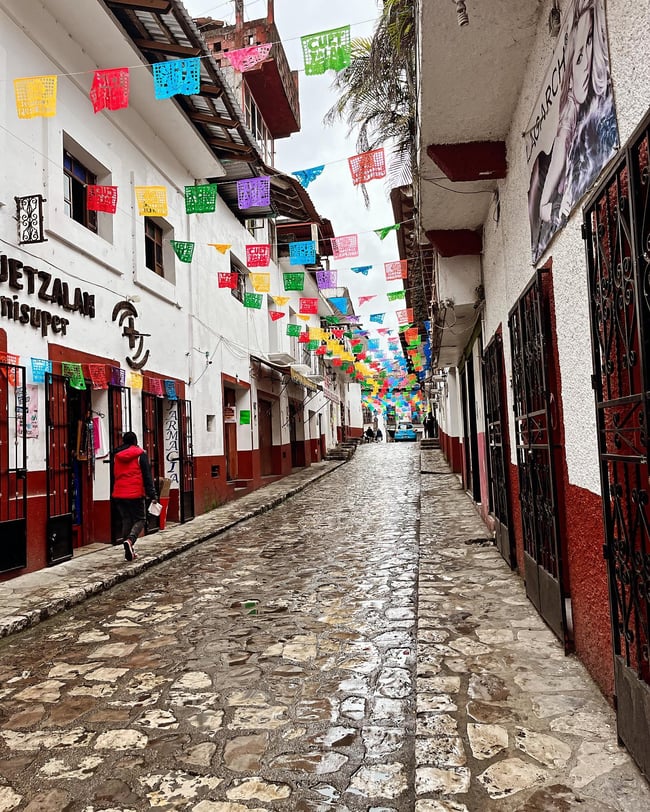 Come For The Festivals!
Cuetzalan was founded in 1547 and has seemingly stopped moving forward in time as is reflected in its colonial architecture and open street market. It's nestled into the surrounding rocky mountains and has been a stronghold in coffee production for the last few chapters, as well as being home to stunning caves, grottoes, nearby waterfalls, and more. Overall, it's a picturesque town that's somehow still preserved much of the old charm that isn't found in cities that are visited by more tourists ... which is exactly why we love it.
In Cuetzalan, you'll find cobbled streets, smooth from years of use, and the buildings painted in whites and reds ... it's a very pretty city, but if we're being honest, the festivals in Cuetzalan are where it's at.
Dinner + A Show
We'll get to the festivals you can come visit in the Fall in just a minute, but we are huge fans of getting a preview any time of the year on any Saturday. We've had groups grab dinner and enjoy the cultural show at the Lienzo Charro El Potrillo.
Dinner is typically a spread of grilled meats like pork and chorizo, served with piles of different salsa and avocado, all washed down with agua fresca (a chilled fruit drink). Yum! You'll also get a display of dancing and the voladores flying around a pole!
Essentially, trained men known as Voladores, climb an approximately 100 foot tall pole and leap from it with only a rope tied to them. They then spin around in a circle from the rotating top of the pole (think of a much more dangerous form of those chair swing rides you see at carnivals).
This tradition predates Christianity and was said to have originated to appease the gods and bring back rain and fertility to the earth. It has come to be an accepted tradition in the predominantly Christian culture despite it having its origins in paganism. You can see them in the festivals described below, as well as a version set up for this Saturday night performance.

Reservations are required — you can message 233-331-02-54 reserve. Price is about 240 pesos per person.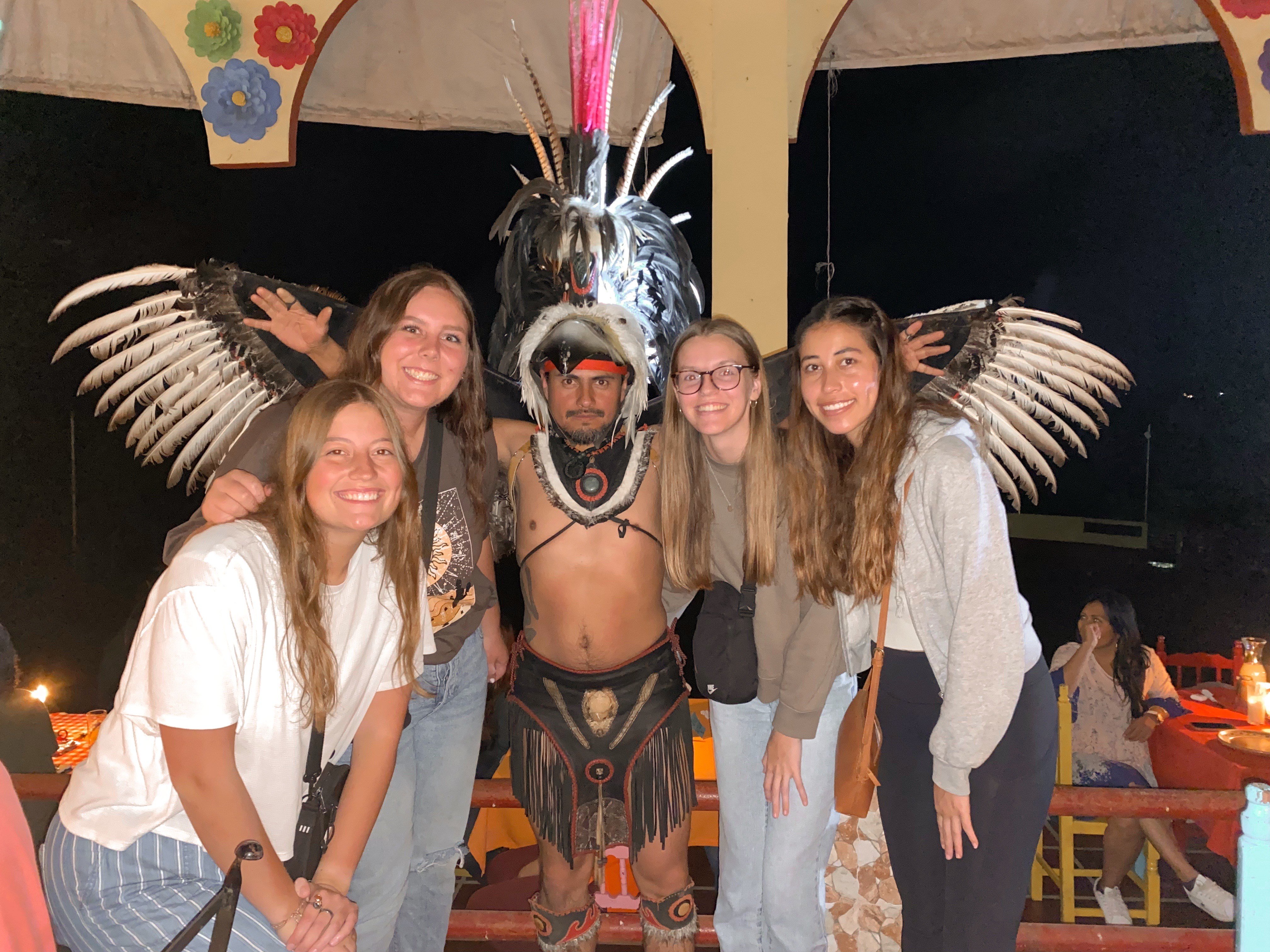 Fall Festivals
If you're in Mexico during the fall, try to plan your trip for the beginning of October when the town lights up for the Huipil and Coffee Festival. But if you can't come at that time, don't worry — any time of year is good for visiting Cuetzalan (and you'll still be able to catch much of what the festival is so well known for).
During the festival you'll find locals wearing and selling traditional clothes (huipiles), scarves and panchos, handwoven in unique styles. They also sell handmade beeswax candles, beaded necklaces, carved masks, and offer a variety of food such as roasted corn.
The highlight though would definitely be the Danza de los Voladores, or the Dance of the Flyers. There are other highlights of the festival as well such as a crowning of a queen (essentially a beauty contest), puppet shows, and dances. There's a little something for everyone in this festival.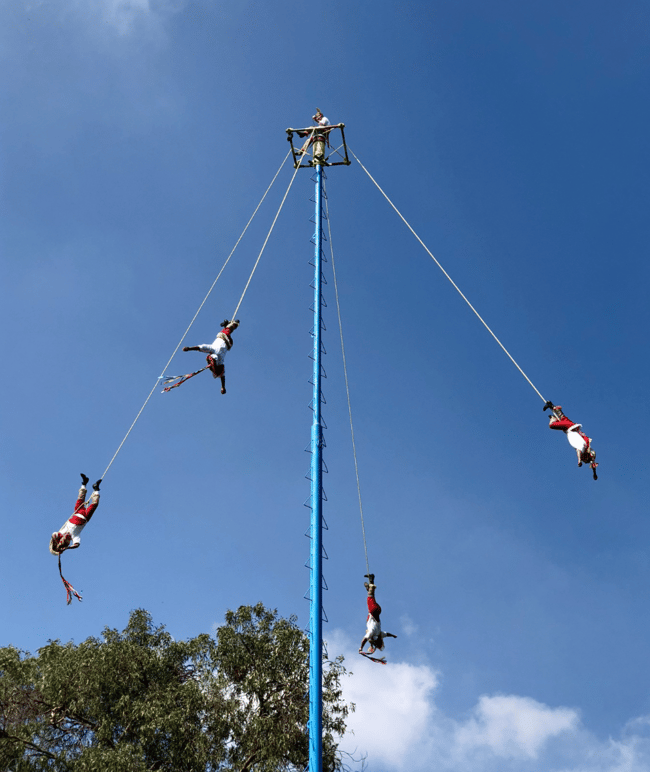 Other Things To Do Here
Shop At The Craft Market Matachiuj
One of my favorite things when walking around a new city is spotting a market full of crafts that will remind me of that country. And Mexico is a gem when it comes to handicrafts. In Cuetzalan you'll find the Craft Market Matachiuj just 3 blocks from the main church.
It's a vibrant, indigenous Sunday market where you'll find a few more unique items that you typically won't see at other markets around Mexico. The market is mainly formed by family workshops and stalls, with a flair for textiles. Find backpacks, huipiles (those beautifully decorated boxy blouses), and brightly woven rebozos (similar to shawls). It's also quite the place to get vanilla and cinnamon (two must-have souvenirs from your time in Mexico!)
+ About The Food Here
Another tip for the market is to look out for the marmalade. This thick fruity jam is made from a variety of fruits and is famous in the region (people trek from nearby villages to stock up on a few jars). Spread on a loaf of bread and that's breakfast! You'll also see a spread of fruits, veggies, brightly colored sweets, dried chilis, the meat section (which should be avoided if you're a bit squeamish — things are not at all packaged, all parts are for sale, and can be an abrupt site).
There are also a handful of vendors selling local dishes — cheeses and meats wrapped up in a tortilla, or stuffed to be deep fried, along with some of the best food you can buy in Mexico for cheap according to some visiting ILP volunteers! They mention you can get a full meal for under $1. YUM.
Address: Miguel Alvarado No. 33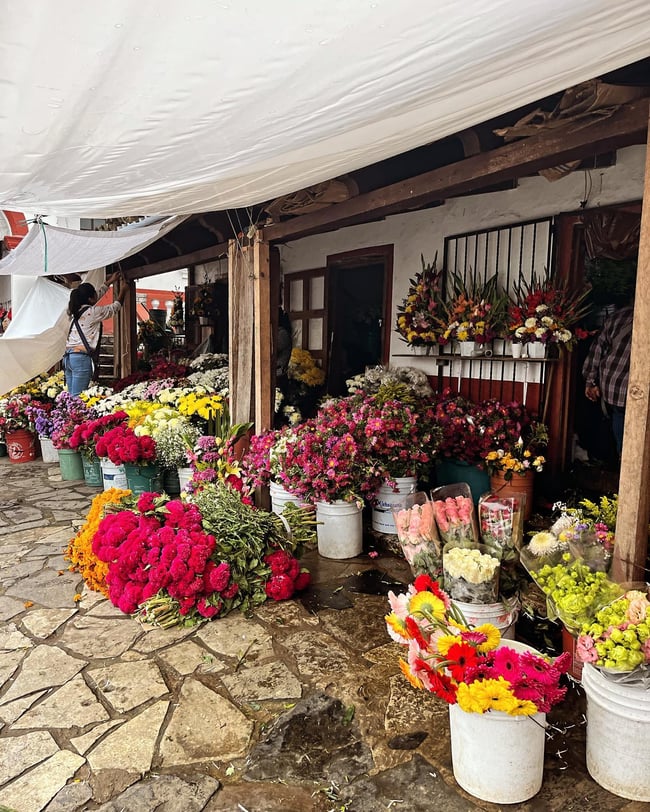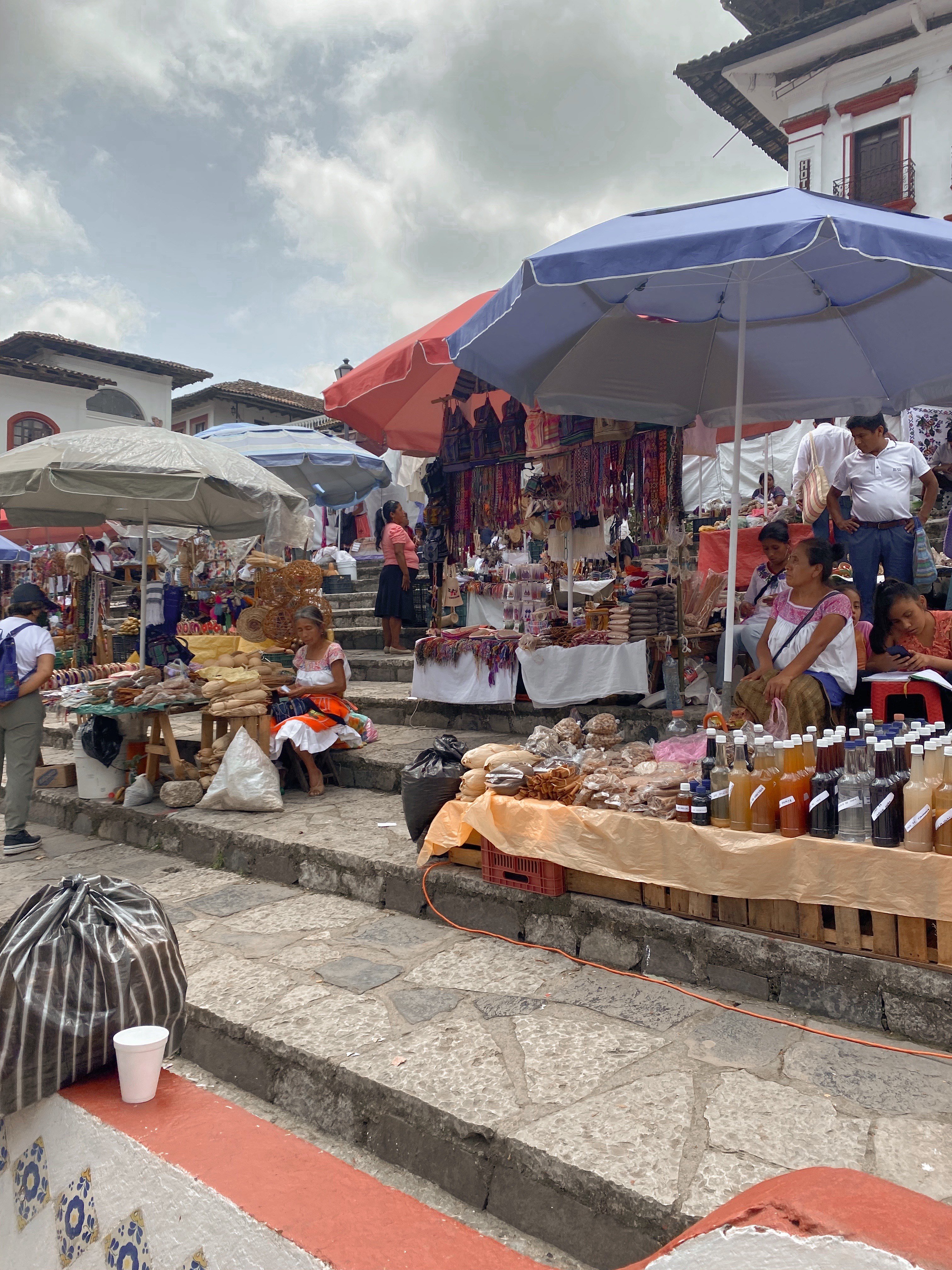 Enjoy The Coffee Culture
If coffee is your thing, you'll be right at home in Cuetzalan. As we mentioned, there are entire festivals celebrating this favorite beverage (but year round, the coffee here is quite excellent according to visitors). Others mention talking around town to see who can take them to one of the nearby plantations for a coffee tour to better understand the industry and process of harvesting, roasting, and processing coffee beans.
Explore The Town On Foot (And What To See)
There is still plenty to do in Cuetzalan outside of the market and the Danza de los Voladores. Just like a lot of places we recommend, you'll see the most by just getting out and walking around. I love the architecture you'll find here, so don't skip admiring the churches and other buildings around the old town.
The Temple of San Francis of Assisi is one you shouldn't miss. The massive tower is one of the tallest you'll see in Mexico (it's officially the tallest in the state of Puebla, coming in at a massive 197 feet). Make sure to notice the rather eccentric nature of that clock tower, with arched and circular cut outs, a repeating line of black and yellow tile at the top, and a few other unique flourishes.
The City Hall is the place to soak up the Neoclassic style, decorated with red trim and a rather unique statue topping the entire structure. The statue at the top is Cuauhtémoc, who was the last Aztec Ruler. That statue on the top is a proud symbolism of colonial and indigenous influences found in Cuetzalan.

Iglesia De Los Jarritos — or more formally known as El Santuario de Guadalupe. This gothic inspired church is one of the favorites, and one you can't miss. Its most distinguishing feature is the tall, adorned spire decorated with rows of clay jars. In front of the church lies a cemetary, and it is open during the day to come visit (just please remember to be respectful here).
Address: 73560, Aldama, Centro, Cd de Cuetzalan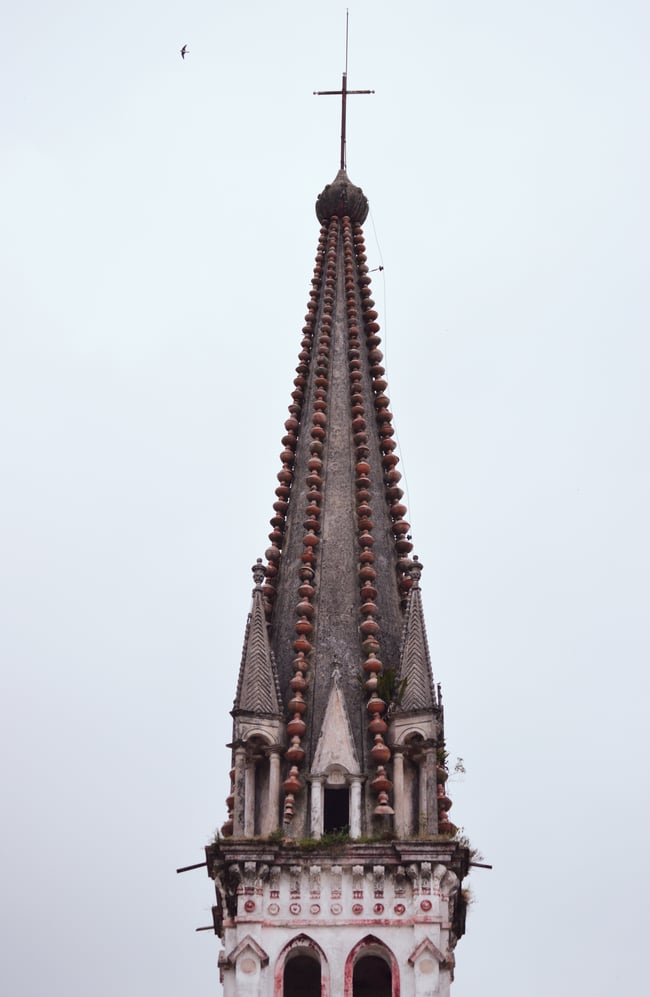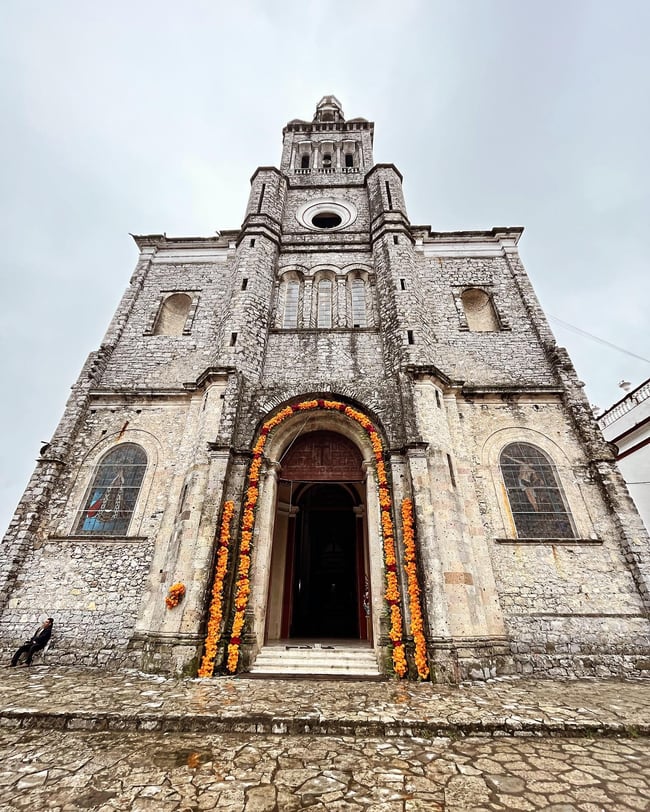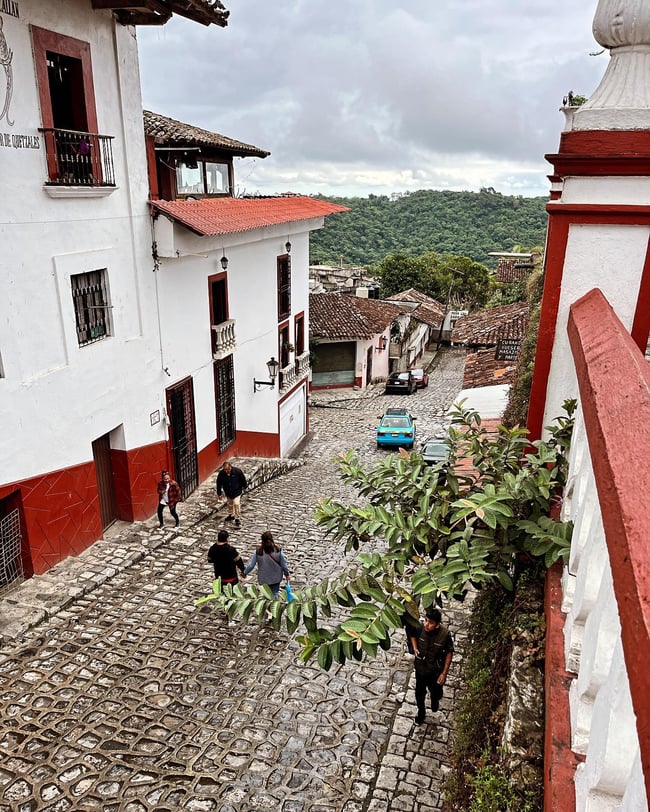 So Many Adventures Just Outside The City
A huge part of the appeal of Cuetzalan are the many many adventures hiding just outside of the city. Spend a few more days here in order to soak in the sites of ancient ruins, visiting tumbling waterfalls, take a swim in a "dog's paw" pool, or take in the views of the mountains around you.
The Dog's Paw Pool
There are also several waterfalls and caves located around Cuetzalan. One of the more popular is La Poza Pata de Perro (translated is the dog's paw pool) which features a pool of water with four shallow, small pools of water with a much deeper one at the center of it. None of these pools are connected aside from a thin surface of water, and it truly does look like a dog's footprint made in a pool of water.
We've had groups in the past go with this tour company who takes you to this Dog Paw pool, a stunning set of caves, the nearby canyon, and a waterfall or two. It's a 5-6 hour tour that comes highly recommended, especially since transportation (plus all the equipment you need) is included. Here are the WhatsApp numbers: 233 102 60 74 & 233 759 67 14. We've also attached their flier here as well as some pictures of the tour!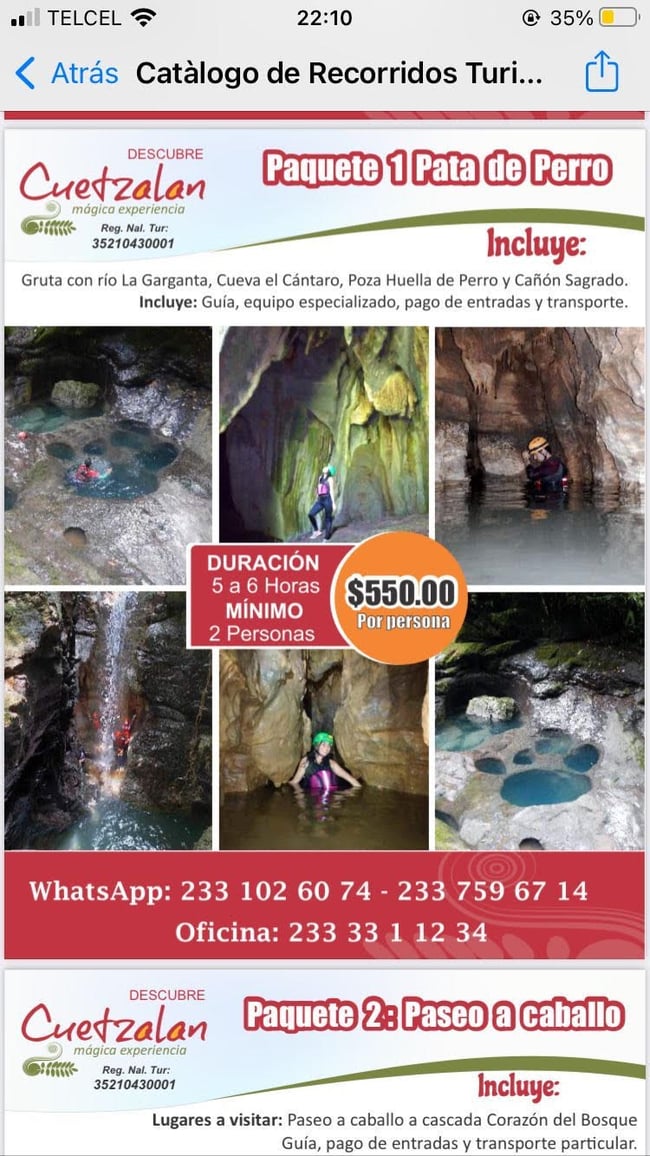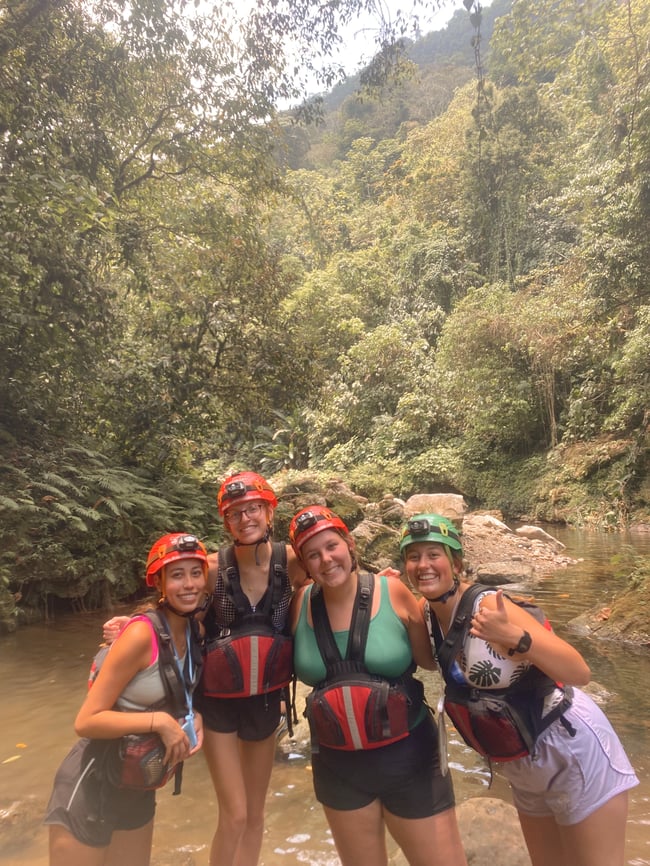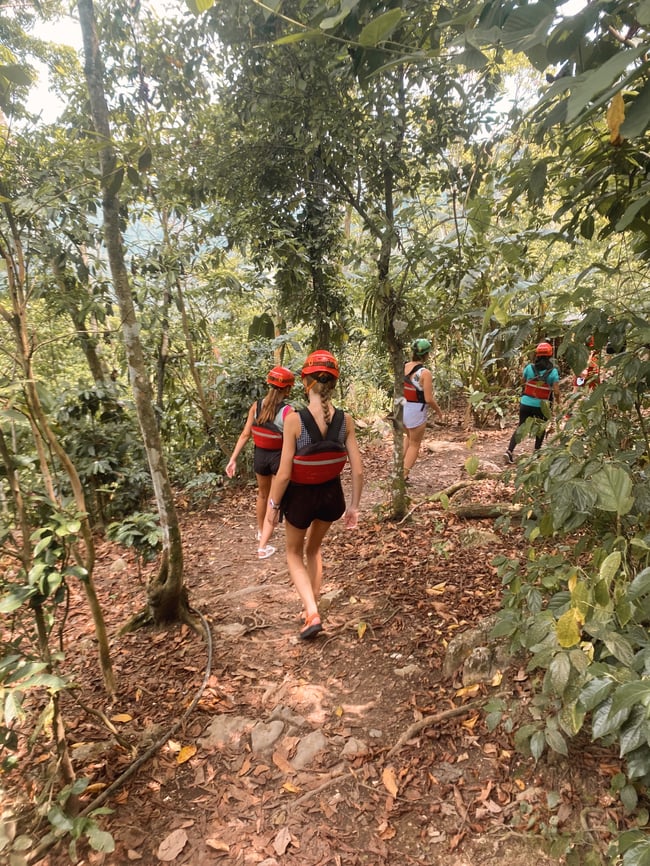 Yohualichan
After you've snapped your photos of the city and grabbed lunch, head a bit of out of town to find some nearby ruins at the Yohualichan archaeological site.
The Yohualichan ruins are believed to have been built by the indigenous Totonac people (the same who actually initiated the Danza de los Voladores). It's about 20 minutes from town and while they may not be as impressive as what you'll find at Teotihuacan, they are pretty incredible and have the added bonus of being less crowded.

The easiest way to get out to the ruins for travelers is typically via taxi, just make sure to bring extra cash and good walking shoes! Plan on around 2-3 hours for this trip. I recommend coming here in the morning (check for current times, but typically opens at 9:00 AM), then heading back to town for lunch and exploring.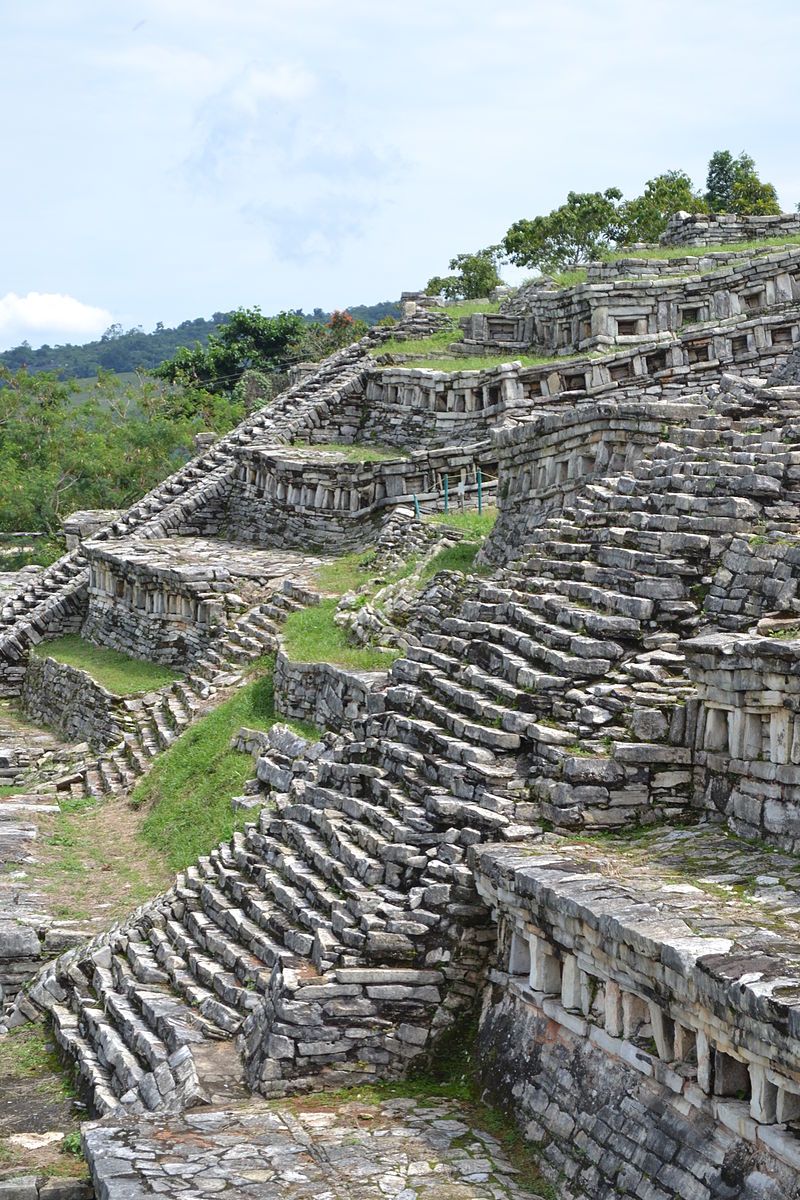 Cascada las Brisas
Another beautiful sight to visit would be Cascada las Brisas which is about 13 minutes north (about a mile) of Cuetzalan. It features a breathtaking view of a single waterfall along with lush greenery. Once you arrive (info below), you'll make your way to the walkway near the entrance of the parking area. It's a concrete walkway and there's a set of 200 stairs you'll need to trek down to get to the actual falls. The trek is beautiful — lush, surrounded by towering bamboo stalks, and a bit of mist in the air depending on when you visit. You can go swimming here, but be warned that it's very cold!
To get here, one visitor reported that you can travel via collective (they are little white vans that tend to congregate one block southeast of the basilica's back side — you'll see them all lined up, operating from around 9:00 AM to 5:00 PM each day). Prices were quoted as 6 pesos for the 10-minute drive to Cascada las Brisas.
The cost to visit the falls is 10 pesos.

+ Lots more
If you love the outdoors, Cuetzalan is actually the perfect spot to be in. There's so much around the area, like the Three Falls Waterfalls and the Sacred Canyon. This site runs through all the options.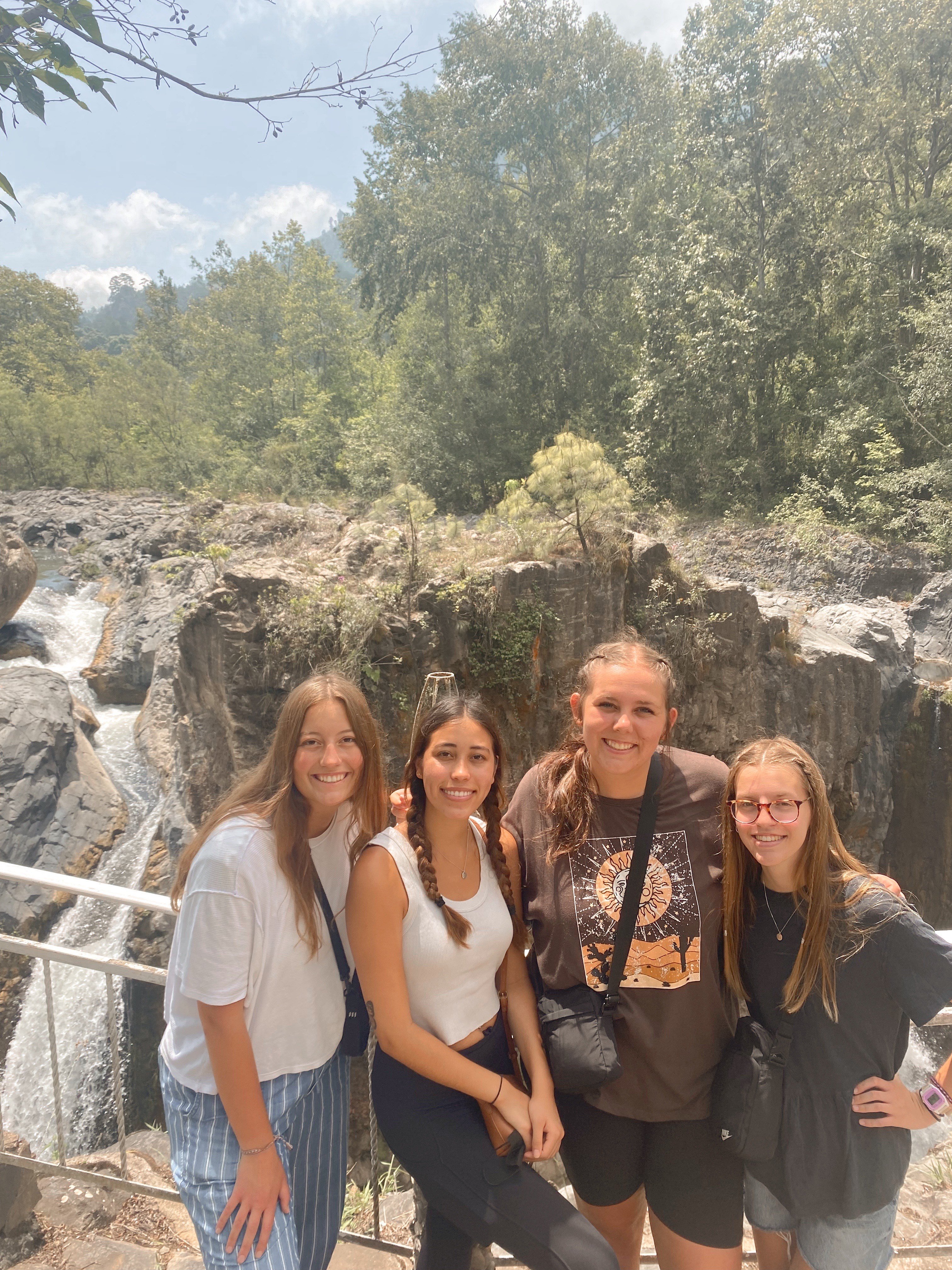 Getting To Cuetzalan
Does this sound too good to be true? How can this magical city exist and not be flooded with tourists?
The first drawback to Cuetzalan is its location in proximity to a few big "hubs" of the country. As noted above, Cuetzalan is pretty out of the way of the major cities and tourist sites, nestled in the mountains.
However, we love that you can get here fairly easily from a handful of places that our volunteers love visiting. While we have a couple of options outlined below, the easiest way to get here is from Puebla (which is a city that should be on your itinerary already! It's a fan favorite).
From Puebla
We love that Puebla is one of the best jumping off points to get to Cuetzalan. The Puebla CAPU bus has regular runs to the city of Zocatlan (it's a 90-minute ride, get info here on their Facebook page), then you'll need to split a taxi ride the rest of the 2-hour drive to get to Cuetzalan.

Or, you can bus a bit further to Teziutlán (it'll be a 3-hour bus ride, and you can get info here about times and routes on ADO). Then, it's just a 60-90 minute taxi ride from Teziutlán to Cuetzalan.
We've also heard rumors that buses from the CAPU station can take you directly to Cuetzalan, so it may be worth asking around.
From Mexico City
You can also get a bus from Mexico City. Mexico TAPO buses run to Zaragoza (get info here on their Facebook page), where you'll need to take an hour long ride via taxi to arrive in Cuetzalan.
From Queretaro
If you're starting from Queretaro, or nearby, this could mean it takes up to eight hours on the bus to get there depending on how many stops you have.
Most routes have you go through Mexico City to find the most direct bus there, but that still means taking a taxi ride to make to Cuetzalan.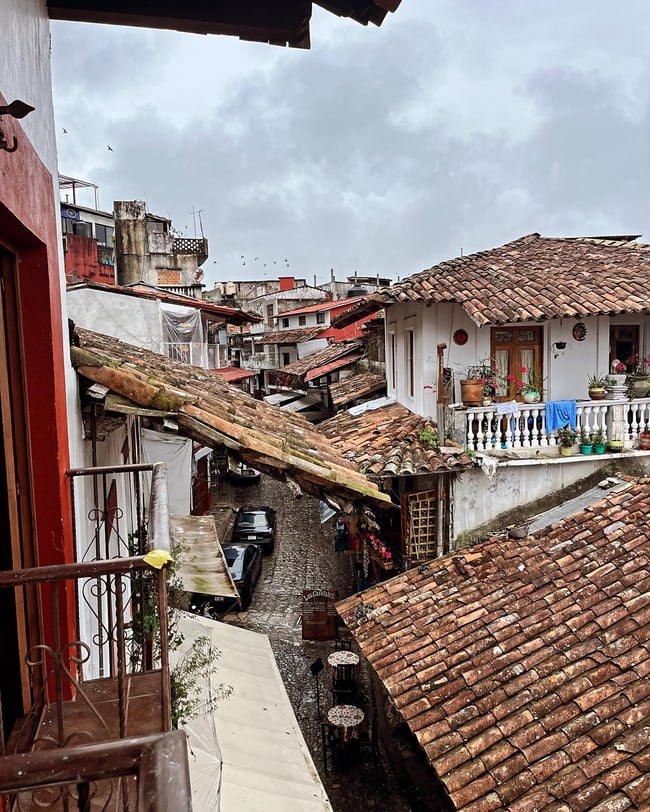 A Few Things To Know For Planning Reasons
Come To Cuetzalan For These Reasons
If you're looking for a more off-the-beaten-path magic city, this is the place for you. As we talked about, it's kind of hidden in the mountains and still preserves much of the authenticity of this remote mountain magic town — so activities in the city are centered on wandering the city center, shopping at the local market, and taking in the sites around you.

However, there are tons and tons of day trip options that range from waterfalls to caves, meaning there's quite a bit to do if you leave the Cuetzalan and are arranging a tour to take you to these sites.
A Few Budgeting Tips + Where To Stay
All this being said, Cuetzalan is fairly cheap. Volunteers mention that the souvenirs here are very reasonably priced, meaning you can come home with woven jackets, baskets, cinnamon, and vanilla for less than other vacation spots.

There are several sites that are offered for free such as the local museum and the church while some of the sites like Yohualichan are as low as $3. Not a bad deal.
As far as places to stay, it's a bit off the tourist map meaning you won't find a hostel, but AirBnBs are an option — past groups have stayed here and here if that's helpful to know.
Get A Little Help Planning
As an ILP volunteer, you have the perk of being in touch with your Local Coordinator who may be able to help you plan a few details for your trip to Cuetzalan. We've put the info from past ILP volunteers on this blog, but know that groups in the past have gotten some help from their Local Coordinators to make it happen.
There was one visitor who provided a bit of info that came in handy for his visit to Cuetzalan and we're putting it on here in case you need the same. There's a tourist agency for the area who come in handy for planning your trip here — contact Cuetzalan Mágico here (+52 2333310132).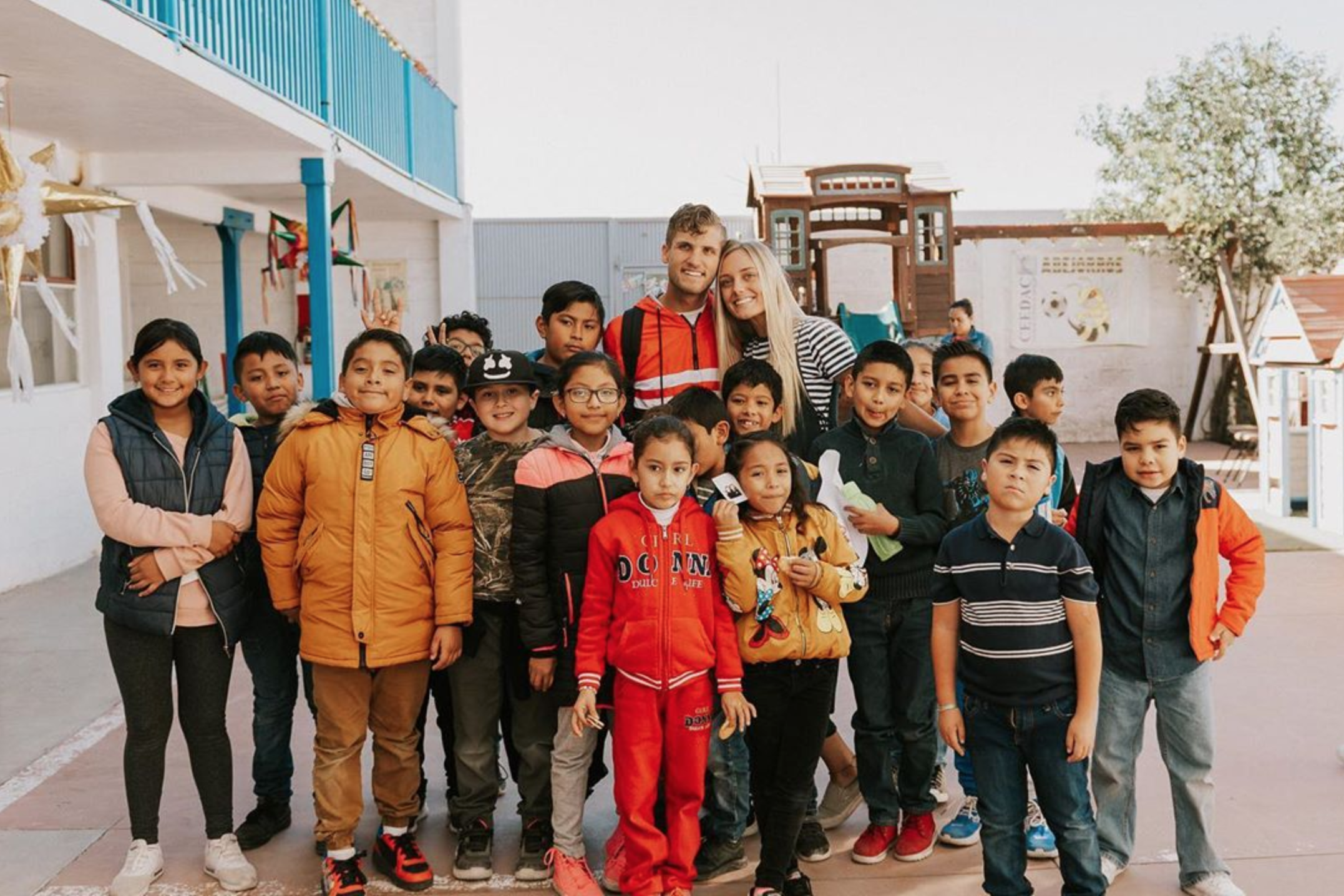 Cuetzalan is truly a magical town
Has the ancient ruins, waterfalls, natural wonders, and flying voladores caught your attention yet? Mexico is jam packed full of off the beaten path adventures like Cuetzalan. Your semester abroad in Mexico will be pretty busy trying to see as much as you can, and that's only part of why we love this country for our volunteers. Come learn more about volunteering abroad in Mexico with ILP and see if it's right for you!