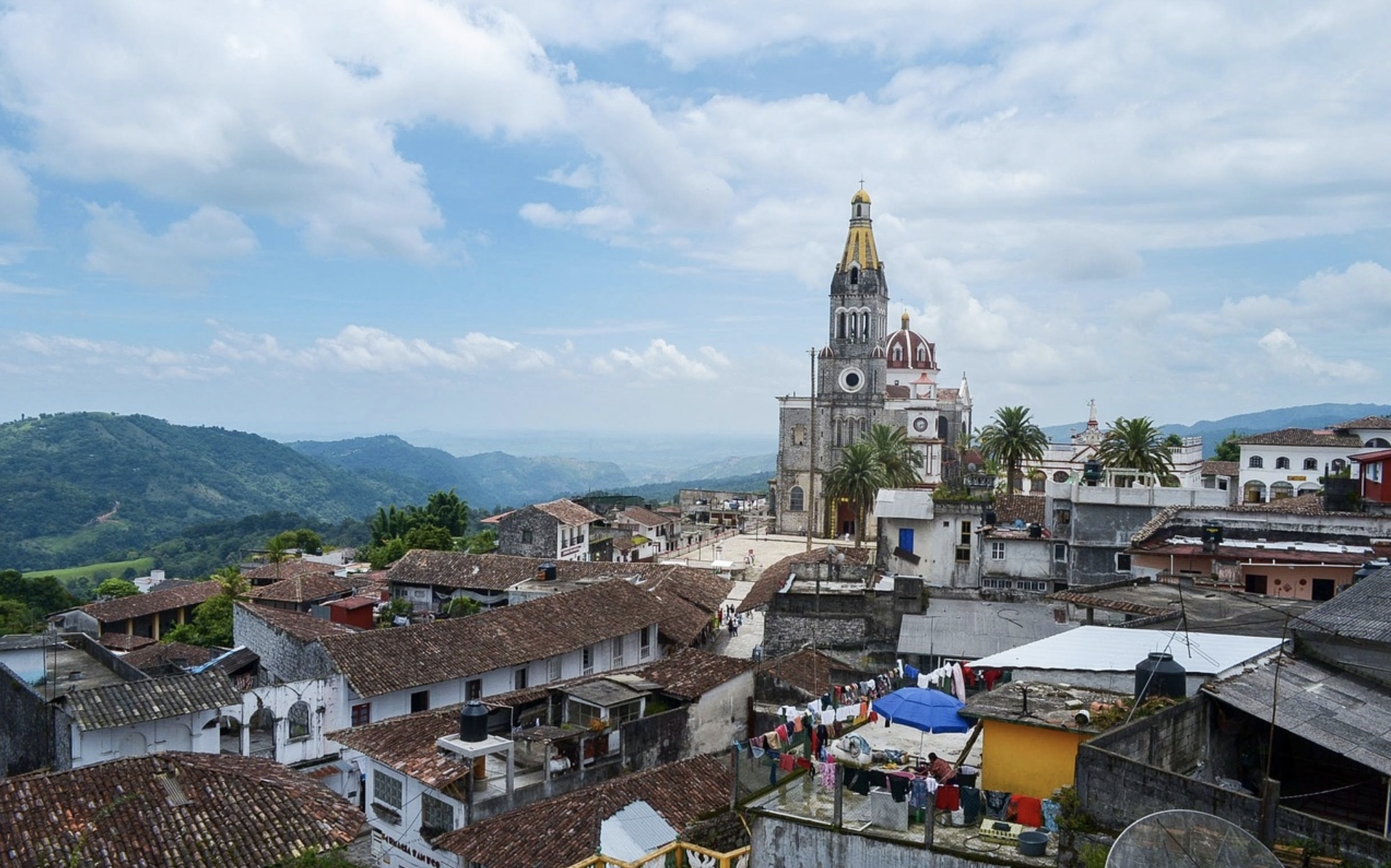 Ah Cuetzalan, Mexico. What a lovely sounding place, but uh... where exactly is it? And uh... why should anyone go and visit? Most tourists coming to Mexico never hear about this quaint little town which means they miss out on the rich history and culture Cuetzalan has to offer. Let's make sure that doesn't happen to you.
Mexico is such a beautiful country! And it's so big, offering so much more than most know about. The colorful towns scattered across Mexico, such as the hidden gem Cuetzalan, are so charming. Trust me, the more you learn about Mexico, the more you'll see how worthwhile it is to come see for yourself.


---
Want to see Mexico for yourself?
Check out our semester abroad programs for college-age volunteers!
---
Have you heard about Mexico's magic towns? We go more in depth on what that is exactly on this post, but in a nut shell — it's a town that has been deemed significant and special for one reason or another. Good thing ILP volunteers have every weekend off where they can come explore towns like Cuetzalan, who has held this title of being magical since the early 2000s.
Where Is Cuetzalan?
To orientate ourselves, let's first start by talking about where this town is precisely. Cuetzalan sits about 3-4 hours northeast of Mexico City and 6 hours east of Santiago de Queretaro, just inland from the gulf.


What To Do In Cuetzalan
Cuetzalan was founded in 1547 and has seemingly stopped moving forward in time as is reflected in its colonial architecture and open street market. You'll find cobbled streets, smooth from years of use, and the buildings painted in whites and reds.
Festivals
If you're in Mexico during the fall, try to plan your trip for the beginning of October when the town lights up for the Huipil and Coffee Festival. But if you can't come at that time, don't worry — any time of year is good for visiting Cuetzalan (and you'll still be able to catch much of what the festival is so well known for).
During the festival you'll find locals wearing and selling traditional clothes (huipiles), scarves and panchos, handwoven in unique styles. They also sell handmade beeswax candles, beaded necklaces, carved masks, and offer a variety of food such as roasted corn.
The highlight though would definitely be the Danza de los Voladores, or the Dance of the Flyers. It's really cool to watch, but know that this tradition is deeply spiritual and significant for many. Essentially, trained men, Voladores, climb an approximately 100 foot tall pole and leap from it with only a rope tied to them. They then spin around in a circle from the rotating top of the pole (think of a much more dangerous form of those chair swing rides you see at carnivals).
This tradition predates Christianity and was said to have originated to appease the gods and bring back rain and fertility to the earth. It has come to be an accepted tradition in the predominantly Christian culture despite it having its origins in paganism.
There are other highlights of the festival as well such as a crowning of a queen (essentially a beauty contest), puppet shows, and dances. There's a little something for everyone in this festival.
But like I said, if you can't make it to Cuetzalan during this particular time, no worries! The locals perform the Danza de los Voladores every Sunday and there are always open markets selling a variety of products.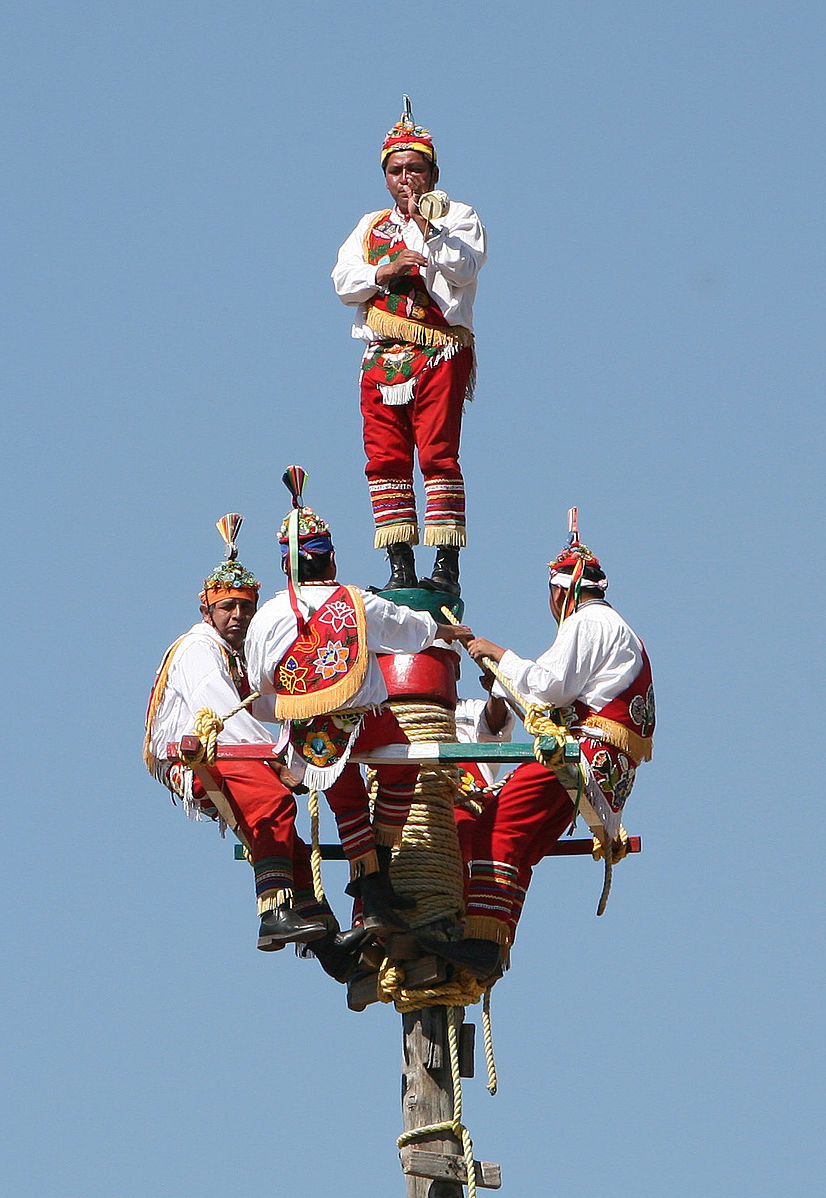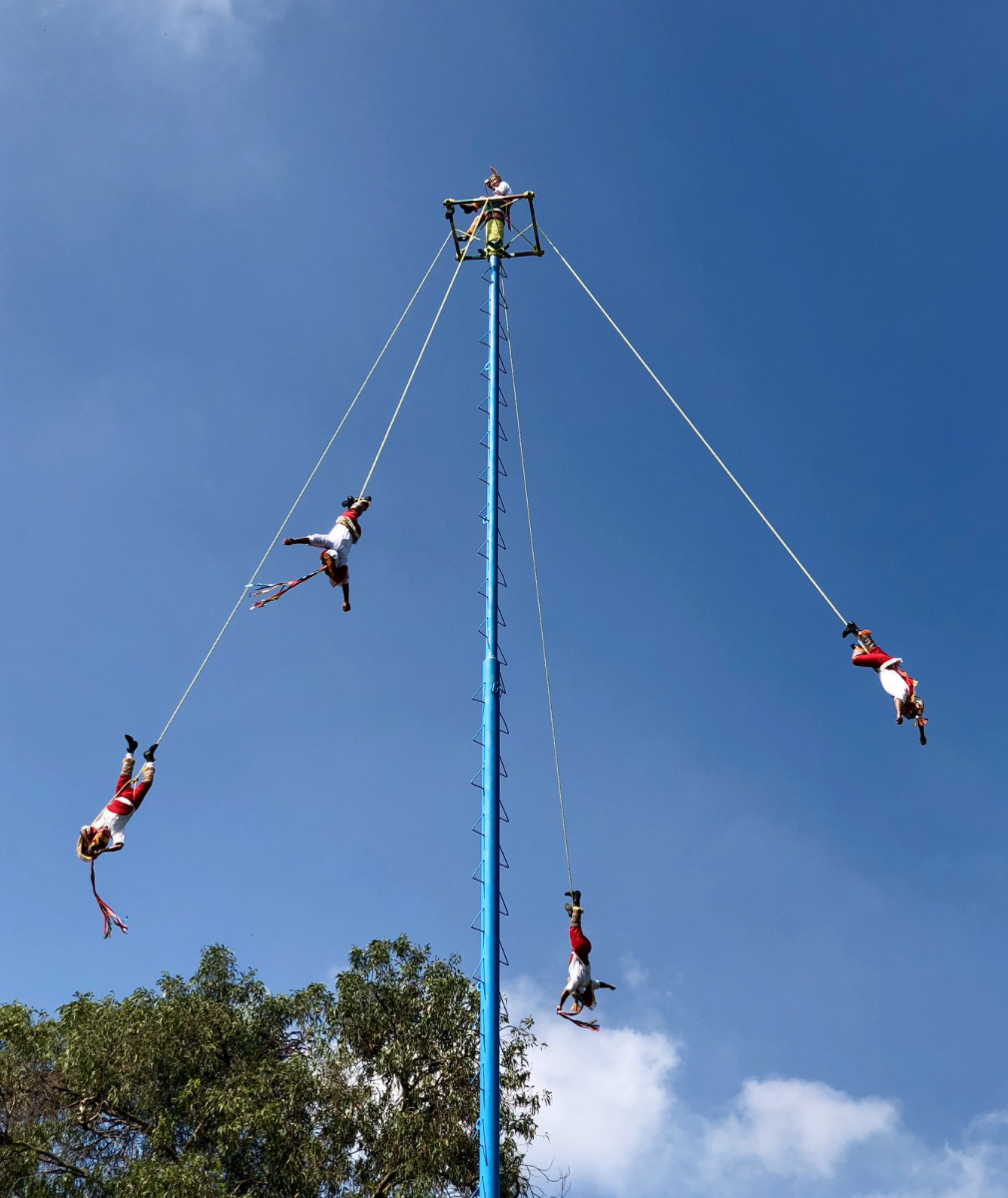 Explore the town on foot
There is still plenty to do in Cuetzalan outside of the market and the Danza de los Voladores. Just like a lot of places we recommend, you'll see the most by just getting out and walking around. I love the architecture you'll find here, so don't skip admiring the churches and other buildings around the old town.
Iglesia De Los Jarritos — or more formally known as El Santuario de Guadalupe. This gothic inspired church is one of the favorites, and one you can't miss. Its most distinguishing feature is the tall, adorned spire. In front of the church lies a cemetary, and it is open during the day to come visit (just please remember to be respectful here).
Address: 73560, Aldama, Centro, Cd de Cuetzalan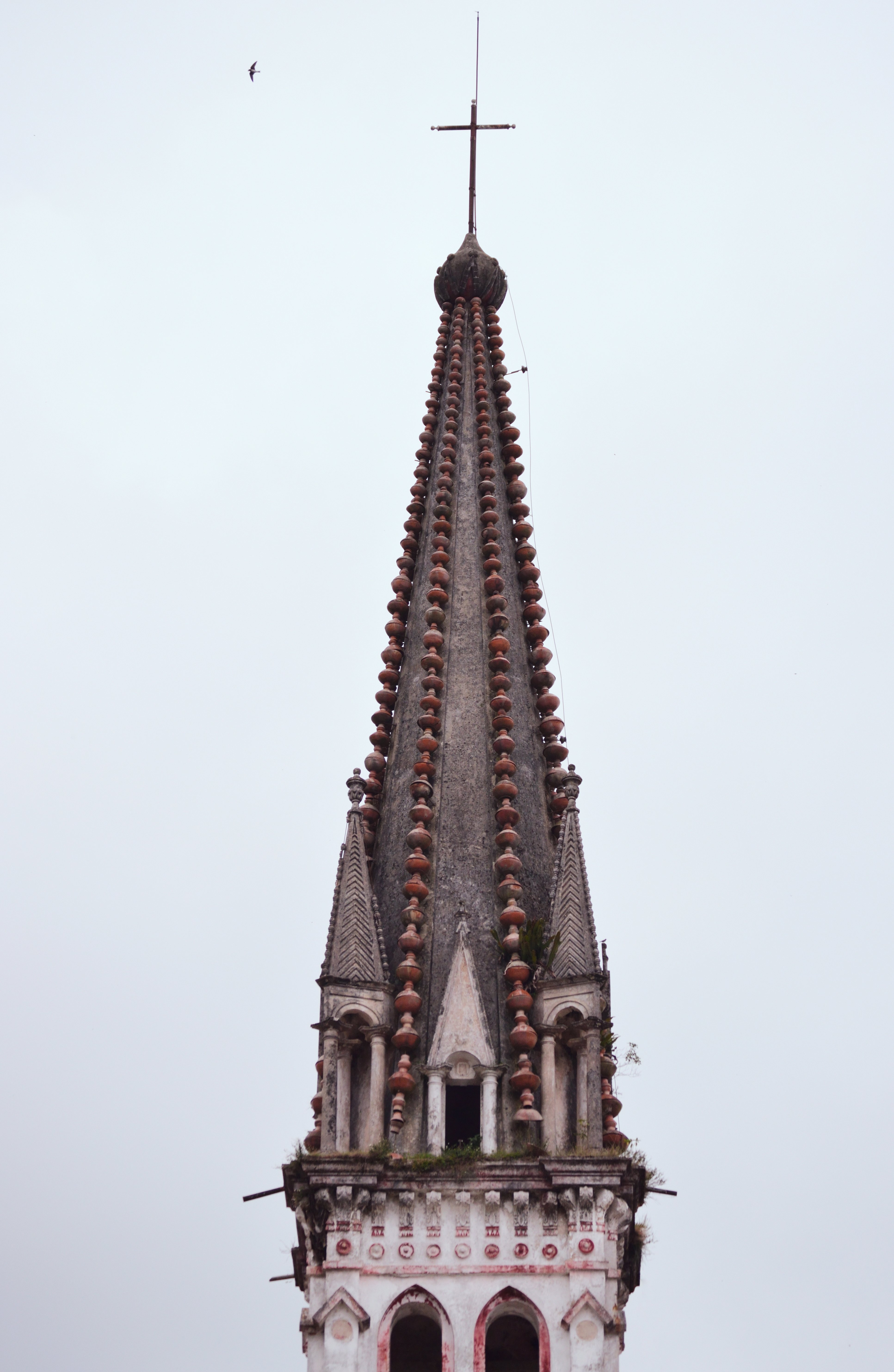 Shop at the handicraft market
One of my favorite things when walking around a new city is spotting a market full of crafts that will remind me of that country. And Mexico is a gem when it comes to handicrafts. In Cuetzalan you'll find the Craft Market Matachiuj just 3 blocks from the main church. Bonus, shopping is also great way to support the community.
Address: Miguel Alvarado No. 33
Adventures Just Outside The City
Yohualichan
After you've snapped your photos of the city and grabbed lunch, head a bit of out of town to find some nearby ruins at the Yohualichan archaeological site.
The Yohualichan ruins are believed to have been built by the indigenous Totonac people (the same who actually initiated the Danza de los Voladores). It's about 20 minutes from town and while they may not be as impressive aswhat you'll find at Teotihuacan, they are pretty incredible and have the added bonus of being less crowded.

The easiest way to get out to the ruins for travelers is typically via taxi, just make sure to bring extra cash and good walking shoes! Plan on around 2-3 hours for this trip. I recommend coming here in the morning (check for current times, but typically opens at 9 AM), then heading back to town for lunch and exploring.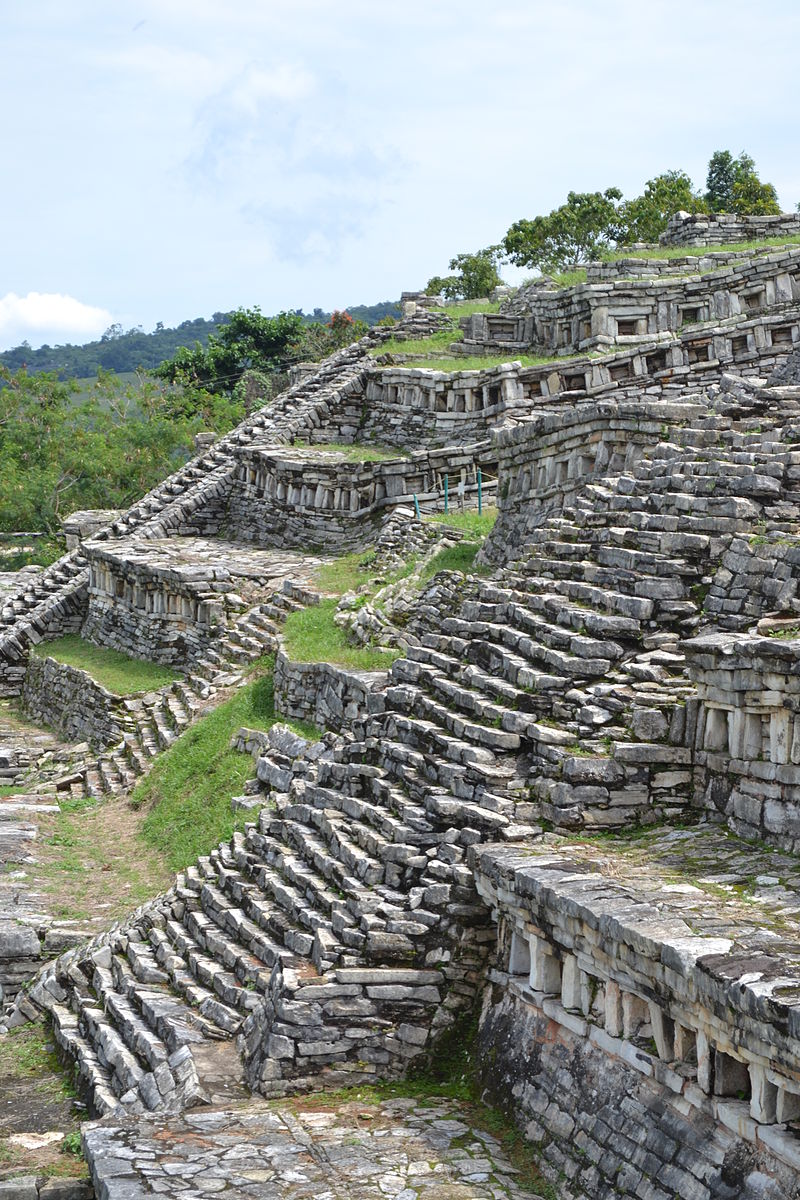 The Dog's Pawl Pool
There are also several waterfalls and caves located around Cuetzalan. One of the more popular is La Poza Pata de Perro (translated is the dog's paw pool) which features a pool of water with four shallow, small pools of water with a much deeper one at the center of it. None of these pools are connected aside from a thin surface of water, and it truly does look like a dog's footprint made in a pool of water.
You'll will need to have a guide to visit though, so check around for the best deals. A lot of tours turn this into a full day (around 4-6 hours) and include transportation there and back, as well as show you around.
Cascada las Brisas
Another beautiful sight to visit would be Cascada las Brisas which is about 13 minutes north (about a mile) of Cuetzalan. It features a breathtaking view of a single waterfall along with lush greenery. You can go swimming here, but be warned that it's very cold!
+ Lots more
If you love the outdoors, Cuetzalan is actually the perfect spot to be in. There's so much around the area, like the Three Falls Waterfalls and the Sacred Canyon. This site runs through all the options.
So What's the Catch?
Does this sound too good to be true? How can this magical city exist and not be flooded with tourists?
The first drawback to Cuetzalan is its location. As noted above, Cuetzalan is pretty out of the way of the major cities and tourist sites, nestled in the mountains. If you're starting from Queretaro, this could mean it takes up to eight hours on the bus to get there depending on how many stops you have — you may not be able to get a direct route which just means getting a little creative and finding segmented routes. Cuetzalan is not the easiest place to get to, but that just means it's another undiscovered town with little to no crowds and we love that.
Another possible drawback would be that some of these excursion options have a price tag. While you could theoretically walk to places like Cascada las Brisas, La Poza Pata de Perro requires a guide and can cost up to $70. The cost of bus tickets alone is about $30.
All this being said, Cuetzalan is fairly cheap. This is Mexico after all and one thing we know is there's good deals to be found here. There are several sites that are offered for free such as the local museum and the church while some of the sites like Yohualichan are as low as $3. Not a bad deal. You also will be hard pressed to find a hostel here, but don't worry because there's affordable options. Airbnbs and hotels ranges from $14 to $70 depending on the quality you're looking for.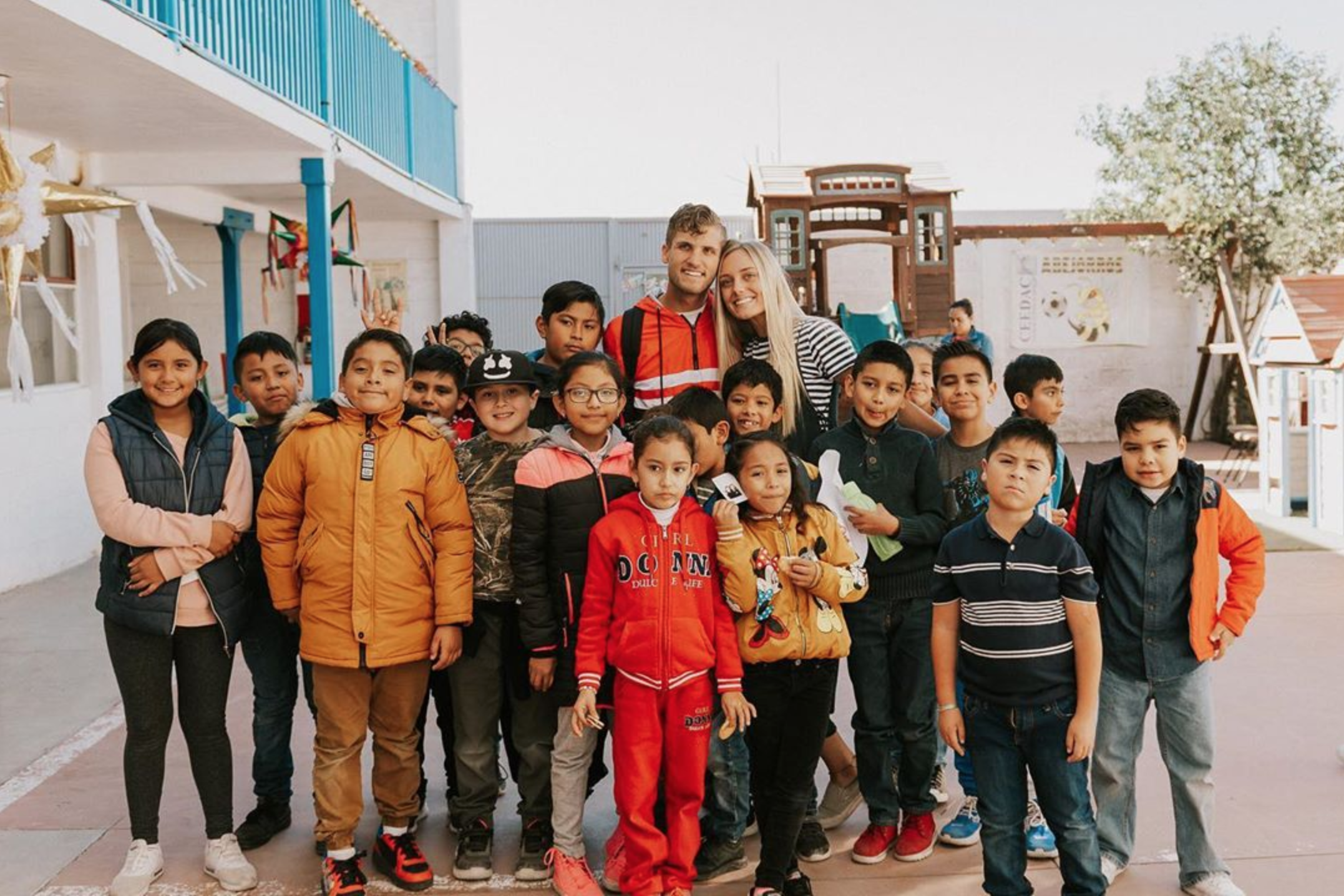 Cuetzalan is truly a magical town
Has the ancient ruins, waterfalls, natural wonders, and flying voladores caught your attention yet? Mexico is jam packed full of off the beaten path adventures like Cuetzalan. Your semester abroad in Mexico will be pretty busy trying to see as much as you can, and that's only part of why we love this country for our volunteers. Come learn more about volunteering abroad in Mexico with ILP and see if it's right for you.