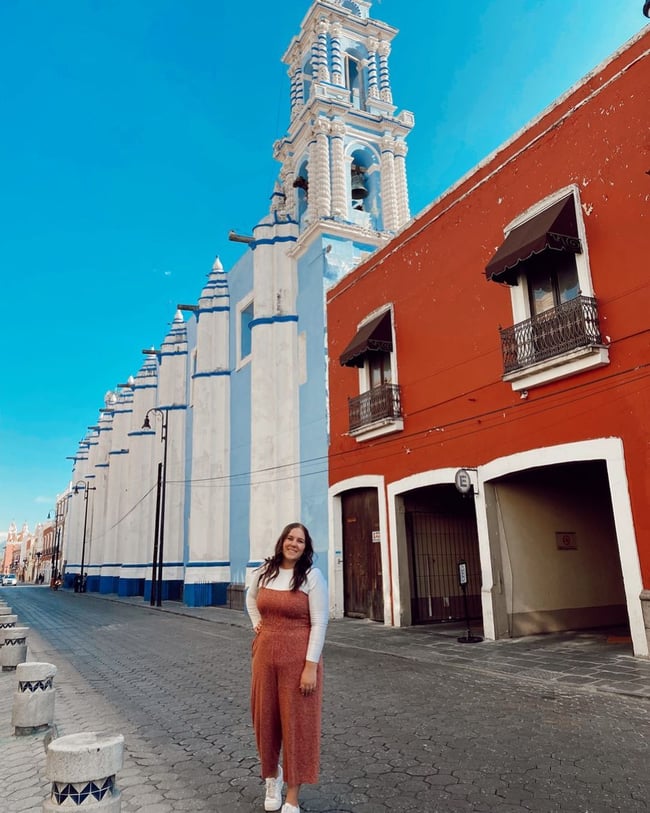 Magical cities, thundering waterfalls, mountain hot springs, and a tiny town that feels like Italy are all just a quick ride away from Puebla.
We're guessing Puebla's already on your must-see list in Mexico, right? You're absolutely going for the unbelievably colorful city center or some of the prettiest churches in the country. Oh, and the rooftop views and shopping in the Alley of the Frogs, and about a zillion other things to do. It's easily one of our favorite cities in Mexico and definitely think it should be on your itinerary.


---
READ NEXT: All the reasons we just love Puebla, Mexico
---

And then once you're in Puebla, there are even more adventures waiting for you! Turns out, there's more than just a smattering of day trips and weekend trips that could keep you busy all semester long if you find yourself living in Mexico for your ILP semester. ILP volunteers are teaching English part time (no experience necessary) with every weekend off, plus vacation days to really see it all. And if you find yourself close to Puebla during your semester, all of these day trips or weekend trips are up for grabs.
Easy Day Trips From Puebla
These are all quick day trip options that are either a taxi ride or bus away — several are less than 30-minutes away, with a couple of exceptions, but nothing is over 1.5 hours. That lets you maximize your time in the locations below, before returning to Puebla before bedtime.
For One Gigantic Pyramid
Cholula is your stop. It's such an integral day trip to the Puebla experience that you'll see a handful of bloggers out there kind of combining the two cities in one. In any case, the message is clear — don't miss out on Cholula while you're in Puebla!
Cholula is just 10 miles away from Puebla and visiting means you'll experience an excavated pyramid (that's actually the largest in the entire world), secret tunnels beneath the pyramid, hilltop churches, and much more. Another highlight? All our favorite things to do here are either free or just a couple of dollars, making Cholula another budget-friendly addition to your Mexico itinerary.
Along with the massively huge Tlachihualtepetl pyramid, Cholula has a stunning hilltop cathedral, a charming zocalo, botanical gardens, bustling markets, and more. Considering there's a free tourist train that takes visitors from Puebla to Cholula, there really isn't an excuse to visit.
Get all the details on visiting nearby Cholula.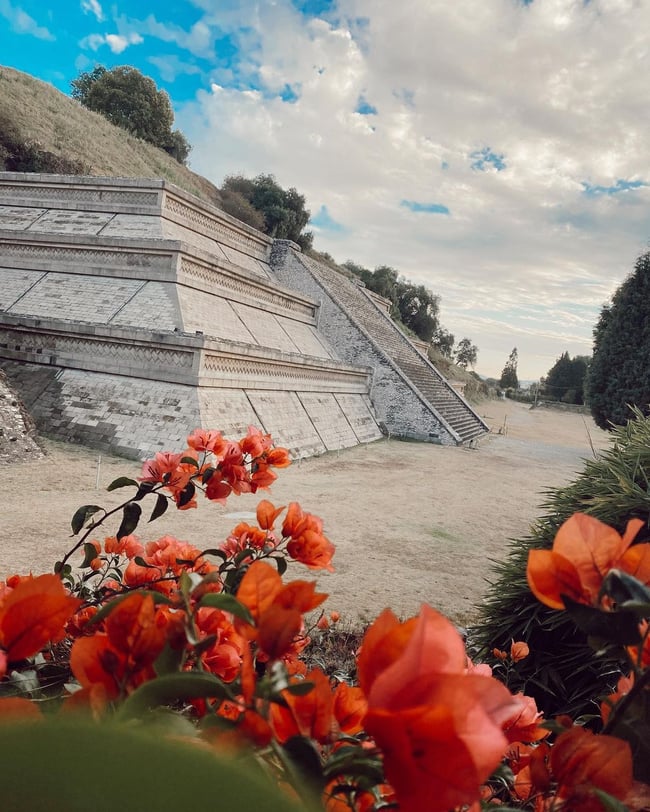 Atlixco, The City Of Flowers
Atlixco is a charming town that's also surrounded by volcanoes if volcanoes pique your interest more than flowers! This small, bright, and colorful little magic town that makes for an ideal day trip. On your visit, be sure to soak up the views of the volcanoes that seemingly guard the city: you can sometimes see a curl of smoke from nearby Popocatépetl and Iztaccíhuatl towering behind the many "folk baroque" churches in the area.
However, if you're only here to see one church, choose Cerro de San Miguel. It's a church situated on a hilltop that overlooks the whole city of Atlixco, giving you a panoramic of the floral-filled city below. There's also a swing at the top if you want to brave your fear of heights and get a picture of you seemingly swinging above the city! It's a bit of a hike to conquer all of the stairs to reach the chapel, but the views are worth it.
But after you have your fill of churches, consider wandering around the city's "Jardin Magico", a flower nursery and botanical garden sporting amazing floral sculptures. See a towering hummingbird, floral frog fountains in the ponds, and snap pictures under the cupula encased in blooms and vines.
Get all the details about a day trip to Atlixco, here.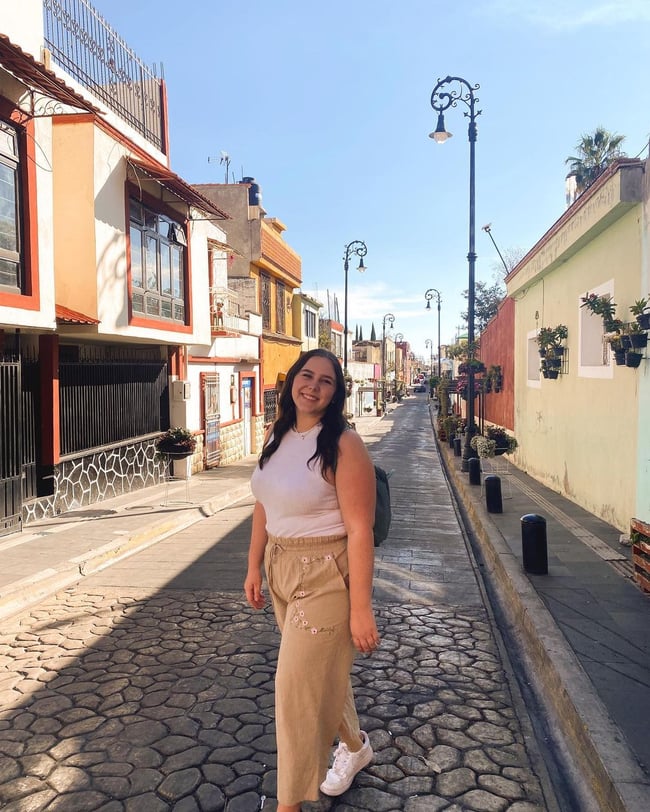 This Italian Town
Feel like taking a quick trip over to Italy without leaving Mexico? Val'Quirico is the city for you, a Mexican city styled after those charming towns you see in Italy. While there are areas of the country that were settled by Italian immigrants (see the city of Chipilo, where there's a unique Venetian dialect, along with pizzerias), Val Quirico isn' that. It's a real estate development created to pull in tourists looking for a European escape. And it totally works!

Find flower-filled balconies and fountains, restaurants and boutiques, galleries and ice cream shops, and tons of buildings to photograph, giving it an immersive feel of an Italian neighborhood. Here's more on this charming town.
If you're looking for a very quiet and low-key afternoon in Val'Quirico, it's just a 40ish-minute drive from Puebla if you snag a taxi, which is recommended.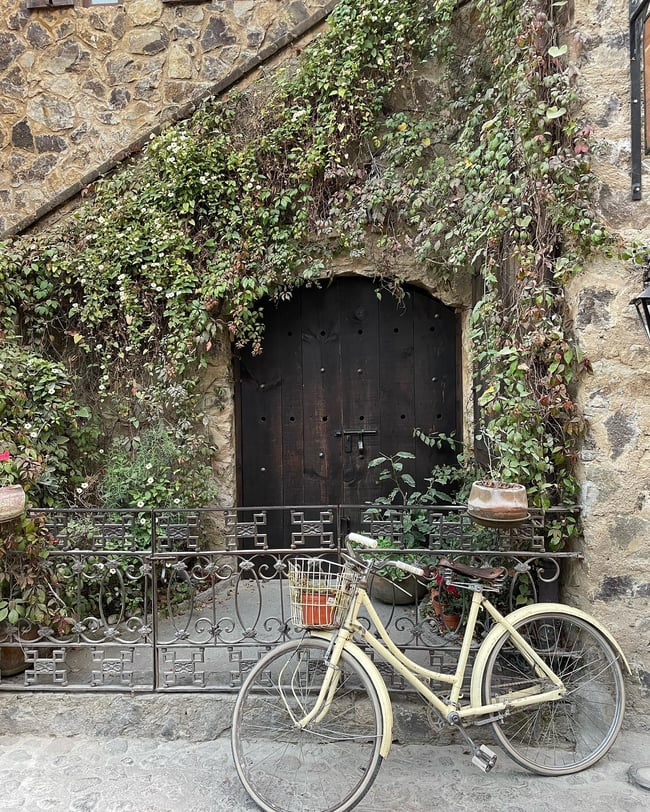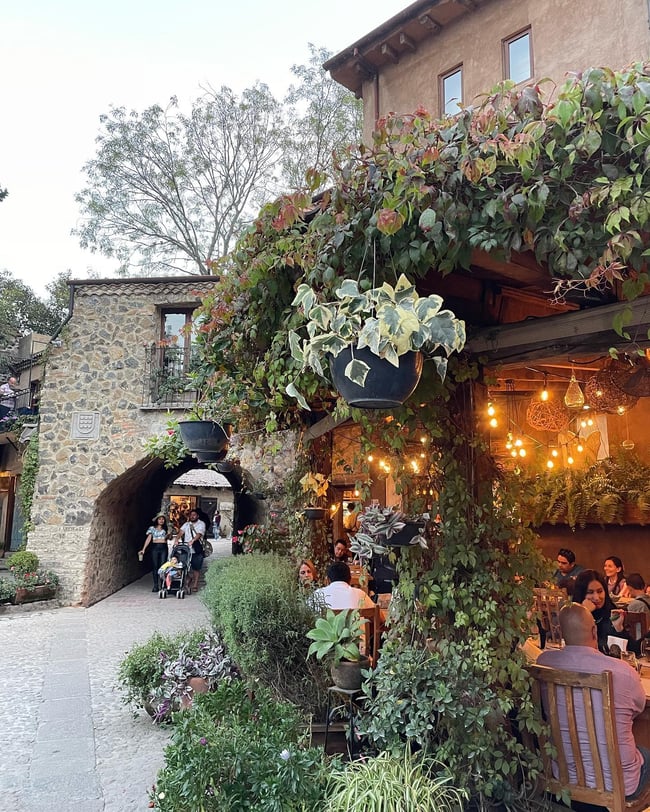 Fishing + This Palace In Chaulta
The main attraction in the little town of Chaulta is an impressive estate, the stunning red brick-and-white residence (known as El Castillo, or the castle).
Visiting these days means enjoying the grounds and taking a tour of the remaining buildings (a small museum houses some photographs and furniture of the time), admiring courtyards framed by watch towers, and taking several pictures of the manor house. There's also zip lining, paddle boats on the lake, and more activities around, like fishing!
The lake around the castle is stocked with a few varieties of fish and you'll see locals sitting around the lake, hoping for a bite. If you didn't pack your fishing gear on your ILP semester, no worries — you can rent it.

Get all the info about visiting Chaulta, here.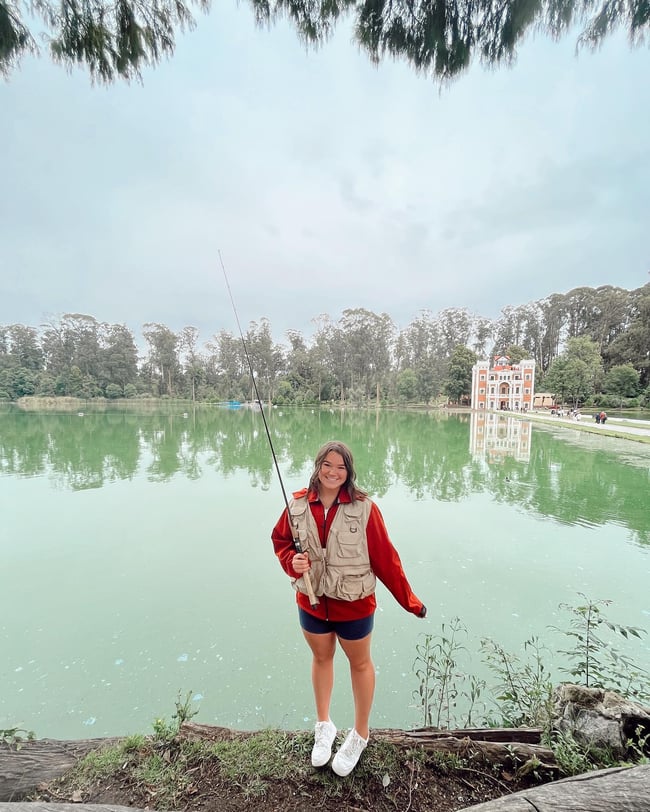 Hot Springs + Christmas In Chignahuapan
Come visit another one of Mexico's Magic Cities, known for a colorful downtown city center as well as a nearby resort with a spread of thermal pools to soak in. A few notable things to point out for your Chignahuapan visit is the almost 40-foot painted tower of the Immaculate Conception for the city's main basilica and this church: the Paris of Santiago Apostol — an incredibly detailed and ornamented facade decorates the Barque style building.
Funnily enough, Chignahuapan is also known for being one of the main producers of Christmas ornaments in the country. You'll find hundreds of workshops handcrafting glass Christmas spheres (blowing them by hand as well as painting them), as well as tours of these incredible works of art. El Castillo de la Esfera (The Sphere Castle) is one place to learn more about the Christmas industry in Chignahuapan. Learn more here.
And after a day of exploring, it's probably time for some relaxing in the thermal waters around the city. Chignahuapan's name translates to "on the nine water" and is also known for thermal springs which you can visit just outside of the city. About 3 miles east of Chignahuapan is this hotel where you can visit the pools for around $6.
Getting to Chignahuapan from Puebla is rather straightforward: from the Puebla CAPU center, you can catch a bus that passes through Apizaco, then onto Chignahuapan. The ride is about 90-minutes long, and you can learn more about the route on this Facebook page.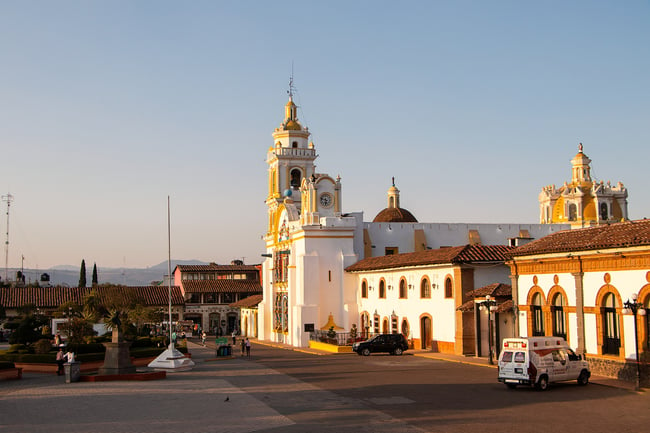 In Need Of A Weekend Trip?
We know you're here for day trip options ideal for the Saturday and Sundays ILP volunteers have free from teaching every week ... but sometimes you need a bit more of a getaway than a day trip. That's when these vacations come in handy.
We have this long list of favorite weekend trips in Mexico here, but below, you'll find a few suggestions that are best suited to visit from Puebla, due to their closer location.
The Magic Town You Haven't Heard Of Yet
Visiting Cuetzalan feels like visiting a slice of history, stopped in time. That effect is most likely due to the smattering of colonial architecture and ancient traditions which predate the town's 16th-century origins, but in any case, the vibe here is something not found in other cities.
One major highlight are the festivals that occur in Cuetzalan, the Huipil and Coffee Festival. However, if you visit on Sundays, you can see the Danza de los Voladores, an amazing event that includes trained professionals swinging upside down from a towering pole in the city center. It's something you can only see in a few Mexican cities and is well worth the visit to Cuetzalan!
Still need a bit of convincing? This particular city still preserves much of the authenticity of this remote mountain magic town — so activities in the city are centered on wandering the city center, shopping at the local market, and taking in the sites around you. Once you've had your fill, there are tons (and tons!) of day trip options that range from waterfalls to hike to and caves to explore.
Get all the details on visiting Cuetzalan.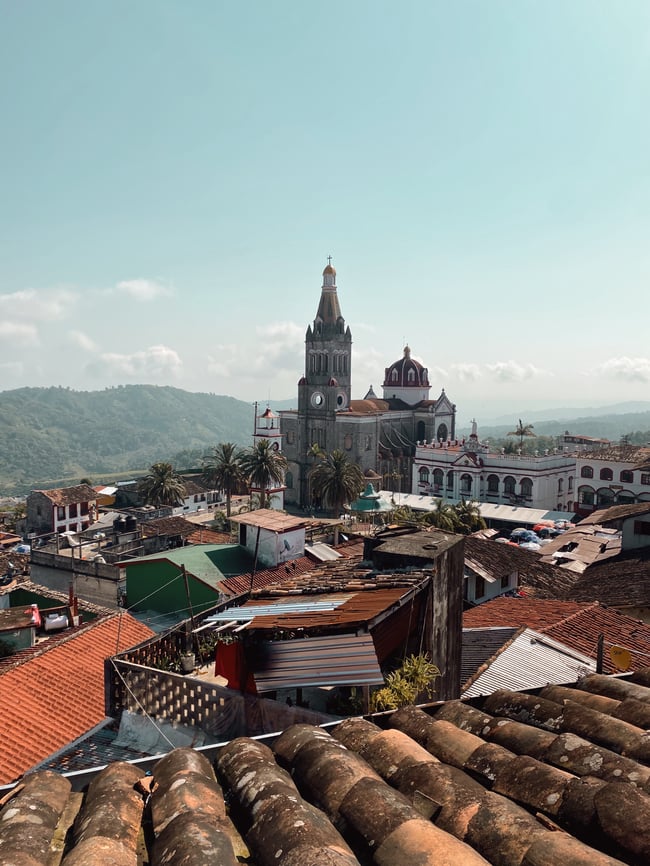 Colonial Buildings And Waterfalls In This Town
You have more than a few things waiting for you in Xicotepec, including towering churches, an enormous statue (and religious pilgrimage site), along with a rather charming translation of the city's name: the "hill of bumblebees".
A few tantalizing sneak peeks of Xicotepec include the white towers and Neo-Gothic flourishes of the Church of San Juan Bautista, and that massive monument to the Virgin of Guadalupe — it's on top of the Cerro del Tabacal which gives you quite the panoramic views and is the site of a large pilgrimage and firework-filled celebrations on December 12th.
Oh, and since you're here for the weekend, you wouldn't miss out on trekking to see the collection of waterfalls just a few miles away (the Barbas de Carranza Waterfalls), or shopping at the indigenous handicraft market (Ma-Xicotl Handicraft Store), right?
To reach Xicotepec from Puebla, a CAPU bus will take you from Puebla to Zacatlán (it's a 1.5-hour drive, get more info on their Facebook page) then taking a 1-hour taxi to Xicotepec de Juárez.
Pst: You can also stop off in Zacatlán for a floral clock (really, just like Disneyland!) and some stunning murals. It's a fun stopover.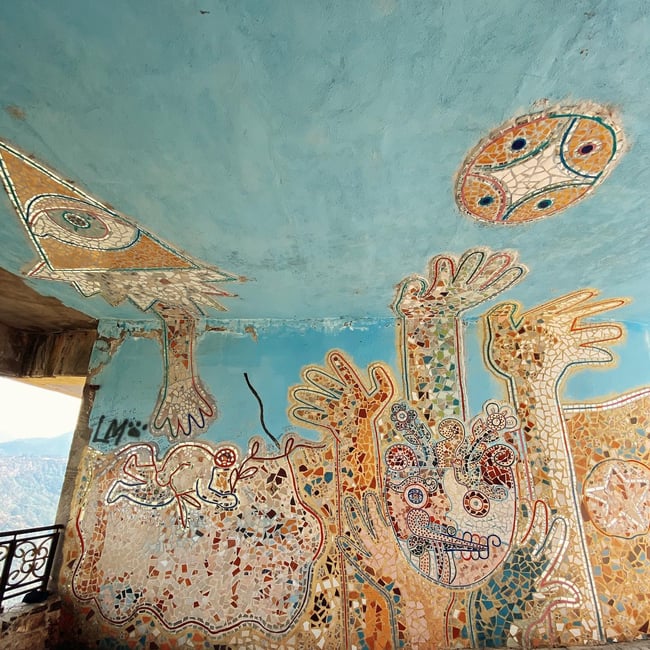 This Picturesque Spot
Ready to add another magic city on your list? Tetela de Ocampo is surrounded by lush valleys, thundering waterfalls, viewpoints of the Sierra Mountains, and more. The city itself isn't anything to pass by either — a sprawling collection of colorful colonial buildings, historical murals, the orange-colored Church of Santa Maria De La Asuncion, etc. But once you have had your fill of exploring the city's few museums, churches, cathedrals, markets, and foodie vendors, you have more than a few outdoor adventures to keep you busy.
Take a tour to the caves and grottoes of Carreragco, explore the old mining town of La Canada, or go swimming in the blue-green water of the Aconco waterfalls. It's a city that's not visited by many, but definitely holds some treasures.
To get here from Puebla, take a bus from the CAPU to Zacatlán (a 1.5-hour ride, more info here on their Facebook page), then snag a taxi for the rest of your hour-long journey.
Spend Some Time In Oaxaca
This is a fun part of Mexico bursting with bright and colorful cities and some of our favorite beaches. The perks of being in Puebla mean it's just a 4-5 hour bus ride from some of our favorite places in this Mexican state (or a short, 1.5 hour flight to the coastline of the state).

Looking for some highlights? Let's dive in with a couple of recommendations:

Oaxaca City — This city is famous for a few things we know are on your list, like colorful streets, sprawling ruins, some killer food, and one of the best Day of the Dead celebrations. Spend time admiring the towering Templo de Santo Domingo, do some people-watching in the Zocalo, and have a warm lunch of spicy mole before wandering around the Botanical gardens. Petrified waterfalls, ruins, have a photo shoot in the rainbow-colored Xochimilco or Jalatlaco neighborhoods, sight-seeing by tram, and shopping at the massive market are just a few other additions to your Oaxaca City itinerary ... then there are a list of about half a dozen day trips to add!

Getting here is a cinch: Bus routes fluctuate from 4.5 to 5.5 hours, but we like the shorter routes and prices found with this company.
Monte Alban — Another favorite, mostly due to the towering mountains that frame some of Mexico's most impressive pyramids and ruins ... some say they're more impressive than the ones found at Teotihuacan! It's an easy addition to slip into your Oaxaca trip, since the ruins are just around 30-minutes away.
Huatulco — Need some beach time? Of course you do! Find miles of coastline, rolling waves, waving palm trees and tropical vibes in this coastal city. Huatulco is full of the beaches and resorts you'll expect, but you can also take a swim in the hidden lagoons up in hills, hike to cascading "magic" waterfalls, or get a mud massage at Playa La Bocana. Here's more on Huatulco.

Getting here: You can snag a flight from Puebla and be here in just 1.5 hours. Prices typically are under $100 making it a fun getaway for a longer weekend if you have the time, or even just a Friday - Sunday deal if you need a quick beach weekend. Look on Volaris, Aeromexico, and VivaAerobus for flight options.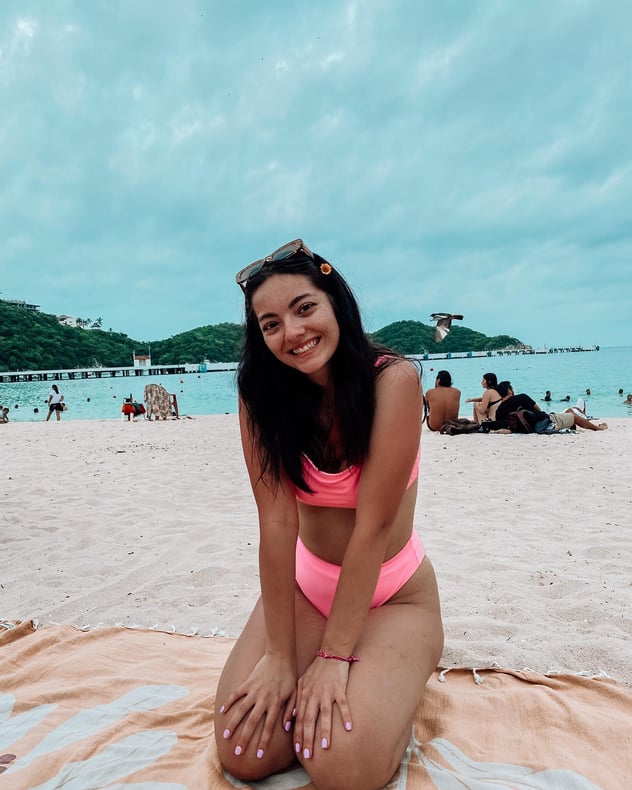 For What Some Say Is The Best Food In Mexico
If you're into finding the best food, best hiking, and the best soccer this country has to offer, add this colorful Mexican city to your list, ASAP. Pachuca seems to encapsulate all the things you know about love about Mexico, but with some delightful surprises. This city is known for soccer and the best food in the country. It's home to bright and colorful markets and is just outside of a national park that boasts some rad hiking.
Oh and to get here is a cinch. a 1.5-hour bus from Puebla will take you to San Martín de las Pirámides, where you can catch a 40-minute bus to Pachuca, making it an easy three hours. Those links have websites or Facebook pages to learn more about the schedule and the routes.
See why it's somewhere you'll need to visit? Here's the info to know for planning your very own trip to Pachuca.
Ready to visit these places (and more)?
How about the chance to volunteer and make a difference in the lives of children in Mexico? Do all that (and tons more) when you volunteer with International Language Programs.