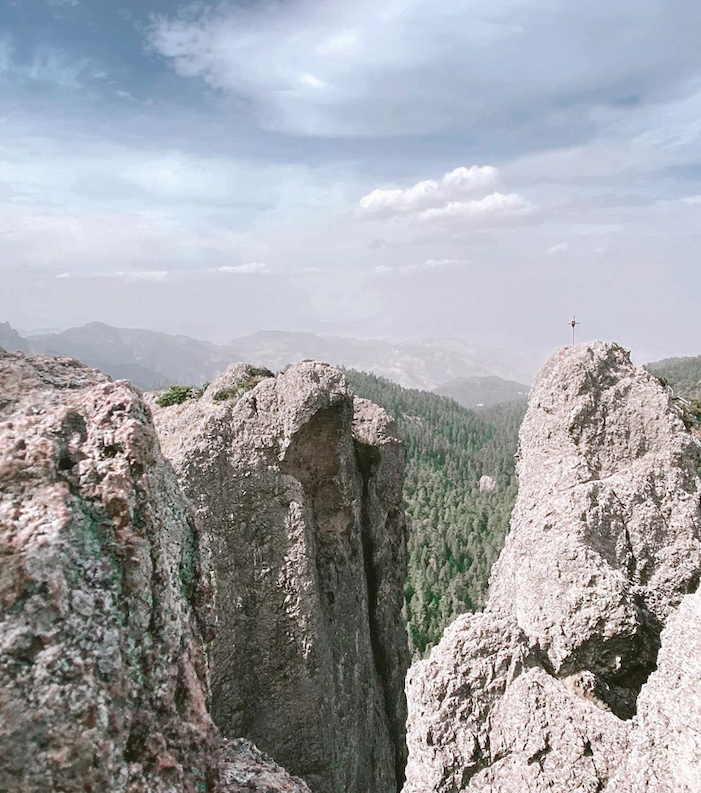 If you're into finding the best food, best hiking, and the best soccer this country has to offer, add this colorful Mexican city to your list.
I'll let you in a little ILP secret — If you are looking for a country where you can do a lot of traveling on a budget, Mexico is your spot. Seriously, we have volunteer groups who are gone somewhere new every single weekend, checking out ruins, turquoise swimming spots, dense jungles, and a smattering of darling little cities because it is so affordable to travel around Mexico. Are you totally sold yet? You will be after hearing about Pachuca.


---
Pst: You can spend a whole semester teaching and traveling with ILP See what volunteering in Mexico ILP is all about
---

Pachuca seems to encapsulate all the things you know about love about Mexico, but with some delightful surprises. This city is known for soccer and the best food in the country. It's home to bright and colorful markets and is just outside of a national park that boasts some rad hiking. Pachuca is also close to so many of our favorite places to visit in Mexico. See why it's somewhere you'll need to visit? Here's the info to know for planning your very own trip to Pachuca:
The Top Things To Do
Visit This Statue
One of the top things to do in Pachuca is admiring the Christo Rey, a huge Christus statue found on the surrounding foothills of the city (you can get quite the view of the surrounding foothills from up there). At the top of the hill, there is a small parking lot and some stairs that get you up by the statue. If you want to go up to the statue, just pay a small fee and enjoy the lookout — you can see the whole city of Pachuca spilling out below you. It's well worth it.
Address/Directions: Taxi up there (It's a popular spot drivers should know).

Hours: 8:30 AM to 5:00 PM

Cost: 5 pesos

Time for Soccer!
The Pachuca El Museo Del Futbol Salon De La Fama is something to see if you're a soccer fan ... and is still crazy fun even if you're not a huge fan. Learn about the history of soccer, tour the hall of fame, and join in on some interactive games during your visit. These are games set up so you can test your skills next to some of the best players in the world which puts their skills into perspective, if you've ever been curious about how you compare. Behind the building, there's a mural the size of a football field that's seriously impressive, so don't skip out.
Museum Address: Av Ferrocarril Central, Zona Plateada, Pachuca de Soto

Hours: 10:00 AM to 5:45 PM (Closed Monday and Tuesday)

Cost: 50 - 75 pesos based on your level of access

Get more info on their

website

.
Oh and don't just think you can get your soccer fix just by visiting the museum ... come see a soccer match! Your city is famous for the sport. You can find regular games played by the local team, FC Pachuca.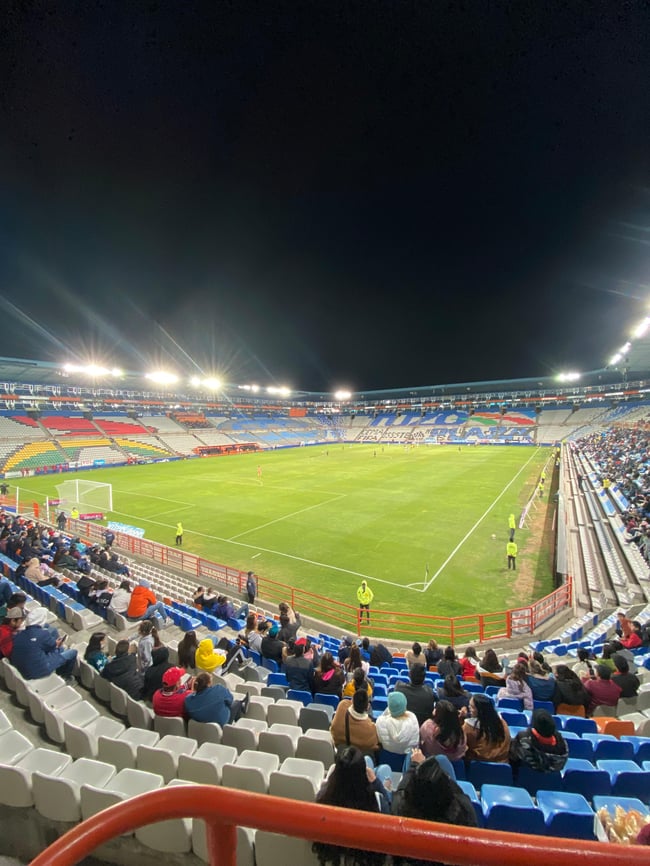 See the Clock Tower
Centro (or Centro de la Ciudad) is a favorite hang out space, home to a towering clocktower built over 100 years ago to commemorate the Independence of Mexico. The clock's face was actually built by the same Austrian company who built the clock that sits in London's Big Ben (go figure). You'll also find lots of markets and good food at Centro so best to come hungry and grab a snack or two while you people watch.
Photograph A Rainbow of Colors
Snag your camera for capturing the Macromural de Palmitas! Stacked on the hills in your city is a neighborhood painted a rainbow of colors to create a huge mural. The art piece is the largest mural in the world, spanning over 40,000 square meters.
Find it: Guadalupe 204, Las Palmitas, 42094 Pachuca de Soto, Hg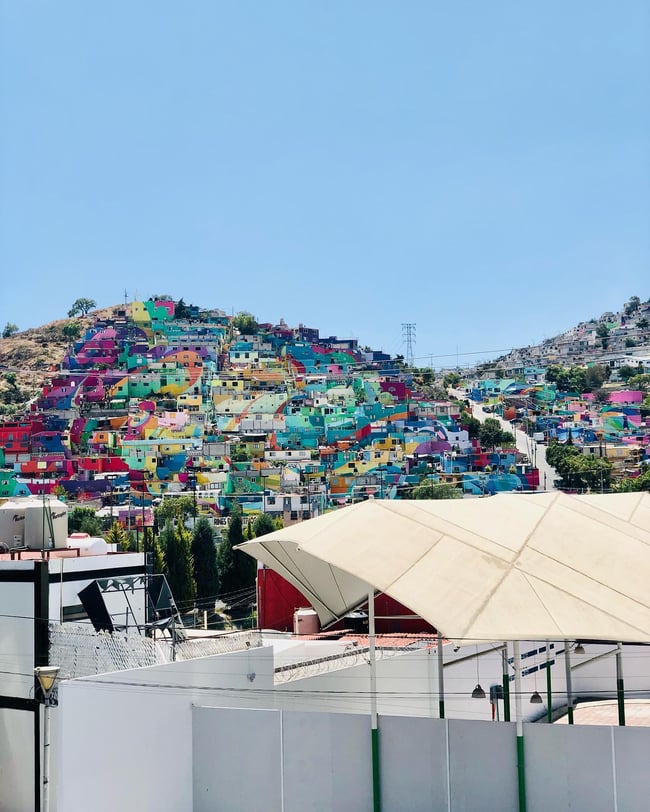 Time For Hiking
Go hiking in El Chico, one of the National Parks and "Magic" spots found in Mexico. You'll find hiking trails crisscrossing the hills, rock climbing routes, and a network of caves to explore. It's just outside of Pachuca, so easily done on a weekend.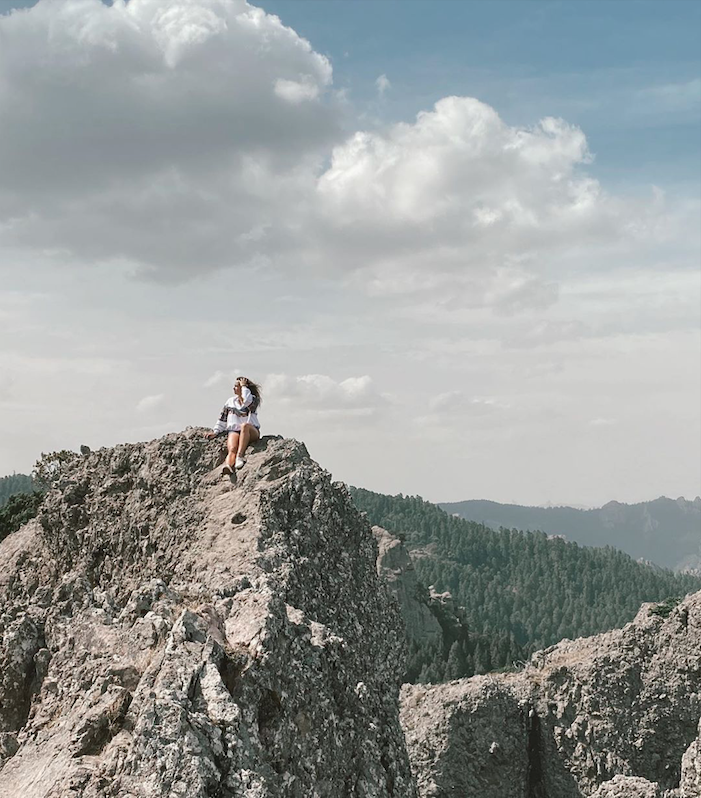 Eat The Best Food
Pachuca is a large city in the Hidalgo state and is known for a few things. It has a vivid history shaped by Spanish conquistadors and miners who moved here from the United Kingdom in the 1800s. Those Cornish miners helped create a really unique culture: along with soccer, the miners also brought over a unique pastry that you'll have to try at least once before leaving, among other dishes. Here are a few foods and restaurants to hit before leaving:
Tacos At Molcajetes de Per
There are places to get tacos all over Pachuca, but our ILP volunteers love the tacos at this place. They're known for Tacos Al Pastor but there are tons of favorites on the menu. Come hungry because you'll want to try a bunch of tacos to wash down with a tall glass of horchata.
Address: Av Benito Juárez No. 1507, Ex Hacienda de Coscotitlán, 42080 Pachuca de Soto

Hours: 6:00 PM to 4:00 AM
Try Pasties
Don't leave Pachuca without trying pasties! They're famous in Pachuca, brought over by the Cornish miners. It's kind of like an empanada and you can find them for around 15 pesos. There are a few places to grab them, so I'd ask the locals so you know you're getting the best.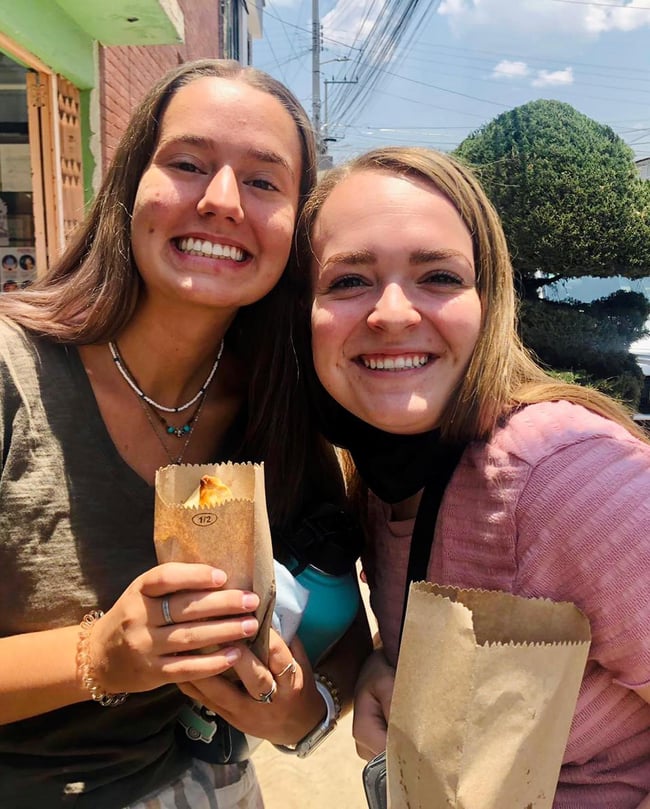 El Parador de San Javier
A favorite restaurant where you can try some of the foods unique to this part of Mexico. Tamales are a good bet all across Mexico, but in the Hildago state (aka in Pachuca) you should try Piltamales which are filled with corn. Mixiote is another to try, made of meat (beef, pork, or mutton) prepped with a chili sauce and steamed. Barbeque is also a good go-to for this region. Find some of these favs (and more) at this restaurant.
Addess: San Javier 717, Valle de San Javier, 42086 Pachuca de Soto

Hours: 8:00 AM to 6:00 PM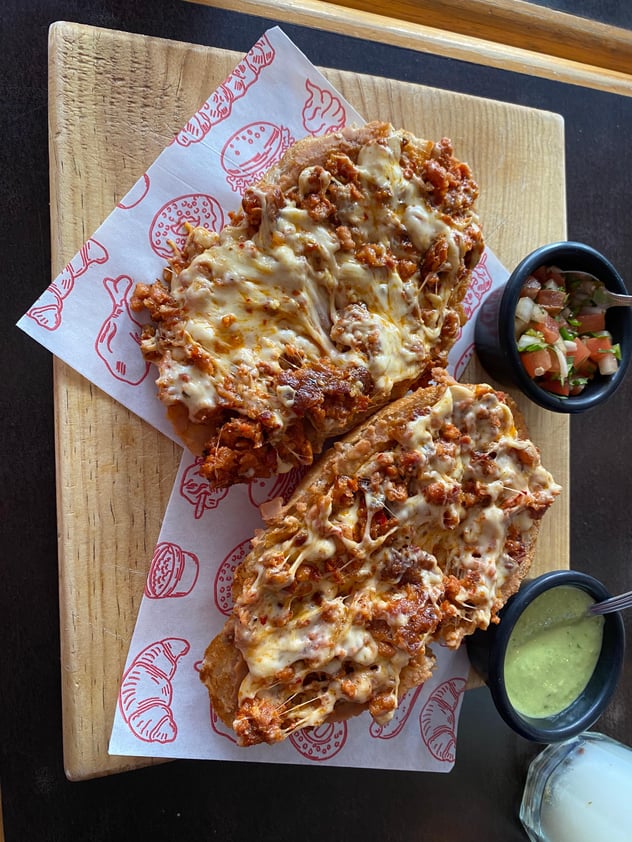 Nearby Adventures
Pachuca is home to an ADO bus station which is really convenient. So many fun weekend adventures are just a short bus ride away, plus there are several nearby options for airports: Guanajuato/Leon, Guadalajara, Queretaro, and San Luis Potosi.
Here are a few favorite spots to check out with times to help you know how to plan your trips:
Teotihuacan
This nearby spot has some of the coolest ruins in Mexico. Nicknamed the "City of the Gods", this complex of pyramids and ruins are just about 45 minutes away from Pachuca.
Grutas De Tolantongo
Grutas is a collection of hot springs perched right in the mountainside. The warm water is heated by surrounding volcanic mountains between the rocky canyon, complete with waterfalls for you to soak under. There are 15+ pools in the mountainside, creating the most magically dreamy infinity pool effect. It's a must-see! Get more about Grutas here — it's going to be around 2.5 hours by car, so a bit longer by bus. That blog post has info on how to get here.
Puebla
Even though it's just about 60 miles from the country's capital, Puebla itself is bursting with tons of history, a whole list of things to do, plus is a jumping-off point to many adventures. Don't make the mistake of treating this place like a day trip when you could easily spend a weekend (or much, much, longer) here.

You can read more about the city details below, but overall, we love the European feel in the city, thanks to its Spanish roots. There's a big religious presence here (the Spanish called this city the new Jerusalem), with a rumor that there are 365 churches in town, one for each day of the year. While that number is more like 40, you have a lot of churches to visit in Puebla if you'd like to see them all. Oh, and you can make it here in a cool three hours.
Here's more about Puebla (your new fav spot in Mexico).
Queretaro
You are going to want to photograph these charming streets because most alleyways are lined with buildings in creamy yellows and vibrant oranges, plus the city is encircled by towering archways that form an ancient aqueduct. Spot statues and walls spilling over with greens and flowers and trick all of your friends into thinking you've deciding to spend a semester in Spain, not Mexico. Get more about Queretaro here, and expect it to be around a 3ish hour drive or longer.
From Queretaro, there are tons of other nearby spots to tack onto your itinerary.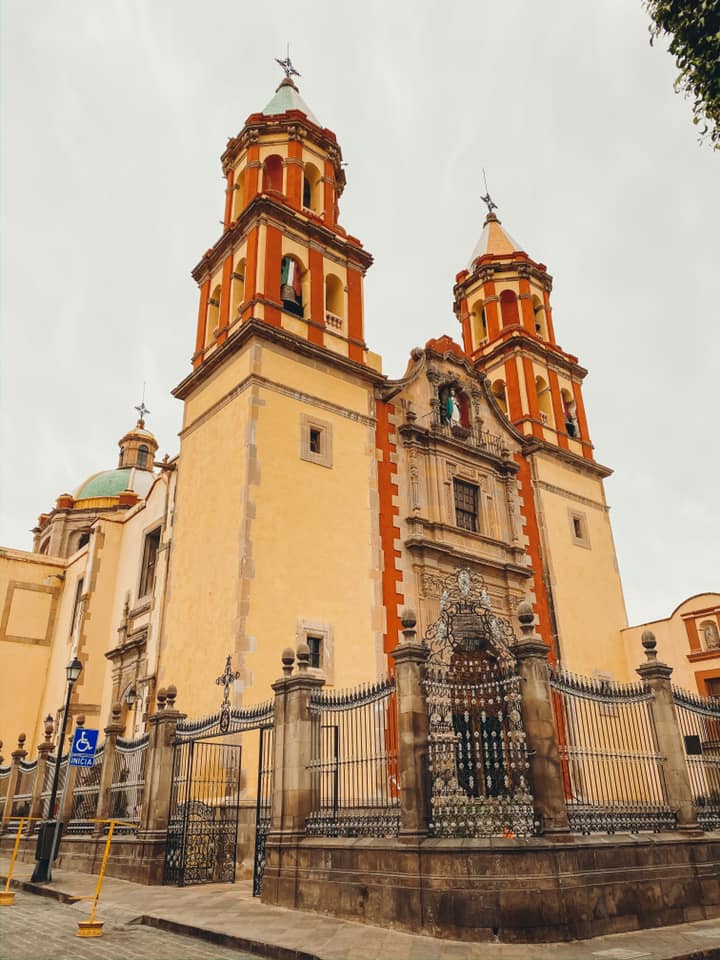 Getting To Pachuca
This city is in the middle of Mexico, in the central & southern part of this country. It has an ADO bus station and since it's a pretty popular connection point (and near the travel hub of Mexico City) it shouldn't be too bad to find a bus here. The city also has a pretty small airport if you'd rather fly.
+Getting Around Pachuca
The best way to get around this city is to walk, but it's not expensive to take a taxi or the city bus if you'd rather. Taxis are very affordable (about 50 pesos anywhere around the city, split with your group). Buses are also very inexpensive. You can also call an Uber to help you get somewhere, so downloading that app before you leave for Mexico may be handy.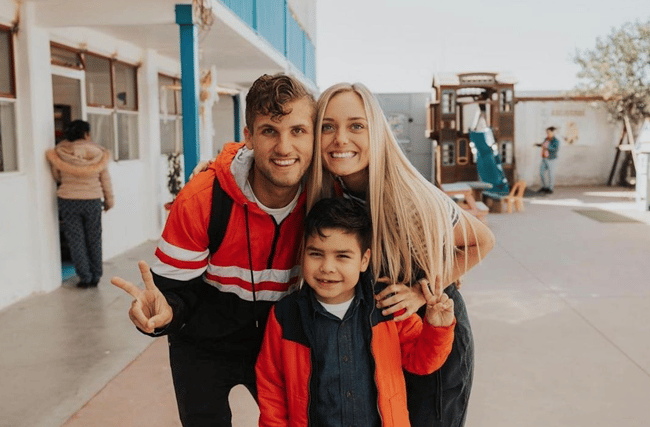 Mexico's the place for you
With some of the best kind of beaches to see, jungle adventures to tackle, baby turtles to release, ruins to explore and tacos to eat, how could you want to go anywhere else?